Gyokuro Kin is a top grade japanese tea from Den's Tea, a Japanese green tea seller.
This is my first time trying Gyokuro!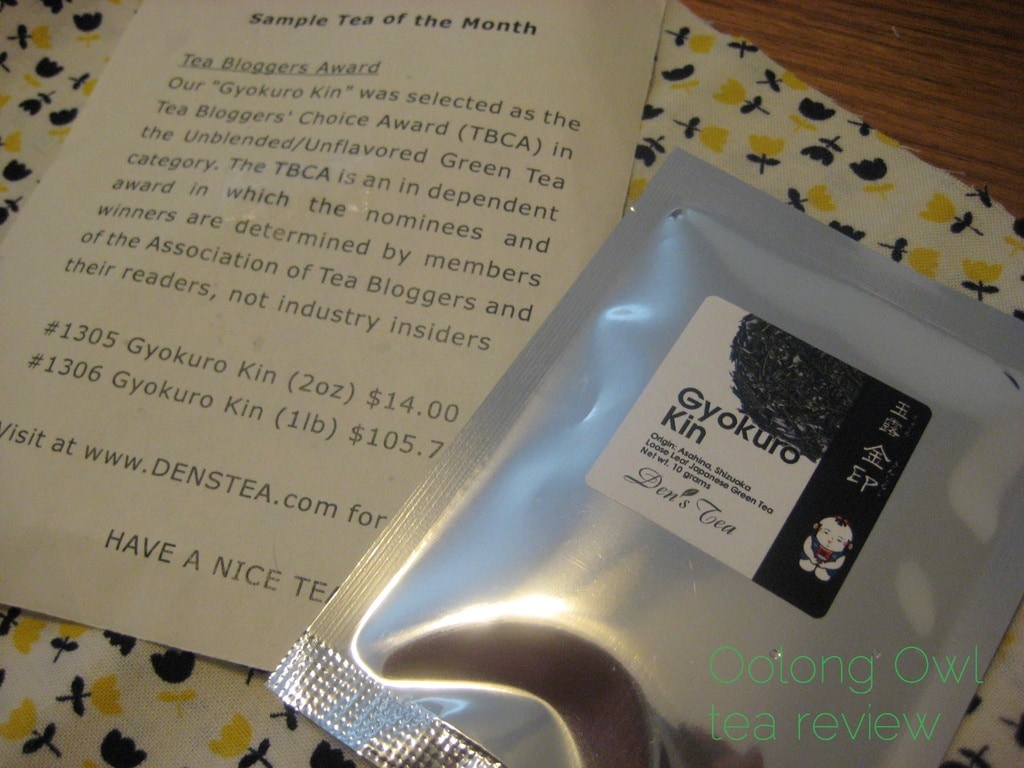 I got this tea as a sample. But seriously, I don't think I'd buy it just to try it. At this time, it's $14 for 2 oz.  Den's Tea also sells a more expensive gyokuro, Gyokuro Suimei at $23 for 2 oz. With that said, I'm very happy to have a sample of this tea!
I was terrified I'd mess up steeping this tea and ending up with an expensive teeny cup of bitter hell. I'll do my best!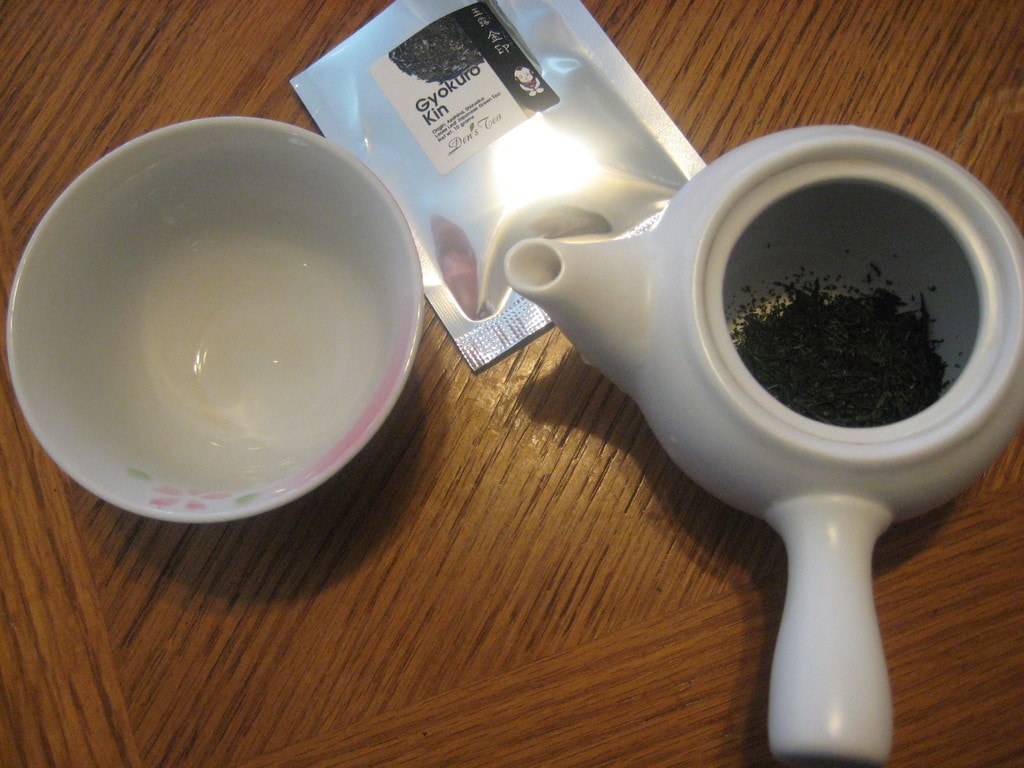 DRY LEAF: Beautiful lush green thin leaves that smell really sweet! YUM!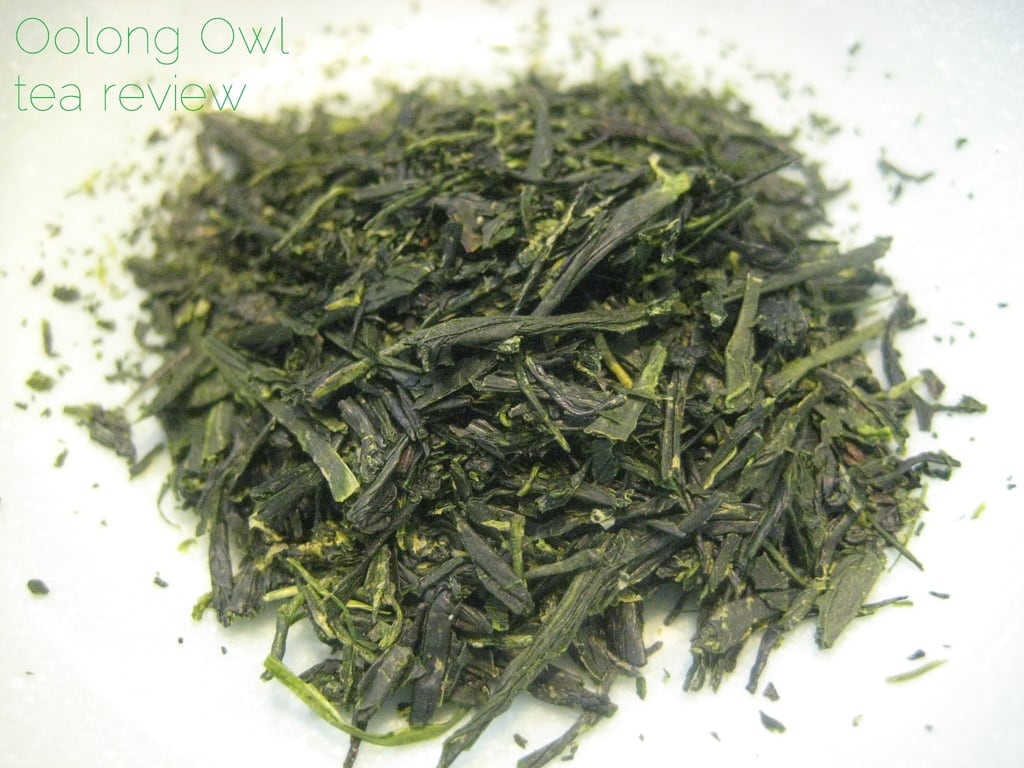 STEEPED: Gorgeous green coloured tea!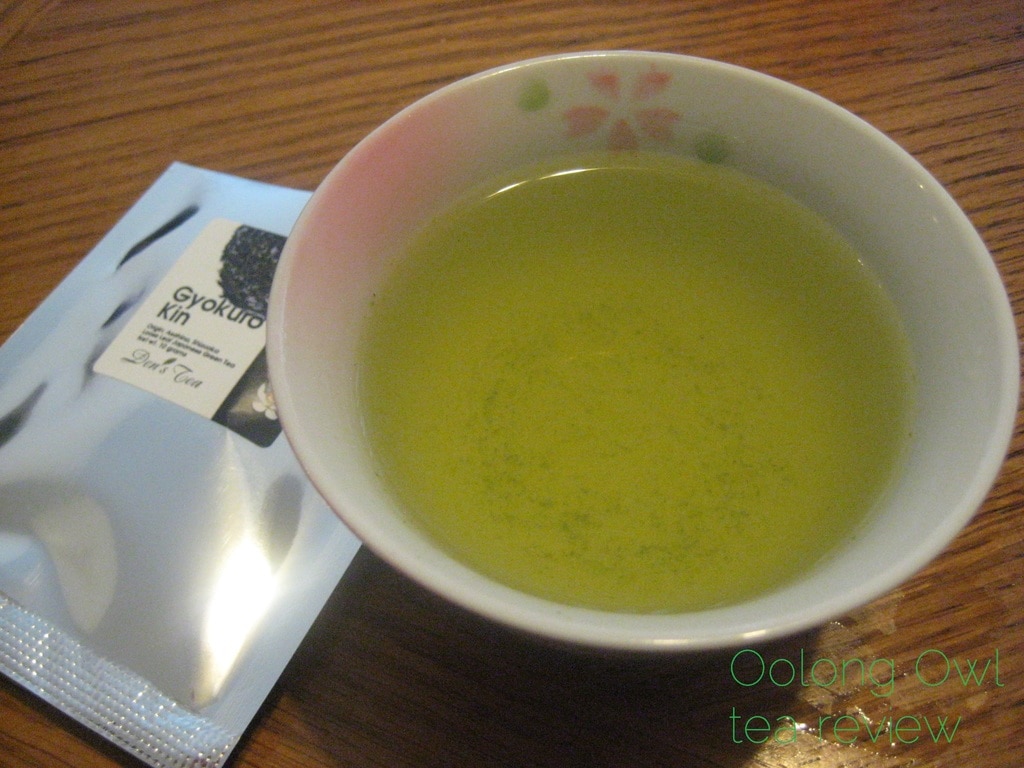 Very beautiful when steeped too! The leaves smell really good steeped, like taking the lid off a pot of steamed veggies and you are a hungry vegan. I totally know that feeling, being an ex-vegan.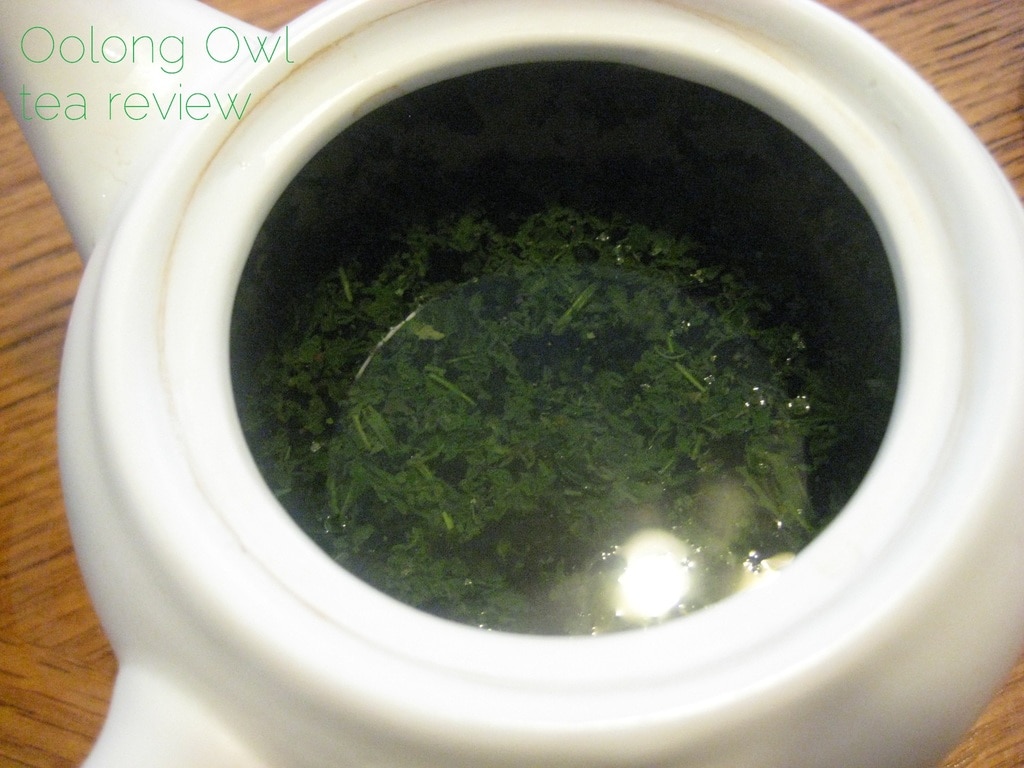 Steeping process is quite complex. 3 oz of water at 160 F for 90 seconds. Resteeping is 180 F for 30 seconds.
I totally made a mess making this tea. Mr. Owly was unimpressed.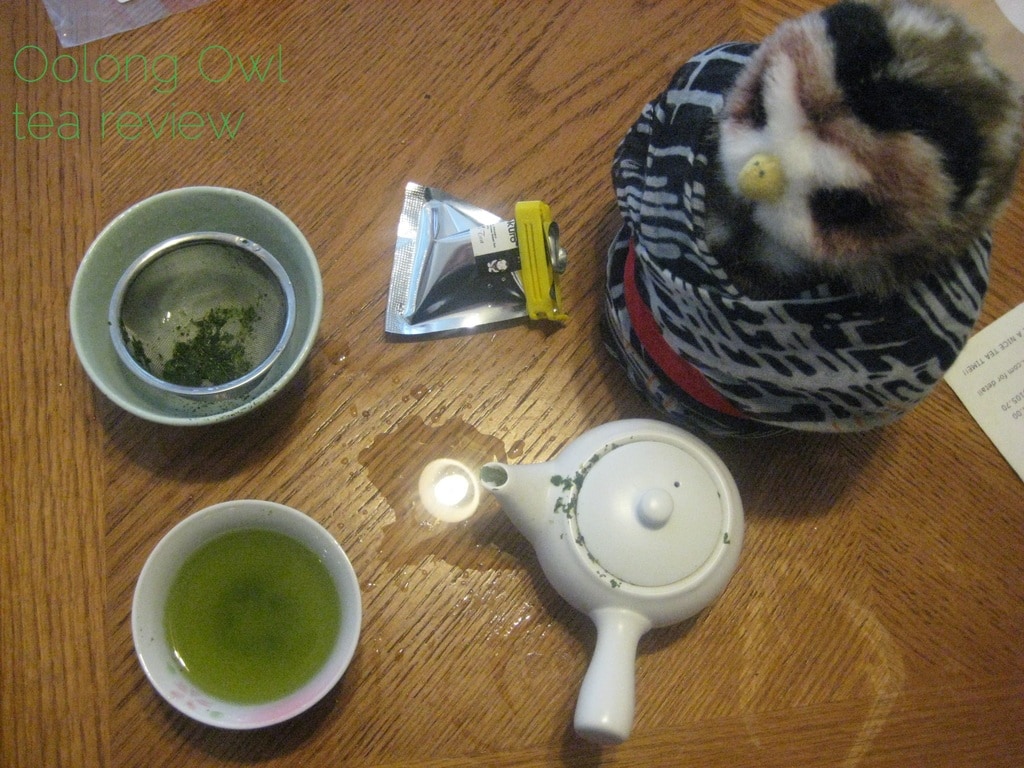 TASTE:  Full of flavor! First sip, sweet and buttery. The flavor melts into a deep steamed spinachy flavor. Like, good home grown, fresh organic spinach. Very lush in flavor! The tea finishes off with a bit of astringency that sticks to the roof of my mouth –  a 5/10 on the Astringe-o-Meter.  After this first cup I was feeling quite energized!
RESTEEP: The flavors are more melded together here – still fresh veggie sweet and astringent  Though, I'm getting a little seaweedy flavor this tea. I quite like the resteep here. Though, as I get to the bottom of my cup, it gets more astringent. My teeth can feel it!
I munched on a little leaf – very much tastes like the tea, but stronger! It was so green and vibrant I had to taste.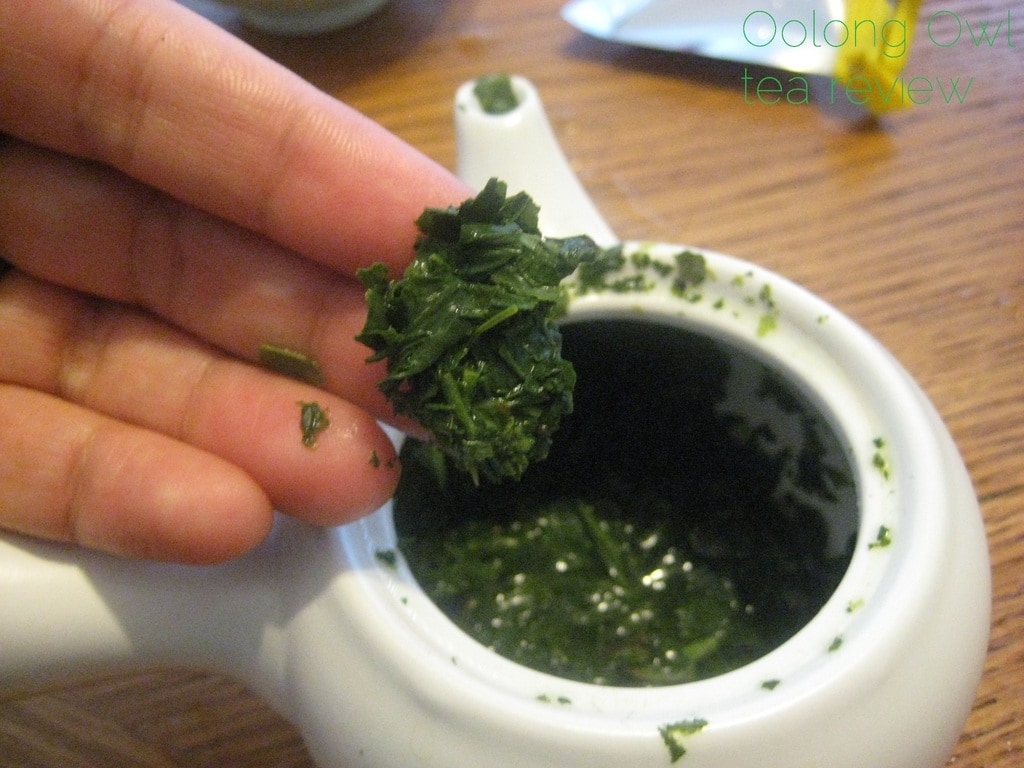 I've become so hyper right now from this tea!
COLD STEEPED: I cold steeped this as I don't think I could be trusted to steep this correctly for the remainder of my sample.
The Gyokuro in the cold water was very beautiful to watch and photograph!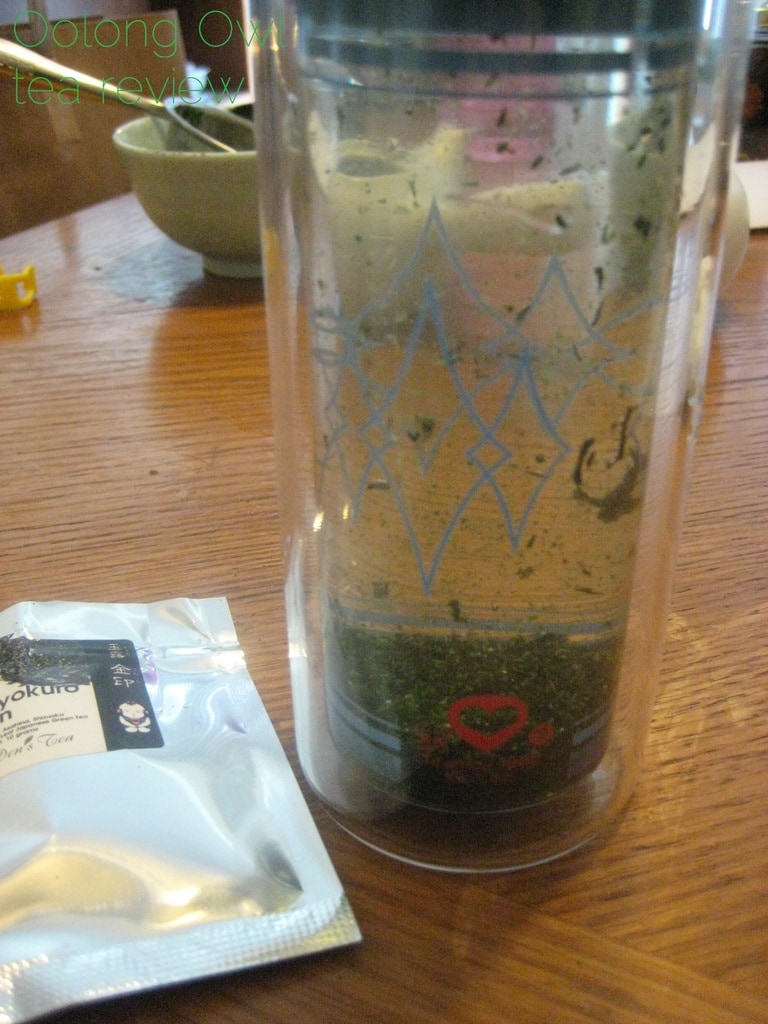 The taste? Ooooh, sooo good! Cold steeped gyokuro kin has an intense butter flavor that carries on as an aftertaste. It's very refreshing, and has a light vegetal flavor. Savory too! This is amazingly good! There is absolutely no bitterness or astringency here. I don't want this cup to end!
COMMENTS: This tea totally has some luxury to it with the amazing sweetness, buttery and veg taste! Very energizing too – I feel I can go run around the block!
The tea experience here was more taking the time to steep this tea correctly and enjoying it. So make sure you have the ability to have the water temperature just right.
If you want a good green tea experience, give this a try!
Me? Admittedly, I'm not a fan of the astringency of this tea hot. Cold steeped gyokuro I'm a super fan of now! I wouldn't mind having some more of this tea, or maybe trying the higher priced range! I'm thinking this tea would be killer in the Green Tea Leaf Rice Recipe I posted. Actually, I might just save the leaves for that! Might as well use everything!