Honeysuckle is an organic pu'erh tea from The Persimmon Tree, an online loose leaf tea seller.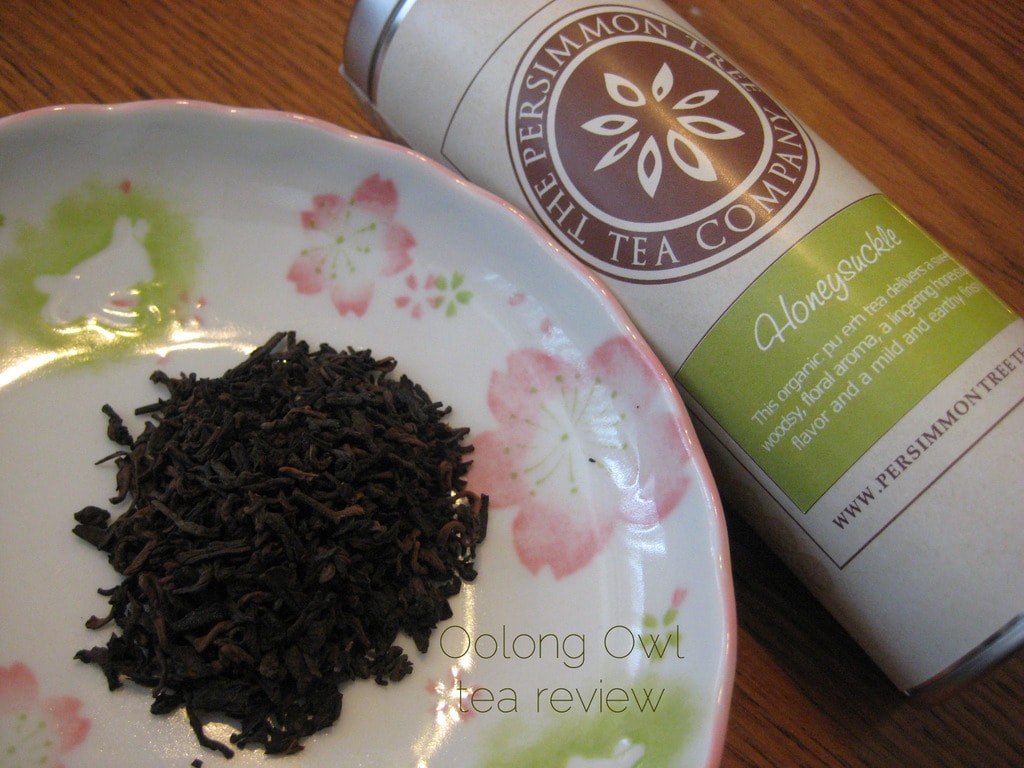 First off, The Persimmon Tree. This tea seller has some fantastic teas – they got their flavoring of tea down to a science of amazingness. I love all their coconut teas the most, very creamy and real tasting coconut. Besides taste, The Persimmon Tree mission, as stated on their website, is to enrich people's lives through the pleasure of tea. They demonstrate this mission by being environmentally conscious with their packaging. For their teas, they offer organic and fair trade teas. Each tea online describes their many health benefits.
They also have a nice loyalty program and partnered with Project HOPE School Foundation. They also have a Facebook page.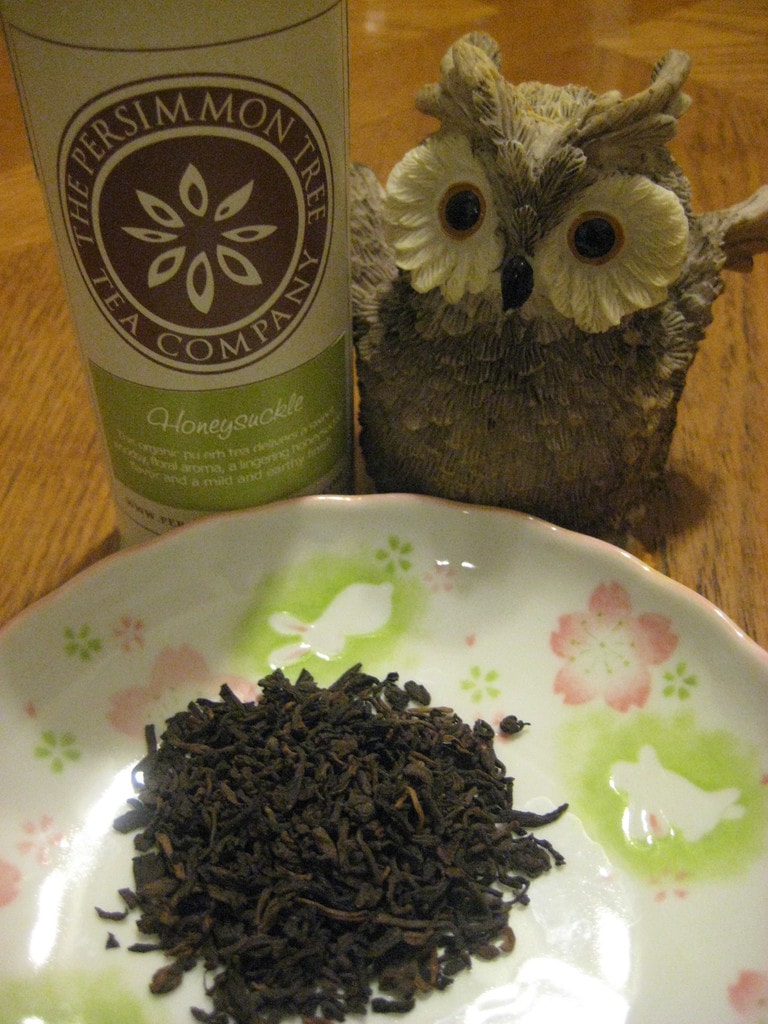 On to Honeysuckle, a Pu-erh. Pu-erh's can be kinda intimidating to a tea beginner. They come in cakes (cake? yum!), sometimes show with elaborate steeping processes. They smell kinda funny dry. However, pu-erhs taste great – beautifully earthy! I think pu-erhs have the biggest bang for your buck – you can resteep this stuff like crazy, and it gets better and better each steeping. I've had a 1.5teaspoon provide me with an entire day of tea.
For tea memories, pu-erhs bring me back to my childhood, going to Vancouver, Canada's chinatown. I remember the smells of the markets, eating BBQ pork buns and drinking tall glasses of smokey slight reddy amber tea with my never ending noodle  soup with shrimp wontons.
DRY LEAF: As with most pu-erhs, there is a bit of a fishy smell, but Honeysuckle has a very faint fishy smell, along with a nice earthy one. As a side note, The Persimmon Tree has really nice tea tins – great construction! I'm totally reusing mine!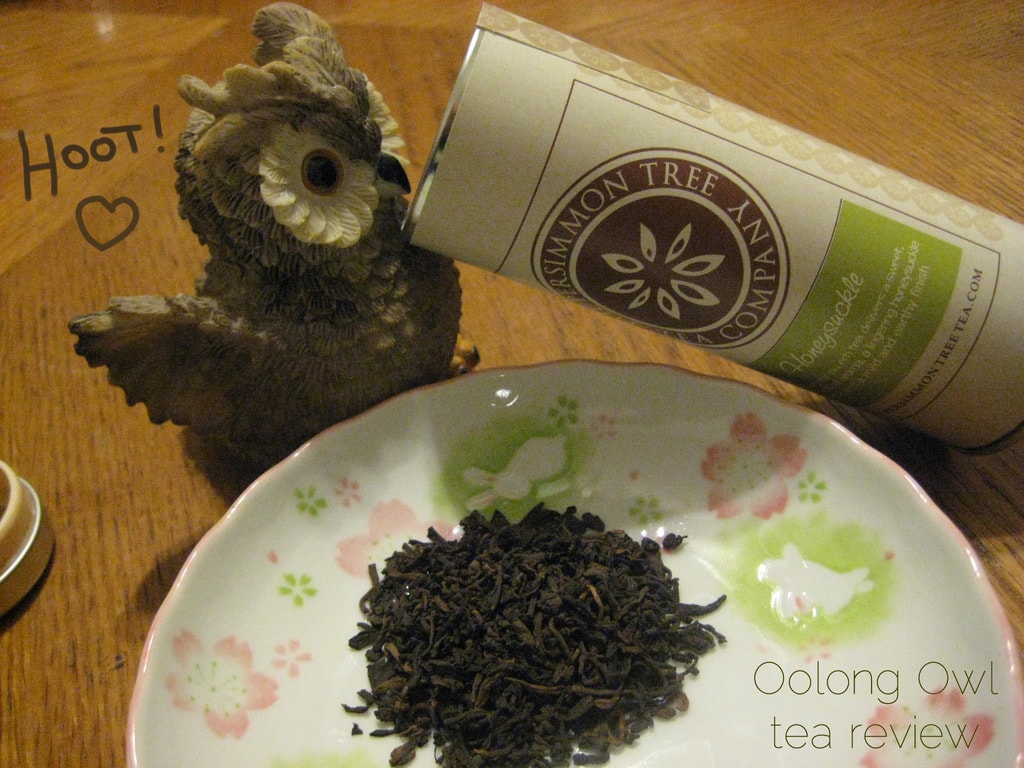 Owl approved! Hey.. get out of my tea tin!
STEEPED: I did a 3 second rinse with this tea, then followed the steeping instructions with the tea, I did a western style steep with 210 F for 3 minutes. I got a nice black cup of tea. Literally black. Smells nice and woodsy.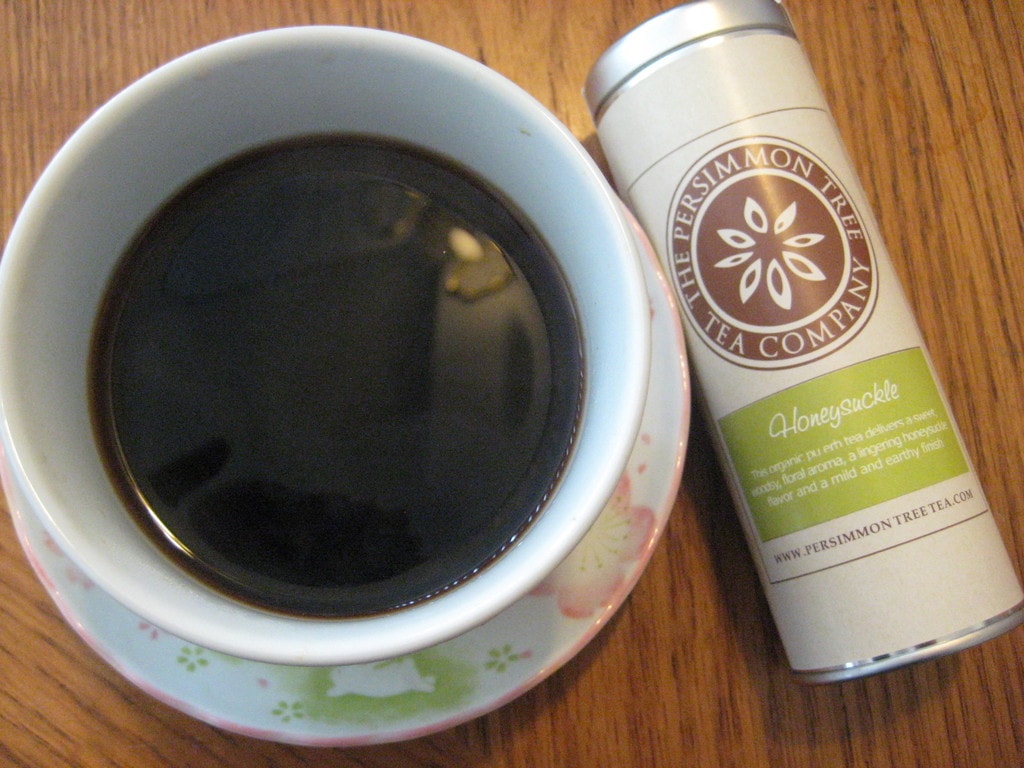 TASTE: Strong, earthy flavor balanced with some floral and an interesting, fresh and light sweetness. Describing the earthy flavor, theres a bit of smokey, autumn tree smell – like camping in the fall, smelling the air after the fire has been out for awhile. That floral and sweetness mellows out the tea, providing a nice relaxing drink. As the tea cools, the sweetness heightens. No fishy taste or bitterness!
RESTEEP #1 – Identical to the first cup of tea.
RESTEEP #2 – Amazing steep – a little lighter than the last two. The floral here is outstanding with a great sweet honey flavor. The earthy is nice and light, buzzing around like a humming bird in blooming flowers.  As the second resteeping of Honeysuckle cools, it gets slightly juicy in flavor. The colour of the tea is beginning to lighten to my favorite tea colour of all time.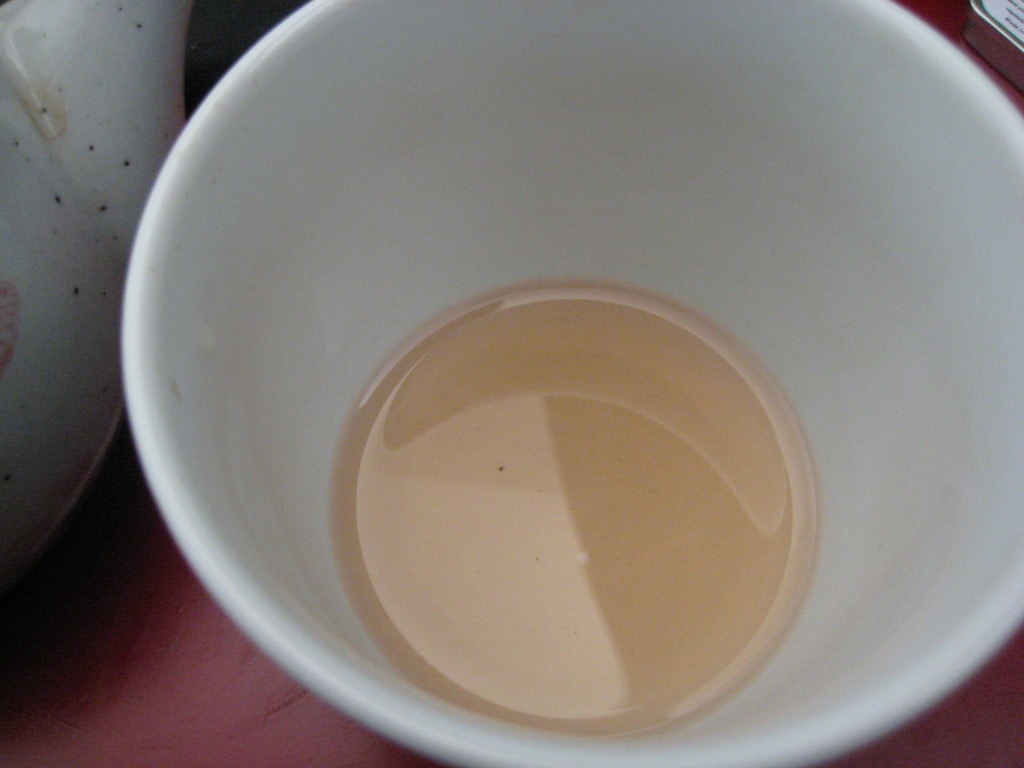 So pretty!  The colour is an amber brown, but there's a faint pinky-peach colour, especially during the pour. I love that colour, it fires up the artist in me!
RESTEEP #3 – Very close to the amazing 2nd resteep. A little less earthy flavor and more juicy honey notes.
RESTEEP #4 – The colour has faded quite a bit, just to that lovely pu-erh colour I love. At first sip, the flavor is floral and sweet, then an aftertaste of the earthy original flavor.
RESTEEP #5 – Little bit of flavor left. I think I've sufficiently steeped all the yummyness out of this tea.
COMMENTS: Compared to other pu-erh's I've had so far, Honeysuckle has a great floral, honey and juicy taste. Huge bonus is there is no fishy or bitterness in Honeysuckle. This tea has a good resteep payoff, holding its flavor well and never turning bitter. This has to be my most favourite pu-erh to date and I'll be keeping this one stocked in my cupboard!
Only thing I'd change is steep times, more of a personal taste, but I like to steep my pu-erhs in shorter steeps, which equals more resteeps!
If you are new to pu-erhs, this tea is an excellent start! The good robust flavor for the first couple steepings would be good for a coffee drinker as well.