I had a long day last Saturday drinking tea at Floating Leaves Tea and visiting the ArtXchange Gallery in Seattle.
Floating Leaves Tea has classes at least once a month, and this month we had some interesting oolongs she found on her recent sourcing trip to Taiwan. A couple teas were an educational tasting, as some where picked in late December or roasted very recently. It'll be fun to drink these teas again in a few months once the roast has settled down. I drank 8 teas, some really interesting such as  Baozhong made with Chi Lan varietal and a Hong Shui oolong that was not roasted. The latter kind of tasted like tomato! I took some amazing photos, I had the lighting just right!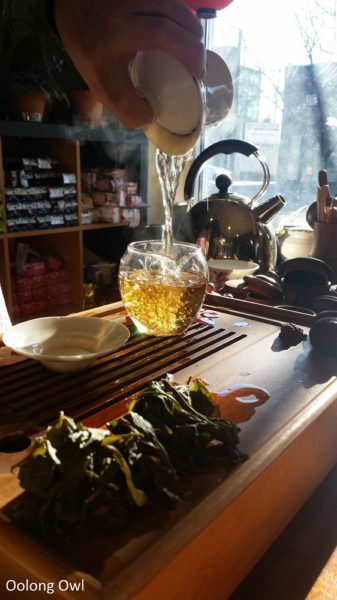 Mmmm.. Dong Ding!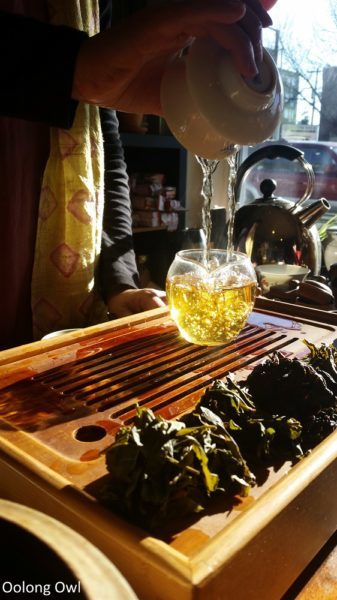 Right after the tasting class, I headed to the ArtXchange Gallery, completely blasted off oolong. Headlining The Tea Library part III is local artist, Christopher Shaw, and a collaboration with Red Square from New York. I'm no art gallery lingo type, however I enjoy and go to art galleries regularly when I am in a new city. I mostly go to art galleries to admire and inspire myself. I'm just going to talk about the tea pieces, though be sure to check out the impressive calligraphy that was also on display by Red Square.
I was able to catch the tail end of Christopher Shaw talking about the pieces on display. What I found the most interesting was talk on the importance of a tea drinker that makes tea ceramics. This rang so true as I've seen many tea pots and cups at other places that seem utterly useless with fat rims and bad pours. What also was very interesting was Christopher Shaw used local clay that he dug himself, but also cut with other clay with certain ratios to make it more usable, also mentioning he was getting different brewing effects with these different ratios. How cool is that? Playing with ceramics to min-maxing the clay sounds like an amazing adventure! I sadly took no good photos of the teaware, all blurry from too much tea, so here is an photo from the ArtXchange site so you have a visual.
I drooled a little too much over this tea cup…
Christopher Shaw had some pieces made out of tea leaves. He was able to gather used leaf from various tea vendors in Seattle, then did magic to them. Most of the magic is being present in the exhibit as the smell of tea was incredible! I had the realization that tea I drank might be in these pieces…
There was other tea ware on display. Though I didn't catch much information, so this is pulled from his website, Richard Brant, had some beautiful wood fired stoneware pieces!
Also on display was another local, Crimson Lotus Tea! How fantastic are these handmade tea tables made from local wood and Damascus puer knives?
After touring around the art gallery, there was a panel discussion with Phoenix Tea, Floating Leaves Tea, Christopher Shaw, and Crimson Lotus Tea regarding topics of the Seattle tea community (and why it is the best, because it is!), sourcing stories, and what tea means to them.
If you are in the Seattle area, The Tea Library part III art ArtXchange is going on until January 21, 2017. Be sure to check out the ArtXchange Gallery site – some of the pieces are for sale there.