My visit to Miro Tea was an impulse visit about a month back. Miro Tea is located in the Ballard area of Seattle. I was heading to Floating Leaves Tea, but I arrived excessively early, leaving me to wander around the area. Miro Tea is less than a 10 minute walk from Floating Leaves, so you can easily visit both shops.  For a special treat, walk a few blocks to visit Full Tilt Ice cream for some tea ice cream! Ballard is yet another tea pocket in Seattle, the other being the International District.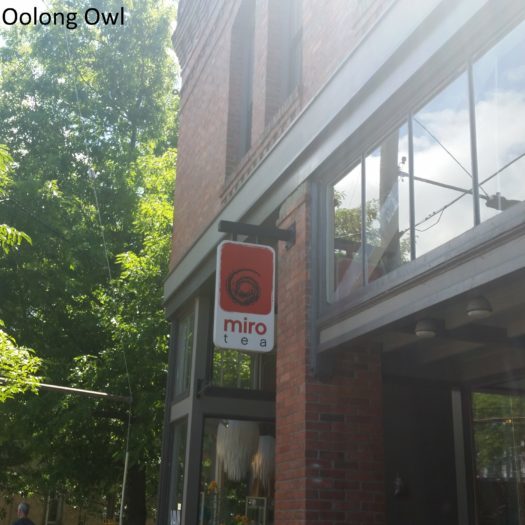 Miro Tea was busy and had a coffee shop vibe. They had a big range of interesting teas to buy and some tea ware. I felt really weird snapping photos in a busy shop so these photos were taken with hidden owl cam.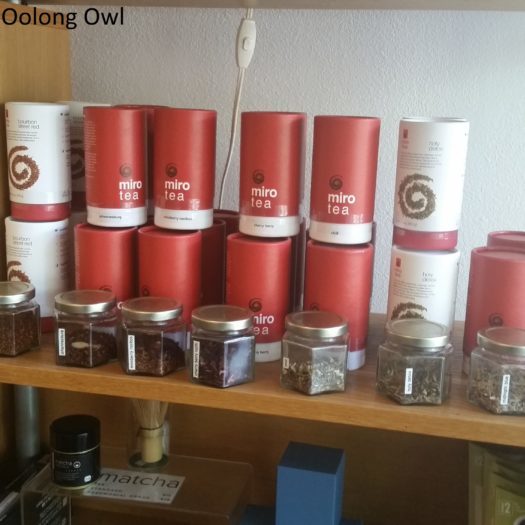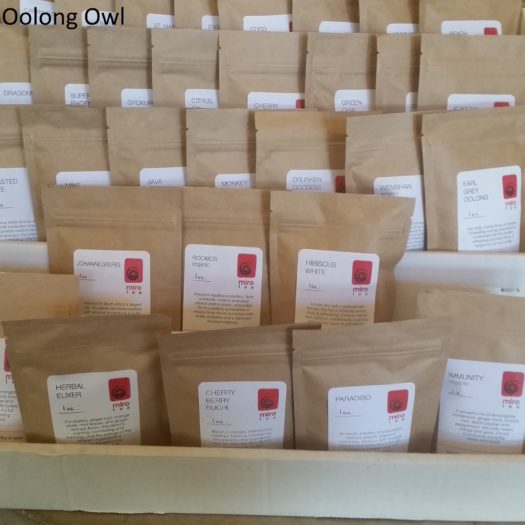 Miro Tea serves food (such as crepes and sandwiches) but what caught my eye was their tea menu. OMG GAIWAN SERVICE! Forget the food, I want gaiwan service!
Their tea selection is quite big with both unflavored and flavored stuff. Flipping through their tea menu, which was a book on the counter, I learned they certainly have the right teas to gaiwan and quite a bit I would be happy to sample through. They have a nice selection of black teas, some oolong, but surprisingly carried some interesting pu'er. They got a lot of tea to make a traditionalist gongfu cha type happy. I settled on a 2008 Yiwu. They eventually come to your table with a vacuum carafe of hot water, a box tea tray, gaiwan, cup, pitcher, and your tea. CRAP, no strainer! Owl needs a strainer, I'm a feathery mess!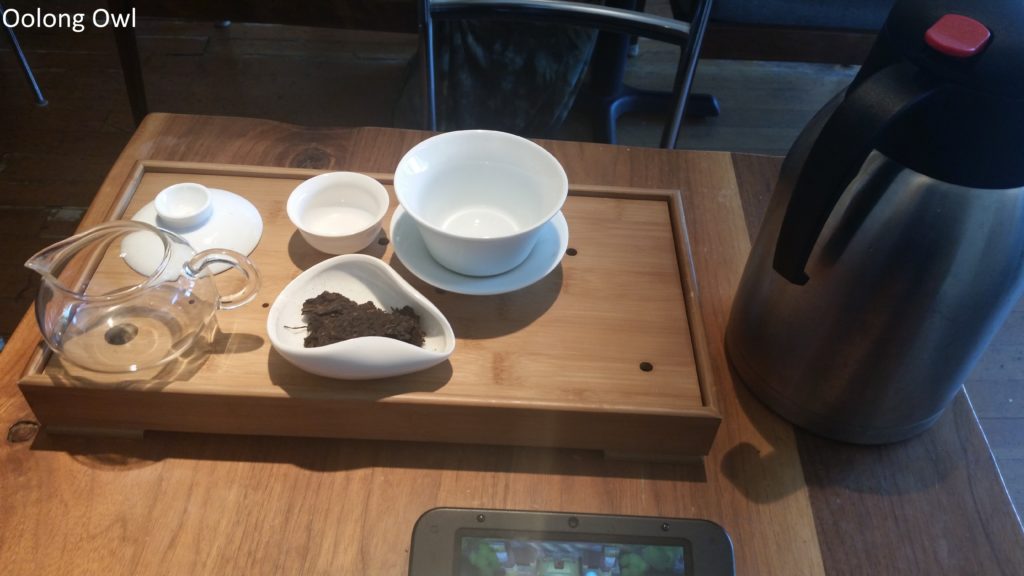 The gaiwan is freaking massive, it is bigger than any gaiwan I've ever owned. If I had to guess, this was a 170ml to 200ml gaiwan. I felt they gave me a lot of leaf I regretted not bringing my AWS pocket scale and baggies to doggy bag extras home. Either way, I said, "to hell with it" and dumped in all the tea they gave me.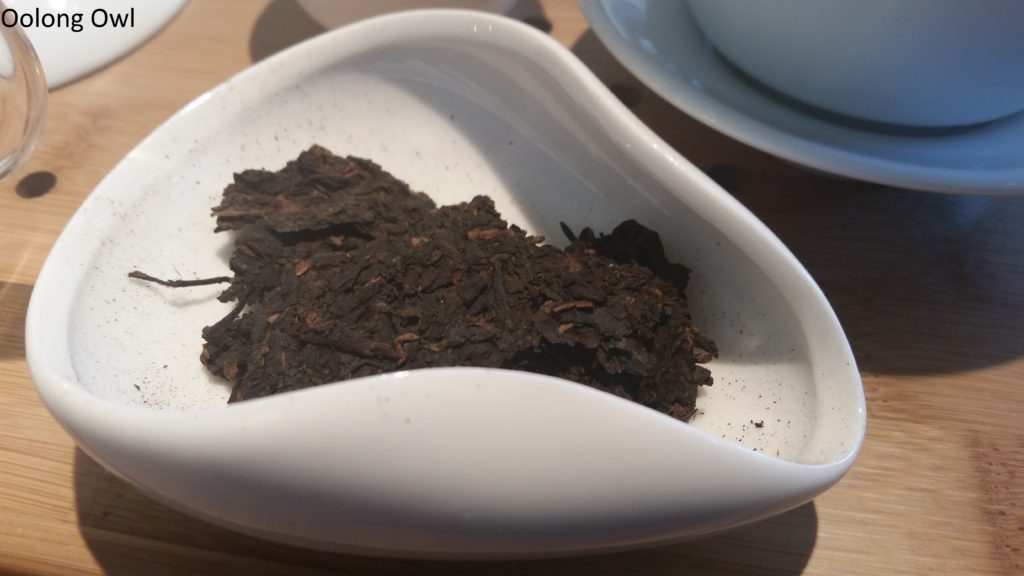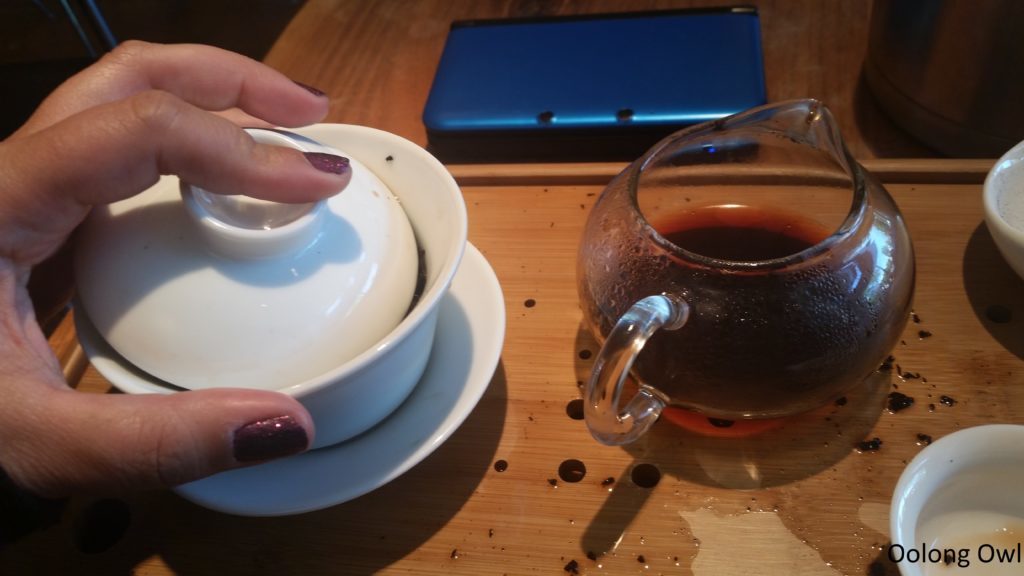 By the time I figured out my tea and they delivered it to my table, I had 40 minutes left. I've had multiple people comment that I drink fast, and for this session I steeped it fast and less water, guzzling tea as fast as I could. Mixed with a high amount of leaf, I was flying fast and having a great game session on the Nintendo 3DS. However the gaiwan was flipping massive so I never actually finished the session to my liking. I figured I had another 2 shorter infusions left, and likely 2 long ones. I likely could of stayed drinking this at a leisurely pace for 2 hours, especially if I had my laptop or company.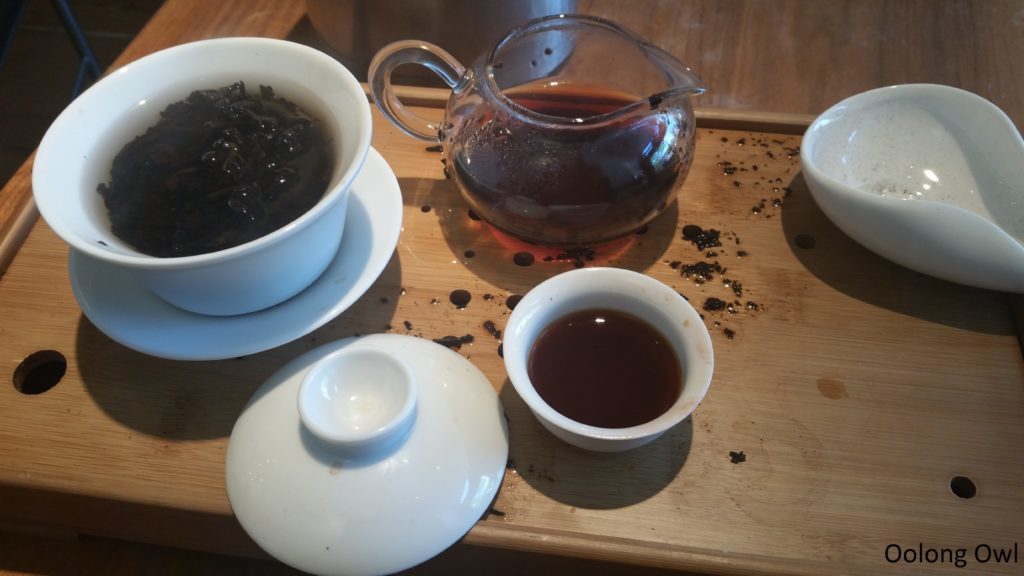 Miro Tea's gaiwan service is totally for 2-3 people. I am not sure if the gaiwan service is intended to be split between people but it should be – this session costed $6-$8, if it was split with a few people that would be a great price!
Also the lack of a strainer made for a huge mess! The puer I got was pretty lawn mowered, so I got a whole lot of mucky slop in the bottom of my cup. I'd suggest going with something more big leafed or not be a nub like me not used to being without a strainer.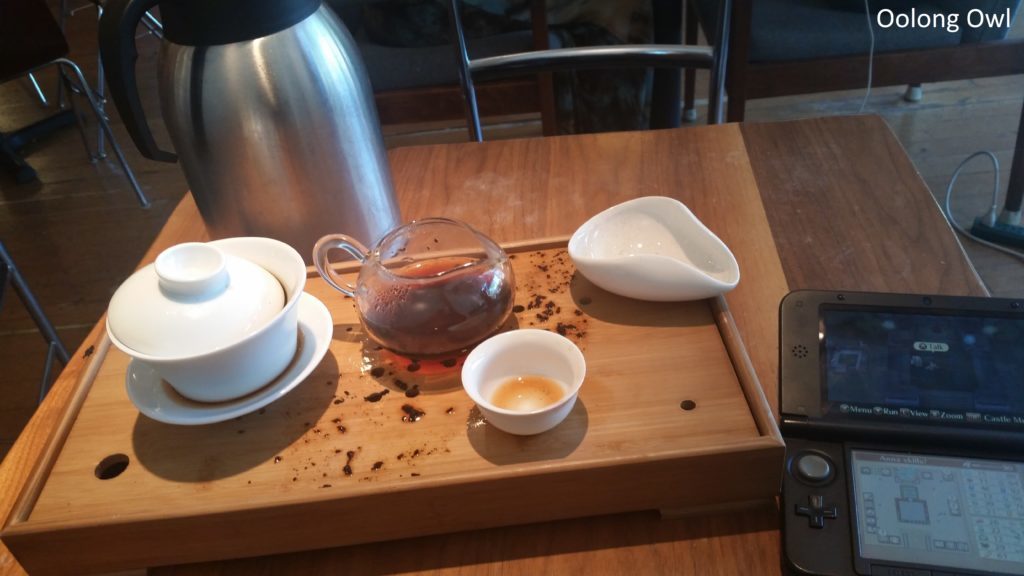 I am pretty sure I looked like a weirdo too. Ballard is a pretty interesting area – lots of young couples and hipsters (After I left I walked by a park and watched two moms fighting). Most people there looked pretty local using it as a work and chill spot, sporting pretty yoga gear. I'm sitting there by myself with a stuff owl, a video game, and chugging tea like it's going out of style. I got ripping tea drunk, sloshy, and stumbled over to Floating Leaves Tea for the next round.
Overall, Miro Tea was a fun visit if you want a coffee shop that has a good appeal to tea drinkers. I would go again if I needed a place to work and drink tea for hours, or bring company to split some food and a tea session. It seems like a great place to hang out with friends, or bring your laptop and chug tea for a few hours!