Tea Fest PDX was the very first tea festival in Portland, Oregon held on July 22, 2017. I visited Portland for the weekend to experience Portland, go to the tea festival, and eat various foods.
I arrived in Portland the night before the festival, enjoying the evening of dinner and donuts. We went to the famous Portland sign…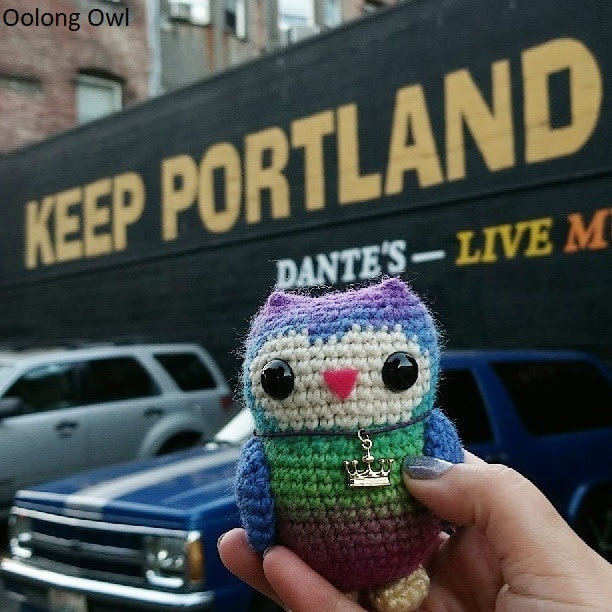 and Voodoo Doughnut. The Buttermilk Bar was my favorite despite me being a big Crueller fan. Sorry Americans, you cannot beat a Tim Hortons Honey Crueller.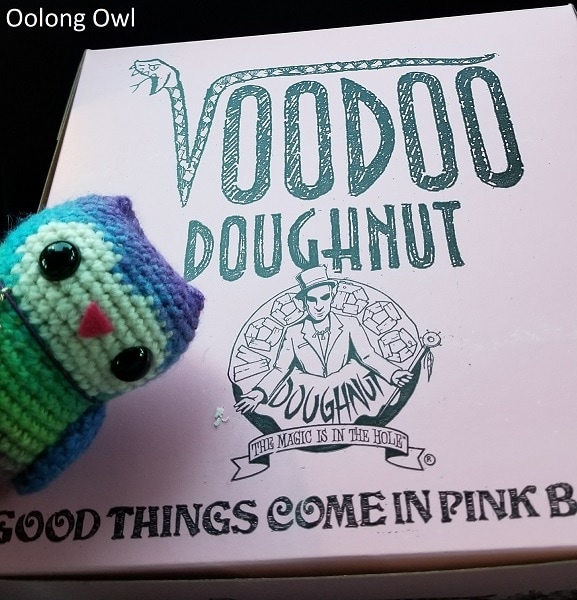 I arrived Saturday morning of the Tea Fest PDX right as they opened at 9:30 am. To my surprise, the line to pay to get into the tea festival was around 30 minutes. Right away, I spotted Mr. Lazy Literatus, so the wait to get into the festival was not boring.

Tea Fest PDX had 29 vendors planned for attendance, which is an impressive showing for the first year, especially compared to Los Angeles International Tea Festival having the same amount of vendors but have multiple years under their belt. Tea Fest PDX had a diverse listing of classes, many sold out of what was reserved online.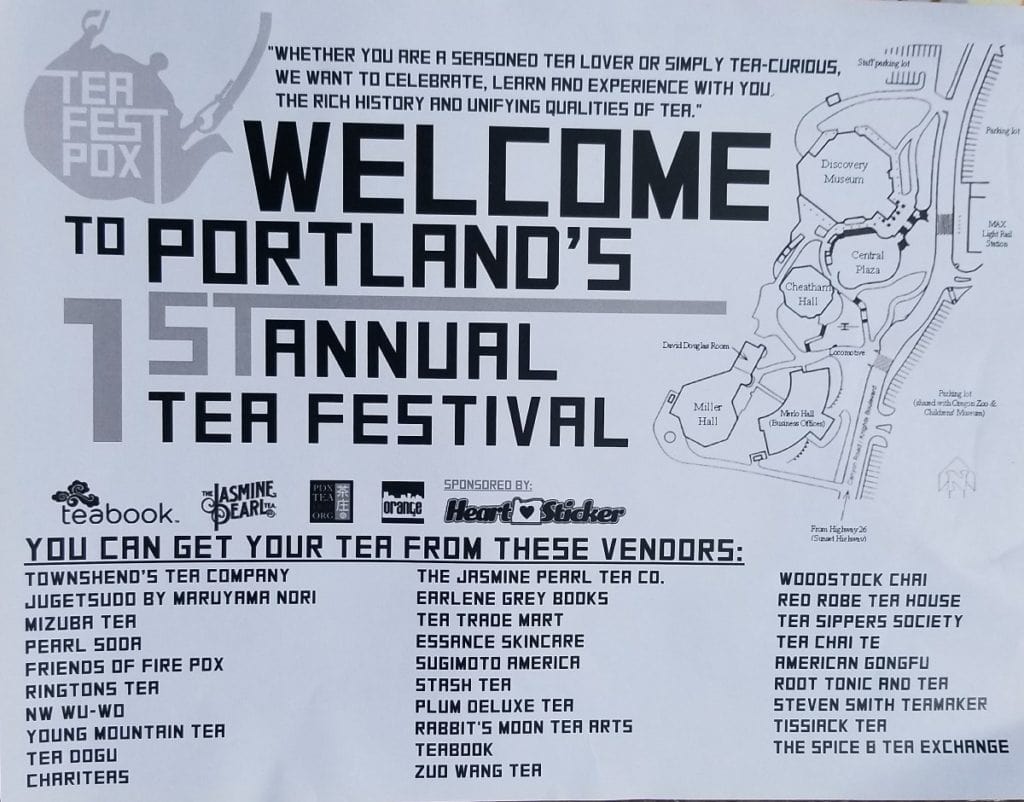 Before I show photos of the booths, I need to add a premise to this tea festival experience. With the impressive vendor listing, huge line to get in, and sold out classes, Portland desperately needed a tea festival is an understatement. It felt Portland needed a tea festival years ago. Once inside the festival, it was crazy mob busy. The main area, which was 3 columns of tables, was jammed with people. The main corridor of vendor booths we dubbed the tea gauntlet – it was a wall of bodies from start to finish, slowly moving. Vendors with samples (which were many of them) were even more jammed with people. The least gauntlet side, which was more open, a couple vendors had queues to get a sample or to get into the booth. I got to walk by most vendors, but I missed some on the other side of the gauntlet as entering that chaos was crazy. Vendors were swamped, it was difficult to ask questions as there were many other people there trying to sample, purchase, and also ask questions. They had 4 spots doing sit down gongfu and I wanted to join but there was never open spaces or I was told to come back in 45 minutes.
This Owl likes to complain, but the crowd was a positive thing – Tea Fest PDX did very well, simply amazing for their first ever tea festival. I wasn't mad at all – the crowd was a good thing because dang.. lots of people love tea! This was the first of many tea festivals in Portland, and I will be back and will see anything I missed. I heard through the rumor mill they expected one number, but planned for double just in case – the crowd in attendance was greatly more than planned.
Hoot! Let's walk through Tea Fest PDX 2017!
First booth I saw was Steven Smith Teamaker who had four teas for sale. The Ali Shan Oolong was quite good. I didn't linger too long here as I was planning to visit their physical location later, where I know they had more stock and selection.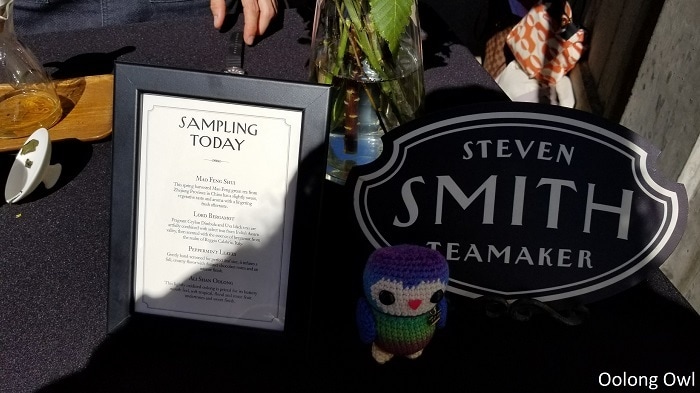 Astoria Tea Company was interesting – they carried a diverse selection of tea including puer, chaga mushroom, and traditional Russian herbals. I tried the "Ivan Chai" willowherb tea, but it was just too medicinal and sweet for me. Their puer caught my eye but I couldn't get info on the region(s) they carried. They had a Papua New Guinea white tea!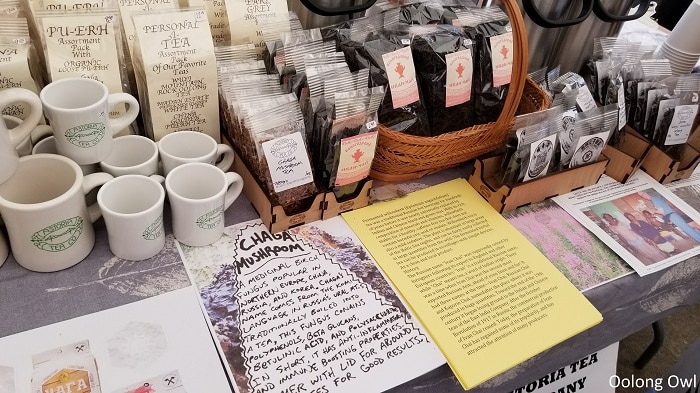 Tea Dogu carries Japanese matcha tea ceremony gear. What caught my eye was the traditional sweets and gorgeous teaware.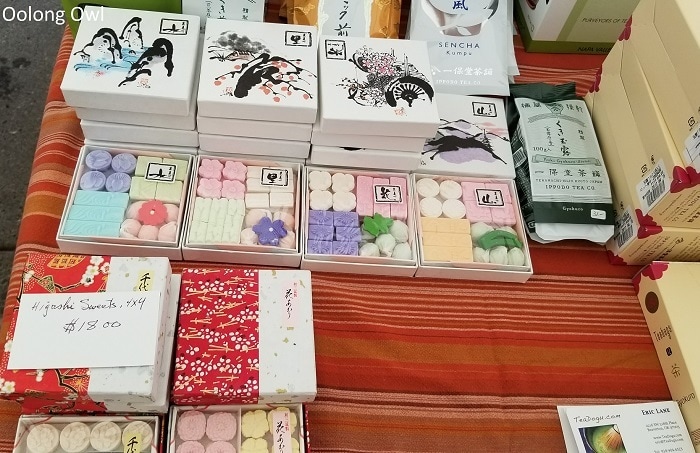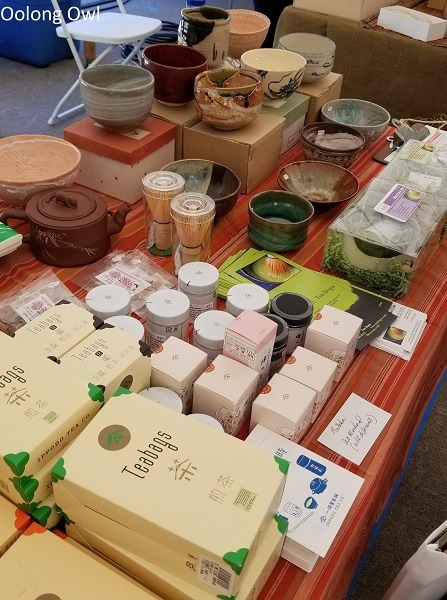 Mizuba Tea Company is one I have heard of before from the local bloggers. Mizuba Tea Company specializes in Matcha. They have various grades of matcha, teaware, and cool matcha things. The heat must of been getting to me as I didn't purchase the Matcha nail polish or lip balm, but I did buy a cute pin.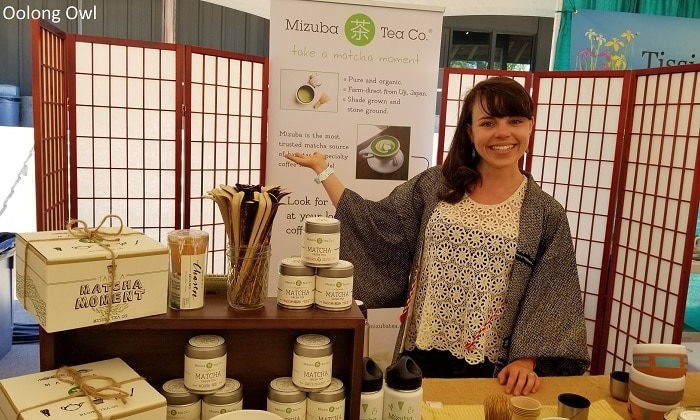 Jonathan Steele Ceramics had amazing, handmade pottery.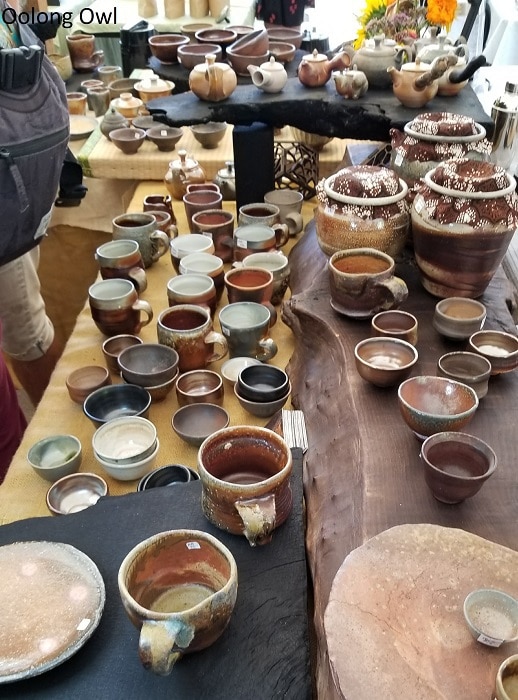 WOW, this glaze!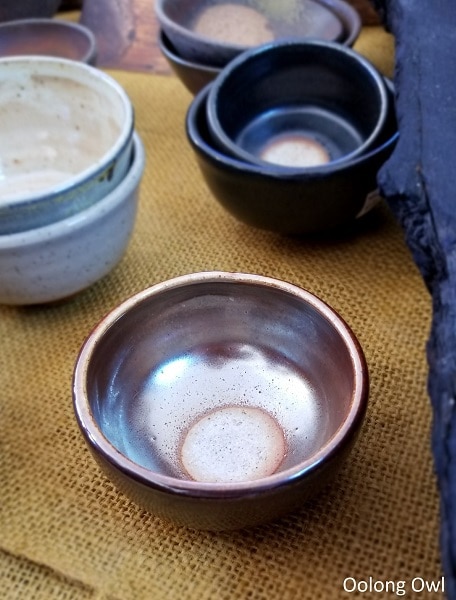 Gorgeous small gaiwans!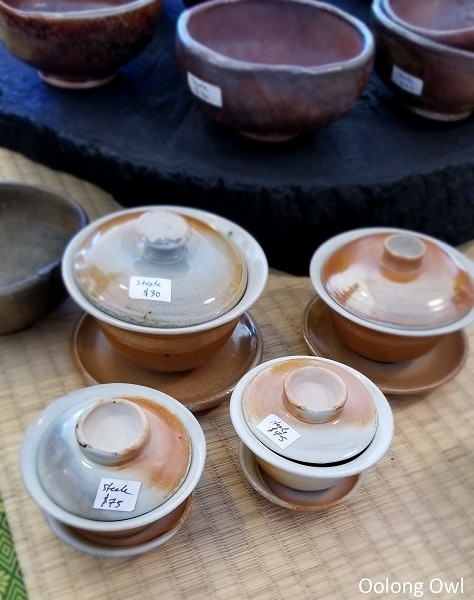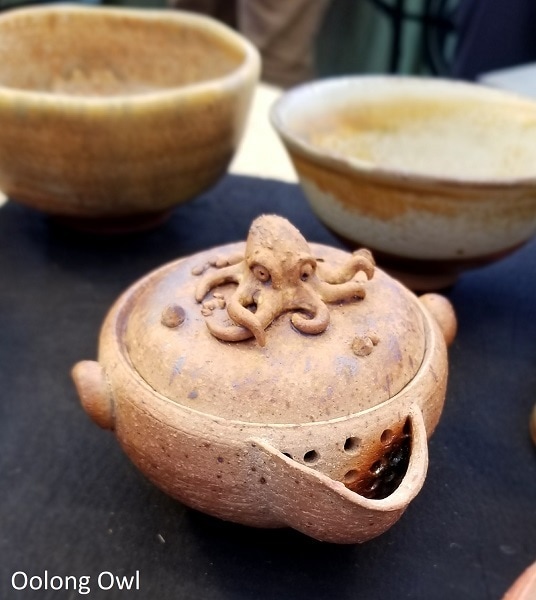 Tiny gongfu tea pots! You can tell that the artist is a tea drinker.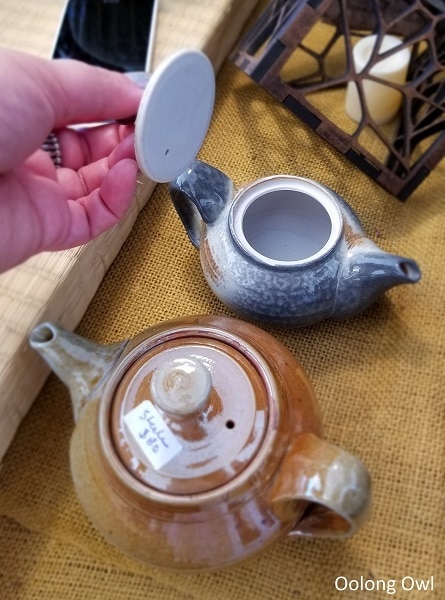 I resisted the tea cups, as I have my Silver cup which is just too good. The gaiwans were very tempting, but I managed to walk away with regret. The gaiwans were just perfect.
Young Mountain Tea had an impressive showing. I end up talking about them every time I see them at other festivals and World Tea Expo. The Nilgiri Green Sword was quite good.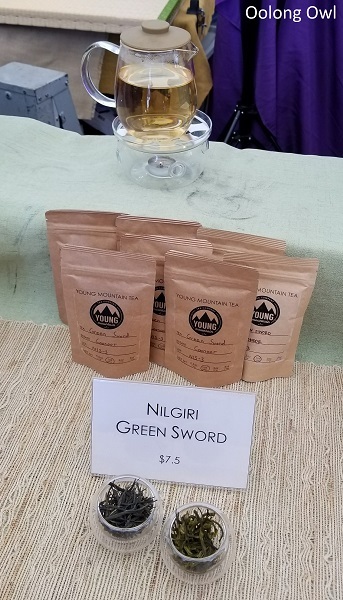 Chariteas I met years back at a World Tea Expo where I recall the owner sourced small farm Indonesian teas. Their line up looked bigger, but all I got was photos to the side as their booth was swamped. Chariteas also has a cafe in Sandy, Oregon.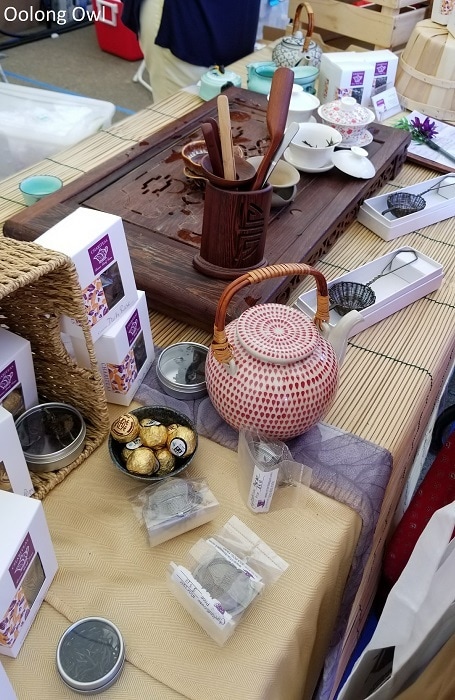 The Jasmine Pearl Tea Company had hilarious tea mugs! They also carried good looking silicone cups. They should do a gaiwan for types like me who keep breaking theirs.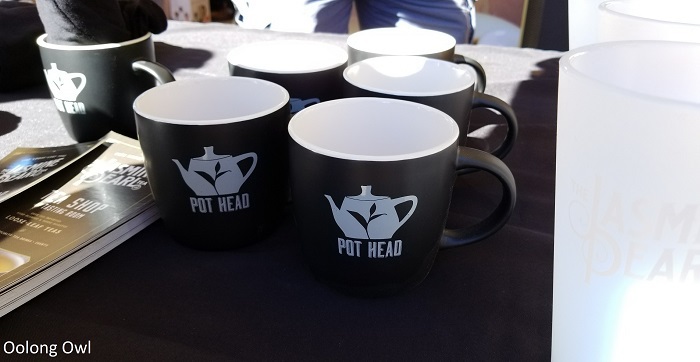 Plum Deluxe was in the house! I have reviewed them a couple times as they do tea subscription, fresh blends. I got to the corner of their booth, the other side was pouring samples and they were swamped. They were in maximum gauntlet area, I tried to visit twice to say hi but it was madness.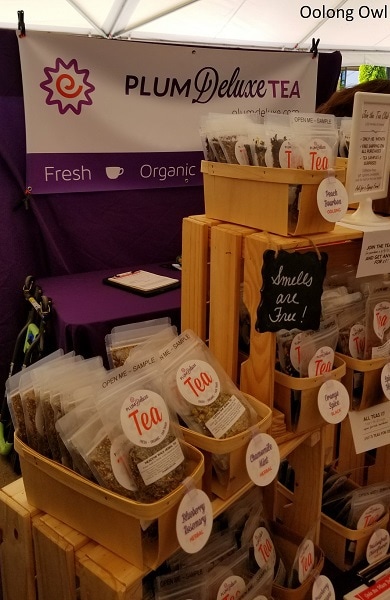 The Northwest Wu-Wo Tea Association caught my eye on the online classes as they had a free class. They were also selling kits and had free information on the ceremony. WuWo is a style of tea ceremony. The best way to explain this tea ceremony is to watch the video. I found the Wu-Wu tea ceremony interesting, but I didn't get it either. I'm not one for meditation tea things, and due to forced solo tea drinking, when I participate in social tea gatherings I rather take advantage of having other live humans to talk tea.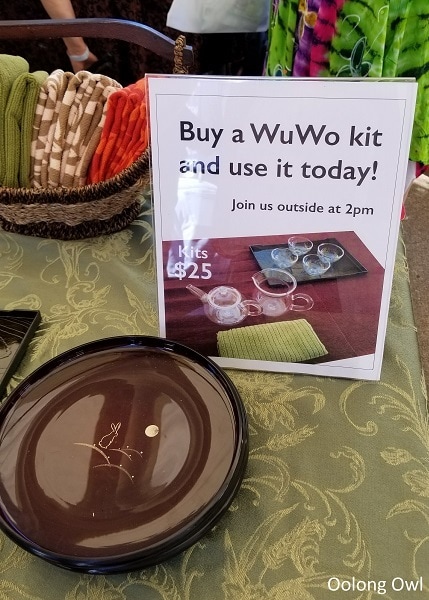 Pearl Soda Company has tea sodas! This was one of the really busy booths with a queue just to sample. This is as close as I got and I cropped the hoot out of this photo. What I tried was pretty good, with distinct tea and fruity flavor.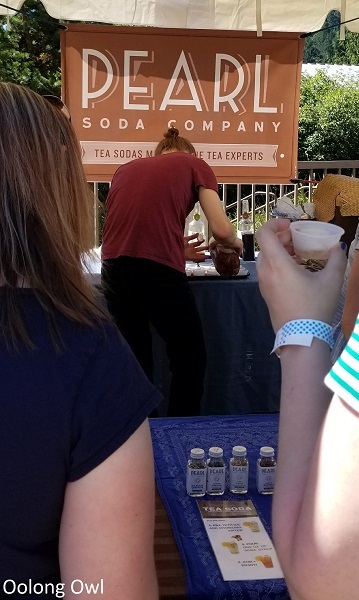 Teabook had a good set up. I tried an awesome white tea from young puer bushes. Teabook had pretty awesome tea deals too. The puer cakes were inexpensive and they had a fantastic 2 for $15 deal on loose leaf.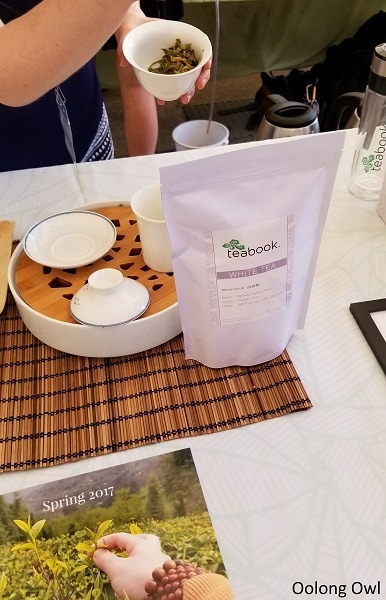 Away from the gauntlets and at the back of the festival was a parked van and a trailer – both equipped inside with tea tables for intimate group gongfu sessions. I wanted to participate, but both had long wait times mostly due to gongfu sessions being naturally long.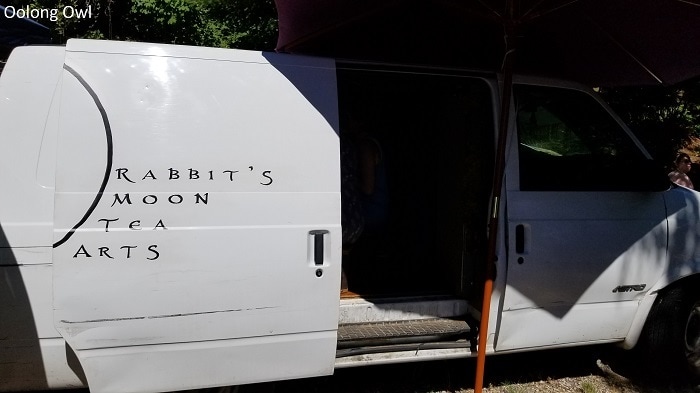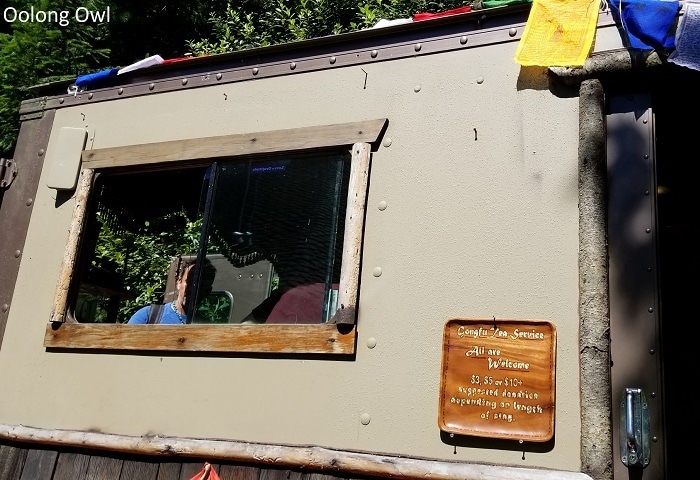 Rabbit's Moon Tea Arts had an excellent section of puer cakes and tea ware.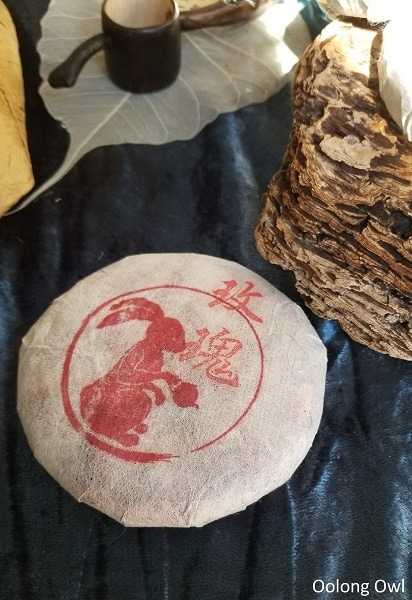 I loved their natural stone tea cups and hand made gaiwans – all in the perfect size.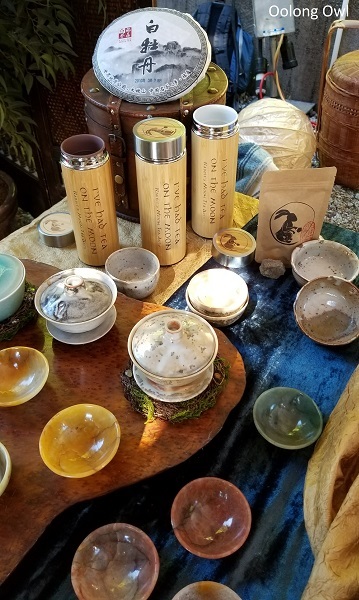 This beauty caught my eye – hand made kyusu with Oregon clay, made in Olympia, WA.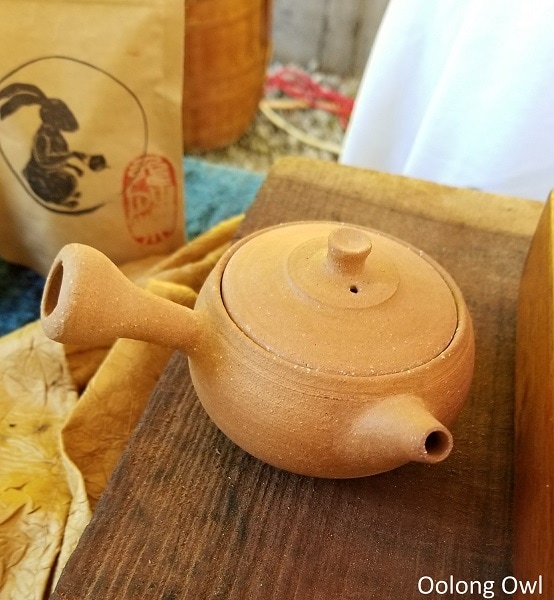 I lasted till about 11:30. I had seen everything, nor wanted to wait in the heat for a chance to sit and have gongfu, plus I was ready for lunch. I bought a tea egg to snack on but otherwise, the food selection was small and in limited quantity. After Tea Fest PDX I left for lunch, then did more touristy things like Powell's Books and my usual yarn tourism of buying local fibers. I later ate dinner with Lazy Literatus, who knew all the good local food (holy hoot $0.25 marionberry pie!).
My last day of Portland I visited Steven Smith Teamaker.
Steven Smith Teamaker was a really cool space, if I had the time it would have been fun to hang out there for longer.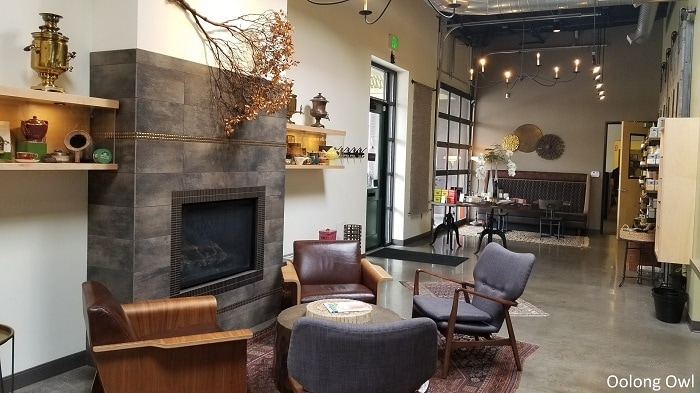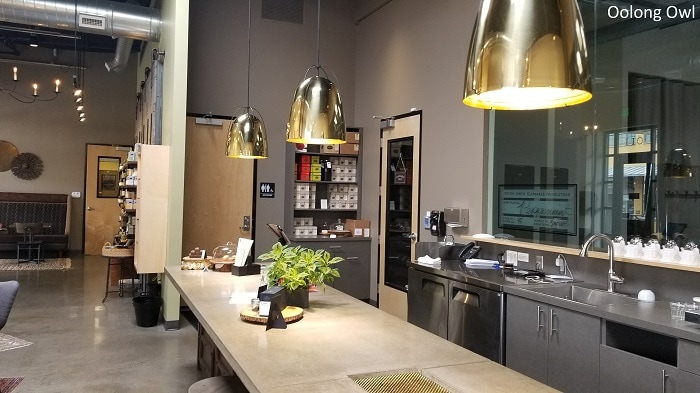 The tea selection was good. They had a lot more than what was at the Tea Fest PDX, or the times I saw their teas in shops in Seattle.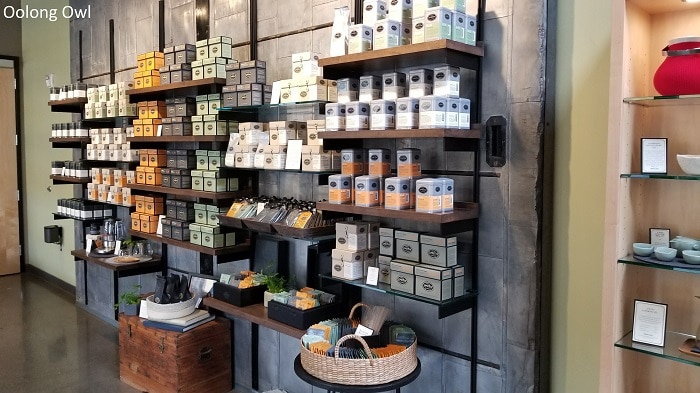 I was on a mission for an exclusive barrel scented oolong. Here it is!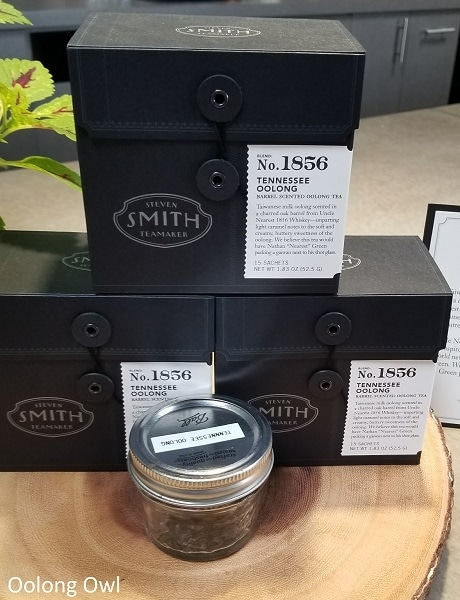 They also had a tea bar, with the majority of their teas available, but also gaiwan service. Interestingly, they had fun tea drinks like London Fog Nitro, or blends with smoked hibiscus and topped with fruit.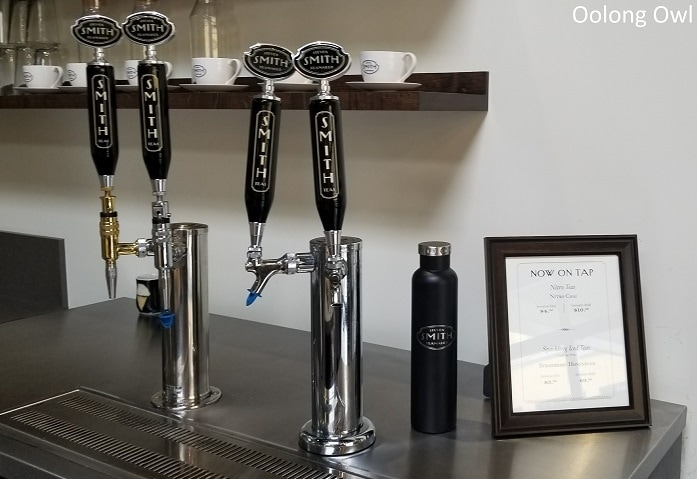 Portland Tea Haul
Everyone (until they ran out) got a tote bag, a couple samples, a copy of Tea Time Magazine, a bottle of Kombucha, and a tasting cup. I have doubles of everything as Tea-Hating Husband went with me to carry my purchases and meet my tea friends. The tea cups were quite nice.
The haul! Small but mighty!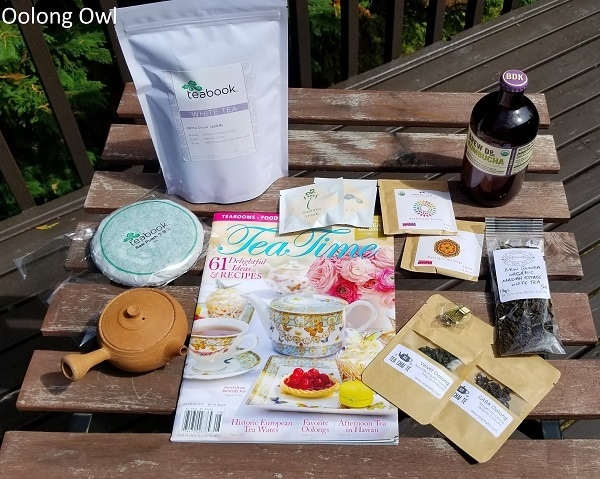 Tea sample freebies.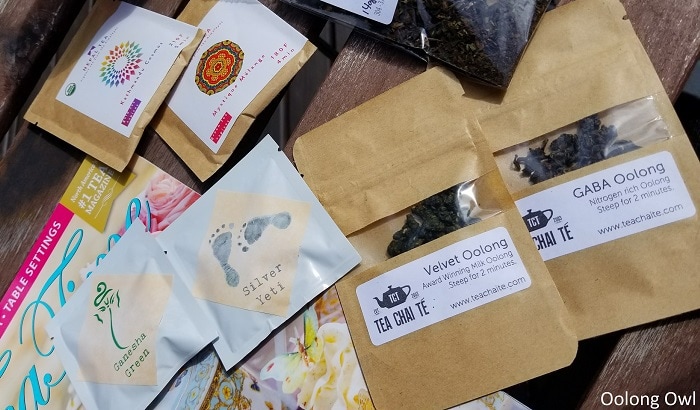 I purchased Astoria Tea Co's New Guinea white tea, purely on the uncommon factor.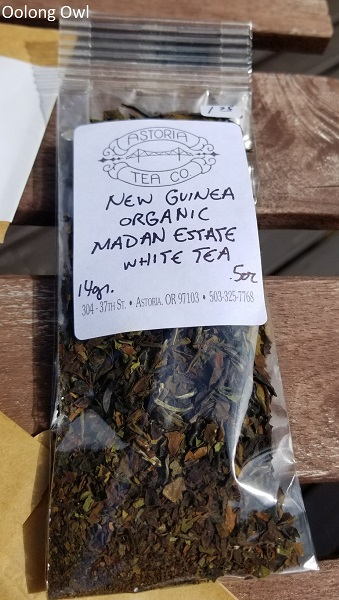 I got the Teabook White Cloud tea. I was given a Raw Puer to review for the blog. Be on the lookout for a review!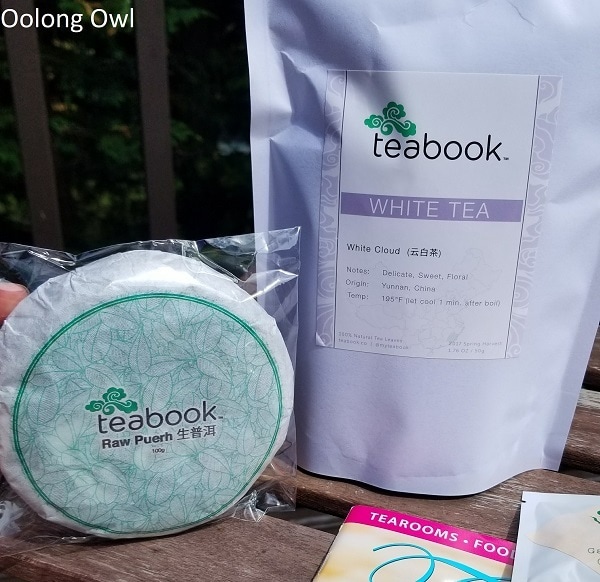 I love this cute matcha whisk pin from Mizuba Tea Company! I had to have it!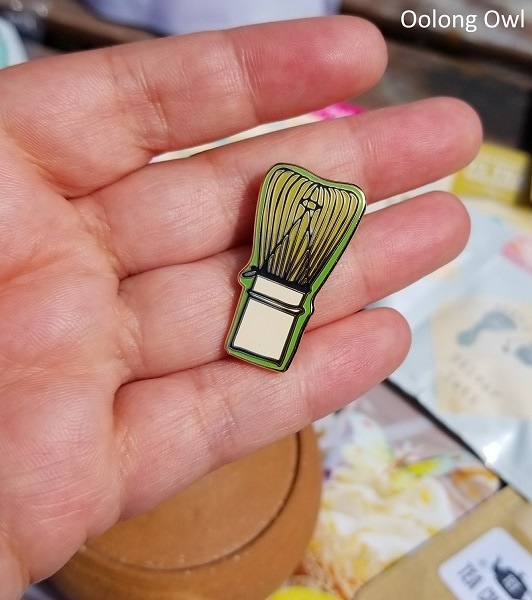 During my trip to Steven Smith Teamaker, I bought the Tennessee Oolong.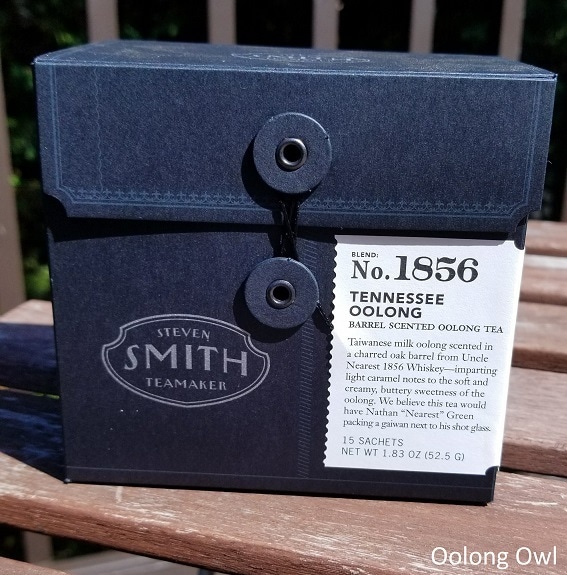 And I purchased that Oregon clay kyusu from Rabbit's Moon Tea Arts. Notice that this tea pot is LEFT HANDED! This was my favorite purchase of the whole trip, and I'll write more about the tea pot in a future article.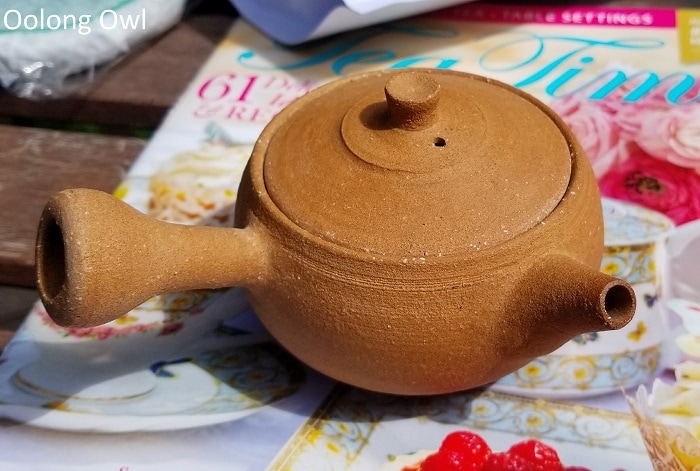 Portland was fun to visit. It felt the whole time that I needed to come back to visit all the Tea Fest PDX vendor's physical locations in Oregon and have tea with the various pockets of the Portland Tea community.