Starting the new year with a bang, White2tea got a bunch of new shous. However, being in the White2Tea club scored us a whole cake of the new 2015 Old Reliable Ripe Pu'er. Also in this month's club is a 2008 Shou Mei sample.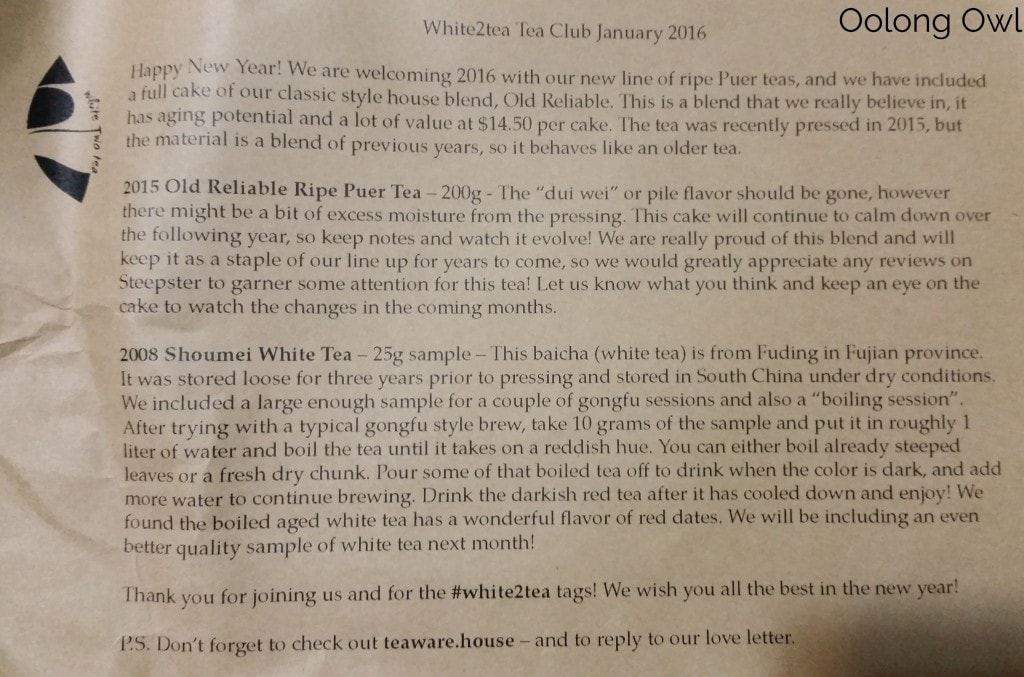 If you are wondering about the "love letter", it is a coupon code for Teaware.house!
White2Tea's 2015 Old Reliable Ripe Pu'er
2015 Old Reliable Ripe Pu'er is a 200gram cake. The wrapper is really cool!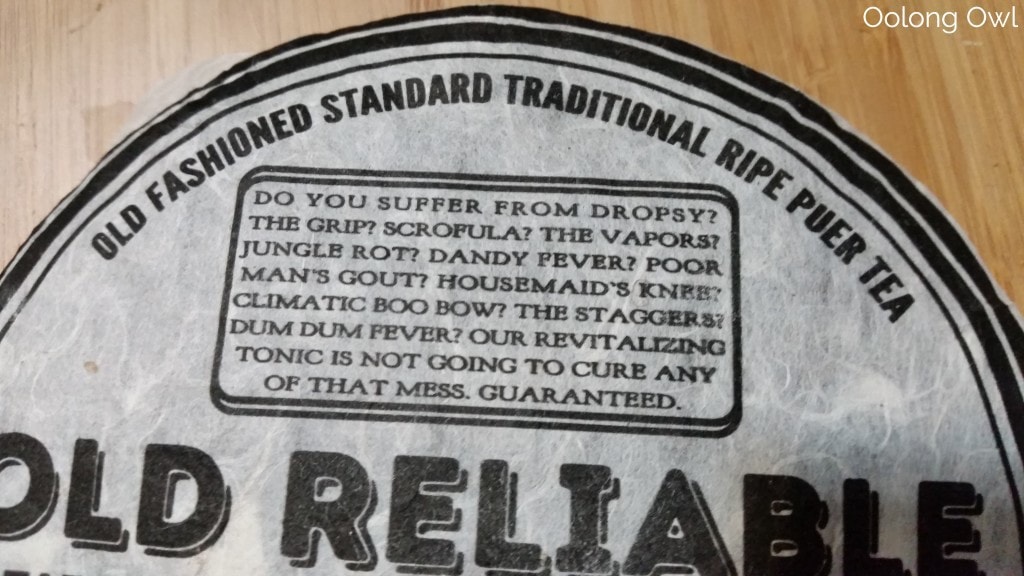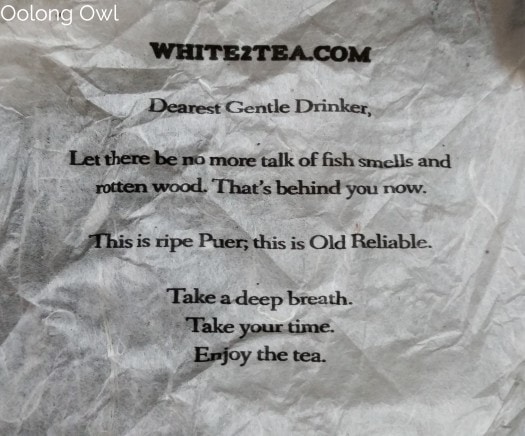 The cake has a light woodsy scent. I trust White2tea will have this cake smelling good, no funky times.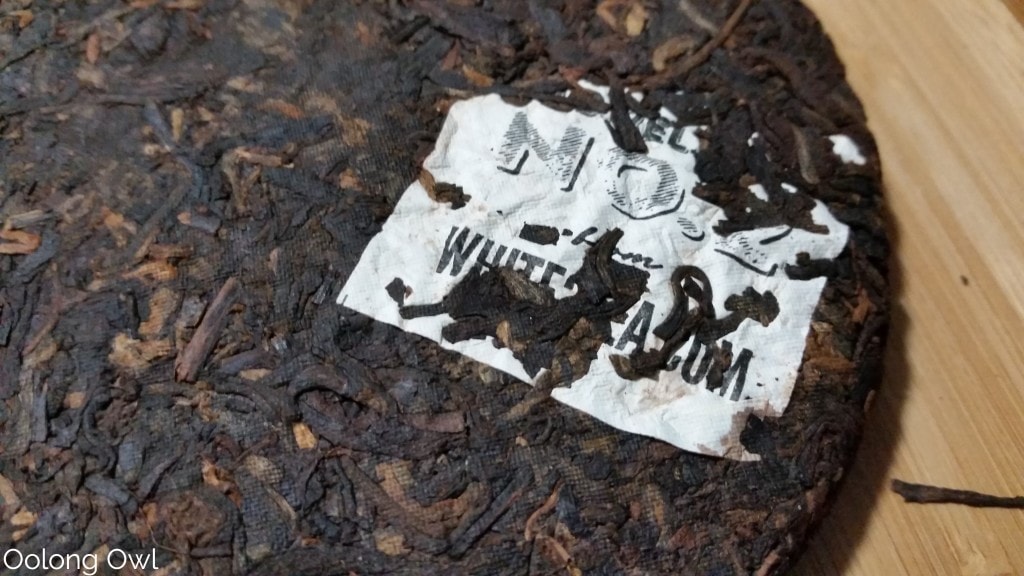 Steeping Instructions
I made this shou pu'er twice. First time was about a week after it arriving in the mail, the second time was actually yesterday, giving it 3 weeks of airing out time. Both steepings tasted pretty similar. All times using a 1 gram to 15ml ratio. As usual, I did boiling water and 2 rinses, steeping in a nice azure ruyao pancake pot from Teaware.house.
I steeped a bit longer, 20 second steepings since my pot pours kinda slow.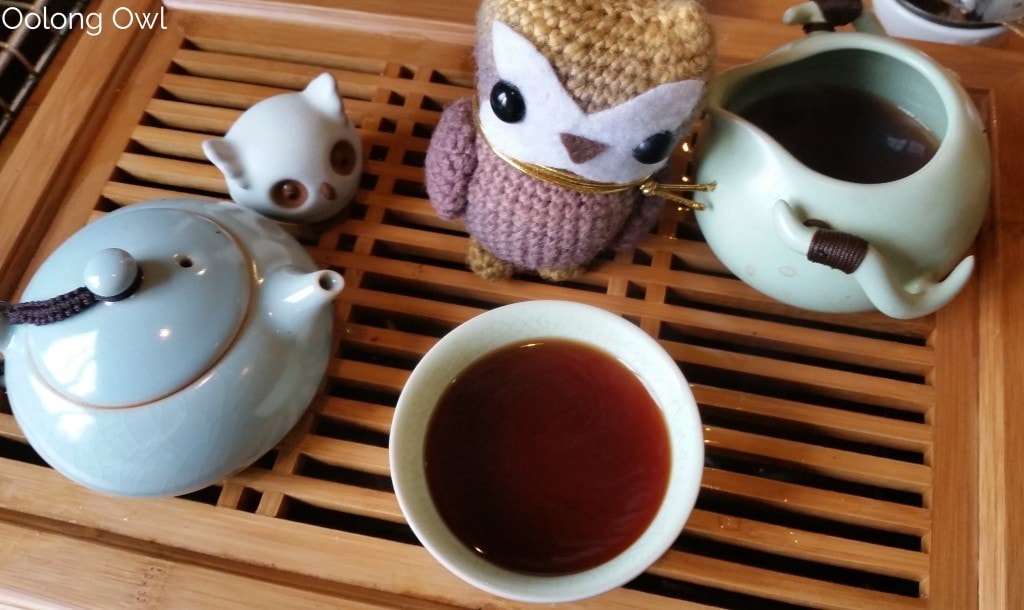 Tasting of White2Tea's 2015 Old Reliable Ripe Pu'er
First Infusion: Old Reliable Ripe Pu'er tastes like sweet dark wood and is super clean. It has a touch of sourness at the end but it's pretty light.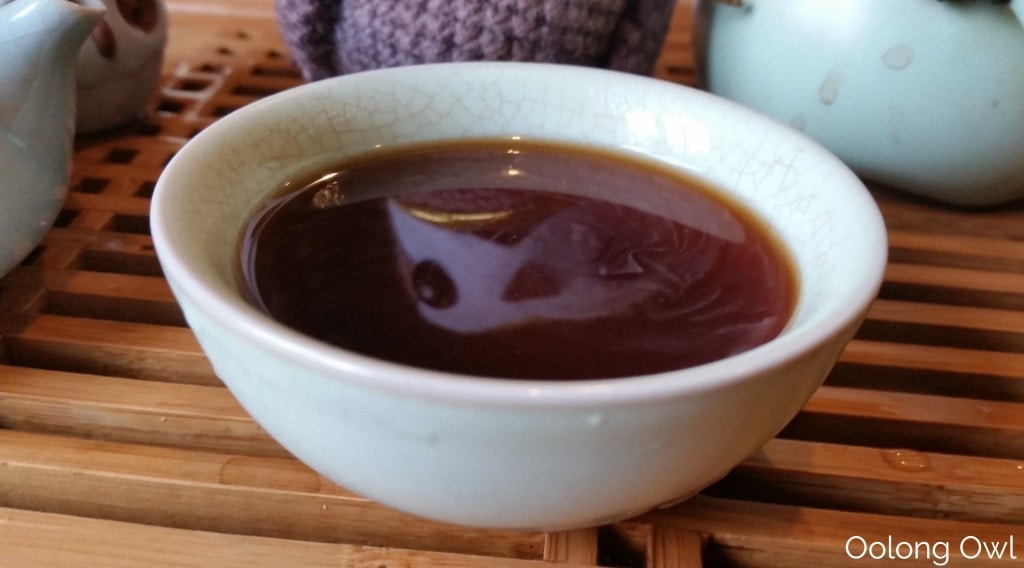 Second and Third Infusion: Wow rich colour time! The tea colour is inky with reddy browns, which I love in ripe puer.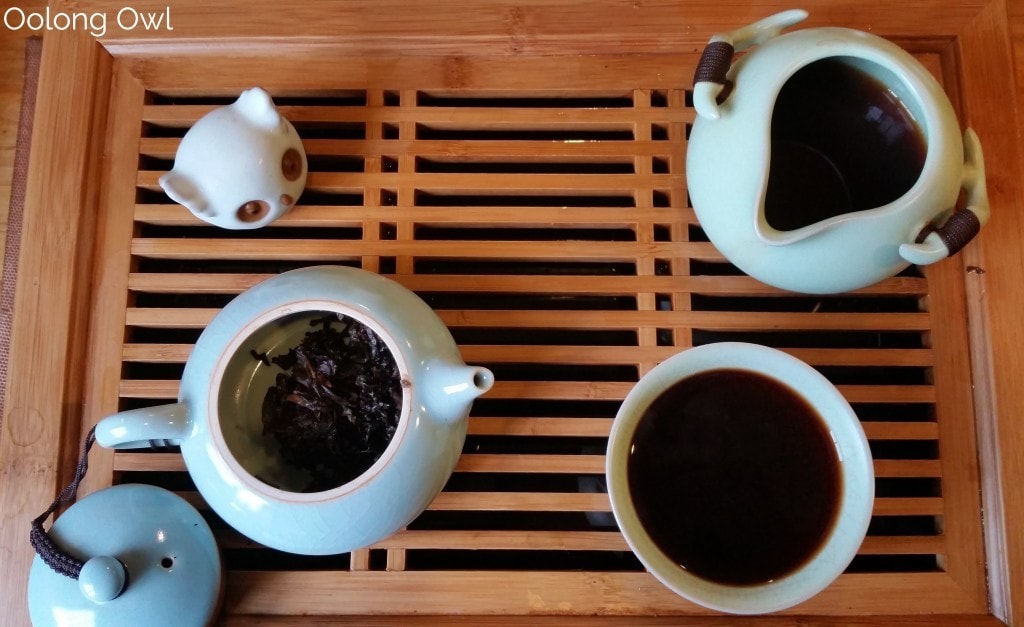 The flavor is richer, with cedar wood, rich earth background, spice finish that gives you a bittersweet tea breath. Super clean taste and feel, no dusty or funk, though still a bit of sourness. Each steeping the sourness escapes more making a more smooth creamy pu'er with a bright sweetness.
Fourth, Fifth, and Sixth Infusion: The sour note is gone and Old Reliable ripe pu'er is super sweet! The flavor is mineral, sweet rock sugar, and earthy woody. Also getting a heart thumping deep breath feel as I drink, oh yeah!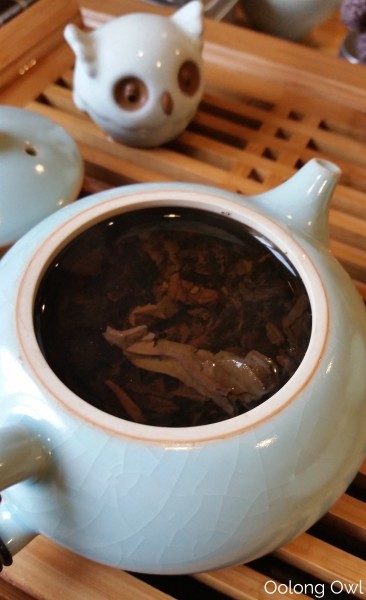 Seventh, Eighth, and Ninth Infusion: The colour faded to light. The super sweet taste is the main flavor, with some woody. If this is sweet, I wonder how sweet White2Tea's 2015 Brown Sugar ripe pu'er is?
Tenth, Eleventh and Twelfth Infusion: I did really long steeps here, 10 minutes, 15 minutes, and about an hour. The colour of the tea is just about gone and my battery died. The tea is still going though and is really sweet.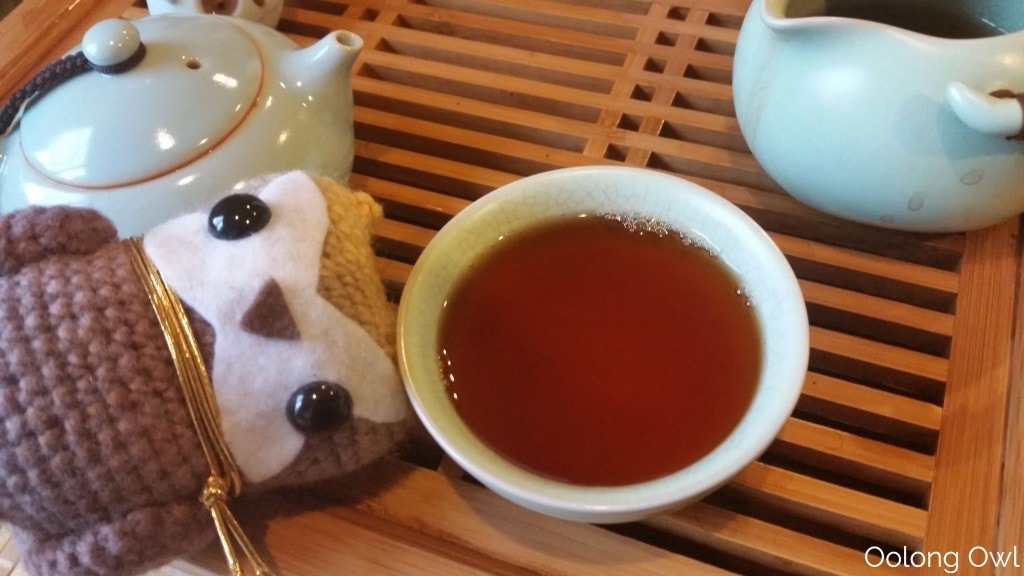 Comments
2015 Old Reliable Ripe Pu'er is a nice, inexpensive, daily drinker shou pu'er. I will probably wait a few more months to get that sour taste out but otherwise really solid and sweet. The price is excellent for what it is too, at this time 200g cake for $14.50!
---
2008 Shou Mei White Tea
I do love the aged white tea I got from the Chinese Tea Shop in Vancouver Canada. I'm hoping more aged white teas catch on. This month of the White2Tea Club has a 25 gram piece of aged white, with instructions to boil it to death on the stove.
Dry Leaf
The 2008 Shou Mei has a dry cracker scent. The leaf looks quite large and flat, compressed into a brick.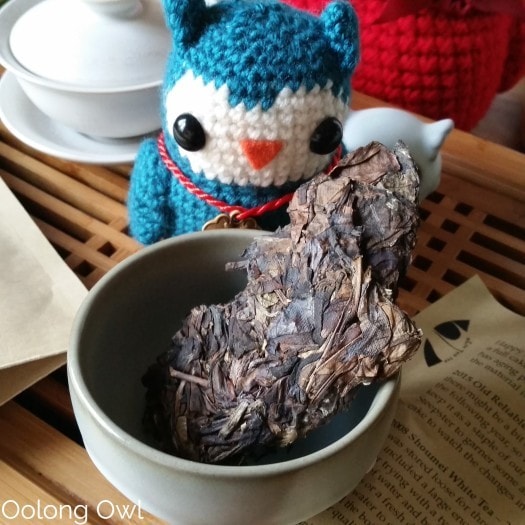 Steeping Instructions
Instead of the complicated gongfu instructions I did for my previous aged white tea, I caved into boiling it to death. I used 10 grams of leaf and 1 liter of water.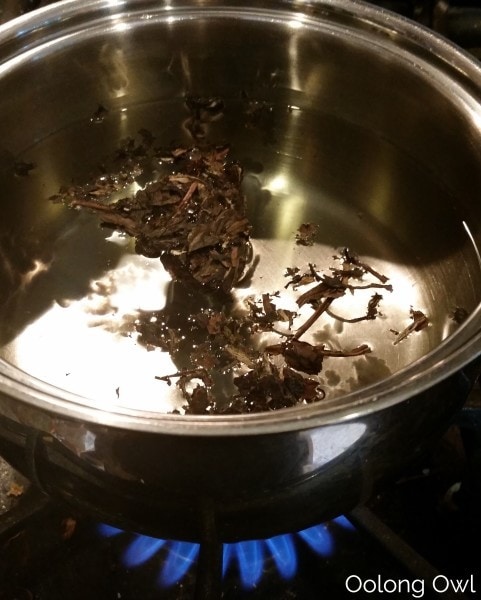 The instructions was to boil the tea until it changed colour. I wished I kept track of how long I boiled mine, but once I got mine to a simmer, I left to go make and then eat a salad, say 10 minutes?
When I came back and wow that's dark! The tea is cloudy but has a oak brown rich colour. THIS IS A WHITE TEA! Pretty sure waving this cup around to anyone else, no one would believe this is a cup of white tea.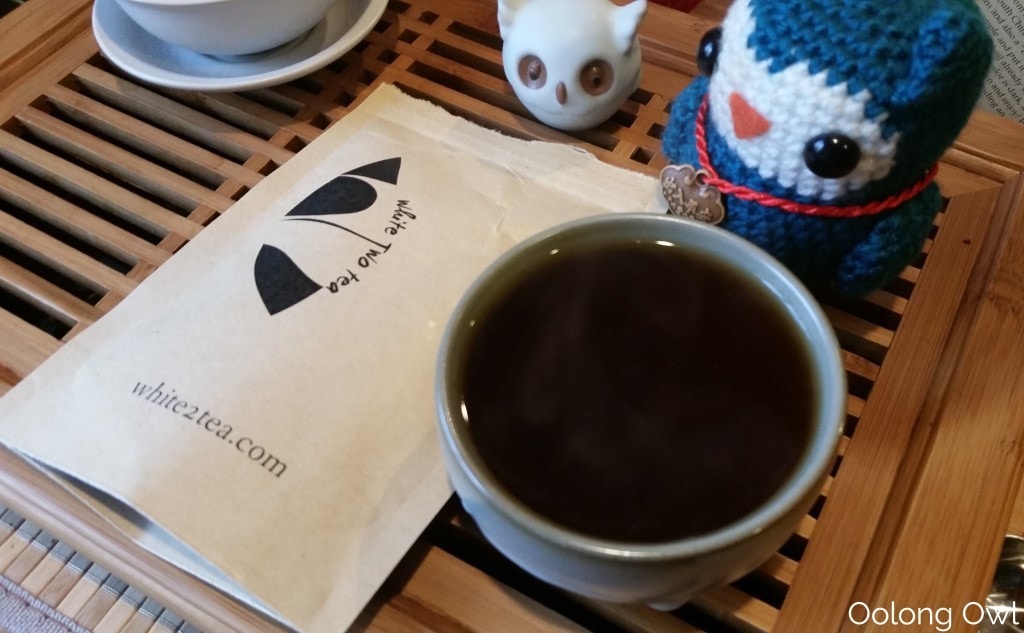 Tasting of Stove Boiled Aged White Tea
Wow, the flavor is really different. People asked me whether gongfu steeped aged white tea tasted like tea since I said it was really different, however it boiled on the stove is way more different!
The flavor of the stove boiled aged white is strong with a thick creamy texture. There is a strong red date flavor. Some sips give me a dried coconut vibe too. Actually the more I sip, the more it tastes like creamy coconut to me. The end of sip has an interesting finish of medicinal herb with a light bitter freshness. There is a lingering date sugar taste with a hint of dryness in the aftertaste. This does not taste like white tea, it tastes more like a herbal – better than all the herbals in my stash!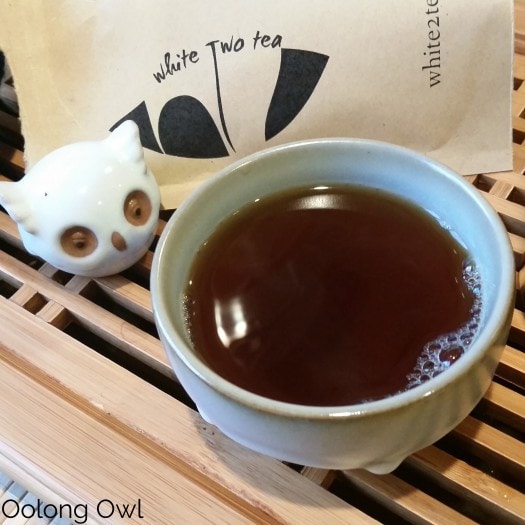 Comments
Boiling your aged white tea – it's a new twist to white tea! Serve this up and most would not be able to figure out what the hell they just drank. The con for this method is aged white tea is expensive! Gongfu steeping it would probably yield more tea in the end. I would likely try this with my other aged tea once, but with aged whites being uncommon and expensive, it's not something I'd get into the habit of doing often.
In all, a pretty cool White2Tea club for January 2016!