Global Tea Hut is a monthly subscription tea box, however this one is run a little differently. The main feature of this subscription is getting a magazine, but you also get a tea sample and a small gift. The subscription proceeds go towards a free tea center. The subscription price is a minimum of $20, but you can pay a higher amount as donation.
Let's check out January's Global Tea Hut! Since this is my first time with Global Tea Hut, let's go in depth here.
The packaging!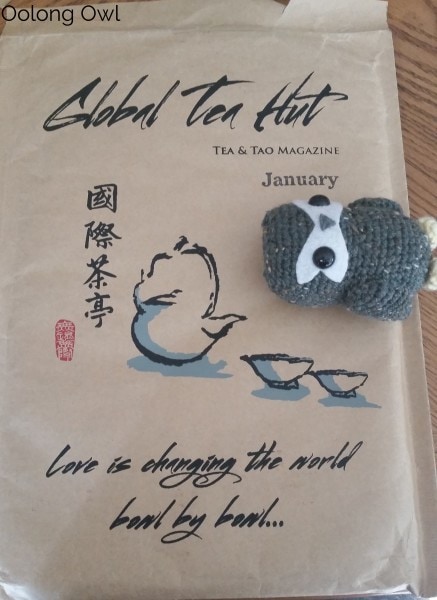 Inside is a magazine, tin of tea, and a gift.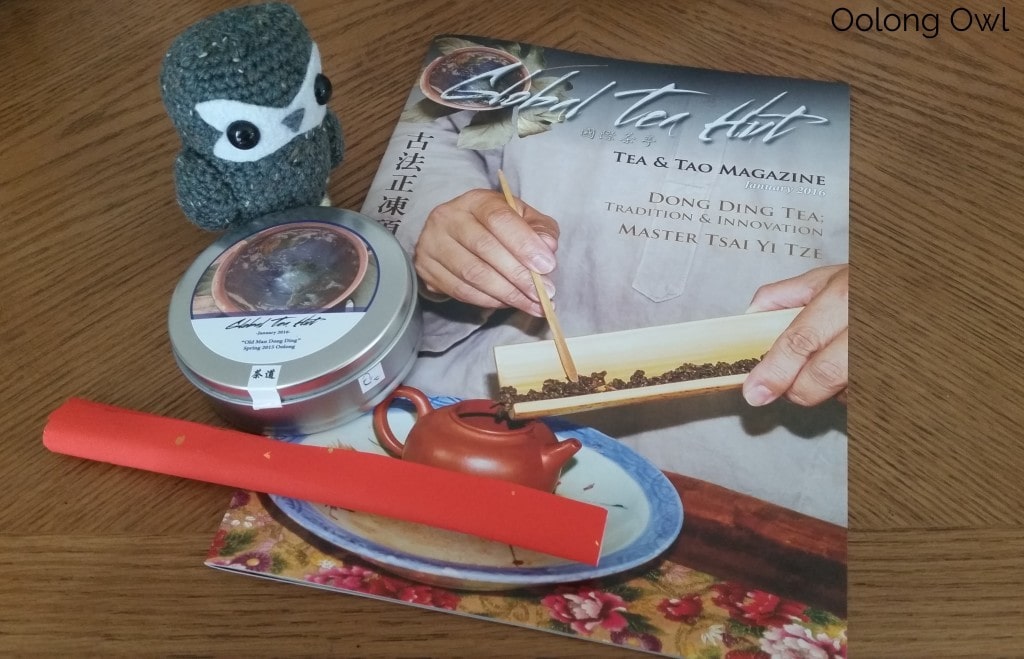 First off, the gift. I could not figure out what this thing is and had to ask tea friends.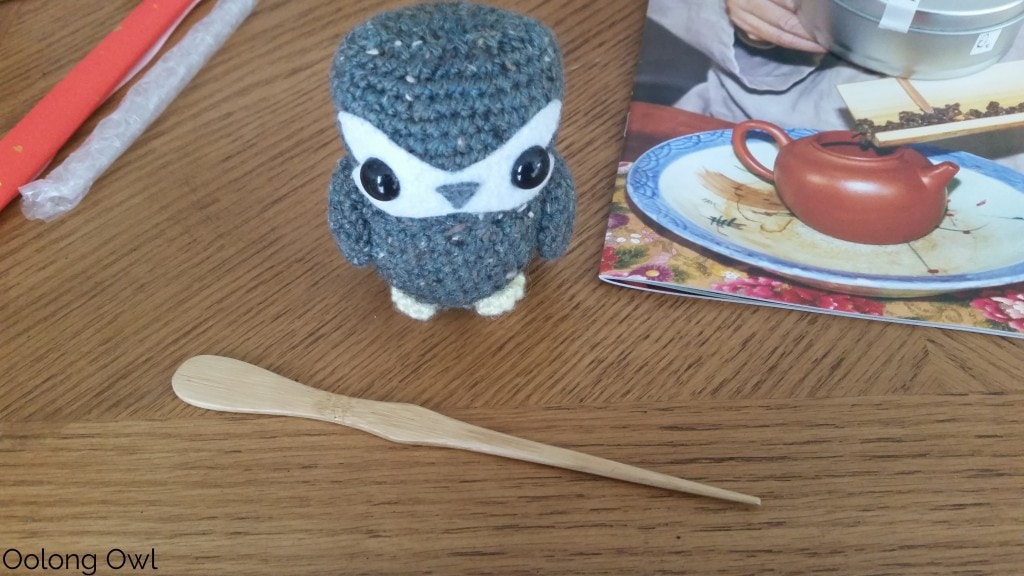 Turns out this bamboo thing is to clean out your tea spout. Ambitious Tea Owl has claimed it and is using it to tease the other Tea Owls.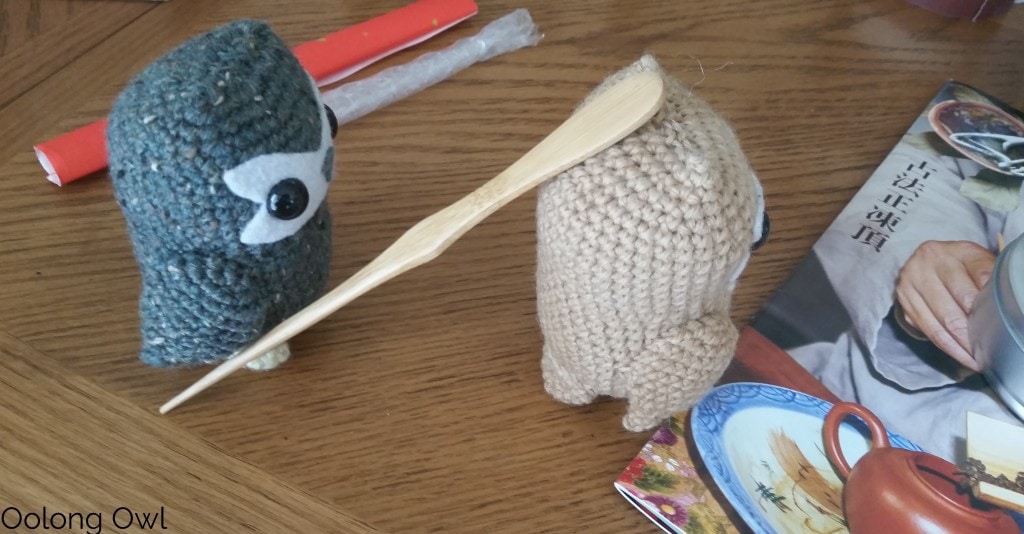 Global Tea Hut Tea & Tao Magazine
The magazine in the subscription is full colour and does not have any advertisements. You can also view past issues online for free (at this time it looks like they are up to August 2015).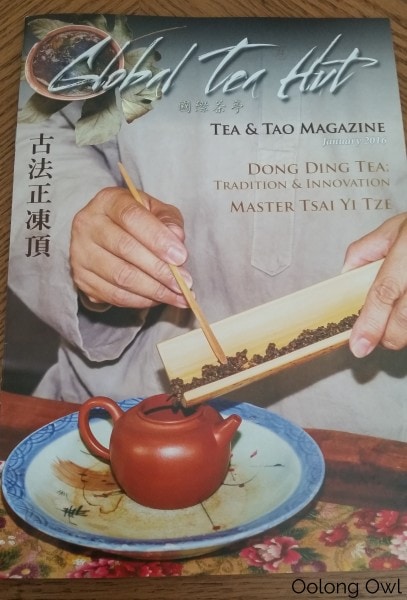 Tea & Tao Magazine for January had lots of information on the processing of dong ding oolong and information about the tea master who made the oolong in the subscription's sample. Pretty nice photos too!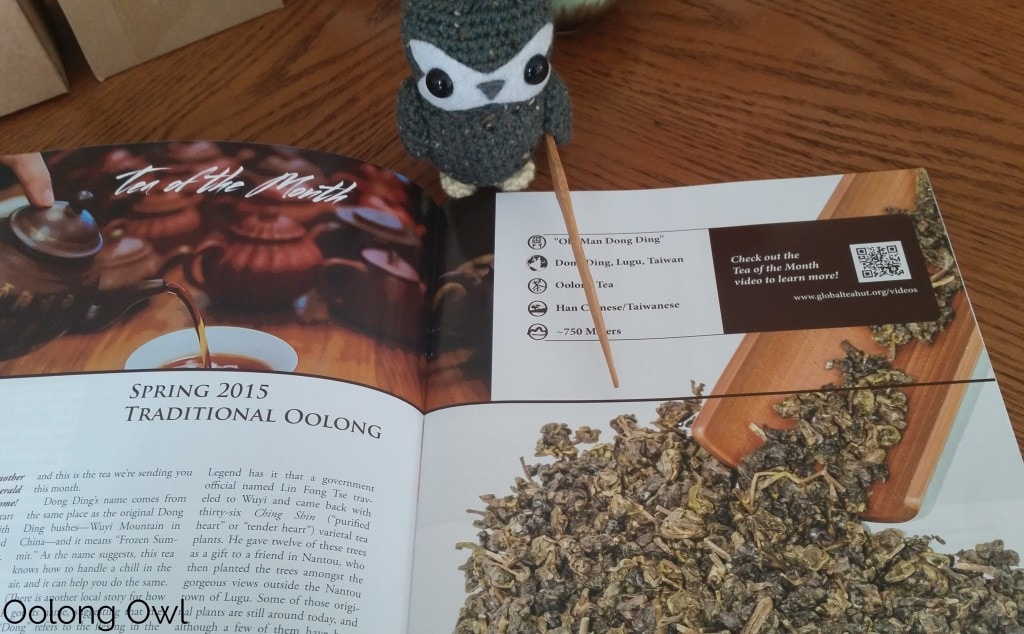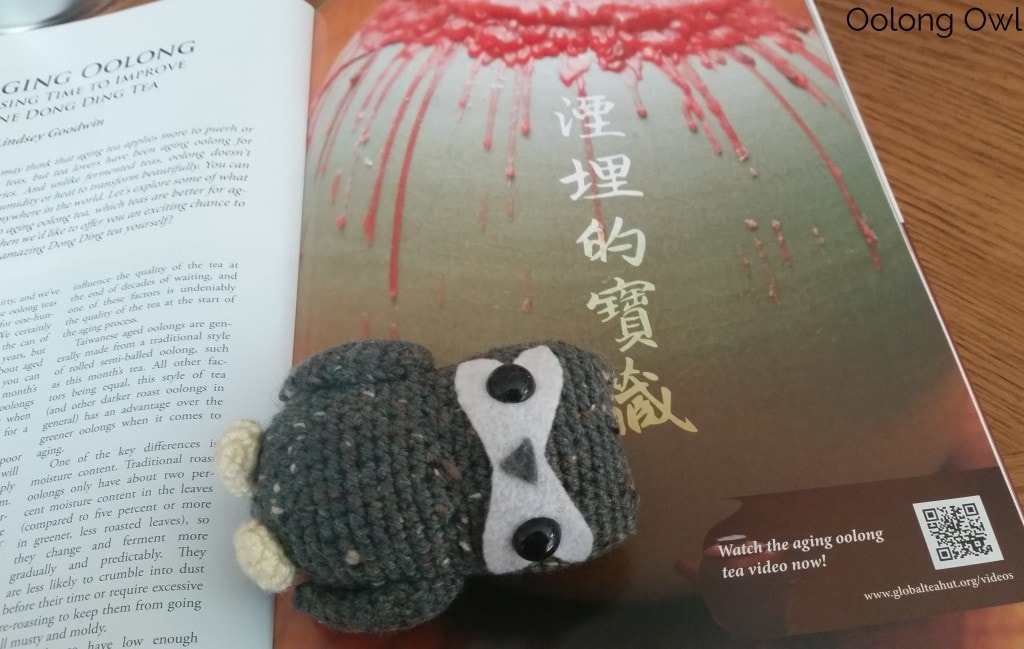 There is also a focus on a more spiritual aspect of tea and your tea space, along with other pictures of people looking pretty serious. I'm not one for spiritual aspects of tea, the articles more or less flew over my head. I'm more of a cluttered, crash and burn type of tea drinker with Tea Owls jousting pu'er picks in the background.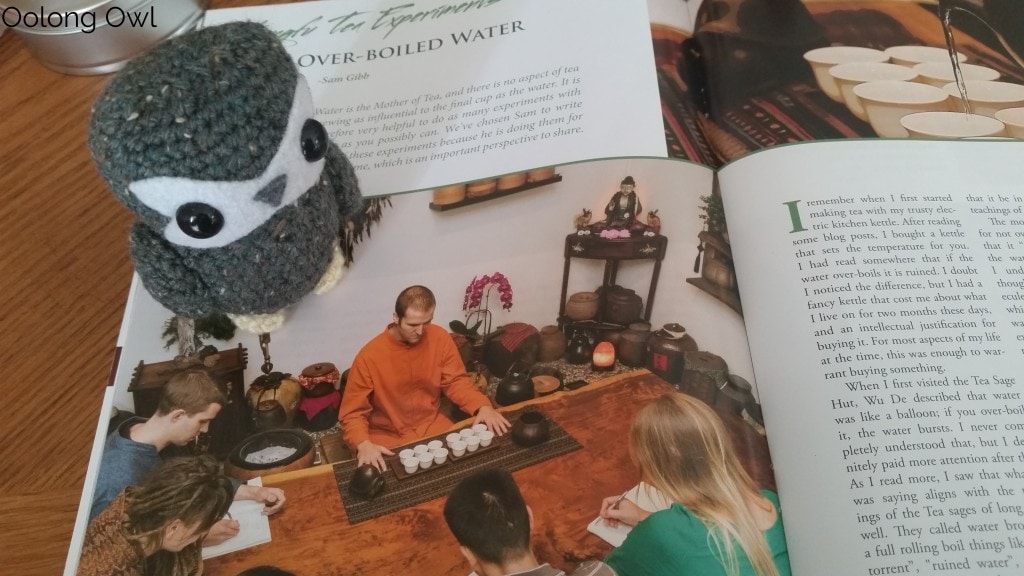 Old Man Dong Ding Spring 2015 from Global Tea Hut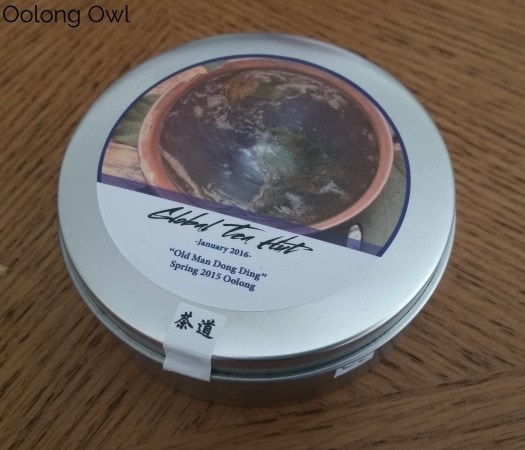 I got 13 grams of leaf, so enough for 2-3 sessions depending how you roll.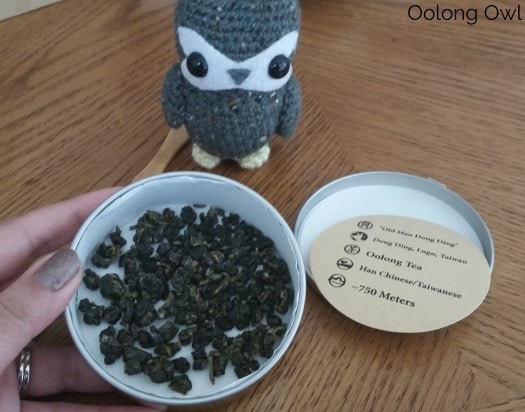 There is an option to buy more of this oolong, but it's limited quantities and packaged for aging. The dry leaf is HUGE! Some of the wads of oolong are the size of my pinkie! The tea smells like brown toasty butter, yum!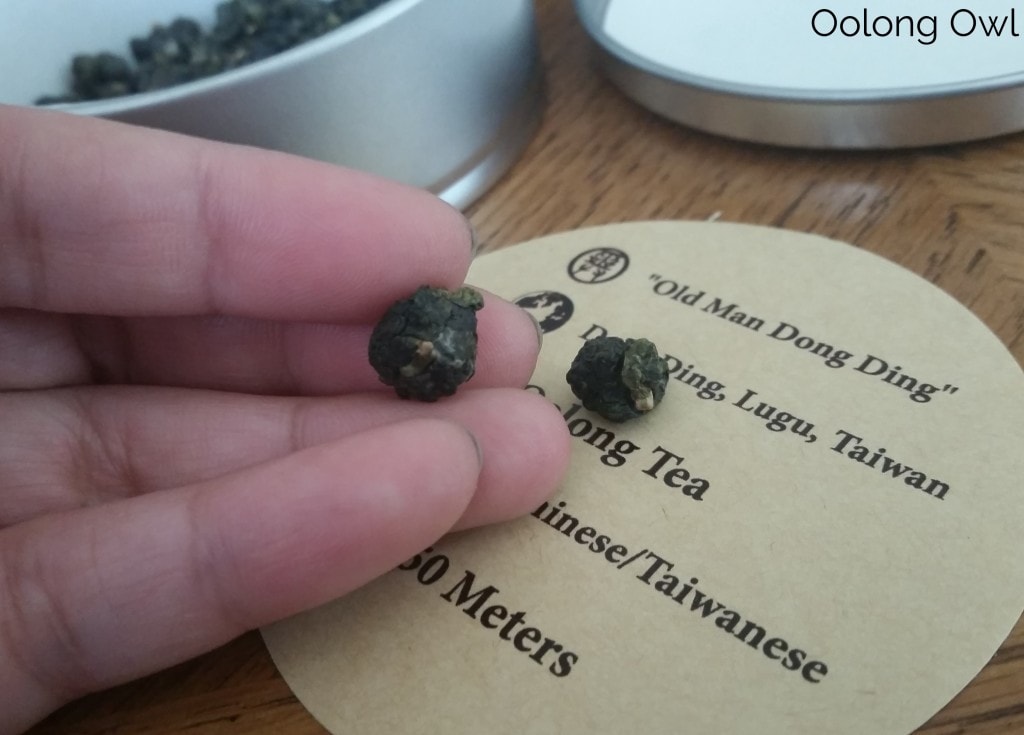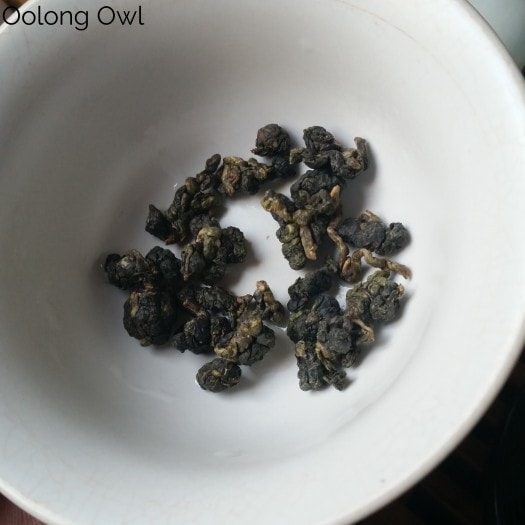 I decided to steep in a gaiwan, around 90ml, 5 grams of leaf used. I did one rinse using 200F water and started steeping for 30 seconds. The Old Man Dong Ding steeps up a lightly tinted green gold with a soft floral scent.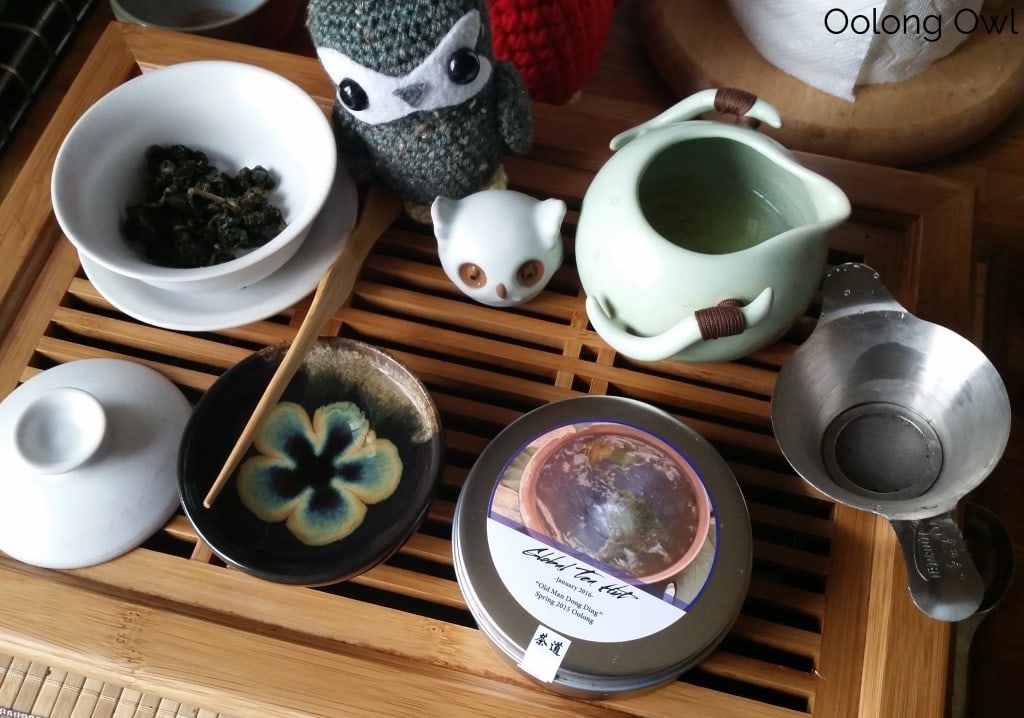 First Infusion: The Old Man Dong Ding has a soft buttery tastes with a sweet finish. The flavor is quite weak, but the texture is like thick licking lips lip balm.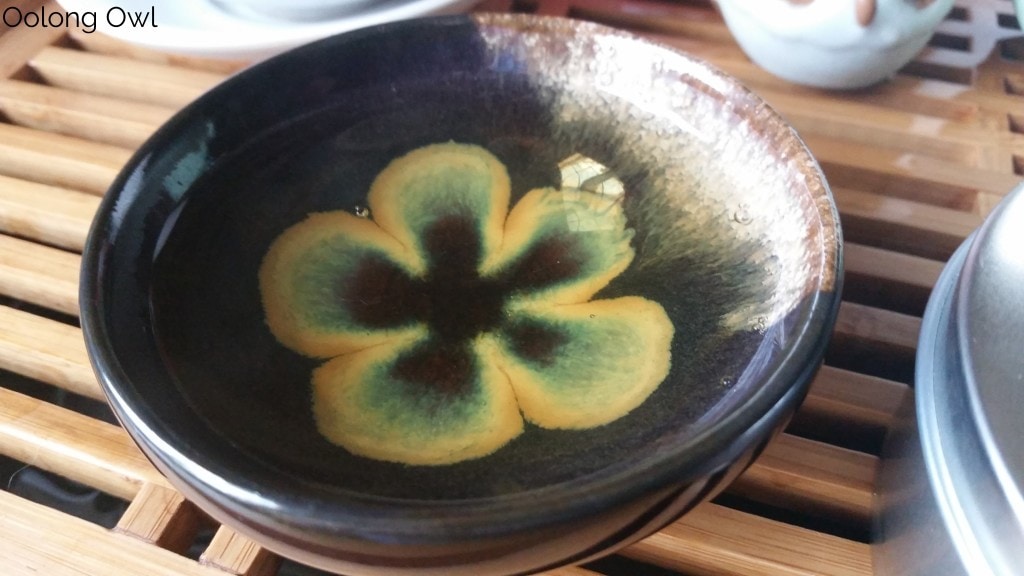 Second Infusion: This infusion was very unlike the rest. It has a sweet tangy fruit up front, sipping to a buttery, woody branch with a bit of leafy taste, and finally a floral gardenia finish. The floral flavor is quite strong, giving a long lasting floral aftertaste. The complexity here in this steeping is interesting, it has an "drinking in an old forest with fat squat trees covered in blooming white petals" feel.
Third and Fourth Infusion: Moar floral! So much floral! The flavor is a stiff floral with a peak a bitterness from intense floral in your face. The gaiwan is getting full.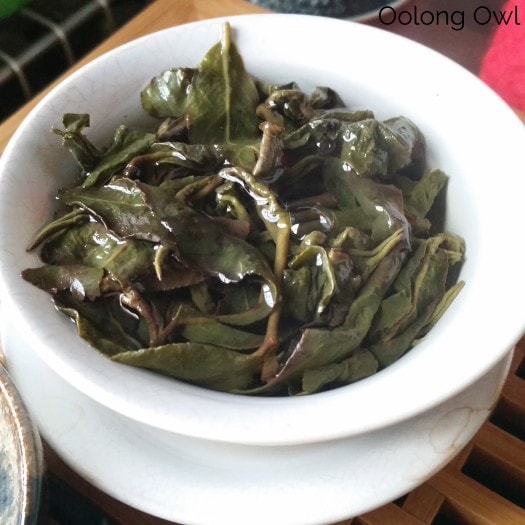 Fifth, Sixth, and Seventh Infusion: The leaves are huge and breaking out of the gaiwan.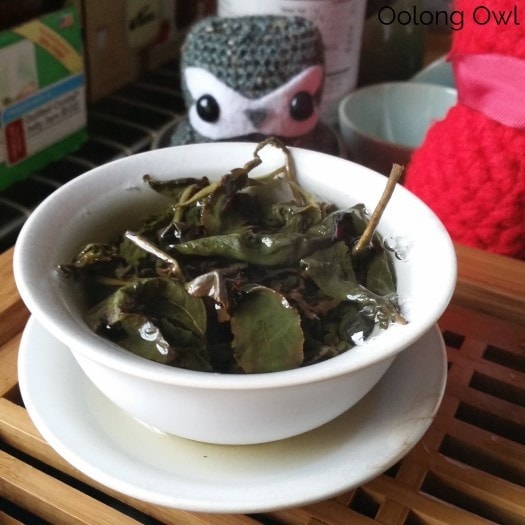 I needed to fight the leaves off to close the lid! The fat stems put up a resistance so I had to go in and smush them in.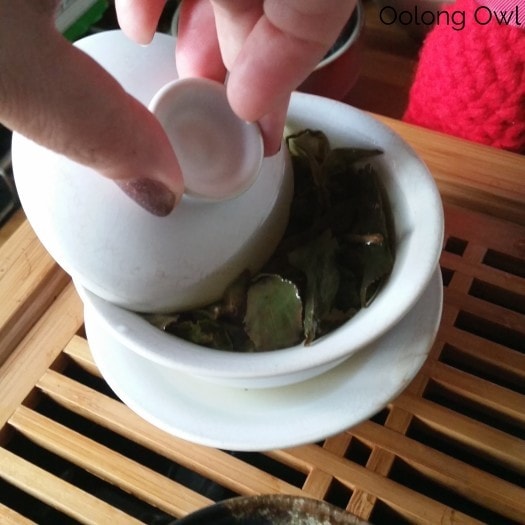 The flavor is softening up to sweet. It starts off with citrus that mellows to a buttery blooming floral. I stop drinking for a minute and notice a strong peachy floral aftertaste creeps in, a delayed onset aftertaste, haha! It is interesting how these steepings are very delicate vs strong from earlier steepings.
Eighth Infusion: The final steeping of the Old Man Dong Ding. The oolong is light with notes of citrus and butter. The floral is a wisp at the end.
The leaf, as predicted, is huge and well intact. A few of the leaves have some really thick stem pieces too.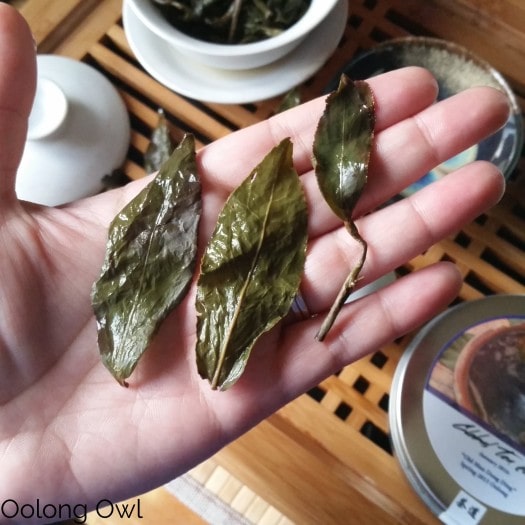 Comments
Global Tea Hut is a different kind of tea subscription. I'd say it's more so for the learning experience as you get a physical copy of the magazine and 2-3 sessions of a quality tea.
It's not a subscription you can min/max and get a good deal on a lot of teas to sample or drink for the month. Global Tea Hut is more of a subscription for someone who wants to learn more about tea, processing and culture. It's something you can sit down with on an afternoon, read about the tea you are drinking and share with friends. You would want to have an interest in a more spiritual aspect of teaas well.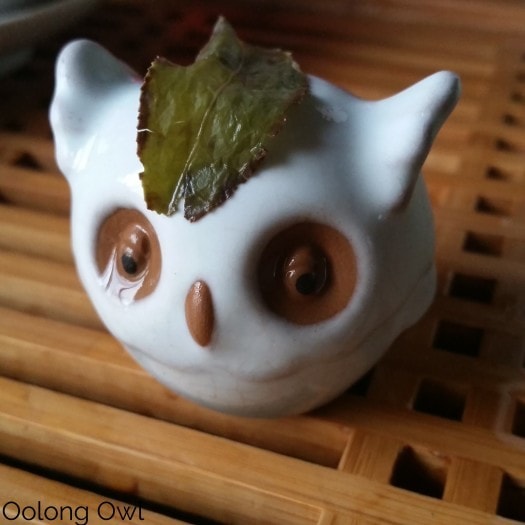 (subscription provided for review)