Time for the June Simple Loose Leaf box!
Simple Loose Leaf box info – Simple Loose Leaf is a monthly Co-op tea box that sends 4 to 6 loose leaf tea samples (1/4oz size) – you get a wide assortment of different teas such as straight teas, blends and herbals. With being in the Tea Co-op, you get a membership ID. If you enjoy and want more tea that you've sampled, you can purchase it from the Simple Loose Leaf Tea Shop for 50% off.
For your first box, you can enter OolongOwl for a 50% off your first Simple Loose Leaf's Tea co-op box!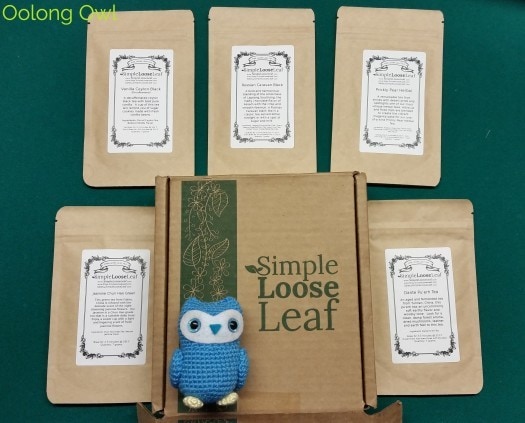 For June the teas are – Jasmine Chun Hao Green, Dante Pu'er, Vanilla Ceylon Decaf, Jasmine Chun Hao Green, Russian Caravan and Prickly Pear Herbal. I'm going to review three of those. I have had Russian Caravan in a previous Simple Loose Leaf box.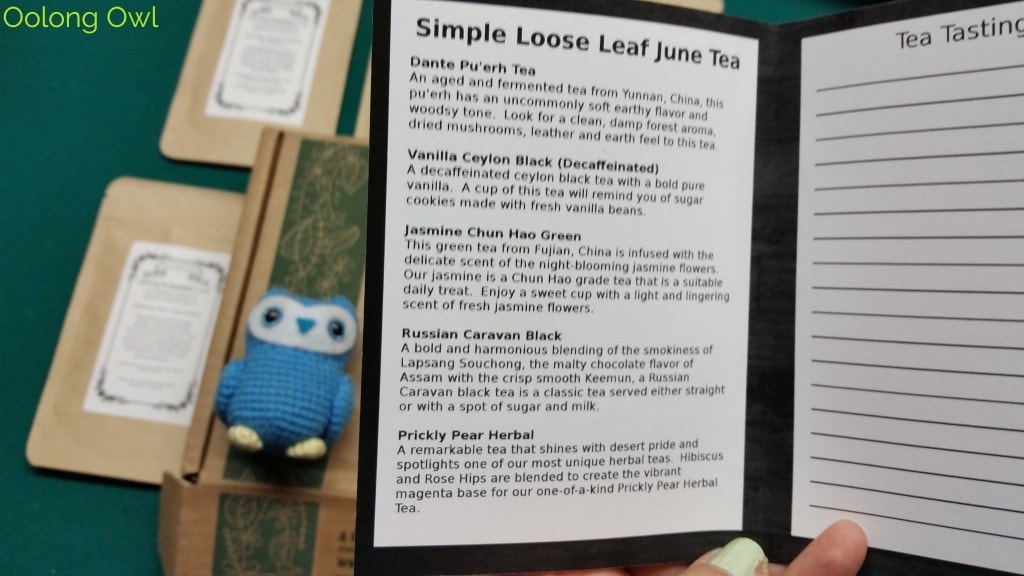 Tasting of June 2015 Simple Loose Leaf Teas
Jasmine Chun Hao Green
The dry leaf is nicely jasmine scented with a green leaf.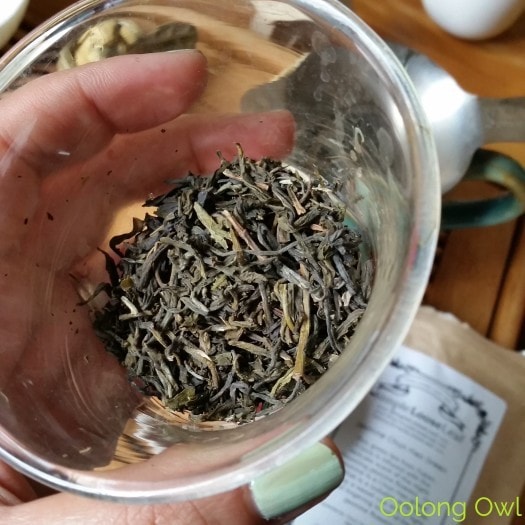 Unfortunately, me steeping didn't come out well. I went with the high temperature listed on the package (195f) and it came out really bitter with a sweet jasmine finish. I didn't like the mega bitterness at all and had to pour it out.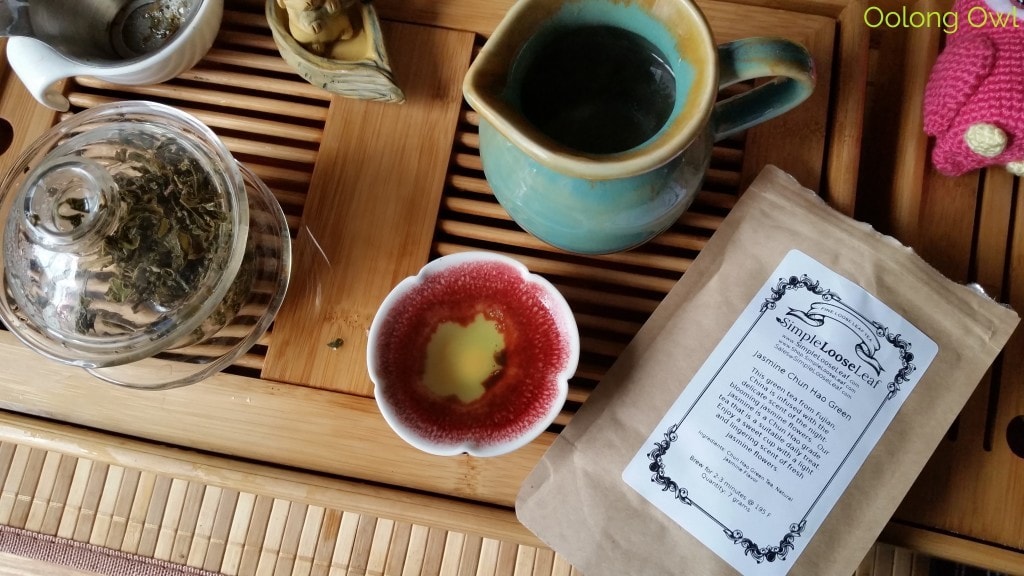 I dropped the kettle to 175F for the second steeping and it was still pretty bitter and really dry. I used my entire sample so this was a bust folks. It happens. Figure I should show a steeping fail once in awhile as it happens to all of us.
Prickly Pear Herbal
The dry "leaf" smells like hibiscus and fruit. I'm not one for hot hibiscus tart teas, so I'm icing this tea! I steeped it at 200f for 4 minutes then poured it over ice.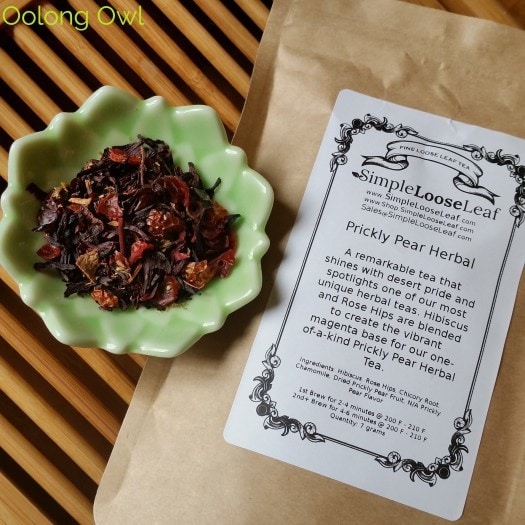 On its own Prickly Pear Herbal is pretty freaking tart. Like an 8 /10 Tart with mega pucker. I added a shot of light agave which tamed the tart.
Once I could actually drink it without puckering, I can taste the hibiscus and rosehip distinct flavor with a hint of a mellow floral. The finish is an extra fruity kick like pear and Watermelon. I haven't had prickly pear in a long time, but I recall it being kind of watermelon like.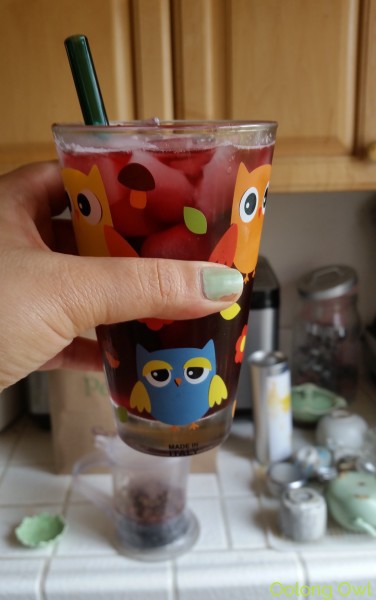 I tried a second infusion and it was weaker flavor and somewhat watery but more watermelon in taste. The second infusion is alright, I'd otherwise pass unless you want to get everything out of your tea.
Vanilla Ceylon Decaf
This tea indeed smells like a cookie!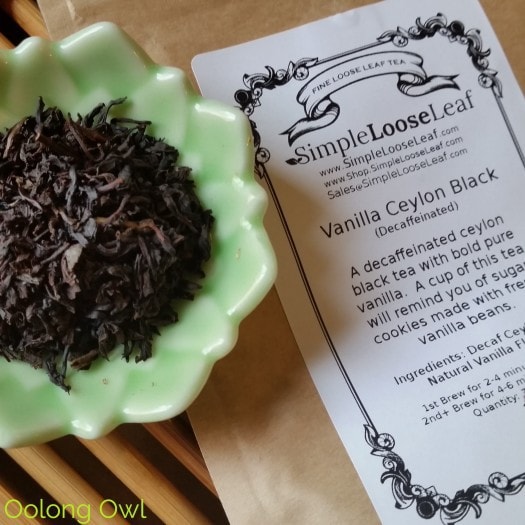 I steeped up Vanilla Ceylon Decaf in boiling water for 3 minutes. My cup of tea smells like sugar cookies!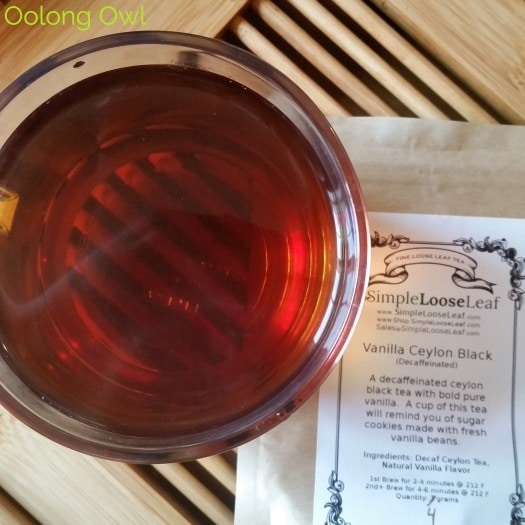 Taste wise, Vanilla Ceylon Decaf is really creamy vanilla in flavor, naturally sweet with a watery background of malty black tea.  The main flavor is the vanilla – perfect for your sweet tooth creamy types. However, I would rather have the non-decaf version as I assume the black tea base would be more potent and less watery.
Either way, the blend is really good for a decaf tea and I'd search this one out to drink for evening tea – I rather have this than a vanilla rooibos any day. I had enough to make two cups of tea and immediately steeped up the next cup – very tasty! I think this was the best tea of the bunch!
(tea provided for review)