For June 2016 White2Tea club we got cute 50 gram cakes! 2016 Mengsong Raw Puer and 2016 Mengsong Black Tea. This month sounds like another tea education piece as we can compare spring 2016 Mengsong – same producer and leaf, but processed differently resulting in a puer and black tea. The puer was traditionally processed to be a sheng, whereas the black was made for traditional Yunnan Dianhong style.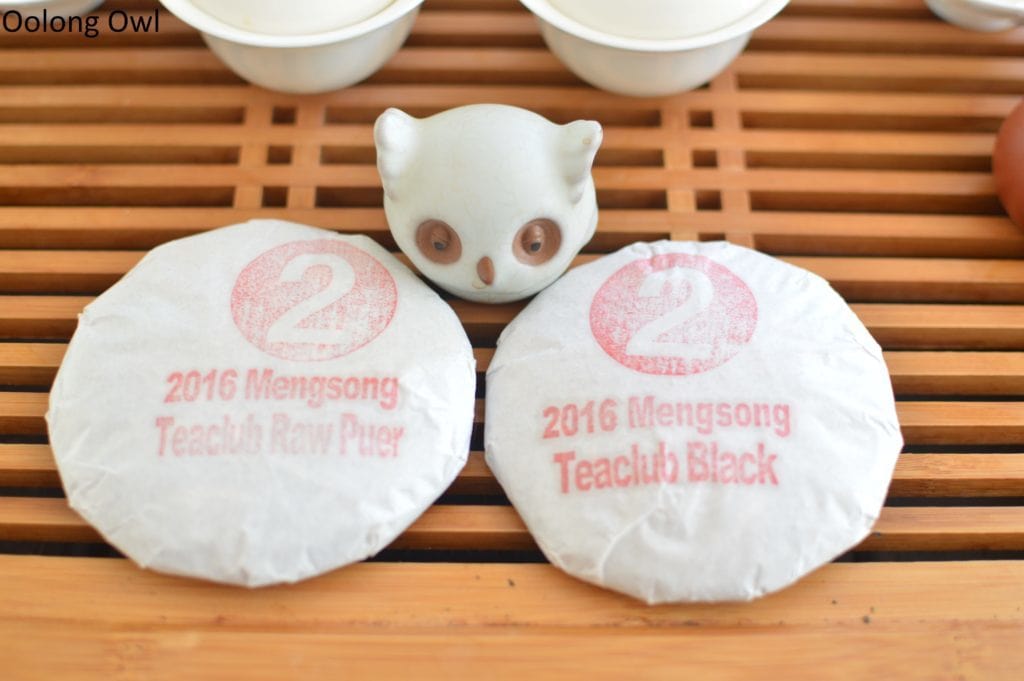 These were pressed in mid-May and the notes stated resting would be a good idea. Since I am behind on the club, I am drinking this end of July, so these little cakes had an extra month to rest. Since I am behind a month on drinking my tea clubs, I'll just be drinking these two White2tea teas together without the suggested separate session.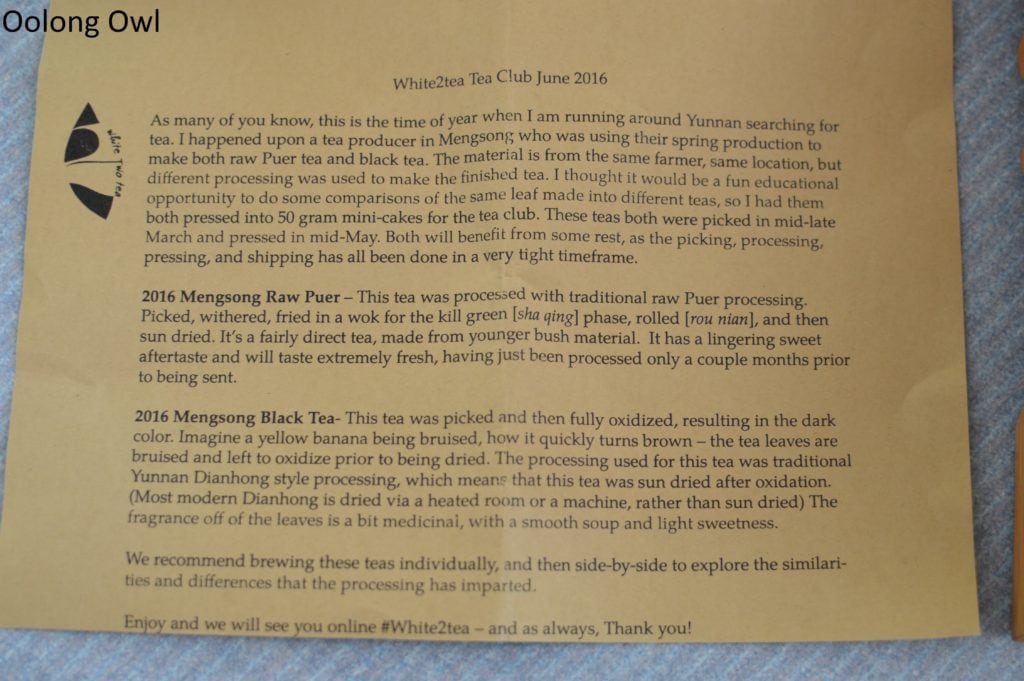 Dry leaf
Awwww cuuuute cakes!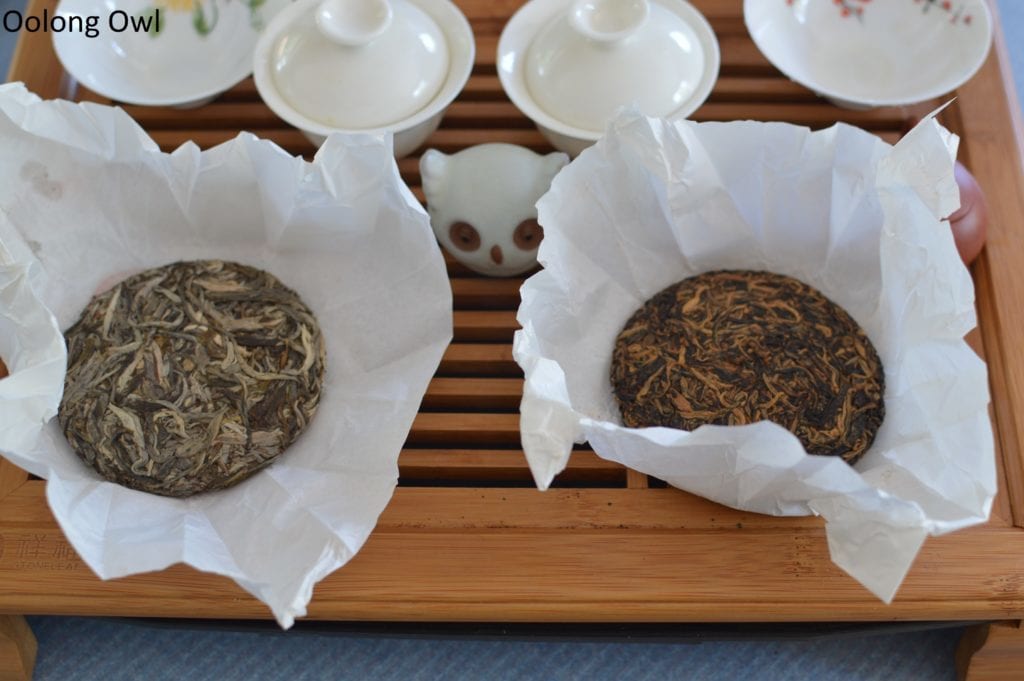 Yeah yeah, I'll flip them over for the beenghole shot. The raw has quite a bit of colour on it with some olive greens, silver and hint of gold. It has a fresh scent.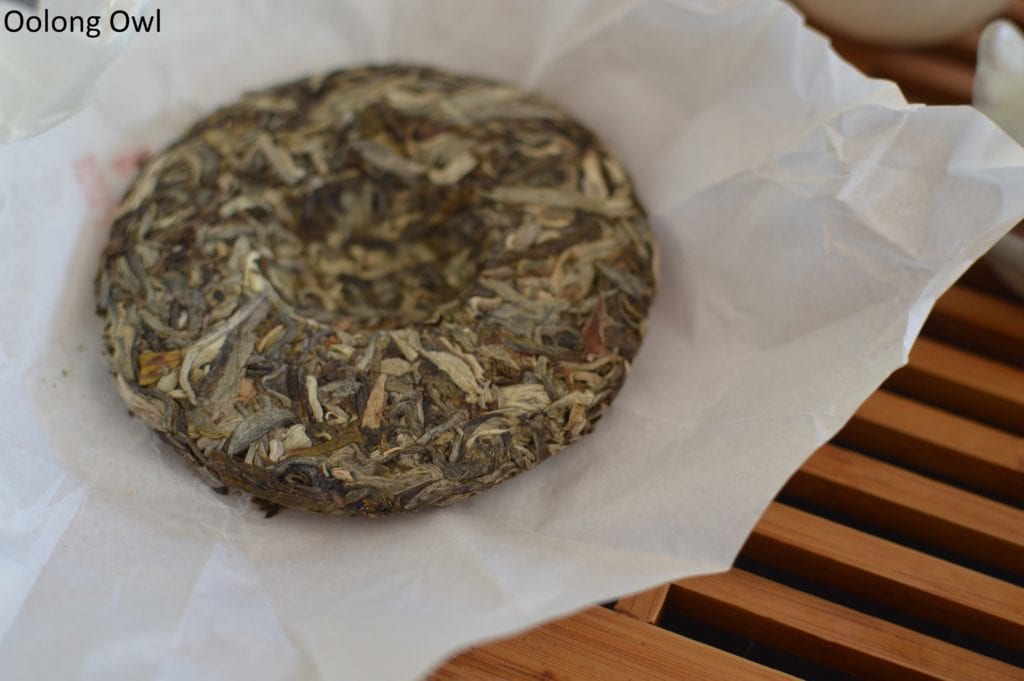 The black cake is pretty. Lots of ripples of gold over black. It is hard to capture on camera as the white balance is getting very angry at me. This one has a soft earthy scent. I found this cake harder to break apart, the leaves felt thinner and more delicate despite being the same material.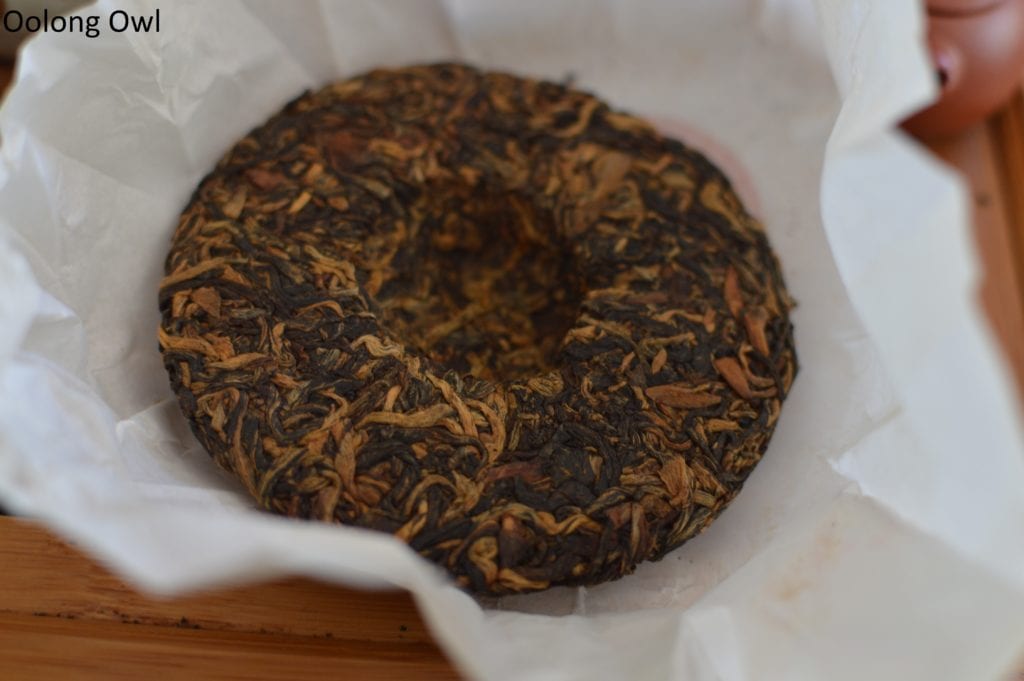 Steeping Instructions
I went with the same parameters for both teas – boiling water, 1 gram to 15ml ratio. I steeped the two teas in small gaiwans.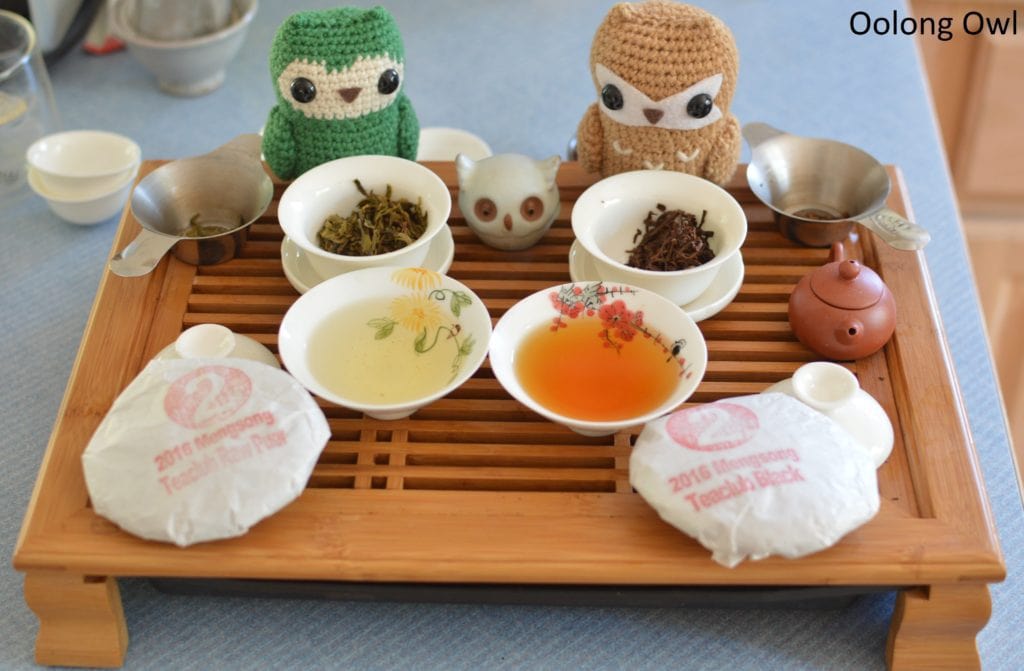 Tasting of June 2016 White2Tea Club Mengsong Raw and Black
First and Second Infusion:
As expected, there is a huge contrast of scents. The sheng smells like sweet, hot, humid hay. The black smells tangy, earthy, woodsy and fruity.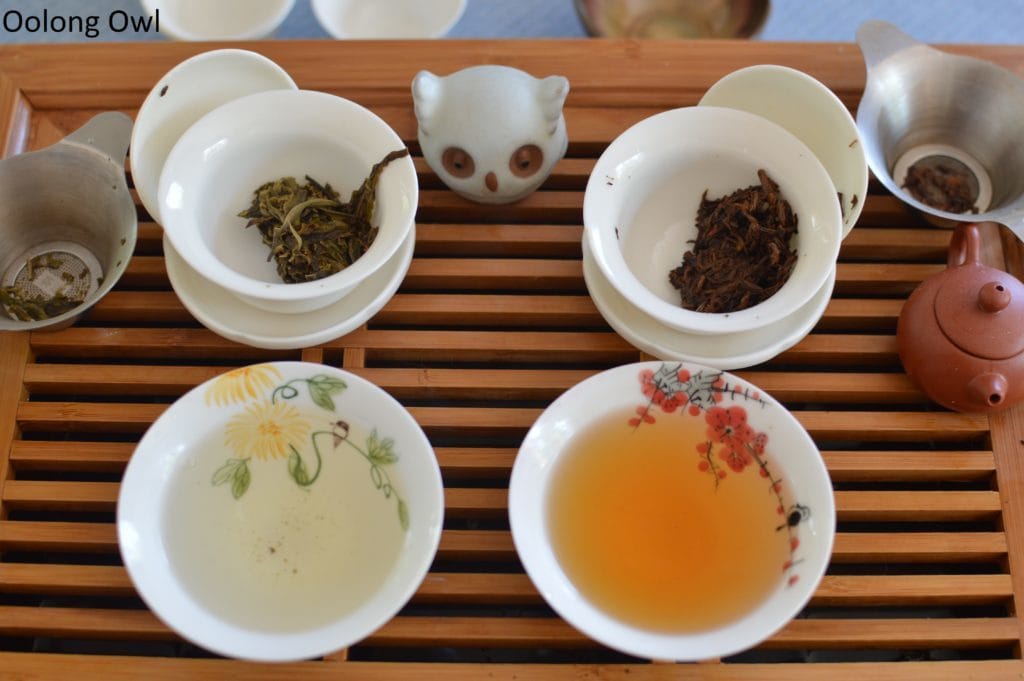 2016 Mengsong Raw Puer tastes creamy buttery, light, clean crystal sweet finish. Super easy to drink, I could chug this. If this had floral I would think this was a fresh oolong.
2016 Mengsong Black Tea still a little light, but it is bright, nicely fruity, crisp with a touch of woodsy cherry. Both teas are very clean. With each steeping the black got much more stronger than the sheng.
Third, Fourth, Fifth, Sixth, and Seventh Infusion:
2016 Mengsong Raw Puer is getting dry, with a cheeky gum feel. The notes are quite juicy, salivating sweet, vegetal, buttery, and I'm getting a oily body. Slight apricot fragrance after each sip. Fourth steeping the bitterness hit with a stiff strong vegetal flavor, likely I could of tamed with a lower water temperature or faster infusion. I got caught up taking photos.
2016 Mengsong Black Tea is sweet, creamy, fruity, strong, with a dark cherry wood finish. Bit of a slick texture, but not as slick at the sheng. This one keeps developing with each steeping an excellent fruity richness and a little brisk dryness. Drinking this black tea screams that it needs cakes to go with it, and it didn't help drinking this with a salivating sheng. The Tea Owls raided my secret chocolate stash.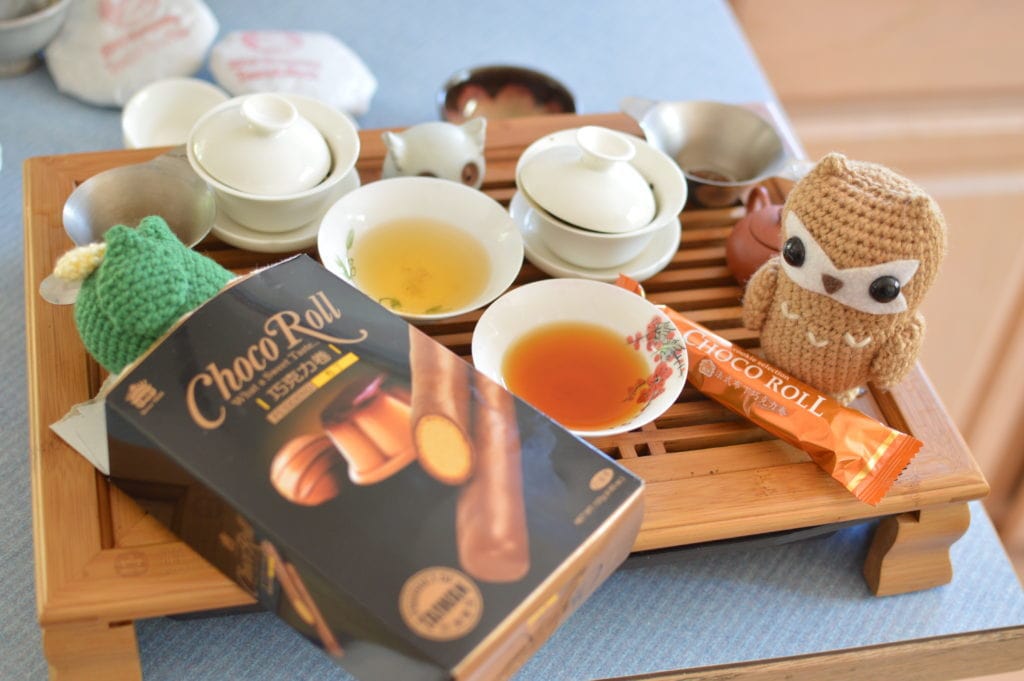 Eighth, Ninth, Tenth, and Eleventh Infusion:
2016 Mengsong Raw Puer is dying. It's got a tongue tingle dryness of grass, fruity, bittery vegetal, like concentrated green bean skins. This is super bitter and dry with little fragrance. I might be able to get another steeping, but this is very bitter so I wouldn't enjoy it.
2016 Mengsong Black Tea got smooth, fruity and woodsy. Smooooth mellow black cherry and excellent sweetness. Very soft to drink, it is a big contrast to the sheng being so dry. I can likely get another steeping here if I got 20 minutes.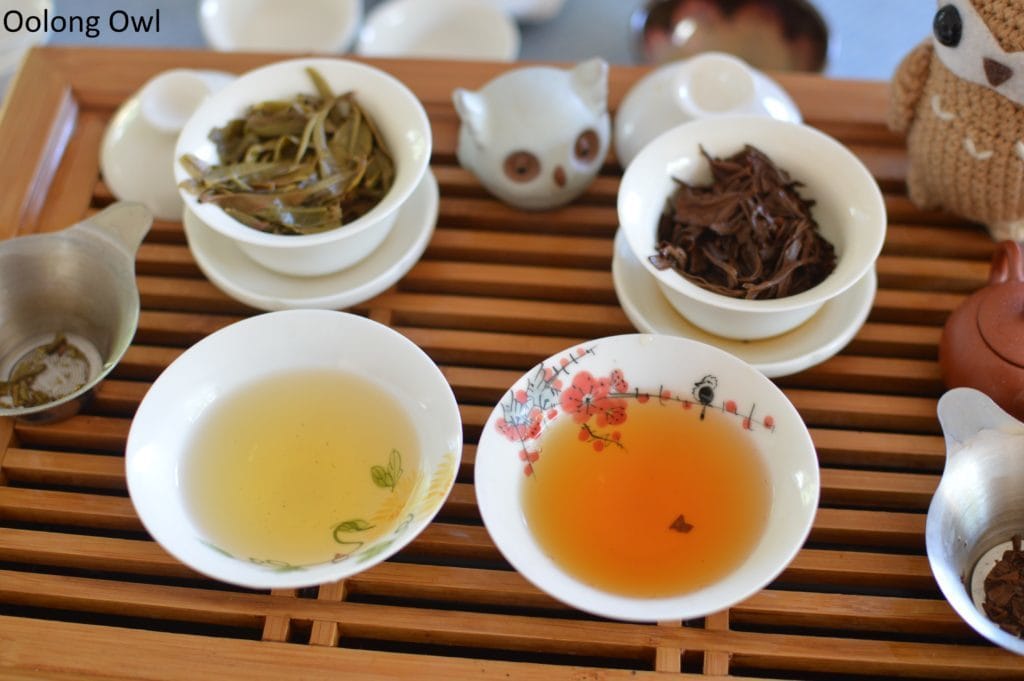 Comments
What an interesting White2Tea club offering! It was near impossible to tell these were same material. The leaf looked similar once opened – dainty leaf that filled the same amount of space, yet different colour. Both teas had a bit of a fruity element and interestingly reversed on each other with sheng being better at the beginning and black being best at the end. This tea session was a good example of what processing can do to the tea and we are at the mercy of a tea farmer who knows their stuff.
I personally liked the black a little more, though I am partial to black and how smooth it got at the end. Maybe it is my brain remember the recent best taste. I can see on their own being able to enjoy both equally. Either way, it was cool to be able to compare and contrast the two teas!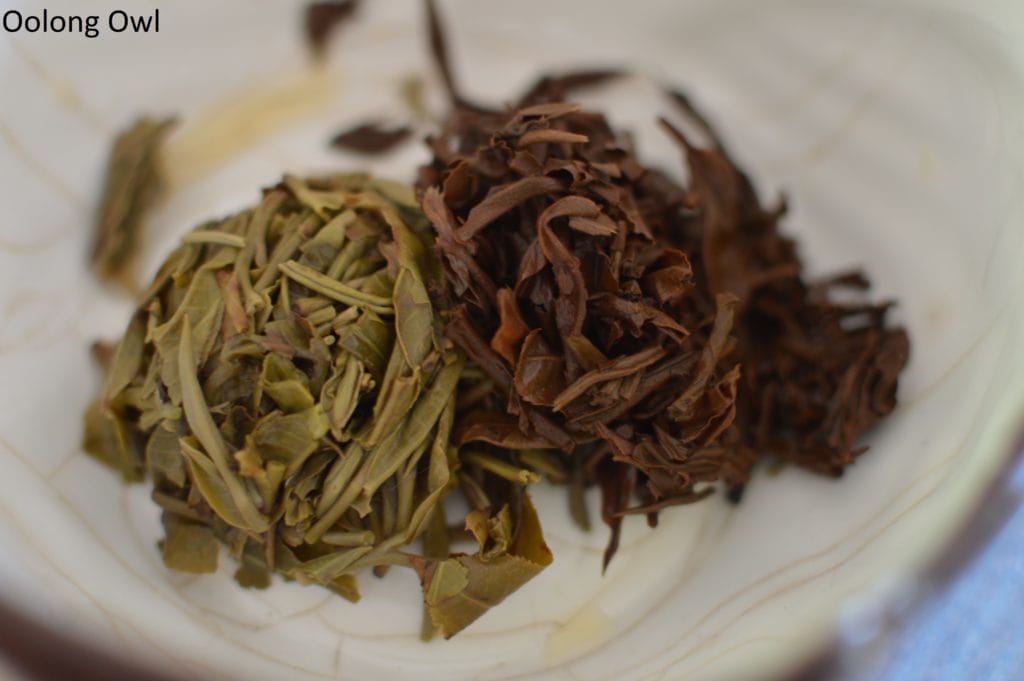 The next White2Tea Club looks amazing, stay tuned!