Simple Loose Leaf Tea Selection Club's June teabox!
To sum Simple Loose Leaf's selection club :
Each month you get to choose from a selection of 5 teas. You may also select the option of sampling all 5 teas, or choose 2 you like. Each tea is 1 to 2 oz, or for the sampler, a 4 oz sampler pack.
Within the 5 teas, Simple Loose Leaf aims to have a good variety to choose from, straight teas, blends and a herbal.
Simple Loose Leaf also gives you a preview of the teas for the following month and lets you also get a 6 gram sample to try ahead of time.
Overall, the Simple Loose Leaf's Selection Club is a great tea club to try out many different teas, as well as giving you the option to choose what teas you like to try. You can also set  "your preferences" so in the event you don't feel like choosing, Simple Loose Leaf will choose for you.
**For my Oolong Owl readers, I got a spiffy coupon code for you: OWLSELECTION25 for a 25% discount when you sign up for Simple Loose Leaf's Selection Club!**
For June I had the choice of Sleeping Dragon Green, Yunnan Breakfast Black, Sweet Orange White, Tahiti Pu'erh and Insomiac's Dream Herbal. What did you tea peeps think I chose? ALL THE PU'ER! and a sample of Yin Gou Mei Green from the upcoming July selection!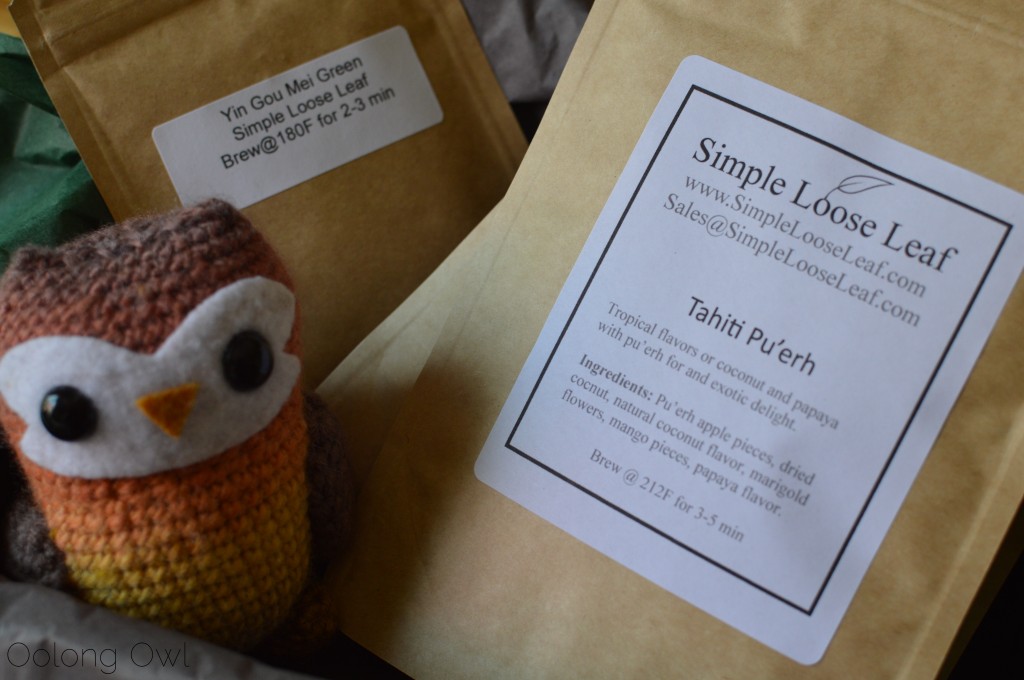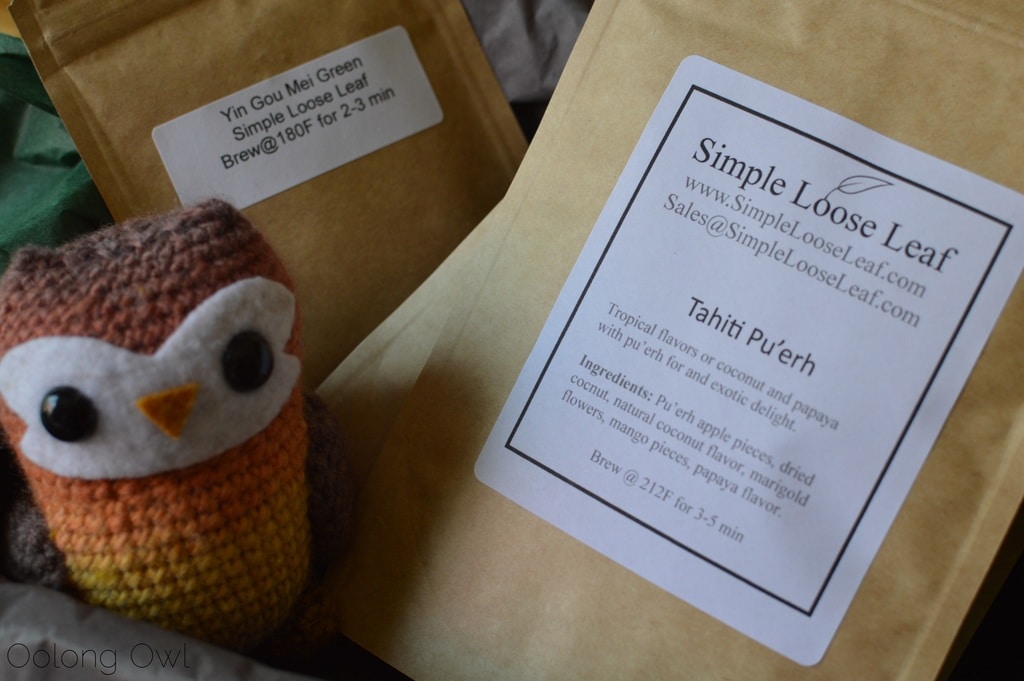 I'm ready for a tropical pu'er party! Man, one of my dream cruises is the one from Los Angeles, through Hawaii and to Tahiti, but I wish it wasn't 20+ days long.
Dry Leaf
Tahiti Pu'erh's dry leaf is like a party – ribbons of coconut and marigolds, with a blocky confetti of fruit pieces. The scent of the dry tea is a mix of earth and tropics.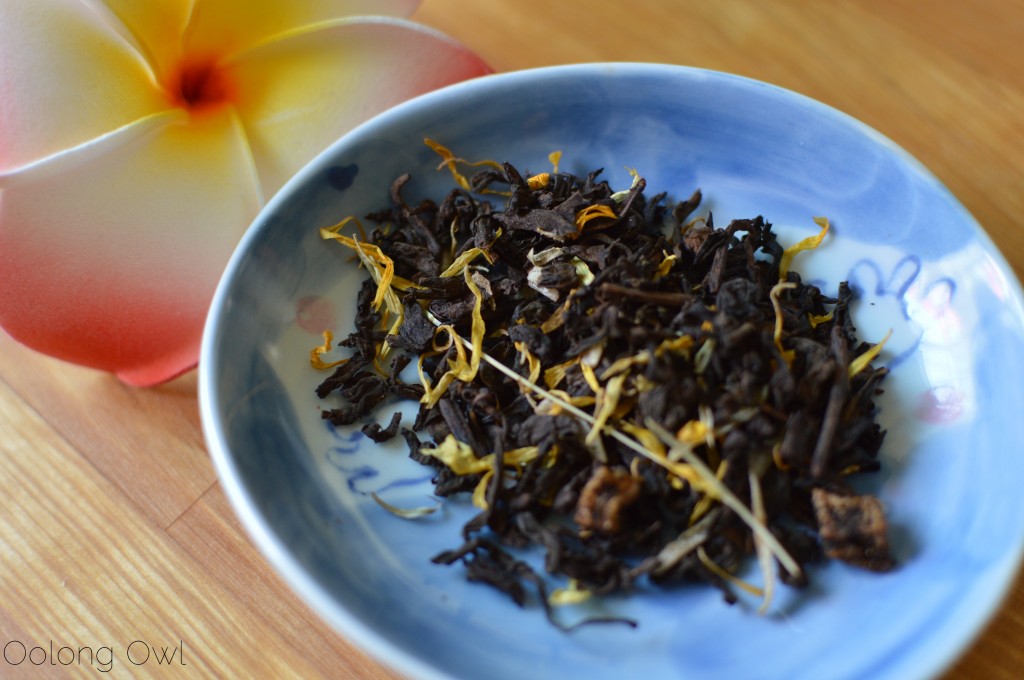 By the way, I'm very proud of the tea photo above!
Steeping Instructions
The steeping instructions state a 3 to 5 minute steep with boiling water. I found the flavor was pretty good at the 3.5 minute mark. After the steep, Tahiti Pu'erh had an almost opaque brown black with reddish edges.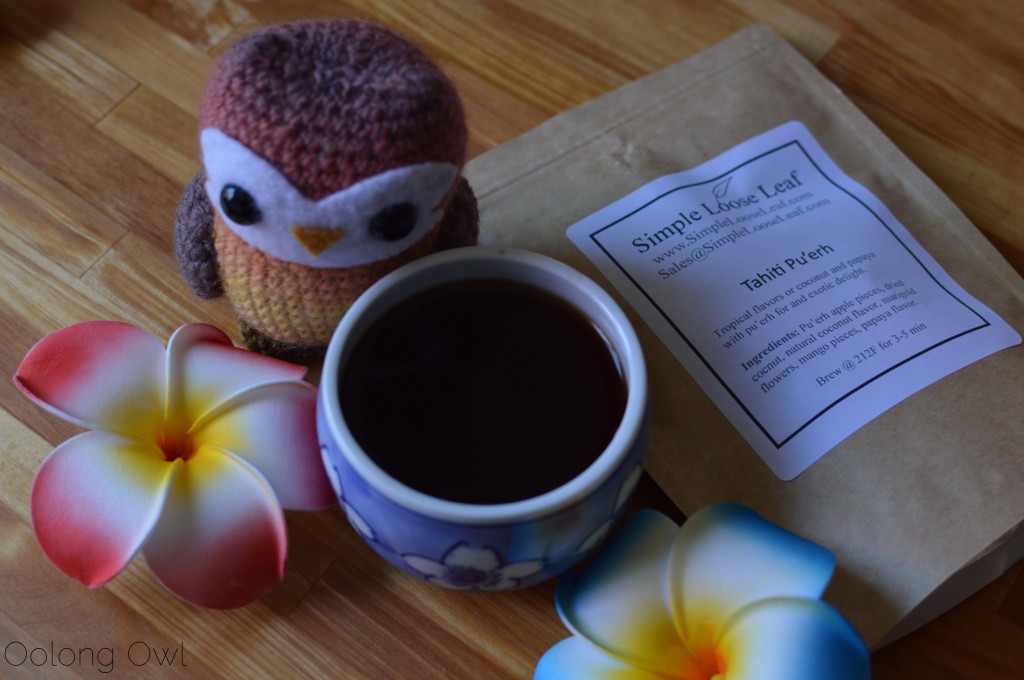 Even the steeped leaf looks tropical!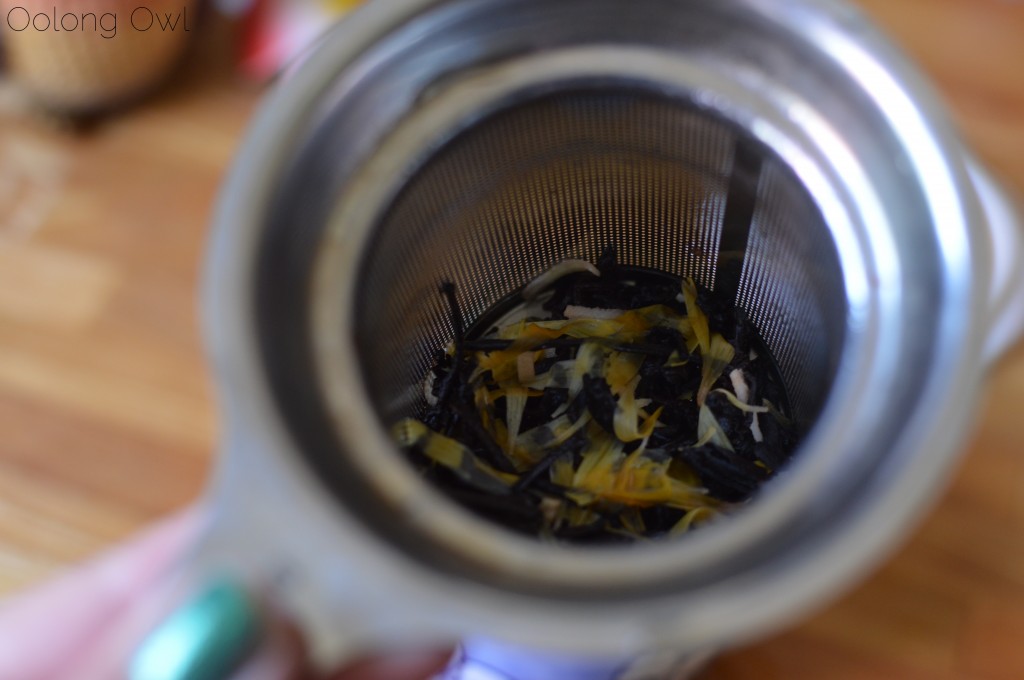 Tasting of Tahiti Pu'erh from June Simple Loose Leaf Tea Selection Club
Tahiti Pu'erh has a dominate flavor of thick, earthy rich ripe pu'er and smooth coconut. Ripe pu'er and coconut seem to be a great pairing as the thickness of the tea matches the creamy elements of coconut. The pu'er in Tahiti Pu'erh, though thick, is easy to drink with the smoothness and lack of fermentation notes. End of sip there is light fruity notes of mango/papaya. Overall, more of a ripe pu'er tea with a bit of flavoring.
Iced – Iced pu'er? I do it often – it works! Even with ripe pu'er! I poured a strong steeping of Tahiti Pu'erh over ice and found the fruity mango papaya flavors came out first, with a creamy coconut finish. Actually, this tastes pretty close to a regular fruity black iced tea, but with an extra pu'er earth notes. I found this iced tea good unsweetened, but a little sweetener perks the fruity flavors a bit more.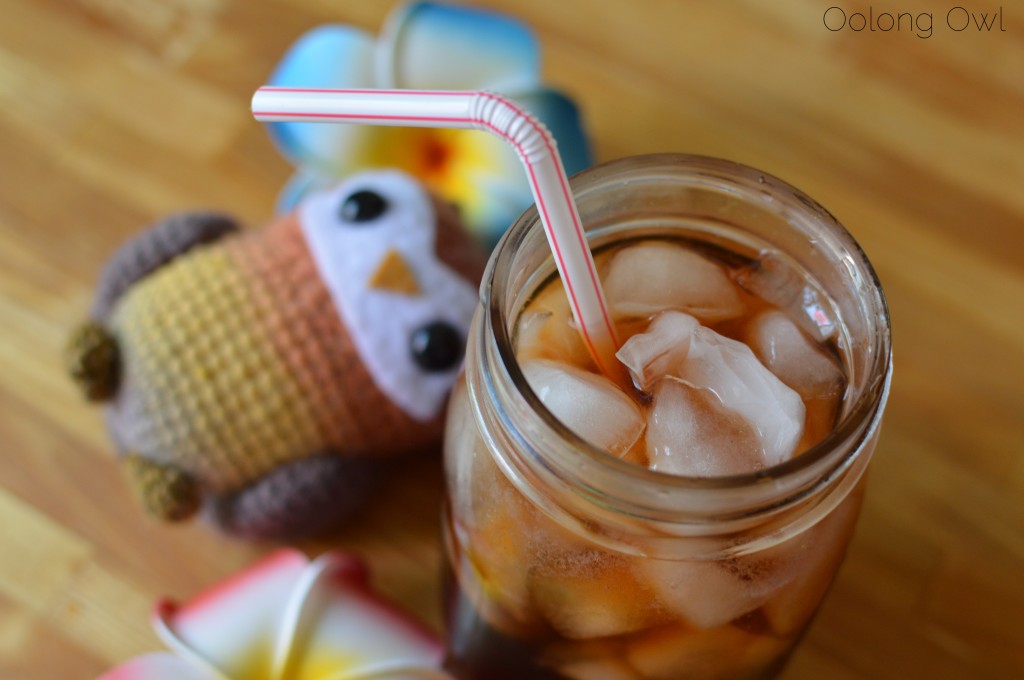 Comments
Tahiti Pu'erh has two sides: a hot tea to enjoy a cup of pu'er with soft creamy and tropical notes, or iced with lots of mango papaya flavor with a background of earth. I personally will be making further cups of this iced as it comes out pretty good and I get more pu'er in me!
If you are looking to drink more pu'er, a fruity blend like this would be perfect change of pace instead of black iced teas. It is very cool to try fun pu'er blends like this in Simple Loose Leaf's Selection Club!
For Simple Loose Leaf's July Selections I get to choose from Yin Gou Mei Green, Kenilworth Ceylon Black, Plum Blossom White, Ginseng Oolong and Tropical Sunshine Herbal. I've tried Plum Blossom White and it is very tasty, so I'm trying to decide whether to go out of my comfort zone or go with the teas I know I'll like.