Today's review is a brand new tea subscription/ tea of the month club – T&Co. T&Co is different than other tea clubs as each month gives you an experience to go with your tea. Each month is a theme, and following the theme the club comes with a tea curated with a treat, activity, and music. I got the June box, so the theme was Father's Day.
The packaging is lovely! It also came with a nice basket strainer and yellow mug (note, I unwrapped the mug for photos, it was safe in bubble wrap when it arrived)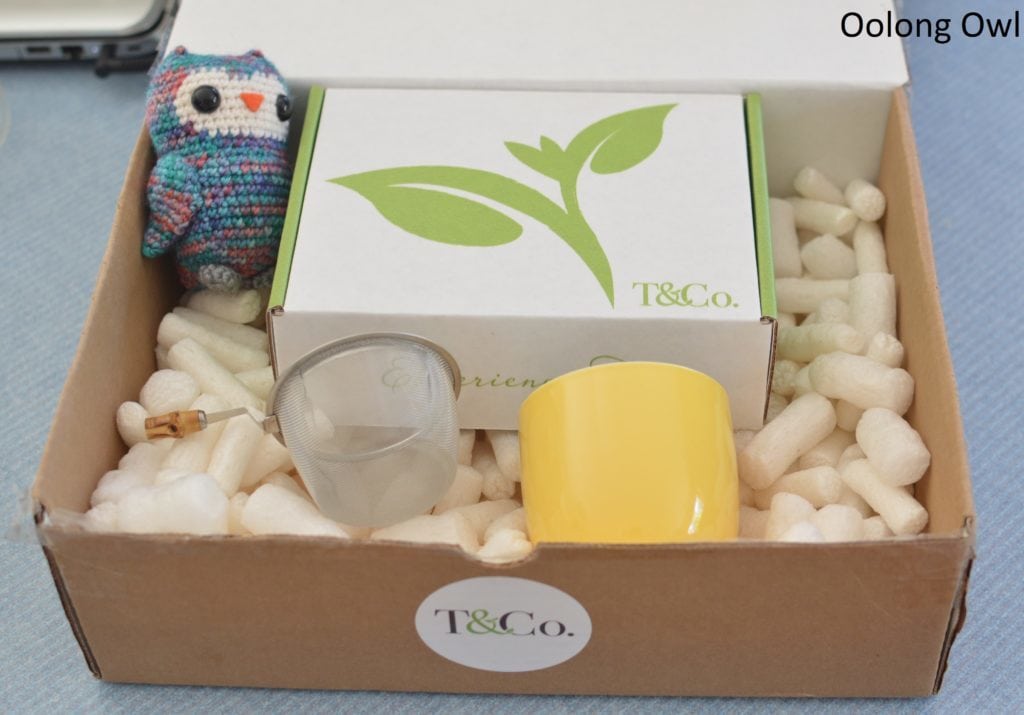 The tea is Ginger Lapsang, the treat is Chocolate Bourbon Pecan Brittle. The tunes portion is a link to a Spotify playlist.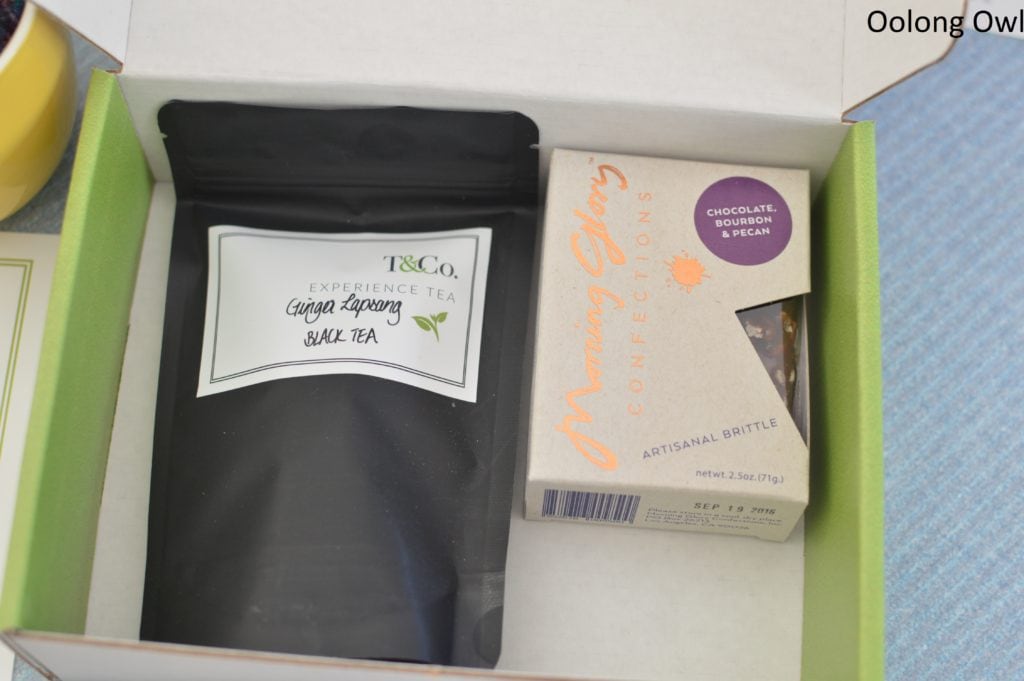 The T&Co. box came with detailed and photo step by step steeping instructions, which would be helpful to someone who isn't very experienced in loose leaf tea. For this month the activity was to relax with the dad. Dad and I generally like drinking tea and snacking while playing Cribbage which is sort of relaxing until someone gets skunked.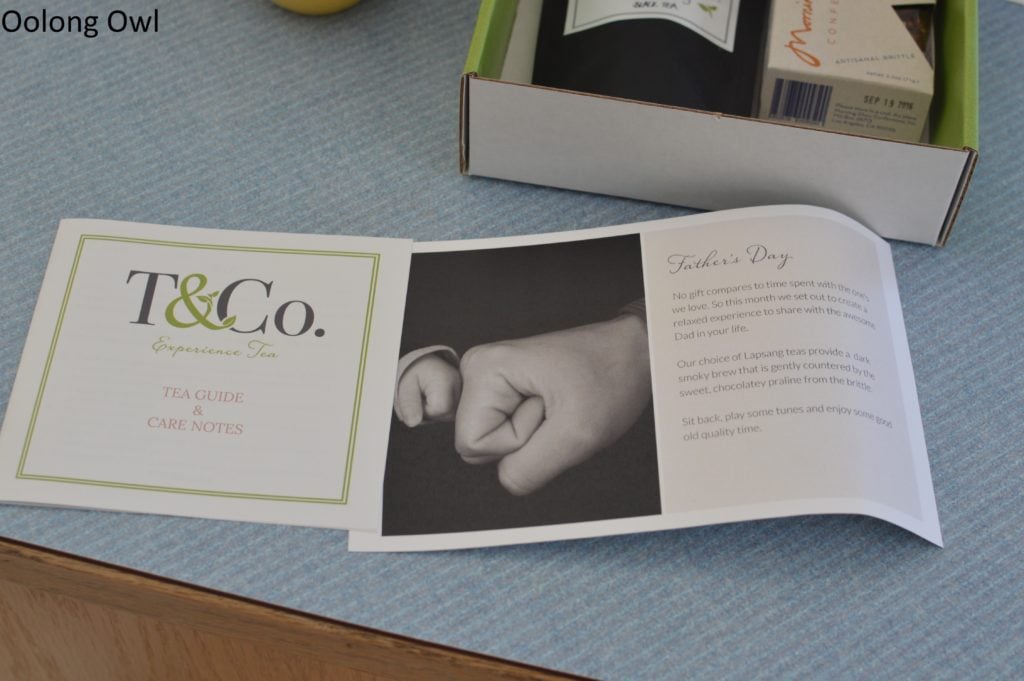 I was trying to hold off trying the tea subscription box as I thought it would be awesome to share the tea box with my Dad. However, due to him recently turning 65, he's got a zillion appointments relating to health and retirement so it looks like he's not free any time this summer.
Tasting of T&Co. Subscription Box
I cannot resist opening the treat first.  Chocolate Bourbon Pecan Brittle OMG! It was chewy, crunchy, sweet, chocolaty, nutty, and sweet. The brittle is super delicious, high quality, and I'd love more of it. Actually I shouldn't have more of it as I'll eat it all! The brittle did not survive very long, sorry Dad.
The cup and strainer basket that came with the club is a great size for drinking and Tea Owl fitting. By the way, there are a few different subscription plans at T&Co if you would like more tea or additional cups and filters.
Time for tea! The Ginger Lapsang smells STRONG spicy smokey ginger. I'm scared guys, it smells really potent!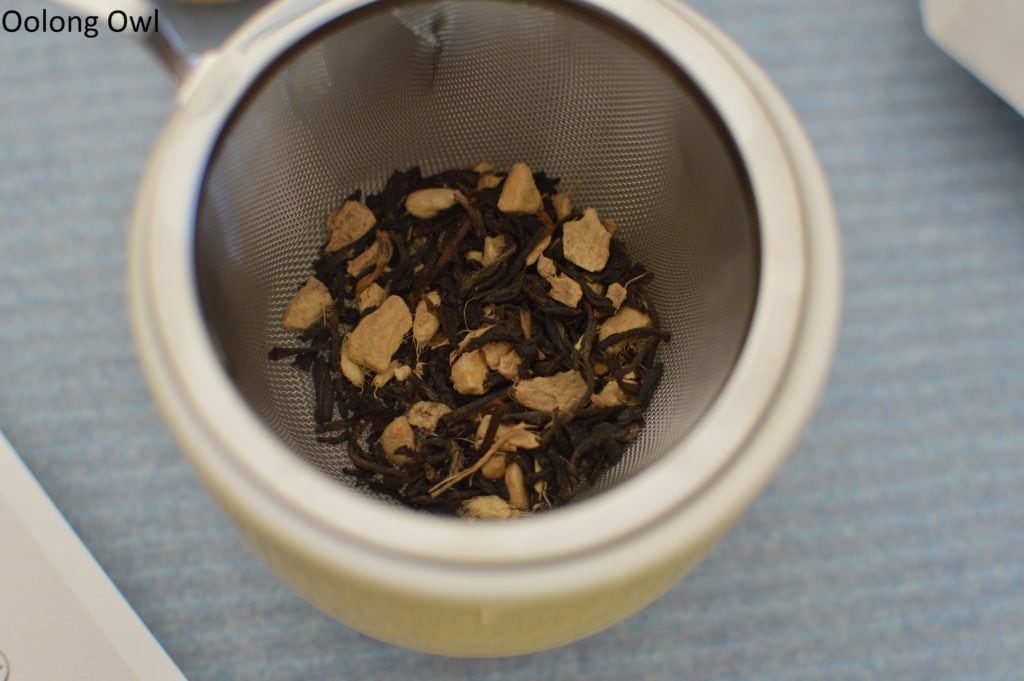 I steeped 4 grams of Ginger Lapsang in boiling water for 3 minutes.
Ginger Lapsang steeps up an lovely spicy ginger with a background of a savory smokey pine tea. The flavors work well together and would also be awesome with added milk and sugar or made as a latte. The ginger is the main flavor. I'm not a fan of straight up smoky lapsang souchong, but the generous amount of ginger broke up the heavy smoke. This tea would be greatly loved by a chai drinker – which oddly is my Dad's favorite tea. I still find it odd he likes really heavy spiced teas when his gut can't handle spicy food (spicy as a loose term, I can add too much oregano in pasta and he's say it is too spicy). I found the Ginger Lapsang tasted best hot.
Admittedly, I don't need sugar as when you eat the treat with the tea it adds the sweet due to brittle teeth sticking. The flavor pairing is well done! You get a chocolaty, spicy, ginger, sweet, smokey chai if you take a nibble of brittle and swig of ginger lapsang.
I'm the worst person to talk about music as I like catchy kpop and screaming metal. My Dad is no different in weird music tastes and likes stuff like Celine Dion and Rammstein. For those who are interested, here is part of the playlist for the June T&Co box.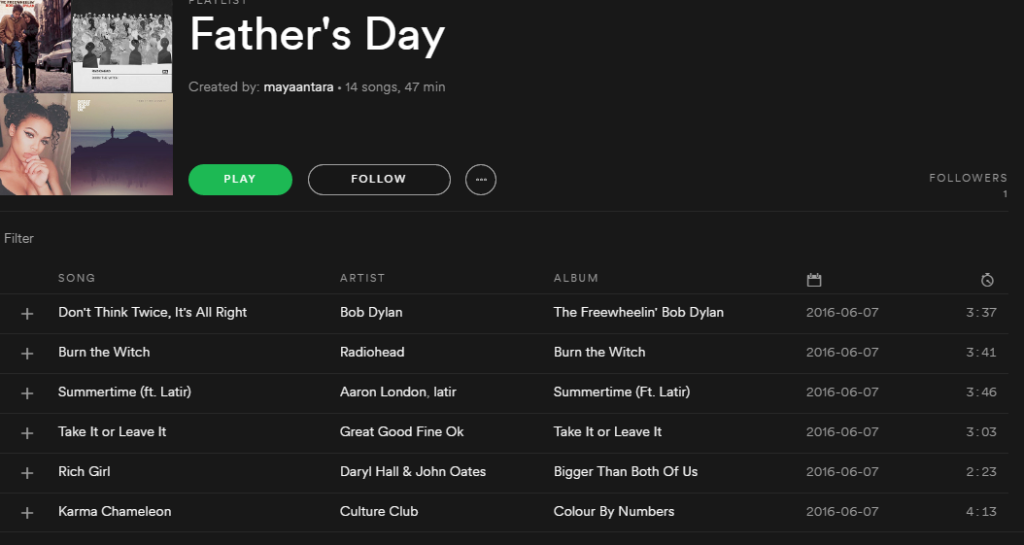 Comments
T&Co has a really cool tea club going on that feels crafted together with care. The tea and treat pairing is spot on – the strongest part of this club. The immersive experience is a really cool concept and I love themed tea clubs as they felt like they were put together with thought and love vs. tea boxes that have seemingly random teas thrown in. The T&Co subscription box would truly make a great gift, and it comes with everything you need to start the tea journey.
T&Co also has a store if you would like to try teas before you subscribe, or reorder favorites. They also have a subscribe & save feature to reorder your favorites. At this time, T&Co's Ginger Lapsang is in stock! I'm going to save my tea for when I see my Dad next, hopefully September or October.
DROOL, and it looks like the July T&Co club comes with a S'mores kit!
(tea box provided for review)