Howdy Tea Peeps! Just Organic Tea was super cool to send out some samples for Oolong Owl to taste. Just Organic Teas has a Kickstarter going to crowdfund to get their certified organic, fair trade teas out there. Check out their campaign!

I got 5 different teas, so let's check out each tea!
Tasting of Just Organic Tea's Oothu Black, Peach Apricot, Orange Spice, Pumpkin Spice Chai and Earl Grey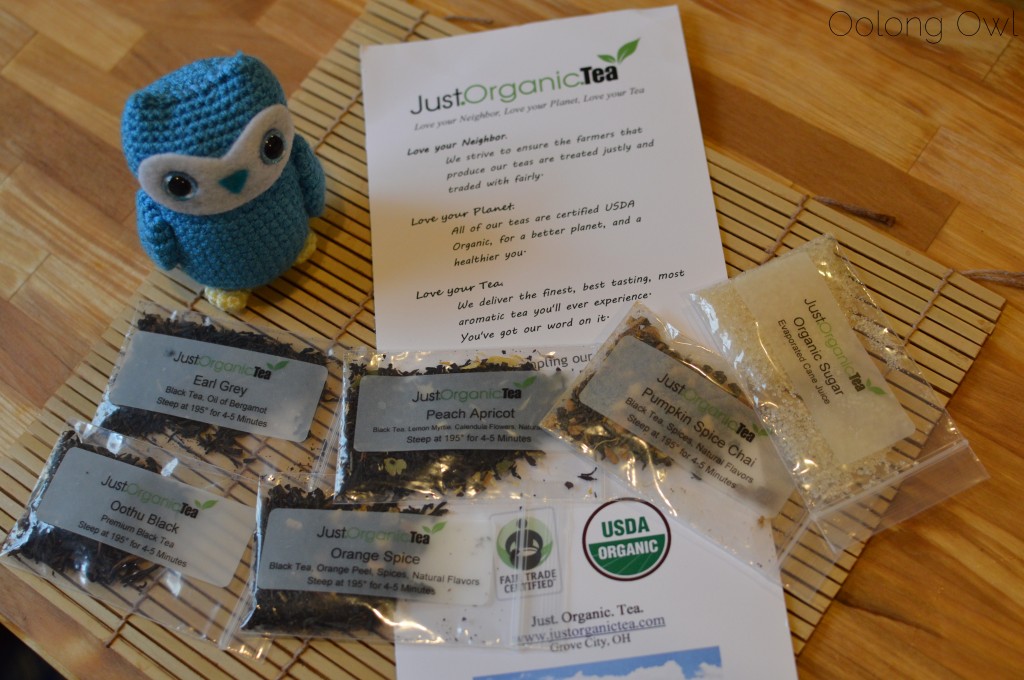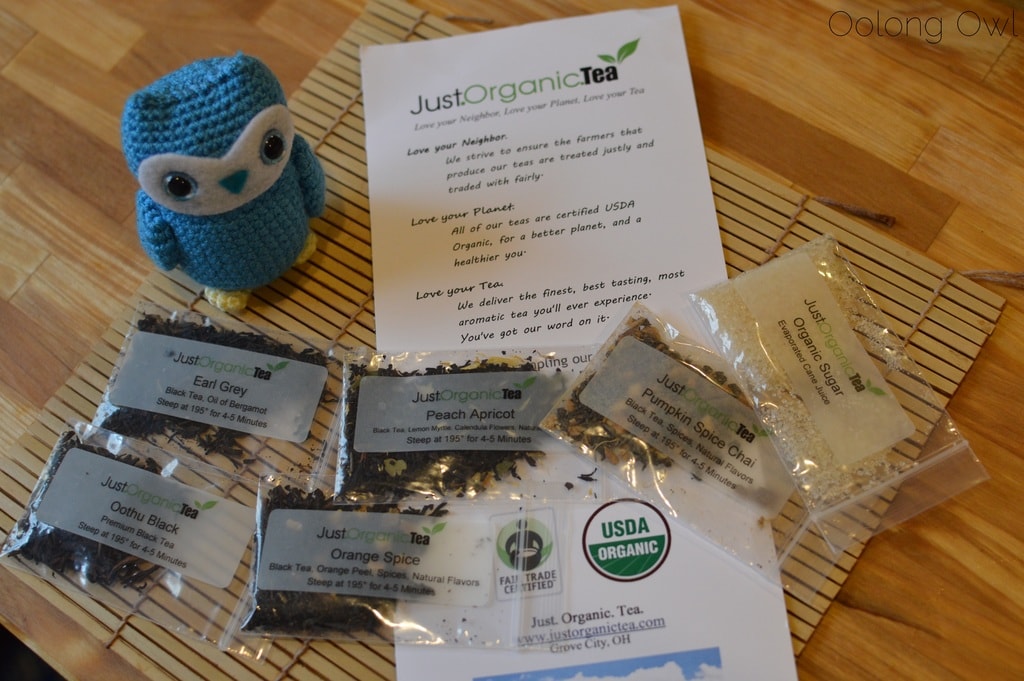 All the steeping instructions for the teas I have all have the same steeping instructions: 195F for 4 to 5 minutes. I used 5oz of 200F filter water and steeped each tea for 4.5 minutes.
Oothu Black is a bio-dynamically produced black tea form South India that is organic and fair trade certified. This black steeps up a dark golden bronze colour with a dark raisin scent. Oothu Black sips in sweet, malty with a touch of that dark raisin taste. End of sip is a light tobacco flavor. After each sip, I am noticing a nice creamy mouth feel going on. I quite liked this black tea as it was free of bitter or dryness, and the balance of the different flavor notes.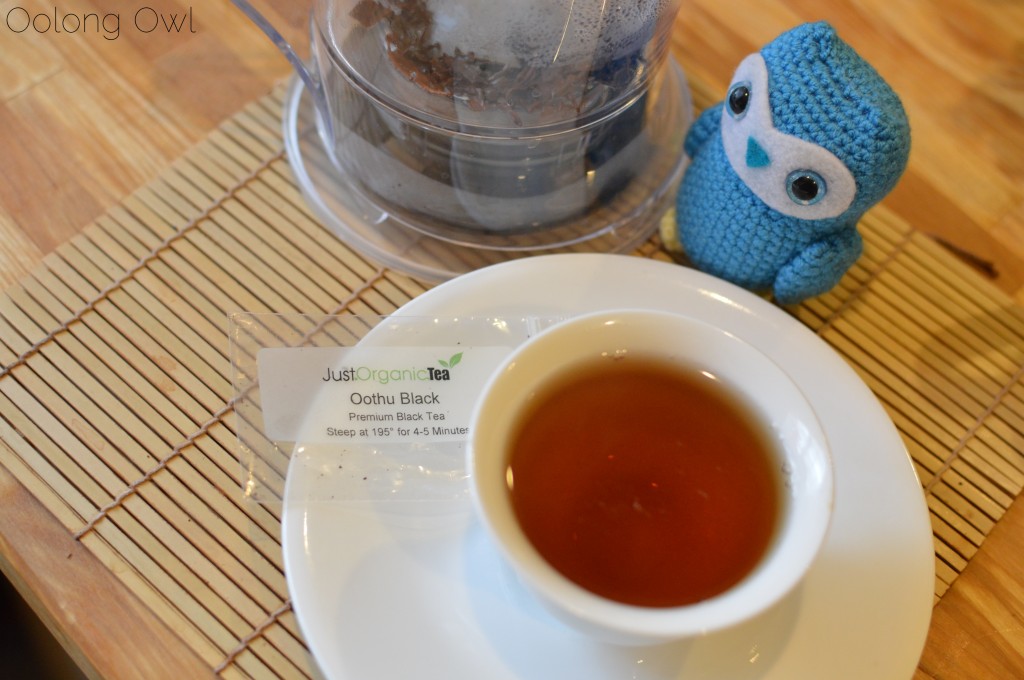 Peach Apricot is a black tea blend with peach and apricot essence. When I opened the sample bag there was a great strong peach scent. After steeping, this tea smelled even more peachy! Peach Apricot sips in a light robust and touch of bitter black tea base that turns quickly into a strong peach apricot flavor. Both the peach and apricot are easy to distinguish and pretty natural tasting.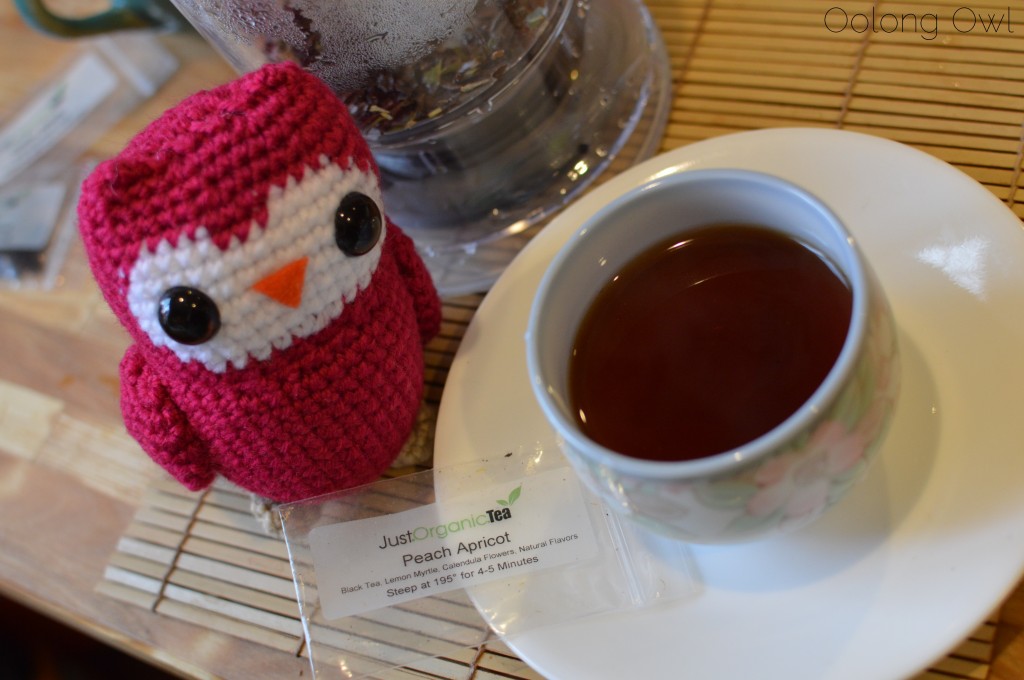 I added some of Just Organic Tea's Organic, Evaporated Cane Juice Sugar and the tea turned into fruity juice like with a slight malty black tea flavor at the end to remind me I'm drinking tea. Just Organic Tea's Peach Apricot would be a solid iced tea! Out of all the blends, I liked Peach Apricot the best as this is one of the better peach-apricot black tea blends.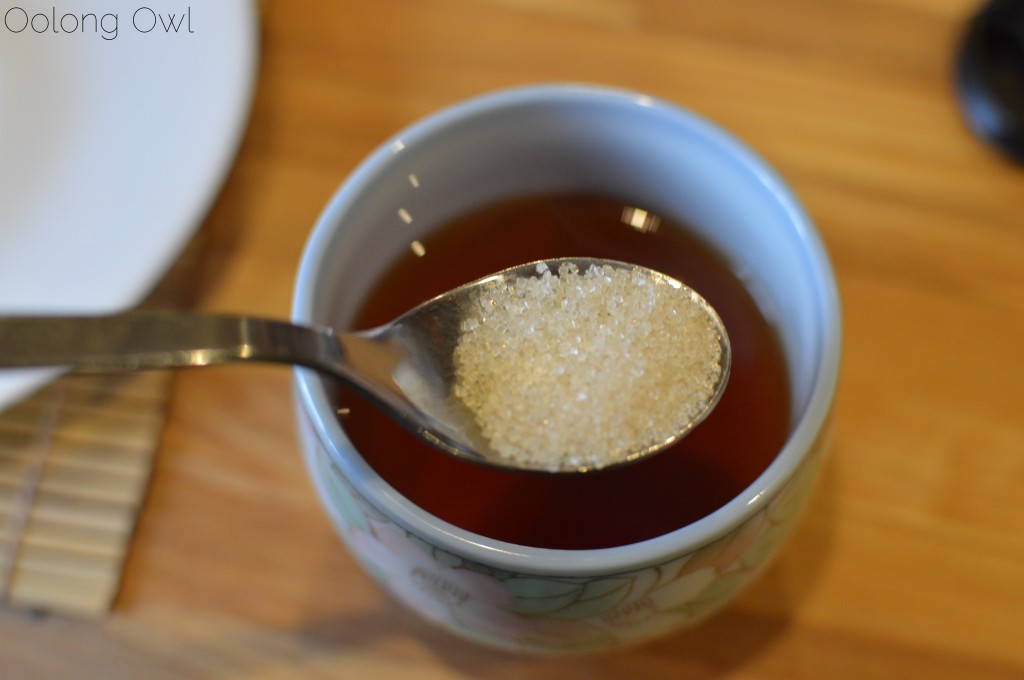 Orange Spice wins for best smelling tea out of all the Just Organic Teas I received. The dry leaf has a orangey sweet smell backed with a candy cinnamon smell. You know, orange spiced teas are making a comeback as I see more and more of them being sold. Just Organic Tea's Orange Spice  sips in a  light navel orange flavor that has a cinnamon heart candy kick at the end. I'd give this tea a 6/10 on the Oolong Owl Spice-o-meter – it has a moderate amount of spice kick that a chai lover would appreciate. With some sweetener, the blend rounded out instead of pulling ahead the orange flavor. I personally wanted a little more orange flavor, but this Orange Spice  tea has a great level of spice to it.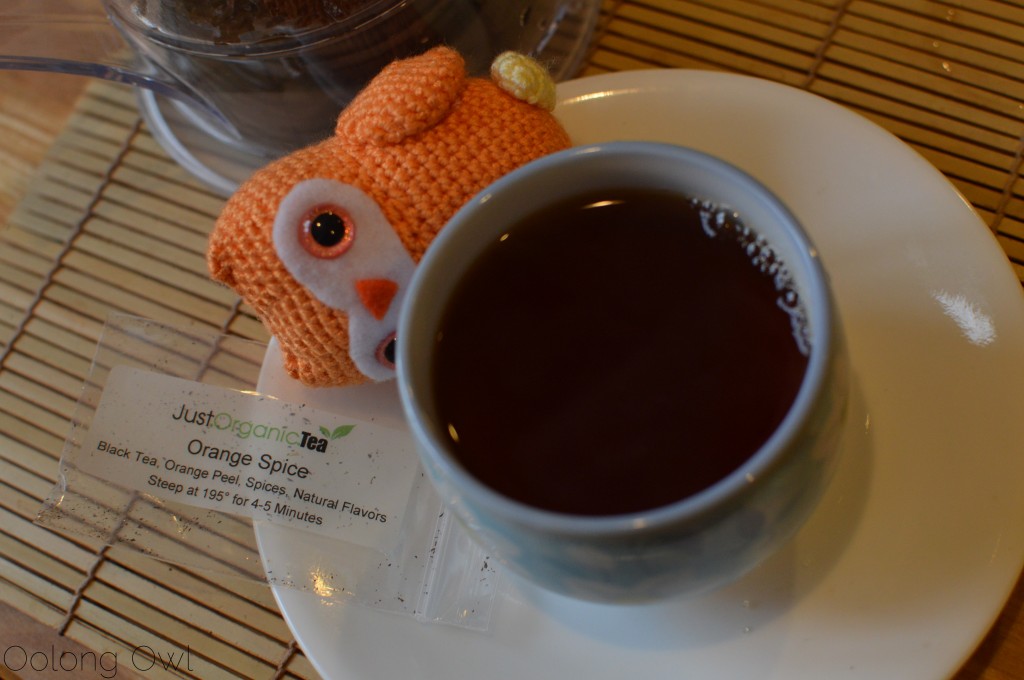 Pumpkin Spice Chai. Checking out the dry leaf and I realized I was in for a spice ride. 5 whole cloves. 1 whole all spice ball. Chunks of cinnamon. Oh man!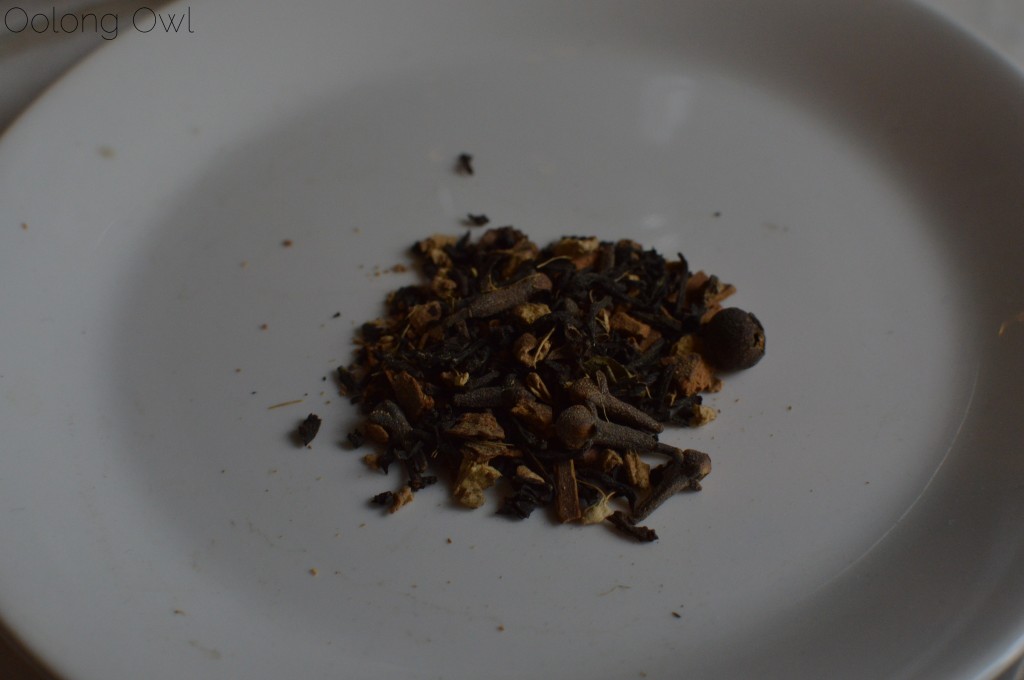 Pumpkin Spice Chai sips in really clovey, cinnamon, ginger with a smooth black base emphasized by the light sweet pumpkin flavor. The aftertaste on this tea is very pumpkin pie like, the kind of pumpkin pie that is heavy on the spice. The spice in this tea is pretty heavy, an 8/10 on the Spice-o-meter, it's not a firey spice chai, but a flavorful spice. I can see Just Organic Tea Pumpkin Chai Spice being a great tea latte.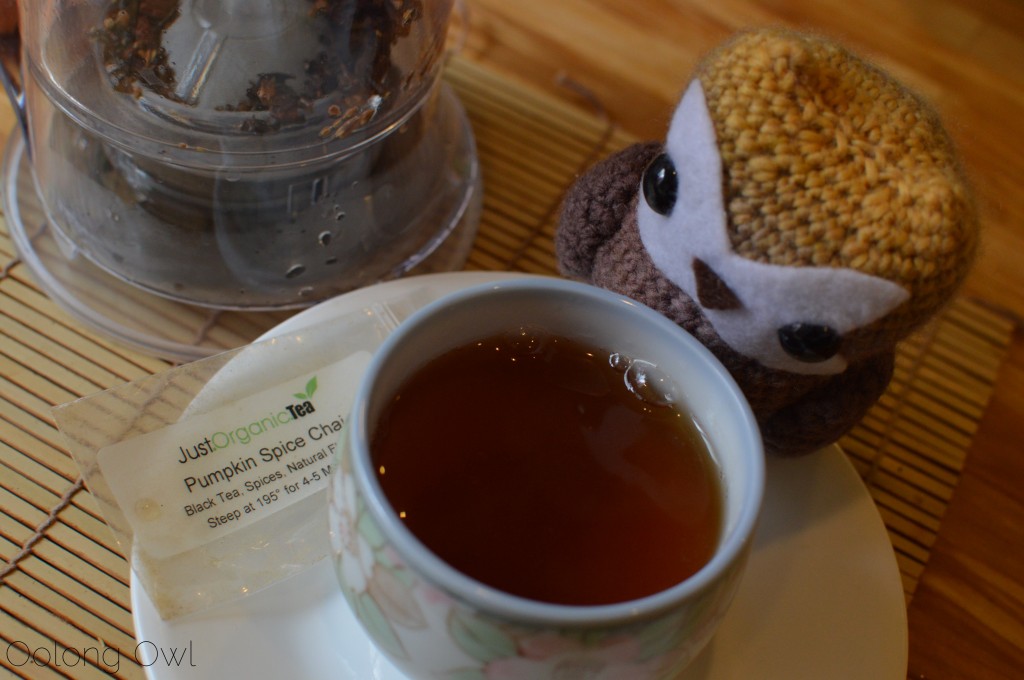 Earl Grey by Just Organic Tea is one of those no-frills earl greys as it simply has bergamont oil. Earl Grey sips in a strong bergamont flavor that tastes a little different than I'm used to for bergamonts. Earl Grey's bergamont has a distinct orange flavor to it, ontop of the citrus. This tea also has the most bergamont flavor I have ever tasted, 8/10 on the… Berg-0-meter (lol). The strong citrus flavor pairs great with the smooth, malty black tea base. This would be the perfect Early Grey for one who loves a strong bergamont flavor.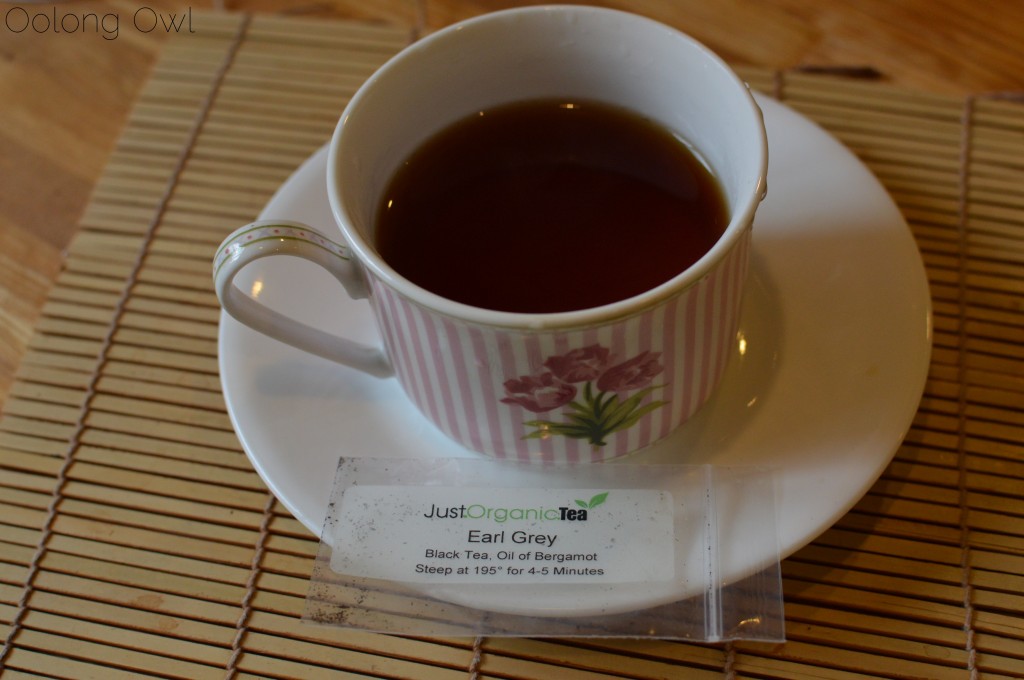 To elaborate more on Just Organic Tea's Organic, Evaporated Cane Juice Sugar I found to be a nice sweetener. I found it a little sweeter than standard white sugar so you don't need as much. That little packet I got I was able to sweeten 2 cups of tea. I like this sugar more than plantation raw sugar as its sweeter, but flavor wise, I think German rock sugar is a little better as a personal preference.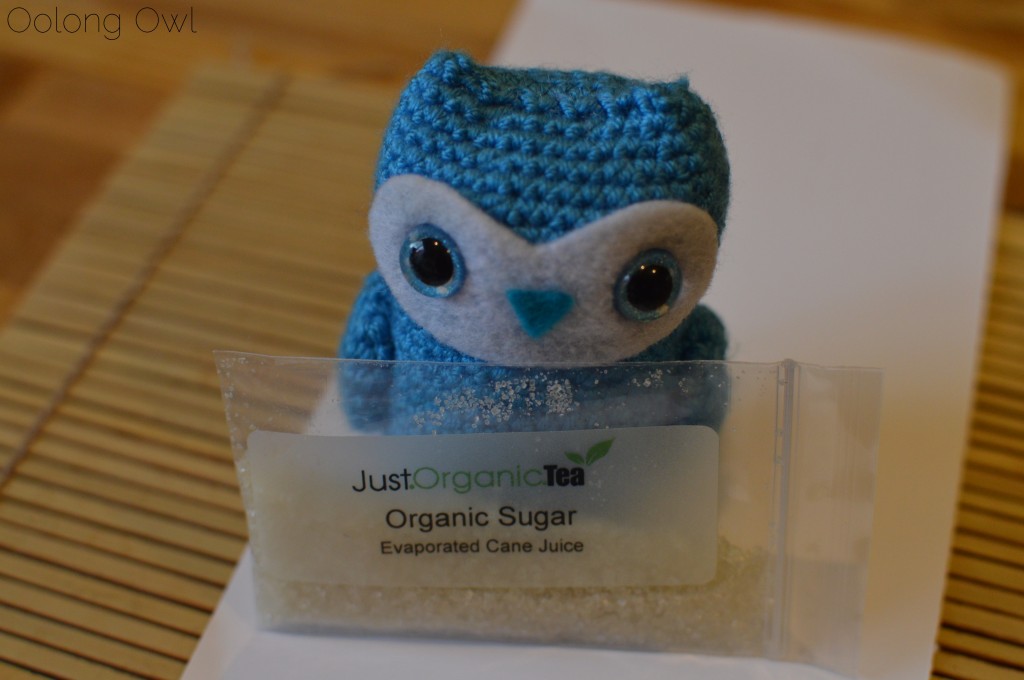 Comments
Overall,  Just Organic Tea has some great organic and fair trade black tea and blend offerings that can be obtained through their shop and kickstarter. I found their teas, as promised, to be fresh and strong in flavor. If you enjoy tea blends with vibrant flavors,  Just Organic Tea line would be much loved. Just Organic Tea is also the place if you are one of those types than want to drink only organic and fair trade. Out of all the teas, I liked Oothu Black and Peach Apricot the best.
(tea provided for review)