I am still on the quest for a good Keemun! Hoot! Let's sample some keemun from What-Cha. What-Cha, at this time, has a couple different keemuns to choose from. Today, I'll be tasting Keemun Mao Feng Black tea. This one attracted me due to its promise of smooth caramel flavor.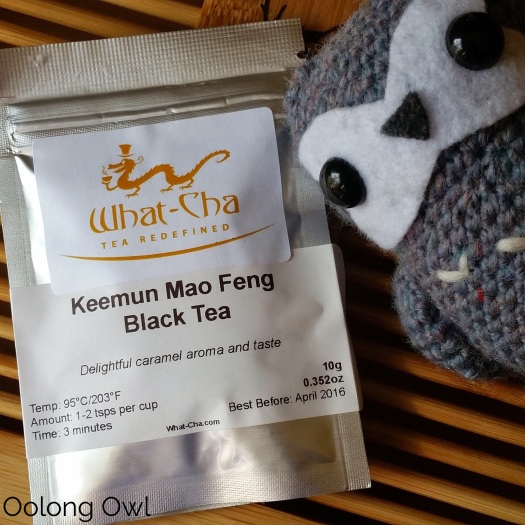 Dry Leaf
What-Cha's Keemun Mao Feng Black tea smells like burnt caramel and char scent. The dry leaf is tight thin wires of tea with the odd gold tip.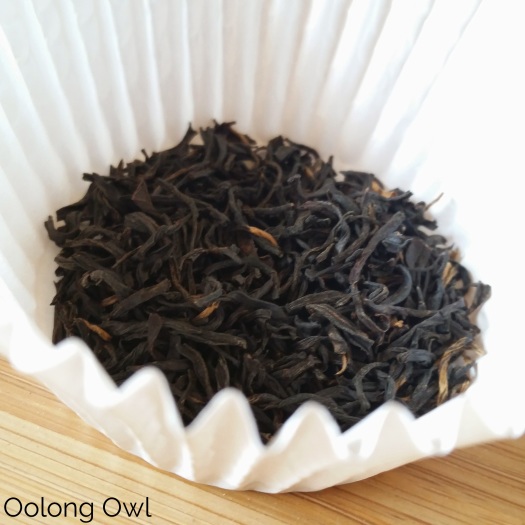 Steeping Instructions
I followed the steeping instructions stated on What-Cha's packaging – 200f for a 3 minute infusion, using an in-mug tea infuser basket. What-Cha's Keemun Mao Feng Black steeped up a smokey scented tea in a gorgeously clear amber brown.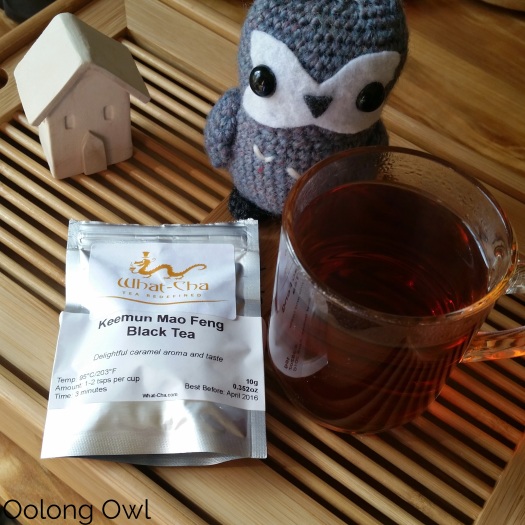 Tasting of What-Cha's Keemun Mao Feng Black Tea
What-Cha's Keemun Mao Feng Black sips in with a thick burnt caramel flavor that gets sweeter throughout the sip. The burnt char smokey notes are quite light, 3/10 on the Smoke Meter. Mid sip, the caramel flavor shifts brighter and sweeter along with a rich malt taste. The finish of this keemun has molasses notes. Throughout the sip, Keemun Mao Feng had a very smooth flavor with a lightly silky texture. No bitterness or dryness too!
Second Infusion: Kemmun Mao Feng black made for a good second infusion. The flavor is lighter and sweeter, mostly with bright caramel notes with a hint of malt. The tea is still not bitter or dry.
Comments
What-Cha's Keemun Mao Feng Black is deliciously caramel. I love the rich malt and smoke notes which keeps the tea drinker on their toes. The smoothness of this keemun was my favorite part! Keemun Mao Feng Black tea is flavor packed and rich – a great tea for waking up in the morning. A coffee drinker would like this tea too.
Bonus: Tea Owl breakfast! Keemun Mao Feng Black tea goes great with spiced bran muffins!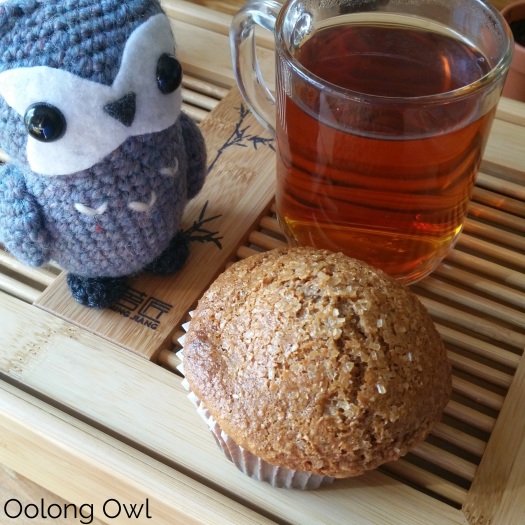 (tea provided for review)