Glass teapots are loved by many as they can show off a tea and its beautiful appearance. There are many glass teapot out there, especially on Amazon. Today's review is a quality western sized glass teapot sold over on Amazon – the Kitchen Kite Glass Teapot.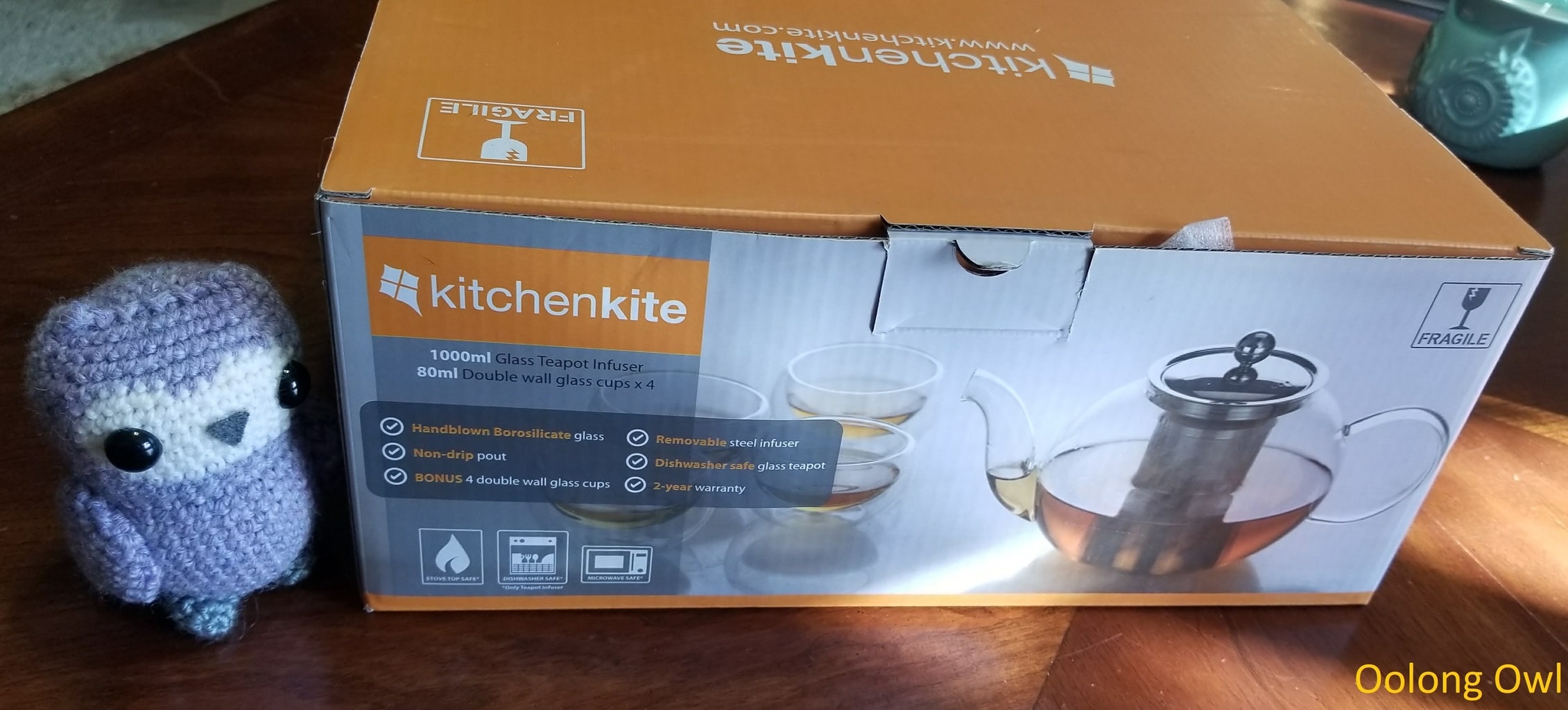 Kitchen Kite Glass Teapot Specs
1 Liter/ 1000ml/ 35oz size teapot
4 double wall tea cups(SIZE)
Borosilicate glass
Dishwasher safe
Microwave safe
Electric or Gas stove top safe for kettle use
Large, fine mesh, removable stainless steel tea infuser
The Kitchen Kite Glass Teapot set is packaged well and safe. I had it shipped to my home and everything arrived in perfect condition, with the box design and wrapping to ensure a safe trip. I decided to keep the box, as this is likely the safest place to store the tea set when not in use.

Kitchen Kite Glass Teapot
Out of the box, you have 4 pieces – the glass teapot, tea filter, lid and a weird metal piece.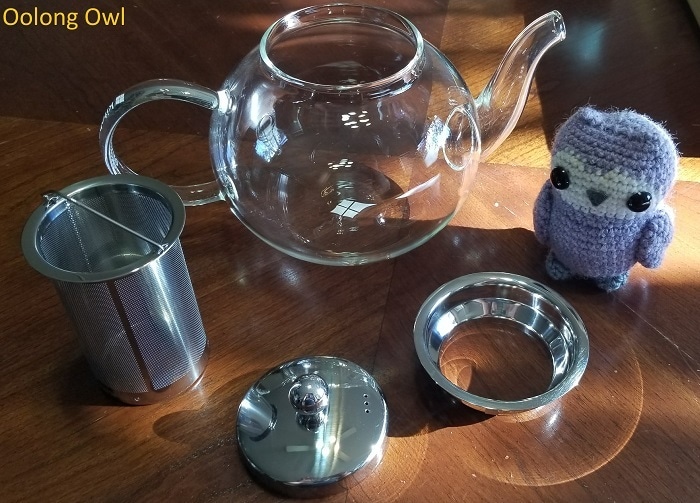 The metal piece snaps onto the glass teapot, which makes the pot hold the lid and infuser. You don't need to have the infuser in to have the lid fit – which is a nice bonus as some tea pots of having issues with this.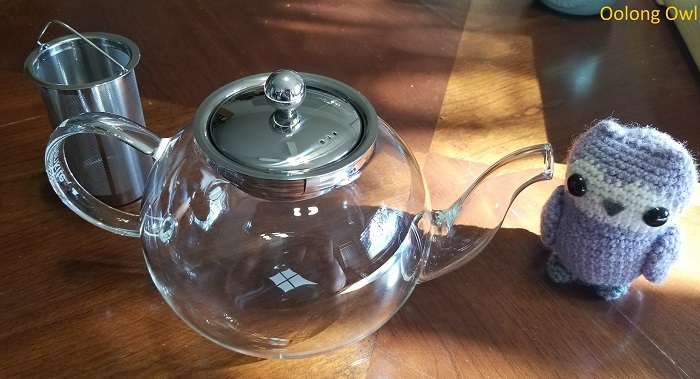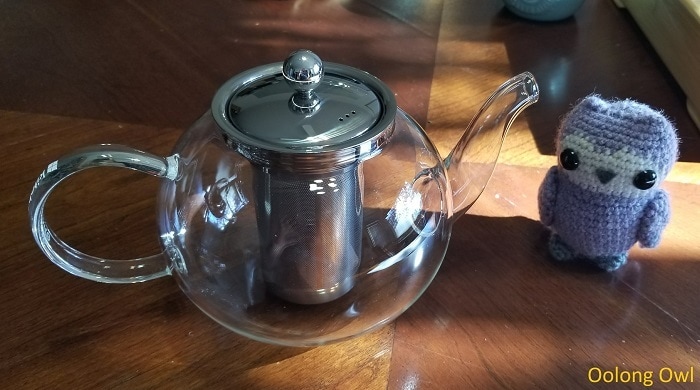 Both the filter and teapot have the brand etched on it.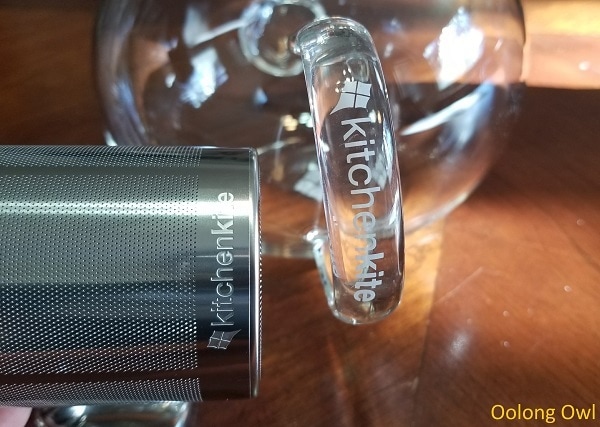 Pros
Solid Construction – All the parts of the Kitchen Kite teapot fit seamlessly. Nothing is rattling or falling out while you pour. This good quality and design set this teapot apart from other glass ones. So many glass teapots I've tried have poorly fitted lids.
Nice clean pour – I love the pour of this teapot! It pours just where you aim it, with no fuss. The spout of designed well.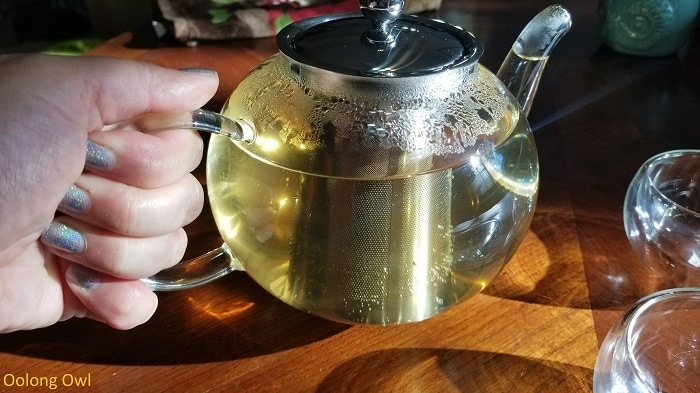 Awesome Infuser – The filter is well designed and fine mesh. There is a swing handle to pick it up. I have used this filter in other tea pots or mugs and it works great!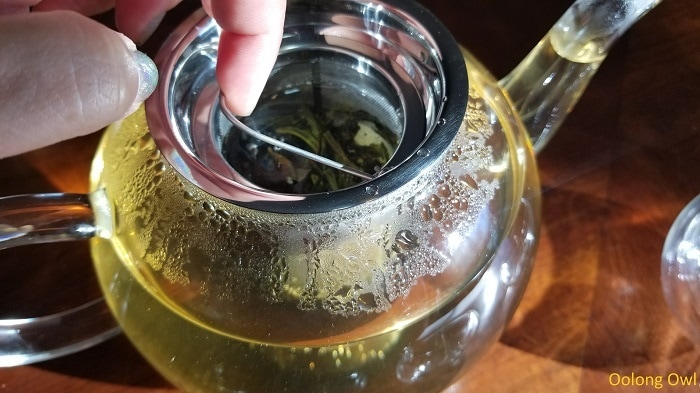 Cons
2 handed pour full capacity – I found the Kitchen Kit Glass Teapot difficult to physically pour. This sadly comes with many glass tea pots this large – the thin handle in the back and weight makes the teapot tip forward. I also found the handle uncomfortable when there was this much weight involved. Rest assured, I am a pretty strong owl. But each use when the tea pot was full I needed a cloth to brace under the spout so I don't drop it. Half or quarter full, I had no issues.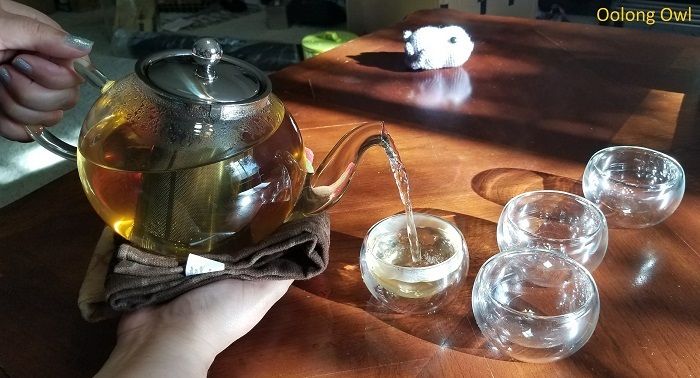 Other Considerations
Basket Infuser only – note there is no infuser coil behind the spout, nor any type of leaf resistance in the spout. If you want to not use the basket infuser to see the full leaf, you'll be dropping leaves in the tea cups.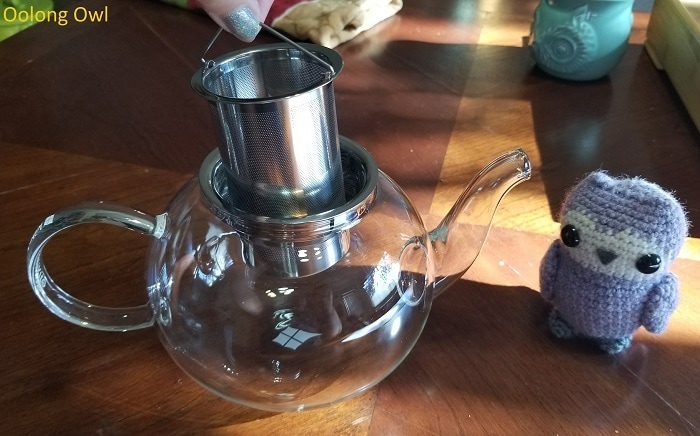 Stove Kettle – Yes, you can boil the Kitchen Kite glass teapot on your gas or electric stove! I was nervous, this was the first time I actually used a glass pot to stove boil. It worked! It did not explode!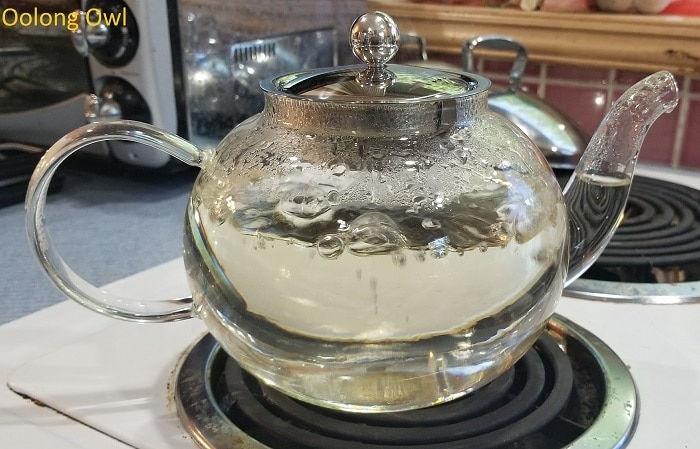 However, since it is glass, and glass has poor heat retention and is not a conductor, it took bloody forever to get this pot to a boil on my electric stove. I likely could have boiled 4 batches of hot water in my electric kettle. Then since it is awkward when heavy, it was dicey with oven mitts to drag it off the stove. If you intend to use this to heat hot water, you are doing it inefficiently with a glass teapot. Get a stainless steel or electric kettle – both, especially the latter, will boil water much faster.
Best stove use is to use with a single hot plate to keep your tea hot. You can also pop it in the microwave to reheat. No, do not boil water in the microwave for tea infusing.
Glass – So many things I don't like about glass teapots, yet many people use them and push them despite these flaws. Glass is very fragile. Glass has bad heat retention. I always advise sticking to cooler teas, like green tea, if you are using glass teaware. The poor heat retention leaves hotter teas to steep up weaker in flavor. However, since this teapot works with stoves, pairing it with a hot plate or candle teapot warmer would work well to keep the temperature up and the tea at a hotter serving temperature.
Double Wall Glass Tea cups
The Kitchen Kite glass tea cups are pretty standard double wall glass. If you have any size of these, you'll know how these cups are as they are.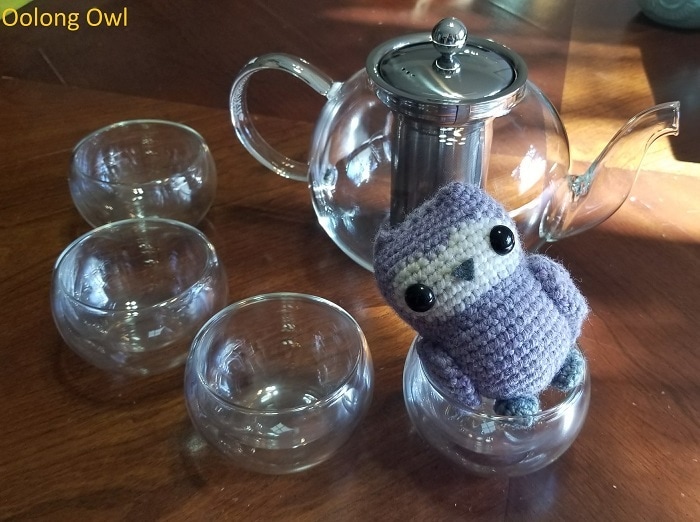 The cups have a design etched to the bottom.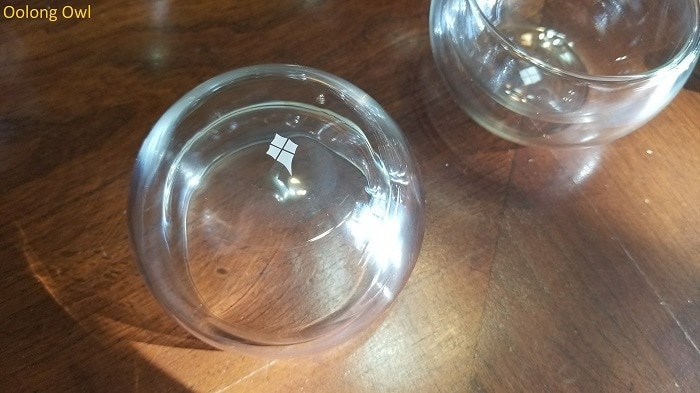 Pros
Cool to the touch and lip for easy handling.
Tea looks absolutely beautiful!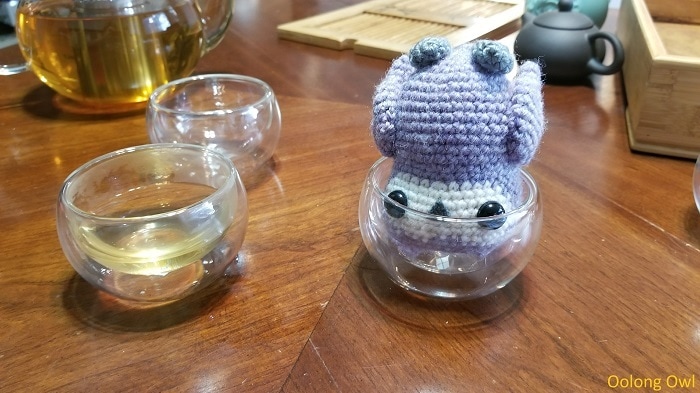 Cons
Super fragile!
Fat bubbly lip.
I am personally not a fan of these cups, though I know plenty of people who do like them. I find the beauty of them does not make up for the awkward drinking. They are cool to the touch, but the fat lips make it easy to dribble, nor can you slurp. The same time, a thin lip makes the cup hot on the lips, so it is a no win. If you are drinking cooler teas like green, these cups are fine.
Comments
The overall design of the Kitchen Kite glass teapot is well put together. All the parts fit seamlessly and the pour is good – making for a quality teapot. The cons mostly boil down to the limitations of glass. However, if you looking for a high quality glass teapot, the Kitchen Kite one is very good. Best use would be the pair this tea pot with a hot plate or warmer, as well as a cute tea towel or hot pad – then you'll be very happy with it.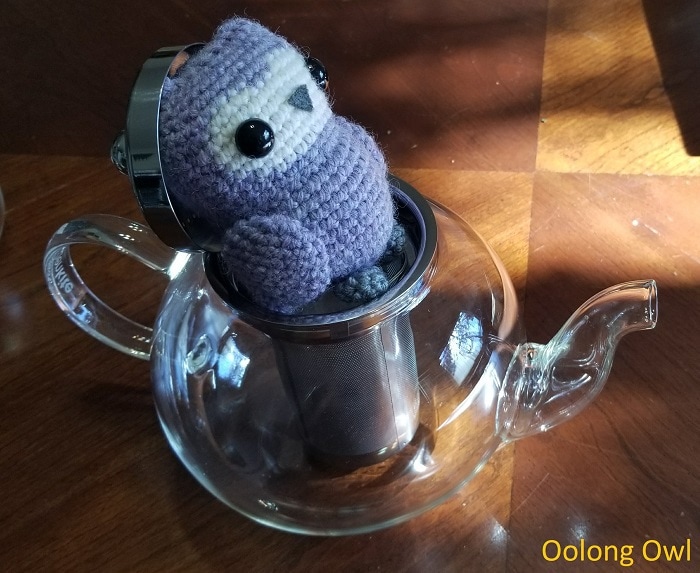 (teaware provided for review | Amazon affiliate links)