I'm always on the hunt for more Korean teas. Teas Unique is a US based seller that has sourced 4 regions of Korean Teas, with a big range of single estate Green (with a range of pluckings), Oxidized, and Powder.
I decided to try Teas Unique's oxidized tea line. They have two unflavored Hwangchas, from a different region and picking. The similarities are they are both organic, hand picked, and hand processed teas. Korean Boseong Sejak Hwangcha is roasted, from Unrim Village/ Boseong County, and is a second picking. Korean Mt. Jiri Joonjak Hwangcha is pan fried, and from Mt. Jiri/ Hadong County, and a third picking. The latter tea is considered an early summer tea.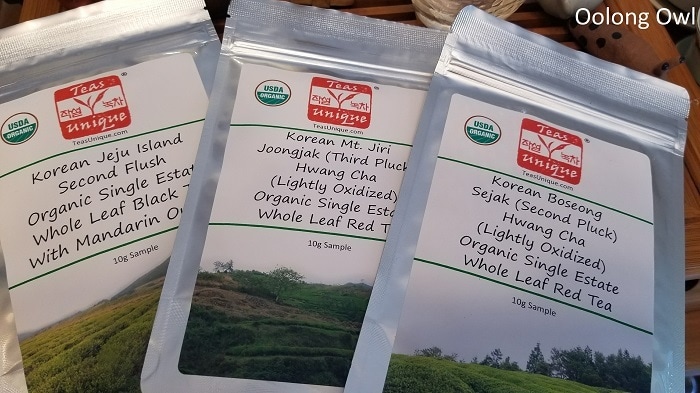 What I also like about Teas Unique is on the package they state plenty of information about their tea.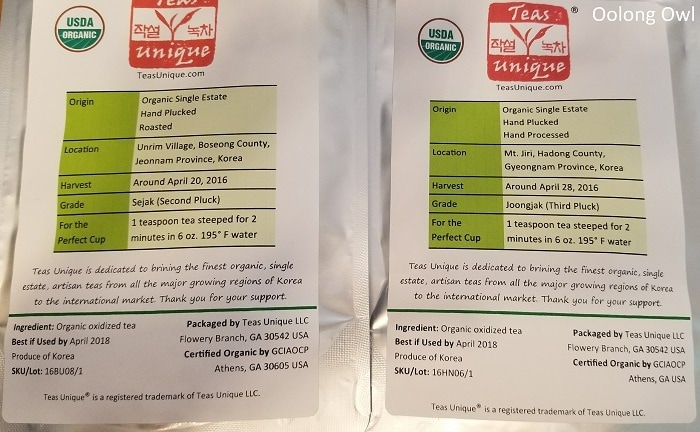 Dry Leaf and Steeping Method
The leaf looks practically the same – both dark long twists of leaf with a fruity scent.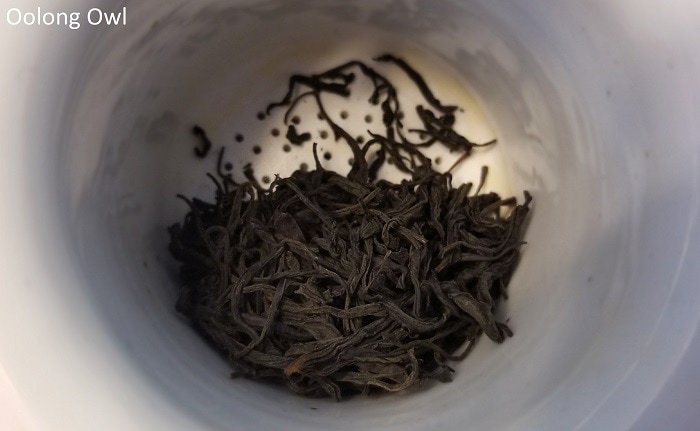 I decided to follow the steeping method on the bag, and I have an excuse to use my Korean tea infuser cups again.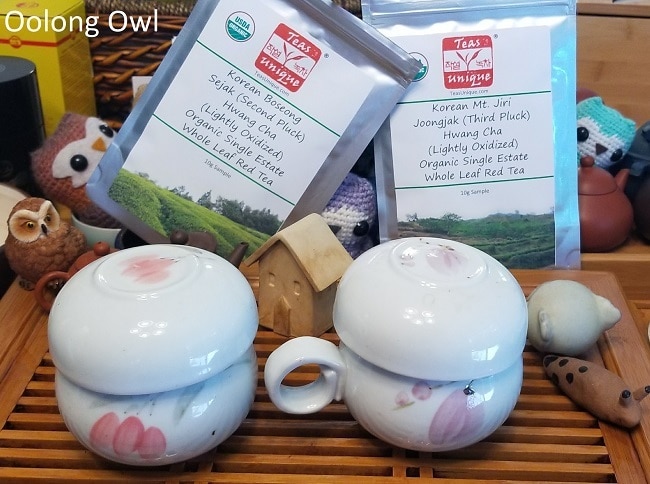 My ratio was 1 gram to 56ml, so very much a western ratio. I used 200F water and steeped for 2 minutes. The steeping method worked well to give a good amount of flavor without any bitterness.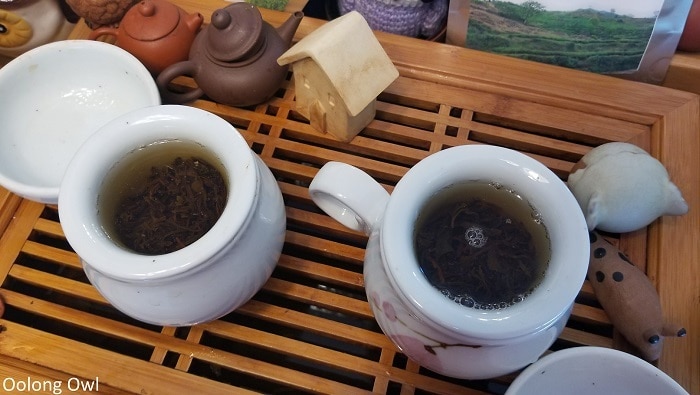 Korean Boseong Sejak Hwangcha
Boseong Hwangcha Sejak is rich in taste, the flavor actually reminding me closer to a Dian Hong Chinese black tea, but sweeter. The background is malty and earthy, with the bread and yam notes making this a sweet, calling the essence of yam and marshmallows. The texture is slippery and thick, making this a slow sipper. The finish leaves a sweet malty taste in the mouth. The second infusion is more balanced, with a brighter, sweeter, yam note with a hint of cinnamon spice. I also tried this tea gongfu style in silver for fun – the notes go into over drive with more malt and yam, with final infusions being soft and sweet.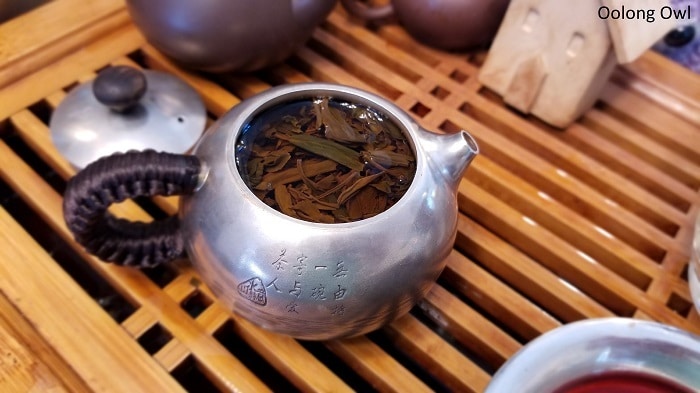 I enjoy how rich and sweet the Boseong Hwangcha Sejak is, it is like drinking a special treat to be your dessert. It is certainly a familiar, comfort-feel tea for tea drinkers who love roasted oolongs and black teas.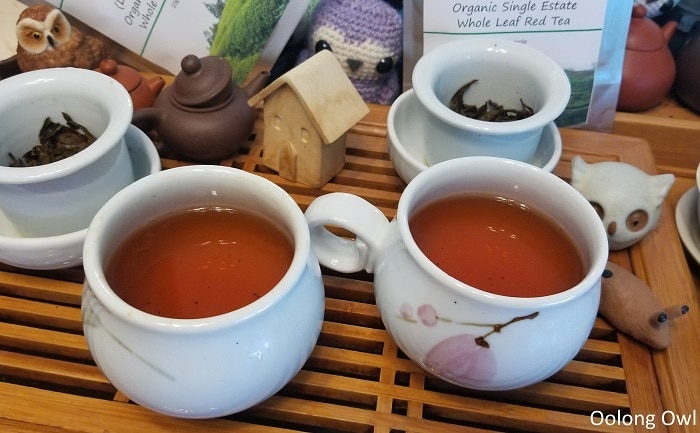 Korean Mt. Jiri Joonjak Hwangcha
The difference is quite stark between the two teas, with this Mt. Jiri Joonjak Hwangcha being more unique. This one is quite bright, heavy on mineral, nuts, and wood. The flavor is of wet wood, wet stones, and sweet almond. As it cools, I find some sips are a touch marine, others more sweet. Unfortunately, the body is thinner than the Sejak Hwangcha and not as sweet. However, I would describe this body as a watery gel – has this fluidity to it, just holding the flavors together. The second infusion of this tea did not go well – it has a dusty dry texture, making my tongue feel like it got sandpapered lightly, otherwise the flavor is still unique with flavor characteristics of wuyi oolong and marine green tea, yet with plenty of oxidization.
Korean Jeju Island Second Flush Whole Leaf Black Tea with Mandarin Orange
Jeju Island Black Tea with Mandarin Orange is an another organic, single estate tea, however is a blend and machine picked. Teas Unique only has 2 flavored teas, the other is the Green tea version.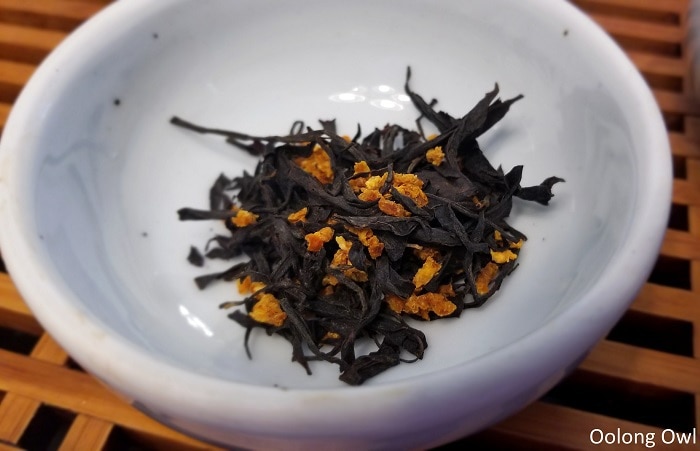 Wow, this tastes just like mandarin orange! If you ever nibbled on those dried mandarin oranges from Trader Joe's, this tea orange flavor is the same. The base is roasty, malty and sweet. It isn't as refined as the Sejak Hwangcha, but similar in flavor. The mandarin orange has a hint of tang to it, and as it cools it gets more sweeter and orangy. Iced, Jeju Island Black with Mandarin Orange is really good! I think iced is the best application for this tea as it is gives such a crisp, sweet orange flavor.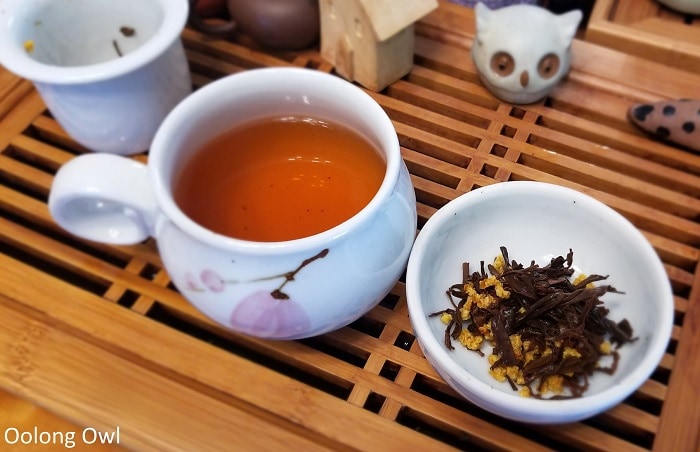 Bonus
Matchacolate Roasted Green Tea Matcha White Chocolate bar.
Teas Unique also surprised me with some tea chocolate, a Roasted Green Matcha White Chocolate.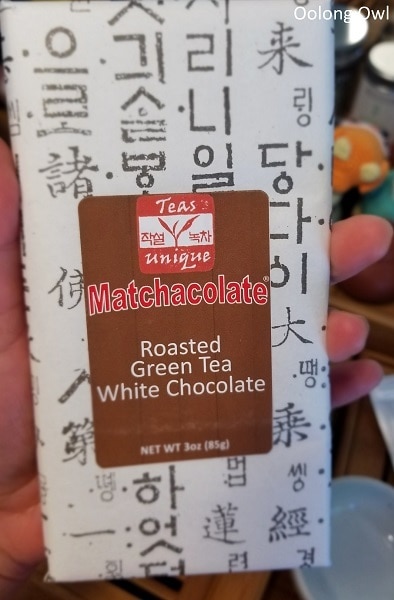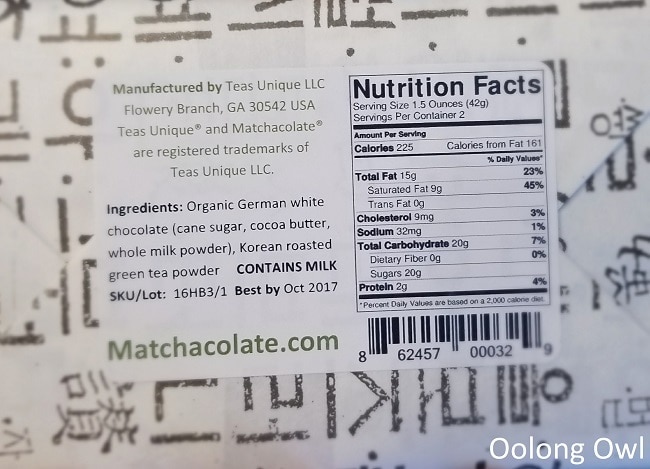 Unwrapped… huh, I thought this was white chocolate?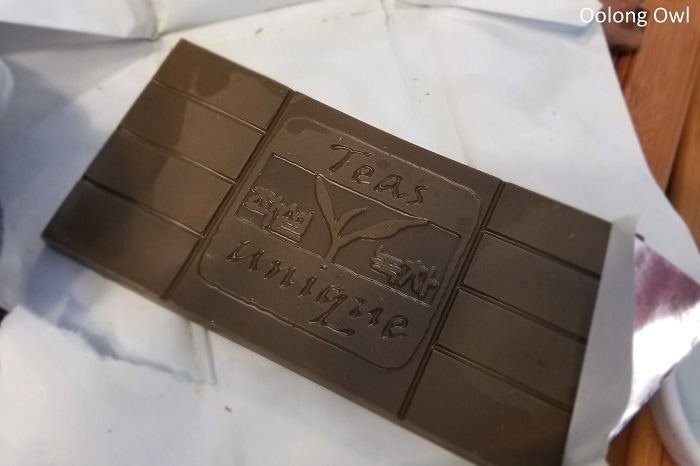 Upon further review, this chocolate was blended with Korean houjicha, giving the white chocolate a brown green colour. On its own, it does look like milk chocolate. Here is it next to milk chocolate, the green tea chocolate is more green and ashy.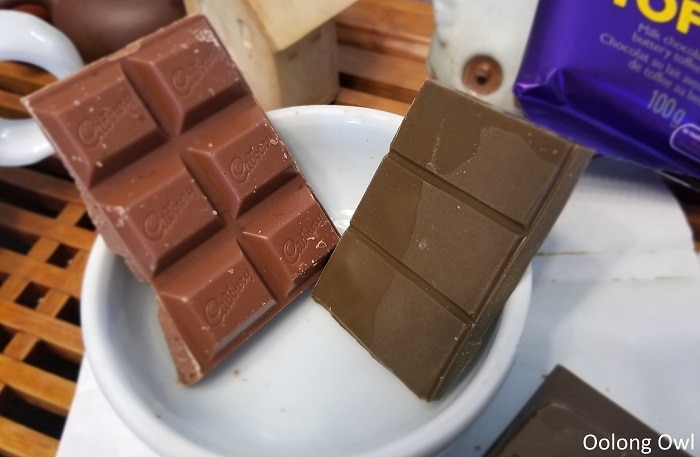 The flavor is pretty good. The majority of it is a roasty, with a slightly bitter matcha taste. The white chocolate base is pretty good – I am picky with white chocolate as it sometimes will give me a weird itchy throat, and this one does not. This was a fun tea chocolate to try – they also have a regular matcha chocolate… and a matcha chocolate spread.
Comments
I quite enjoyed trying different Hwangchas from Teas Unique. Teas Unique also have multiple teas from different growing regions, giving you the option to immerse yourself in Korean teas and learn the notes. There is a reason I chase Korean tea, as they are teas that are uncommon and have great flavor. That said, Teas Unique is a great opportunity for those in the US wanting to try Korean tea. They sell in 50 gram+ sizes, as well as 20 gram sampler sets.
All these Teas Unique Hwangchas were good, and I learned that Hwangcha varies even more in flavor. Other Hwangcha I've had is less oxidized, giving a softer flavor, whereas these swing higher on the oxidation getting a bit more like black tea. Hwangcha is very weird, as it doesn't neatly fit into a tea category due to the processing, even within both the Bosesong and Mt Jiri, they vary greatly in taste.
(tea provided for review)