Lemon French Macaron White Tea is a white indian tea tea with almond slivers, amaranth, calendula and vegan organic natural flavoring. This tea is blended and sold by Butiki Teas, online tea seller in New Jersey, USA.
I love lemon desserts – lemon pound cake, lemon bars, lemon cookies and lemon meringue pie! I haven't had a lemon macaron though, but I imagine they are delicious! All the times I've had macarons I get suckered by crazy colours, so I'd get pistachio green or strawberry pink.
There is an interesting story to Lemon French Macaron White Tea – Butiki Teas had a custom blend tea contest, and this tea was voted the winner! My tea submissions didn't make the final list, but I personally voted for this one! When this tea became available, I couldn't resist and purchased it (and others of course!)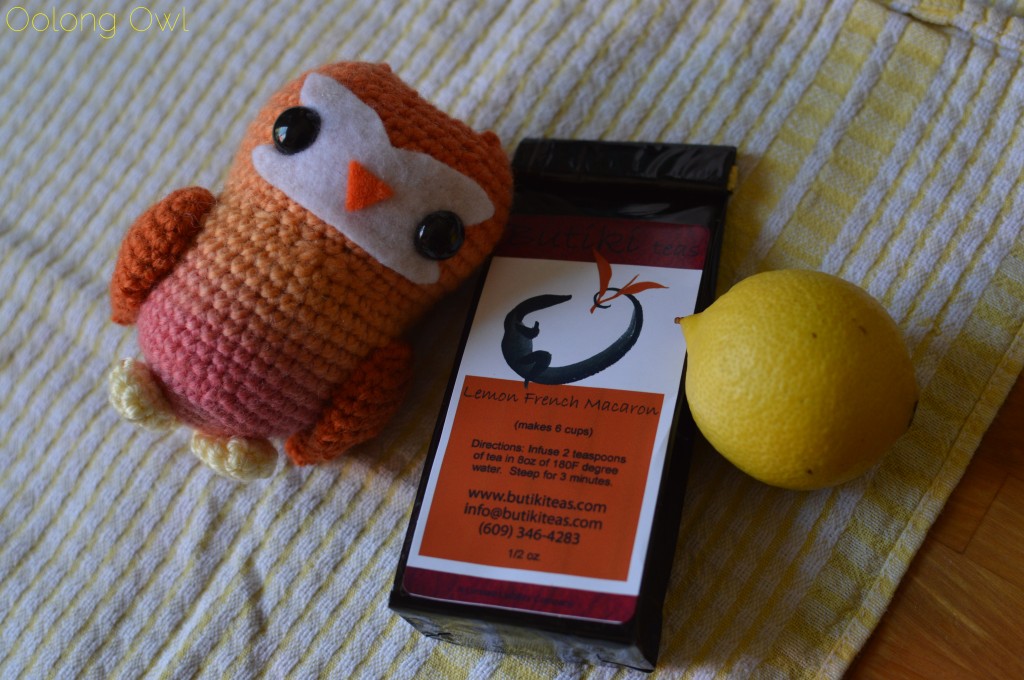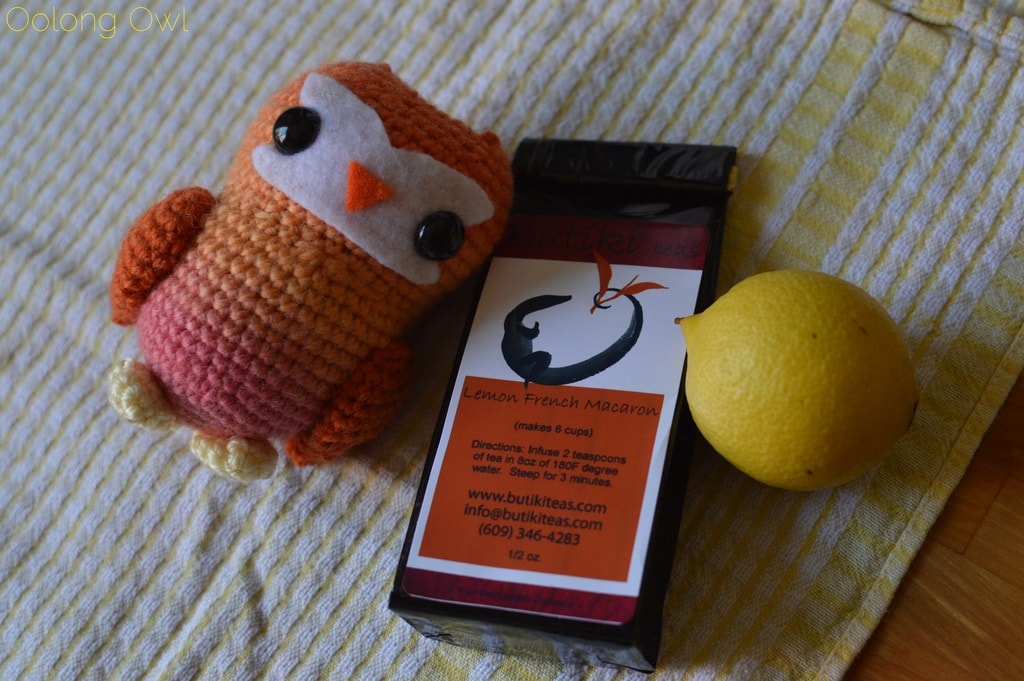 Dry Leaf
Lemon French Macaron White Tea won "Best smelling tea in my order", stealing the show. Lemon French Macaron White Tea has an amazing lemony and icing sugar sweet scent, like dusted lemon bars. The dry leaf appearance is also quite lovely with great quality whole leaf white tea, pink amaranth, fuzzy calendulas with the odd thin slice of almond.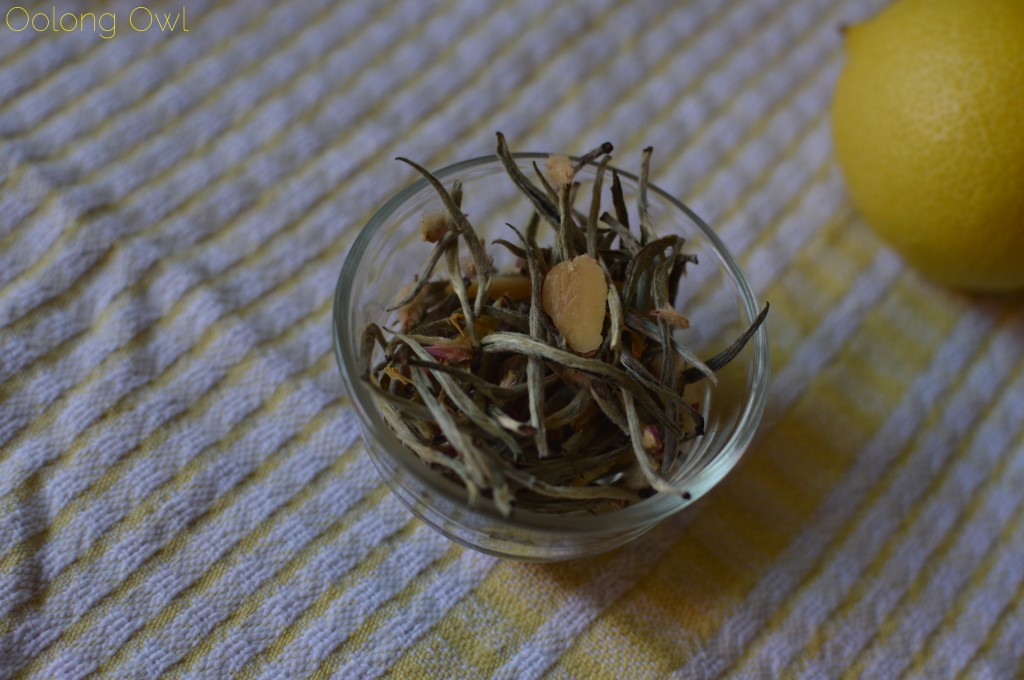 Steeping Instructions
The package of Lemon French Macaron White Tea states to steep 2 teaspoons per 8oz. 180F water temperature for 3 minutes. Due to variable kettle restrictions, I did 175F for a little over 3 minutes – I got caught up sniffing the tea package! This tea also looks gorgeous while steeping!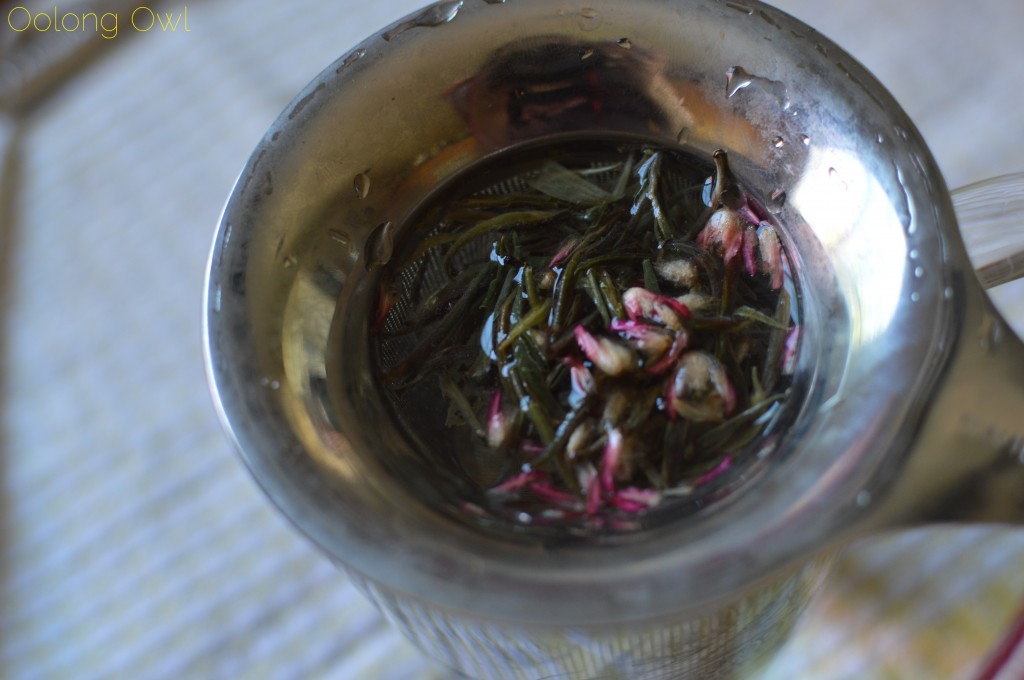 After 3 minutes, my cup of Lemon French Macaron White Tea was a lightly tinted lemon creme colour with a soft lemon sweet scent.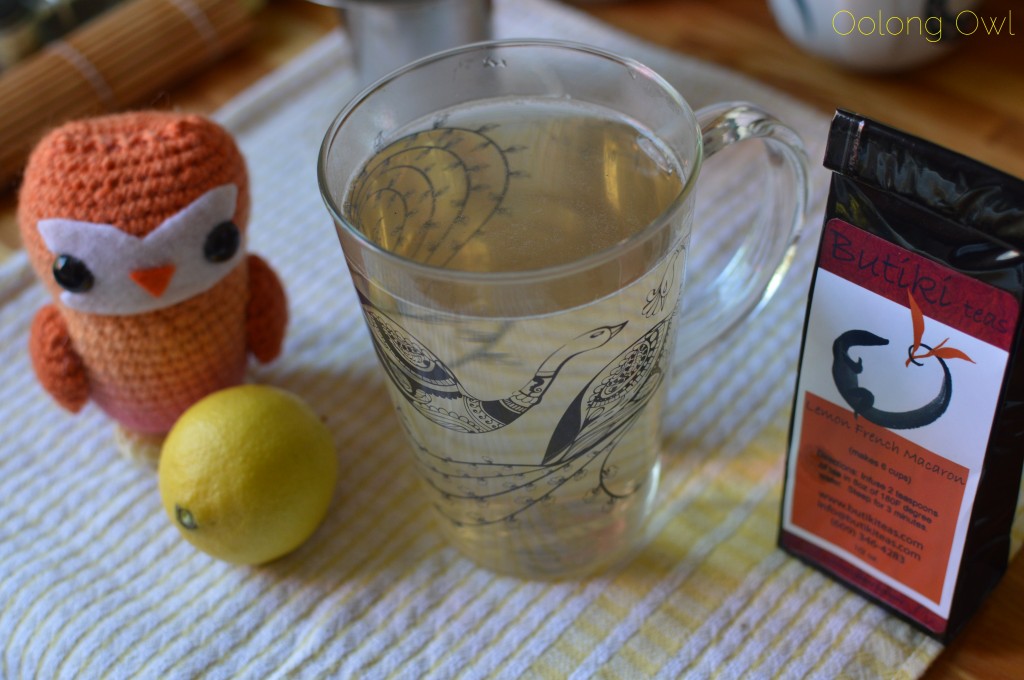 Tasting of Butiki Tea's Lemon French Macaron White Tea
Lemon French Macaron White Tea sips in with a light body of sweet, juicy meyer lemon flavor. The lemon here prominent yet mellow, naturally sweet and is not tart or artificial. As the sip progresses, the lemon melds into a pastry cake like flavor, vanilla creaminess, along with some light natural almond notes. The tea base is great – a juicy sip in, with a developing creamy, melted butter, silky texture that lingers after each sip – a great combo with the lemon!
Left to cool, Lemon French Macaron White Tea lemon chills out a bit, blending with the creamy notes, but taken over with by the indian white tea's fluffy texture. The tea is also a touch sweeter, no need for sugar if you have a sweet tooth! I prefer this tea cooled slightly as the texture and light lemon are fantastic!
Comments
Lemon French Macaron White Tea is a delicate, dessert white tea – perfect for the afternoon or after dinner. This would be a great tea to have with guests you haven't see in awhile – being able to chat and despite the tea cooling, it still tastes great! This tea definitely fulfills the sweet tooth and will save me from the calories when I'm dying for a slice of lemon pound cake!
As always with Butiki Teas' blends, the tea base is high quality with the blend flavor being very natural and not too sweet. Lemon French Macaron White Tea would be perfect for dessert tea drinkers, white tea drinkers or one looking for a delicate lemon tea.