I don't do many of these flavored tea reviews these days unless the tea is unique. What first caught my eye of Love Some Tea is their use of Northern Thailand tea as their base. Investigating further, Love Some Tea's tea is also wild picked and fair trade. Second, they have exotic flavoring in their line up, plus unflavored tea. I have the entire tea line up to review, so let's get to it.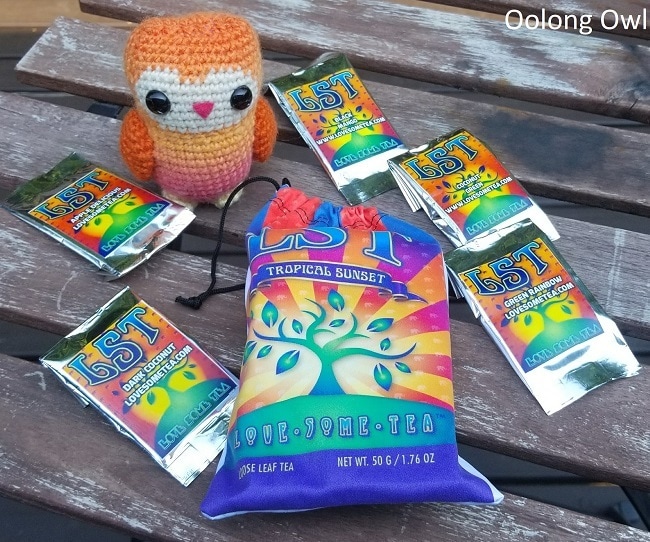 Tasting of Love Some Tea
Green Teas – All steeped western style at 175F/80C water temperature for 2 minutes.
Kind Green – This is Love Some Tea's unflavored green tea. I am starting here to establish our base tea.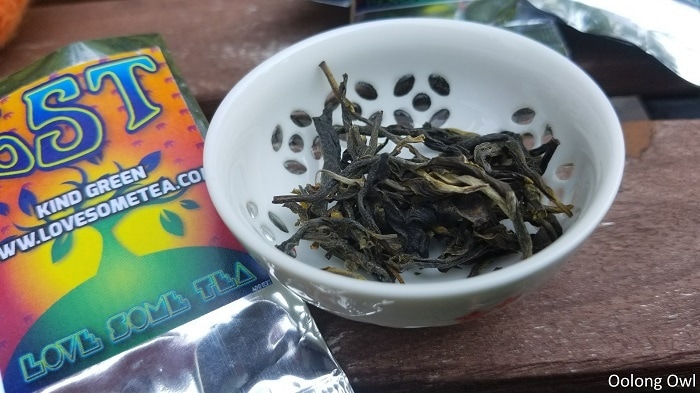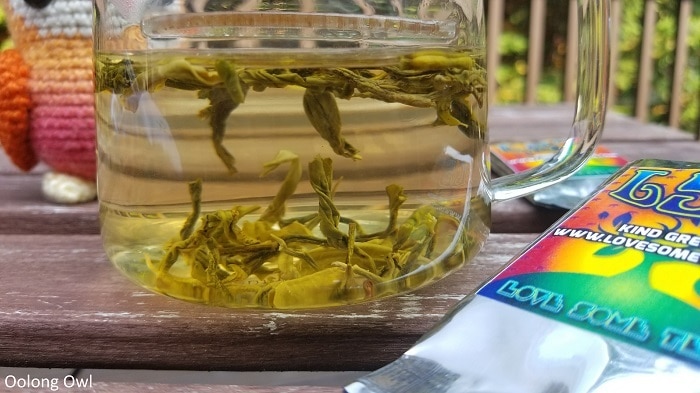 I did grandpa style, 175F/80c, started sipping at the 2 minute mark.  The flavor is quite clean, sweet, buttery, fresh pea vegetal, with some mineral notes. This green makes my mouth salivate for some reason after each sip. The texture is lightly slick. The longer I let it steep, the more dry sensation I get in the mouth, otherwise no bitterness. This is a pretty easy going green tea and I can see many who would enjoy this as it doesn't have any notes some find unpleasant like marine, bitter, or heavy grass.
Apple Delicious  – This green tea blend features ginger, strawberry, cherry, cranberry, and apple.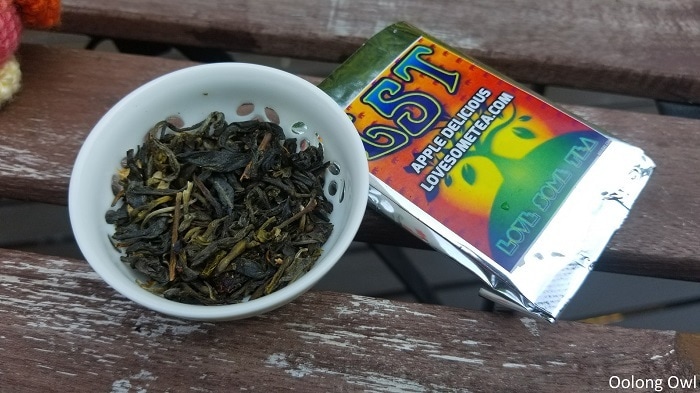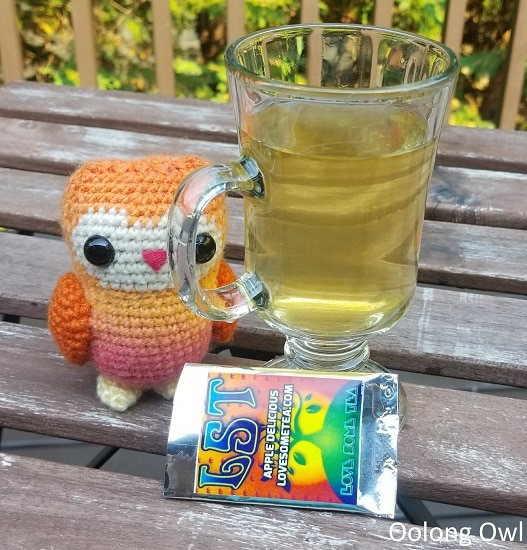 I am partial to ginger, so I personally found this tea quite tasty. The apple and ginger flavor is the most pronounced, but I can also taste cranberry and some sort of miscellaneous berry. The flavor is natural tasting, a bit on the tart side. The background has a nice vegetal level like there is a bit of apple leaf thrown in. This would be fantastic iced and would respond well to a bit of sweetener.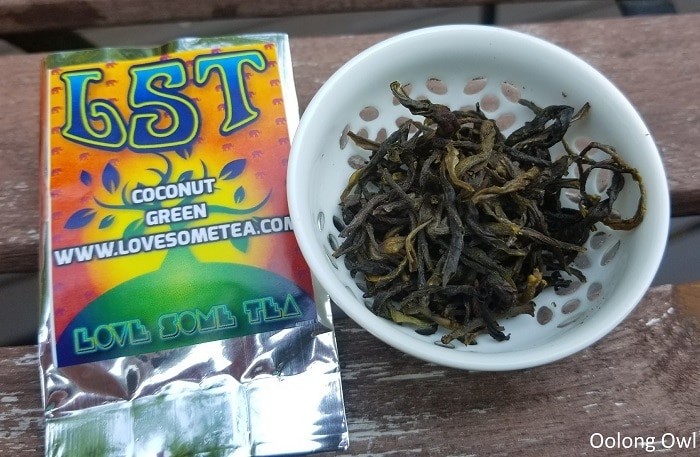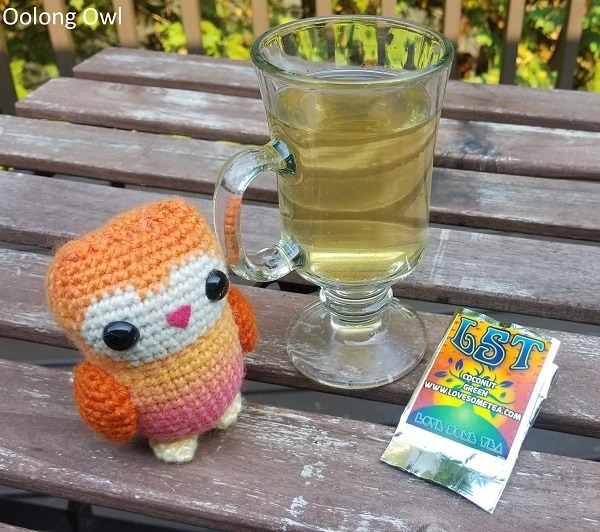 This one has strong coconut qualities – flavor is fleshy coconut and a buttery texture. There is a slight floral hint over the buttery vegetable base. Green Coconut is also not as sweet as I thought it was going to be. This one is a struggle as some sips I find it is heavy coconut, others taste like mostly the green base with some coconut on top. Out of all the greens, this one is the weakest, but still good.
Green Rainbow is a green tea and passion fruit blend.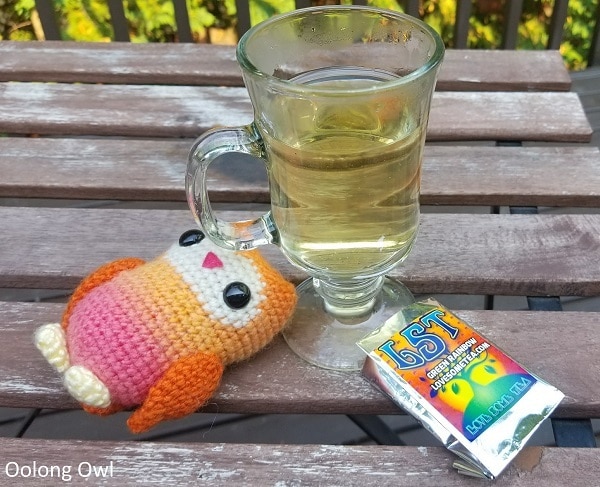 Opening the sample packet and boom – a huge wave of passion fruit. Steeped up, the flavor is also potent with passion fruit, melded with the buttery mineral base. This one stands out as the flavor is strong and distinct. I have a love hate relationship with passionfruit, but Green Rainbow pulls it off as it doesn't taste soapy to me. This one is fantastic iced.
Tropical Sunset is green and black tea blend, with mango, passionfruit, papaya, rose, blue lotus, and jasmine.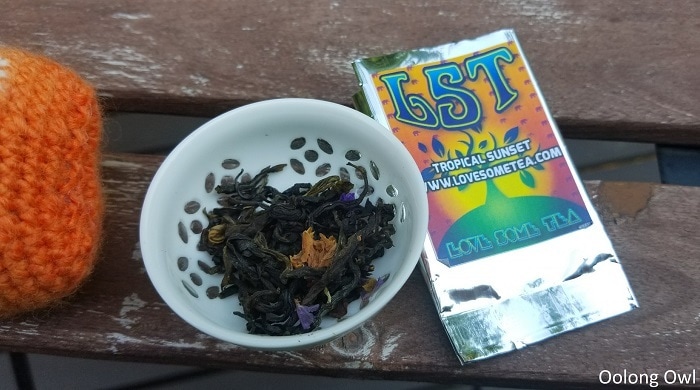 Now we are talking – Tropical Sunset has some interesting ingredients, plus pretty flowers. To throw a wrench in our plans it is also a green and black tea. I decided to keep with 175F, so I don't bitter the green tea.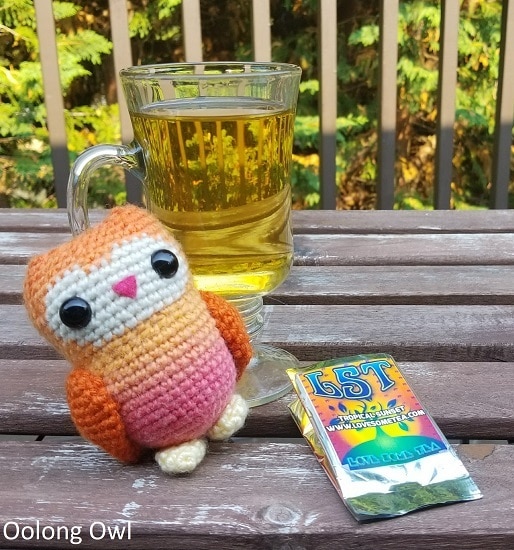 The flavor is interestingly smooth, bright, and minerally with a hint of woodsy. The flavors of tropical and floral are balanced well, not overpowering the tea. I can pick out the mango (and oddly my brain wants to also fill in pineapple), and the jasmine. I had this one iced and it is quite delicious. The only con is I can see is some might think Tropical Sunset is a little soapy due to the floral.
---
Black Tea – All steeped western style at 200F/93C water temperature for 3 minutes.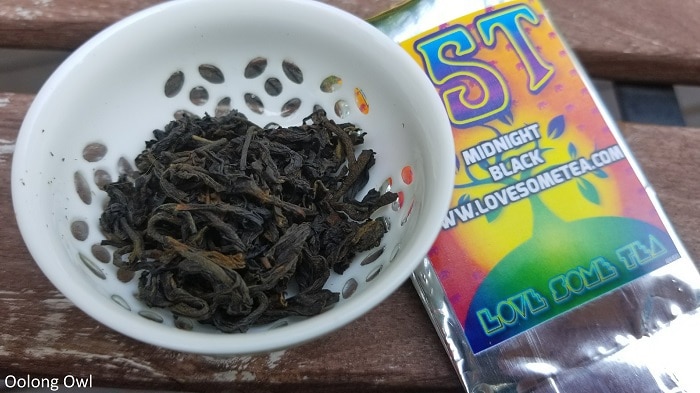 Black Midnight is LST's unflavored black tea. I made this grandpa style and started sipping close to the 3 minute mark. The smell is a coffee like heavy bitterness. The flavor is bold, malty, dark woodsy, with a bit of bittersweet cocoa in the background. Some sips taste subtly like incense smoke and raisins. The flavor level is interesting as it has qualities of heavy face punching black, but the level is more moderate in intensity. There is no bitterness or dryness. I let it steep over 20 minutes and came back, and it wasn't bitter but a frankincense note came out.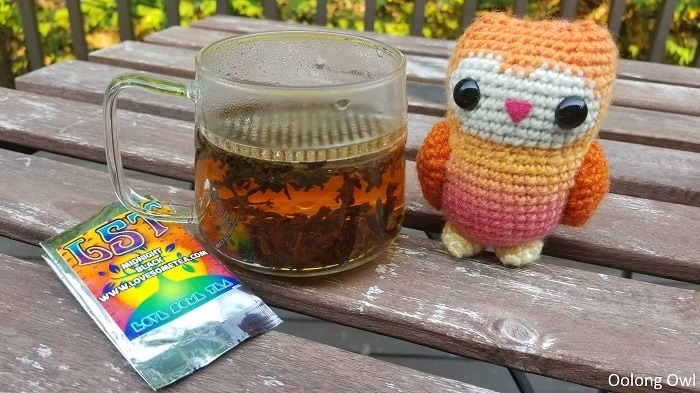 Gongfu style – I did short infusions, using 1 gram of tea to 12ml vessel size, steeping with boiling water. Gongfu style brought out the punch! Midnight black mule kicks on flavor. It is creamy and taste like potent malt, bittersweet high percent dark chocolate, and a bundle of willow sticks. The gongfu version is on the bitter side as the notes are strong and overdrive of dark chocolate. As it steeps out, it gets sweet sappy wood notes and more frankincense and amber before it dies.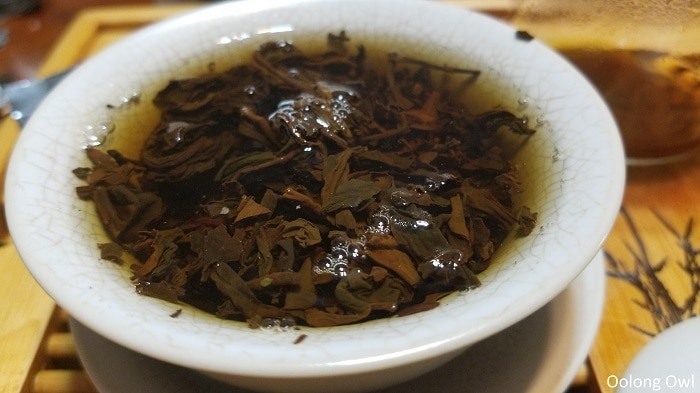 Black Midnight is quite an interesting tea and I can see many black tea drinkers having fun with it.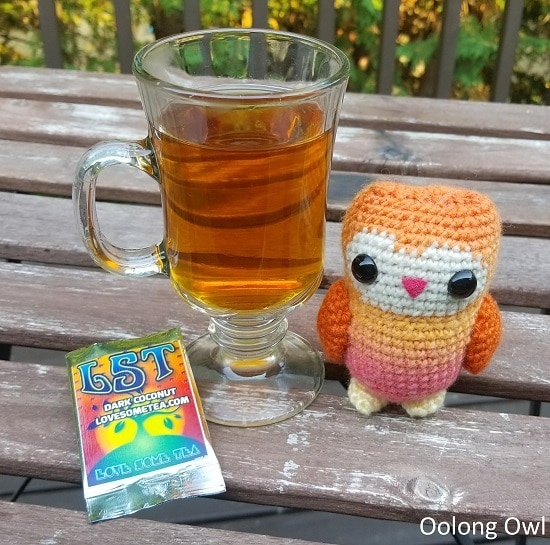 The black tea pairs much better with the coconut than the green base. I found the coconut very tasty over the malty woody base. This was hitting me like I was having dessert, yet this tea isn't particularly sweet. I would love to have this with a custard flan or something with a caramel flavor, as paired with this tea it would be amazing. You don't need to add milk to this one as the coconut adds a smooth creamy note.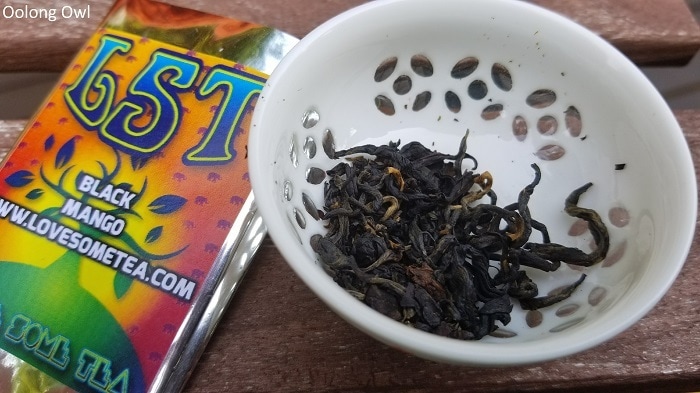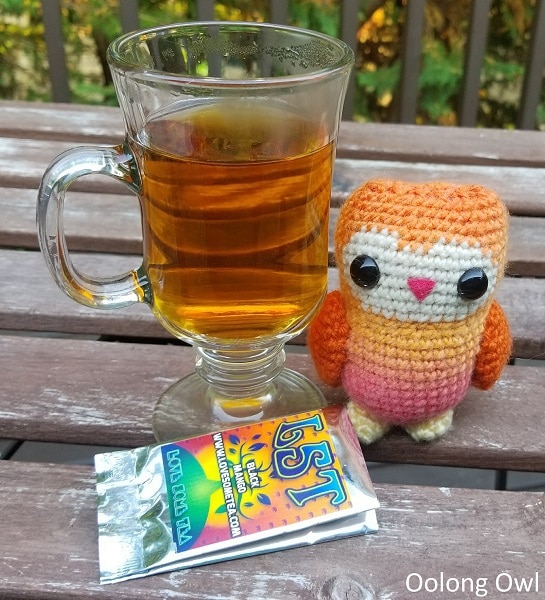 I wasn't a fan of this one, and this is the weakest out of the blends. The mango is too subtle in my opinion, so the light mango mixed with the heavy tasting notes of the black makes it taste like dishwater. Iced, Black Mango tastes much better, but still not as good as the other teas. The cold temperature brings out the mango flavor, but it is still quite subtle.
I drank all these teas (except the gongfu session of Midnight Black) in one sitting. Look at the damage!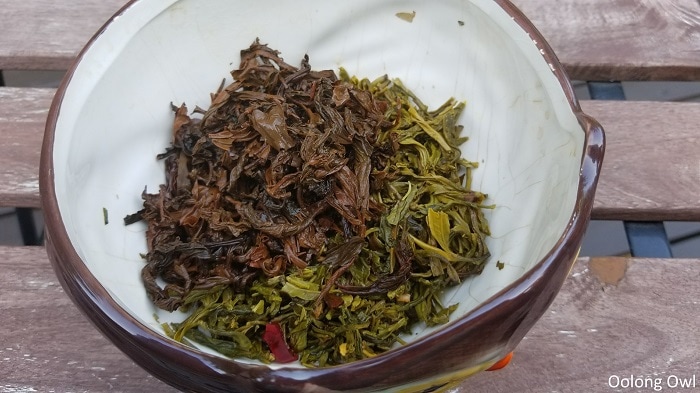 ---
Comments
Ever had Northern Thailand wild picked tea? Love Some Tea makes non-plantation tea accessible at a fair price. Love Some Tea ships out from California too. My favorites are Black Midnight, Dark Coconut, and Tropical Sunset, with Green Rainbow close behind.
The running theme with Love Some Tea's teas is the flavoring is quite natural. The flavors taste distinct, leaning on the tart side without any herbal elements like rosehips. You would think them to be on the sweet side, like how many other flavored teas are and the flavors they feature, but they are not. All would pair well with afternoon tea sweets to add some exotic flavors, but not overpower the food.
(tea provided for review)