Maple Bacon Iced tea is a crazy fun iced tea sold by Zoomdweebies, as part of their Southern Boy Teas lineup. Each Southern Boy Teas' package contains a 14 gram tea bag, enough to steep up a 2 quart pitcher of iced tea.
I snagged this iced tea from the Southern Boy Teas kickstarter campaign awhile back. I thought maple tea would be super fun to try and share with my bacon lover friends.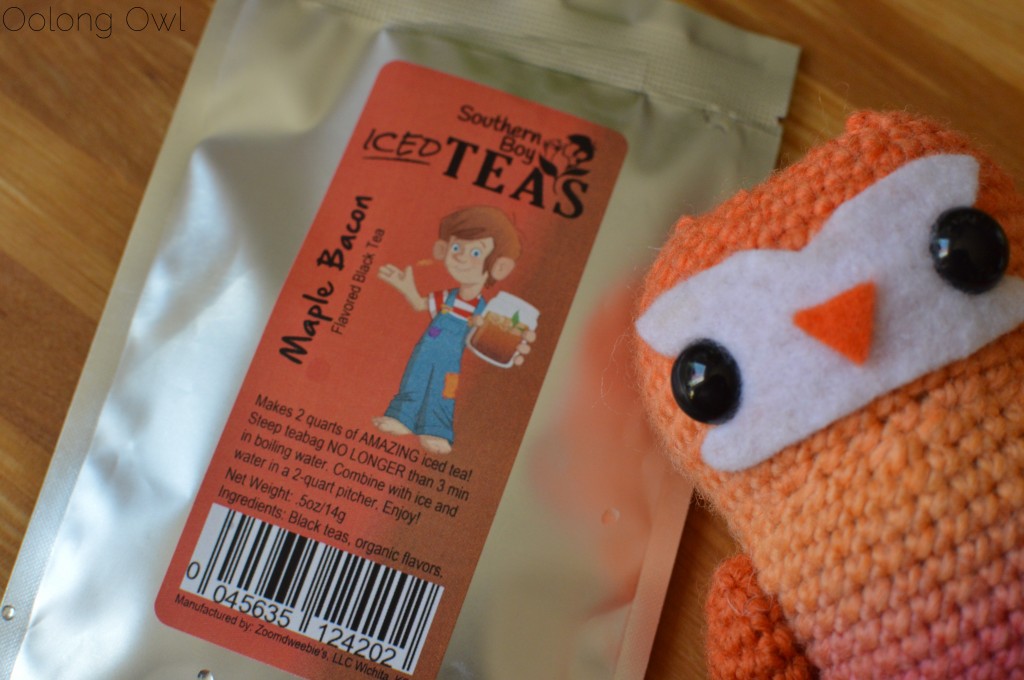 However, about a month or two ago, my tea-hating husband purchased a bacon soda and it was TERRIBLE! It smelled like smoking rotting meat with little taste. After that experience, I was concerned anything bacon flavored for drinks would be awful. Anyways, my tea-hating husband loves bacon, and was having another meat loving friend over for dinner. I thought that would be a great opportunity to make a pitcher of Maple Bacon Iced tea. Despite a frequent buyer of the 52 Teas line from Zoomdweebies, this is my first Southern Boy Tea.
Dry Leaf
That's a big tea bag! The bag smells mostly of maple and cream. Hmmm, I could maybe mistake this one for their Root Beer float?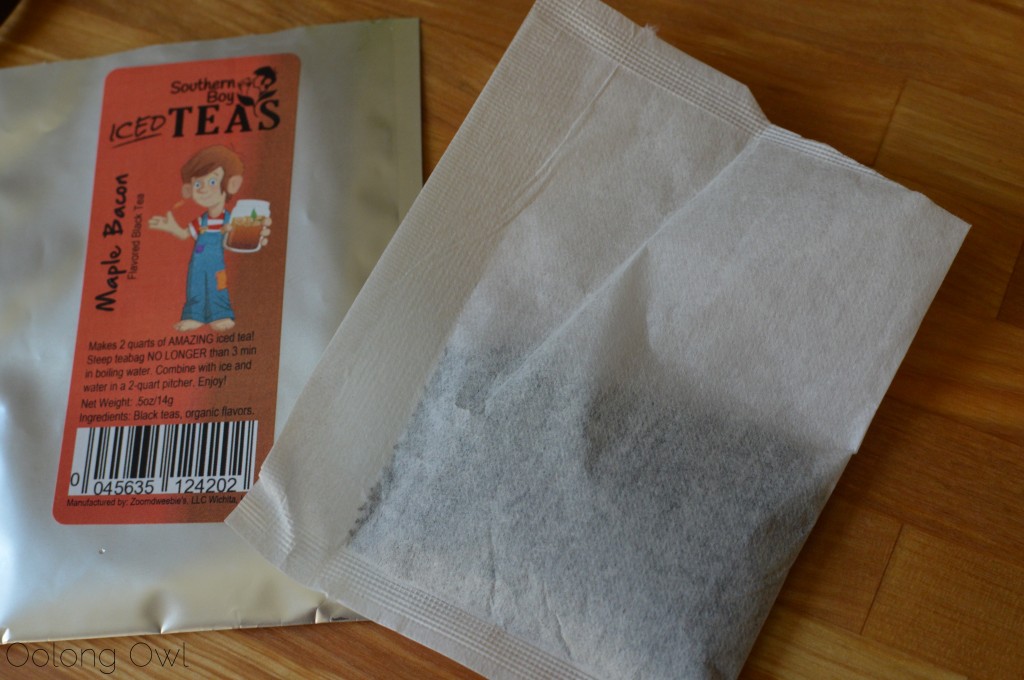 Of course, I failed at opening the package with scissors and managed to snip off the corner of the tea bag. Luckily, I was already planning to use my Takeya Ice Tea maker.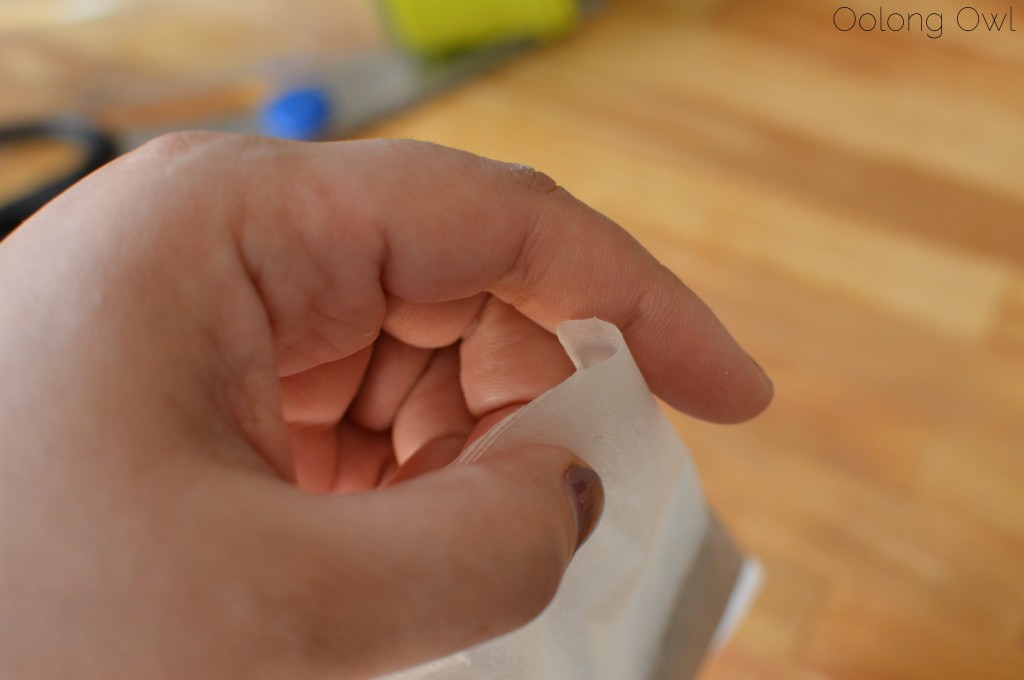 Inside the tea bag. Last week I made a mess out of 2 CTC black teas, getting tea chunks all over me and the counter, so just a picture of the tea inside the bag.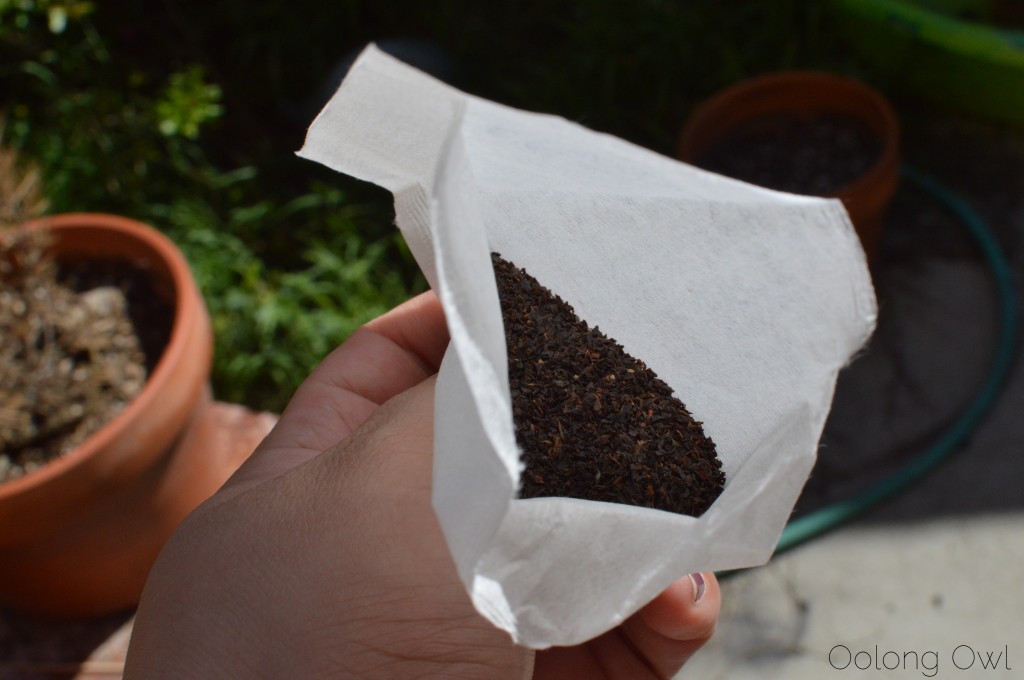 Steeping Instructions
As stated earlier, each teabag holds 14 grams of tea, enough for a 2 quart pitcher. I followed the instructions on the package, kinda, using about 1.5 quarts of boiling water and chilled it. The tea bag is a nice idea as you got the perfect portion for a pitcher of iced tea without needing fancy iced tea steeping gear. But yeah, take care into opening the package!
Brew bacon, brew!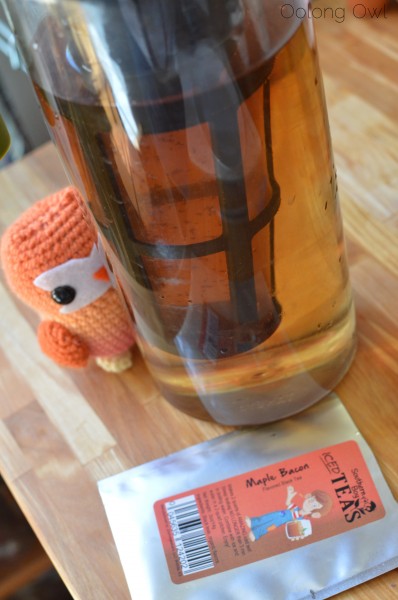 Bacon tea steeping complete!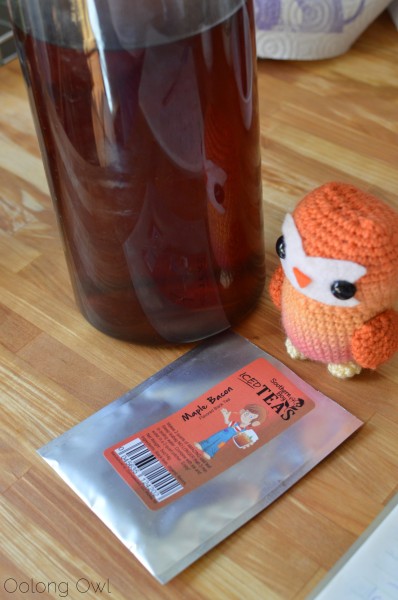 Tasting of Maple Bacon Black Tea
Hot: Wait, wait what?! This is supposed to be an iced tea! Well, I was curious, so I took a sip of Maple Bacon Black tea hot. Actually, there is a Maple Bacon tea part of their Man Teas line. I'm not sure if it's the same tea or not.
Anyways, hot I found the tea sips in a little salty and savory with a caramel maple sweetness at the end. The base is quite nice and malty, though I think I would of steeped it longer for hot tea, maybe 30 seconds more, to pull more black tea flavor.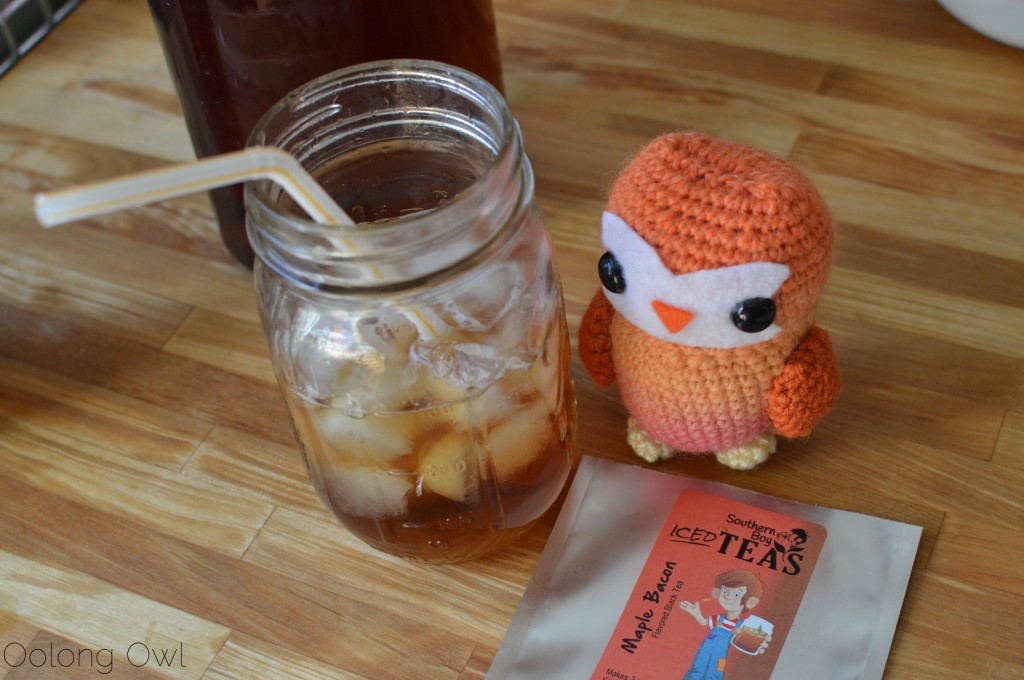 Iced: Fun! The black tea is still deliciously malty with the end of sip a little savory and maple. I found hot, the tea tasted more savory, whereas cold the maple was stronger. I added just a little rock sugar and agave, which also encouraged more maple flavor. It's not that much in bacon flavor, but there is a savory element there.
Tea-Hating Husband and Guest Reviewer Comments: "Tastes like southern tea." "Very maple."
Comments
Zoomdweebies' Maple Bacon Iced tea is a fun, creative iced tea! Thankfully, it is very drinkable and not scary tasting. Seriously Tea Peeps, I was scared of trying this tea thinking it would be another rotting meat drink, but Maple Bacon Black tea was actually pretty good with the nice maple flavor with a savory hint.
If you like southern style iced tea, want a great conversation piece, on your next Zoomdweebies, I'd snag a Southern Boy Teas Maple Bacon Iced tea for fun. At this time, Zoomdweebies has a deal that if you buy any 4 Southern Boy Teas, you get $0.50 off each.