Let's transport back a month to review the March 2016 White2Tea Club!
The teas included for the month of March: 2011 Aged White Tea Fuding and 2009 Yiwu Raw Puer, 50 gram samples each and both available for purchase. I'd say White2tea was pretty generous this month with the sizes. Both teas are entering middle age, so this is a tasting of teas we can snag now at a decent price as the same tea a bit older is much more money. Both teas would be great for further aging.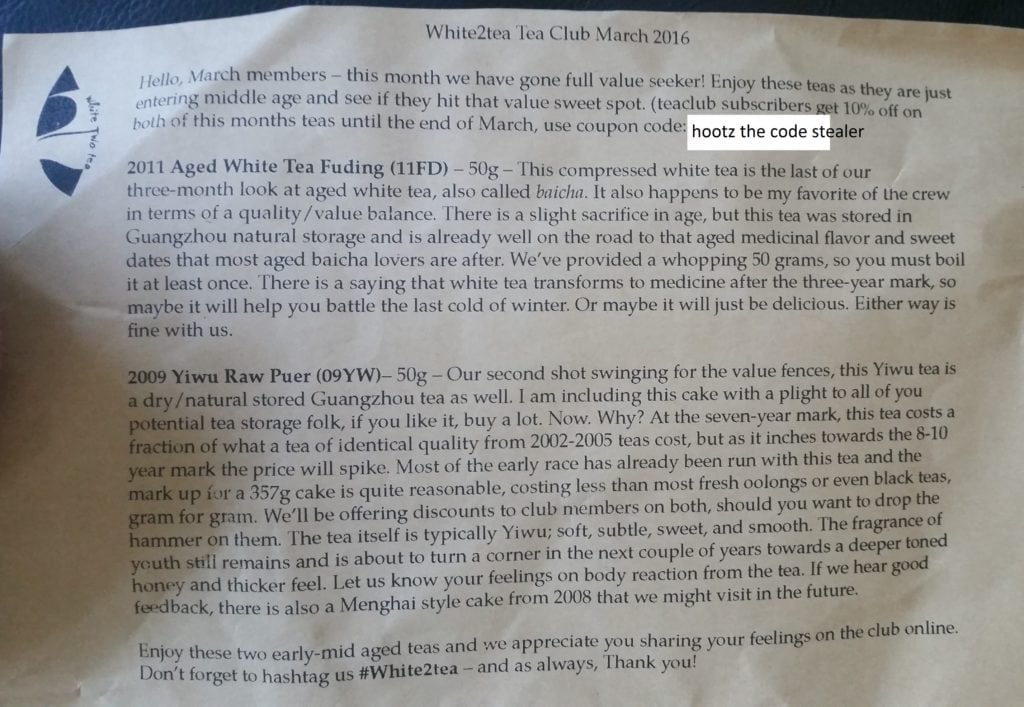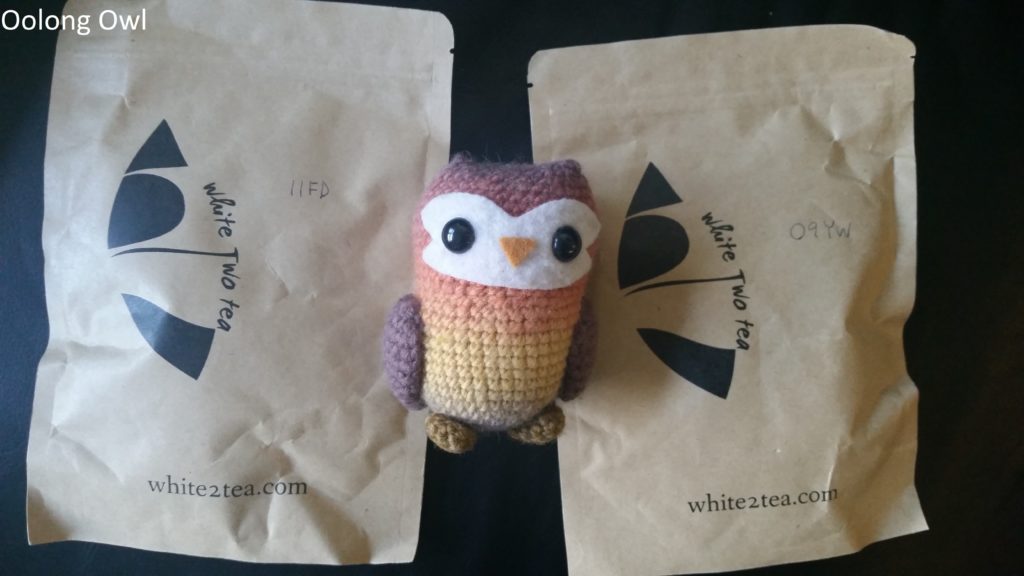 2009 Yiwu Raw Puer from the March 2016 White2tea Club
Dry Leaf and Steeping Instructions – I got a nice big chunk of cake! The scent is low, with a dry stale grassy scent.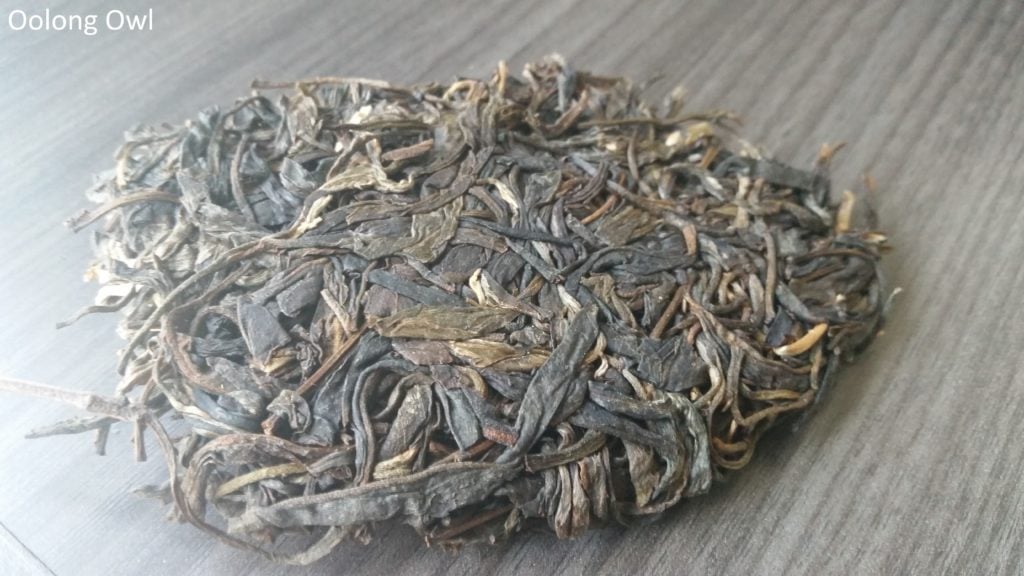 I went with boiling water, 1 gram to 15ml ratio, and 15 second steeps to start.
First, Second, Third, Fourth, and Fifth Infusion: It is hard to tell colour of the tea with my dark cup, but the tea looks like it has a light tint to it. The scent is an interesting apricot incense blend.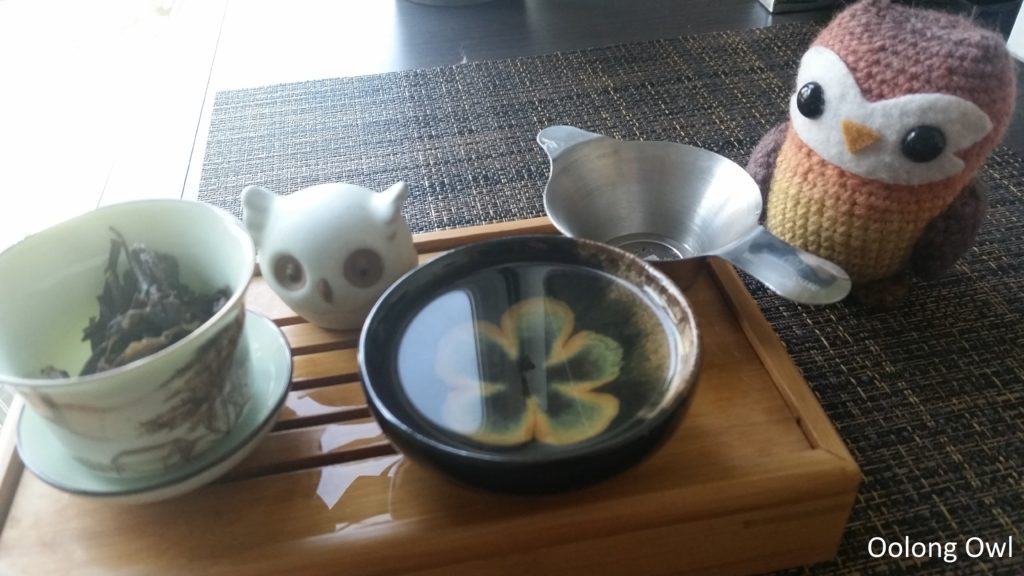 The first steeping is light, somewhat buttery with a hint of salt, with a soft apricot finish. The flavor blooms more with a touch of smoke and honey, but with a big apricot aftertaste. The notes are pretty delicate, though the aftertaste is quite strong. The texture sips in light, but I get a silky finish. The fourth steeping peaks in sweetness as it has a syrupy flavor.
I'm really digging the apricot aftertaste. So much apricot! I love home canned apricots. This tea certainly takes me back to the tastes of apricot jam bubbling away on the stove, burning my fingers at sampling.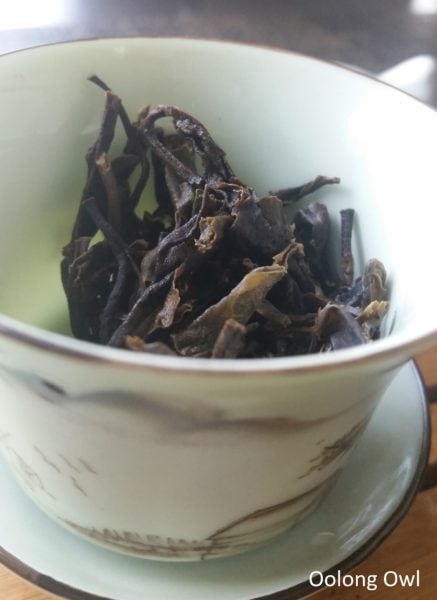 Sixth, Seventh, and Eighth Infusion: The flavor of this 2009 Yiwu is getting more savory, like a roasted green pepper, with the apricot aftertaste. A dryness is setting in, adding some dryness to my cheeks with each sip.
Ninth, Tenth, and Eleventh Infusion: I'm starting to fight with steep time here. The flavor is more savory green pepper, but with the longer steep times it is starting to taste over stewed. The dryness hasn't gone up, and the apricot flavor is still there.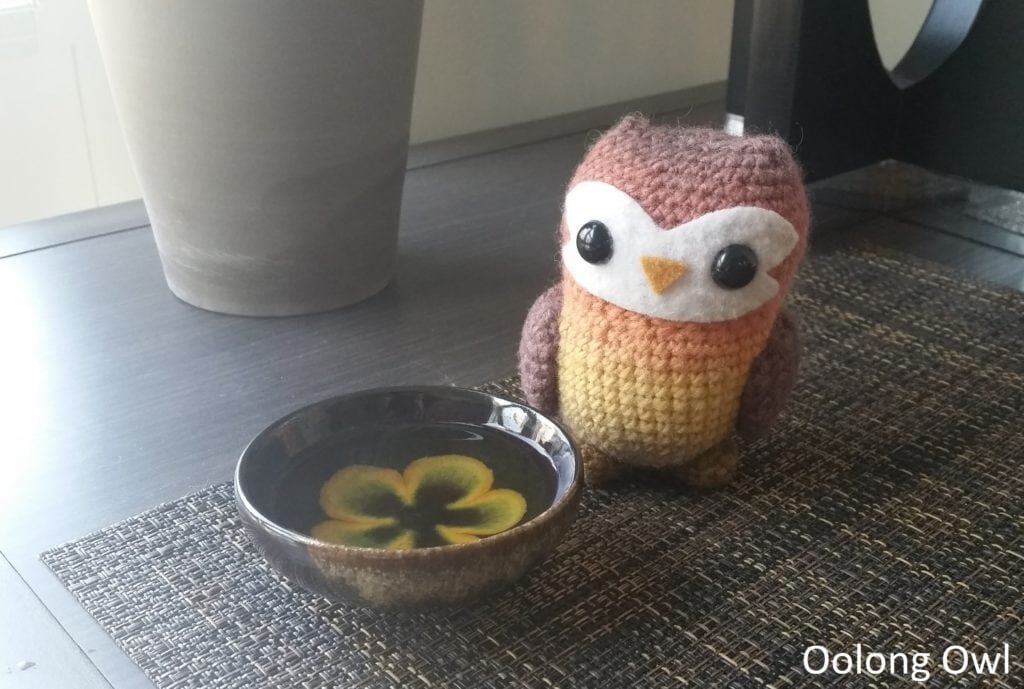 Twelfth, Thirteenth, and Fourteenth Infusion: I did long steeps here, 10, 15, and 30 minute. The flavor has gone to bitter stewy green pepper and very strong finish. The final steeping wasn't weak but quite bitter stewed greens making it a rough sip.
Comments
I think I could of steeped this better, leaf a touch harder and flash steep it, I would of gotten more steeps, maybe more sweet ones. The long steeps made the tea start getting cooked tasting. I think dropping temperature might work, but could make it too weak in taste.
Otherwise, the 2009 Yiwu Raw quite a nice sheng, especially the early steepings for sweetness and great aftertaste. I can see why White2tea said this is a great mid aged cake, the price is pretty good, $65 at this time, especially if you got the space to store it to for later. I am super tempted to buy a cake after I play with the ratio.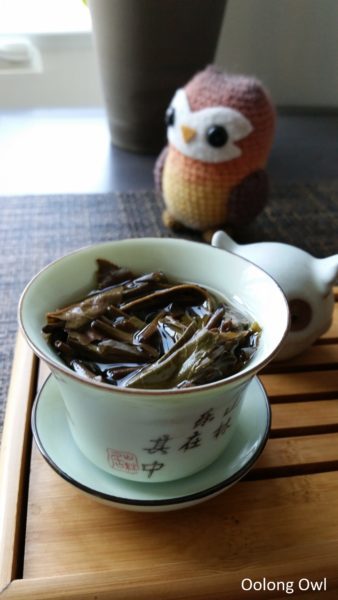 2011 Aged White Tea Fuding from March 2016 White2Tea Club
Yet another aged white tea. I am 100% for aged whites, they are harder to find teas and undiscovered country to many, however we have had aged white back to back for a few months now. 2011 Aged whites are priced well too and probably the better year to jump in on without killing your wallet.
Dry leaf and Steeping Instructions
Again, we got a pretty generous amount of tea with 50 gram chunk of cake. The leaves look big and compressed loosely, making it easy to flake off pieces. The scent has a distinct aged white tea scent, trying to describe it and what pops to mind is pleather, wood and honey scent.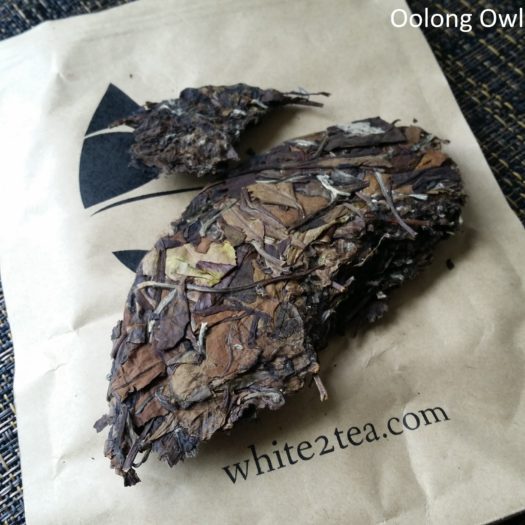 I am still playing with my aged white steeping method. I am going with 210F, Seattle tap water, 1 gram to 12 ml ratio. I did a rinse as that initial steeping tasted like nothing.
First, Second, and Third Infusion: 2011 Aged White Fuding sips in lightly stale honey grahams that blooms in the mouth. Each steeping gets strong and stronger, to a good moderate buzzy honey flavor. Very little aftertaste, but that seems a running theme with aged white. Stale honey grahams, like those little honey bear crackers, is the dead on match here.
The stale honey graham taste reminds me of treats my grandmother had squirrelled away (a habit likely picked up from living through World Wars) that she purchased in the US. Treats often got stale as she'd forget about having them stashed away somewhere. I'd still eat them, as living in Canada you see commercials for treats that you could never find, so I was a cool cat for having snacks no one else had.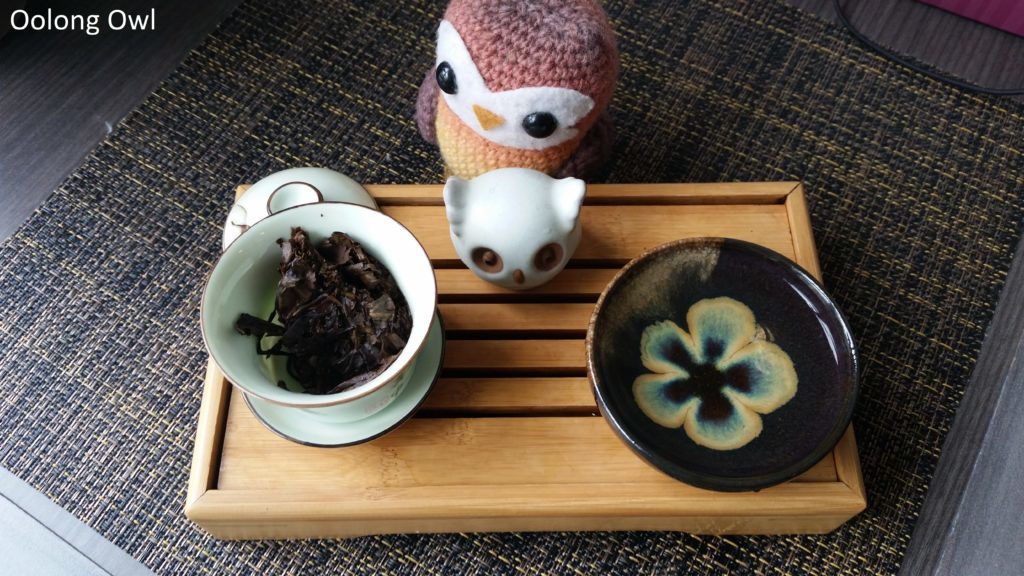 Fourth, Fifth, and Sixth Infusion: Still same tasting notes, but I'm getting more creamy and thick textured feels. There is also a light dryness on the tongue, but otherwise really easy to drink.
Seventh, Eighth, Ninth, and Tenth Infusion: A flavor shift here. The honey has lessened and it's creamy thick, with sweet butter start of sip. End of sip the flavor cleans up to sharper flavor of linen and cream. The flavor now certainly reminds me of white tea.
Eleventh, Twelfth, Thirteenth, and Fourteenth Infusion: I've entered longer brewing to milk out the flavor. I started with a 5 minute, leading to the final 20 minute steeping. The flavor has shifted again to date notes and a hint of medicinal notes. This point is giving us a glimpse into what this tea would taste like if we boiled it on the stove.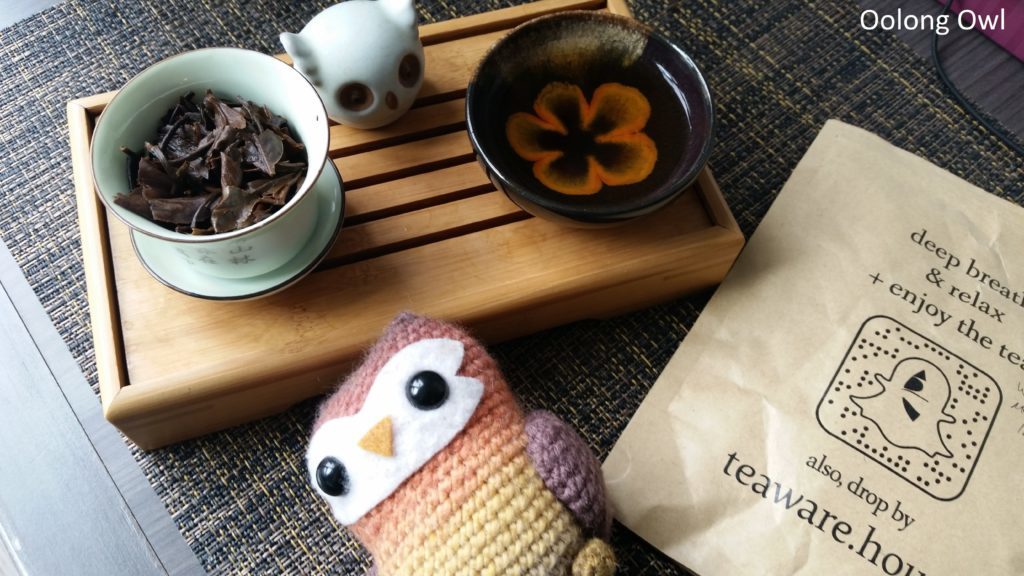 Comments
Regarding the steeping method I used, my previous method was starting low temperature and increasing it as I went on. I found that the low temperature milked the honey flavor longer and got more steeps, but much lighter in flavor. The higher temperature and ratio did a great job for moving the tea's flavor in more interesting directions, it was easier to steep, and the date flavor pops on final steepings.
For this 2011 Fuding aged white, I think it is pretty tasty. The quality is quite good, I like this one more than the previous White2tea club aged whites. The pricing on this is on the high side, $59, but the quality tastes excellent.