This month's White2Tea club is an interesting one – 2013 Anhua Heicha (30 grams), Aged Kang Zhuan Sichuan Heicha (15 grams), and  2006 Guangzhou dry storage Qingbing sheng puer (50 grams). Everything in this month I was excited to try, lets get to it!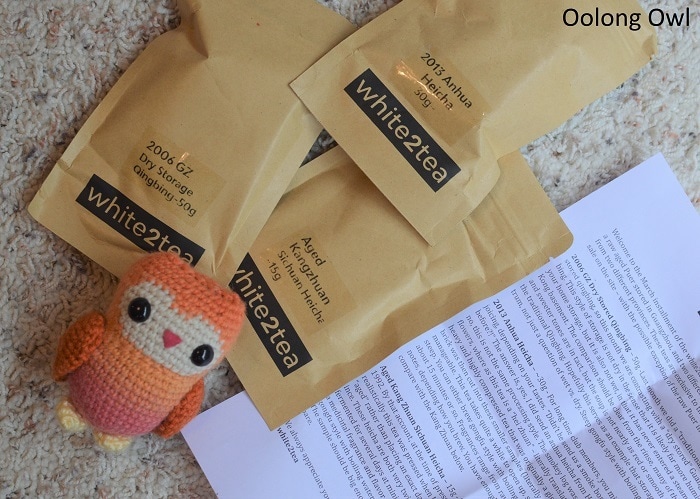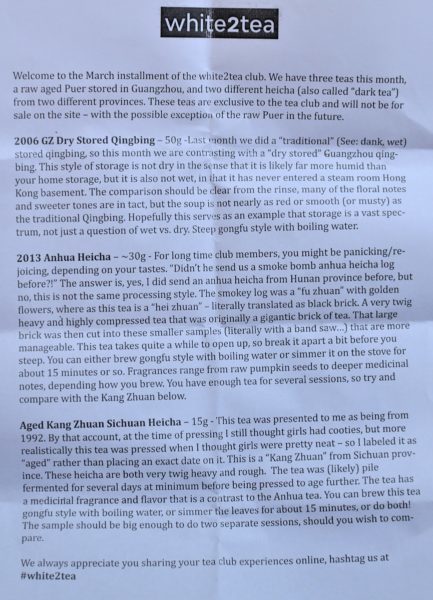 March 2017 White2Tea Club Heicha Comparison
Both heichas are club exclusive.
Dry Leaf and Steeping Method:
The 2013 Anhua Heicha looks very strange with the sharp shape and layered look! This tea was part of a giant brick, cut down to size.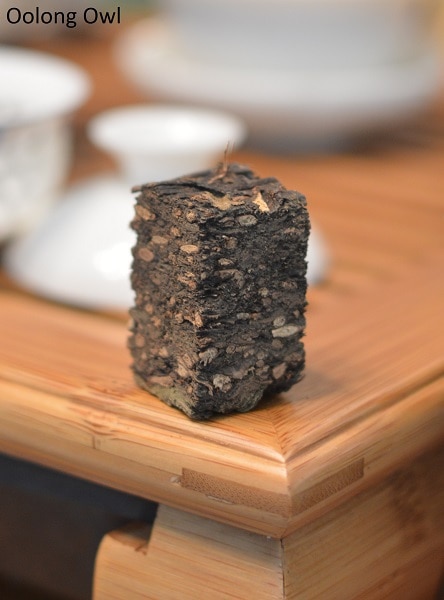 The Aged Kang Zhuan Sichuan is big and leafy with big sticks.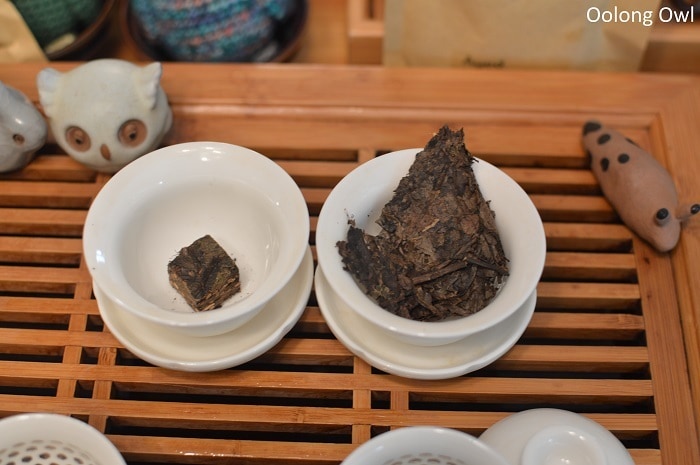 I used 1 gram to 14ml leaf to vessel ratio for both teas. I broke the leaf up a bit, which was easy to do with my fingers as both were easy to split the layers. I did 2 rinses and let them sit without water for a few minutes to steam open a bit. The 2013 Anhua being the one that really needed the extra time to open up.
First, Second, and Third Infusion: Steeped up, these teas are still night and day. The 2013 has a hot pumpkin scent – like old days of halloween when people put candles instead of LEDs in their pumpkins. The Aged Kang Zhuan Sichuan gave me a repulsed reaction as it smells like old cigarettes, very much like my long deceased chain smoking grandma's purse.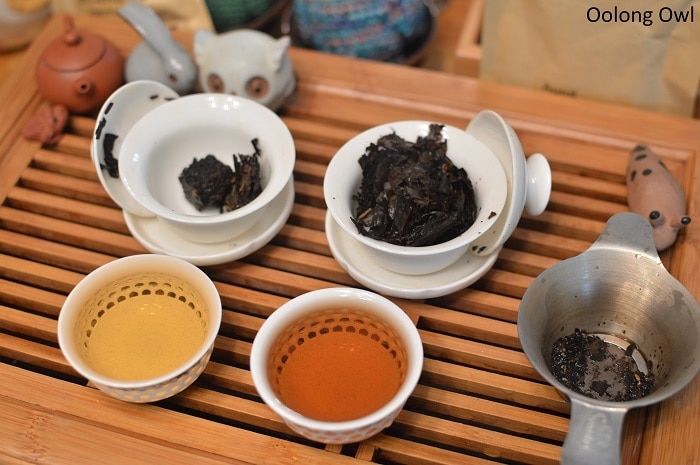 2013 Anhua Heicha – Sips in pumpkin seedy with a thick viscous texture. The finish has an interesting sweetness, like eating mashed sweet potato. Early steeps is quite delicious – it is simple and sweet.
Aged Kang Zhuan Sichuan – I think the smell has really thrown me off. The flavor is ashy, medicinal herbal that makes me clench thinking bitterness is coming, but never does. It is smooth, but gosh the flavor and scent are making me question why I am drinking this.
Fourth, Fifth, Sixth, and Seventh Infusion: 2013 Anhua Heicha color shift!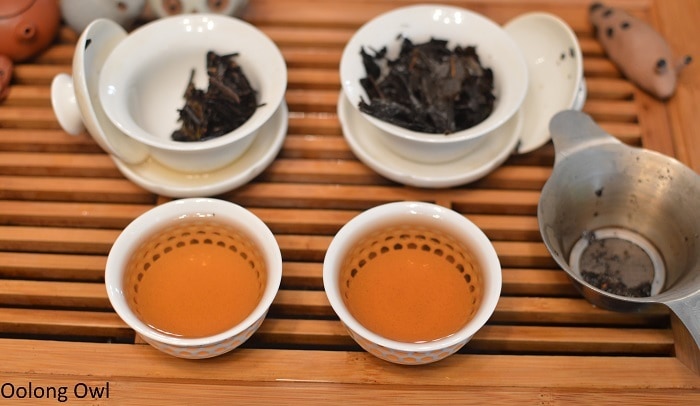 2013 Anhua Heicha – This heicha is tasting more earth and pumpkin. A bit like roasted squash and savory, but with a bright sweetness that is so natural and refreshing. It is giving my body a feel in my jaw and lifting my skull cap… to insert a candle into my pumpkin head.
Aged Kang Zhuan Sichuan – Well, it tastes more melded together, but still very ashy and flat medicinal. It has a dry, almost tart, feel to it that makes you clench your teeth, squint, and suck in air.
Eighth, Ninth, and Tenth Infusion: Color shift again! The 2013 Anhua Heicha has opened up more, whereas the Aged Kang Zhuan Sichuan is fading.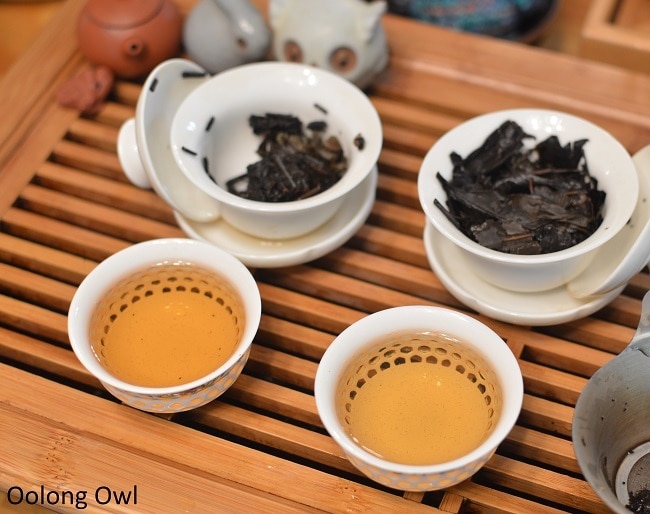 2013 Anhua Heicha – With each infusion, this tea got sweeter and more crispy pumpkin. This is such a fall tea that is has me wishing for autumn while it is spring.
Aged Kang Zhuan Sichuan – The scent and flavor met at the perfect point here. This is a 100% dupe of what church smells like, but in taste and smell. Myrrh or Frankincense? It is not sandalwood or amber, nor smokey. It has that lingering ash presence too.
Each steeping for both teas had a bit of speckles on the bottom of the cup, but I could not taste or feel it. Enhance!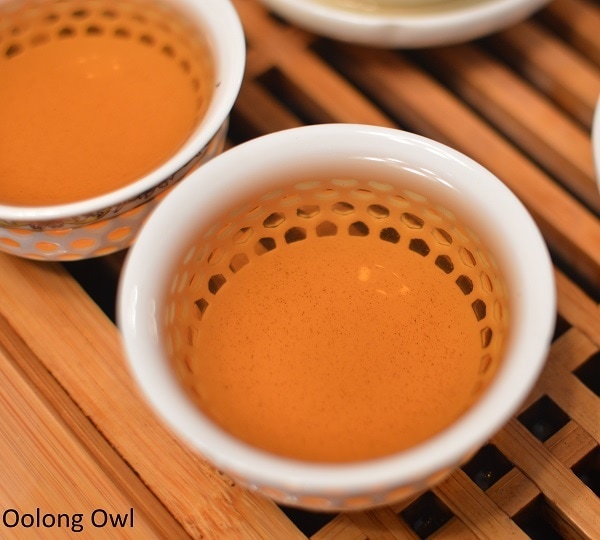 Eleventh, Twelfth, and Thirteenth Infusion: Extended steeps here, about 15-30 minutes. I felt too lazy to use a filter on this infusion.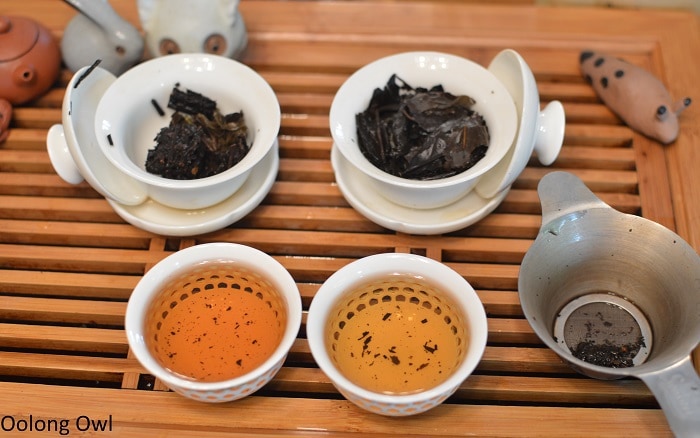 2013 Anhua Heicha – This is very bright and flavorful, like squash and a tang of medicinal starting to show. This tastes like I can get a long power infusion or boil on the stove for the ultimate pay off. Even the leaf is still chunky, but my long 30 minute infusion didn't get it open, I will have to resort to boil to finish it. I'll have to pass today, this is too much heicha at once!
Aged Kang Zhuan Sichuan – This consistently tastes like the last steeping bracket of church incense, just lightening with each infusion until it died. This heicha oddly grew on me after the 8th infusion.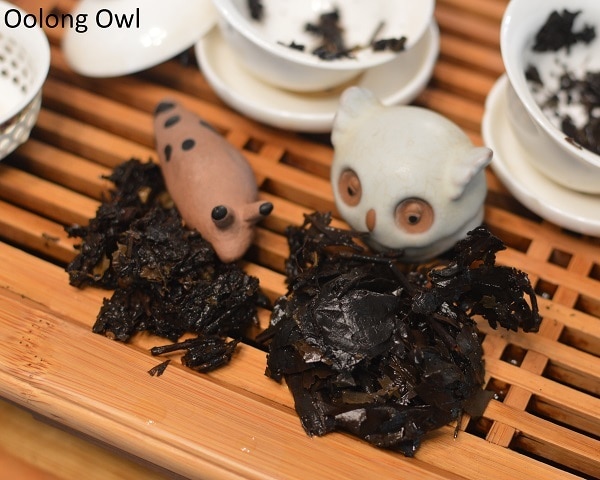 Comments
I dub the 2013 Anhua Heicha "Pumpkin Log". The Aged Kang Zhuan Sichuan "Church Log". Both can go with the legendary White2Tea Club December 2015 "Bacon Log" smoke bomb. Ha, I got all three and I can blend them into some sort of monster tea. I was chatting with Cwyn while I was drinking, and Thanksgiving came up, which is perfect for all these teas – autumn, church, family, and burnt food. These heichas were emotionally charged teas for me. I enjoyed Pumpkin Log for good flavor, feel, fun appearance, and longevity – I'd love to get more of this tea! I quite disliked Church Log at first, but it tamed down over time.
---
March 2017 White2Tea Club 2006 Guangzhou dry storage Qingbing sheng puer
It is hinted in the handout that this Qingbing could possibly be for sale in the future.
Dry Leaf and Steeping Method
The leaf looks like it was once pressed, but got pretty broken up. I got some big chunks, but also some loose bits.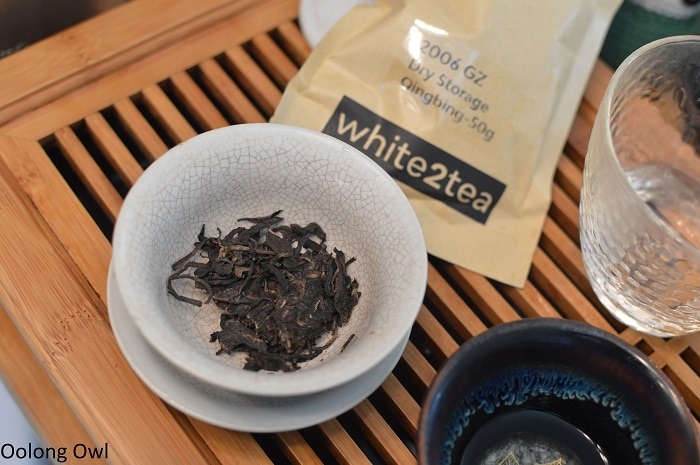 I did pretty standard 1 gram to 15ml, steeping with boiling water.
First, Second, and Third Infusion: The flavor is on the light side to start. The flavor is a bit honey date, amber, with a touch of floral and apricot. It lacks that funky basement and musty taste. Very easy to drink and a bit on the subtle side. The texture is slippery and coats down the digestive tract.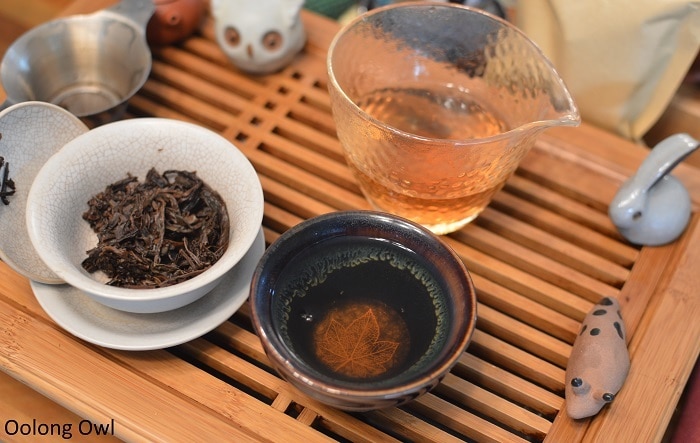 Fourth, Fifth, and Sixth Infusion: The flavor is at maximum here – it's a bit metallic, yet also syrupy fruity. It is like drinking the tea version of a tin of the light syrup packed with stone fruits. I find with the syrupy throat coating feature, makes this tea very approachable and friendly to drink. I am starting to feel it now, with a spring in my step and feeling fuzzy warm.
Seventh, Eight, Ninth, Tenth, and Eleventh Infusion: The colour is coming out to this gorgeous dark, matching the wet storage Qingbing from last month.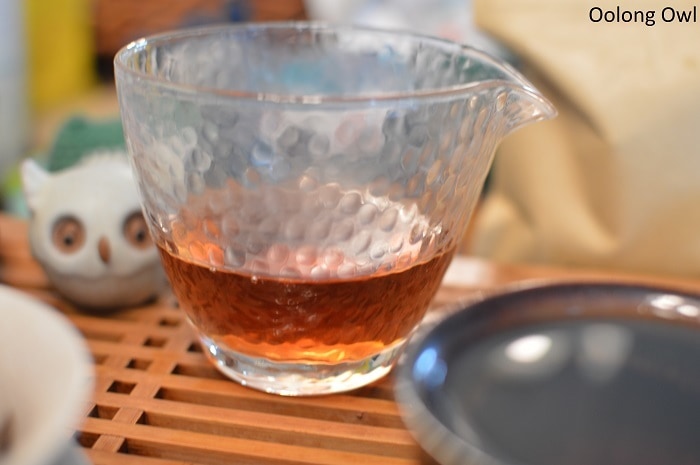 The flavor is pretty similar to the previous notes of metallic syrup fruit, but I am getting a bit of floral. There is astringency starting leaving a lightly gritty feeling in the mouth.
Twelfth and Thirteenth Infusion: I swear this tea should be dead by now, but it feels there is quite a bit left in it. The flavor is starting to go, it dipped to mineral and stone fruit sweet, but with still some kick to it.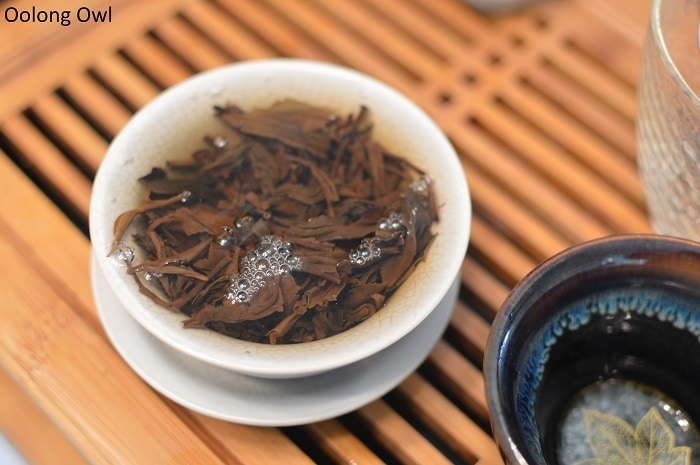 Fourteenth Infusion: I had this steeping for 45 minutes as I had to leave the house at the last minute and left my tea. The flavor is a strong mineral and stone fruit with a bit of sweetness. I think I could boil this on the stove for one more infusion, but I'll admit defeat and let Lord Sluggert have it.
Comments
2006 Guangzhou dry storage Qingbing sheng puer  is a solid sheng, but also friendly and approachable.  I quite enjoyed this Qingbing and hope we can get our hands on more sometime. In all, March 2017 was a fun White2Tea club to drink. All these teas I will likely save to share with friends as they were an interesting experience.