Today I'll be unboxing the Simple Loose Leaf Selection Tea Club that I received for March! (PSSSST! I got a coupon code at the end of this post!)
How the Simple Loose Leaf Section plan works is each month you can choose from a selection of 5 teas. You also get to choose a 6 gram bonus sample from next month (with that, a preview of the offerings for the next month). Within that 5 teas, they aim to have a green, black, oolong or pu'er and a flavored blend, so you got a lot of variety to choose from. What is quite nifty is you can choose 2 out of the 5 teas – getting 1 to 2 oz each, or opt to sample all of them in a 4 oz sample pack! Simple Loose Leaf has a huge tea lineup too.
I personally like how I get to choose the teas I want. You can experiment and try something new! The coolest part is getting a sample from next month's box – that way I can plan if I want more of that tea next month!
At this time, the pricing for the Simple Loose Leaf's Sections tea club is $17.50 to $14.00 a month, depending how long you subscribe for. (pssst even cheaper with my promo code!)
Let's unbox March's Simple Loose Leaf Selection Tea Club box!
The teas from Simple Loose Leaf come nicely wrapped in a box.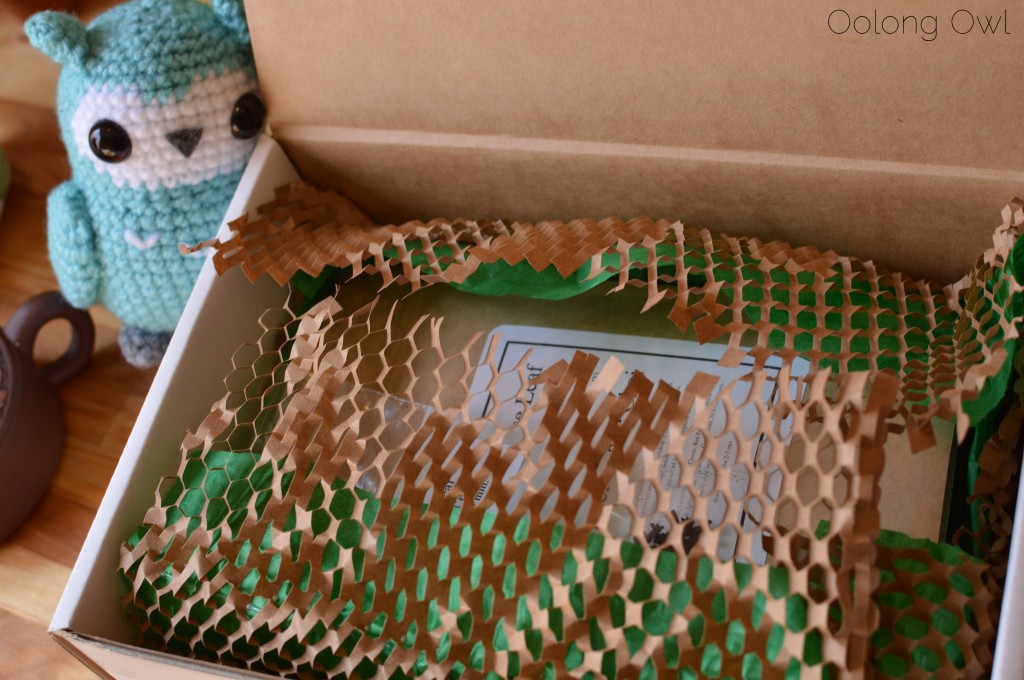 Inside, my selections: March's Winter White Chai and Russian Caravan Black – both very wintery teas! The sample I chose from next month's menu: Hazelberry Pu'er – SWEEET!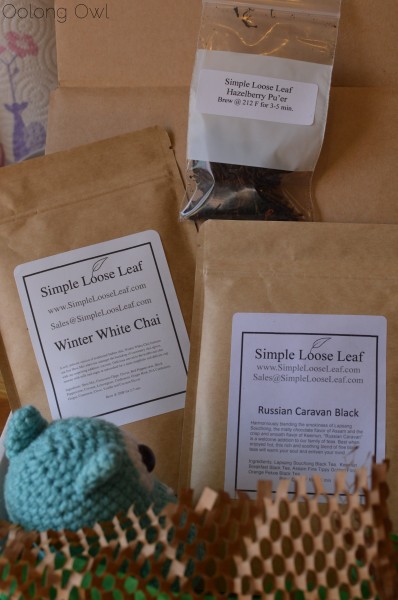 I'll be sampling Winter White Chai and Russian Caravan Black today.
Tasting of Winter White Chai
Winter White Chai is a Shou Mei white tea base with cinnamon chips, cloves, red peppercorns, cardamon and ginger. This blend also has coconut and lemongrass with vanilla flavor.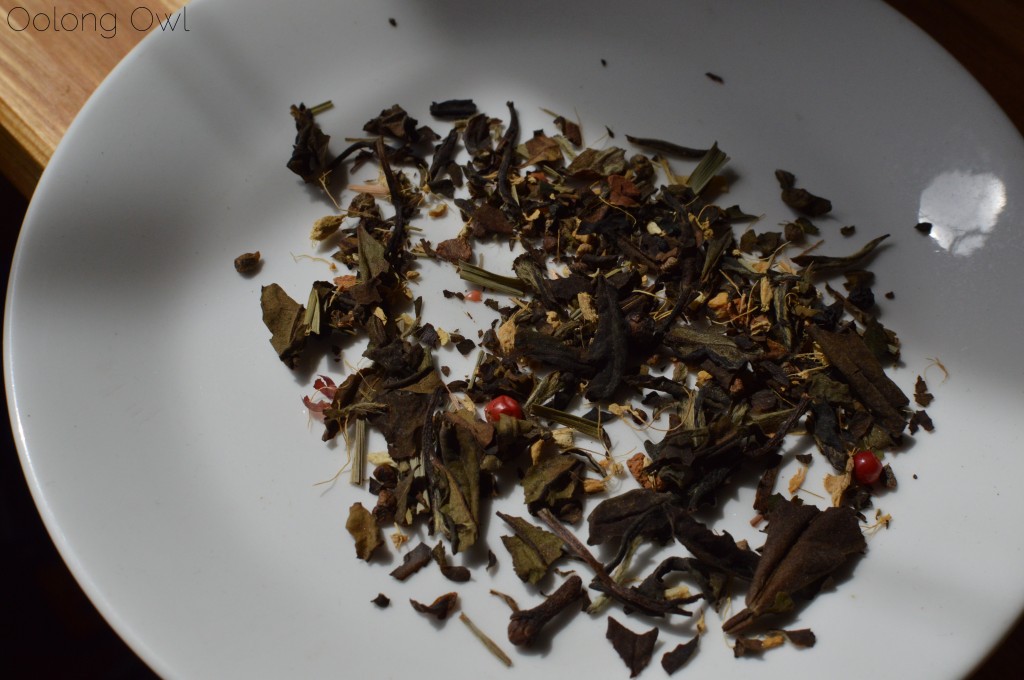 The dry leaf smells really spicey with a hint of creamy icing ontop. After the 2.5 minute steep with 200f water, I had a cloudy, yet vibrant yellow tea that smells spicy! Actually, this was kind of confusing as I'm used to a dark brown brew smelling this spicy!
Winter White Chai sips in light, juicy that develops a nice, potent white tea flavor. The Shou Mei, a stronger white tea, was a great choice here as it doesn't get drowned by all the spices that are incoming. The spice level is moderate and flavorful – plenty of cinnamon, ginger clove flavor, a 5/10 on the spice-o-meter – enough to satisfy you that you are drinking a chai, but not firey. End of sip there is a fresh quality to it, from the lemongrass with a lingering creamy aftertaste and mouthfeel from the coconut. I've often found lemongrass in chais can sometimes be too much – but Winter White Chai is just a hint, like fresh snow. A very delicate chai! I didn't want to add sugar or cream to this one as it was good as is.
Tasting of Russian Caravan Black
Russian Caravan Black is a black tea blend of Lapsang Souchong, Keemum and Assam fine tippy golden flower orange pekoe. The dry leaf smells mostly like lapsang souchong, so very strong and smokey.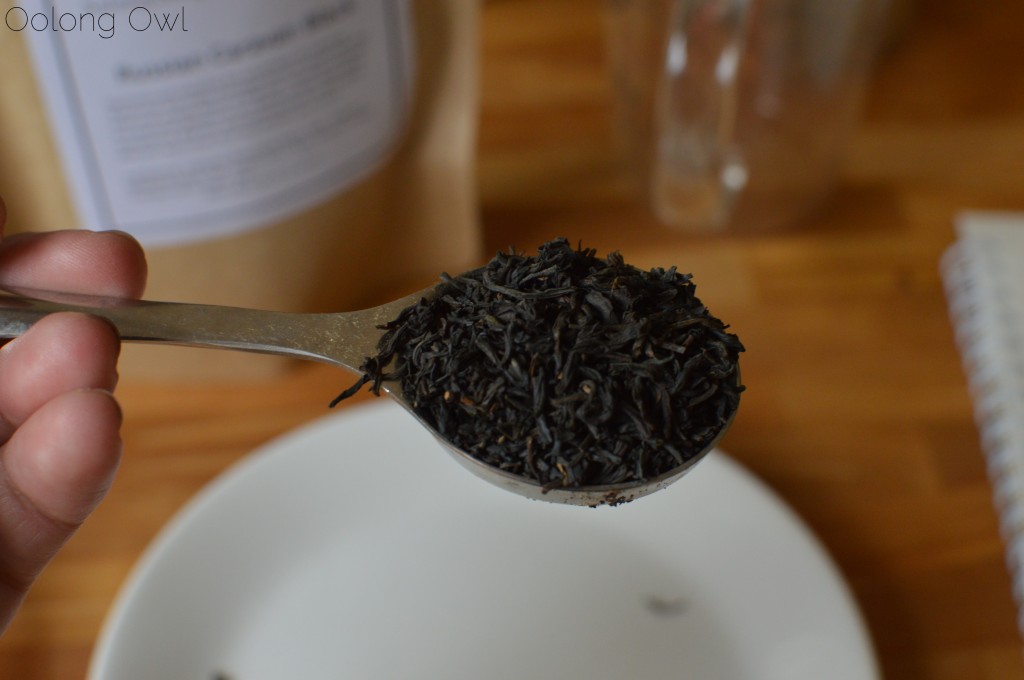 Steeped up with boiling water for 4 minutes I had a GORGEOUS cup of tea!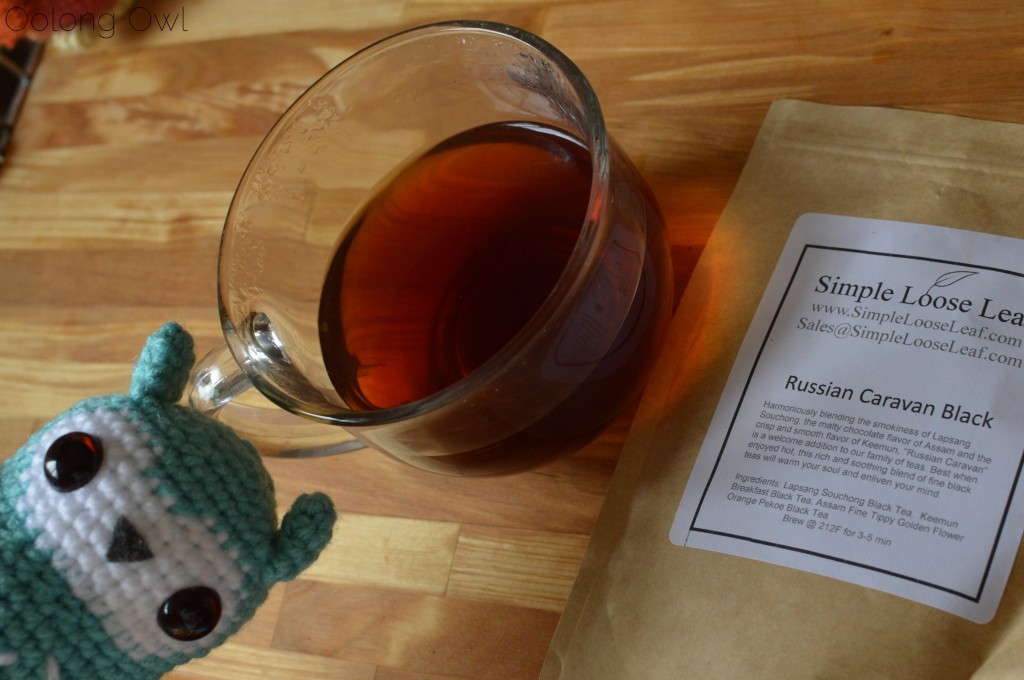 It looks like a sunset, wow!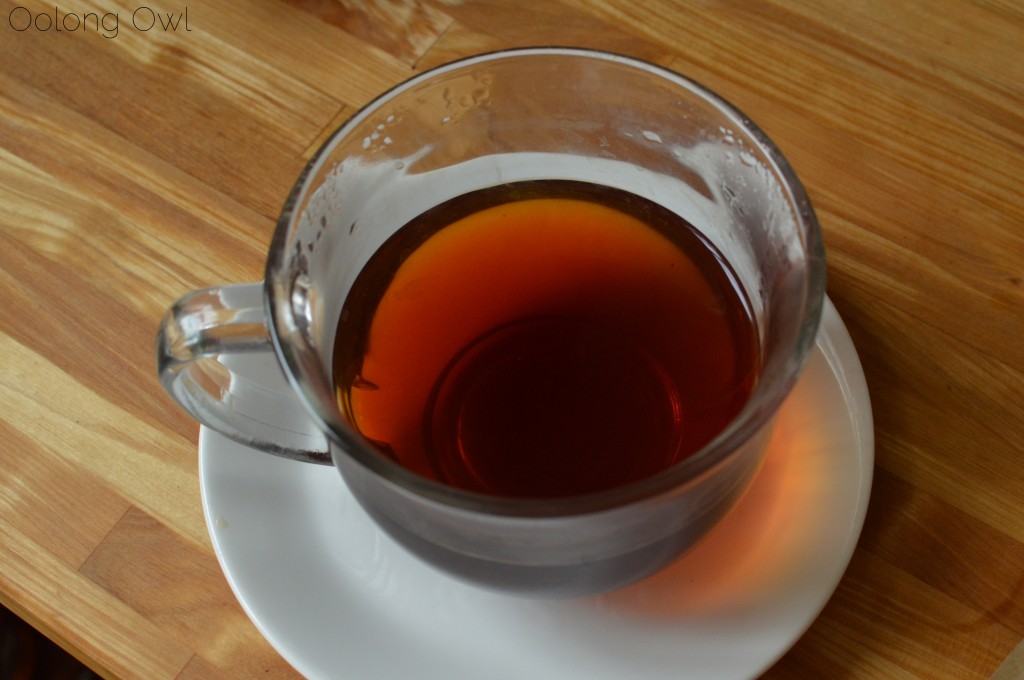 The flavor of Russian Caravan Black is indeed for a strong breakfast black tea lover – it's mega rich! Sips in a little smokey from the lapsang souchong and keemum with a bit of amber mellow smoothness from the assam. There is a 5/10 astringency going on mid to end sip. Russian Caravan Black finishes off the black tea circle going back to lapsang souchong with flavors of smoked pine and charred earth. I'd want to drink this tea for breakfast while camping!
What about the Hazelberry Pu'er? My sample was really good so I've selected to get more next month, I can't wait!
Oolong Owl BONUS
Simple Loose Leaf  was super cool to offer a coupon code for you the readers of Oolong Owl! Enter OWLSELECTION25 for 25% off the Simple Loose Leaf Selection Club!
(teas provided for review)