Material Matcha Uji is a new matcha seller with a twist – they have handcrafted 3 different matchas, blended with various Uji varietals, which makes for different flavor profiles. This isn't the first time I've come across blended matcha, but the first time to have a tea vendor go into more detail.
Since I do a lot of matcha reviews, I've learned matcha has many flavor profiles, yet no way to distinguish anything as no one talks varietals. I've had matchas that were potent, sweet, fruity, more umami, and even floral. The most information I see on matcha is the region, usually Uji. Knowing more about blends and varietals would be great for us matcha addicts that know what we like, past a good quality, well-stored matcha.
Material Matcha Uji sent me a preview of their MMU03 blend, here is the description –
MMU03
A full bodied blend of Samidori and Gokou.

The MMU03 blend was crafted as a total art piece: we crafted a combination of two of the most exclusive "shaded" tea species, both historically originating entirely from the Uji terroir. Full and velvety is what best describes the Gokou variety, however it is further enhanced by Samidori's depth to realize a full bodied, complex, refined blend.

Flavor: Full-bodied, Powerful, Smooth

Texture: Velvety

Umami: Very Sweet Umami
For more information on the other matchas – the sharp tasting MMU01, or the smooth fruity MMU02 – check out Material Matcha's website or Kickstarter.
Interestingly, the Material Matcha guys stone ground my matcha right before shipping it to me.  Let's roll and try some matcha!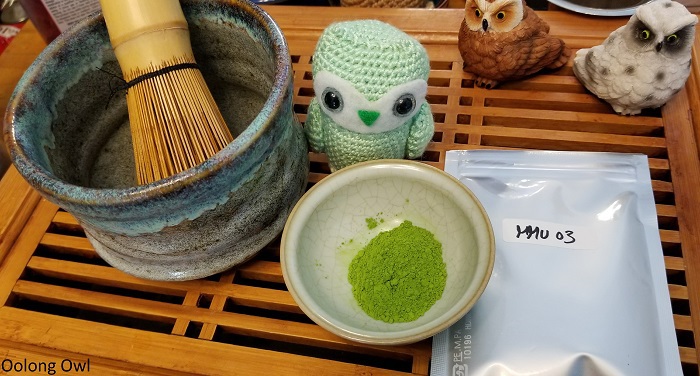 Matcha Powder and Preparation Method
The Material Matcha MMU03 is on the vibrant green side, which is a good sign.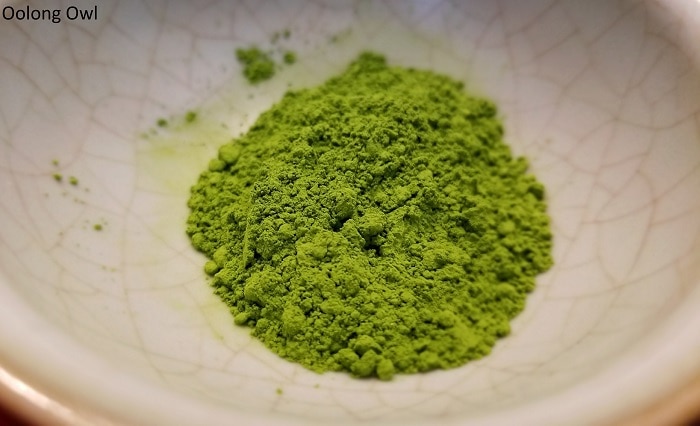 I used 2 grams of matcha, whisked in 175F/80c temperature water. I used around 5oz/150ml water total.
MMU03 has a difficult time achieving foam.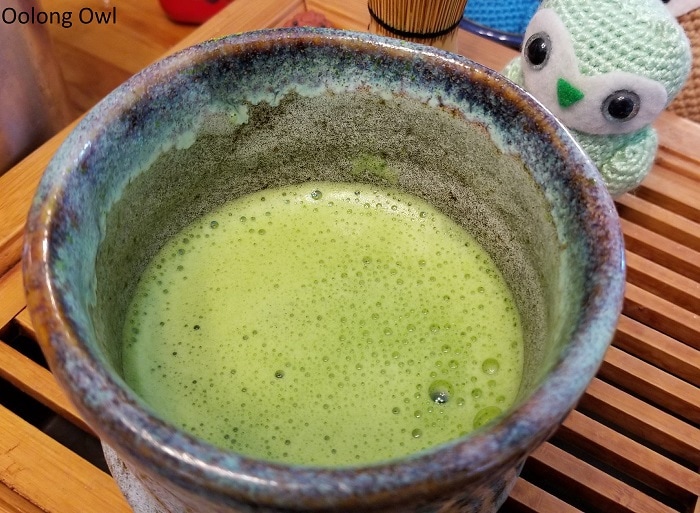 I would get an okay layer of foam, but it would disappear.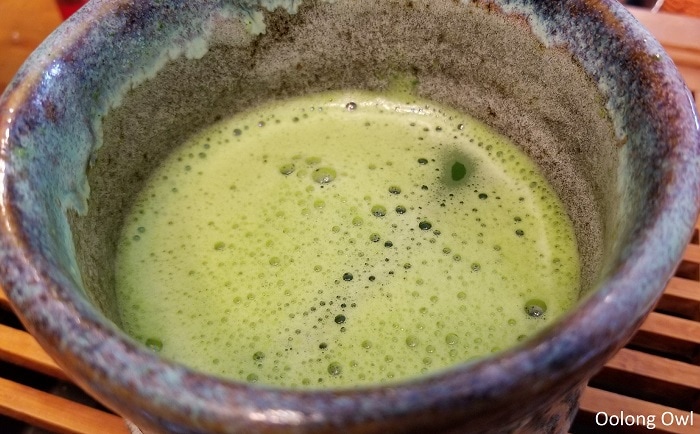 I had two more sessions with the same results.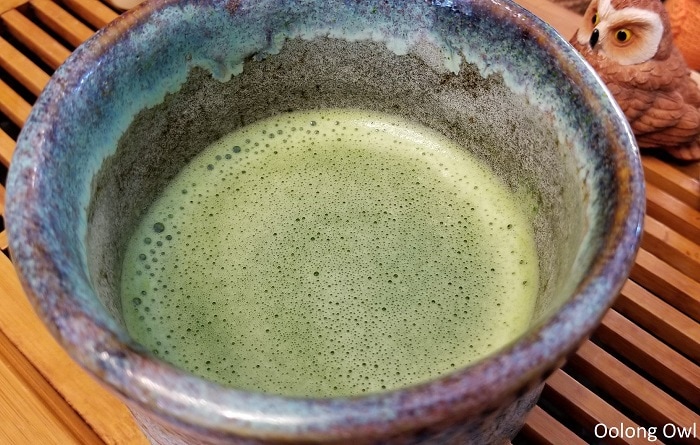 Tasting of Material Matcha's MMU03
Usually, the foam is great towards making matcha less bitter, and it did not need the foam here. The flavor is smooth and creamy – lots of complexity and packed with flavors of chestnut, milk, with a savory umami note of fresh button mushroom and steamed rice. The aftertaste blooms and into another direction of crisp, fresh sweet grass, leaning close to spearmint, with a background of umami I tasted during the sip. The texture is fuzzy and thick like I am drinking a full-fat latte as it feels so soft, which is a fun contrast to the bright refreshing aftertaste. There is no bitterness, though there is a hint of dryness left in my mouth, which at a later session I found I could reduce by dropping the temperature a touch.
Comments
I get mean owl butt on my matcha reviews as my patience wears thin since I've had so many bad teas. Material Matcha's is number 2 of mind-blowing matchas I've experienced. My fried chicken matcha holds #1. I love complex, contrast, the sweet and creamy notes, and I love drinking something that is thick but is still thin watery tea. Each time, I drank the entire bowl and wanted another one. The only error in MM03 matcha is not being able to get any meaningful foam. Those Material Matcha guys chose well, as I tend not to like the strong tasting matchas – on paper the MM03 was a better choice over MM01.
MM03 is kickstartering for $39USD ($53 retail) for next year, which is on the steep side but considering the handmade aspect, high quality, informational control, and includes shipping from Japan, the price checks out. Check out Material Matcha Uji's kickstarter and fingers crossed we get more vendors talking about matcha varietals.
(matcha provided for review)