For the May 2016 White2Tea club we got 6 different black teas, two of them freshly 2016. The teas are: Little Red, Zheng Shan Xiao Zhong Spring 1 (aka Lapsang Souchong), Zheng Shan Xiao Zhong Spring 2, Black Buddha, Wild Tree Black, and Black Meizhan.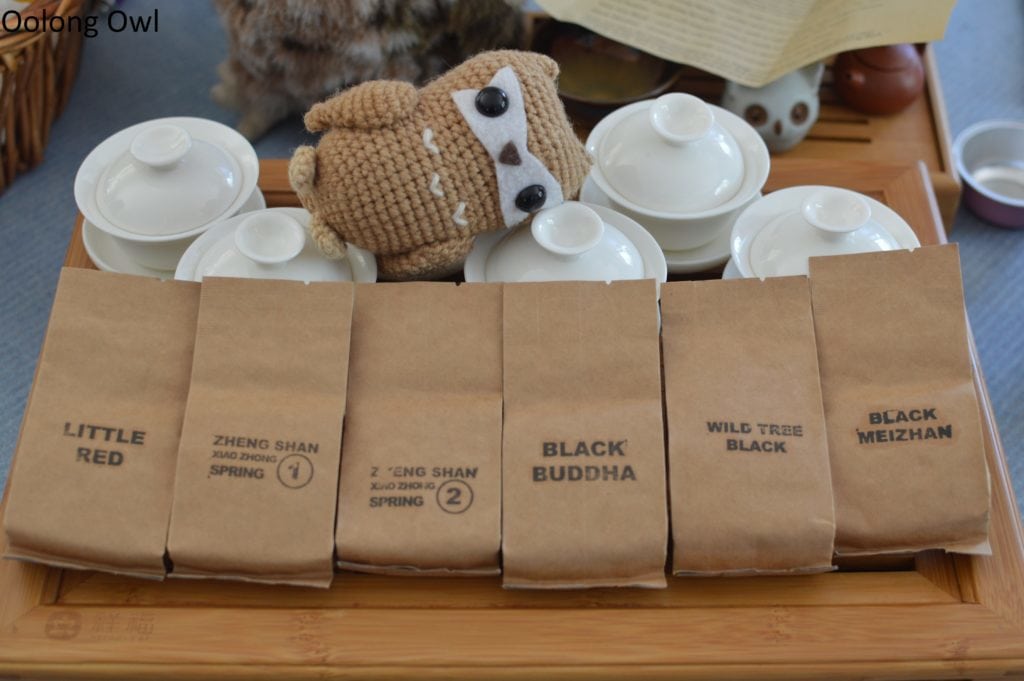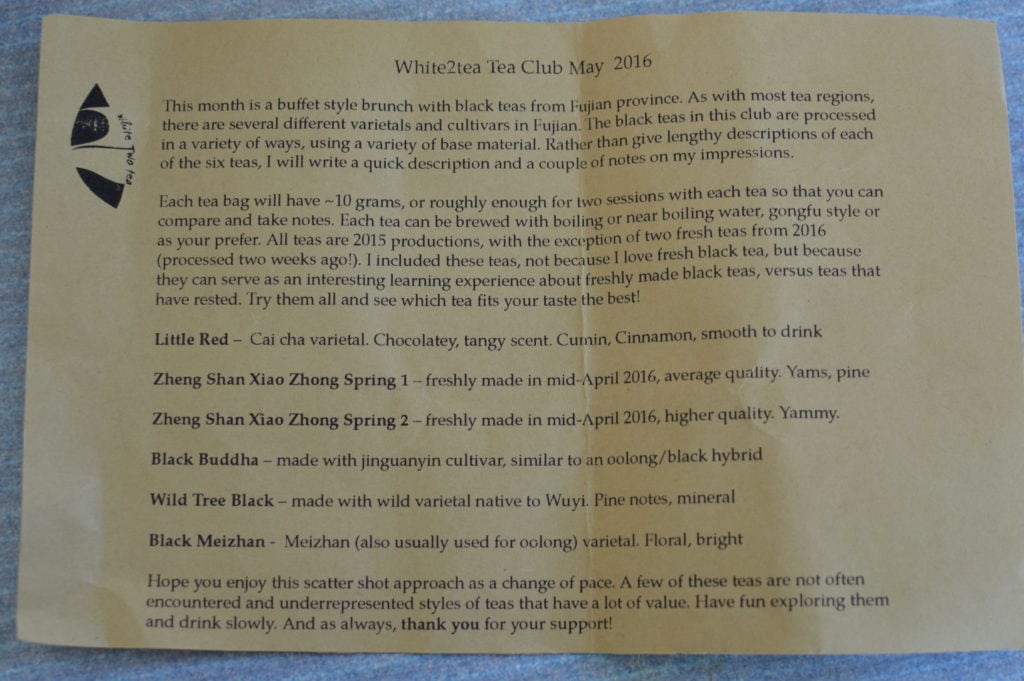 I started off the morning drinking a TanYang black and then in the afternoon I thought, "Hey, I feel like more black tea, why don't I drink all of these White2Tea club blacks together?" Brillant idea, especially since I got six 60ml gaiwans. I did not think of the consequences…
Dry Leaf
Little Red has a rich, deep chocolate scent. The leaf is beautiful with its fine dainty appearance and hint of gold tips.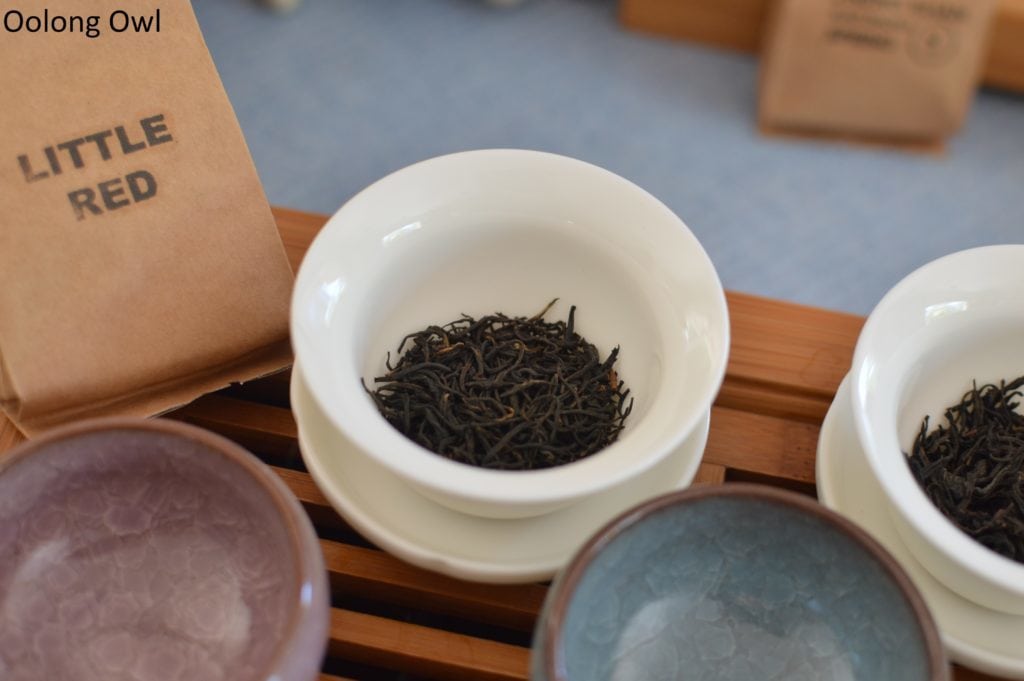 Zheng Shan Xiao Zhong Spring lightly smells of pine, with leaves that have a hint of gold, but not as fine as Spring 2.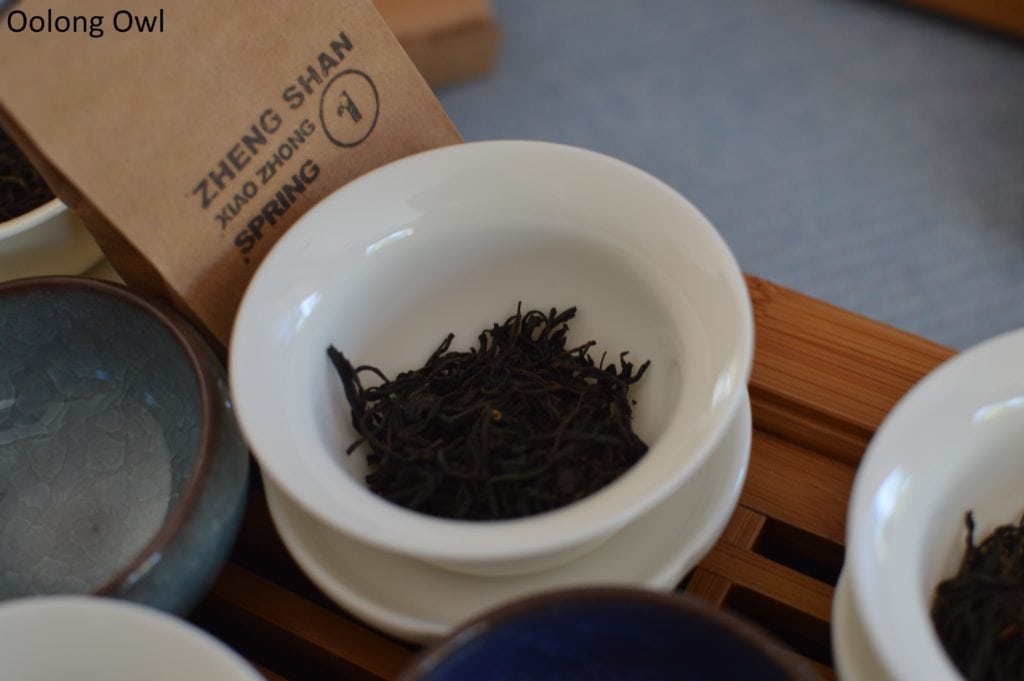 Zheng Shan Xiao Zhong Spring 2 has a stronger, woodsy scent, and more fine leaf than Spring 1.
Black Buddha has a malty scent. The appearance is pretty close to Little Red.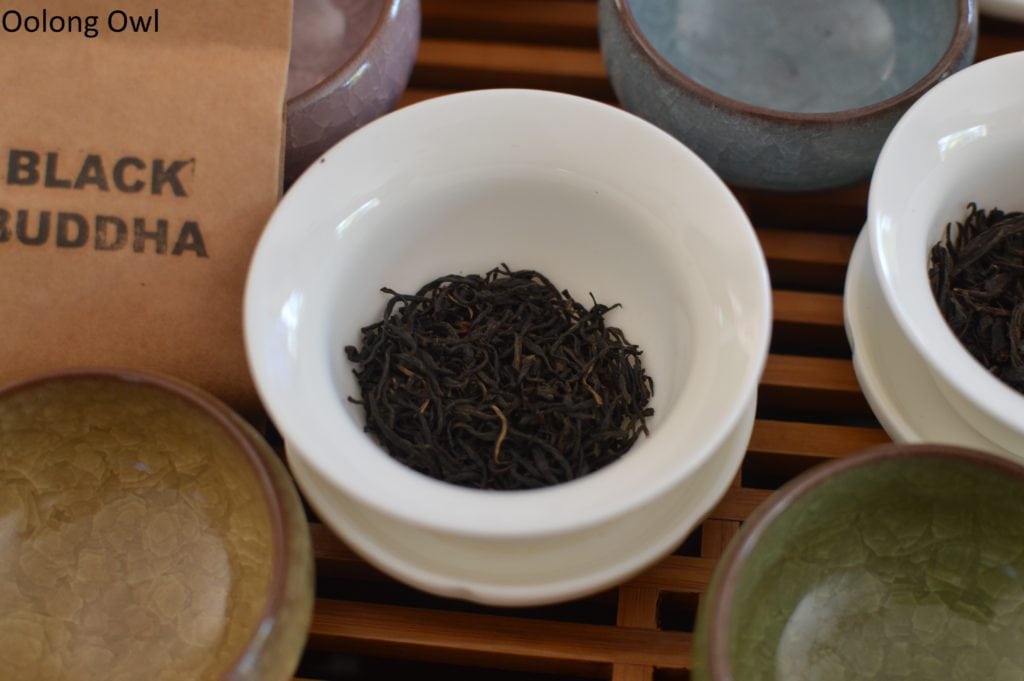 Wild Tree Black is the wild card, this tea looks nothing like the rest! It has a woodsy forest scent.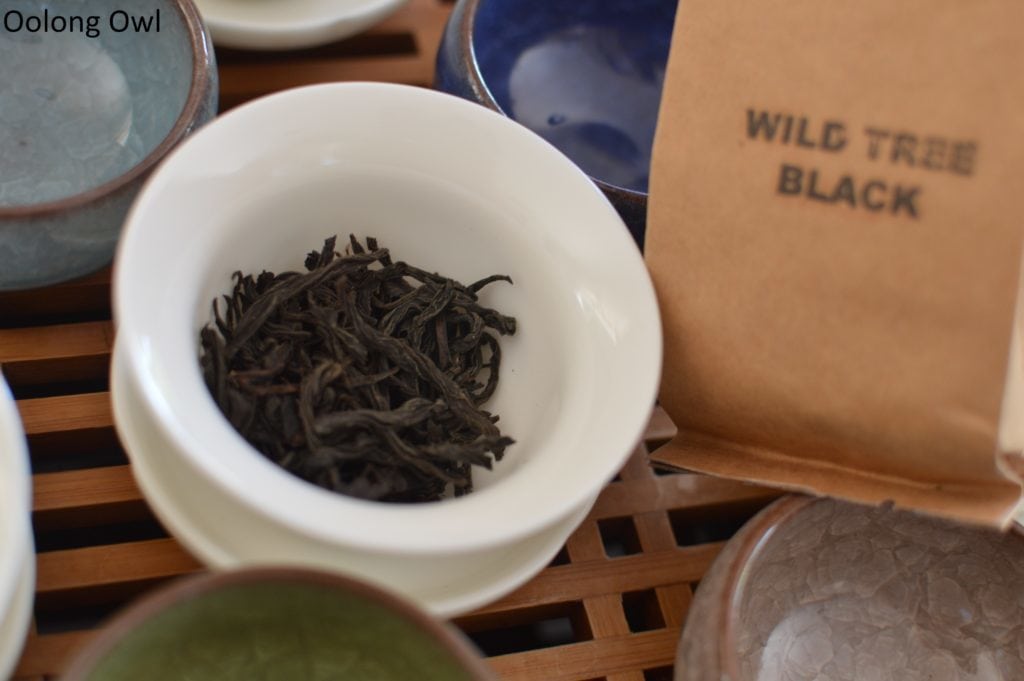 Black Meizhan has a flowery scent. The leaf is also slightly different with pure black matte twists.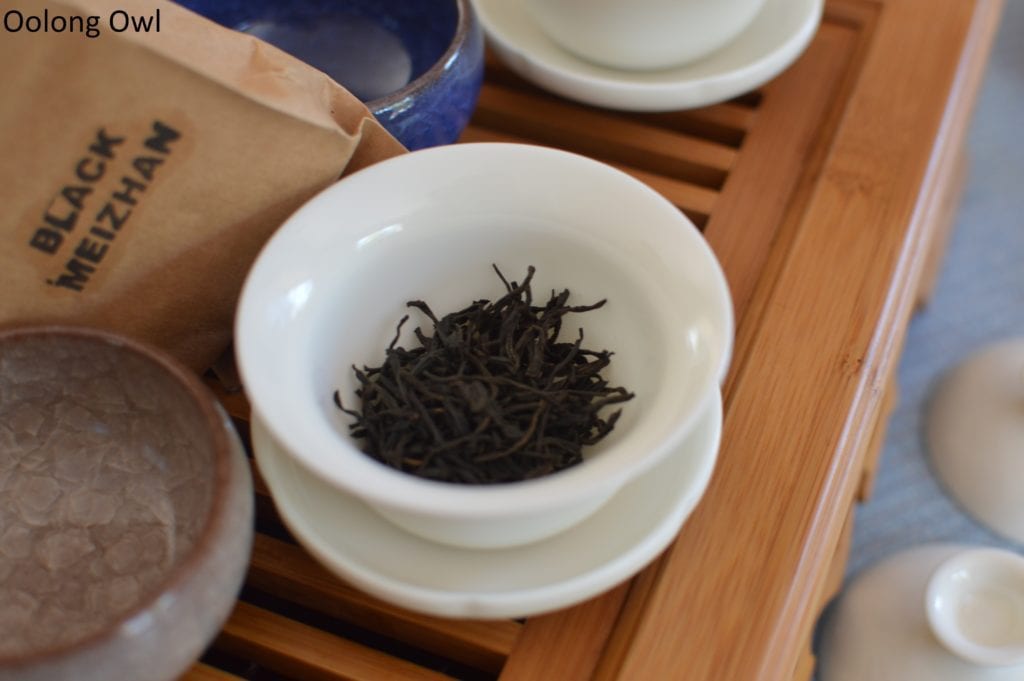 Steeping Instructions
I ended up doing a "middle of the road" ratio, so 1 gram to 17ml, and used boiling water. I did a rinse to start and fast infusion. Handling six gaiwans was tricky, but I steeped them one at a time at first. Later infusions with longer steep times I steeped them together.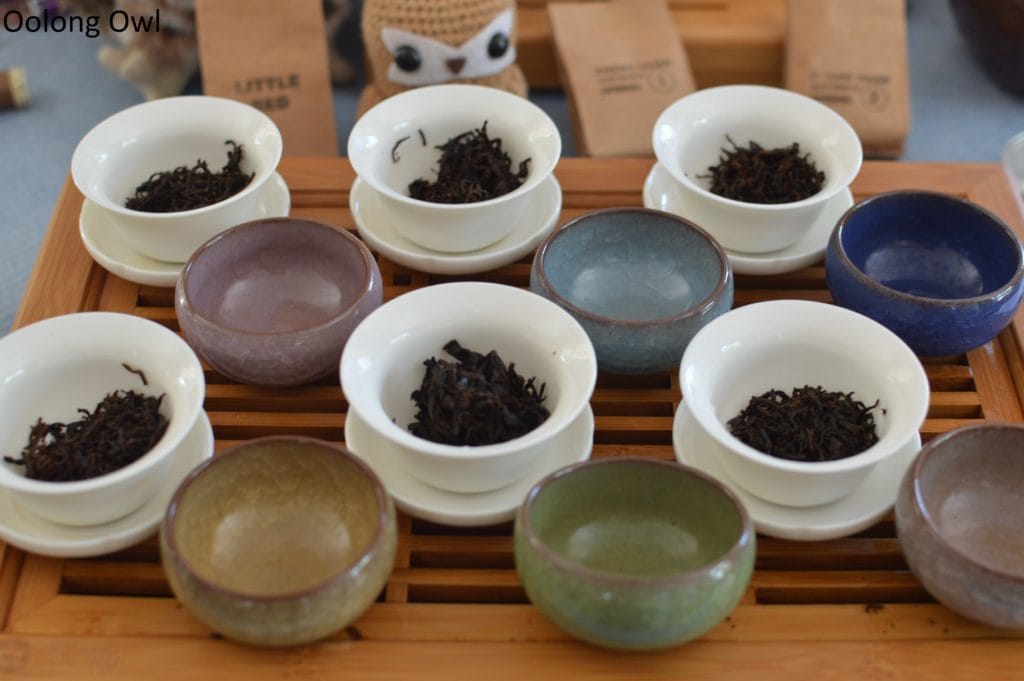 In retrospect, I should of used white cups to see colour but I do not have 6 identical white cups.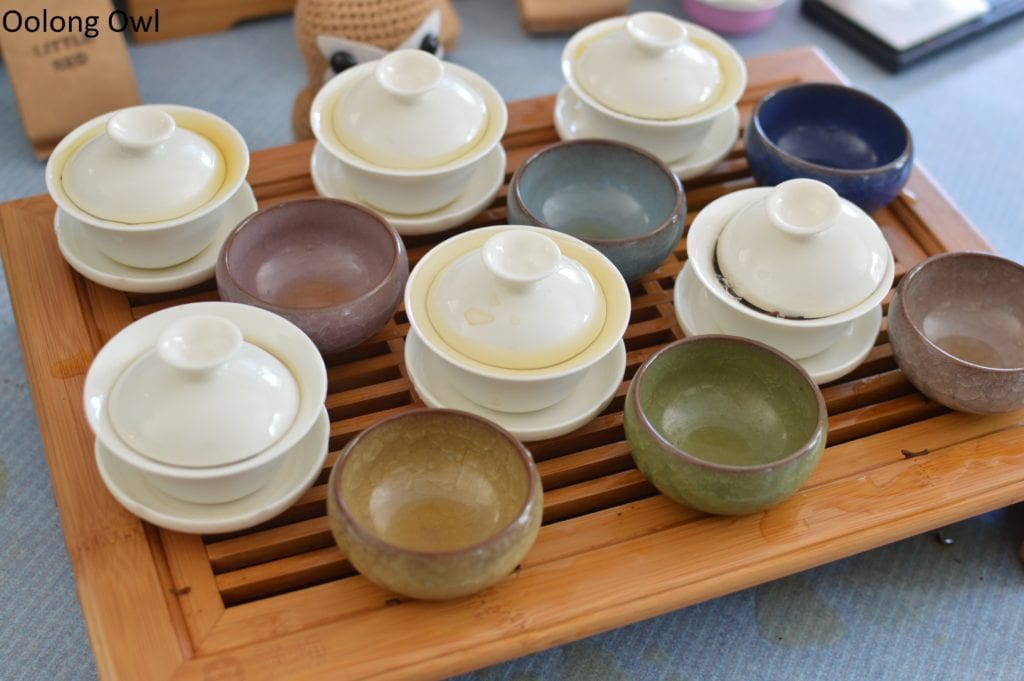 Tasting of May 2016 White2Tea Club Black Teas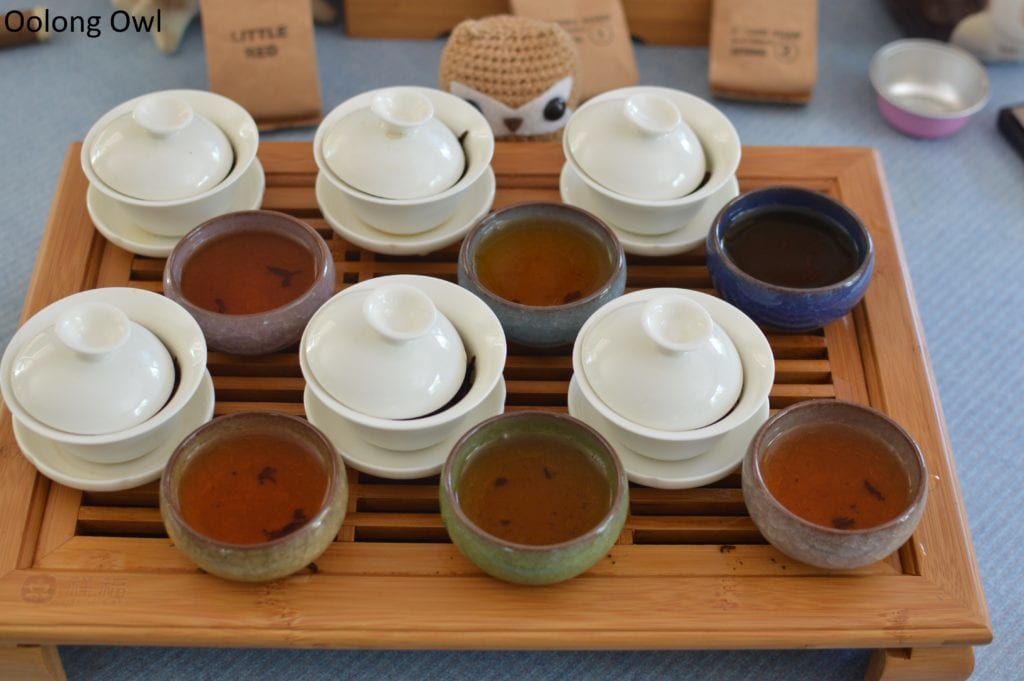 First, Second, and Third Infusion:
Little Red sips in a strong, rich, thick body, dark chocolate and burnt bard. Out of all the blacks here right now, Little Red is the strongest of the bunch as it has a rich, stick to your ribs flavor. This one is so rich, despite the short steepings, you could probably add milk, sugar and boba to it. I also really want to have a cookie with this black tea.
Zheng Shan Xiao Zhong Spring 1 is a shock to sip between Little Red and Spring 2 – it is light, thin bodied and sweet. It has a slick floral note to it that I really dislike. This tea, straight up, tastes like some sort of hand soap or hand lotion.
Zheng Shan Xiao Zhong Spring 2 hit me with a strong, woodsy cherry, roasted yam, and pine needle flavor. With each steeping the tea got more and more pine flavor. Spring 2 certainly identifies as what I think an unsmoked Lapsang Souchong tastes like.
Black Buddha is mellow and chill, sinking into the background compared to all these other black teas. It is mellow, green wood, and a bit of floral blooming at the end of sip.
Wild Tree Black is very strange in flavor compared to these other blacks. Wild Tree Black is hard to describe, but best I can do is it is on the light side, green woodsy, sappy mineral, and tangy in flavor. You could blind fold people and fool it is an oolong or maybe a strange green.
Black Meizhan throws another curve ball! This one is the most floral of the bunch, another "blind fold oolong" black. It is very bright, heavy thick body, with notes of coconut and floral.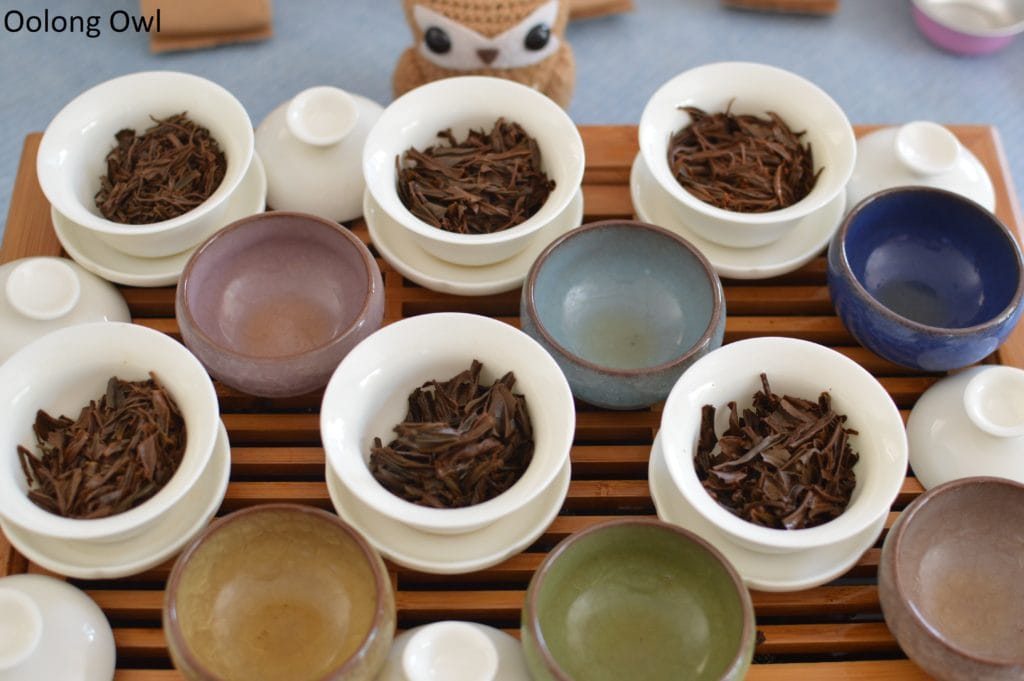 Fourth, Fifth, and Sixth Infusion: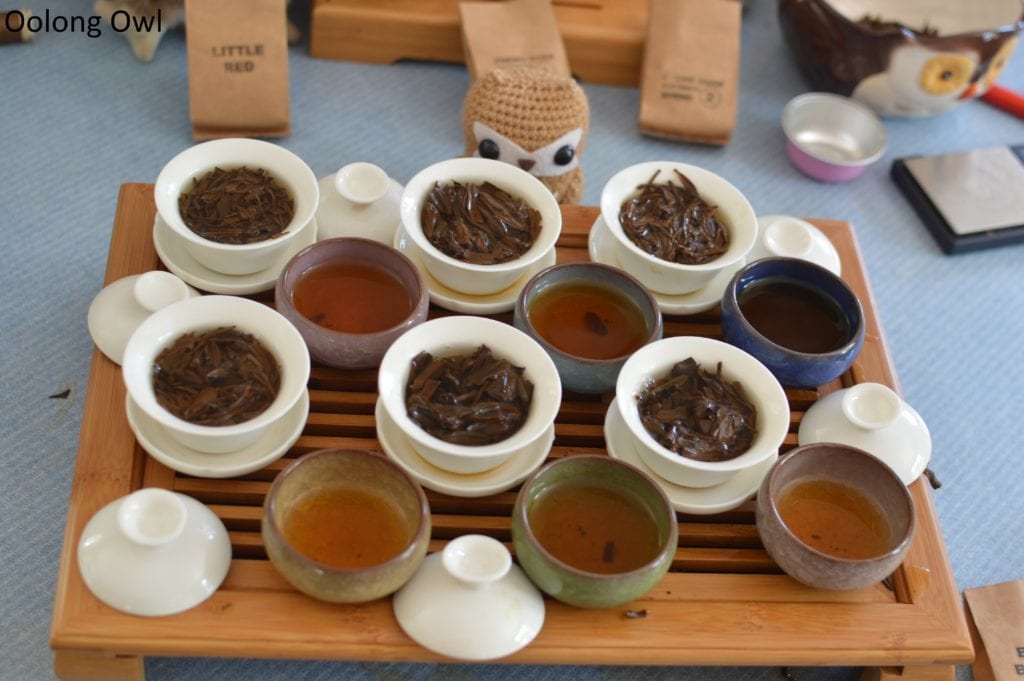 Little Red is chilling out, mellowing into a dark chocolate and woodsy flavor. This one is getting better and better with each steeping, with excellent rich chocolate notes and great thick body.
Zheng Shan Xiao Zhong Spring weakened fast. It got some yammy notes, but still had that floral soapy taste.
Zheng Shan Xiao Zhong Spring 2 – FACE PUNCH! This tea overtoop Little Red for flavor intensity. It is super pine in flavor! All I taste it pine! The leaf is also expanding like crazy!
Black Buddha is still trailing behind the other teas, unnoticed. It is smooth, chill, thick mouthfeel, lightly floral. It is a pleasing sip, but the other blacks are all crazy in comparison.
Wild Tree Black developed a bit of dryness, but still tastes like a mineral, tangy, and floral tea.
Black Meizhan is shining brightly still with that bright flavor and oomphy floral fragrance. There is a cocoa butter note which is great with the floral, a very feminine feeling tea. Each steeping the floral blooms more to have a musky floral tinge to it.
Seventh, Eighth, and Ninth Infusion: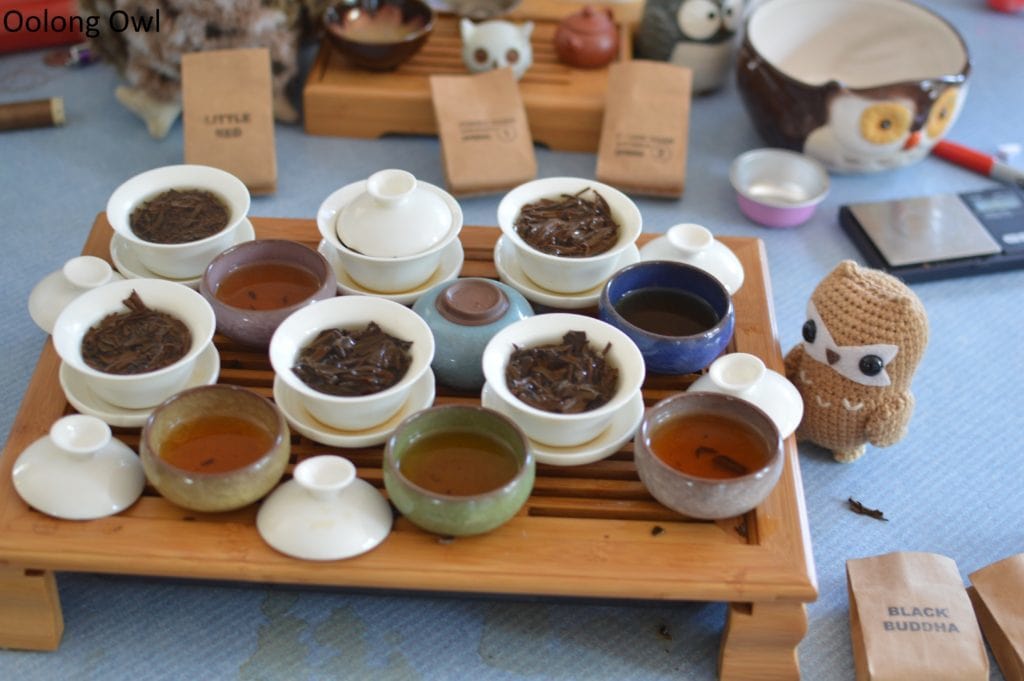 Little Red has shifted into a sweet, bright tea with notes of chocolate. It is very sweet, sweeter than the other blacks. It is like Little Red is a chocolate candy with the candy coating on the inside!
Zheng Shan Xiao Zhong Spring 1 is dead. I got steepings of watery yam, I gave up after the seventh infusion.
Zheng Shan Xiao Zhong Spring 2 is potent and crazy town for the seventh and eighth steeping. It is so strong and piney it reminded me of cleaning products. On the ninth infusion the intensity weakened some.
Black Buddha shifted into a sweet, linen, floral, gentle woodsy, amber mineral with a bit of zestyness – a lot going on. This tea is mellow, but pretty confident. I quite liked this one and kept going back to it.
Wild Tree Black still tastes the same. This black actually didn't get weaker either. I don't think this tea will finish.
Black Meizhan hasn't changed flavors, still cocoa butter, floral, and bright. It got pretty floral to almost soap level. I was hoping to get more different flavor at the end as it got kind of stagnant.
I could do 2-3 more steepings but my body had enough. This is when I realized having 8grams of tanyang before was a mistake, so I was in tea overload mode. I also overfilled my tea tray!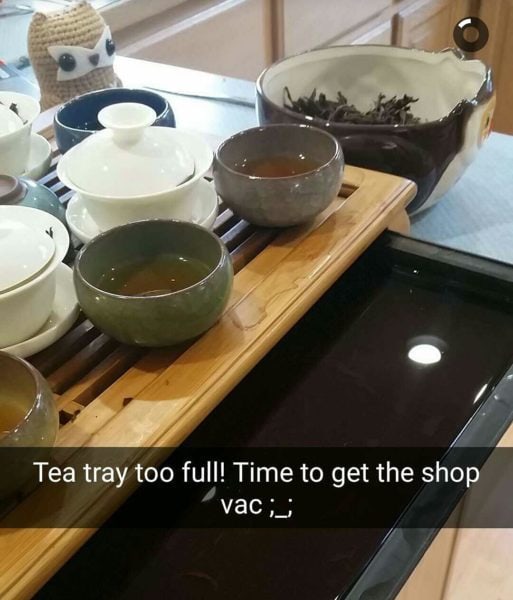 And dat leaf bucket!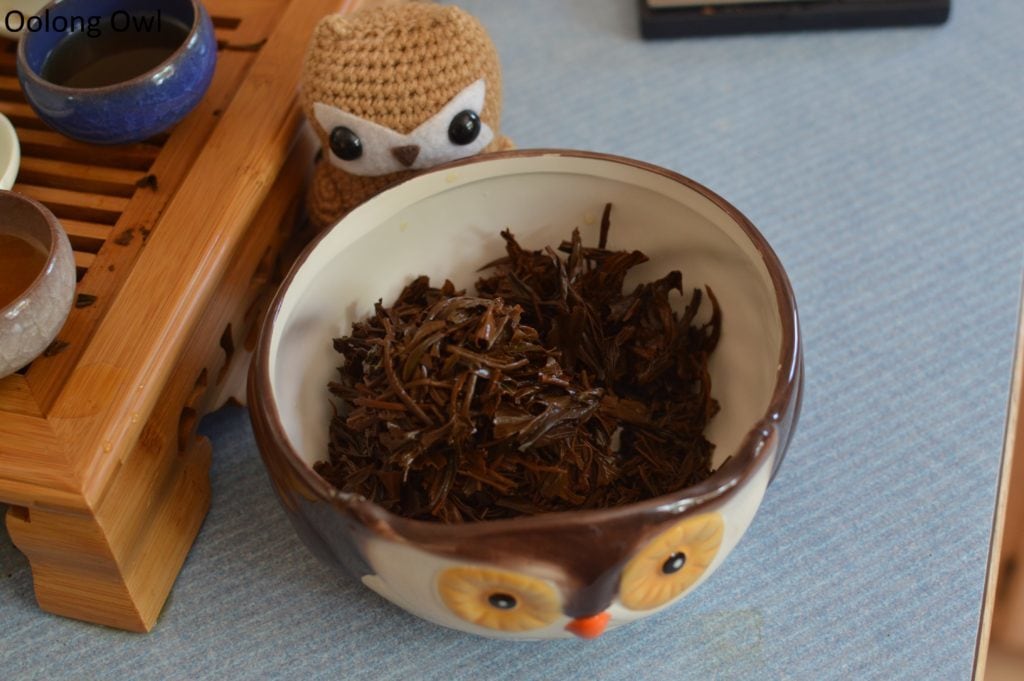 Comments
Drinking six black teas at once was fun, but I think my gut is probably really tannic. This is how you do a tea club – I love these learning boxes! Go White2Tea Club!
Out of the six, Little Red is likely the crowd favorite for the rich body, chocolate notes, and sweet finish. I quite like this one and I can see others wanting this to stock pile for the zombie apocalypse.
Black Buddha would be another favorite, but it sunk into the background compared to the other black teas' striking flavors. This one got better with each infusion and complex. It starts up like a daily drinker, then spoils you. Out of the six, I wanted to steep this one out longer if my gut allowed it.
Black Meizhan was odd. I really liked it at first, but then finished weak compared to the other blacks. This is a black for oolong drinkers for sure. Wild Tree Black felt out of place, yet consistent. This one really tastes oolong to me and seems more of a cheap daily drinker, a tea you put in a flask and drink all day.
Both the  Zheng Shan Xiao Zhong I did not enjoy as they were like drinking cleaning products. Spring 1 tasted like hand soap, Spring 2 entering PineSol turf. I know these are the blacks that needed more time to chill out, and I think Spring 1 needed some smoking.
I drank 29 grams of black and couldn't fall asleep until 4am, good times!