I love these monthly boxes – when a month begins, I get packages! With that said, it is May, so it is time to check out Simple Loose Leaf's Selection Club box for the month of May!
To recap on Simple Loose Leaf's selection club. Each month you get to choose from a selection of 5 teas. You may also select the option of sampling all 5 teas, or choose 2 you like. Each tea is 1 to 2 oz, or for the sampler, a 4 oz sampler pack. Simple Loose Leaf also gives you a preview of the teas for the following month and lets you also get a 6 gram sample to try ahead of time. Within the 5 teas, Simple Loose Leaf aims to have a good variety to choose from, straight teas, blends and a herbal.
Overall, the Simple Loose Leaf's Selection Club is a great tea club to try out many different teas, as well as giving you the option to choose what teas you like to try. You can also set  "your preferences" so in the event you don't feel like choosing, Simple Loose Leaf will choose for you.
For my Oolong Owl readers, I got a spiffy coupon code for you: OWLSELECTION25 for a 25% discount when you sign up for Simple Loose Leaf's Selection Club!
For May the tea selection was: Japanese Sencha Saga Green, Darjeeling Second Flush, Sweet Peach White, Formosa Oolong and Citrus Hibiscus Herbal. I selected Citrus Hibiscus Herbal and Formosa Oolong – a contrast of a summery herbal and an autumn roasty oolong. As my preview for June's teas I got Pu'er Tahiti (of course!), with my other options being Sleeping Dragon Gree, Yunnan Breakfast Black, Sweet Orange White and Insomiac's Dream Herbal.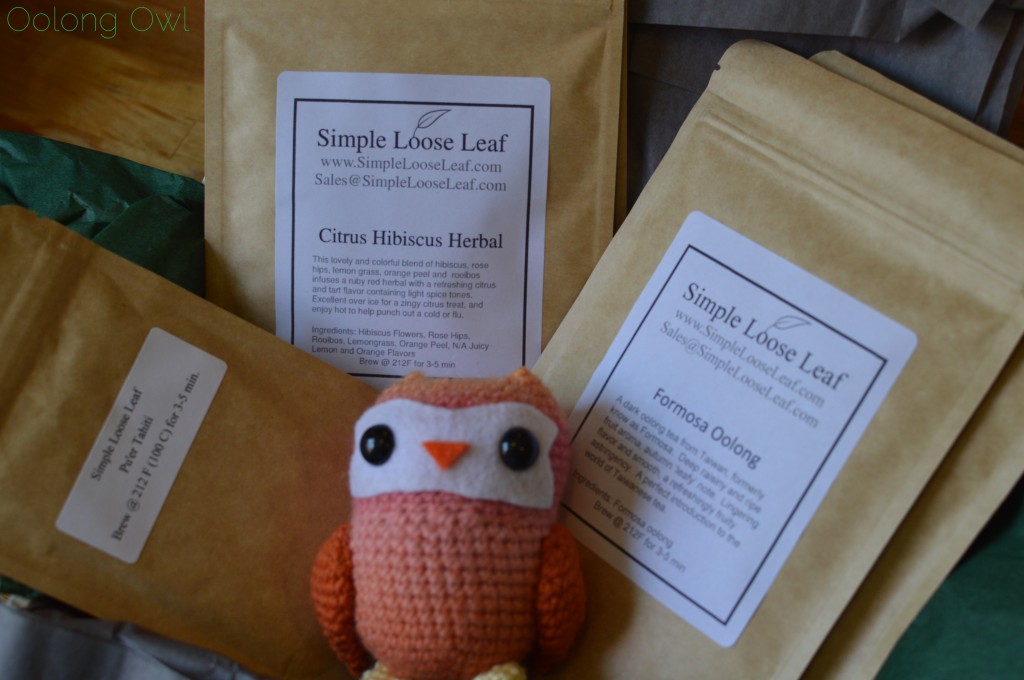 Tasting of May's Simple Loose Leaf Selection Club
Citrus Hibiscus Herbal has a confetti appearance – chunks of orange peel, dark red hibiscus petals, lemongrass and dusting of reddish orange red rooibos.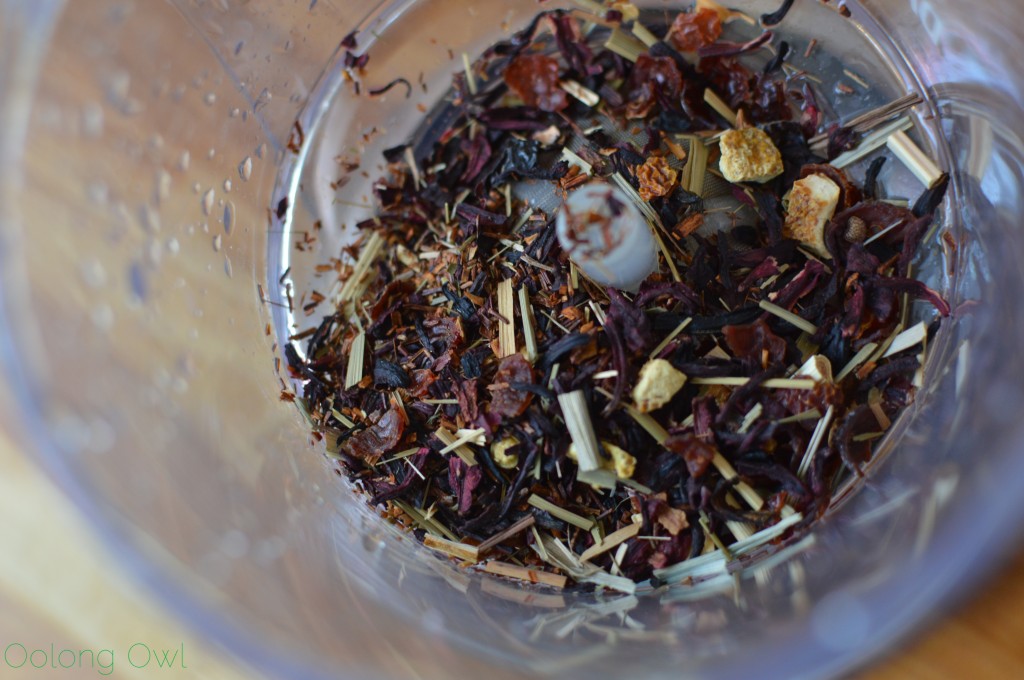 Steeping for Citrus Hibiscus Herbal was quite simple, a 3 to 5 minute steeping in boiling water. I steeped my tea for 4 minutes in a gravity steeper. I decided to skip right to making Citrus Hibiscus Herbal iced, so I poured my steeped tea over ice. True to hibiscus teas, Citrus Hibiscus Herbal came out a vibrant red!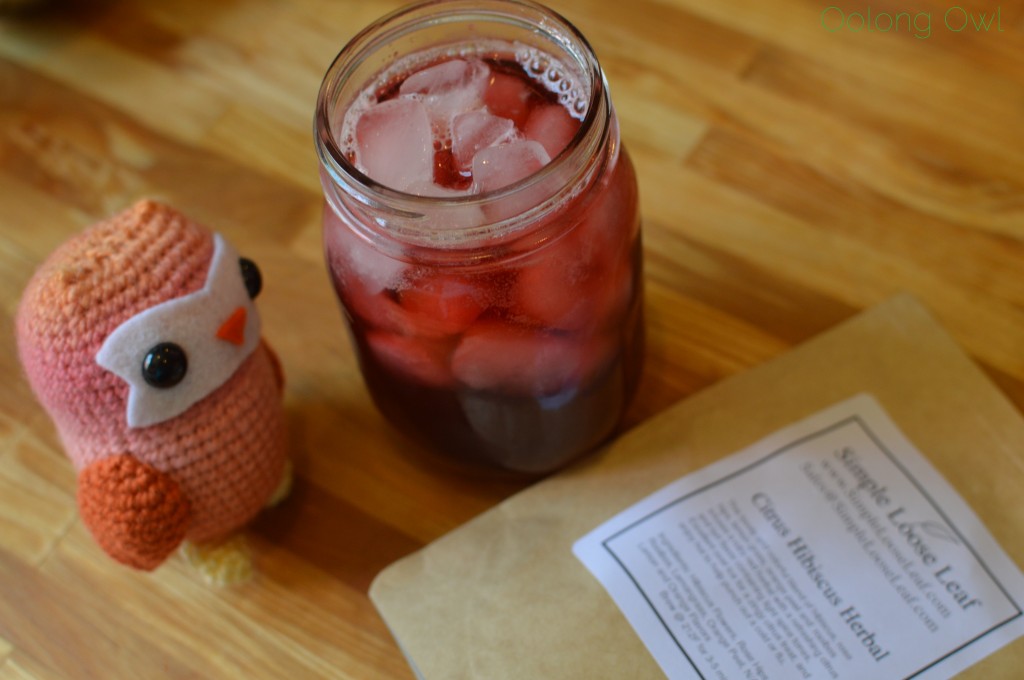 Citrus Hibiscus Herbal has a great zesty fresh orange taste with a strong hibiscus tart finish, a 7/10 on the Tart-o-meter, so lots of pucker. I added a splash of light agave, which changed the flavor. Citrus Hibiscus Herbal sweetened has a strong, fresh sweet ripe orange flavor, floral fruity hibiscus and a background of red rooibos. I'm not a red rooibos fan, but I found the rooibos here to add a nice natural woody background, adding extra depth to the tea. End of sip there is a zesty lemongrass flavor, sealing this tea to be very refreshing – perfect for a hot summer day, especially if you love orange!
Formosa Oolong is a dark oolong from Taiwan – the dry leaf here has a broken leaf appearance with a light roasted scent.
Again, another easy steep that anyone can do without fancy tea kettles – 3 to 5 minute steep with boiling water. I steeped  Formosa Oolong for 4 minutes and got a brown golden cup of tea.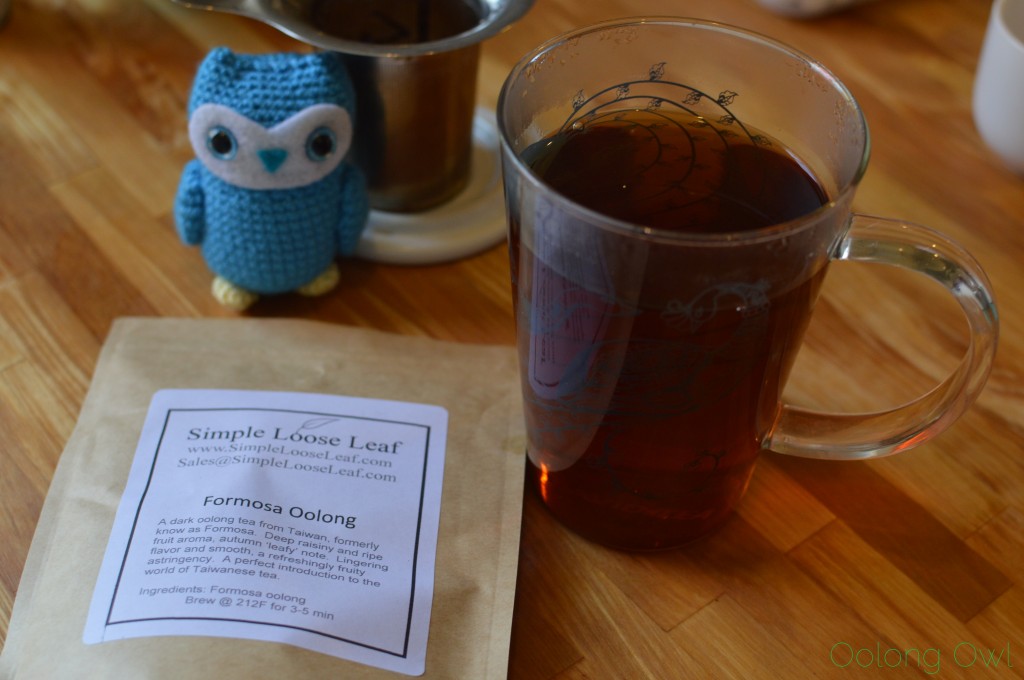 Formosa Oolong sips in light to moderate roast, developing a richer flavor as the sip progresses with a smooth mouthfeel. In the sip, notes of dark raisins, touch of charred earth, cherry wood, and leafy greens. There is a hint of astringency to keep the sweet dark raisin flavor going after each sip.
Overall,  Formosa Oolong is a good starter dark oolong as it is easy to drinker, but also it's not too rich or smokey. The roastyness in this tea would appeal to a coffee or black tea drinker.
Comments
I certainly selected some contrasting teas – a puckering tart citrus herbal and a smooth roasty oolong! All to plan! As always with the Simple Loose Leaf Selection Club, I like how I get to choose the teas – choosing to experiment or get more of what teas I love. This is my 3rd box and all have been a positive experience. For the base price of $24.95,  Simple Loose Leaf's Selection Club is a great price for the amount of tea you get compared to other monthly tea boxes out there, not including my spiffy coupon code OWLSELECTION25 for a 25% discount!
Curious of previous Simple Loose Leaf Selection Club boxes? Check out my review for April (Hazelberry Pu'er) and March (Winter White Chai/Russian Caravan Black).
(tea provided for review)