Meng Hun Unfermented Pu'er is a 2013 Autumn raw/sheng pu'er from the Menghai region. This tea is Jalam Teas' May Tea Club offering.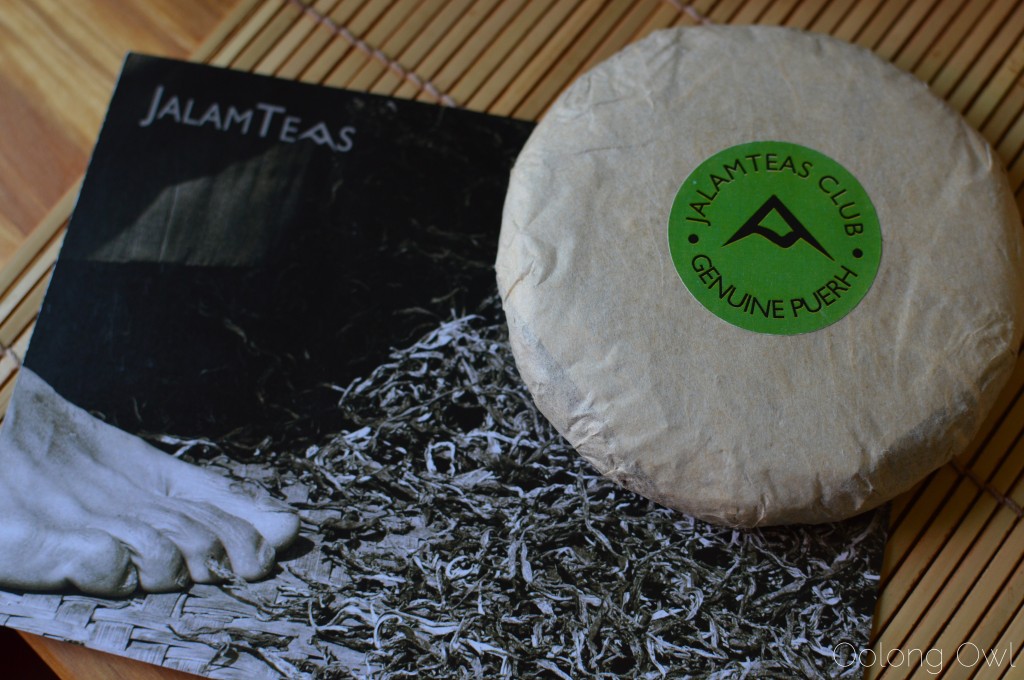 The description of Meng Hun Unfermented Pu'er is very cool:
A genuine special pick by Jeff from an area as well known for orchids and watermelons as it is for tea. Tucked into the north facing slopes of the Pulang Mountains in southwestern Yunnan, Meng Hun is a tea that has been 'tamed' by more consistent production methods. Jeff likes to refer to it as a 'wild tea that has been tamed…but only just'.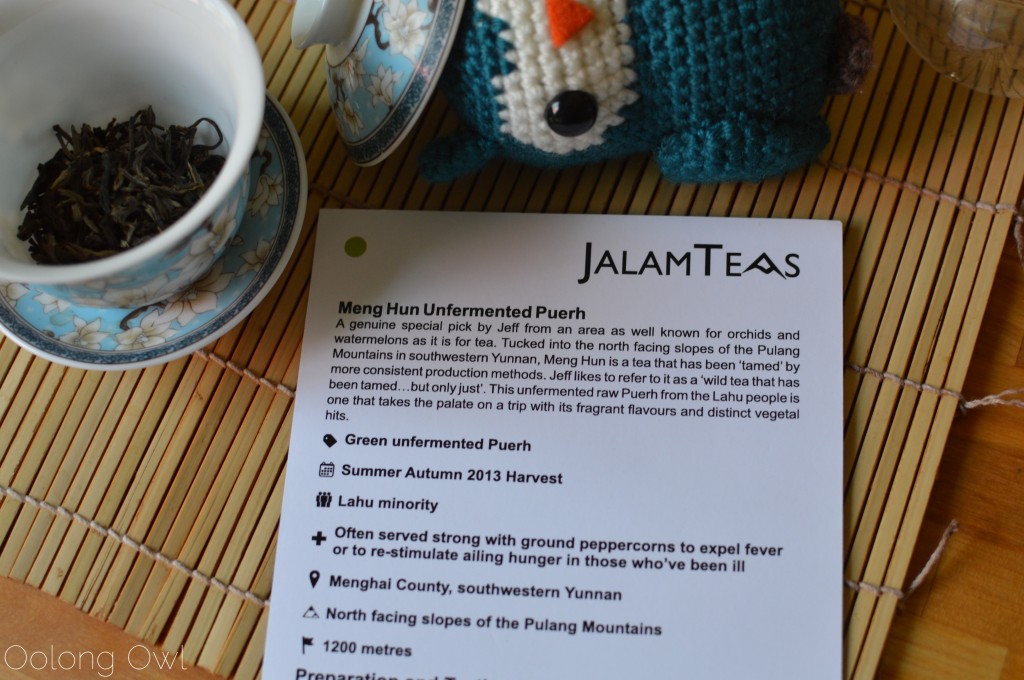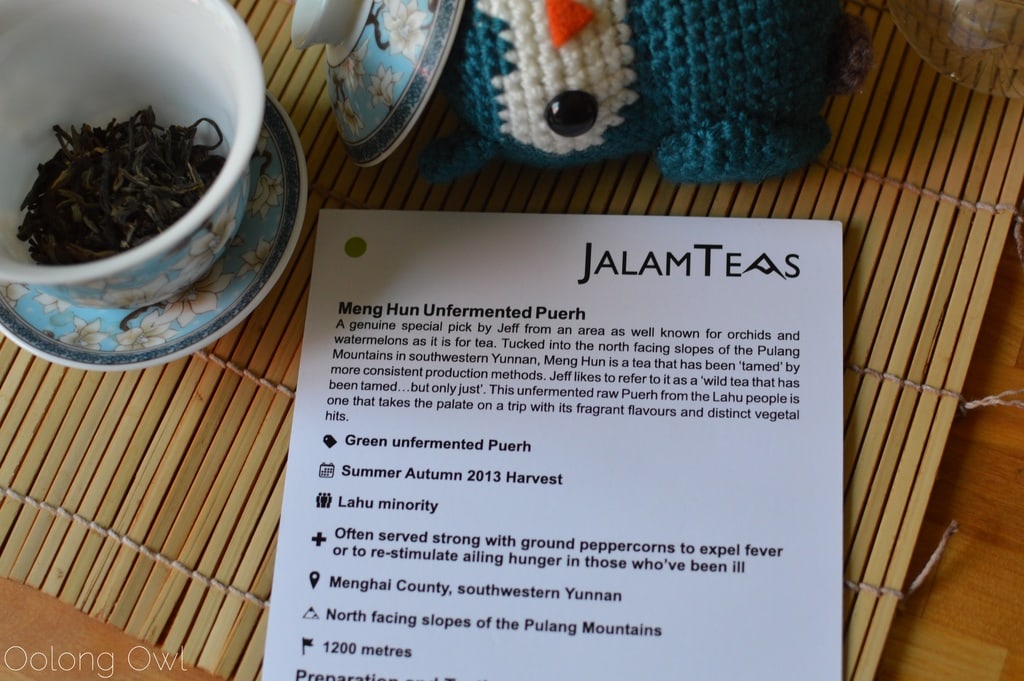 As always, Jalam Teas has lots of interesting facts, stories and background information about each of their teas. Let's sample some just tamed pu'er!
Dry Leaf
Okay. I have a pu'er pet peeve – stickers over the back of the pu'er cake. Maybe I wasn't sent the memo on how to unwrap these, but the stickers make it annoying to unwrap a cake and keep the wrapper without a buncha holes. I also really love the tree stamp that I wanted to keep it in one piece.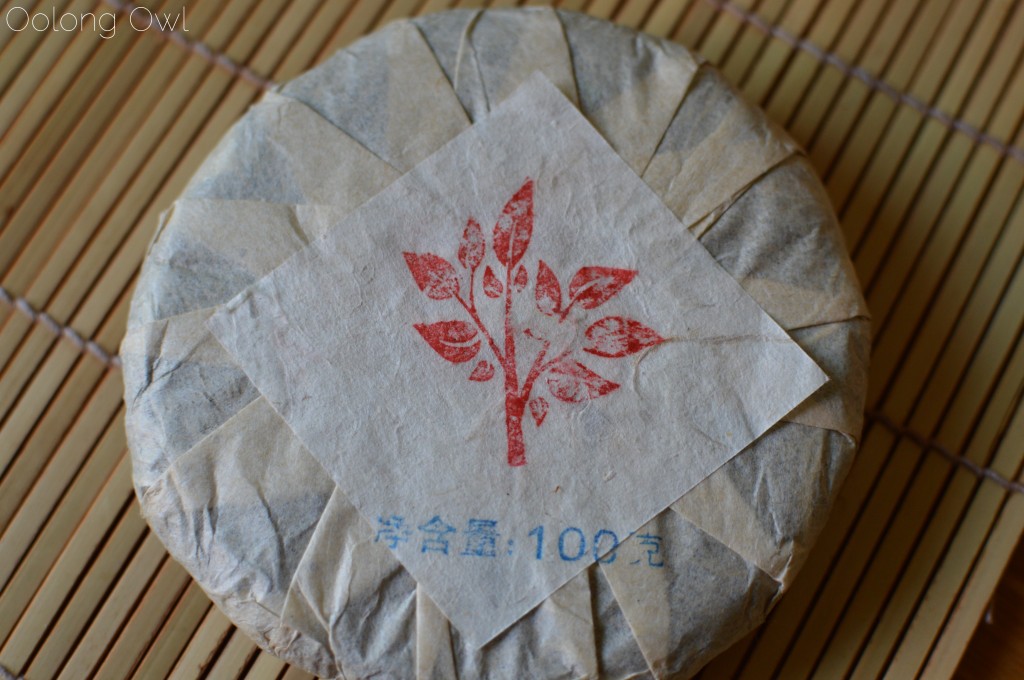 It looks like Teal "pu'er pick" Owl and I went on a frenzy ripping the wrapper as if we were unwrapping a sandwich. On that note, the following picture looks like I'm gonna take a bite outta the tea cake!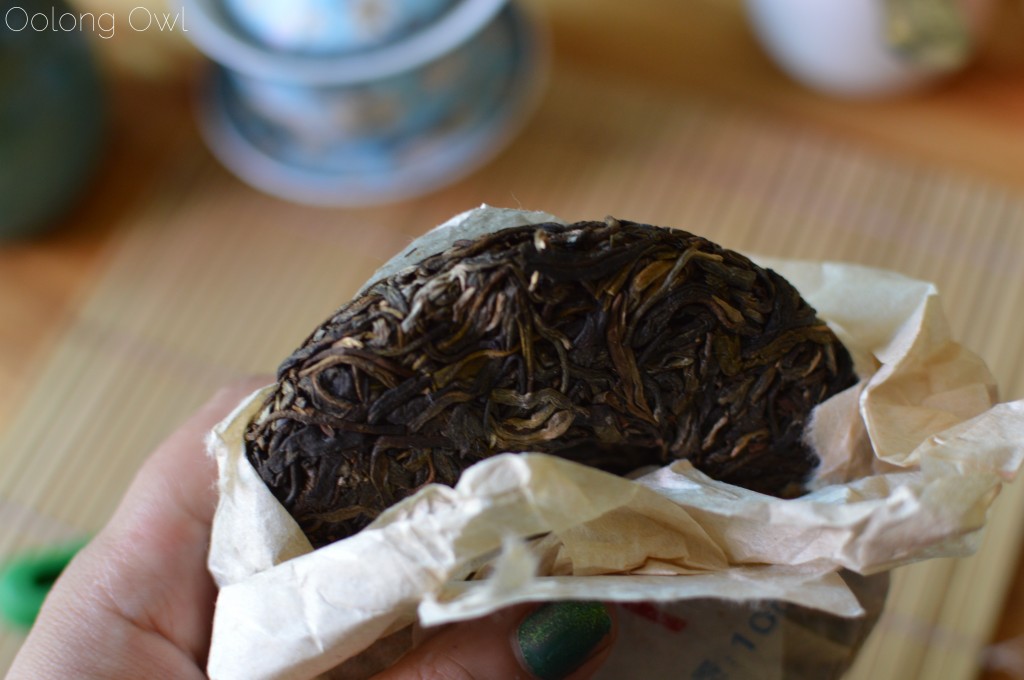 Continuing with the unwrapping pu'er disaster, Teal "pu'er pick" Owl was a little too enthusiastic and made a big mess, getting bits of tea everywhere. I should really invest in a tray to place my pu'er while we mine for tea. Meng Hun Unfermented Pu'er has a dry forest floor scent and was easy to pry apart.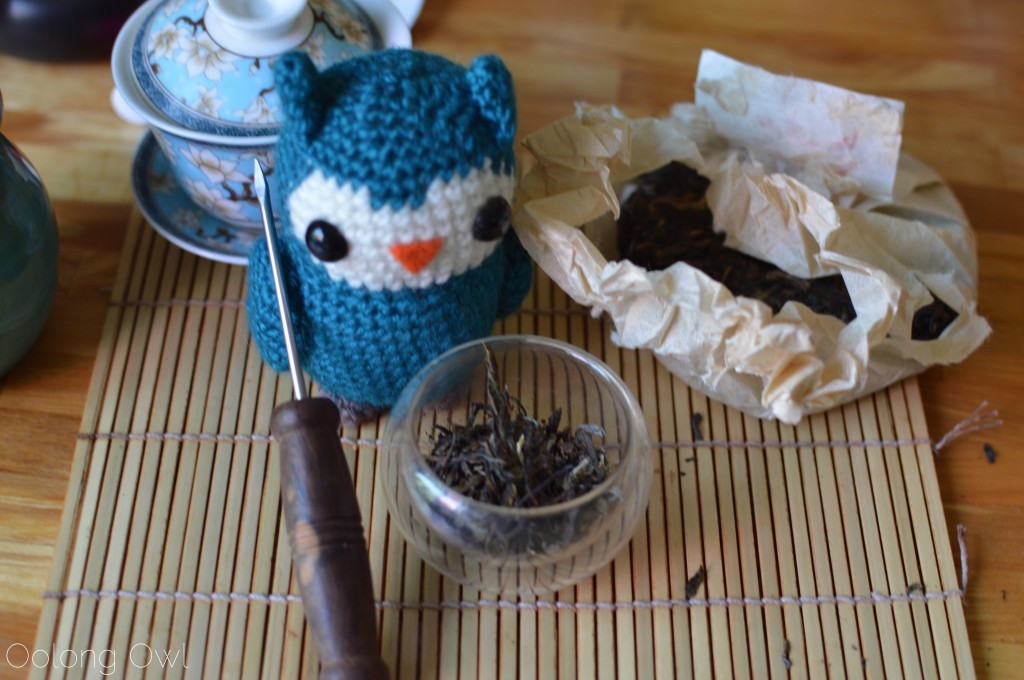 Steeping Instructions
Meng Hun Unfermented Pu'er took me a few tries to get the steeping just right. Jalam Teas suggests boiling water, but for my own tastes I used 185F. I also used 6 grams of tea. After a rinse, I did 15 second steepings for 7 steepings, increasing the time for the final steepings.
Tasting of Jalam Teas Meng Hun Unfermented Pu'er
I found it interesting how this tea is quite light on the smell, but the steeped leaves are amazingly fragrant with a floral forest floor scent. The brew has a lovely marigold colour.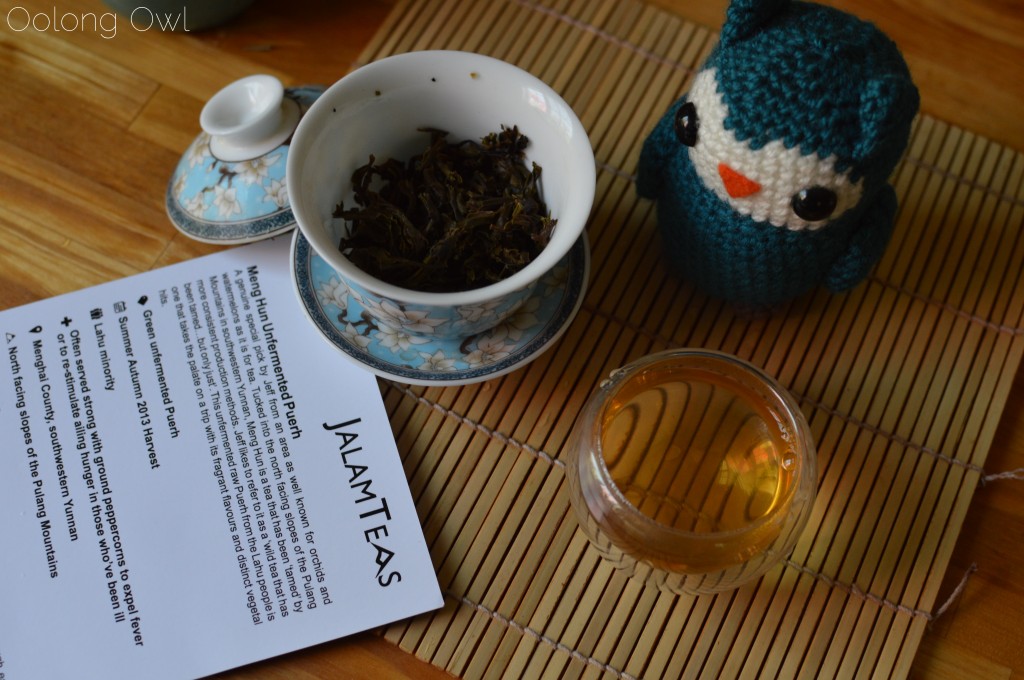 First, Second Third, and Fourth Infusion: Meng Hun Unfermented Pu'er sips in light – but as the sip progresses, the flavor expands like fireworks, with a stronger finish. On the lighter sips, Meng Hun Unfermented Pu'er has a milky flavor, similar to a milk oolong. The finish has potent vegetal notes that remind me of clean juicy stalks inside broccoli or asparagus (without the distinct taste of those vegetables) with also a "golden" feel to it of hay and buttery corn. After each sip there is a silky mouth feel. At this steeping, Meng Hun Unfermented Pu'er is not dry or bitter.
Fifth, Sixth, Seventh, Eighth, Ninth, and Tenth Steeping: I'm finding with each steeping the silkyness is breaking apart and the tea is getting a more sharp and crisp texture. The astringency begins to develop around the 7th steeping, which is a light 1/10 Astringe-o-meter, with a slight floral aftertaste lingering after each sip.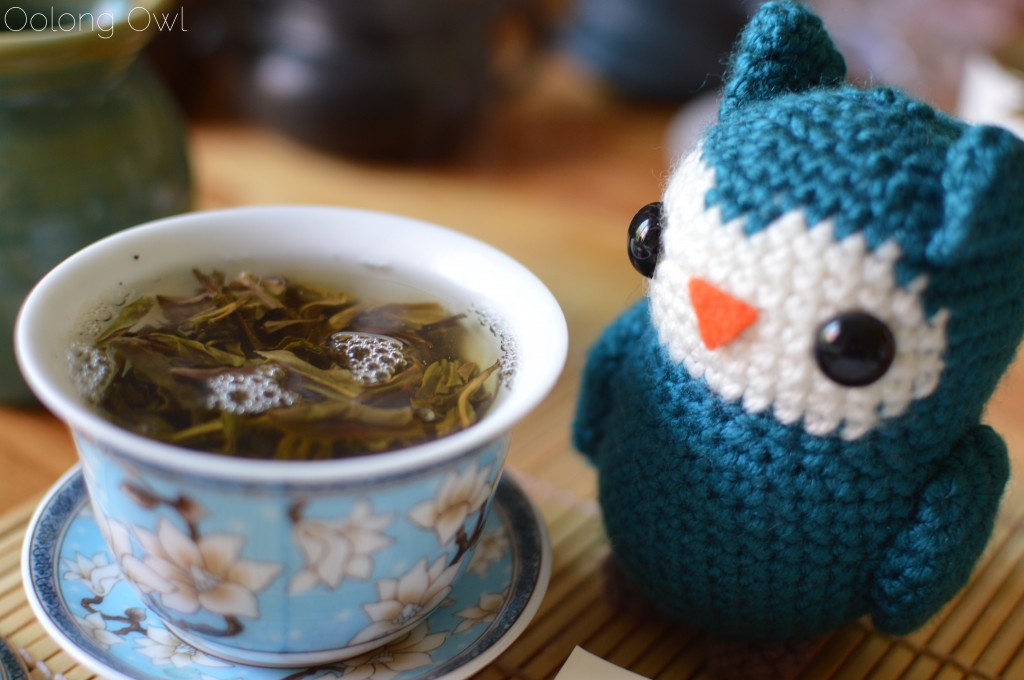 Eleventh and Twelfth Infusion: I'm fighting a battle here to keep this tea going – with 1 minute steeps and with the final steep being a weak straw sweet flavor. Before that happens, Meng Hun Unfermented Pu'er is carrying a moderate level of dryness with a milky vegetal and corn flavor. I feel I can get more steepings, but the dryness is getting more intense, a 4/10 on the Astringe-o-meter, so I'll stop here.
Steeping Modifications: as I mentioned earlier, the suggested steeping temperature is boiling water. I first tried Meng Hun Unfermented Pu'er with 200F and found a difference in flavor. First off, the tea flavor starts off light-medium intensity with an even sharper and stronger finish. Also, a moderate astringency develops with the 3rd infusion, getting more astringent with each further infusion. By around the 10th infusion, the astringency was enough to make my cheeks feel dry. If you want more flavor, I'd suggest this higher water temperature, but expect much more dryness.
Comments
Meng Hun Unfermented Pu'er is like sipping tea while sitting on a bale of straw, corn on the cob in the other hand, with the 2pm sun beaming down. I enjoyed the early steepings the most, whereas the later steepings got too dry for my liking. I'd love to try this again with some more age on it – so into the Oolong Owl aging vault (err drawer) it goes!
So far I've tried 3 raw pu'er from Jalam Teas and I like how they all differ – this one being a golden vegetal, Meng Zhr a more green pepper vegetal and Nan Nuo Mountain a woodsy pu'er, making having a subscription to Jalam Teas' Tea Club worth while and enjoyable exploration into pu'er.
Bonus: Last steeping of Meng Hun Unfermented Pu'er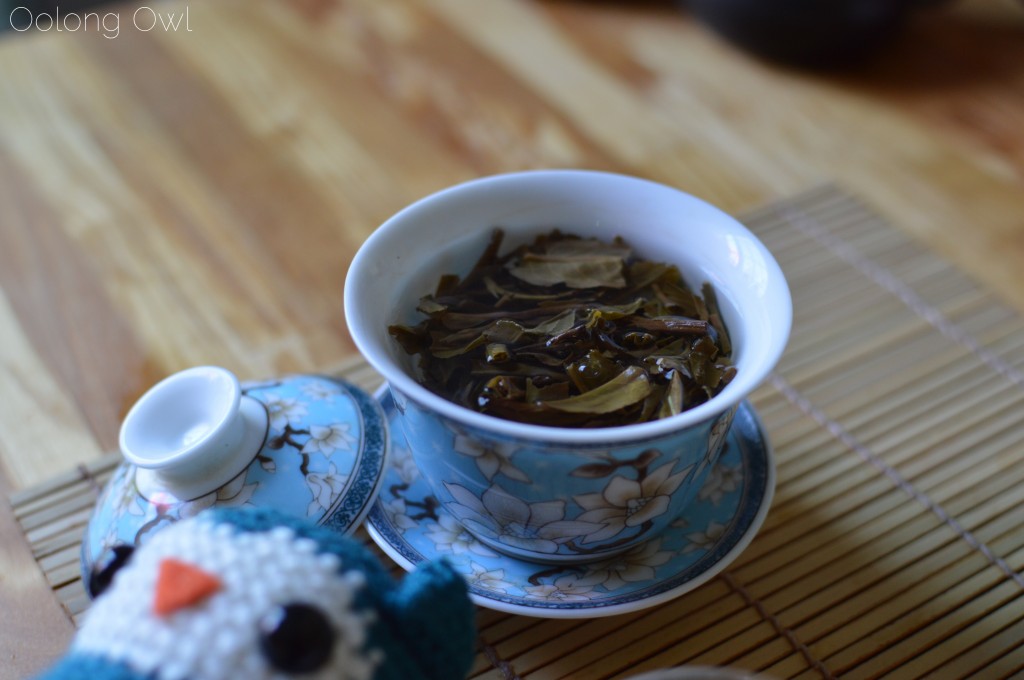 (tea provided for review)