Mountain Organic Indonesian Black is high altitude black tea grown at high altitude on the Halimun Mountains. This tea is sold by Tea at Sea, online Canadian tea seller.
First off, shout out to Tea at Sea being Canadian with offices in Vancouver, my hometown! Tea at Sea's website is very cool – awesome sea and tea photos! I love the pairing of sea and tea, especially after going  on a cruise and spent much of my time drinking tea and watching the ocean.  Tea at Sea sells 5 gram samples, and the next size of 50 grams you get a free tin. I'm happy to see Tea at Sea's shipping prices to be fair, even shipping outside of Canada.
Also, the packaging of Tea at Sea is super cute! Great presentation!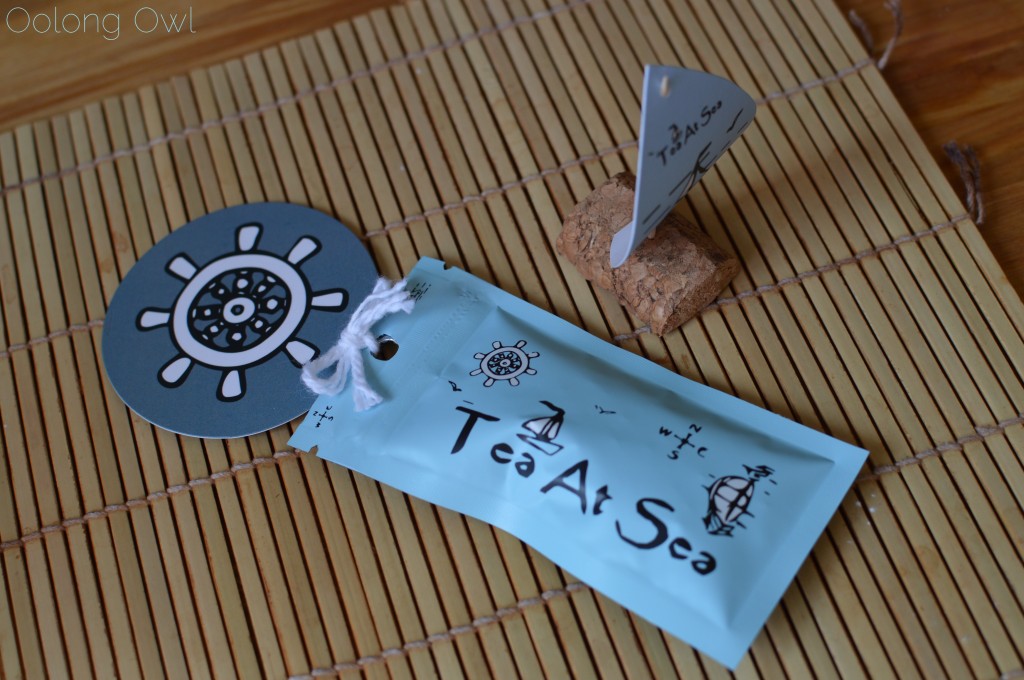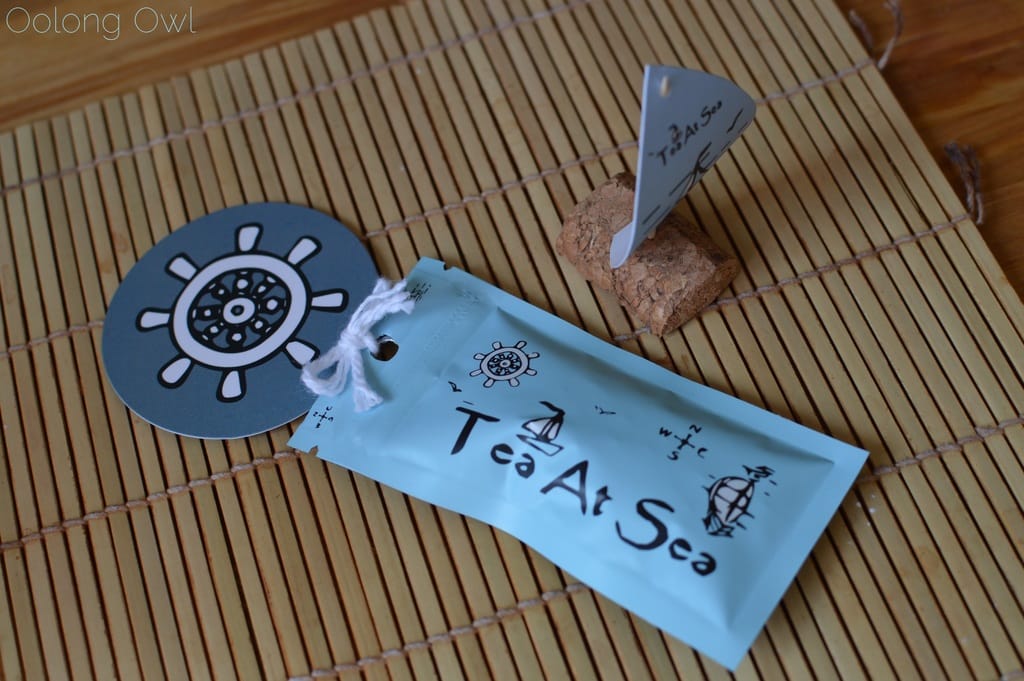 I also got a little sailboat. It floats! (I was very tempted to put it in a cup of tea)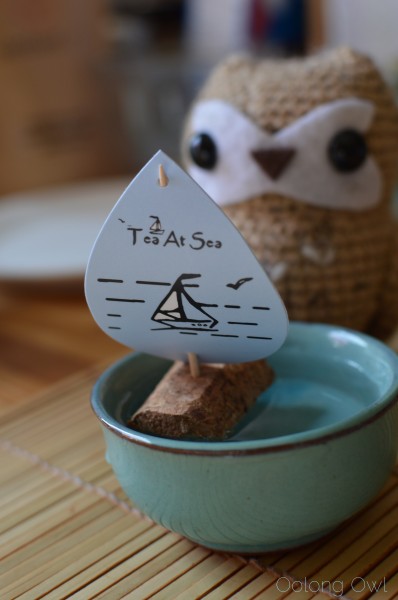 I've tried one Indonesian tea before and it was pretty good. Let's see if Mountain Organic Indonesian Black tea is also a tasty tea.
Dry Leaf
Mountain Organic Indonesian Black tea looks like tight balls of oxidized tea. Not much scent, but I am also working with a small sample.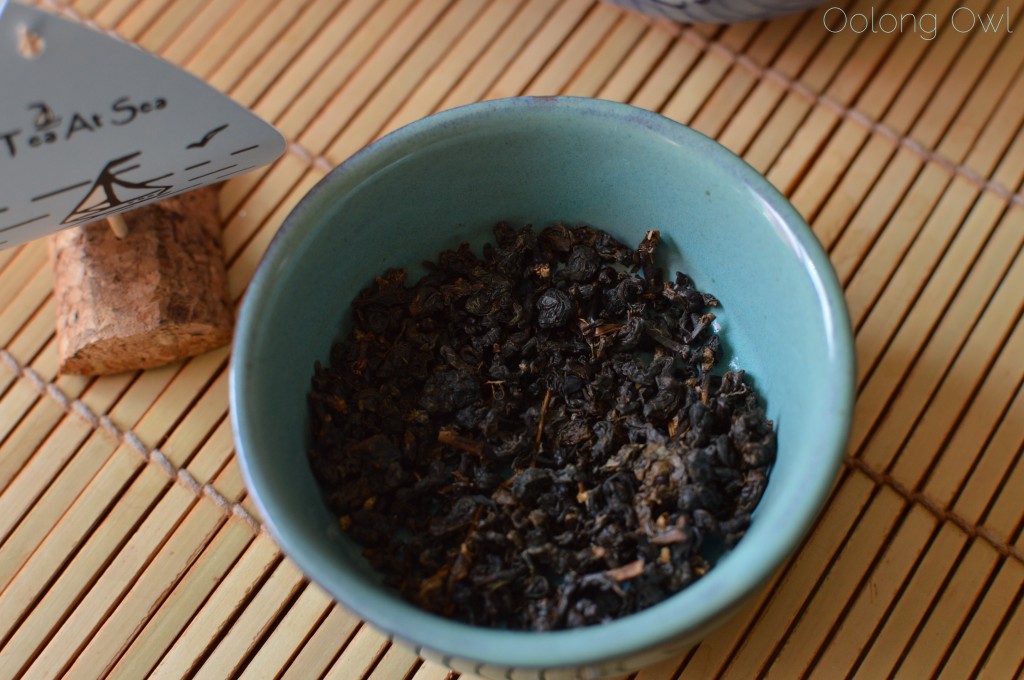 Steeping Instructions
The instructions on the label of the tea simply state 100C. I decided to go with 100c/212F for 2.5 minutes. I steeped Mountain Organic Indonesian Black tea in a gravity infuser.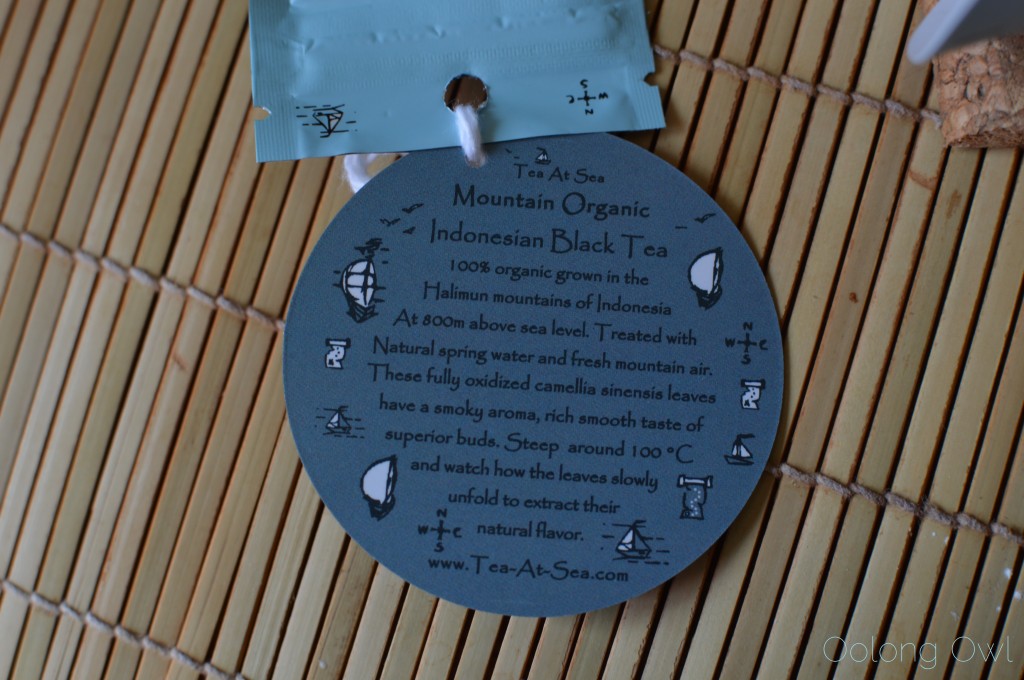 30 seconds into steeping, wow, my kitchen smelled amazing! This tea cranks it to 11 on scent output! Dark raisin, with a hint of black pepper spice. The tea steeps up a nice, woodsy brown.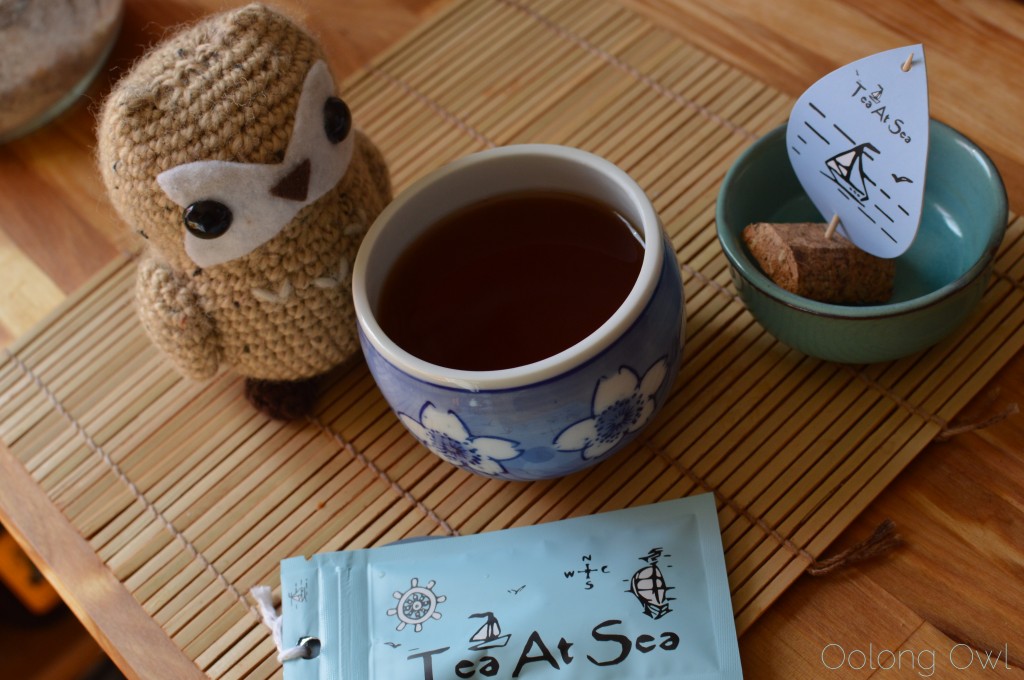 Tasting of Mountain Organic Indonesian Black Tea
First sip, lovely malty flavor, cedar and an interesting sweetness of sweet forest sap, amber and raisin. End of sip there is a spicy smokeyness that is really light, but adds mystery for one to sip and find out more. I can picture myself sitting on a hill above the forest, sipping this tasty black and seeing smoke signals in the distance. The entire sip is super smooth and rich with no dryness or bitterness. Ha, despite this short description of Mountain Organic Indonesian Black tea, this tea is quite complex. I think I need to go for another round.
Resteep: I did a 3 minute resteep. Mountain Organic Indonesian Black tea does an amazing resteep – the flavor is less rich, but much more smooth. The flavor is much more cedar and amber honey sweet. The smoke and spice notes are gone. Hmm, I'm not sure which steeping I like best.
Resteep #2:  4 minute steeping. Hmm, interesting. I find this resteep to be soft and fluffy – there's a creamy mouth feel mixed with a light cedar, amber and marshmallow. Almost reminds me of a golden tipped yunnan. Very easy to drink and delicious!
I find the first steeping is much more unique, but the resteeps very tasty and enjoyable.
Comments
Mountain Organic Indonesian Black tea is an amazing black tea offering from Tea at Sea. This black takes you on a fun journey with each infusion! Man, I wish I had this tea on my cruise! Mountain Organic Indonesian Black tea is a must try for black tea lovers, especially if you like assam and golden tipped yunnan blacks.
Bonus: Don't turn your back on a full cup of tea… you never know who will steal a sip!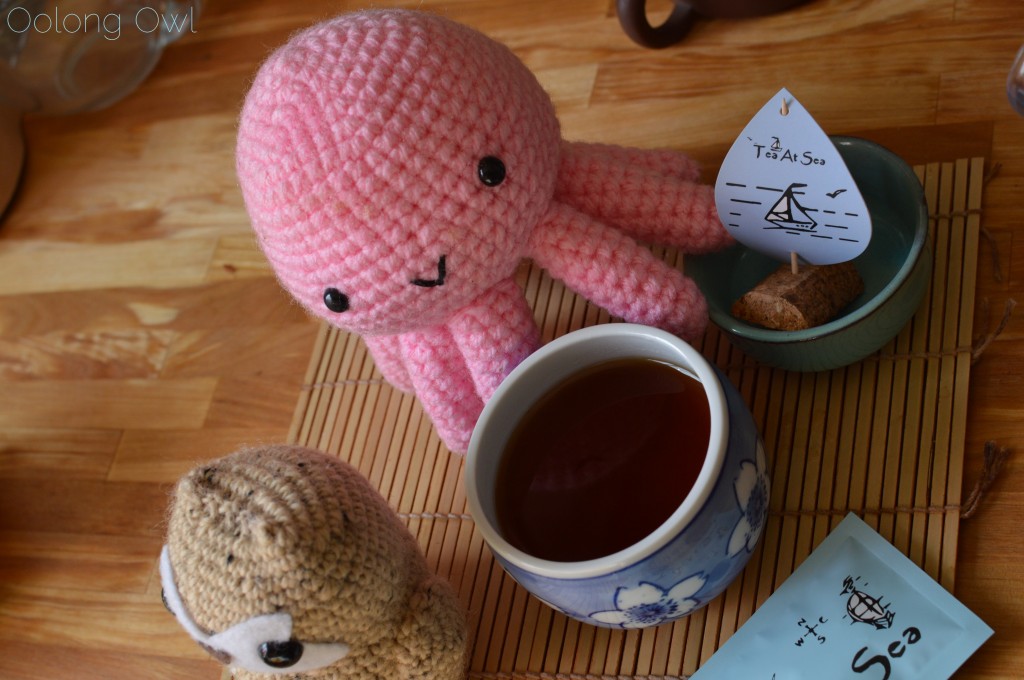 (tea provided for review)