I got a preview of the Mountain Tea Tumbler while visiting The Tea Spot at the 2017 World Tea Expo. What was really cool is when they handed me this new tumbler, they said they considered my feedback I gave for their Urban Tea Tumbler. Oh hoot hoot hoot, right then I knew this new Mountain Tea Tumbler was going to be good!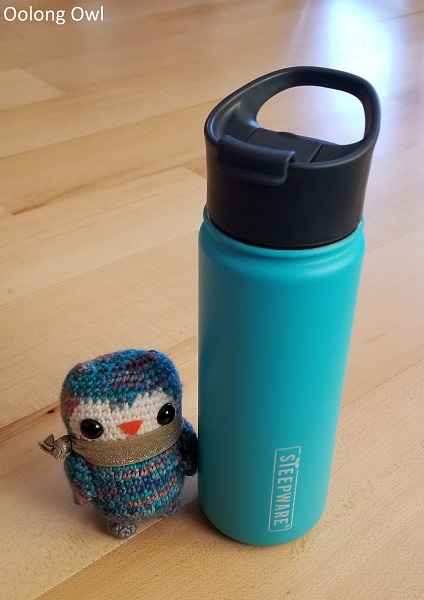 Mountain Tea Tumbler Specs
16oz/ ml Capacity
Insulated double walled Stainless Steel
Larger stainless steel 2-piece infuser
Lead, Cadmium, and BPA free
4 colours – Green Tea, Slate Grey, Sunset Red, and Turquoise Lake (as pictured).
Handwash only. Do not Microwave.
I puttered around and used the Mountain Tea Tumbler straight since June as my exclusive travel tumbler. I got to know the ins and outs of it. I forgot to write about it as it became a fixture of my tea life.
The Mountain Tea Tumbler is 4 pieces – Bottle, Lid, and 2 piece Infuser/filter.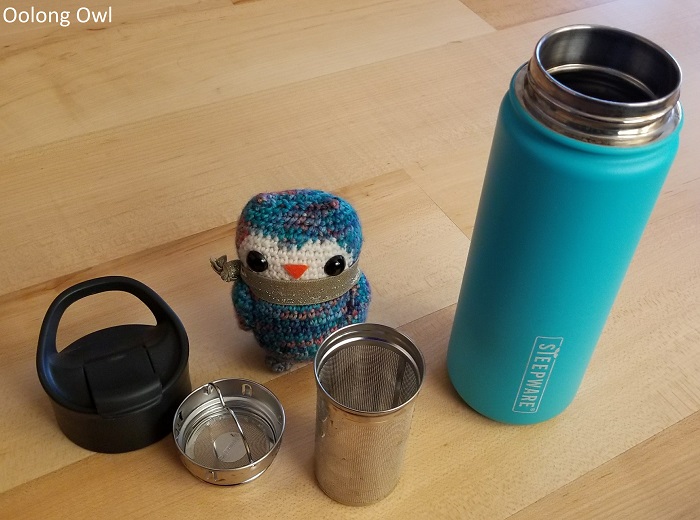 The lid is popup style with a slot to drink from. I have also unscrewed the lid and drank from the tea bottle portion, though it can run hot that way.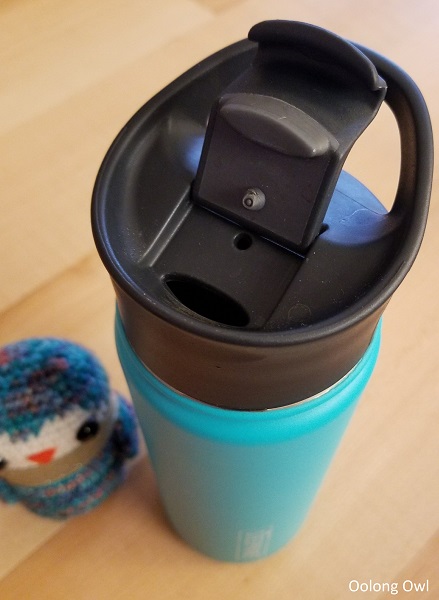 Take note that this tea tumbler has a washer in the lid – always take out the washer and wash it!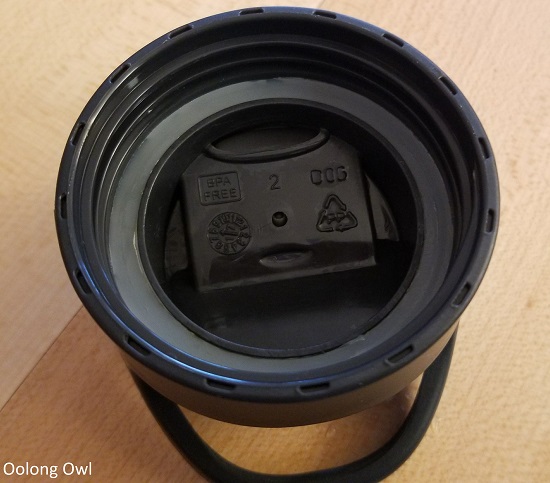 The bottle as "Steepware" printed on the side.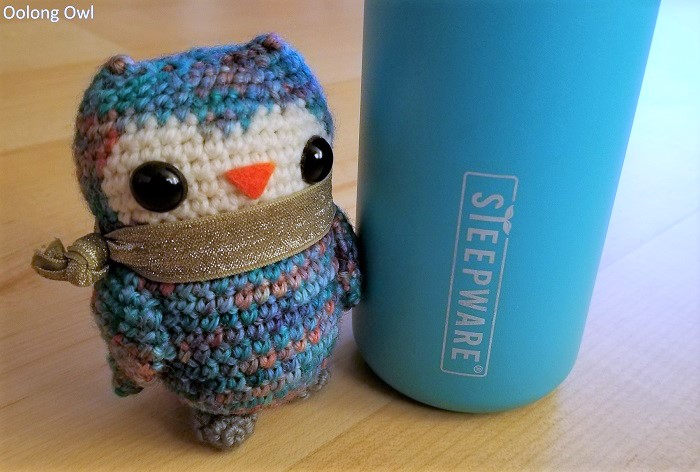 Pros of Mountain Tea Tumbler
Large basket infuser – I LOVE THIS INFUSER! The basket is large enough, clocking in at 3″ long and 1.5″ wide diameter, that I can easily fit 8 grams of fat leaf rolled oolong and have it expand fully. I made some excellent tea in the Mountain Tea Tumbler as it had room to release flavor than being crammed in a small infuser.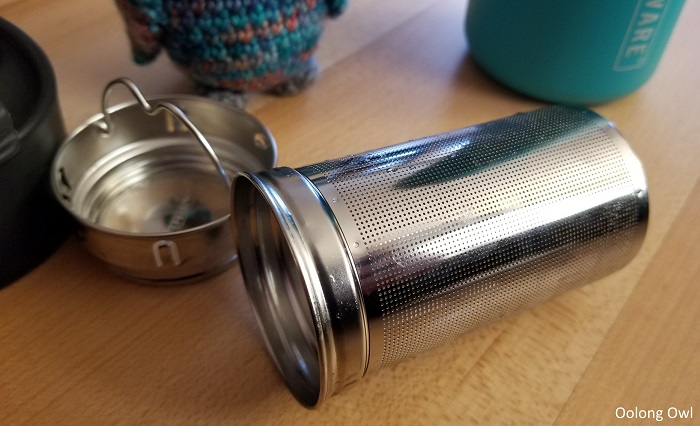 The little basket handle is great for plucking the infuser out without burning your hands.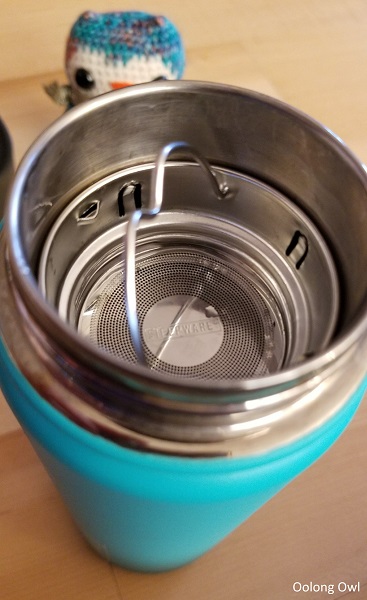 Versatile infuser – I am not sure if this was intentional, but you can use the top piece separately.
Steep option 1 – Simply add leaf to the basket, pop on the top of the infuser, then snap it into the tumbler. Remove leaf after it reaches the desired infusion level.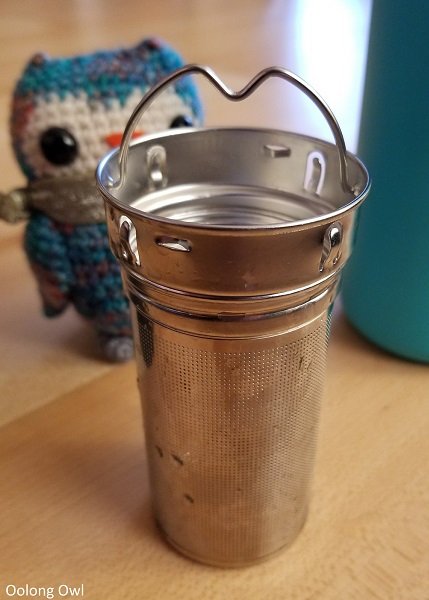 Steep option 2 – Add leaf to the tumbler and snap on the top of the infuser only. The leaf will continue to steep, but the filter will stop you from eating leaf. You don't need to fill the tumber to the top to infuse.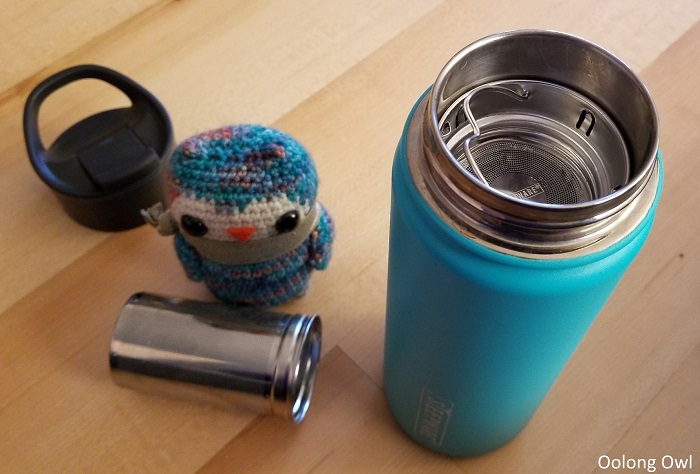 I love both options. Likely the basket gets the most use for most people as you can steep your tea and remove the leaves. The second option I've used quite a bit for grandpa style (and topping up the water during my tea session) or to brew tea to take with me and serve later.
Well insulated and Cool – I've kept tea hot in the Mountain Tea Tumbler all day. It can hold hot tea for 5-8 hours, the latter if you preheat it. I've also kept iced drinks cold even longer to the point of being problematic as the ice would not melt. Go easy on the ice! The exterior is cool to the touch, with a matte finish for grip.
Durable – My Mountain Tea Tumbler fell down a flight of stairs… twice. I also dropped it on the pavement once, and plenty of times on the carpet. Other than tea staining from use, my tumbler looks new as it has no scuffs, dents, or scratches. I also cheated and gave the infuser a good Mandala Tea Soak before I took these photos.
Leaf proof – See "other considerations" but I found the Mountain Tea Tumbler to be leak proof. It can do backflips in purses and fall down a flight of stairs without making a mess.
Cons of Mountain Tea Tumbler
Wide Tumbler – The circumference is around 9″ making this tea tumbler wider than my others in my collection. It just fits in my car cupholder but is a little girthy for my small wings to hold if I wanted to carry it for awhile (hence the times I dropped it). There is a handle on the lid that seems to be the more appropriate way to carry the tumbler.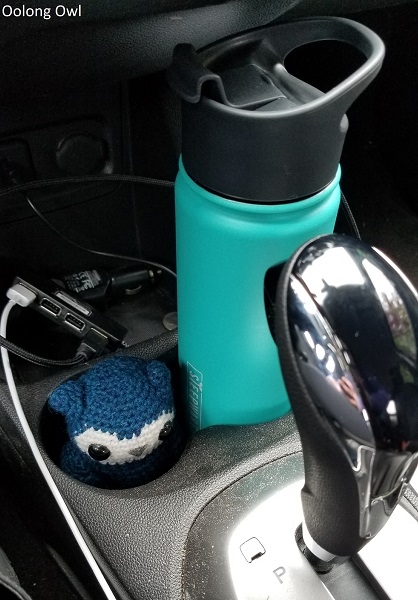 There is a small neck in the body of the tumbler that the DIY'er in me is considering making a hand strap with some paracord.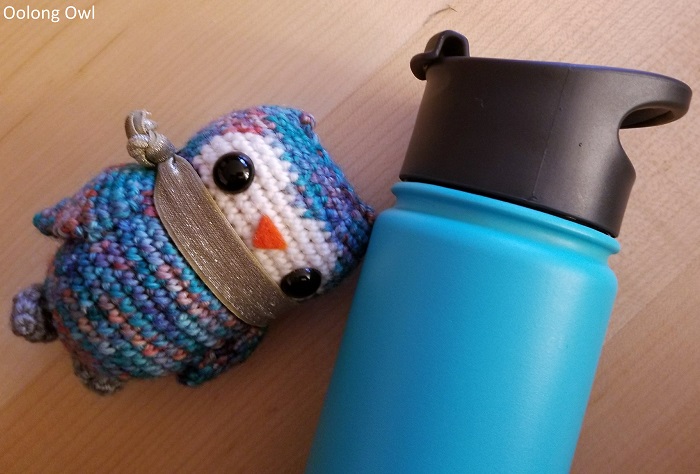 Infuser Basket Handle – Mine popped off a number times early on in testing. Each time I was able to snap it back in place. I did a good job the last time, as it hasn't snapped off for months. When the handle does fall off, you need a spoon to pop the infuser out as it is low set in the bottle.
Likely the handle or infuser is the first place the Mountain Tea Tumbler would fail and need replacing. Over time I've noticed (in similar infuser designs, I have not experienced it yet in this particular tumbler) is the clips start to bend with use. You can bend them back in place if that happens to you, or see about buying a replacement part.
Other Considerations
Lid Replacement – I had an early model which leaked no matter what I did. I contacted The Tea Spot and found out the first run of lids were tooled a bit off, so there were some issues with the early models like mine. They promptly sent me a new lid and since then I have had zero problems and no leaks. I am sure all the current models do not have issues, but I am disclosing what happened here to be completely honest with my experience.
Stainless Steel very hot or cold – Stainless Steel, especially the double-walled insulated kind, keeps tea hot for a long time. Some people don't like this as steeping temperature does not equal drinking temperature. What makes stainless steel awesome is the heat retention. If you want to drink your tea right away on the go, I'd switch to a glass travel tumbler. The Tea Spot also sells a great glass tea tumbler. I also use tricks like leaving the lid off when I am ready to drink to cool the liquid down. I know people who hack stainless steel tea tumblers by adding ice cubes.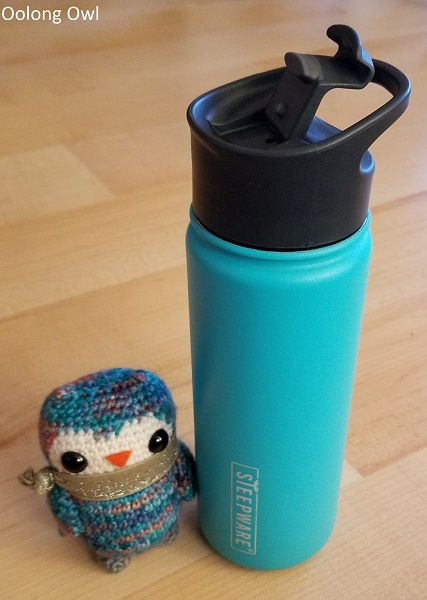 Plastic – Hello again plastic haters. Mountain Tea Tumbler is BPA free as well as lead/cadmium free. This tea tumbler has very little plastic interaction as the only place it touches plastic is on the lid. The tea is not steeping on the plastic unless it is inverted.
Comments
I love The Tea Spot's Mountain Tea Tumbler. I have benched my DavidsTea stainless steel tumbler as the Mountain Tea Tumbler is nicer to sip from due to the slimmer lip. The Mountain Tea Tumbler also uses a bigger stainless steel filter instead of a plastic one.  The Mountain Tea Tumbler is my favorite stainless steel double wall tea vessel right now and is perfect for when you need tea to stay hot for a long time. I also like that the lid is one piece instead of 2 like other tea tumbler designs as it is faster to use.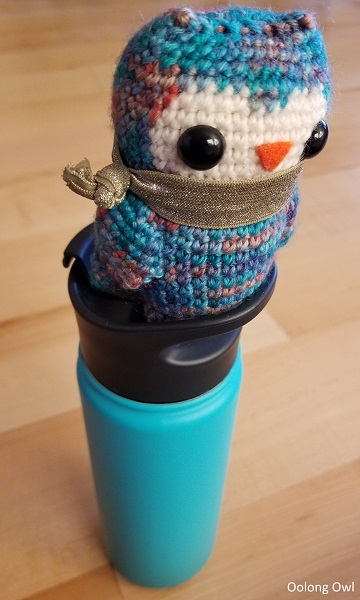 The tea tumbler was a lifesaver over the Thanksgiving holidays as I was driving 2-3 hours each way to pick up/drop off family, and I had hot tea at all times. I also love how durable the Mountain Tea Tumbler is, it has become my go-to tumbler for anything going out as I don't worry about breaking it.
You can get the Mountain Tea Tumbler off The Tea Spot or Amazon!
(Mountain Tea Tumbler Provided for review | Affiliate Links)