My first post for this blog, wooot!
So, I was raised on teas. My mom drank mostly asian diet and beauty teas, often every evening after dinner. My family often would go to chinese restaurants very often and I'd drink tall glasses of pu-erh, or share a couple pots of tea that spun around the lazy susan in the middle of the table.
My dad, a huge Star Trek buff, the minute he saw Captain Picard on TNG order "Earl Grey, Hot" stocked bagged earl grey teas and drank it on occasion.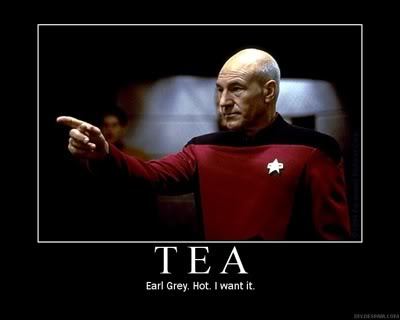 As an adult, I wasn't a coffee drinker. I'd drink it sometimes when I was very tired in the morning, but could not get into the taste and rather not have all the calories from doctoring it with cream and sugar. I also couldn't justify to spend $2-$5 for coffee everyday on a poor university student budget.
So I would buy LOTS of tea from the super market. All bagged teas. I'd have tea every morning and with meals during university. I'd bring my own tea bags to school as it was cheaper than buying tea at a coffee shop.
Years later, my sister/best friend mentions on Twitter that her local DavidsTEA is very good. I googled around and saw that there was a DavidsTea not too far from me. I made a list (YES, I make lists when I go to tea shops) and visited – I came home with 3 tins of tea: The Skinny, Read My Lips, and Southern Belle. Looking online, this was September 2011, as Southern Belle was tea of the month at that time. They were all amazing! I went back a few days later,  bought a Steeper and all of the Fall Collection for 2011. I'd then go every other week, with a list, buying 12-30grams of tea to try. If I love the tea, I'll get 50g to 100grams. I love variety and trying new teas, so I prefer to buy in smaller quantities.
I was working as a counsellor, mostly with mental health and addictions clients, and I found tea was my grounding tool. I could work with my clients and have a cup of tea for me to stay calm. It kinda became a trade-mark to see me at my jobs, with a glass tea tumbler, loose leaf teas bloomed inside. My clients would start bringing tea to my groups, and chill out, do art therapy and drink tea with me.
I discovered Steepster, a tea community. For every new tea I tried, I would review. Of course, Steepster is amazing for meeting other tea peeps and discovering other teas, so from there I began to branch out to other online tea companies.
Now my tea stash is pretty nuts. From what I have logged on Steepster.. 187 teas at this time! 390 Tea tasting notes, mostly reviews! I was on the fence for awhile to start a tea blog, as I have other blogs to attend to. However, with the time I spend on Steepster, I might as well blog my teas. Now here I am.
Phew. I need some tea after writing all that!