I've been with the White2Tea Club monthly subscription tea box thing for a year now. At $30 a month, add up how much of my monies have been funneled into White2Tea for a year, and I'm still signed up as I love this tea club. If I cut myself off I think I'll get the tea bends or something.
November 2015's White2Tea Club is the lovely 200 gram cake of 2015 Pin Sheng. For a $30 a month price, getting a $49 cake is a great deal for something I would of purchased it eventually. $49 cake is in my price range of happy.
I had my cake airing put on my table for weeks, not by choice. When I review tea I often stand over my tea table in the kitchen, drinking and flying around the house with my fellow Tea Owls. With me busting my ankle I couldn't do my usual tea drinking, so it's been me sitting at the computer drinking over leafed shou out of tea ware full of pocket lint. (Pocket lint teaware as I would carry it up the stairs in my pockets since I was unable to hold things and walk at the same time.) I am now finally able to walk for longer, so here is my last minute tasting!
Unwrapping and Dry Leaf
A very interesting design of wrapper, I love how bright it is, it certainly stands out. I don't think I can personally pull off yellow lipstick.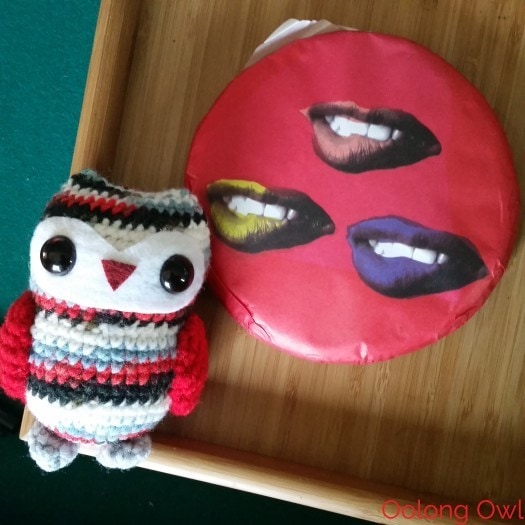 Tea info –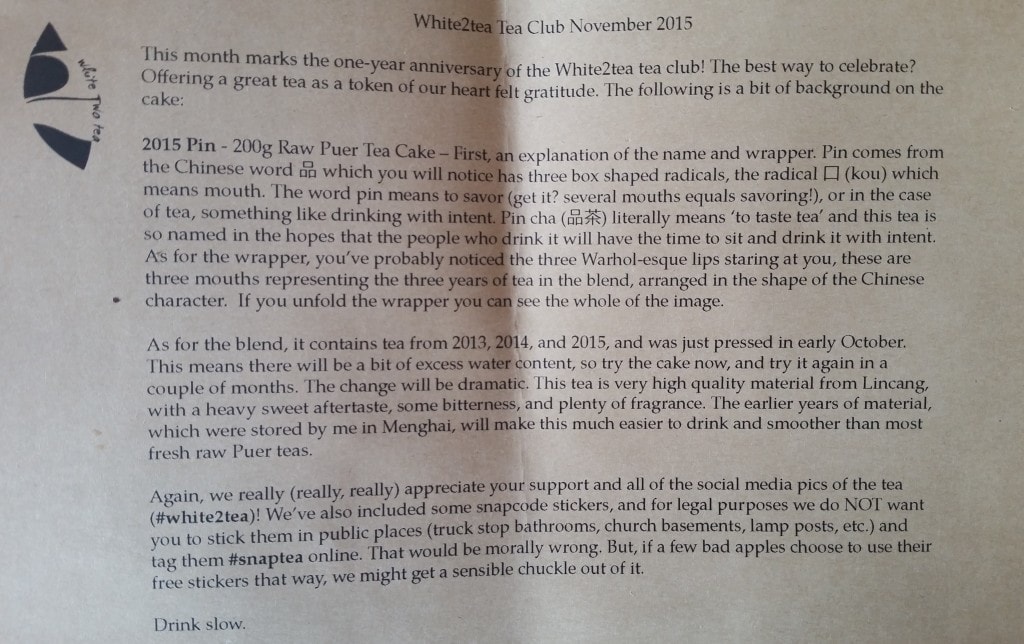 Upon opening cake I smelled licorice, though the smell went away quickly. The cake has a light scent of dry.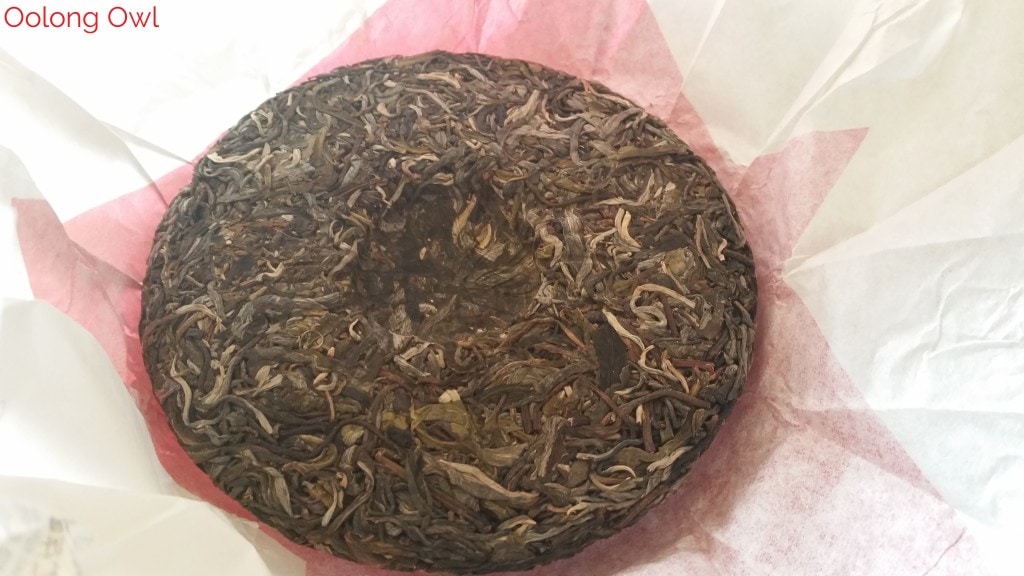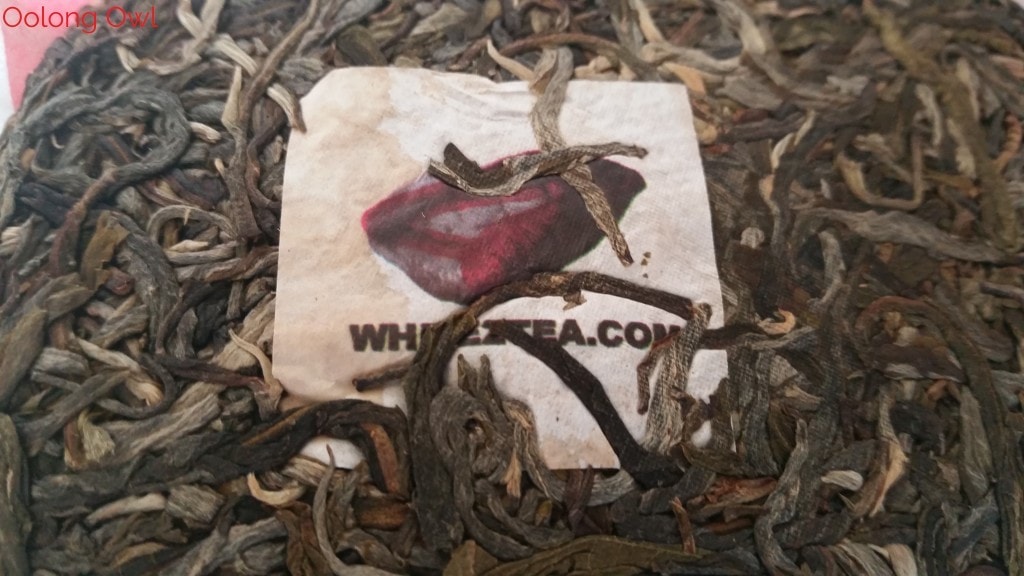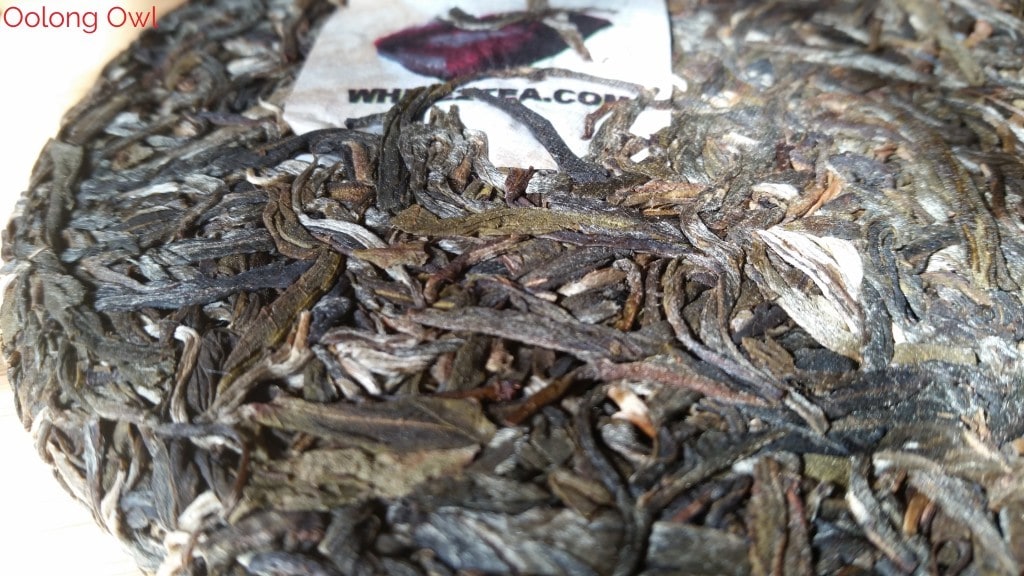 I found mega leaf! Whoops, I forgot to put my wedding ring on after I finished making pie crusts.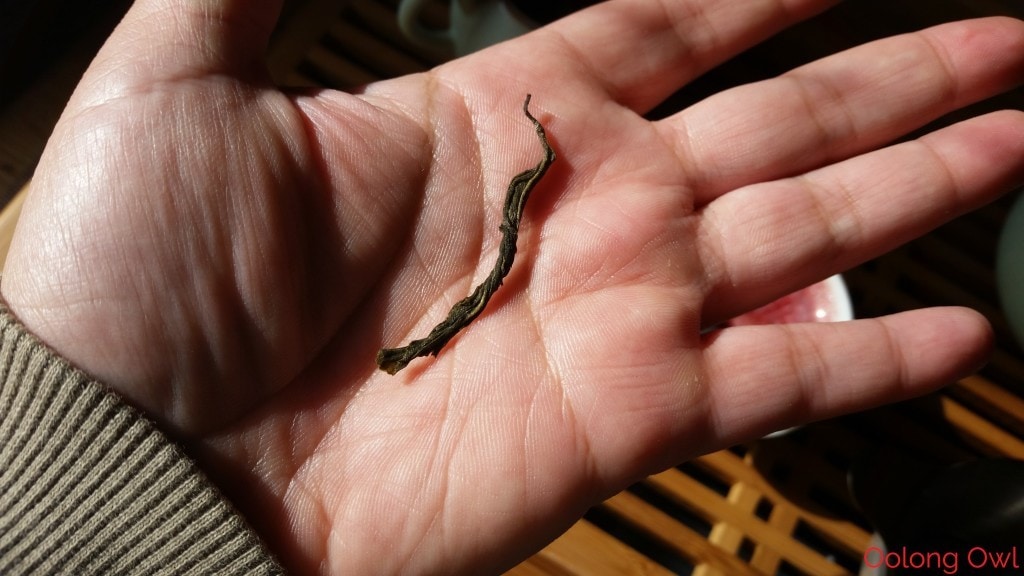 Steeping Instructions
I decided to go with my usual young sheng method – gongfu style. 200F water temperature, 6 grams of tea in a 90ml pot. (a 1gram to 15ml ratio) The steeps were quick, 15 seconds or so.
Tasting of White2Tea Club 2015 Pin Sheng
2015 Pin Sheng comes out a light honey colour. There is a sweet smokey scent on lid, but the tea smells sweet and grassy in the cup.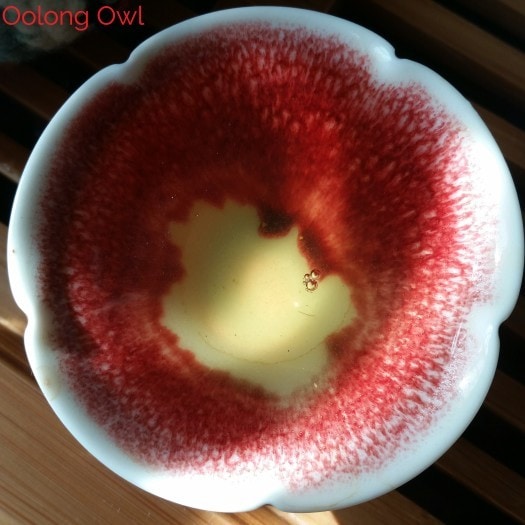 First Infusion: 2015 Pin is light here with a sweet straw note and a thick mouth feel. The flavor is also fresh and lingering, the aftertaste like floral hay. I need to keep this tea away from my bunny Benson. I had planned to blog post with this new tea ware before posting this but things failed as I learned I need two stable feet to take decent photos.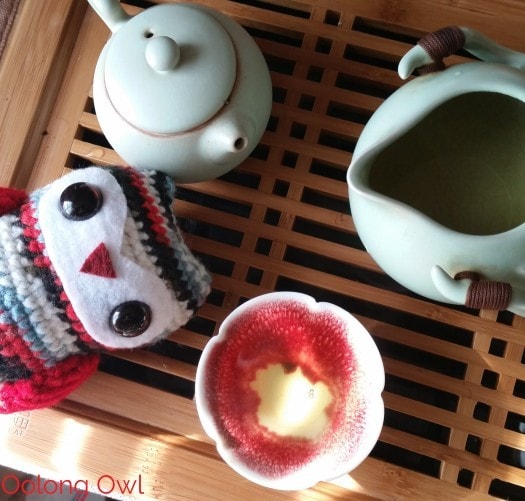 Second, Third, Fourth, Fifth, and Sixth Infusion: 2015 Pin expands in flavor and gains strength. The tea is still on the lighter side in intensity which maintains throughout all these infusions. There is a hint of bitterness with notes of moss, forest floor, linen, straw and a touch of floral. The aftertaste is sweet tasting with a thick mouth feel with a lingering sweet mineral taste.
The tea feels in this one is calming, yet fluttery. It's like finding camp in the mossy woods of Alaska full of tiny Tea Owls. They are hanging their owl pants out to dry in the sun. Then the tea owls get mad and peck you bitterly since you didn't bring any prime rib.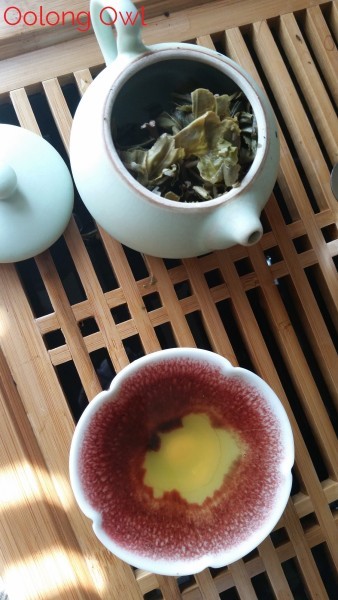 Seventh, Eighth, and Ninth Infusion: Best steepings here, yeah! These steepings are on the dry side, giving me a dry cheeky feel over honey, linen, and moss notes. The fragrance and dryness is really good here giving the sweet and hint of floral a sticky platform to stay around after each sip. I'm feeling pretty darn cuddly here, maybe this should of been a Valentines Day release?
Tenth and Eleventh Infusion: Peak bitterness here in these later steepings of 2015 Pin Sheng, peeping end of sip, over the linen and sweet mineral flavor. It's not as bitter as advanced-mode-bitter-pu but pretty good as it leads you here and the waters are fine. I used to hate bitterness, but this tea is another example of good, gentle bitterness.
Hello again mega leaf!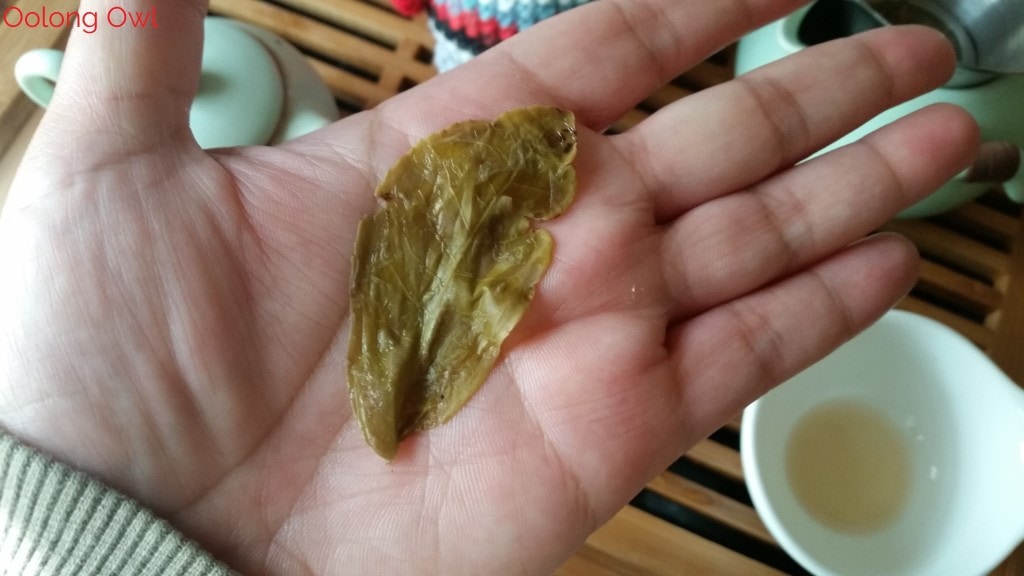 Twelfth and Thirteen Desperation Infusions: 10 and 30 minute infusions here. The flavor is super sweet with little hints of herbs and flowers. These final steepings are great finisher, I highly encourage everyone to steep 2015 Pin to death to milk out all the sweet flavor.
Comments
First of all, I'm very pleased at the deal this month for the White2Tea Club for getting a whole cake for $30 instead of $49. 2015 Pin Sheng is a light and sweet sheng with a bit of green and floral taste. This sheng would be an excellent daily drinker for someone who likes a light tea. Of course, maybe some playing with the tea ratio and temperatures might yield some different results, or give the cake some more time. In the instructions that came with the cake, it said to try 2015 Pin again in a few months once the excess water in it goes away. That said, these tasting notes may change.
Comparing 2015 Pin Sheng to the other White2Tea 2015 Shengs, it's more gentle than 2015 If You Are Reading This It's 2 Late, and not as vegetal as the 2015 Poundcake. All three cakes are for the sweet tooth pu'er drinkers, but I think 2015 Pin Sheng is the more delicate and cuddly of the three teas. I'm personally a sucker for light, sweet and floral sheng so I quite liked this one.