Nutty Love is a black tea blend that contains walnuts, almond, rose petals and apple. This interesting nutty blend is made by Steep City Teas, a Florida based online tea seller.
Welcome to Oolong Owl's Black Tea Week! I'll be reviewing only black teas this week. I seriously need to drink black tea this week – with US Thanksgiving this week, there is lots of cleaning and cooking to be done. Plus, I need to caffeine boost from black teas to prepare me for Black Friday shopping. I've already planned out my tea purchases, have you? How about some black tea?
Today we have Enemy Crab, who is a big fan of Steep City Teas, helping with this review. I actually had to pull the tea package from out of his crab claws.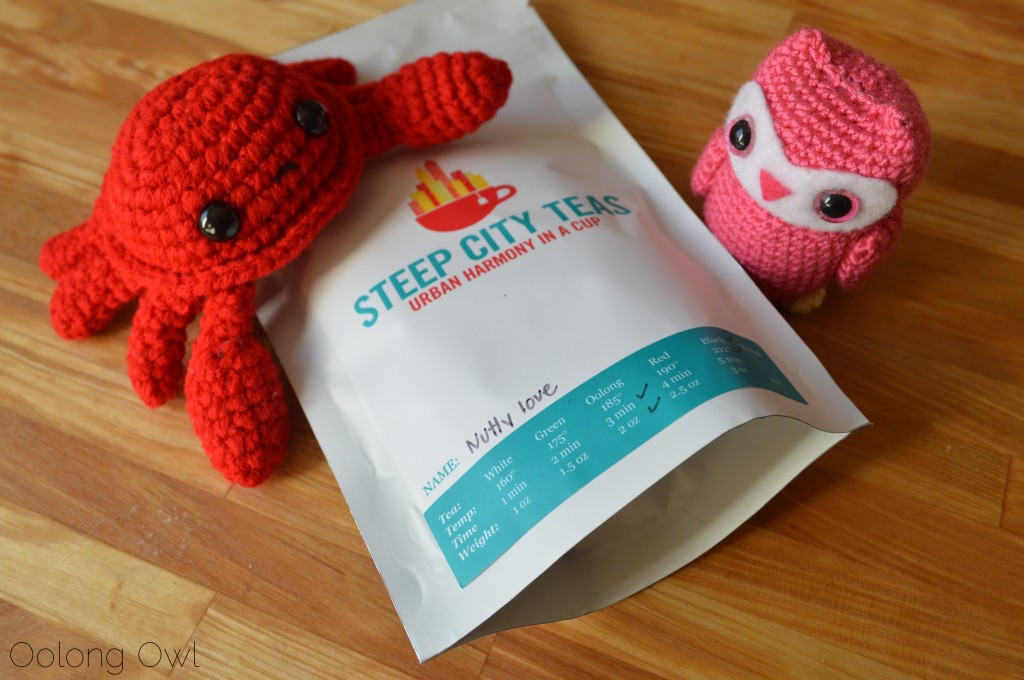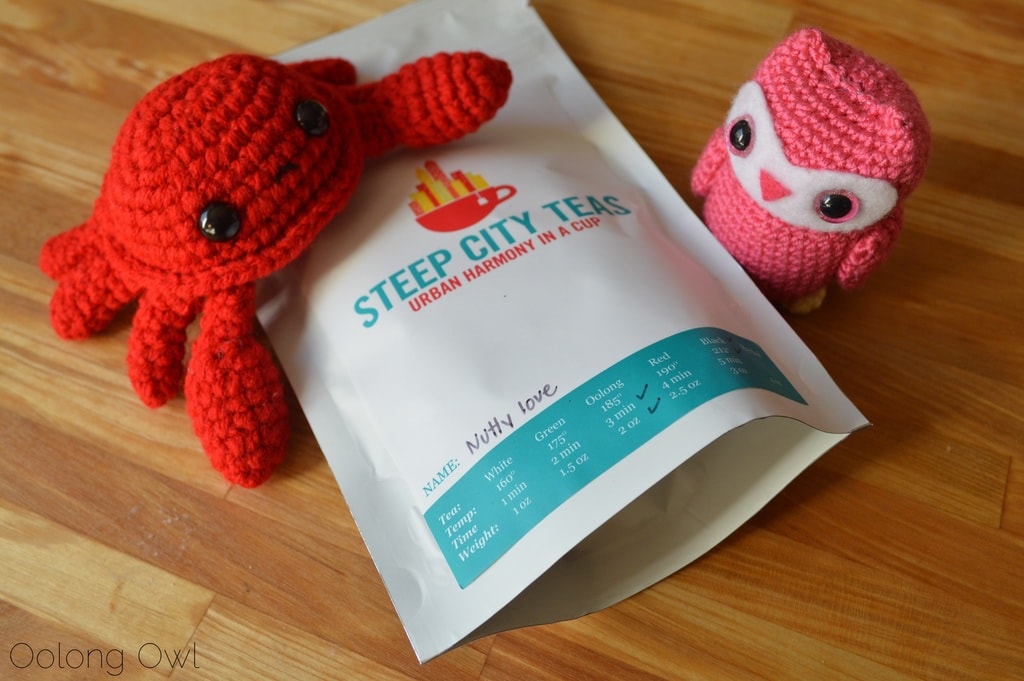 Dry Leaf
Steep City Teas did not skimp out on the nuts on this tea. Plenty of walnut brains and almond slices, accented with dried rose petals. The dry leaf of Nutty Love black tea smells like sugary sweet candied nut bark. Mmmm!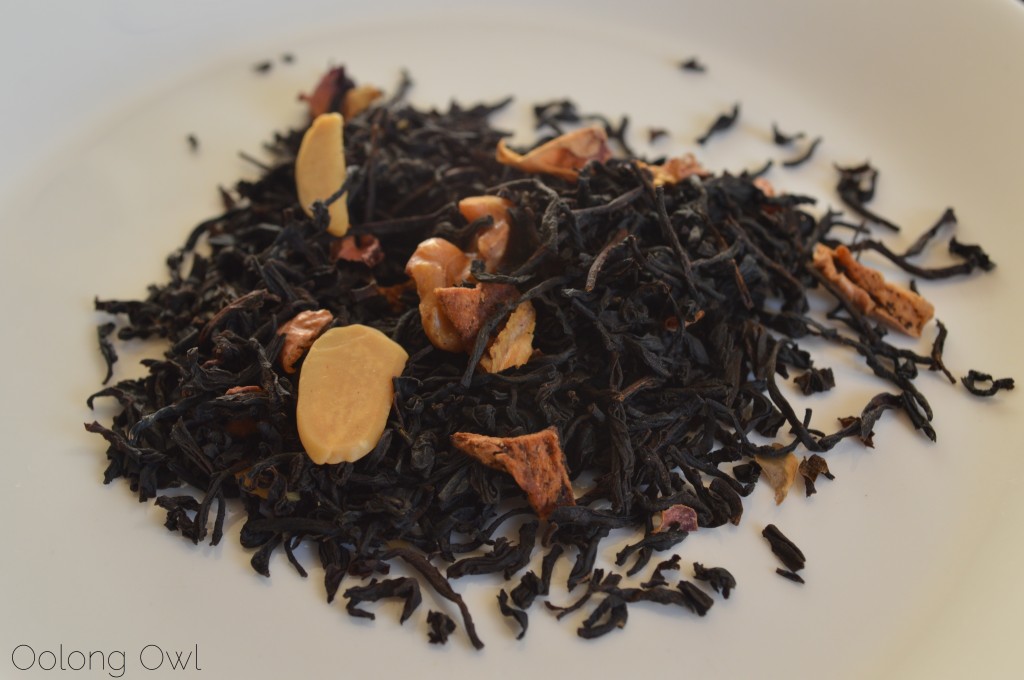 Steeping Instructions
The package of  Nutty Love black tea states to steep the tea in 212F/100C water for 3 minutes. Steep City Teas seem to have accurate steep times, so I followed their instructions, steeping my tea in a mug and stainless steel filter. Enemy Crab is worried about the crazy Black Friday shopping.
At the end of the steep, the apple and rose float to the to top, looking quite autumn like.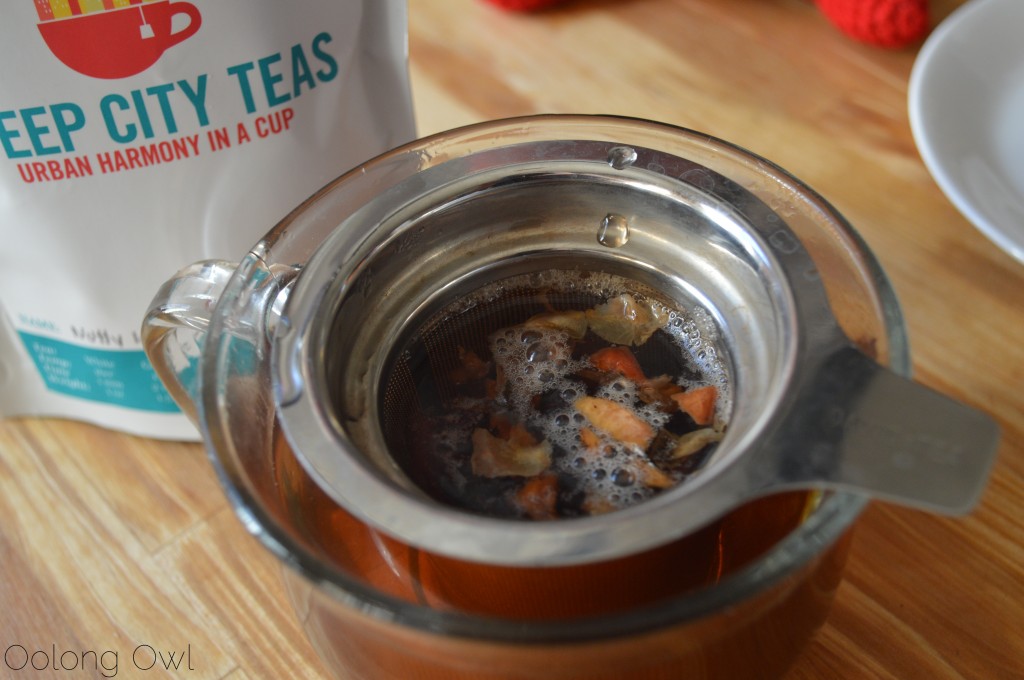 After 3 minutes, I had a lovely cup of mahogany brown tea that was VERY fragrant! The tea smells strongly like nutty bark candy and syrup.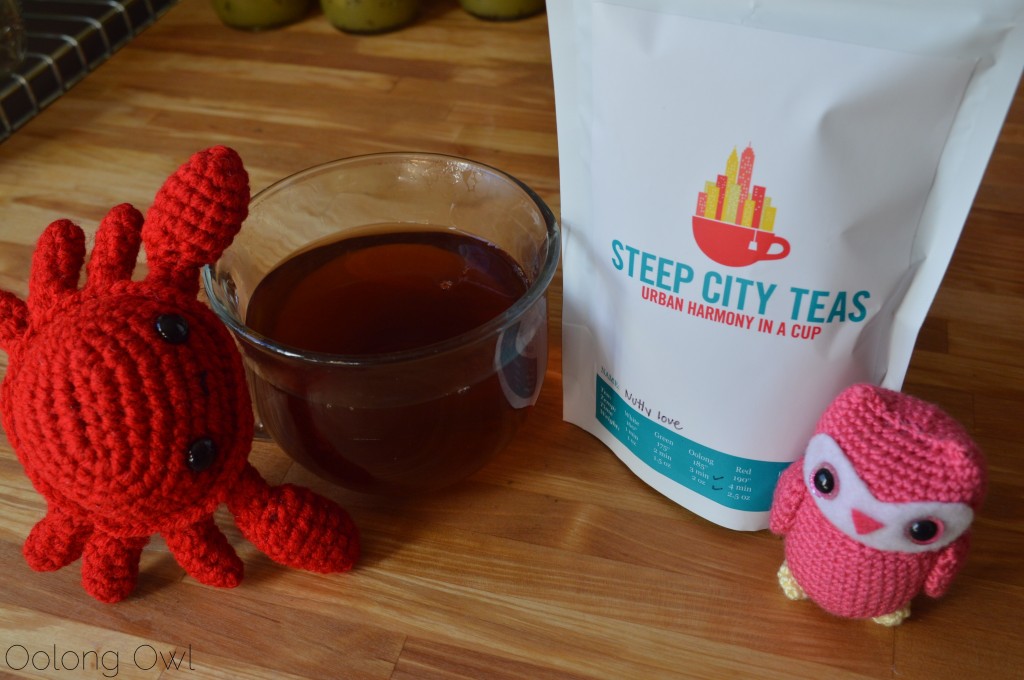 Tasting of Steep City Teas' Nutty Love Black Tea
Nutty Love black tea sips in with a strong, melded flavor of honey, maple syrup and brown sugar notes with a hint of rose. The rose is very slight, as some sips I don't taste it. Mid sip, I get the full force of the black tea base, which is malty, but not bitter, mixed with a nutty walnut and almond notes. End of sip I get a little nutty sweetness with a mild, yet sharp black tea finish that has a 1/10 Astringe-o-meter dryness.
Immediately upon drinking this tea I thought I was drinking a tea version of baklava (a sweet layered nutty pastry)  – without the over the top sweet and sticky elements. I was craving baklava this weekend and  Nutty Love fulfilled that sweets craving!
Sweetened: I don't think  Nutty Love needs sweetener with all those syrup notes, but I wanted to know how this blend would taste with a little german rock sugar. The sweetner mellows out the black tea base, with the warm sugary nutty notes being present throughout the sip. The rose flavor comes out if you
Comments
Steep City Teas'  Nutty Love black tea is a dessert tea drinker's autumn and winter dream tea!
The brown sugary nutty flavor would make a great tea to curl up with on a cold day. The baklava dessert flavor of Nutty Love is really delicious and unlike other nutty black teas I've had. There's an element of exotic from the baklava and rose taste, yet a comfort food snuggle with the nuts and maple syrupy brown sugar flavor.

I am more of a variety tea drinker, but after have a big mug of Nutty Love Black tea, I went and steeped another round – very tasty stuff!