White2Tea club time! This month we got 3 2016 Orange Drops (shou puer) and 2 new oolongs – Hot & Heavy and Dahongpao.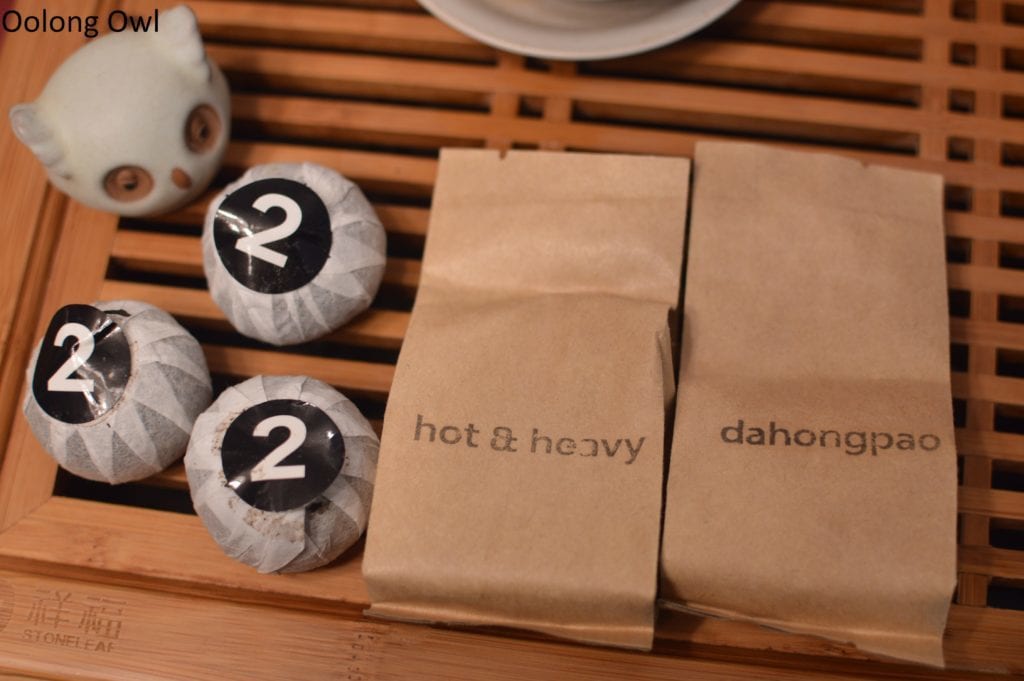 /throws up hands. Bloody white balance hates me again.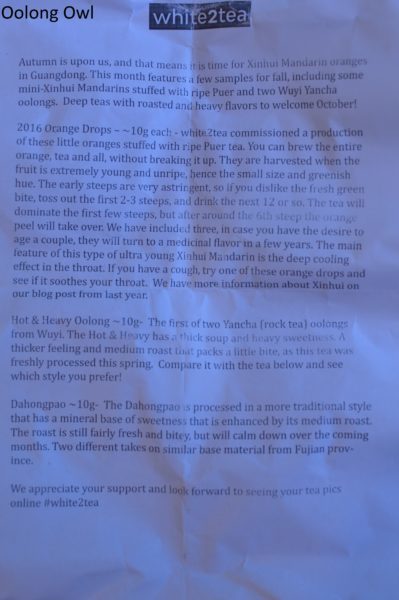 White2tea Club 2016 Orange Drop
I just realized that last year's October White2Tea club also included an orange however this year we got a nicer orange. These puer oranges (though these days more teas have been stuffed into oranges, like black and white tea) are a great new to puer tea drinkers or types looking branch away from flavored teas. I guess it is technically flavored, the tea is stuffed in an orange, but you are missing the whole trail mix and flavoring alcohols/oils added. These oranges are a bit more special as they are Xinhui Mandarins and White2Tea has an article on these including how they are made.
Dry Leaf
It smells like a mandarin orange – super zesty and kind of fresh. This orange is super cuuuute!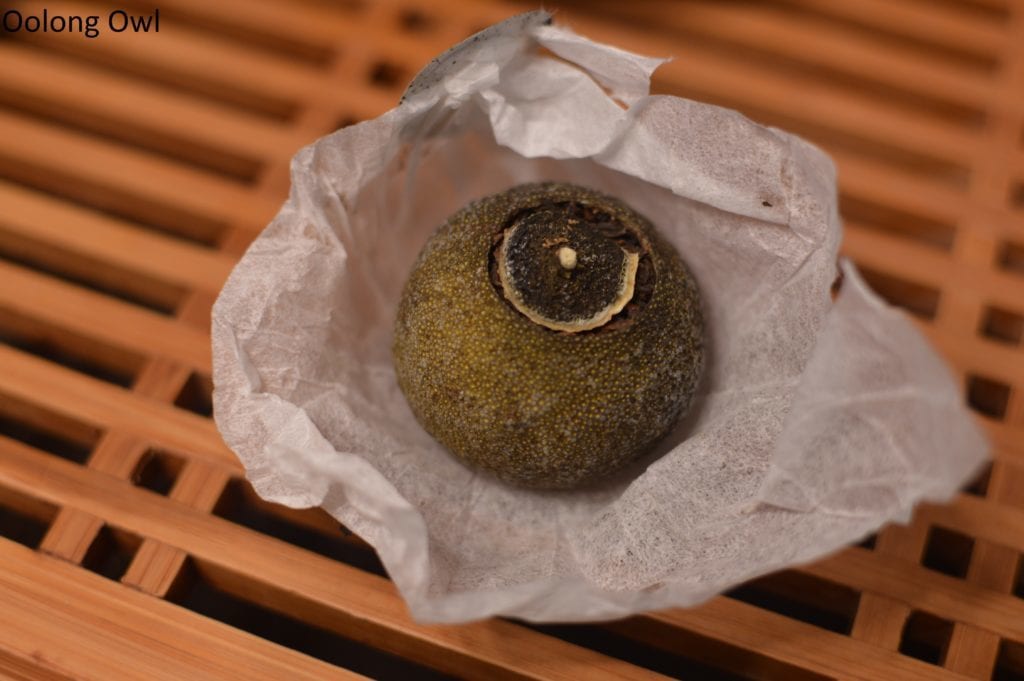 Steeping Instructions
I do like that White2Tea's oranges are a single serving. It says 10grams… but nope. Maybe 10 grams of tea inside or Washington is just so freaking humid. By the way, matcha is the glitter of tea – you can't get rid of it once you spill it.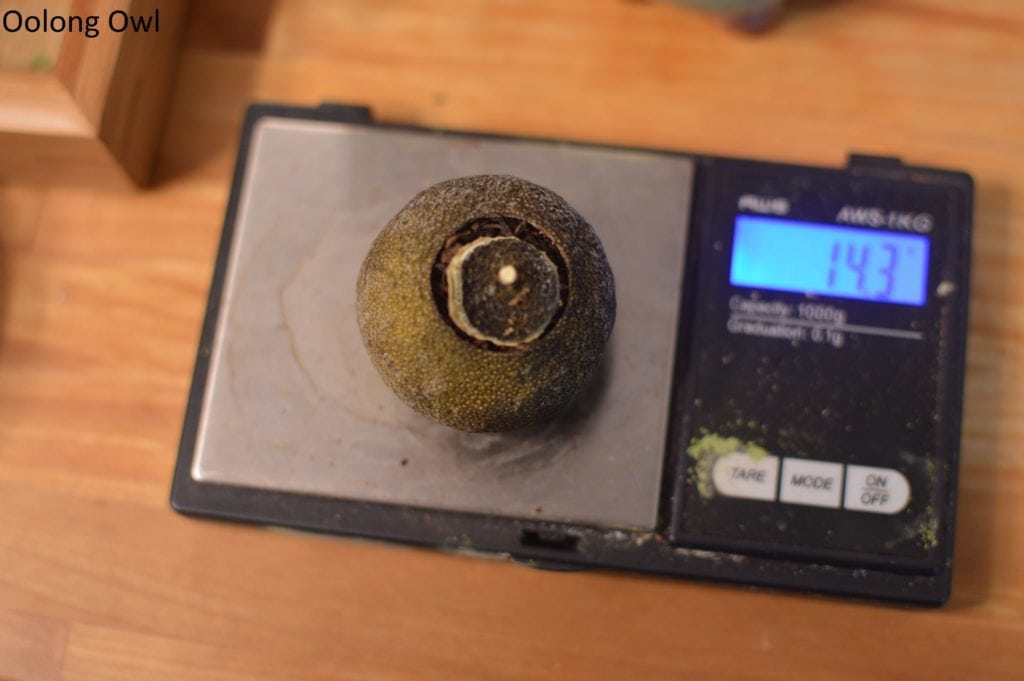 Most puer oranges I come across are the bigger mandarin orange clocking in at 20-25 grams. It is generally advised, as a solo drinker, to use around 1/3 of it per session. Or if you are insanely sick and cranky like I was a month ago, use the whole thing in a large vessel.
I roll strong with shou puer oranges either way. I went my 14 gram orange in a 90ml gaiwan, so about 1 gram of tea per 6.4ml of vessel. I steep oranges strong as the orange peel takes weight and isn't flavor intensive as straight puer.
I smashed the orange with a rolling pin. I tried using my hands but the little orange had a tough, durable skin. I used boiling water and 2 rinses.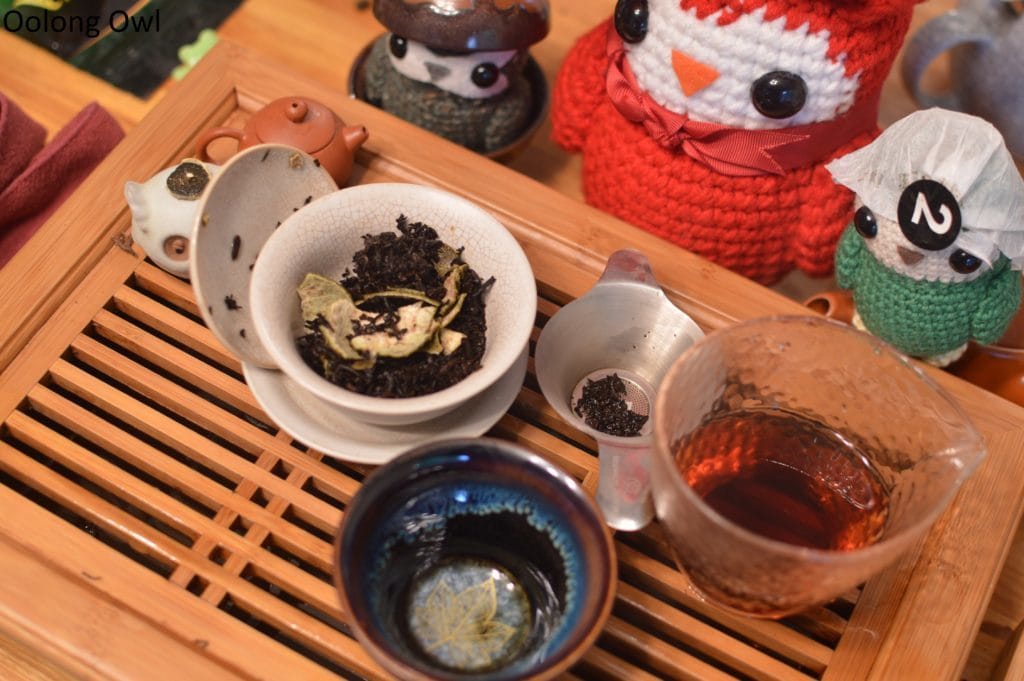 First, Second, and Third Infusion:
Orange Drop steeps up nicely clear and smells like a Terry's Chocolate Orange. So much nostalgia!
Sips in sweet mandarin orange and a clean shou bittersweet malty flavor. The texture is balmy on the lips, but is thin throughout the sip. There is an aftertaste of bitter orange pith, like I ate a mouth full of it. It gives off an essences of sweet orange but it is like you failed at cleaning up your orange and chomped on it out of desperation. With each steeping the pith bitter cleans up, opening a more sweet orange and watery gongting malt taste.
Fourth, Fifth, Sixth, and Seventh Infusion: Prime steeps right here. The orange is in full bloom, getting a natural orange flavor, with a contrast of an earthy, crisp, bittersweet, malt, almost chocolately gongting shou. The flavor is still a little thin and the texture is lip balmy. I get hit with a cooling sensation from the zest orange. It is not like brushing your teeth and eating an orange, but has that sensation of citrus zest and mint freshness. The finish does have some bitterness, not pith bitterness but just straight up garbled bitter shou and orange bitterness, leaving a strange flavor in the mouth. I feel so dang cool though.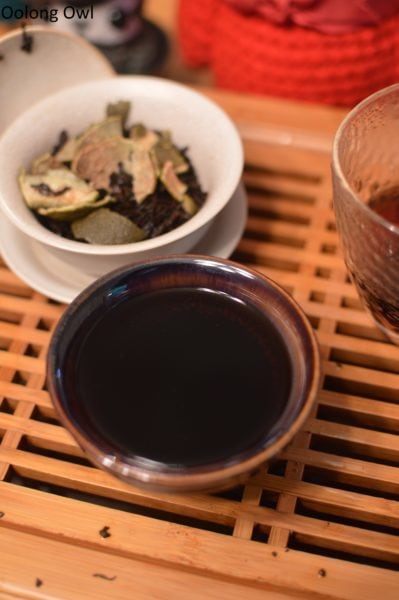 STRANGE TEA THOUGHTS.. you know what would be weird???? Stuffing a minty Ruby 18 in an orange. That would be so fresh and cooling that I'd get a frost bitten beak.
Eighth and Ninth Infusion: Power steep of.. as long as it took me to write an email. 15 minutes? The tea came out tasting straight up under ripe orange. You don't need orange juice, just drink this and only the earthy shou finish will tip you off… if you can take drinking under ripe orange. Super cooling and zesty tasting. This power steep would be perfect sniffles tea, morning tea, or awesome iced for a summery drink.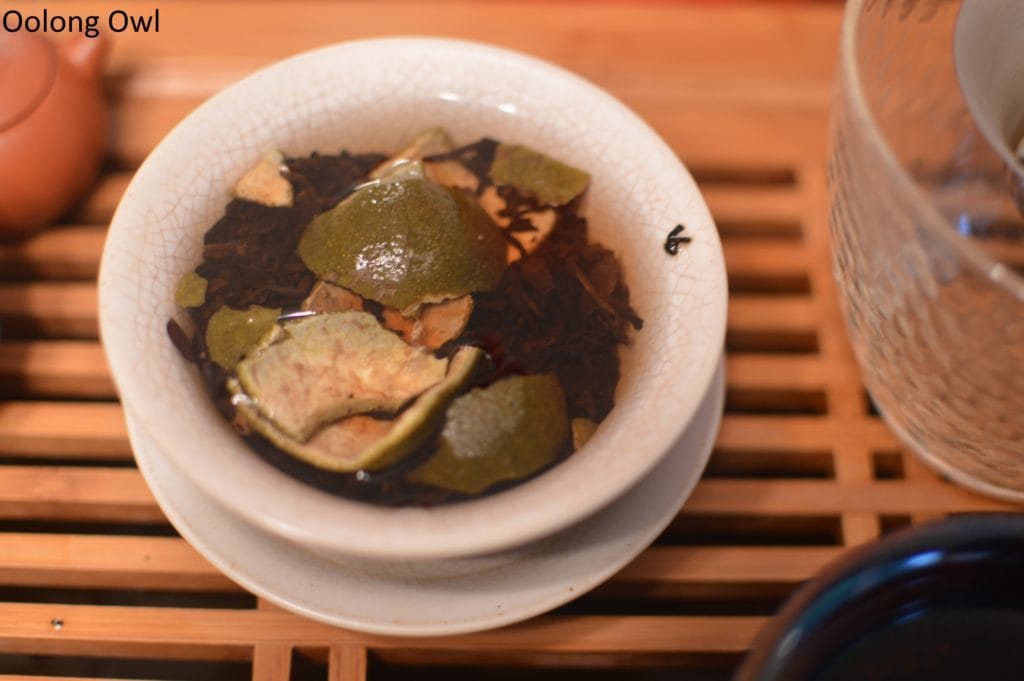 Comments
I really like the single serving orange. WHY AREN'T ALL THE ORANGES THIS SIZE?!?!?!?! I guess it is perspective of a lonely solo tea drinker in North America. It was so much less mess using the entire orange than squirreling away busted orange, or drinking an entire orange and Instagram thinking you have a caffeine problem.
However, this 2016 Orange drop needs age. The quality right now is good, the orange is nice, the material looks good and isn't all twigs (like my Aliexpress oranges) and the tea steeps up clear. The bitterness just needs to chill. I also recalled something another tea seller told me, who sells the shou puer oranges, that he had these sitting in his shop forever, when all of a sudden they started selling – upon revisiting it, the tea orange aged nicely and tasted good!
---
Dahongpao and Hot & Heavy Oolong from White2Tea
As stated earlier, both these oolongs are part of the White2Tea oolong lineup. Hot & Heavy is described as a, "work horse oolong." while DaHongPao is a medium roast.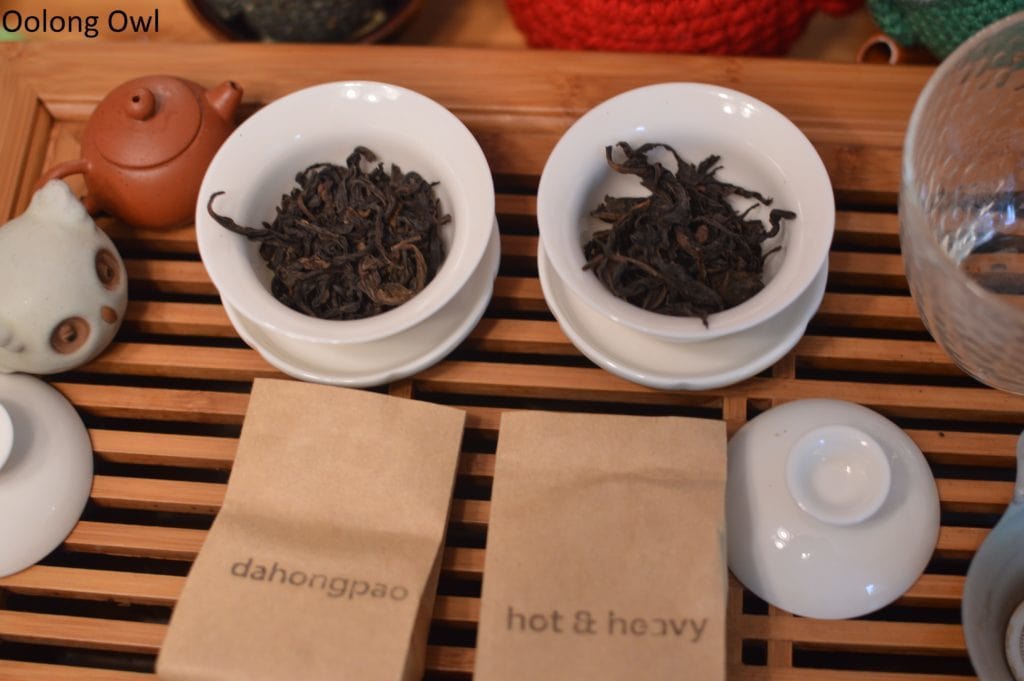 Dry Leaf and Steeping Instructions
Hot & Heavy Oolong has a sweet and lightly roasty scent, whereas DaHongPao has a savory roast scent. The leaf on Hot & Heavy is bigger and more chunky.
For steeping, I did about 1 gram to 12ml leaf to vessel ratio, using boiling water with flash steeps.
Colour wise they look very similar on camera. In person, and it is slight, DaHongPao is more red and Hot & Heavy Oolong is a bit darker. The hot leaf is more woodsy and savory scented for DaHongPao, and fruity for Hot & Heavy Oolong.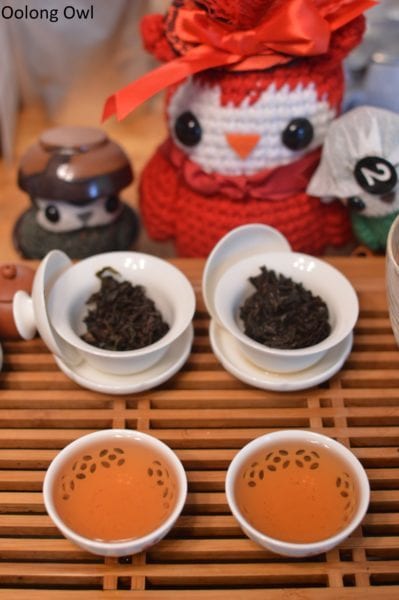 First, Second, Third, and Fourth Infusion:
DaHongPao sips in sweet and creamy. The flavor is reminds me of coconut cream, and crisp apricot with roast on top. The flavor is delicate and mellow, but the texture is thick and slick.
Hot & Heavy Oolong Ooooh yeah, this is going to be my bias. The flavor is sweeter and stronger than DaHongPao, with more apricot nectar and woodsy. It has a depth of flavor with the woodsy background, and a lingering stone fruit fragrance. The texture is thicker, like drinking jello.
Fifth, Sixth, and Seventh Infusion:
We got a bit of a colour difference with DaHongPao being a touch darker.
DaHongPao finally got into advance mode developing more sweetness, with an excellent bright flavor of stone fruit and a barky bite. The rootbeer of oolongs? I can see how this one commands a higher price due to the brightness and complexity. There is a slight dryness in these infusions, giving us an aftertaste comes out with a mineral and bark flavor that lingers.
Hot & Heavy Oolong is still heavy and slick. The intensity is fading so I steeped this one a little longer getting a more fruity thick soup. The oolongs swapped as this got more mellow and less going on – but the highlight of this tea is the high sweetness, thick slop texture, and lingering sweet mineral and apricot flavor.
Eighth, Ninth, Tenth Infusion:
DaHongPao is smoothing out to a rich mineral flavor with a touch of roast. This tea is savory and has bite from the bark flavor with a bit of dancing dryness. I feel I need to drink this tea with Thanksgiving dinner or with a fancy Porchetta roast. The aftertaste has a nice sweet contrast, tasting like creamy peaches. Dang!
Hot & Heavy Oolong is still trucking with that sweet apricot thick flavor, with a mineral sweet rock finish. The aftertaste is apricoty. It is pretty mellow, but the flavor is strong without a lick of dryness.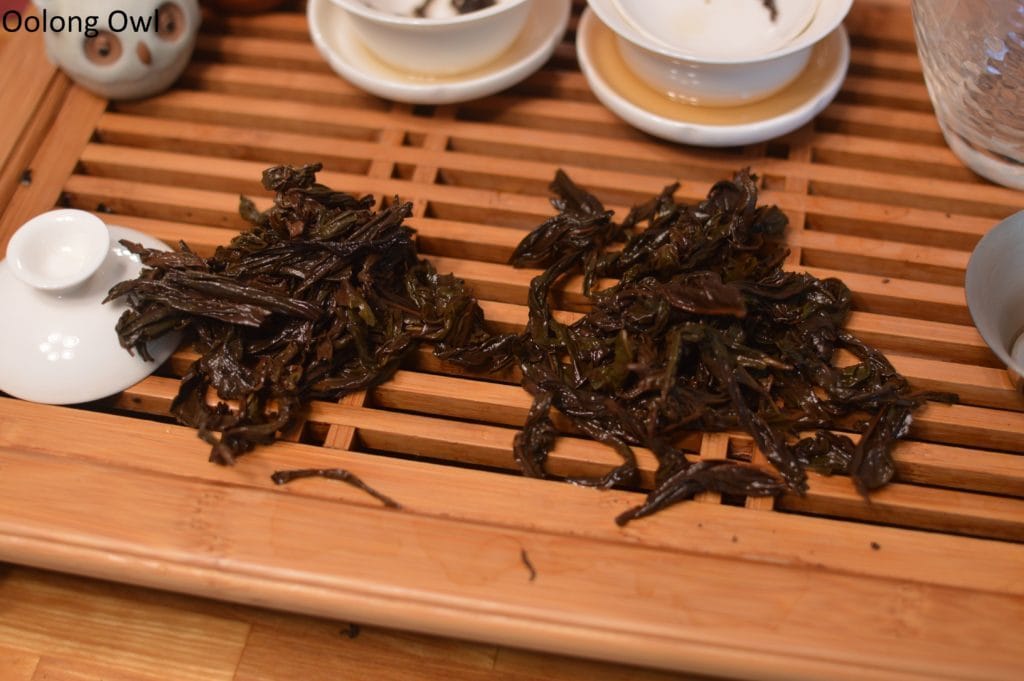 Comments
Both are great oolongs but I think DaHongPao needs more time to chill out (though the bite is really fun to drink), but it has more complexity and character. DaHongPao has a vibe of being a special occasion or "wine with dinner" kind of oolong in the later infusions.
I like Hot & Heavy Oolong for the robust flavor, texture, and mouthfeels. Hot & Heavy Oolong would do well as a work or travel tea as it seems to take a beating without dry or bitterness.
If you are trying to decide between both oolongs, it seems certainly personal taste, both teas are quite good.