Hi Tea Owls!
Recently, I was able to go to Disneyland's Club 33 and have tea there!
What is Club 33? It is a member's only club/dining room and the only place at Disneyland that serves alcohol. This place is not open to the public and you'll need to be a member or invited. Eating at Club 33 is quite pricey, over $80 minimum for lunch kind of pricey. There is a dress code to eat at Club 33 which I found annoying to deal with. It was A. Pack extra clothes and shoes to change into or B. Wear your nice clothes, get blisters, and get sweaty in. Anyways, read the Club 33 wikipedia page or the Club 33 fan site for more information.
My tea-hating husband and I were invited to go, yay! Admittedly, I'm not a huge Disney fan, I purely came for fancy food! FOOOOOOOD!
The door to Club 33: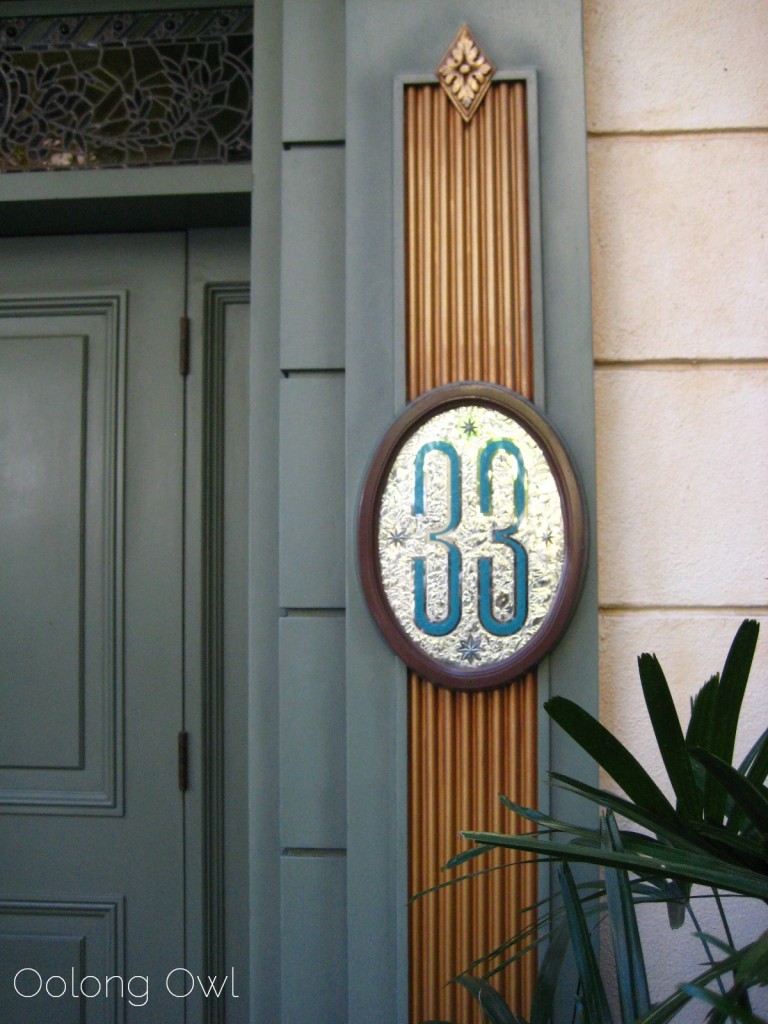 There is no other signs or anything, just the number next to the door and a buzzer to get in. While I was waiting for our party, many people don't notice the place, or some stop and take pictures in front. Lucky for me, I'm going inside the place!
The lobby is just simply a desk, some stairs and an elevator to go up to the dining room.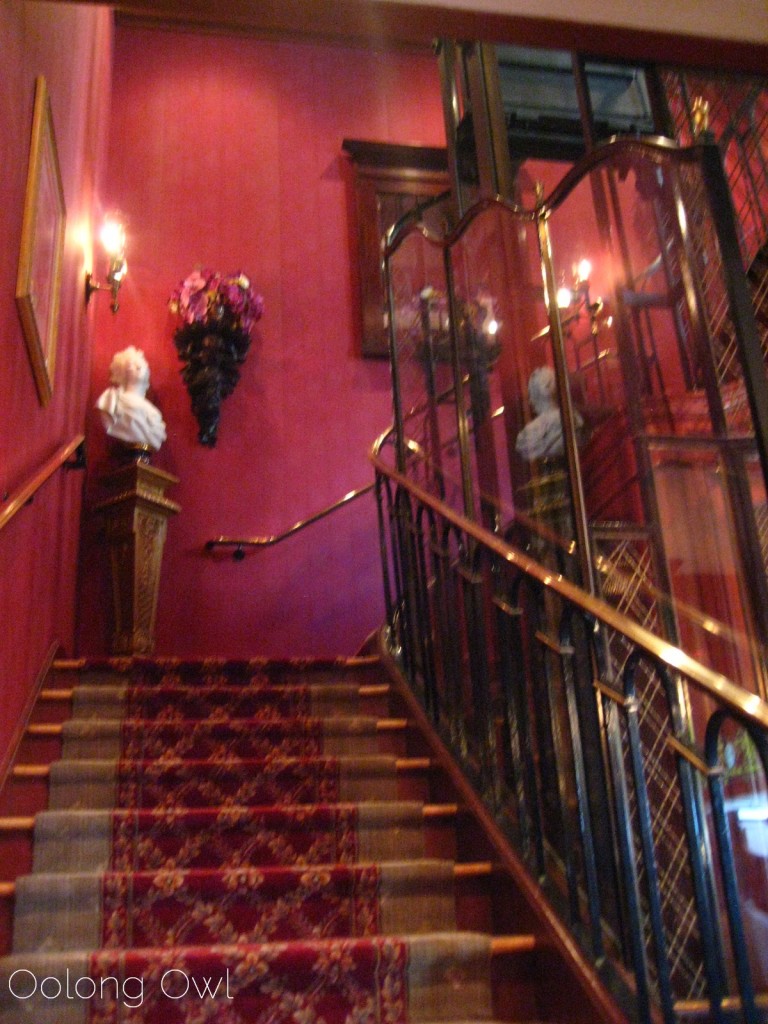 Our table set up – our party had our own dining room, woot! Look, it's tea-hating husband!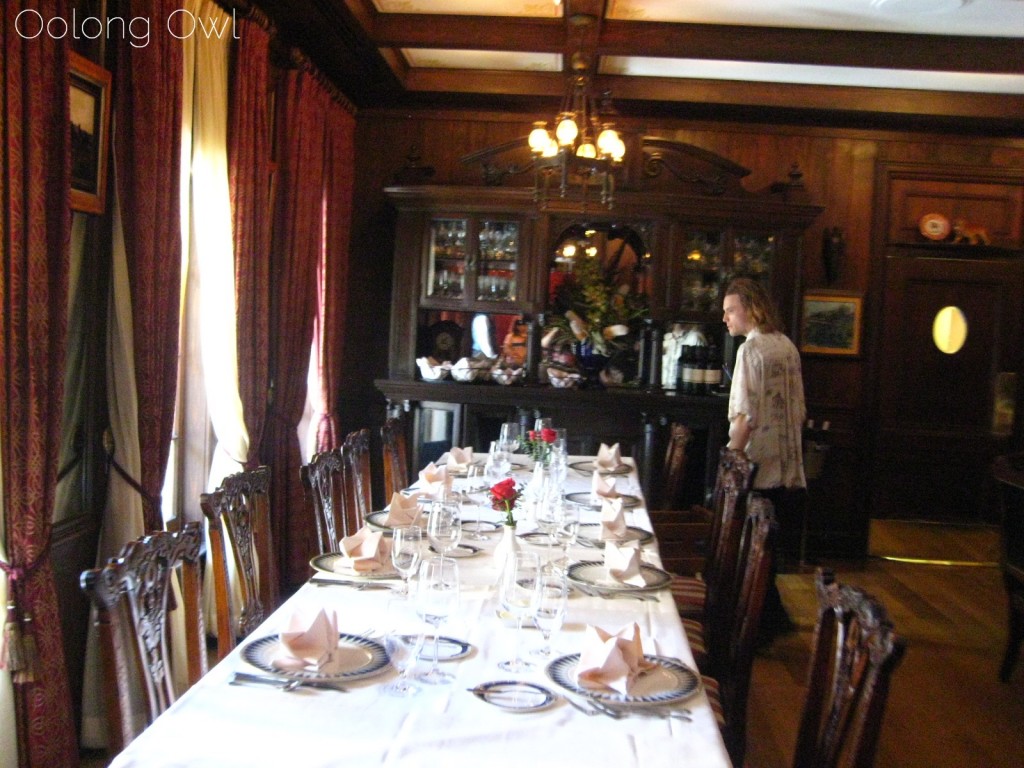 Because this tea owl was pretty nutty at the time, maybe it was getting too much sun at Disneyland or tea withdrawal, I took pictures of the plates. Oooh, special plates made for Club 33!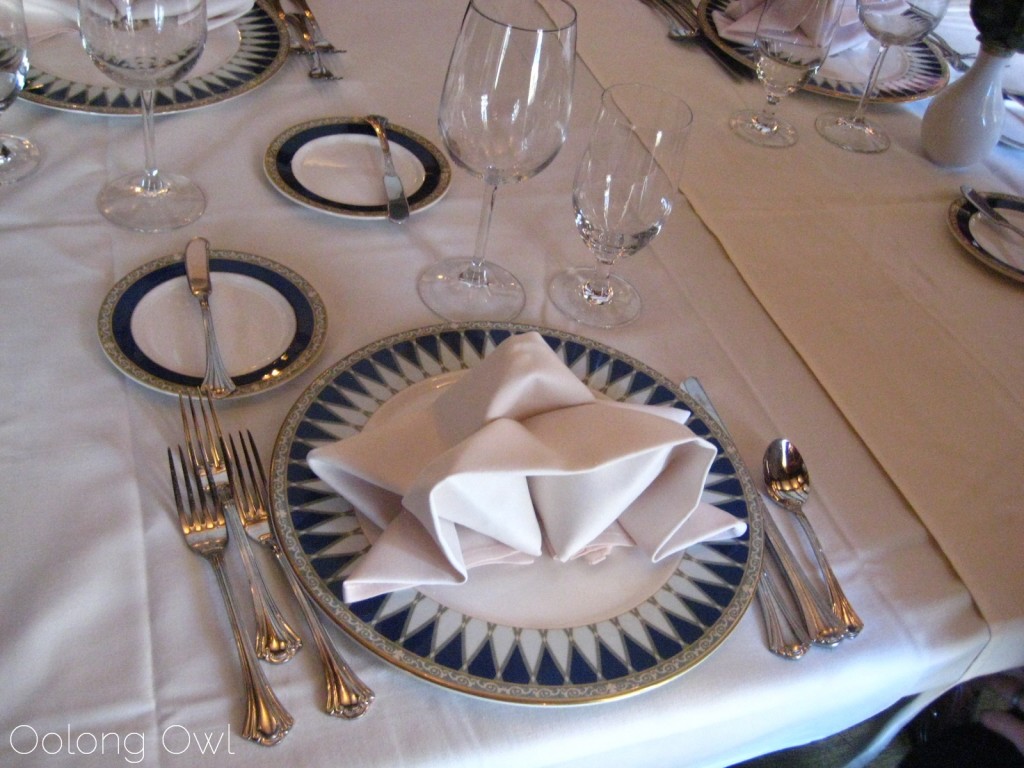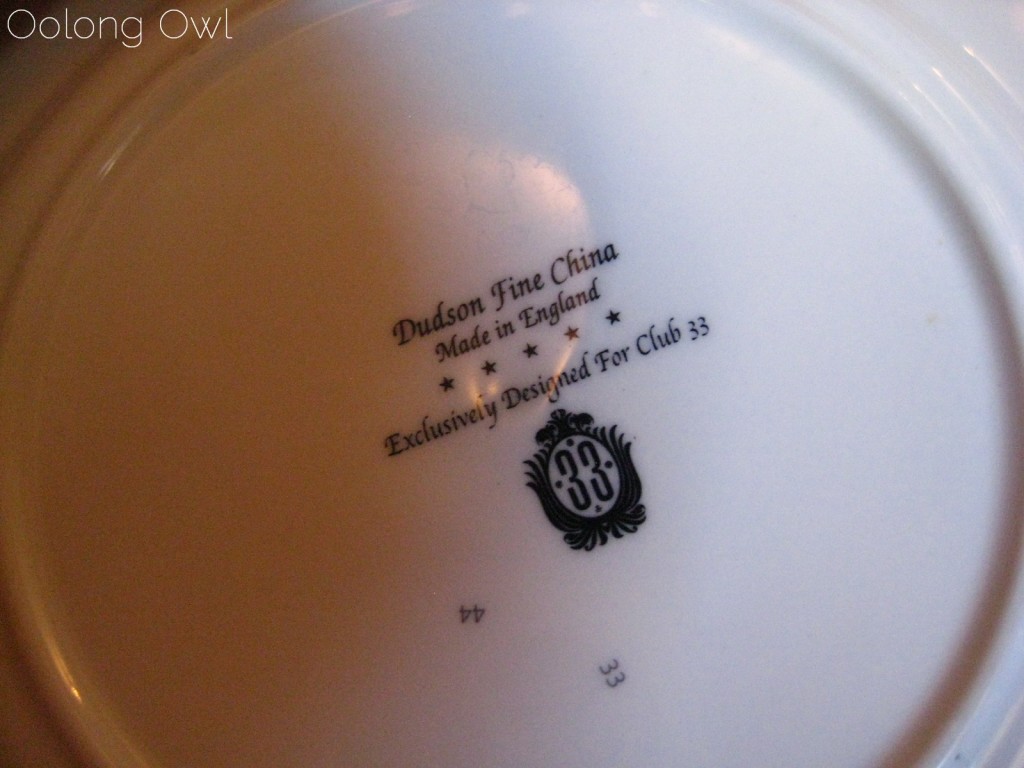 Lunch time! It was a buffet salad set up for the first round.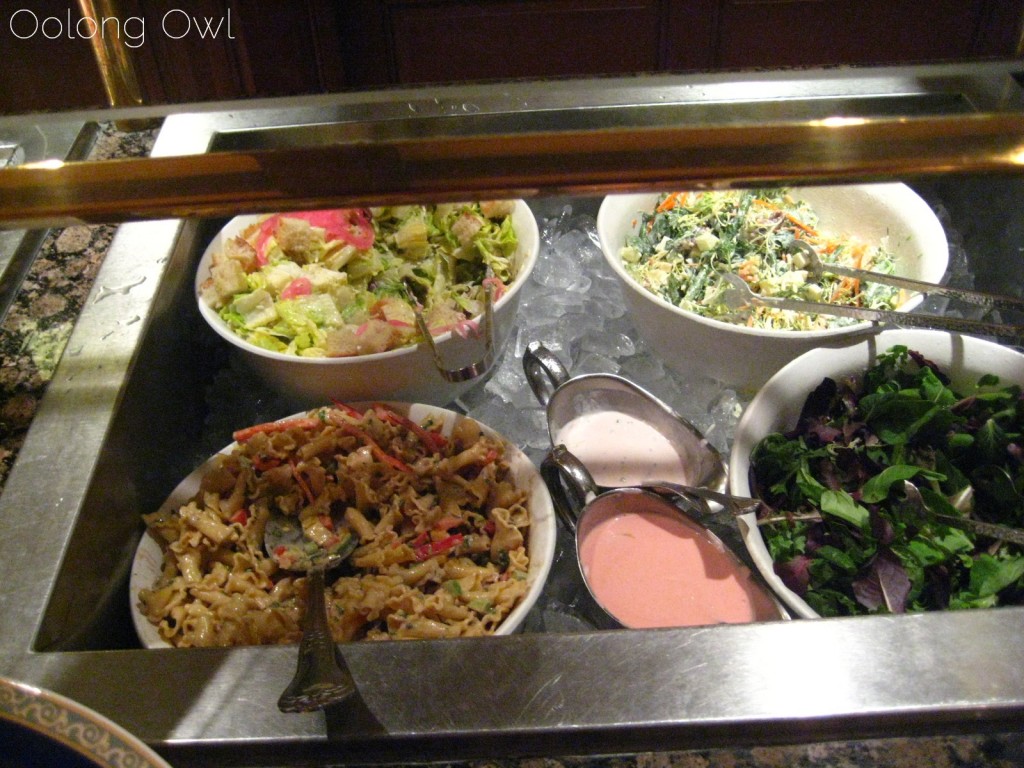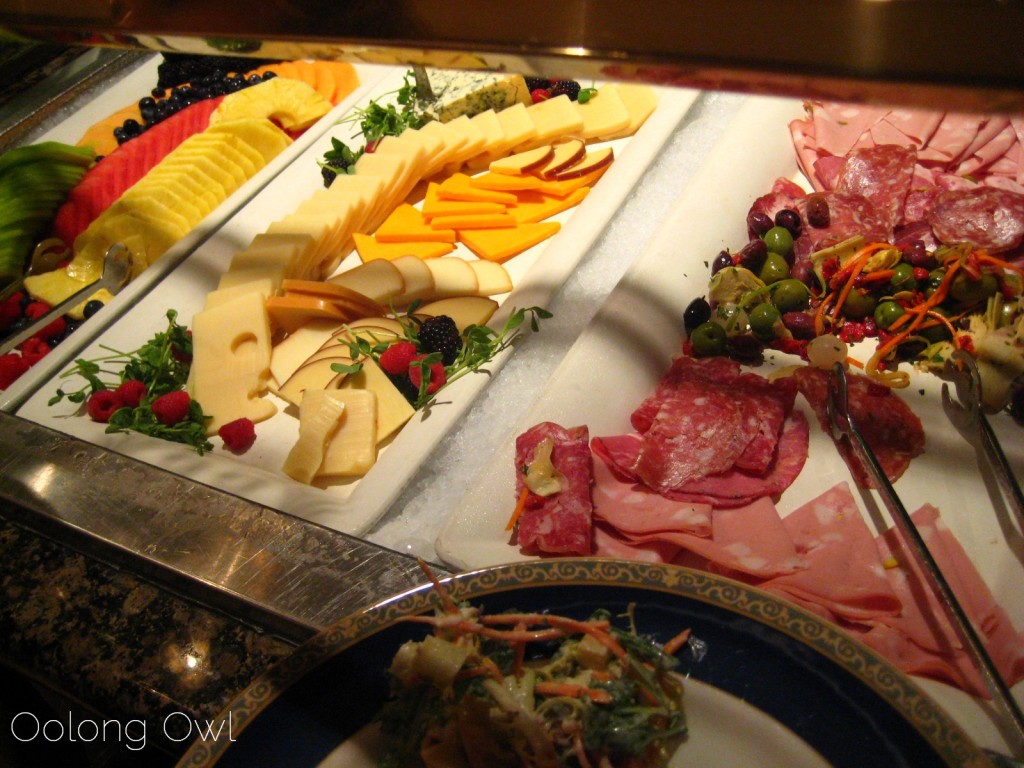 I didn't picture the ICE MOUND full of crab claws, lobsters and shrimp at the end of the buffet. I was too busy spazing over the mini bottles of tabasco sauce.
My salad plate, loaded up: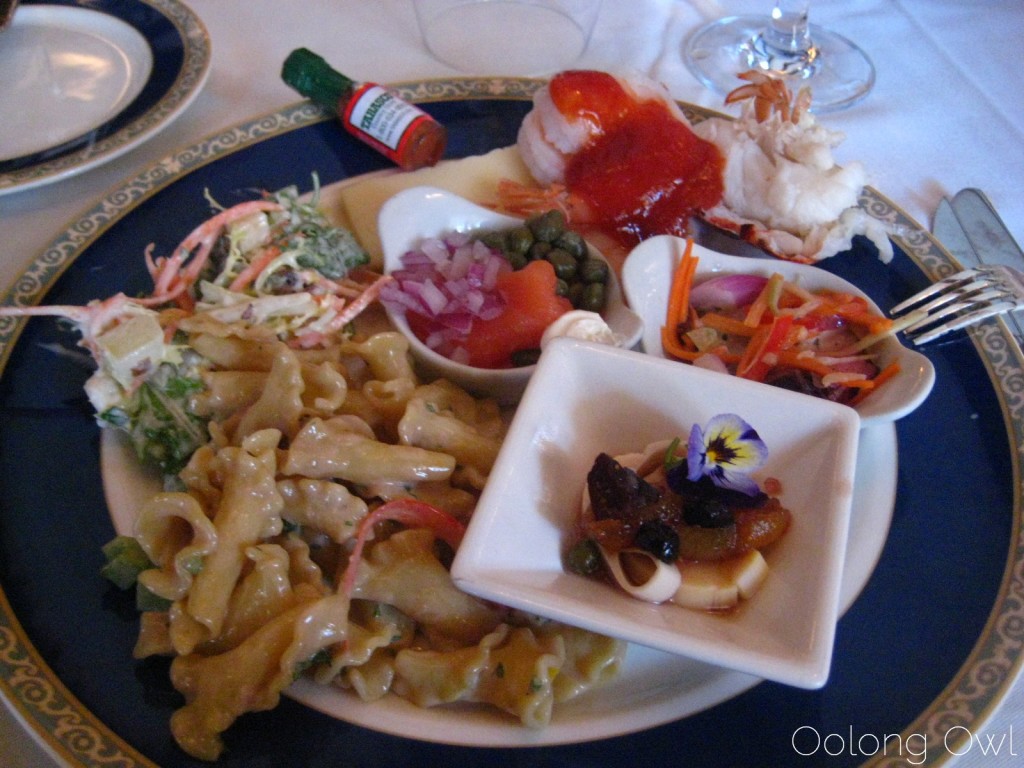 Yum, edible flowers! Very pretty dish!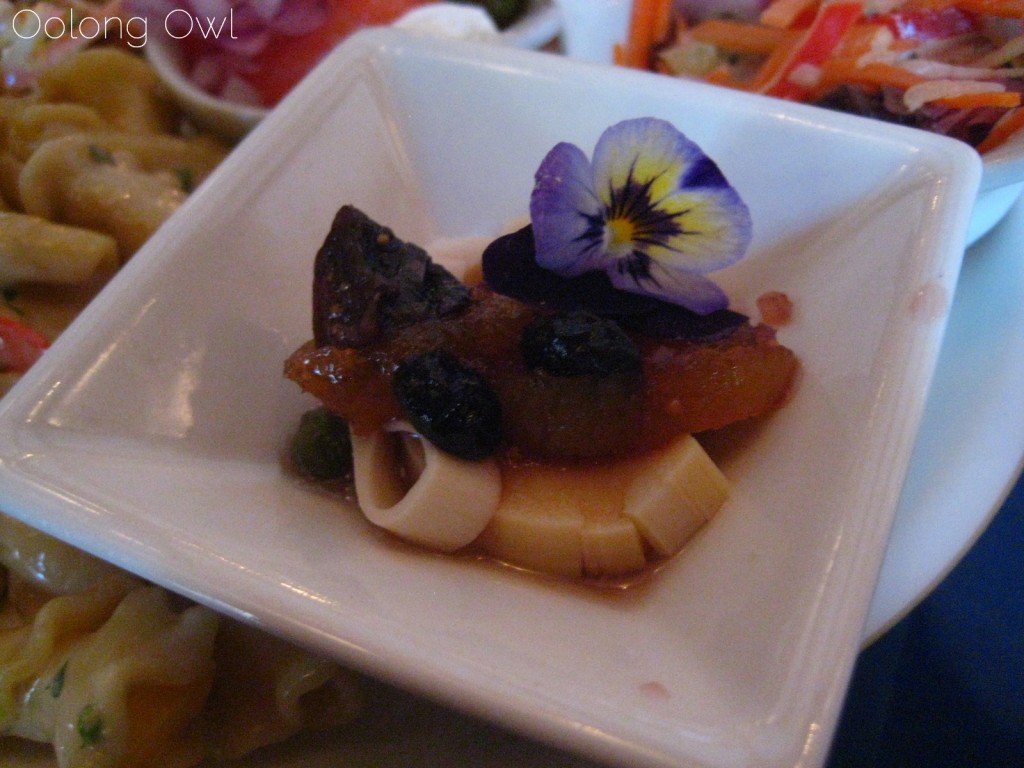 Next course, some salmon. I bet Owly wished he was there.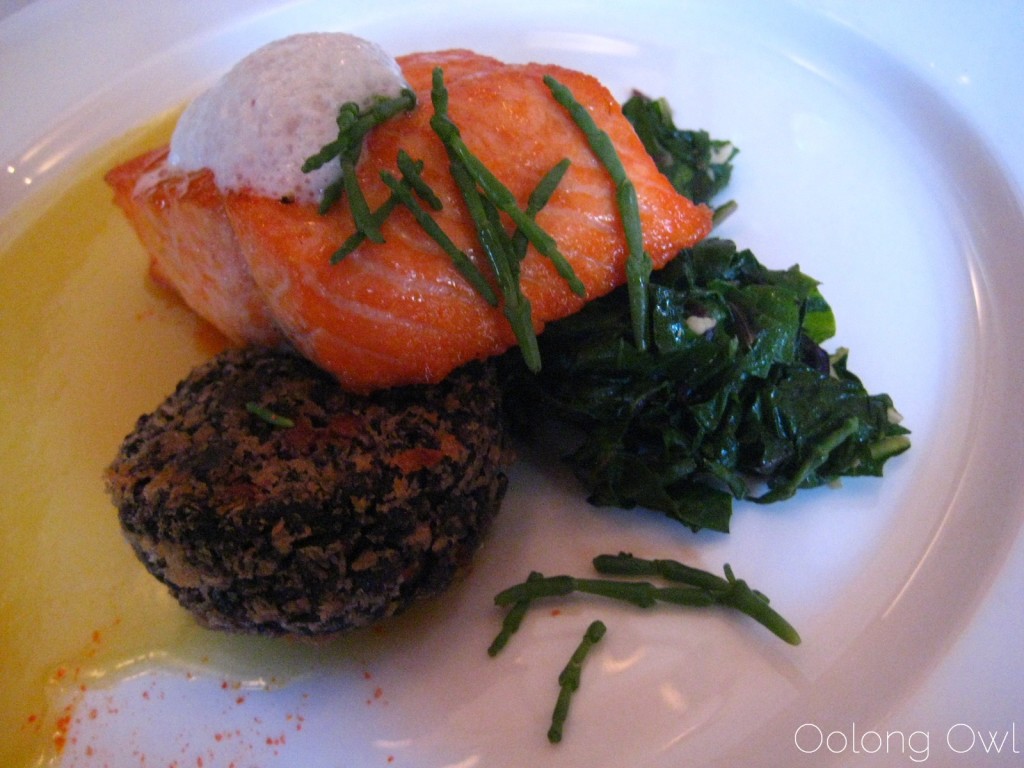 So, I managed to stuff my face and leave room for dessert and tea. I was raised drinking tea helps you eat more. Thinking back, I shouldn't of ate more anyways as I'm paying for it by long jiujitsu sessions and weight lifting.
The dessert bar! OH YES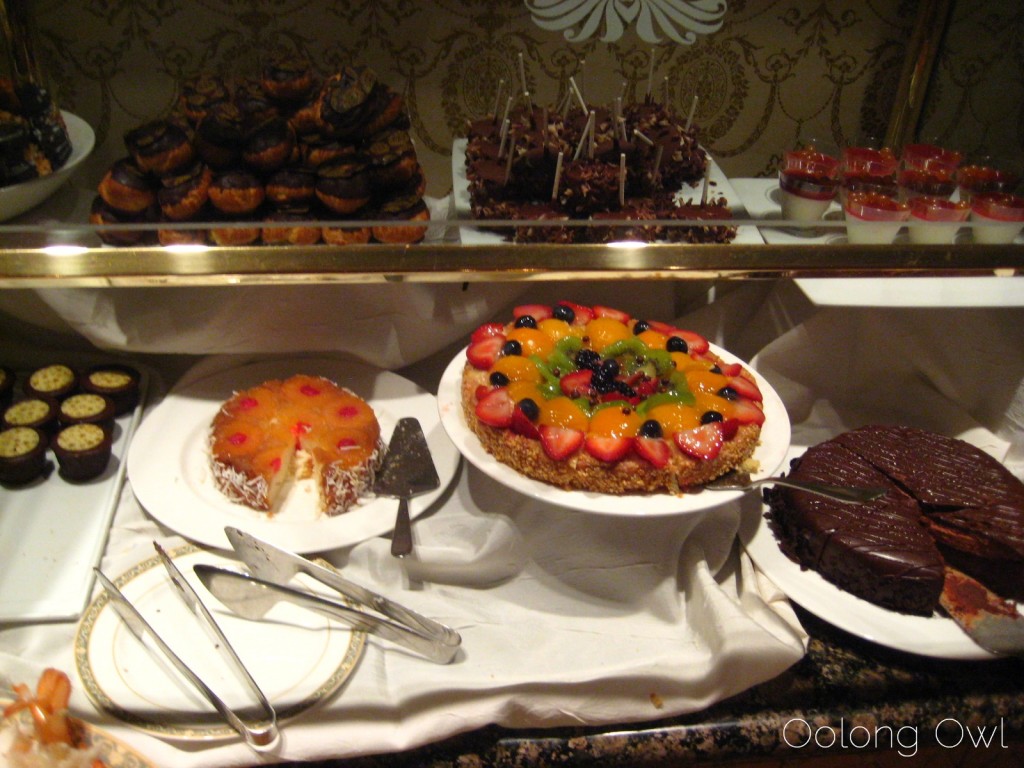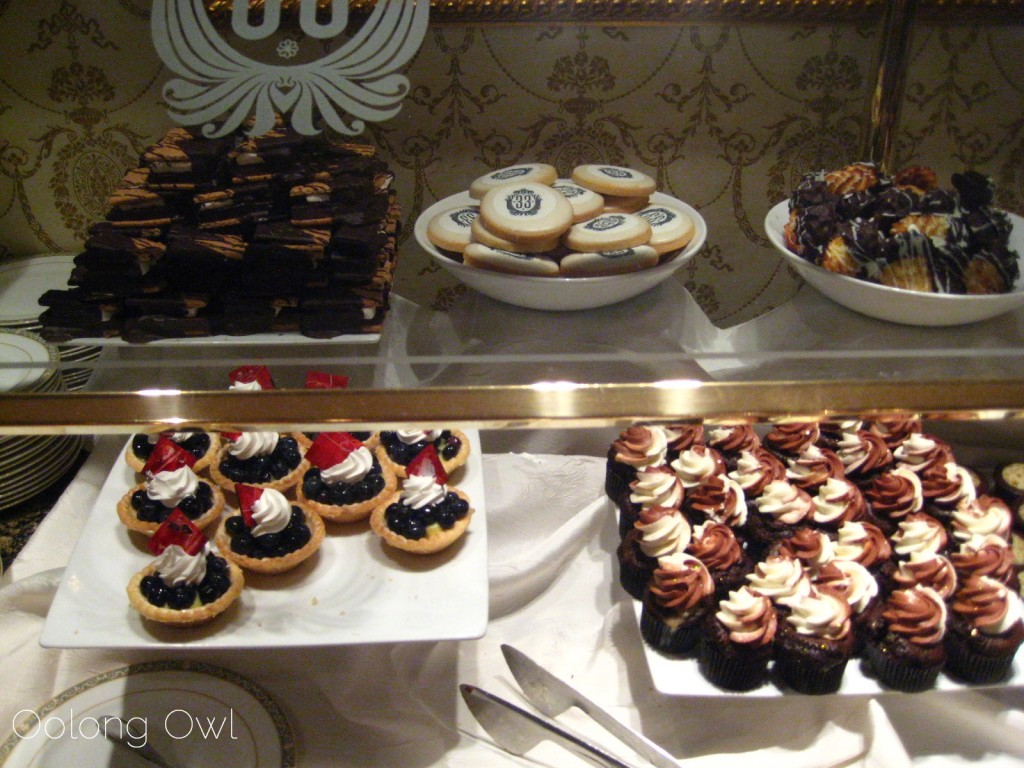 I wish I was able to try everything, but I was too full and really didn't need even more calories. OMG, that chocolate covered thing on a stick was CHEESECAKE! DROOOL.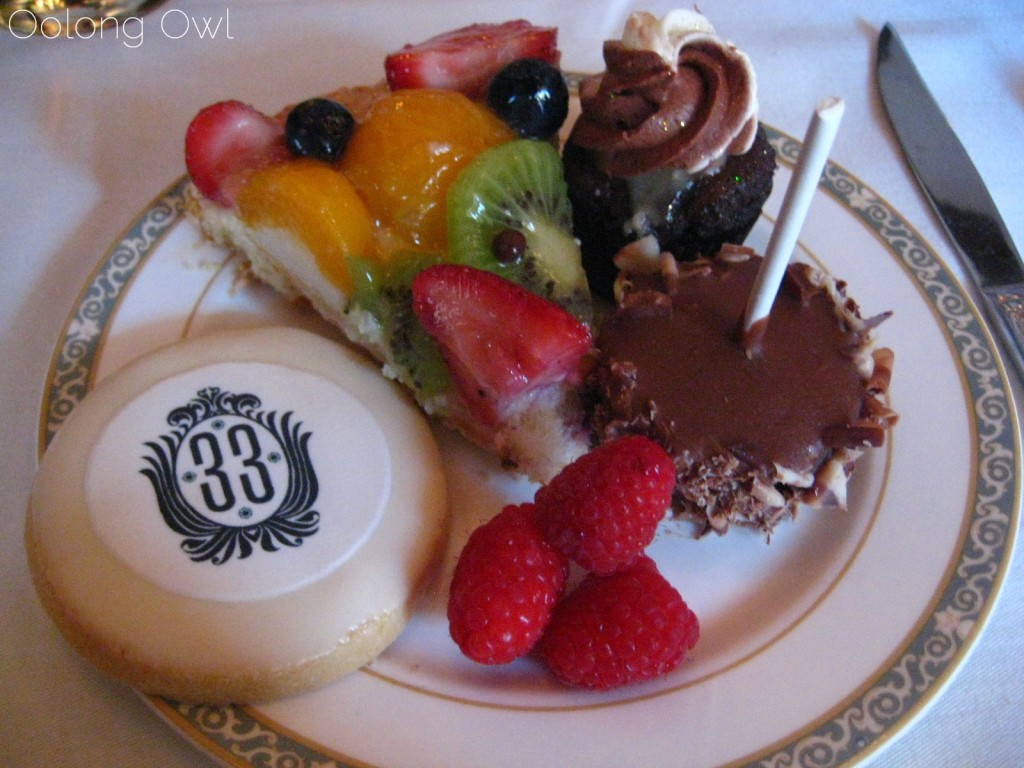 And my cupcake had sparkles! OOOOH!
They were offering coffee at dessert and I asked for tea, which they were happy to serve me instead.
Yes, tea time at Club 33!
The tea pot was gorgeous and matched the Club 33 plates.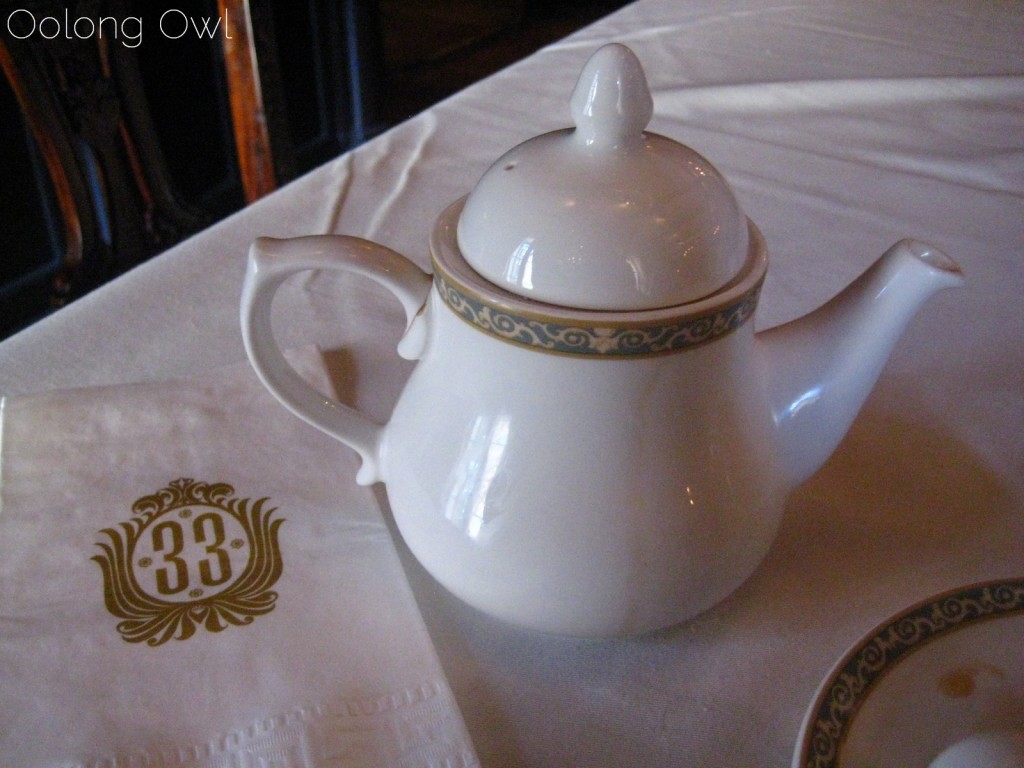 What kind of tea did I get?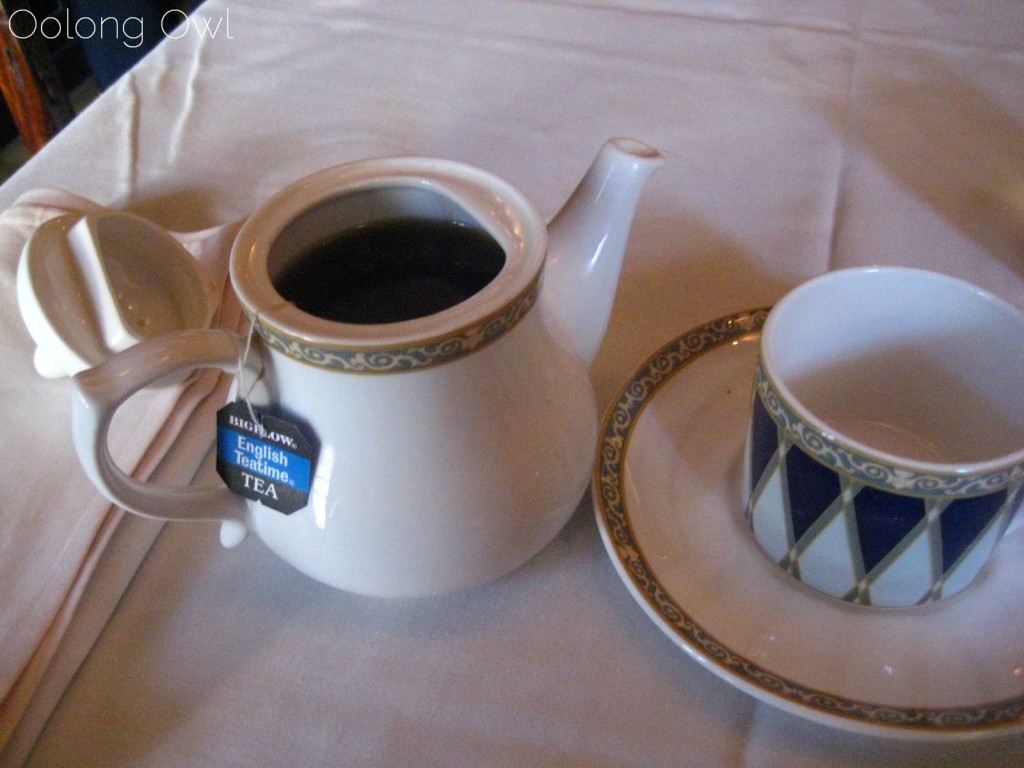 Ummm.. WHAT?!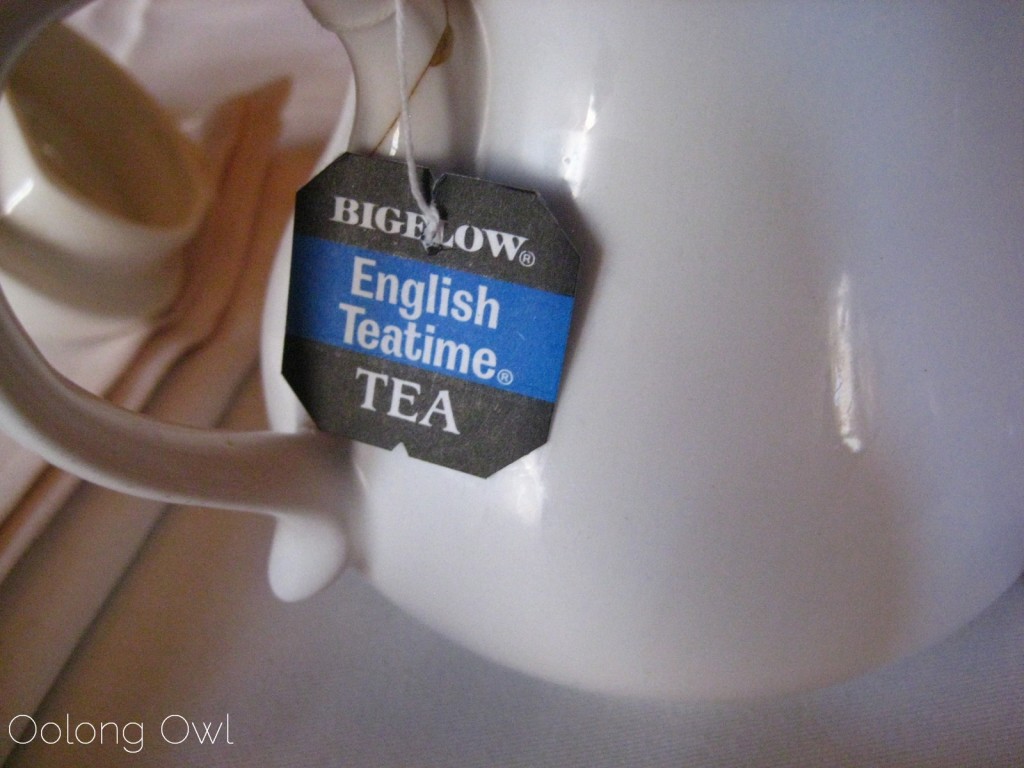 Bigelow tea? This stuff is $2 for a box of 20 tea bags! /crazy tea owl flail
Okay okay, maybe Oolong Owl is a little snooty – I've reviewed dragonwell tea that was picked a month prior to me tasting it, delicious gyokuro greens, but also crazy stuff like Cotton Candy tea. I think I was expecting to be served the Disney Wonderland Tea (though sadly, I only found 2 blends when shopping around the park).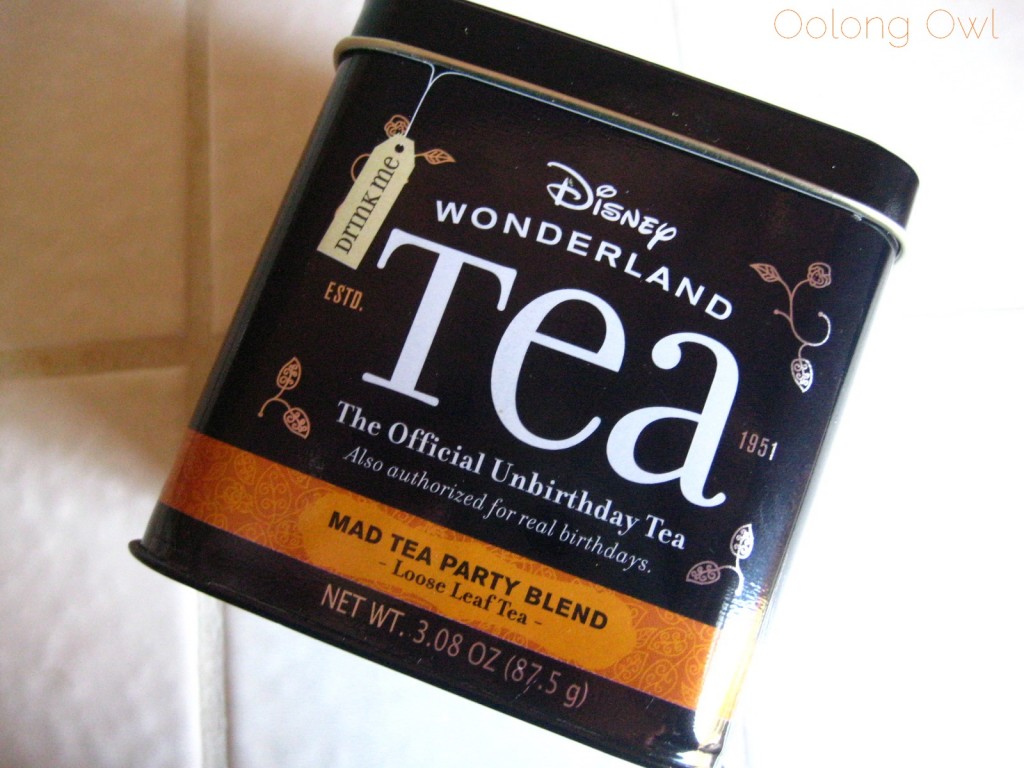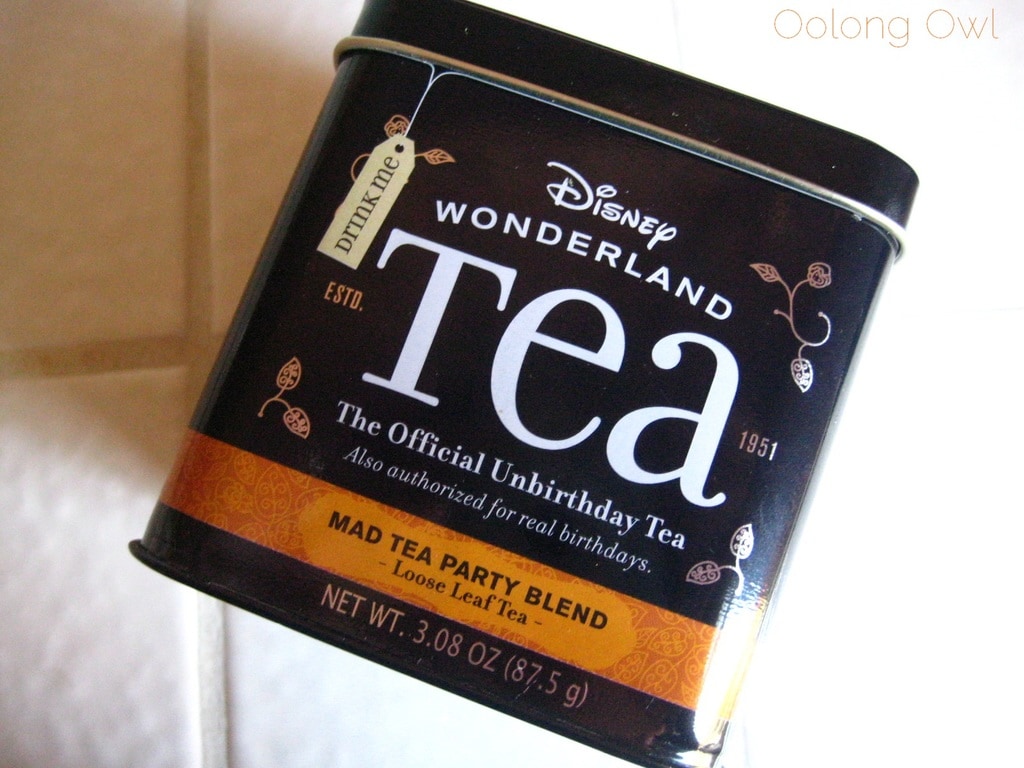 Despite the cheap tea bags, it was steeped wonderfully! However, the tea was on the astringent brisk side with paper tea bag notes. Though I applaud Club 33 for giving me actual boiling water for my tea. Other places I've dined at that served tea to me barely hot, making a crappy pot of tea. I know there's some arguments about serving hot hot coffee or tea, but my stance is I want good tea made correctly with hot water. I will not order lukewarm, tasteless tea to prevent myself from getting burnt.
After having tea, I went to check out the Club 33 swag I could buy. They had items like shirts, hats, mickey mouse ears, key rings, and booze glasses.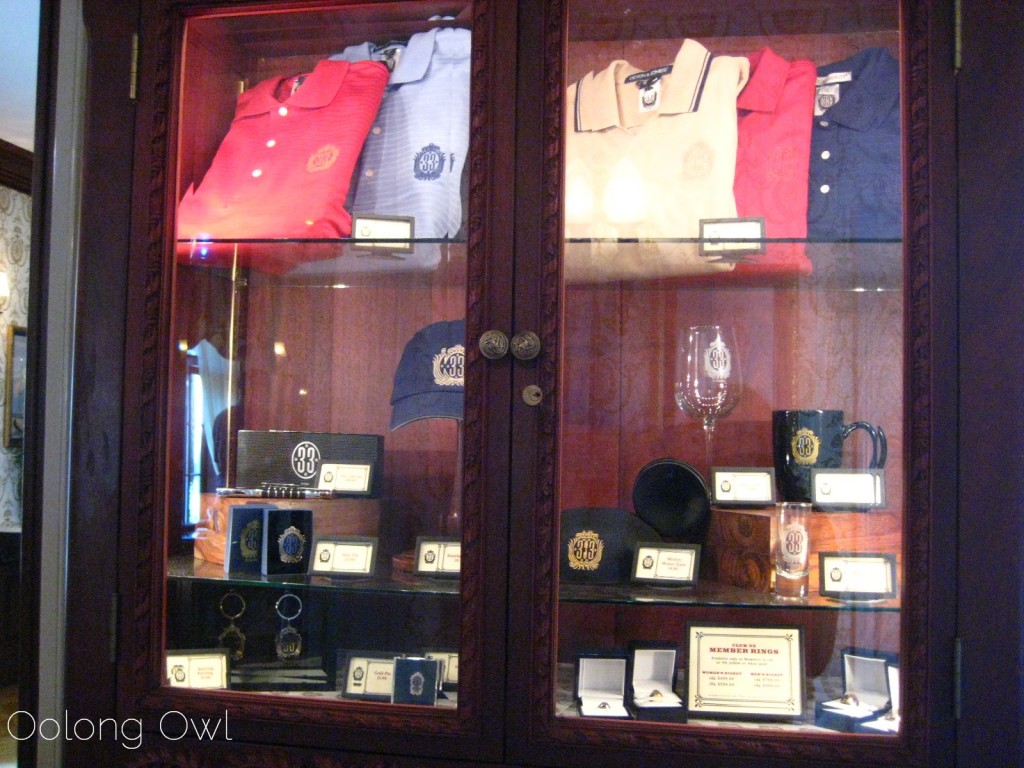 Completely-out-of-my-price-range rings, wow!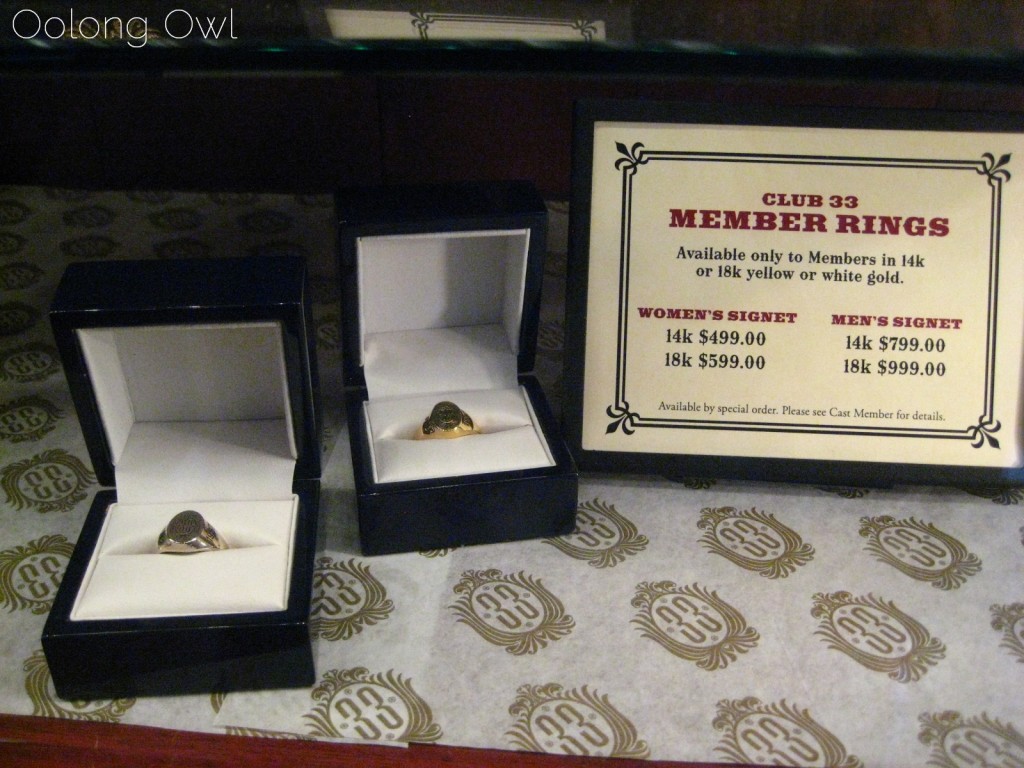 I came home with a Club 33 mug. It's a sleek, simple black mug that I sip out of and remember my Club 33 experience.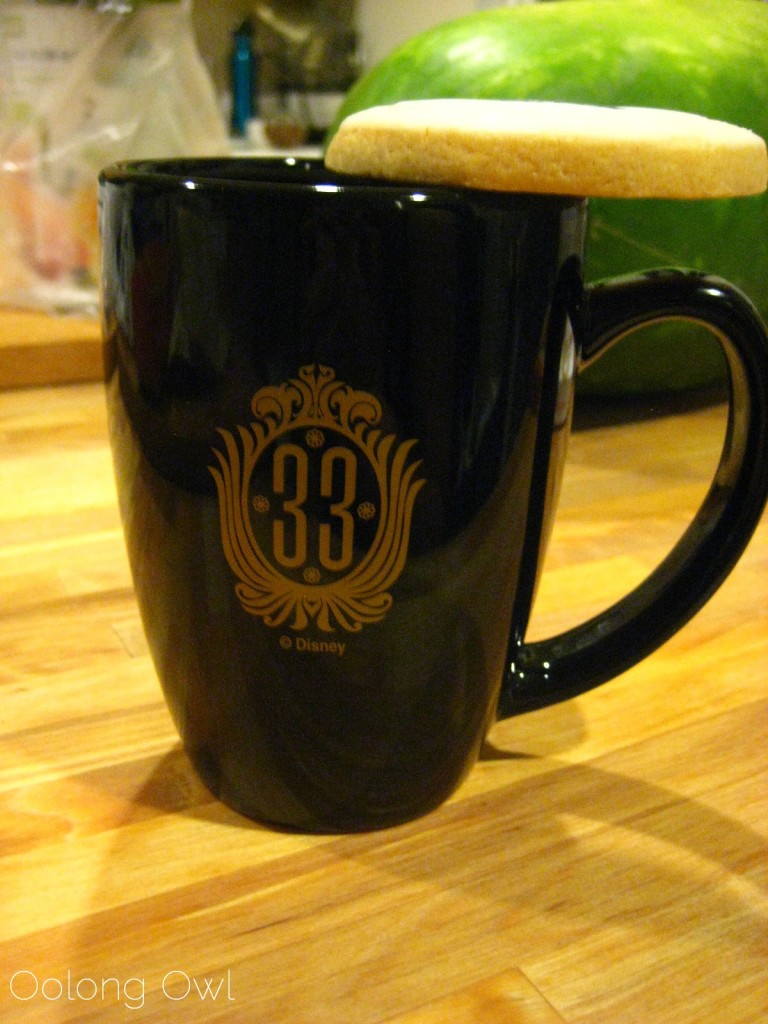 Not included, Club 33 cookie I purse smuggled. I honesty did not purse smuggle anything else!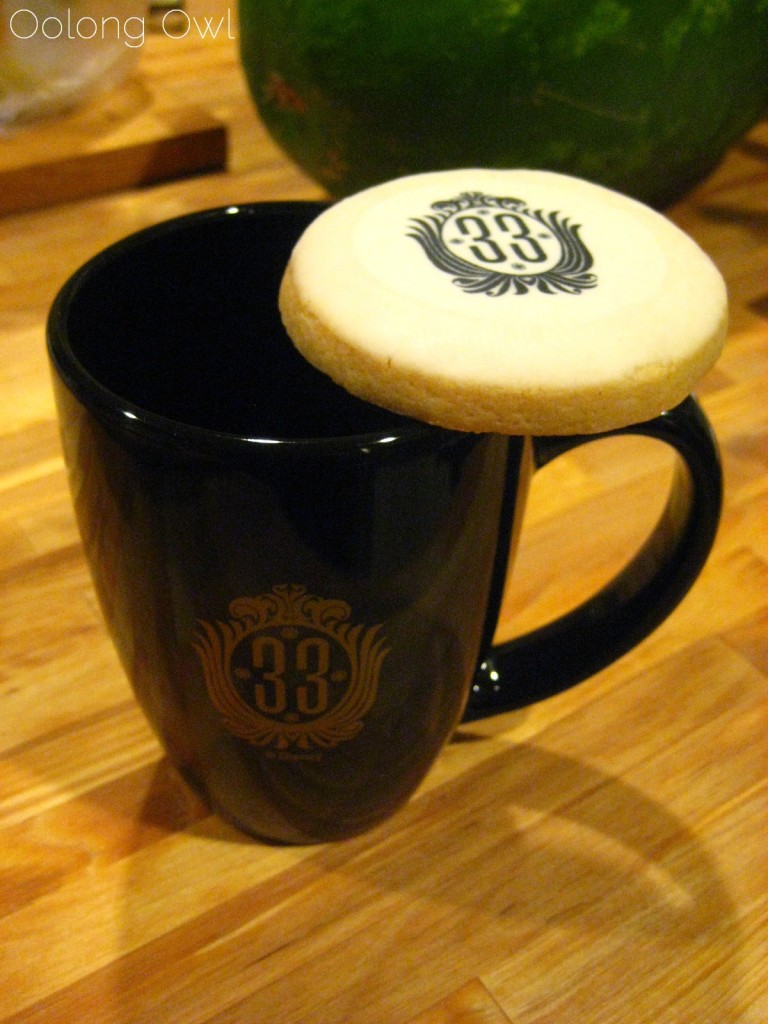 Overall, Disneyland Club 33 was fun to go to. The food was good. The evian was free pouring. It was great to be fancy dined pampered after a morning of crowds, stroller armies, hot weather and standing in lines. This tea owl had a great time eating lots of desserts and sipping tea, though next time I might bring my own tea.
Bonus
The Owl in the dining room, HOOT! I wonder what he thinks about the tea?