I really like Butter Mochi – it is an easy recipe that feeds a crowd. It is also a good dessert to feed guests who have wheat allergies. I have been sitting on a lot of matcha that I cannot possibly humanly consume before it goes bad, so I've been trying to think of ways to use it up. Cooking with matcha tends to use a lot. That said, I experimented by combining my favorite Butter Mochi Recipe and matcha, which came out as a killer combo of  deliciousness.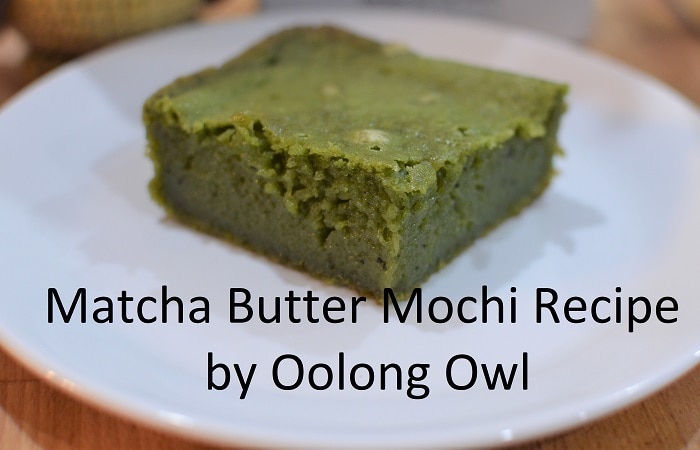 The flavor is grassy matcha, buttery, and sweet. Still slightly warm, the texture is gooey and chewy, with the ends of top being more chew. Whereas eaten cold, matcha butter mochi gives you a really chewy dense texture. I find the edges to be the best as it is a bit crisp and very buttery, similar to a brownie edge.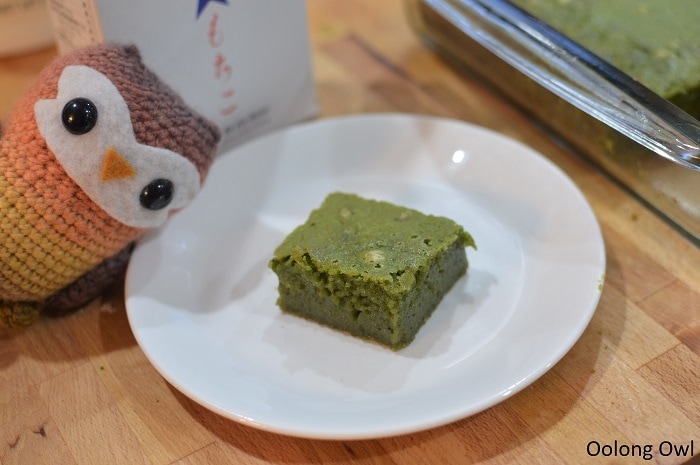 As a warning, if recipe is directly followed, there is a lot of caffeine in this butter mochi! I crammed as much matcha as I could to get a vibrant green butter mochi. I have a pet peeve with many matcha recipes being really skimpy on the matcha. I was wide awake until 5am after eating a few too many squares after dinner.
---
There is 2 special ingredients in this recipe – Matcha (obviously) and Mochiko Sweet Rice Flour.
I used leftover ceremonial matcha. Go ahead and use Culinary Grade matcha, as it is cheaper and all the butter and sugar will mask lower quality matcha flaws. If you need ideas on what matchas to use, check out my Matcha Reviews!
Sweet Rice Flour you can find at any Asian Grocery store. I tend to find them priced at $0.99-$2 a box, cheapest at Japanese grocery stores. If you don't have an Asian grocery store near you, you can find Koda Farm's Mochiko Sweet Rice Four on Amazon.com. There is no substitute for Sweet Rice Flour, especially since you need quite a bit of it and it is what gives the mochi texture.
Making Matcha Butter Mochi is super simple! This recipe is super flexible and hard to mess up, most of the work is just sifting and mixing it all together.
You can skip sifting if you are lazy, but you'll end up with white rice flour lumps like I did, however does not effect the taste that much. However, I highly suggest that you sift AND combine the matcha with a wet ingredient into a paste before adding it to the rest of the ingredients.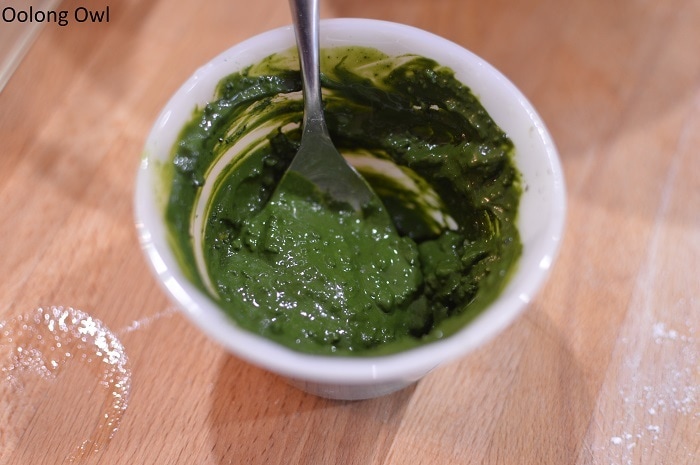 Matcha tends to clump up violently and you do not want to bite into a strong wad of matcha, thus it is very important that you sift and evenly distribute the matcha.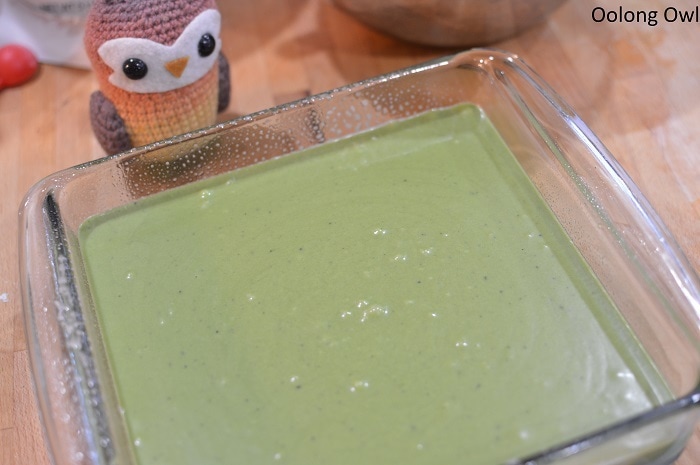 Oolong Owl's Matcha Butter Mochi Recipe
1 x 16 oz box of Mochiko Sweet Rice Four
2 cups of White Sugar
2 teaspoons of Baking Powder
3 cups of milk, room temperature. Cow/Soy/Nut/Coconut/Evaporated Milk in any combination all work well.
4 eggs, beaten, room temperature
2 teaspoons of vanilla
1/2 cup Butter, melted
30 grams/ 1 oz of Matcha. Approx 2 Tablespoons. Drop to 1-1.5 Tablespoons for less matcha pow.
Variation – add 1/2 to 1 cup of shredded coconut, mixed in or sprinkled on top before baking.
Preheat oven to 350F
Grease a 13 x 9 x 2″ pan (or 8 x 8″ if halving recipe)
Sift the box of Mochiko Sweet Rice Flour and Baking Powder. Combine with the sugar. Make a well.
In another bowl, sift Matcha. Add a bit of milk and stir to create a smooth consistent thick paste of matcha. Add the rest of the milk, along with the eggs and vanilla.
Pour the wet ingredients into the dry mix and combine.
Add the melted butter and mix well.
Bake at 350F for 45 – 60 minutes or until golden brown. The edges will start to pull from the sides of the pan.
Cool before serving, or chill till cold in fridge for maximum chewy texture.
This recipe cuts in half well, the example in photos is halved in an 8×8″ pan. I went by weight, using 8oz of sweet rice flour.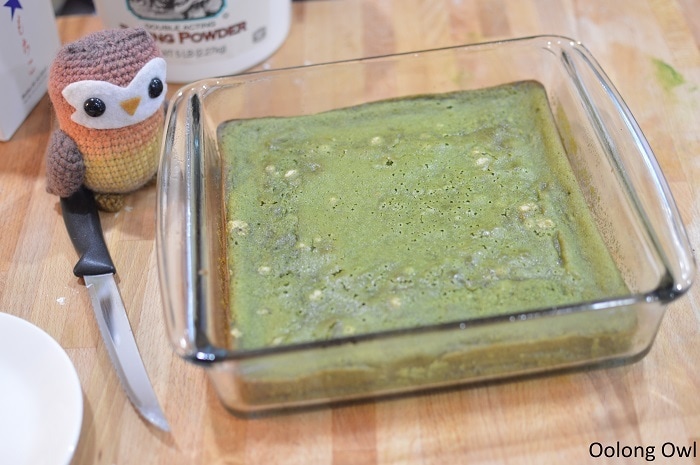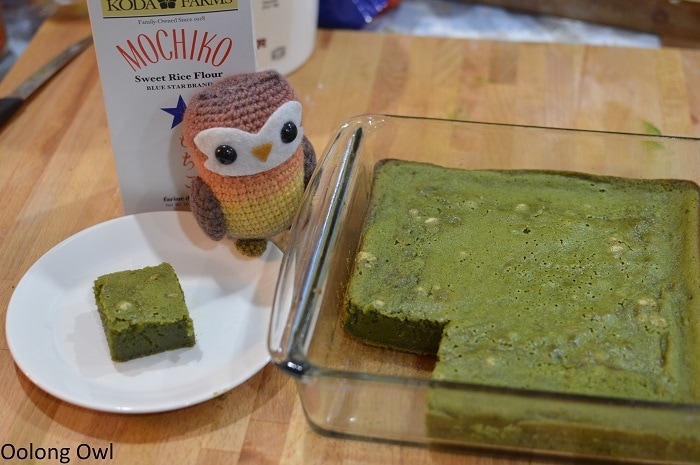 Cooled to room temperature, the matcha butter mochi is soft, lightly chewy, and sticky.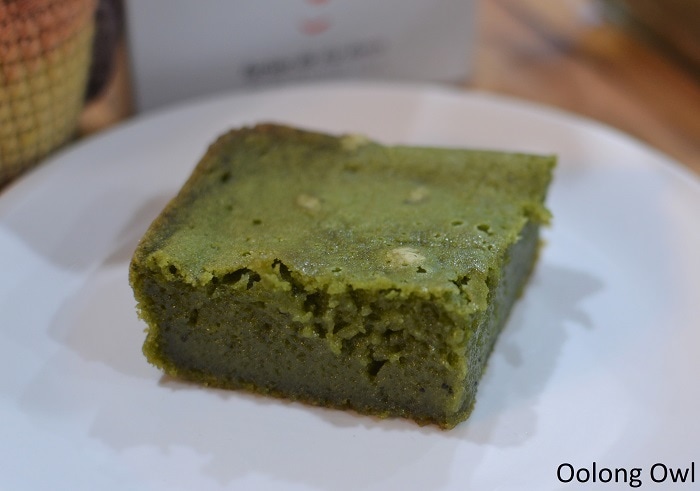 Chilled in the fridge, the matcha butter mochi firms up. It is quite chewy and cuts cleaner. I like both textures, but I find the chilled butter mochi gives a satisfying chew.
If you give this recipe a try please let me know what you think!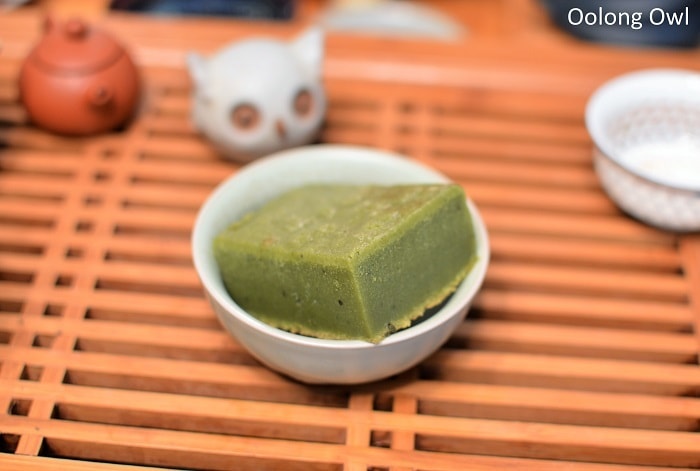 (amazon affiliate links)