This is it – the World Tea Expo 2016 HAUL! I flew down with a half empty (un-expanded) carry on suitcase. I got too much stuff that I had to mail a large flat rate home, plus smuggle in tea that didn't fit in the box in my sweater as the airline were pretty firm on 2 bags only. I also bought something that TSA would of hated.
I shipped my box Friday afternoon at the Las Vegas airport. My box arrived Monday afternoon!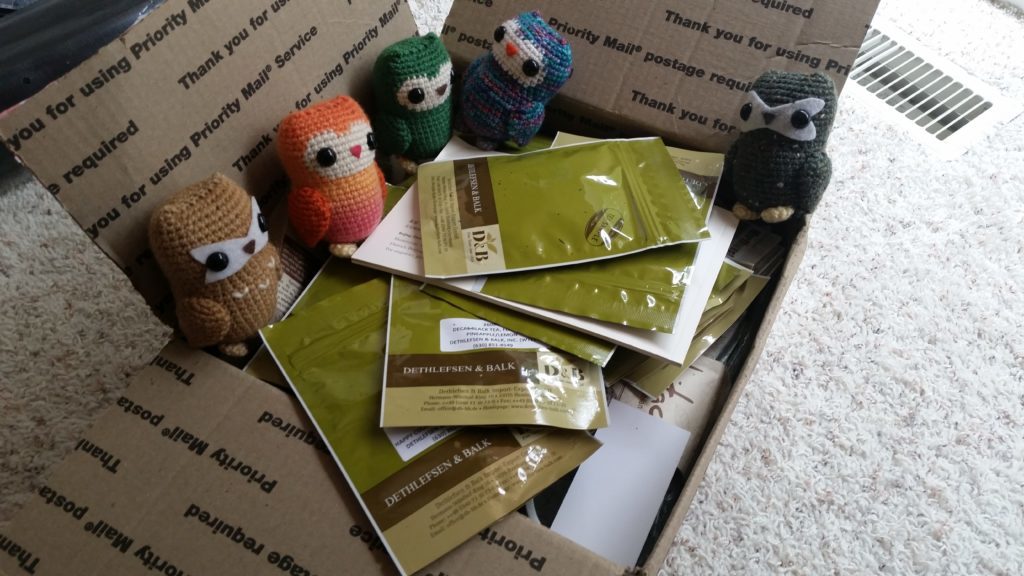 Upon opening… sad owl… something exploded. Upon investigation, a puer pick went stabby and ripped holes in a packet of matcha, two green teas, and a white tea. I was a little mad at the white tea, as it is a good white, but I also own this white so it wasn't too much of a loss. There is matcha EVERYWHERE. I spent awhile mopping up matcha off packets, and I got green dust in each page of the books. Anyways, time to haul!
Freebies
Books – they always give you a big World Tea Expo book, which has the write up of each vendor, maps, and classes. Tea Time and Fresh Cup was there giving away free copies of their magazine. I should really subscribe to Tea Time magazine, I really like their recipes.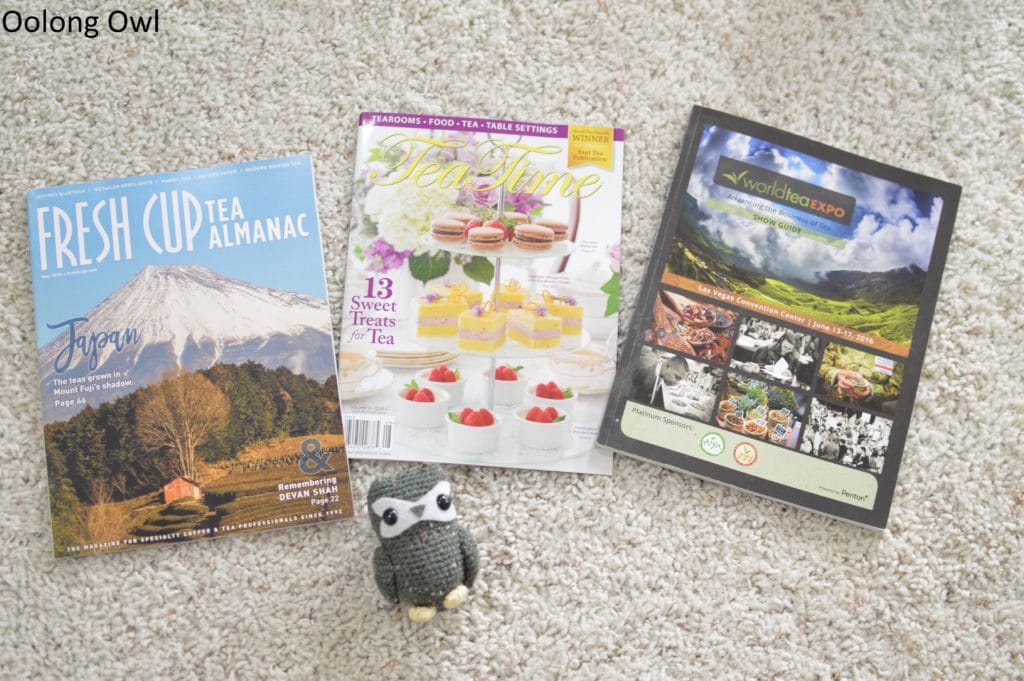 Mega samples – I had to stand on a ladder to get this photo!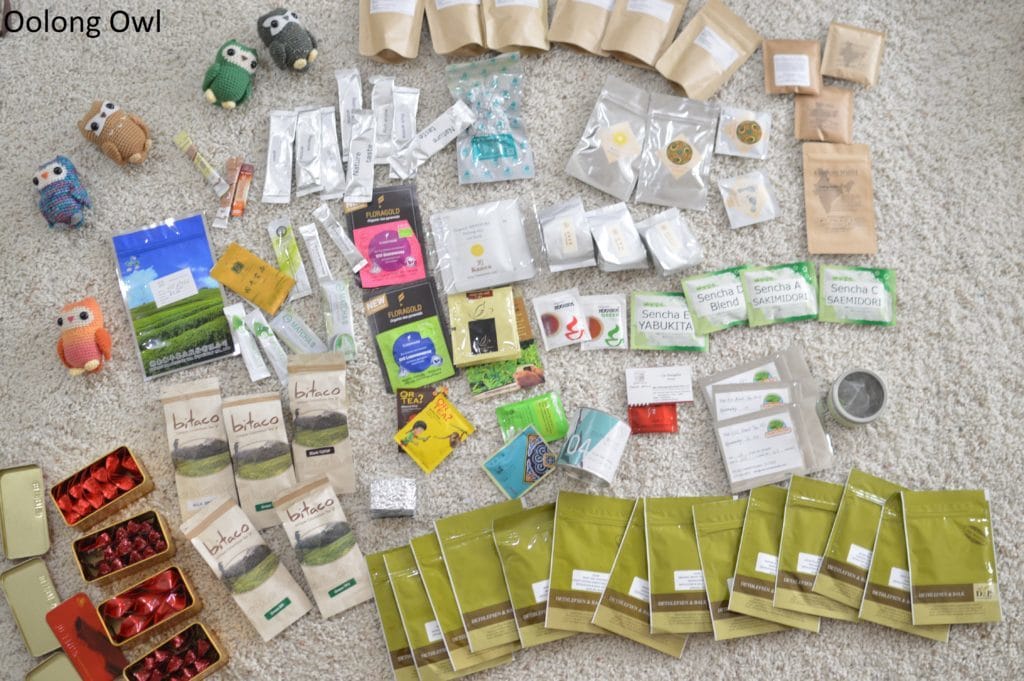 Enhance! The red tins are all TanYang black teas from a seller that only does Fuijian TanYangs.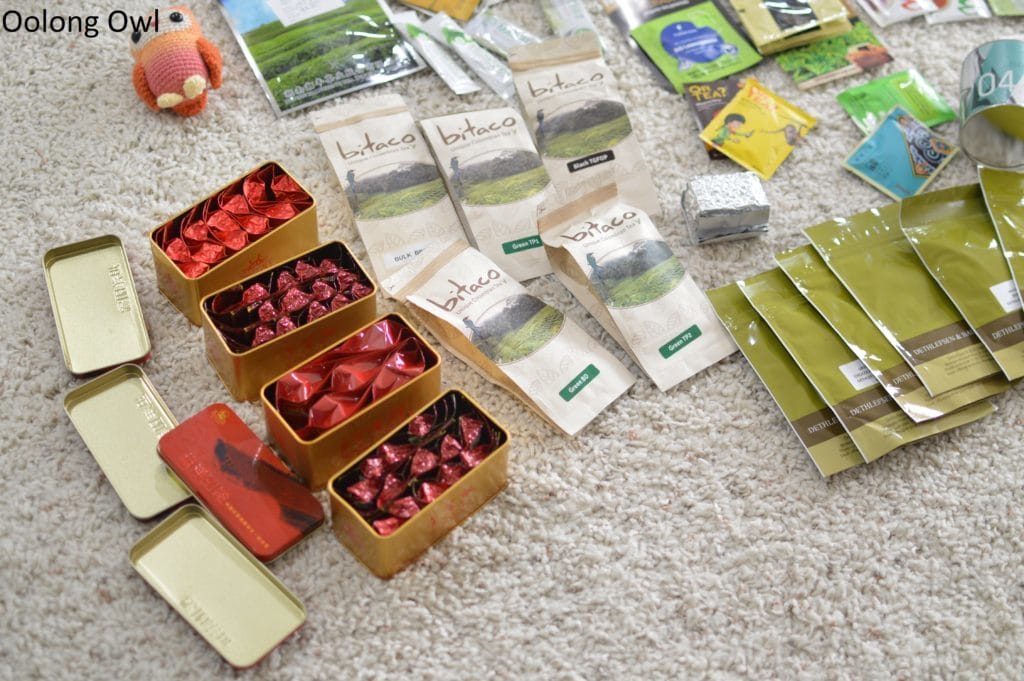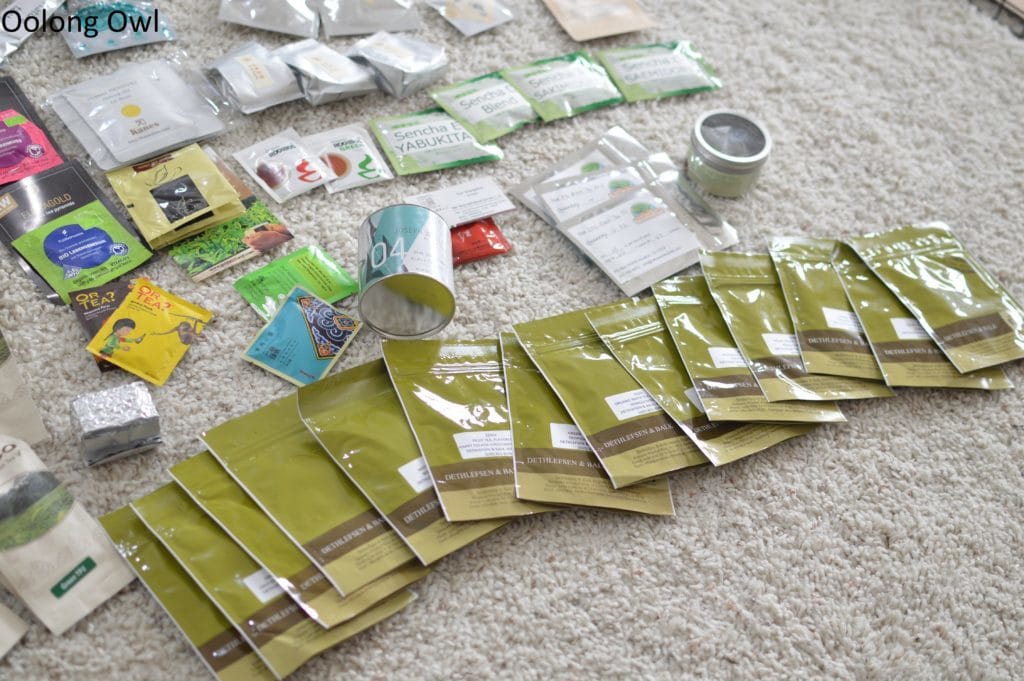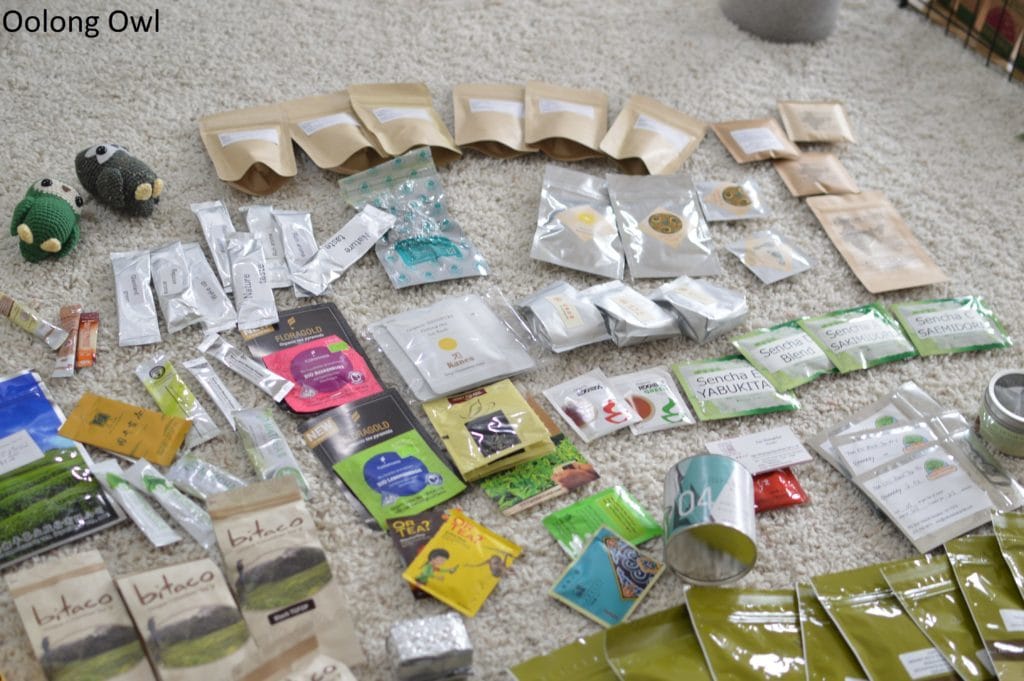 Samples this year were pretty generous. It seemed less "single tea bag" samples and more so little packets of loose. I think the loose packets are better – a tea bag isn't a great tasting if you plan to buy the loose. Expect some reviews of Bitaco, Dethlefsen & Balk, Cameron Taiwan Tea, Joseph Wesley and more!
Generous Freebies and Tea ware
I missed out the on official World Tea Expo cup. I did get a ITI cup at one of their talks. I got a mug from Tea Source (hey Tea Source, bring the MEGA heicha log next year!). Summus Tea was very generous and gave me a couple brew bottles and a tin of their Oriental Beauty and Ruby Oolong.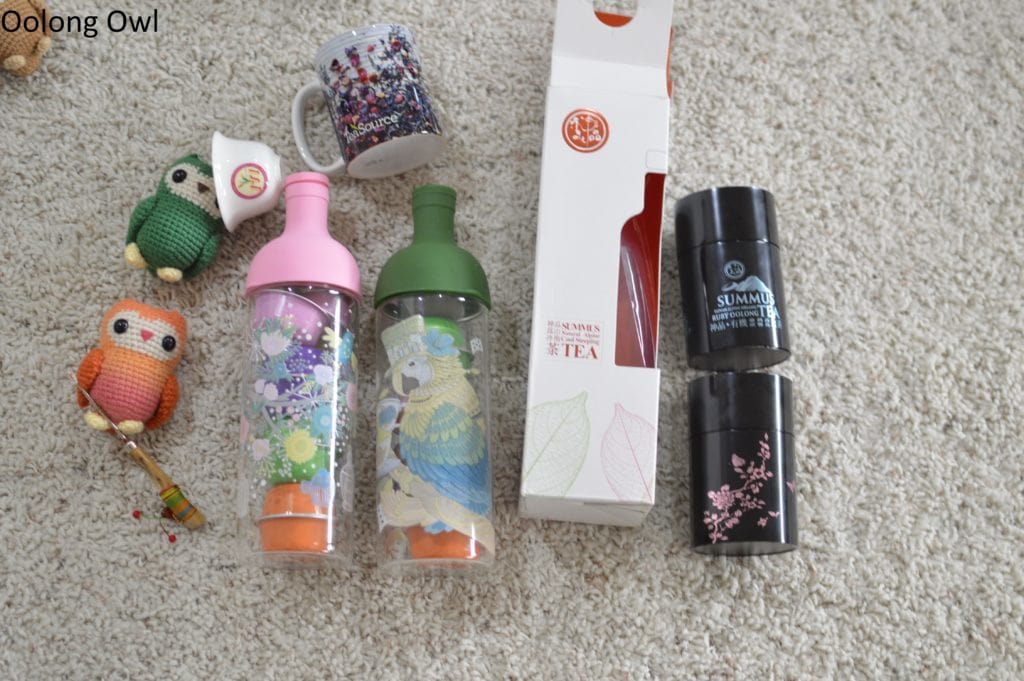 Damn you puer pick! This is the one that went stabby in my box! This one was from Denong Tea Company.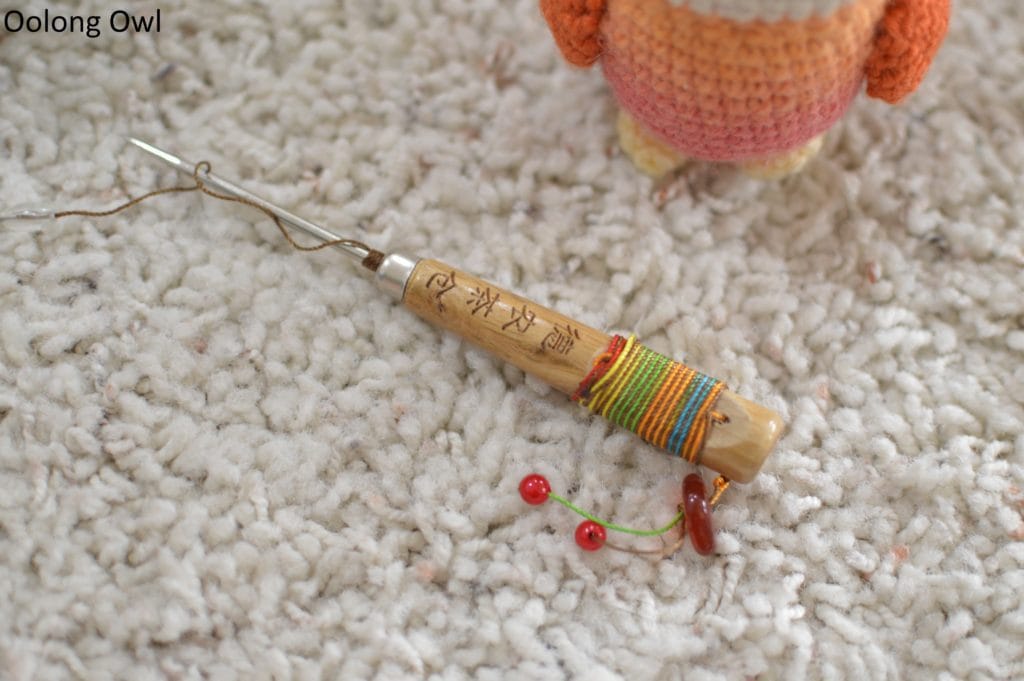 Purchases
It is not surprising what I bought as I only got teaware, oolong, and puer.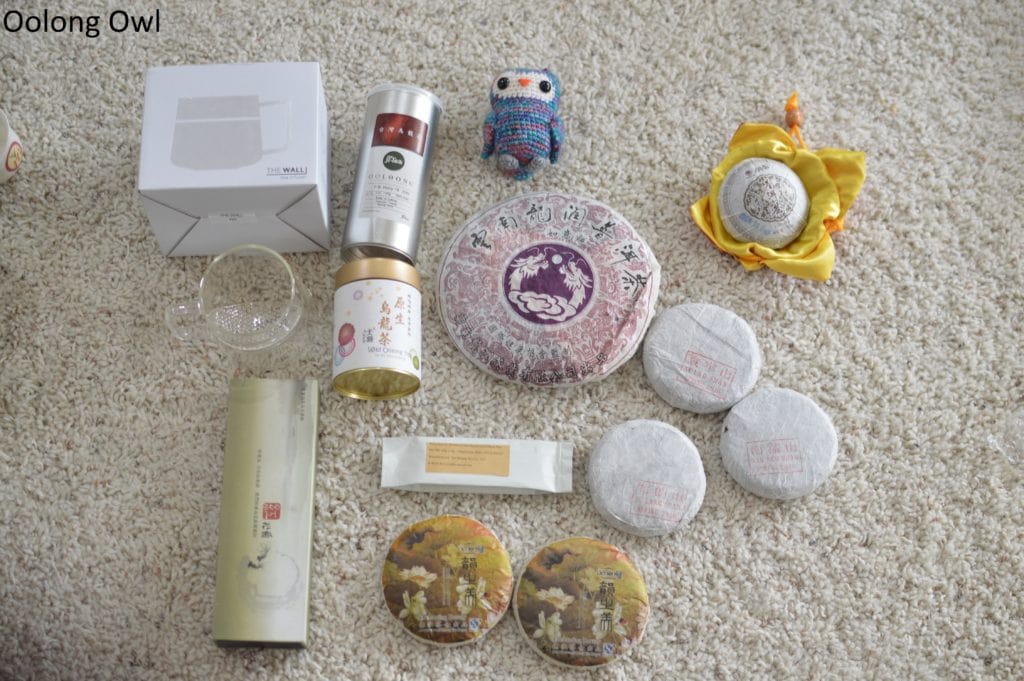 I can't remember who I bought this from. It was on sample and it tasted so unique I bought a tin.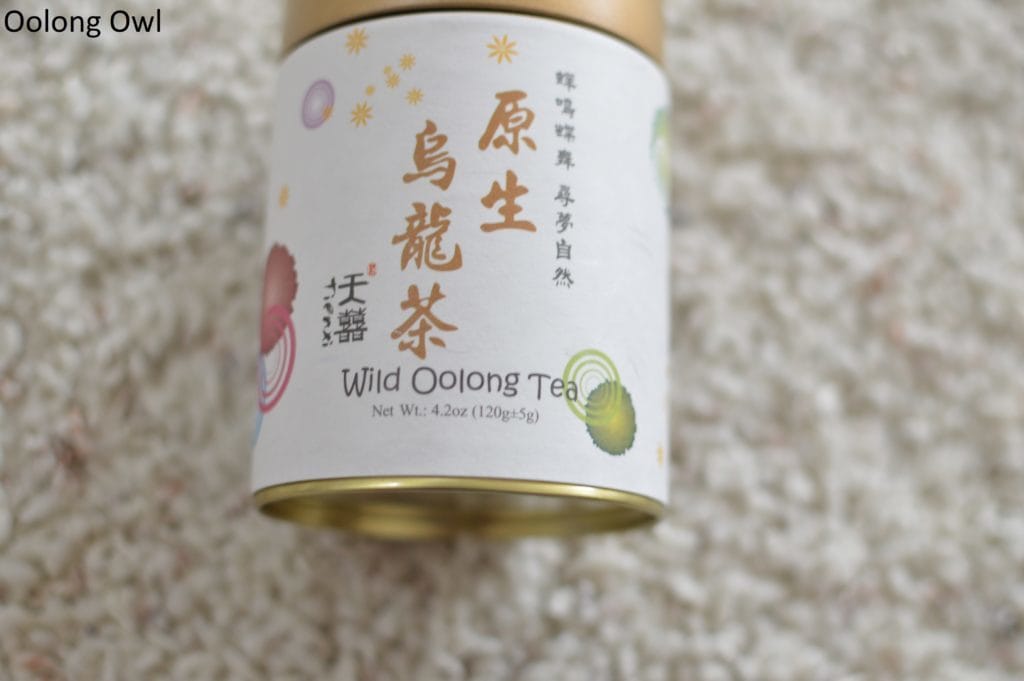 Ruby 18… I've been on a now not-so-secret quest on buying lots of Ruby 18s. I snagged a tin of RB Ruby 18 from JT&Tea, as well as a sample of another Ruby from another seller.
Of course, I bought puer. I snagged Ai Lao Shan, Bu Lang, and Nan Nuo Shan 2016 Spring 100g shengs from Royal Tea New York.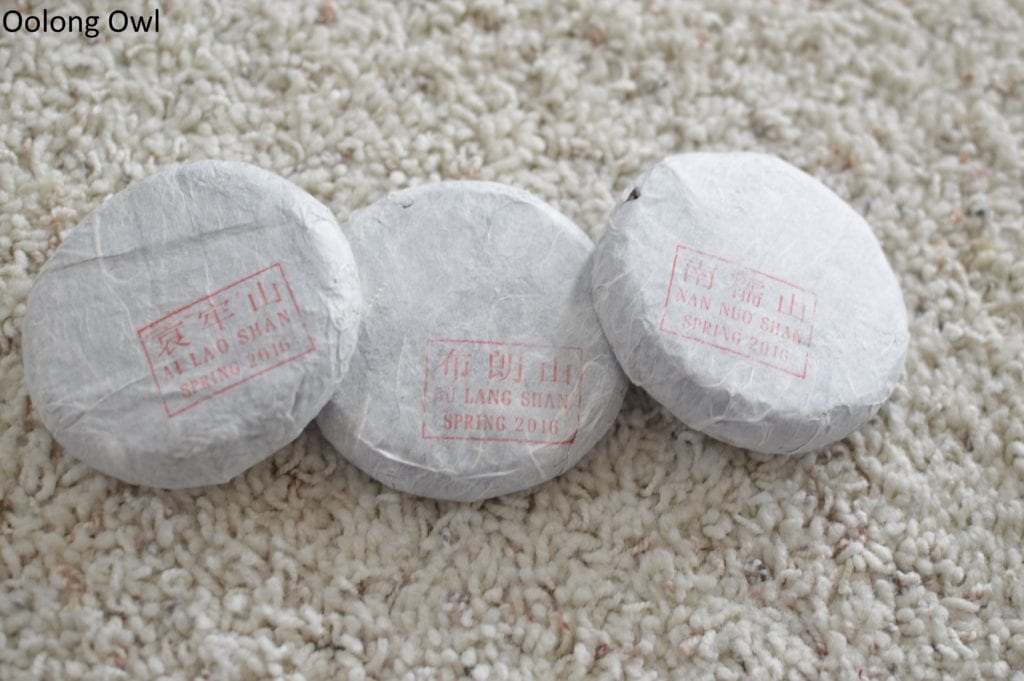 These are from LongRun tea. I'm a little confused on the pressings. The small tuo was told to be a 2007 shou, but it is stamped at 2012. The 357g cake is a 2005 shou, but they said it is actually older. They had bought a factory and rewrapped it, but they had to date it at the time of wrapping, so it is likely a few years older.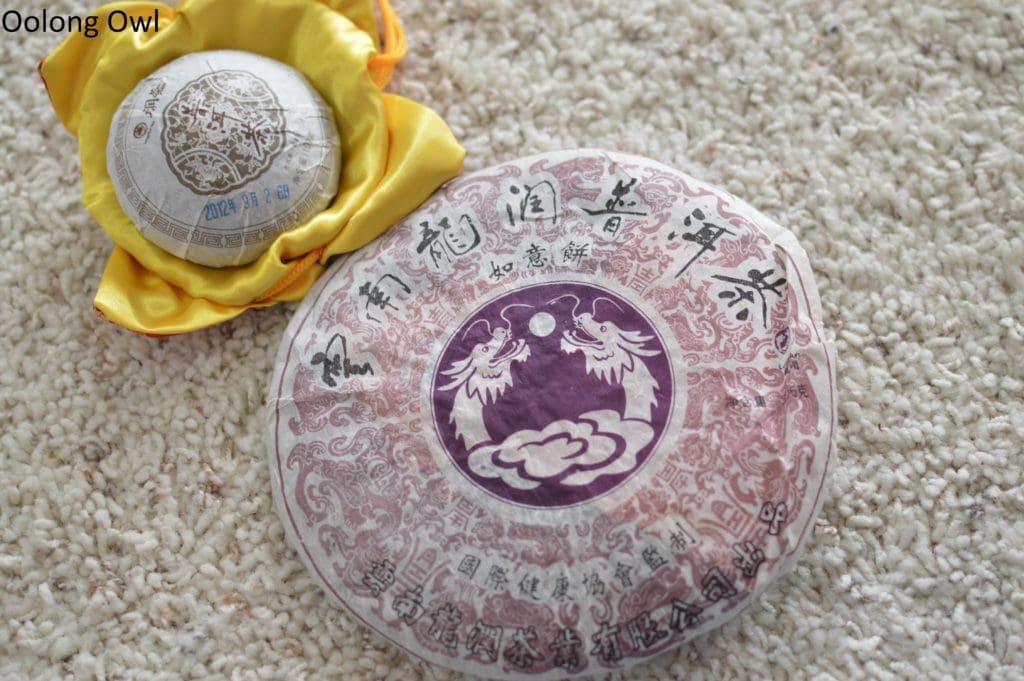 I got a couple Enchanting Beauty sheng cakes from Denong Tea Company. I went in looking for shou, came out with sheng. This little cake was good enough for me to buy more than one! If I didn't buy that 2005 from LongRun, I would of splurged on their 30 year ripe, which was also great.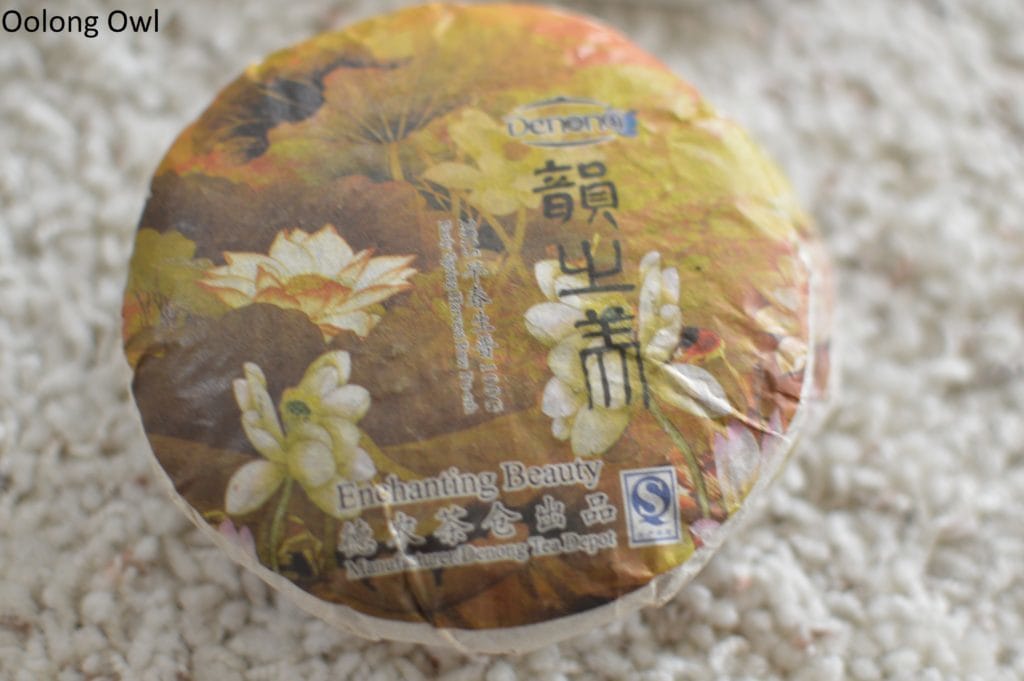 Like I said in a few posts, I got The Wall tea infuser by Boreal Wildcraft. I bought it purely on it being left handed.
I've used it a couple times already and love it!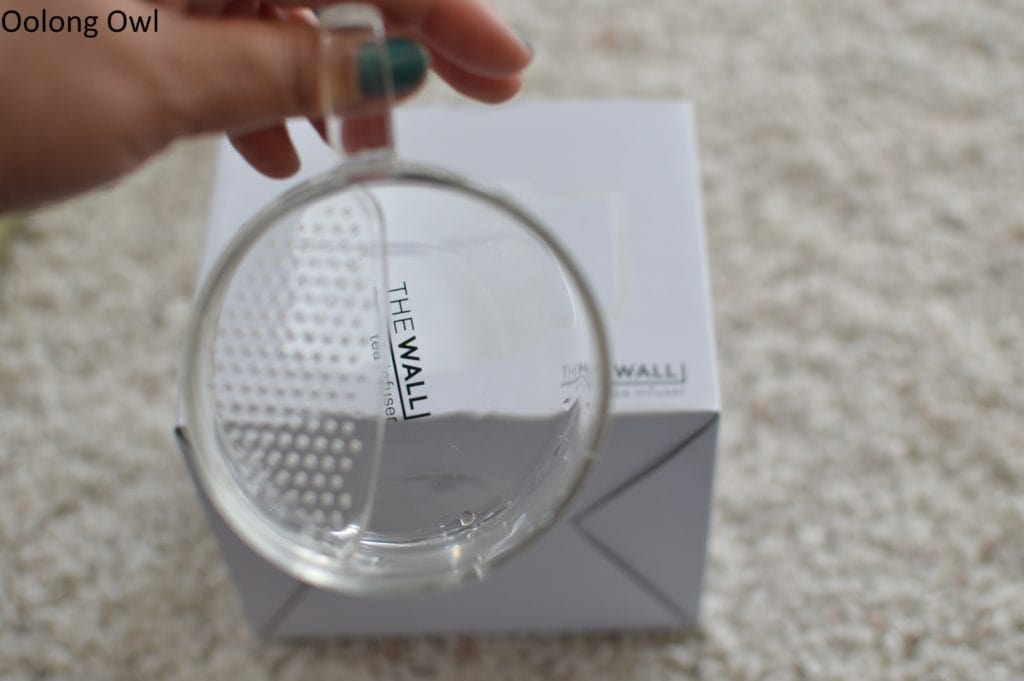 Oooh. What is in here?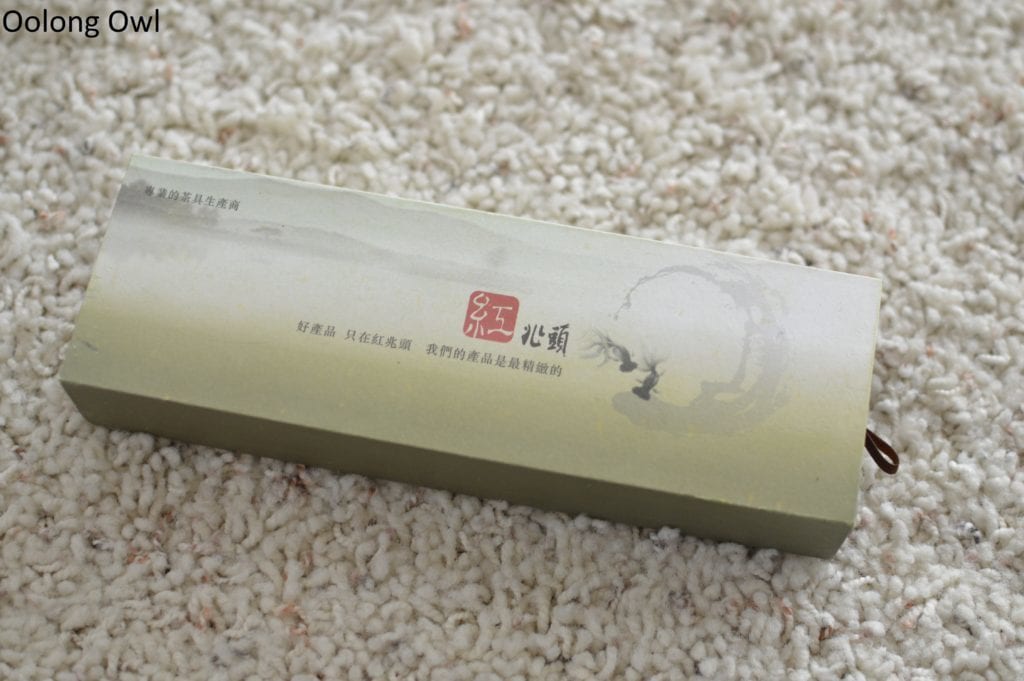 This is a carved puer pick. It is actually a part of a seasonal set of 4 – this one is Winter. The wood smells lovely and I love the twisting branches up the handle. I like how the tip is flat.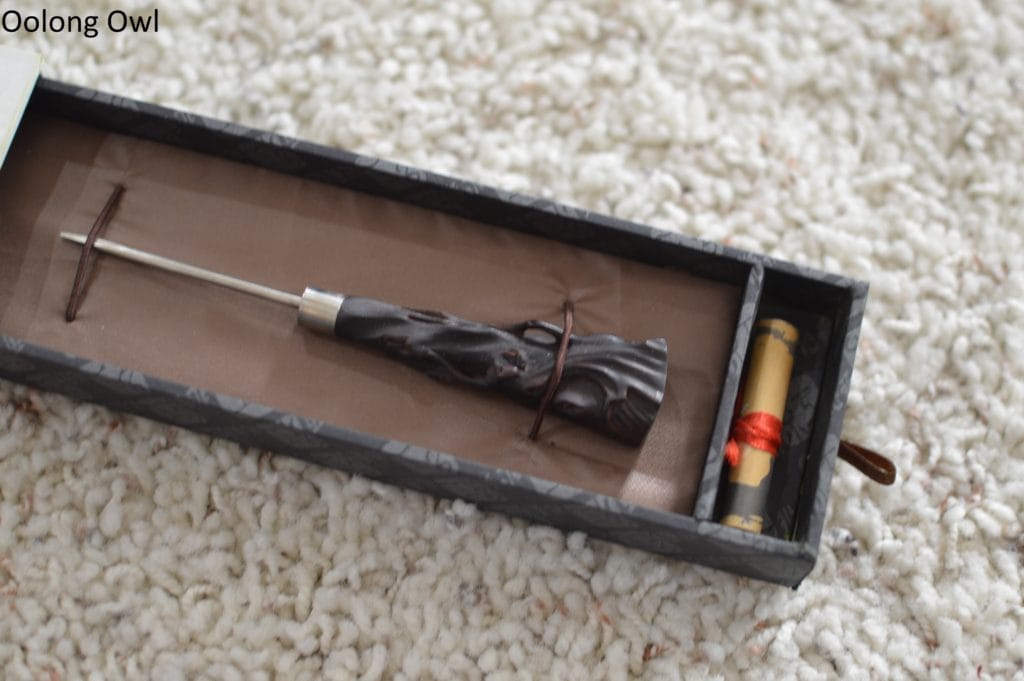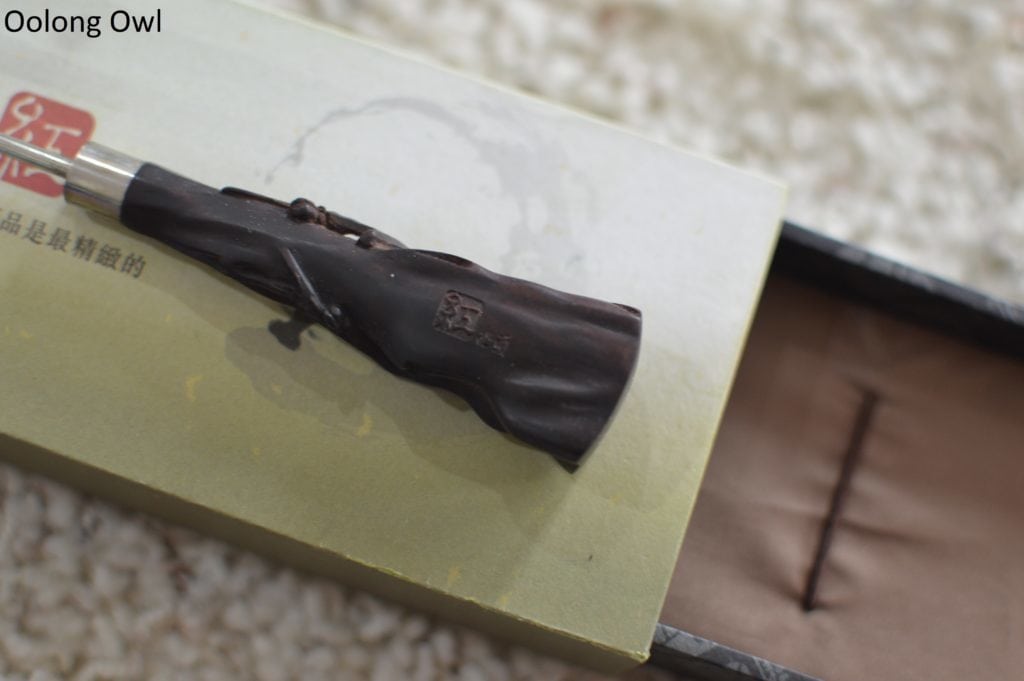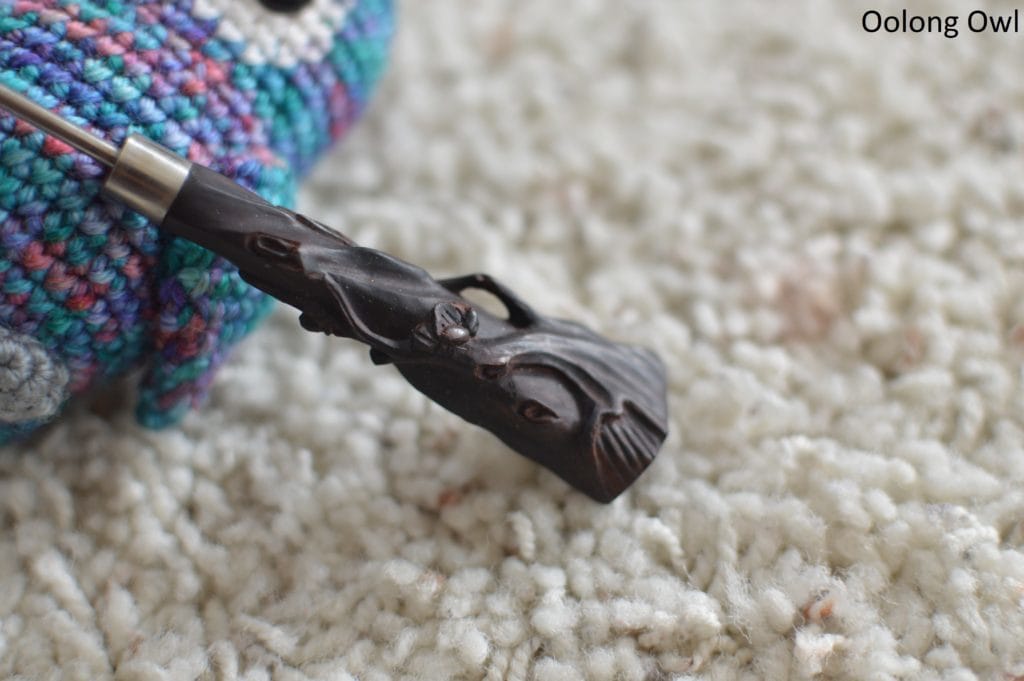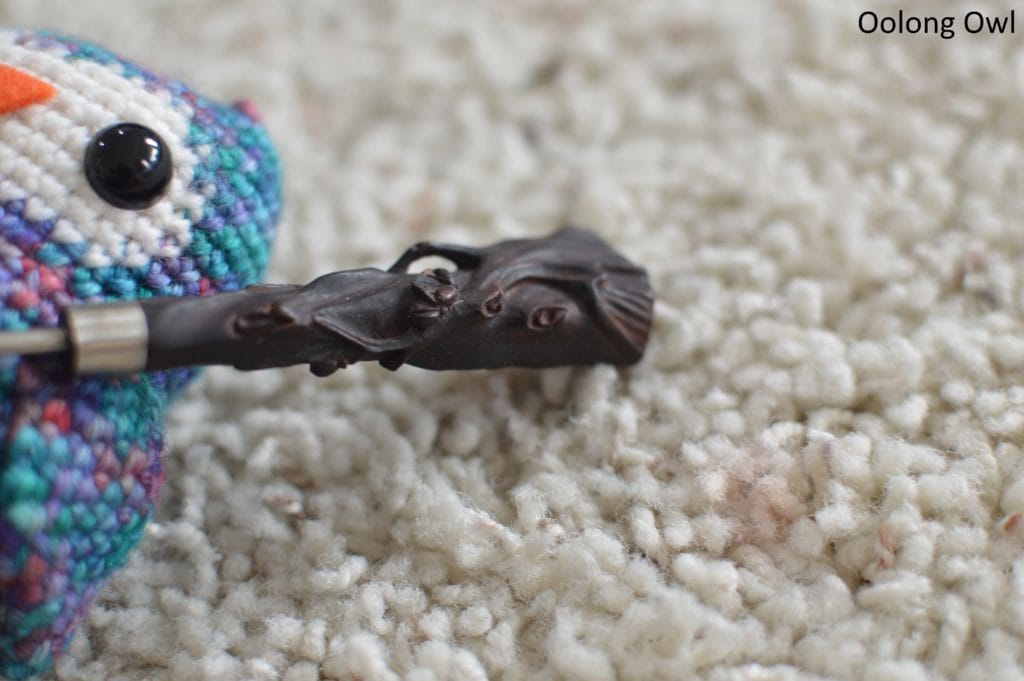 If you are curious, here is the whole set together – I only bought the 1 pick, but I went back and took a photo of the whole set for a friend.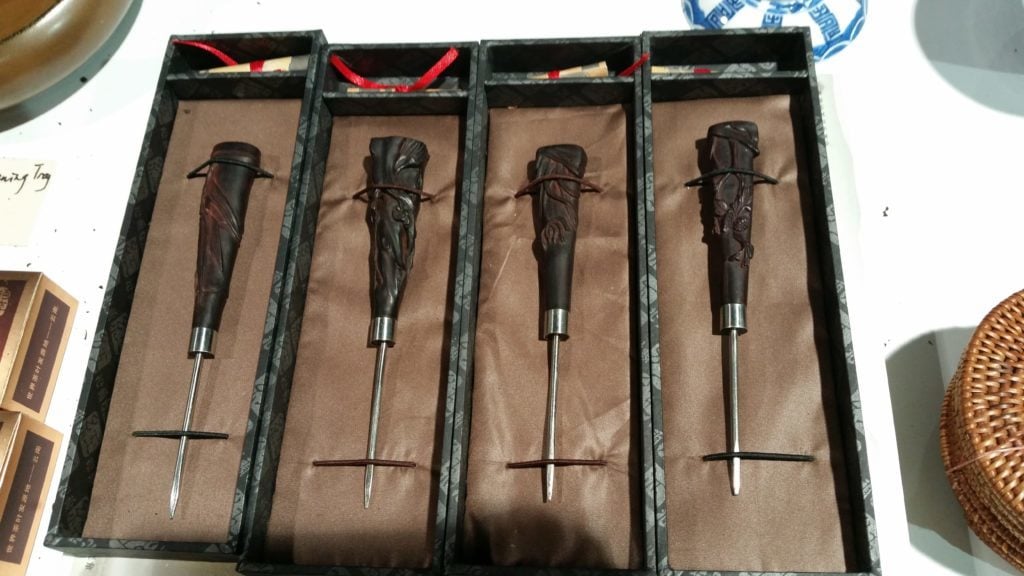 Ambitious Owl bought a book to go with his photo session with James Norwood Pratt.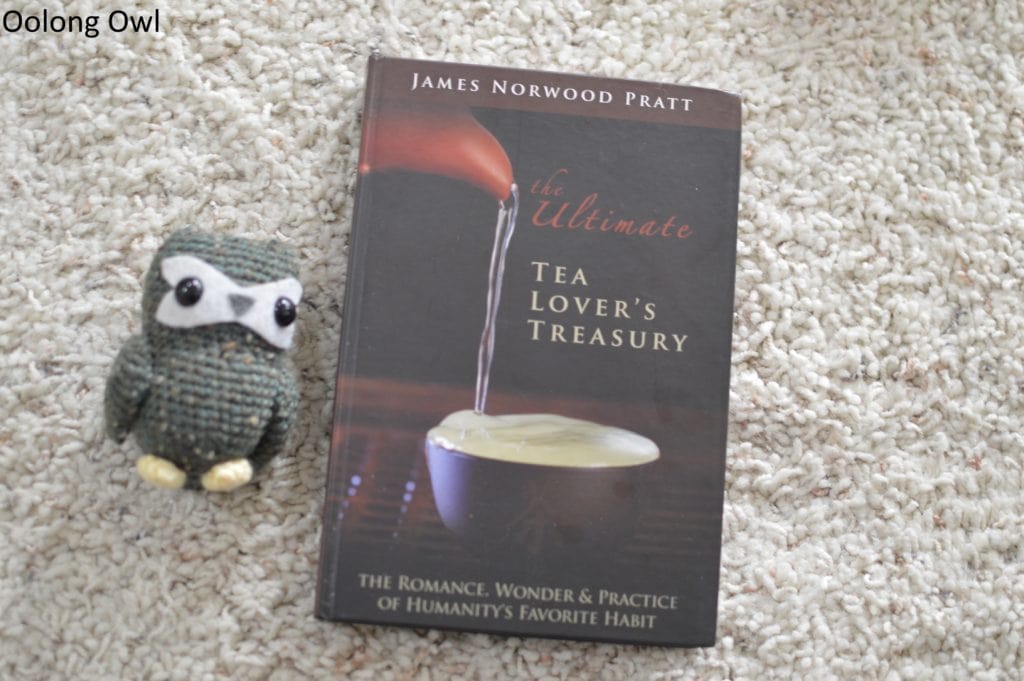 Signed! Hoot!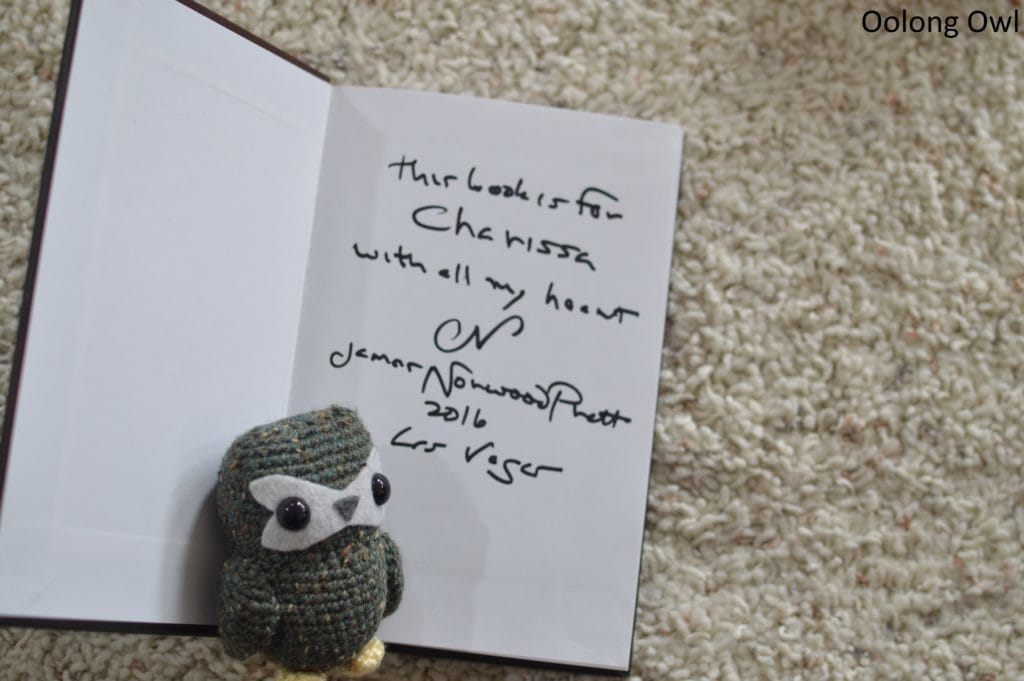 And right after I photographed everything I found 5 more tea samples. Oh well. That is certainly a haul! It is time to save up for 2017 World Tea Expo as well as the impending doom of me buying every puer branded "year of the cock".