Organic GABA Oolong is a medium oxidized, light roasted oolong sold by Taiwan Tea Crafts, an online tea seller.
Yes, GABA Oolong! I've been looking to get some this tea for awhile (that wasn't sold by the pound or has a horrible shipping price from Taiwan).  I've had it a couple times as samples and quite liked it and always wanted to acquire more GABA oolongs. Taiwan Tea Crafts has it! They also have Red Jade GABA Oolong! With good prices too (and many many other oolongs to try)!
So, whats the deal with this GABA GABA hey tea? GABA stands for Gamma Aminobutyric Acid. I remember studying about GABA in Health Psychology, but that's been awhile. Tea Nerd has a great post with more information on GABA Oolong if you want to understand the science of it. In sum, GABA Oolong has a nice calming effect. It also is claimed to have other effects, like lowering blood pressure, regulating muscle tone and containing antioxidants, as per Taiwan Tea Crafts.
GABA Oolong sounds fancy doesn't it? Well, the Tea Owls and I need to make sure this tea tastes good!
Packaging
Most of the teas I got from Taiwan Tea Crafts came in vacuumed sealed lumps.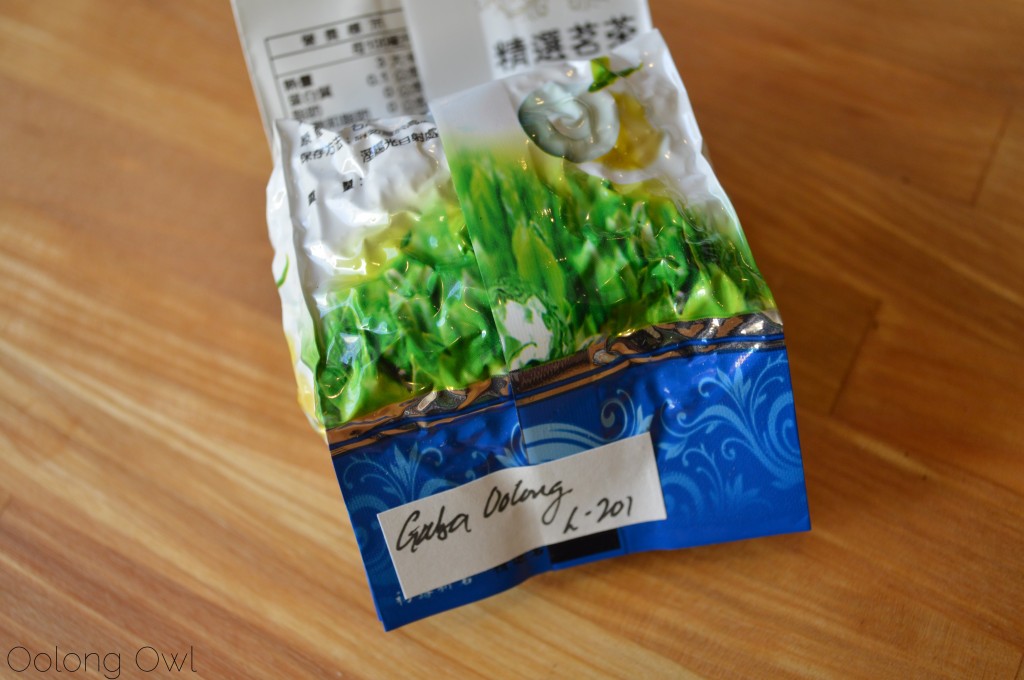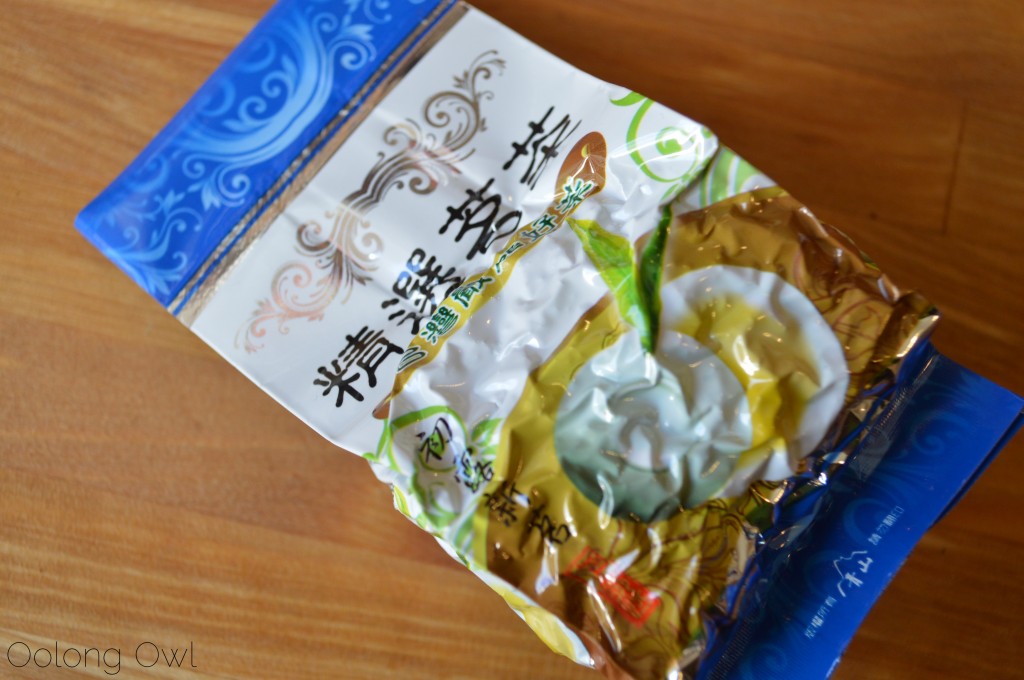 The Tea Owls were a little scared of the packaging and came back armed to open the package. Teal "pu'er pick" Owl spent awhile stabbing the package hoping it was a pu'er brick.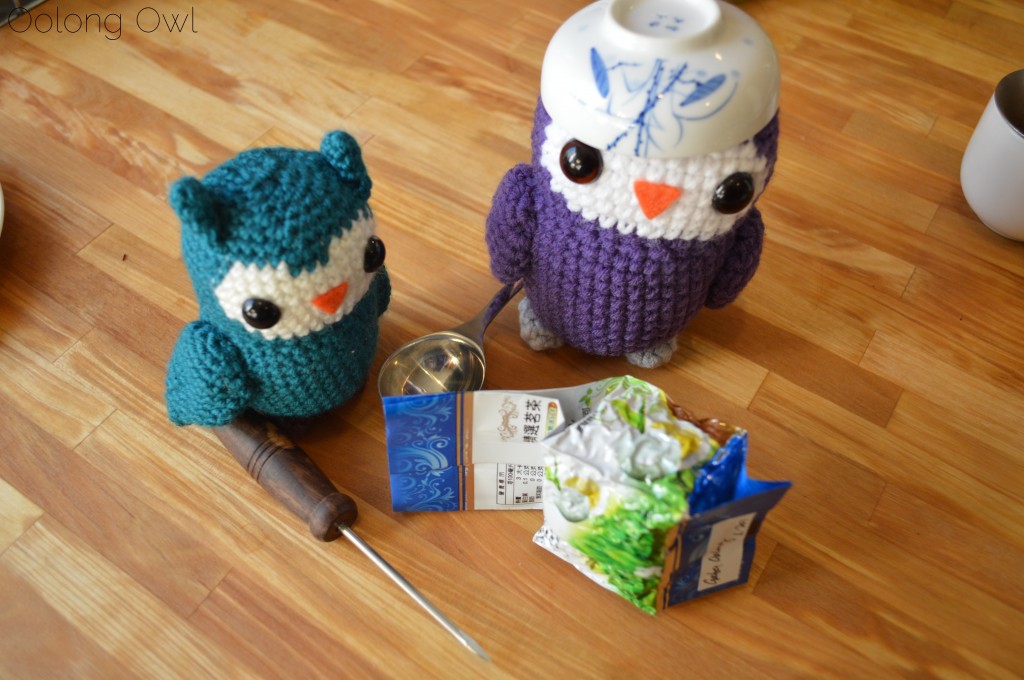 Dry Leaf
Very heavy leaf! The tea is wadded in tight, heavy lumps that smell a little fruity tart.
Emphasis on heavy leaf! 2 teaspoons came out to be 6.5 grams of tea!
Steeping Instructions
I couldn't find steeping instructions on Taiwan Tea Crafts' site. I did a little googlin' and went with 200F water in the kettle. I started with a rinse, and started with 30 second steepings, adding an additional 15 seconds to each infusion. A gaiwan was used to steeping Organic GABA Oolong.
Tasting of Taiwan Tea Crafts' Organic GABA Oolong
First Infusion: First off.. Hey, Organic GABA Oolong! This is how tea works. I add water, you give me tea! Organic GABA Oolong sucked up so much water, I had like half the tea I normally get!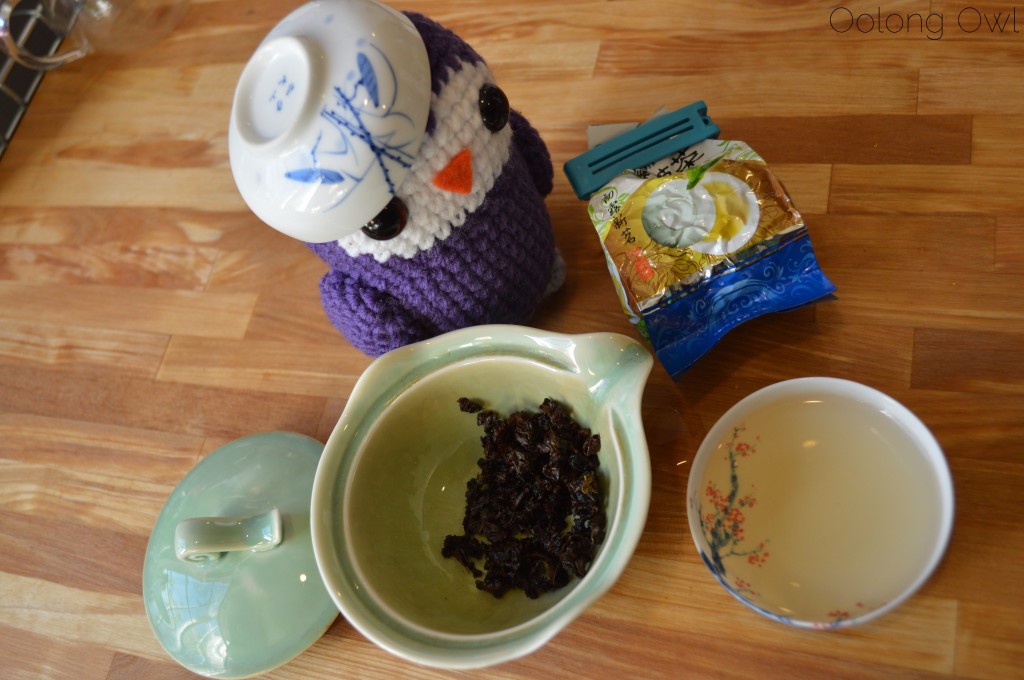 What little tea I got from the first steeping, the brew came out a really faint golden rod yellow.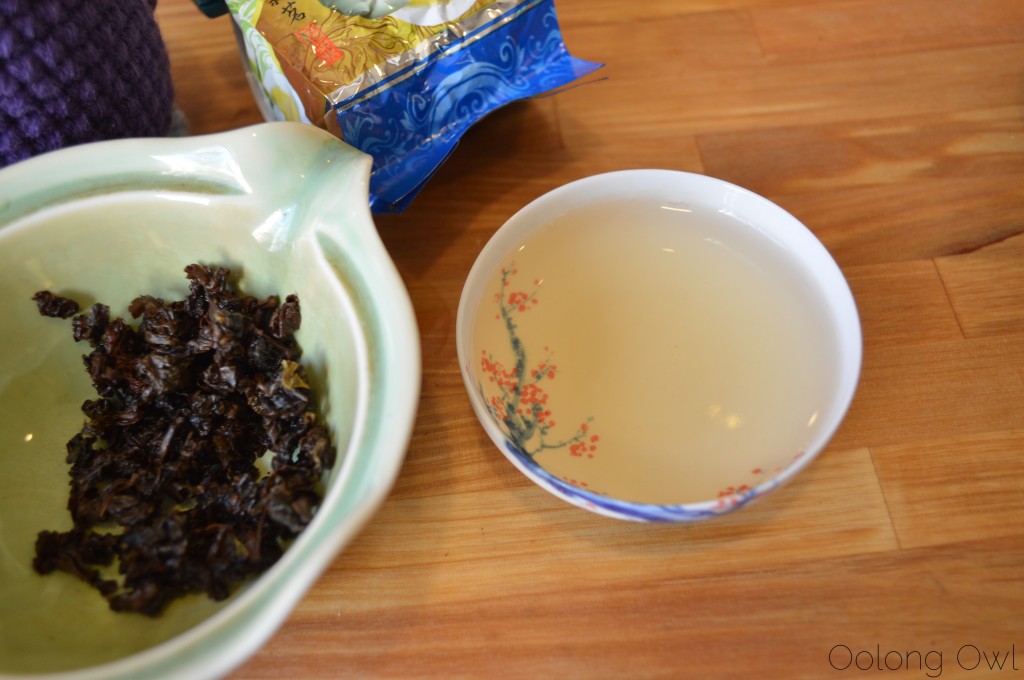 Organic GABA Oolong sips in a light dark raisin flavor that is thick in texture with a nut aftertaste.
Second Infusion: Organic GABA Oolong still hasn't got with the program, as again I didn't get much tea out of this steeping. The leaves did double in size.
The flavor did quite a switch! There is a thicker texture, with more raisin notes with an oaky aftertaste.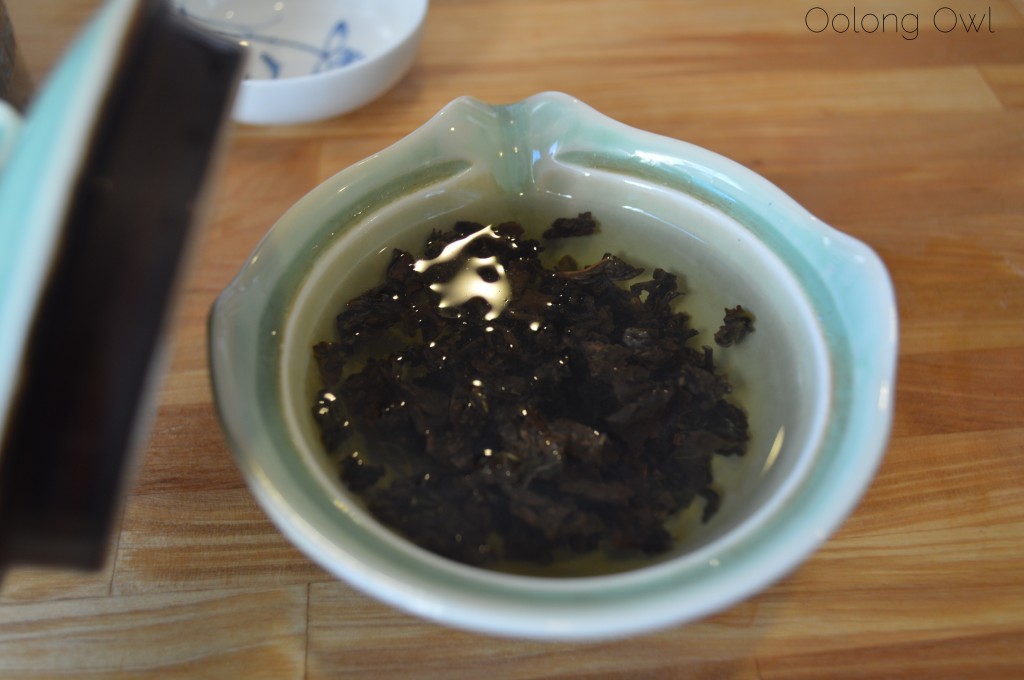 Third Infusion: This tea still hasn't made up its mind. Organic GABA Oolong's 3rd steeping shifted to a more savory flavor and more thick creamy flavor that reminds me of fog. Organic GABA Oolong  finishes off with a woodsy herby medicinal flavor that's a little stale. That woodsy finish is trying to bust through the foggyness.
Fourth, Fifth, Sixth and Seventh Infusions: Well, I think Organic GABA Oolong has made up its mind on flavor. It sips thick with raisins and finishes off with crisp firewood, tart green strawberries and light medicinal notes. With each steeping Organic GABA Oolong gets a little sweeter and crisp, trying to bust through that foggy texture.
Eighth and Ninth Infusions: I switch to increase steeping times by 30 seconds to keep the flavor going, however we have a problem! The leaves have EXPLODED and I can't close the gaiwan fully. However, that doesn't stop us at Oolong Owl! STEEP ON!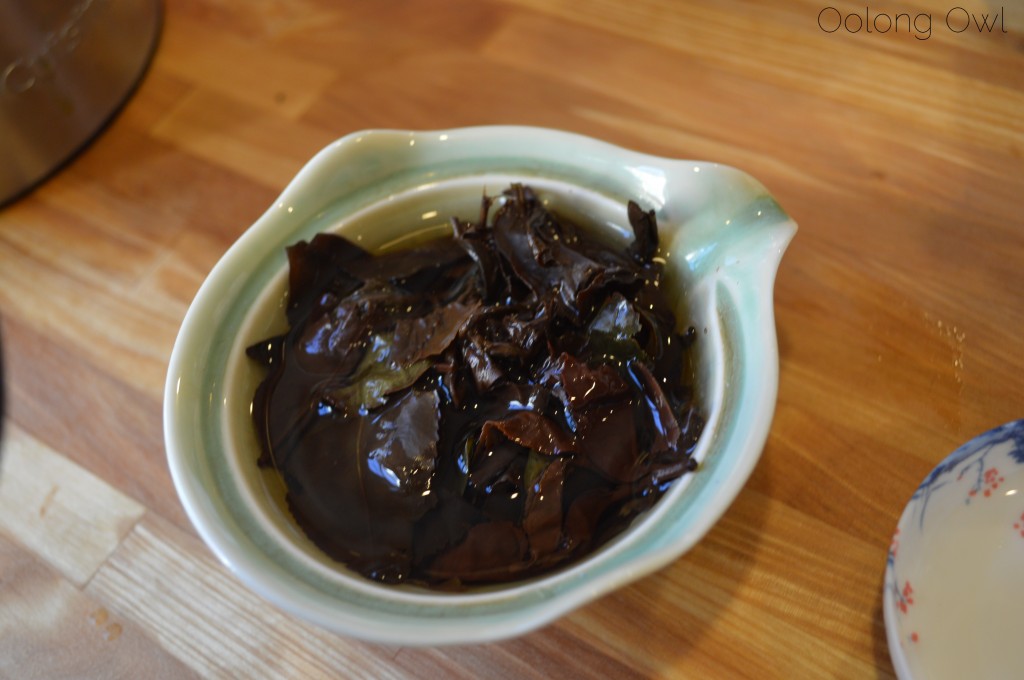 I find these steepings to be the best of Organic GABA Oolong. There is a perfect balance of the thick cream raisin texture with the woodsy, strawberry crispness. The medicinal element is really slight and doesn't take from the tea.
Tenth and Eleventh Infusions: Hey, how is the flavor still going strong? I'm adding an extra 1 minute per steep, so I'm up to 5 minute steeps here.
Twelfth, Thirteenth Infusions: The flavor did quite a dip here, with just a little raisin and woodsy flavor left.
By the way, Organic GABA Oolong steeped leaves are huge! BAM! Below is a picture of the steeped leaves in the same cup as the photo of the dry leaves.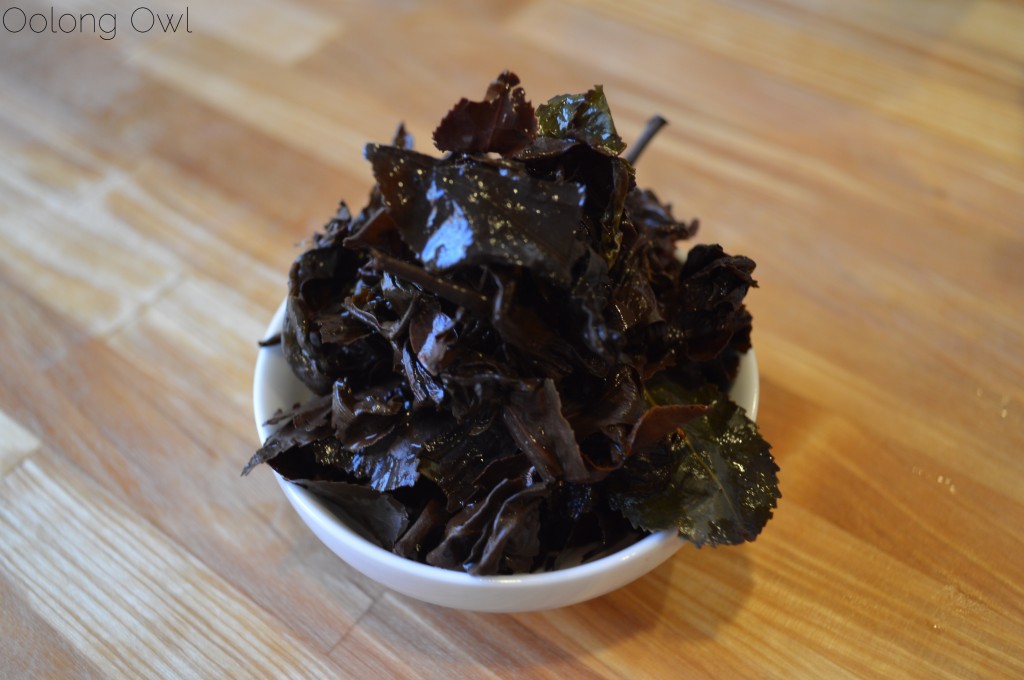 The leaves also have a really thick feel to them, like feeling a bay leaf boiled for awhile.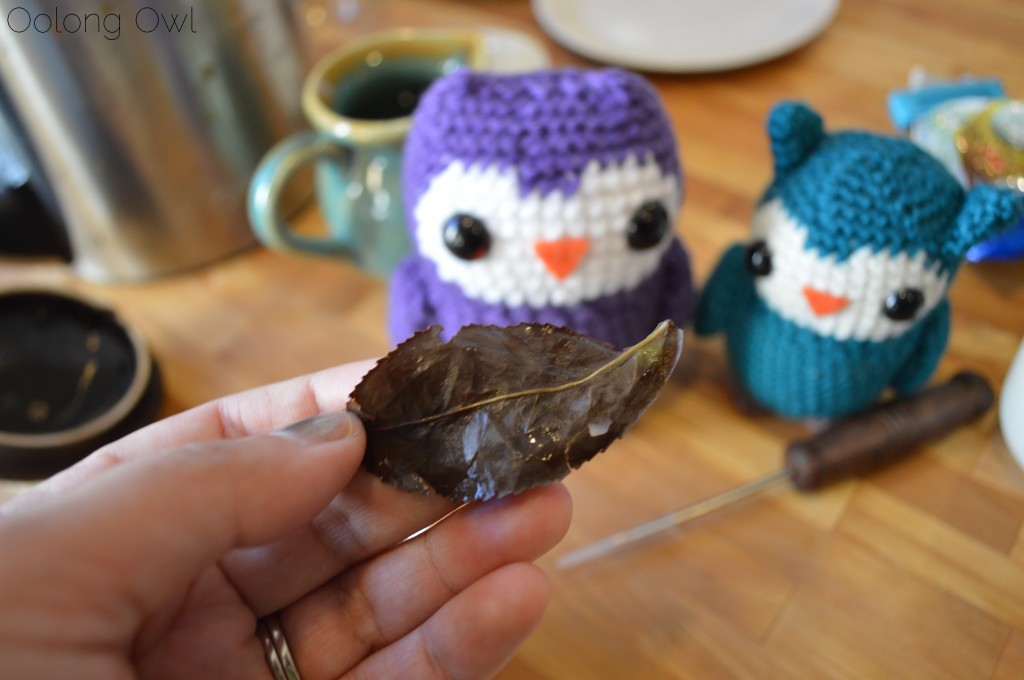 Cold Steep: I put about 2 teaspoons of dry leaf into a 12oz tea tumbler full of cold water and let the leaves steep in the refrigerator for about 14 hours. Organic GABA Oolong is pretty tasty cold steeped. The tea tastes a little tart, 2/10 on the Tart-o-meter, as a green strawberry note pucker. There is a little woodsy and nuttyness, but the main flavor is the strawberry. Organic GABA Oolong cold steeped would be a great oolong for the summer!
Comments
I find GABA Oolong tastes quite different than other oolongs. There is no floral, grassy or roasted flavor, but more fruity. If you are a slightly seasoned oolong drinker, I'd give GABA Oolong a try. In regards to GABA Oolong in general, I find it is more forgiving and easier to steep than a Green tea, with much more resteeps. If you that type of tea drinker chasing health benefits, GABA Oolong would a nice choice and easier to drink than a ripe pu'er, which can be more heavy and strong of a tea.
Taiwan Tea Crafts' Organic GABA Oolong I liked more than other GABA Oolongs I've had. The fruity notes I find really interesting and the medicinal flavor quite low. I did have a good calming feeling after drinking this tea.  Taiwan Tea Crafts cited that from tests on Organic GABA Oolong that the GABA content is quite high, 1 mg per 100 grams! If you are buying a GABA Oolong, might as well get a good GABA content while you are at it!