Bao Zhong is a twisted pouchong oolong tea from The Persimmon Tree.
Mmmm, Bao Zhong, I love this oolong! It is also used often as a base in all my favorite oolong blends that feature creamy or fruity flavors. Oh yeah! I had to give The Persimmon Tree's Bao Zhong a try!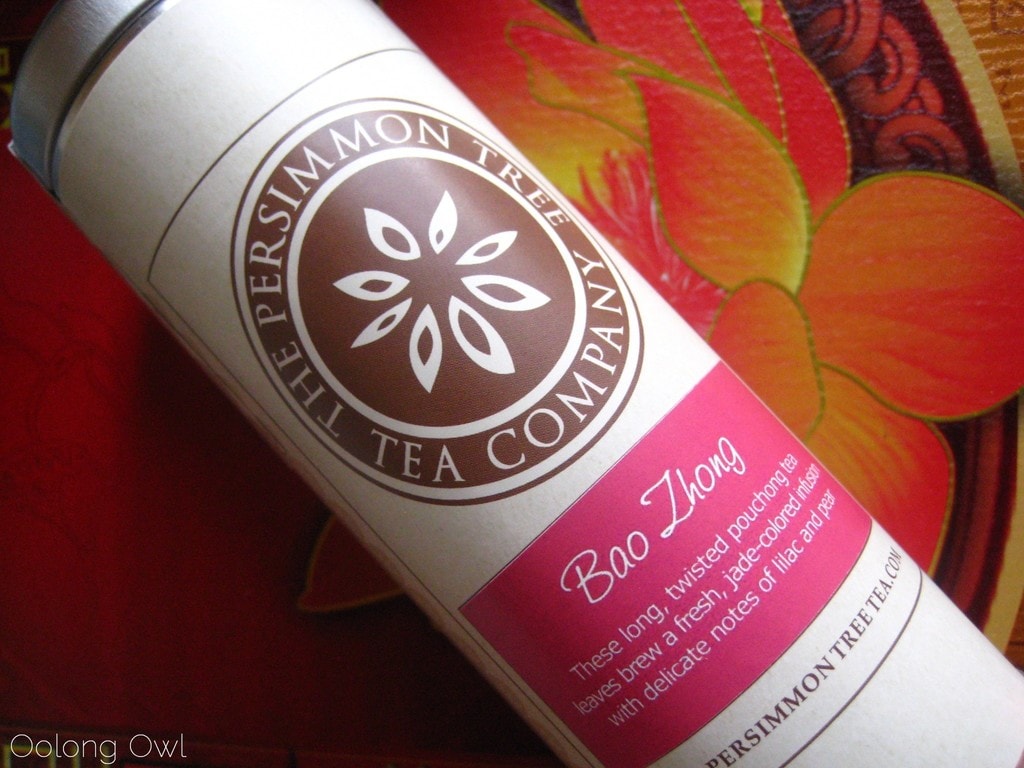 DRY LEAF: Mmm, delicious smelling dry leaf! It smells sweet, buttery and a little floral.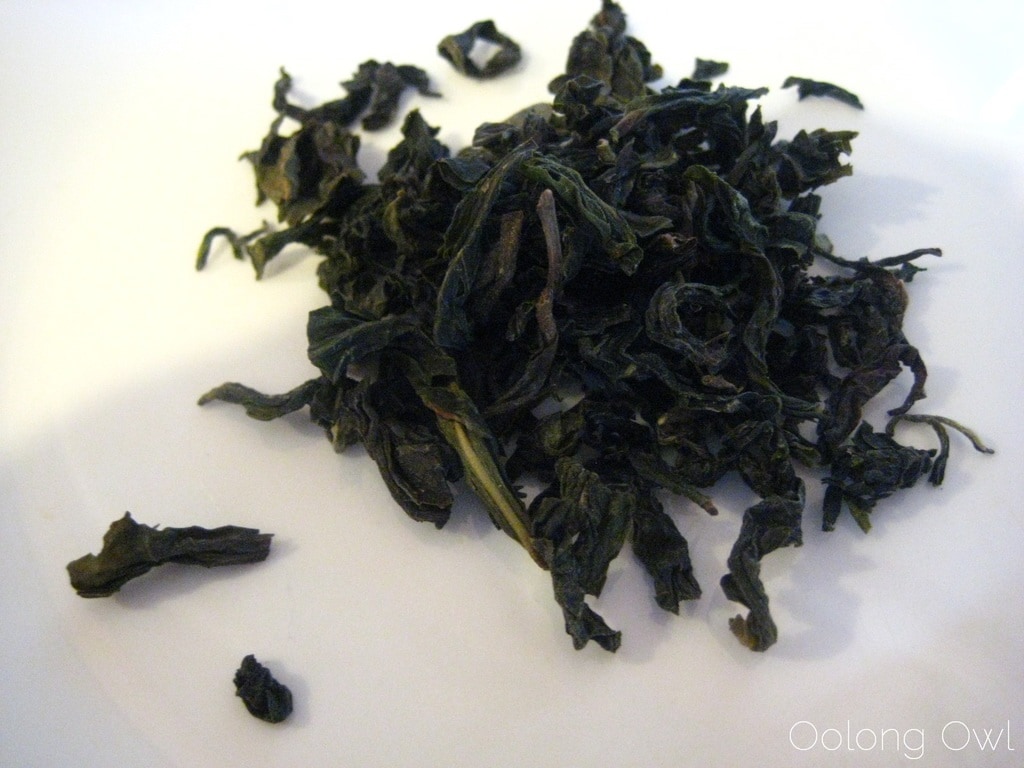 Nice big leaves too!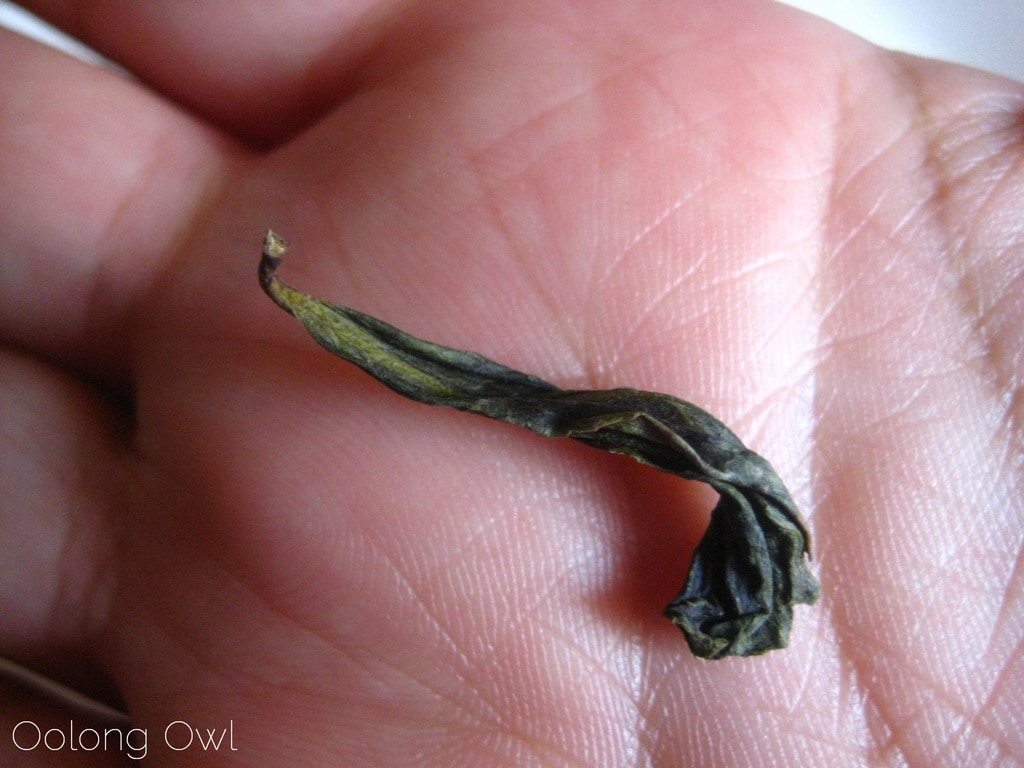 STEEPED: I steeped Bao Zhong as per instructions on the tin – 190F for 4 minutes.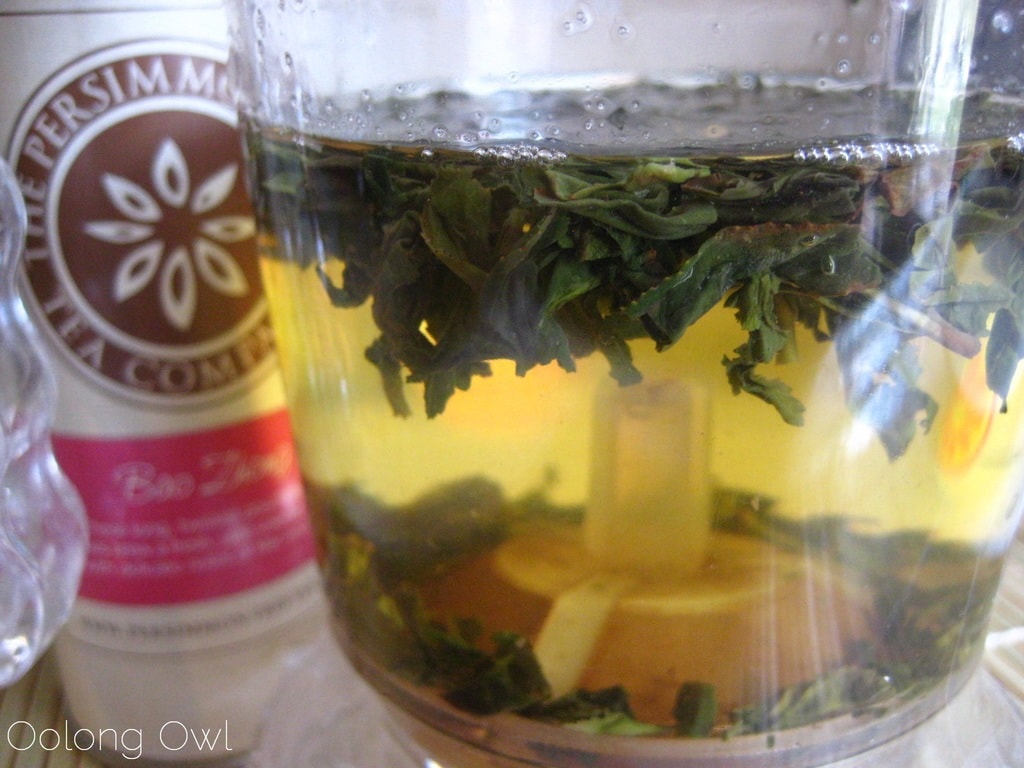 After 4 minutes, I had a golden yellow/green cup of tea that smells buttery!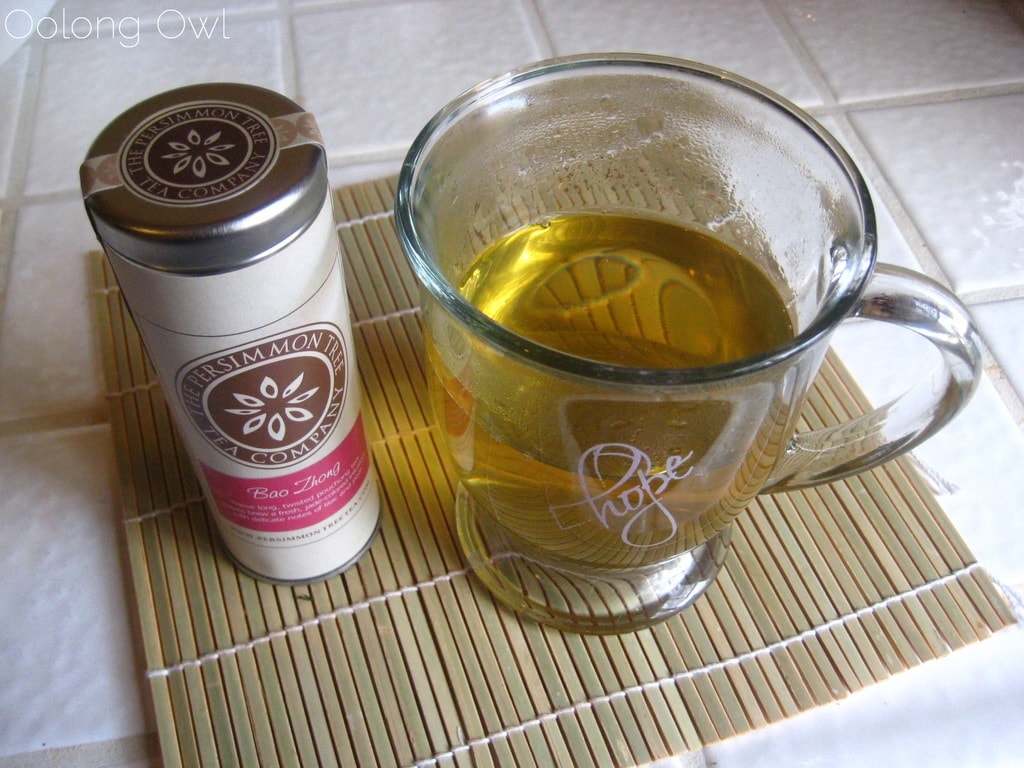 TASTE: A very delicate tea! Bao Zhong has a nice buttery, sweet vegetal flavor similar to a fresh bean. It is delicately fruity and sweet- the floral is described as "lilac" by The Persimmon Tree, I don't think I've eaten a lilac, but I'd say the floral is similar to orchid. 3/10 on the Floral-o-meter – Bao Zhong's floral is light, yet detectable. The tea finishes with a slight astringency 1/10 on the Astringe-o-meter.
Talking about astringency, last time I had this tea I found it much more astringent, but I followed the same steeping instructions. I'm thinking I overleafed the first time.
RESTEEP: The resteep of Bao Zhong is still just as sweet, but towards a light fruity note. This time the tea is more crisp as there is less butteryness. The astringency went up a touch, 2/10 on the Astringe-o-meter.  Overall, pretty good resteep.
GONGFU: I decided to give Bao Zhong a run through my gaiwan – 190F for 15 second steepings, increasing the time as I go along.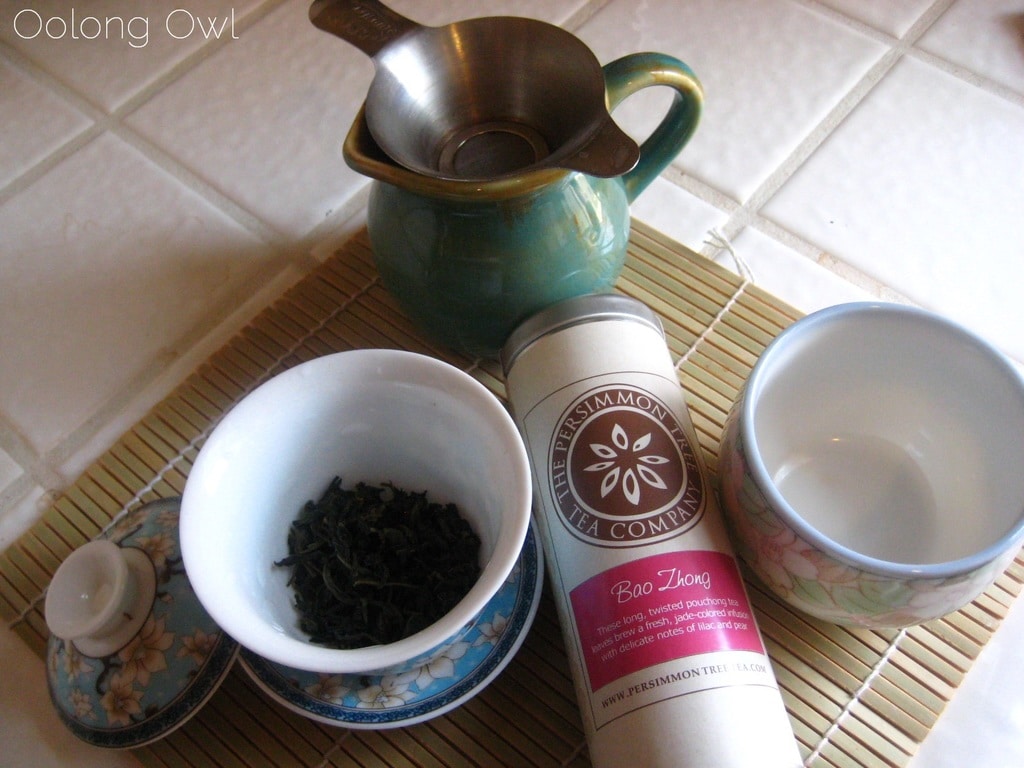 First Steeping: Bao Zhong is lightly sweet, refreshing with a slightly silky texture – yum!
Second & Third Steeping: Pear notes! Similar to the cold steep! The creamy butteryness has finally developed.
Fourth & Fifth Steeping: Flavor has become brighter – sweet and vegetal. The astringency has begun appearing now.
Sixth & Seventh Steeping: Much more astringent,  3/10 on the Astringe-o-meter. The creamy buttery flavor has slipped, leaving stronger floral notes – 4/10 on the Floral-o-meter.
I love how lush and big the leaves got in my gaiwan!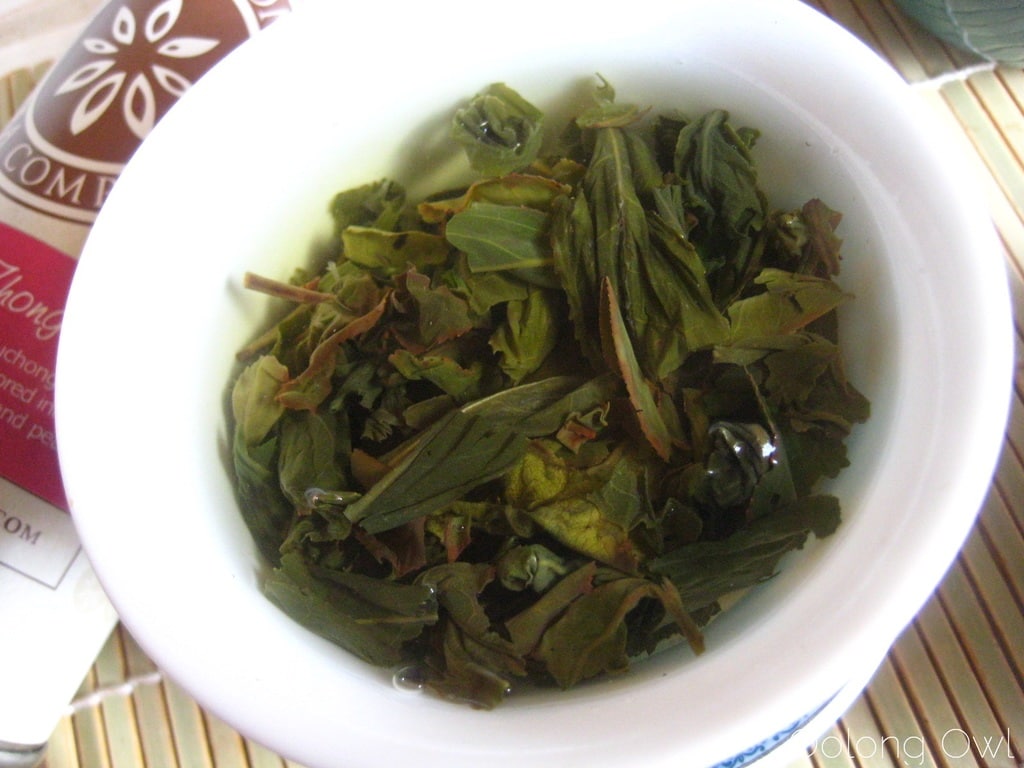 COLD STEEPED: I've been loving oolongs cold steeped – they do very well with a longer steeping, so I do oolong cold steepings overnight. I was excited to try Bao Zhong cold steeped! The taste? Very refreshing with a slightly silky texture. The oolong is slightly grassy with a gentle sweet pear note at the end. Very tasty! No dry or bitterness! I could drink this tea as a cold steep all day!
COMMENTS: Bao Zhong is a lovely floral oolong offering from The Persimmon Tree. The flavors are lightly complex and a nice starter oolong for someone who is into greens, or a staple floral fresh oolong for your tea collection.
(tea provided for review)