Finally, it is time for…
THE SEASONING
A horror film with a great black metal soundtrack. The air is filled with the earthy clay scent of yixing clay. Boiling pots of water of cleansing and dark shu pu'er THRASHING WITH QI! /metal yell
Yeah I'm weird.
Admittedly, I am a little scared of THE SEASONING, hence the horror film theme playing in my mind. These yixing pots are pricey little tea pots and it's something I don't want to mess up. Though logically, seasoning a yixing pot sounds easier than boiling pasta.
As planned, I decided to season Oolong Owl's Yixing pot #3 first. Annoyingly, this pot has an issue – tt smells heavily like incense. It turns out the box and the wrapping are also strongly scented. I love incense, just not in my tea. Sadly, I'm going to have to try and air out the box the pot came in, or find a new one. The pot: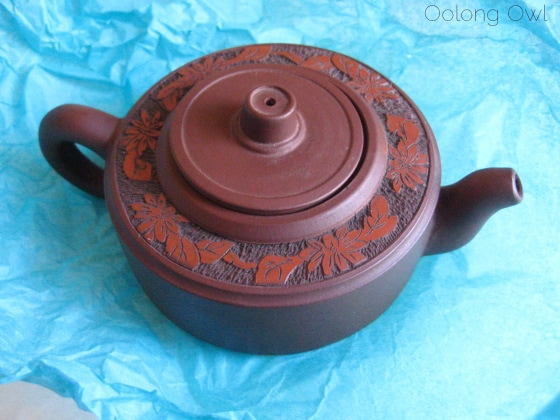 I rub my finger inside the pot and the lid and discover lots of clay debris. With that said, I gave it a good rinse.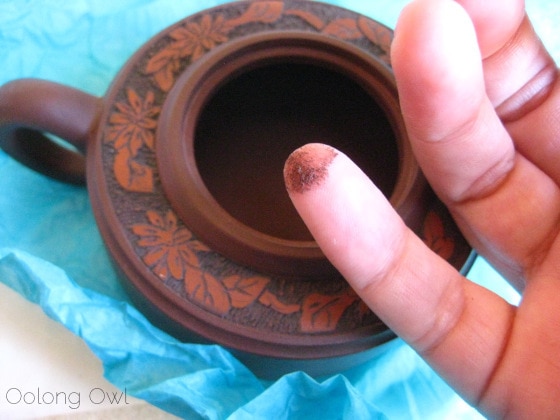 I decided to go with Verdant Tea's How to Season an Yixing Teapot. They also have a handy video which was super helpful to me.

Prior to the seasoning, I super cleaned the pot, utensils and bowl that would be involved in the process.
I got my pot of water to a boil.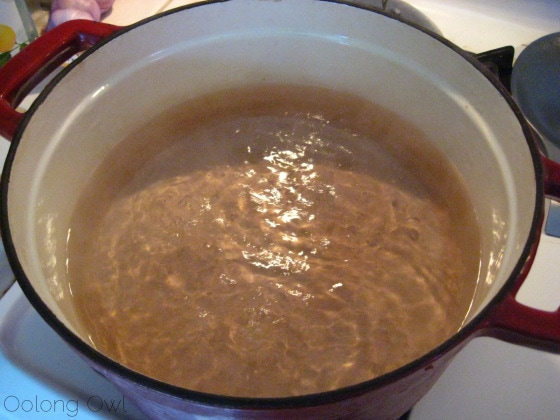 Placed my reaky incense yixing pot on my deep fryer scoopy thing.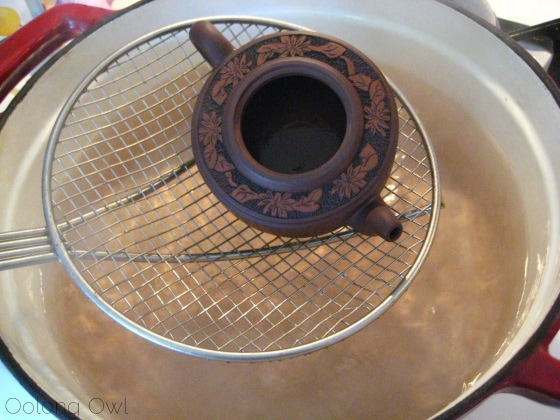 Then slowly lowered the pot on an angle to fill the inside with water.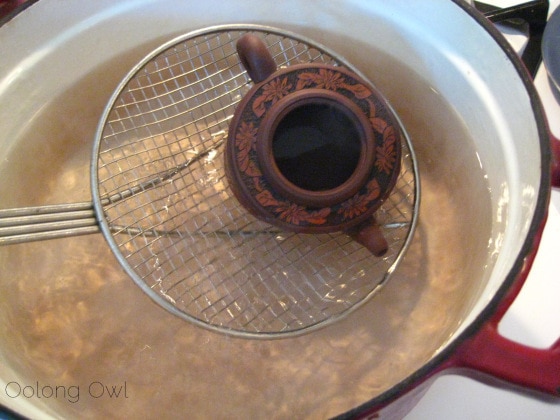 Gently, I plop the lid in with chopsticks, then watch the pot boil away for 5 minutes. I opted for a longer time to ensure I kill the incense smell.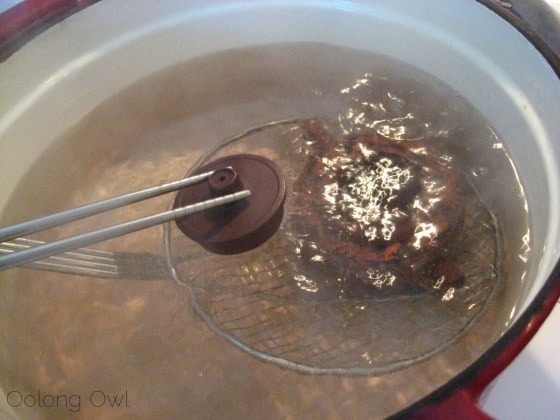 Time's up! I carefully angle the giant mesh spoon to pour some of the water out of the pot.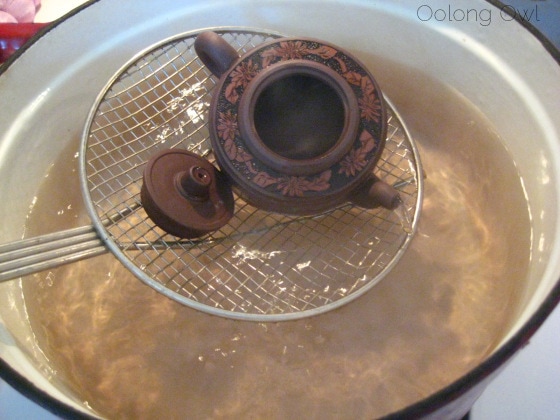 Finally, I transfer it to my clean towel. CRAP this is hot! I totally burnt my thumb doing this!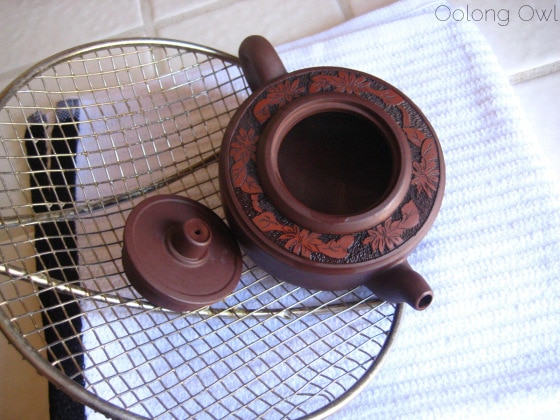 I left to eat curry for lunch. I come back and the pot is nice and dry.
I discover…
NO INCENSE SMELL! JUST A NICE CLAY SCENT! YESSSSSS SUCCESS!!!!!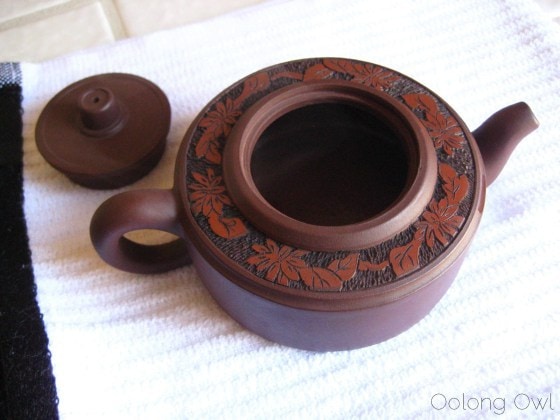 Let's proceed with THE SEASONING!
Our yixing tea pot sacrifice: Mandala Tea's Phatty Cake. Will our hero, Phatty Cake, make it out of this horror flick alive?This is slightly heartbreaking – I love this tea, but this is the last of my sample meaning I'd have to buy a cake soon…which I was planning to do anyways. It was very tempting to choose something else, but as suggested, I went with a good quality shu pu'er I like.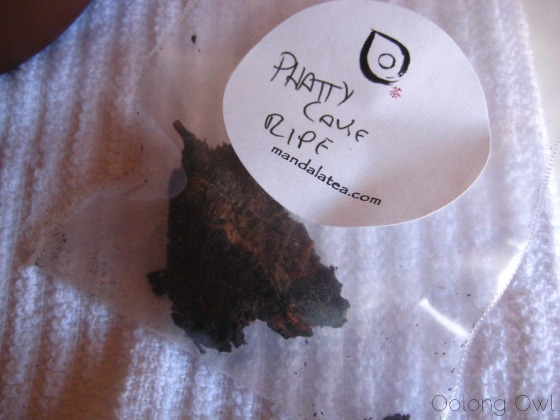 I added the pu'er to my nicely clay scented yixing pot. I made multiple pots of tea, pouring it out to fill up my bowl.
I found this part pretty cool as I was learning about my yixing pot – how it pours and where to hold so I don't burnt my hands off. Also was fun putting a finger over the hole in the lid which stops the flow of tea!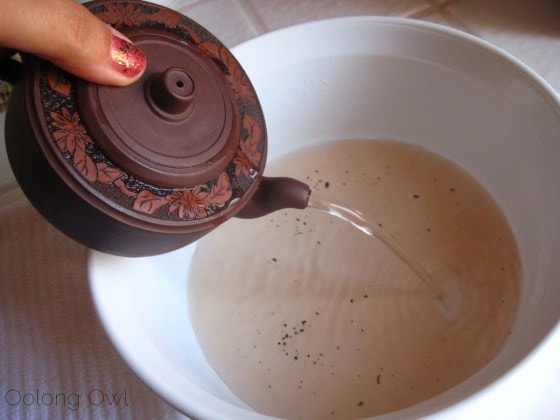 By the way, this is my husband's favorite bowl to microwave his Kraft Macaroni and Cheese in. Shhhh, don't tell him I tainted it with tea!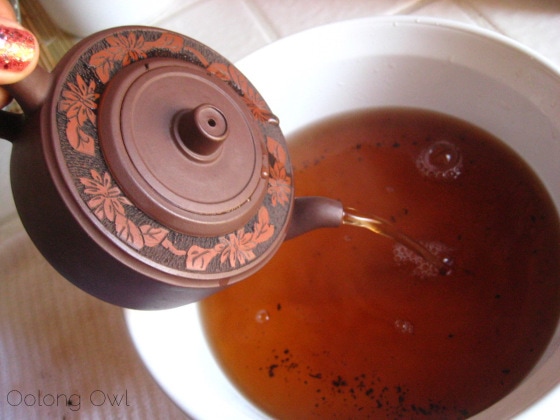 Tea turtle is getting excited! It's like a swimming pool to him!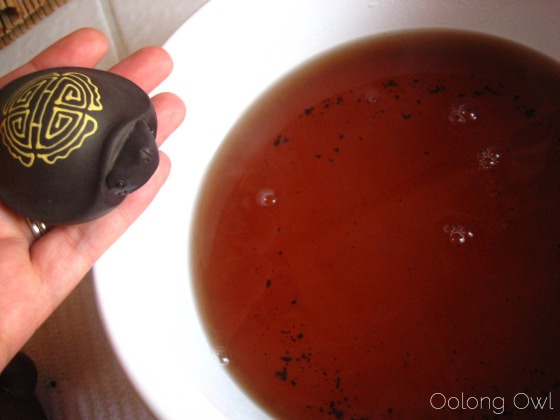 As I fill the bowl, the scent of Phatty Cake is overwhelming! I cannot resist, I will save you Phatty Cake! /sipsip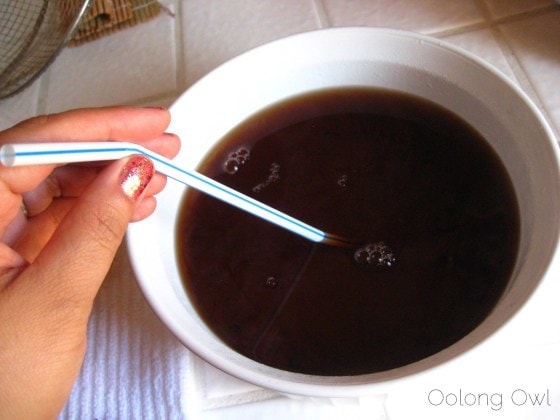 Now that I have enough tea, it is time to season my pot! Gathering all my courage, I dunk the pot in the delicious tea.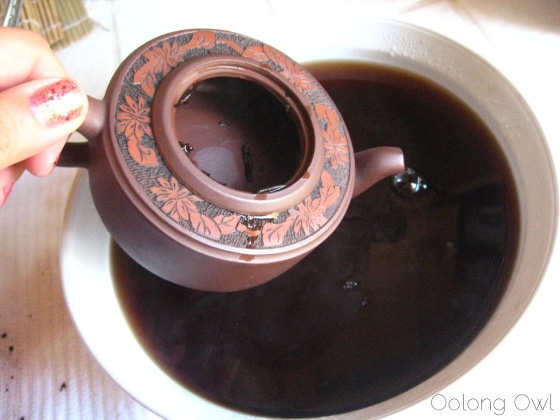 Noooo PHATTY CAKE!!! /cry
One last sip…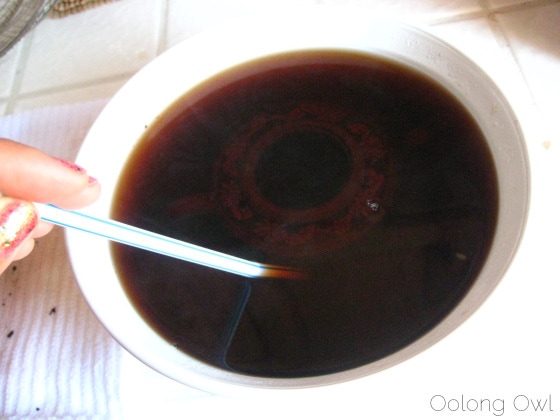 (backstage note, I took the leaves out of the yixing pot and steeped them! Sadly, not much flavor left but was still tasty!)
I leave the kitchen to do other things – leaving the tea to cool and saturate the yixing pot in amazing flavor. I came back to check on my tea pot and see this: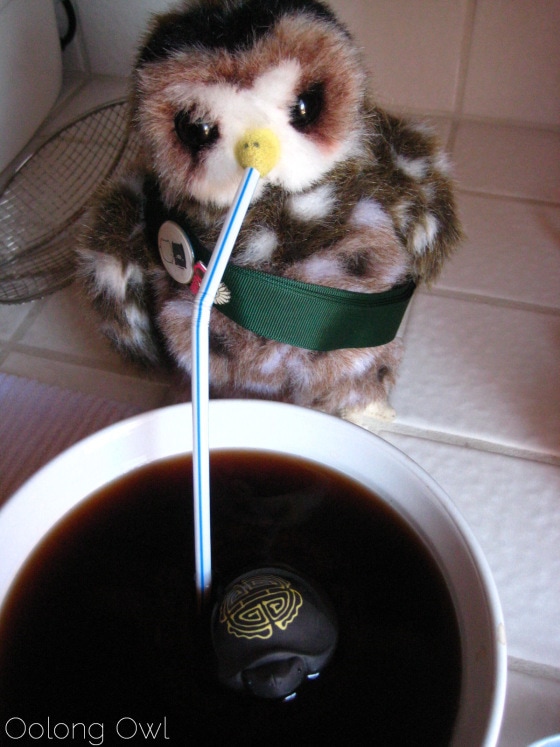 After kicking out Owly and Tea Turtle, I remove my yixing pot from the bowl of Phatty Cake tea.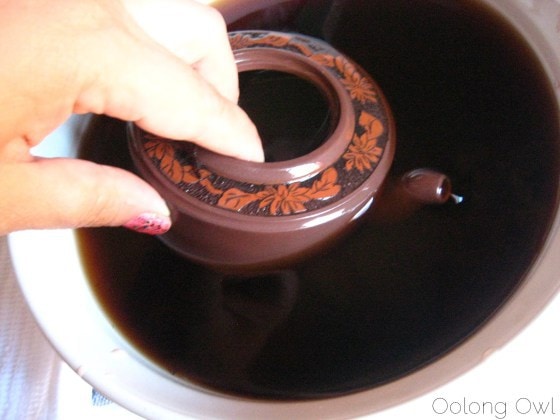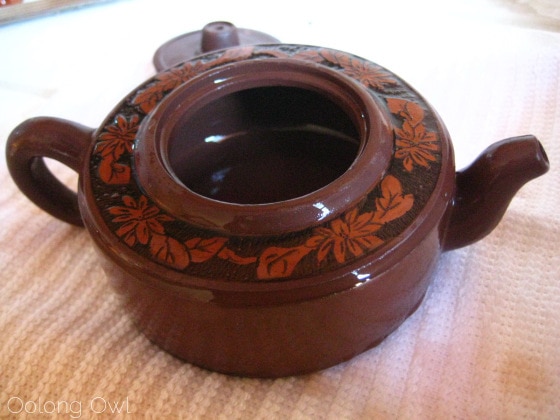 Once dried, the yixing pot smells mostly like Phatty Cake (YUM) with maybe a hint of incense only if I'm looking for it. Maybe the incense smell is in my head? Ehhhh.
Overall – THE SEASONING went very smoothly. Difficultly? Low. The hardest part was cleaning/baking soda rubbing the large boiling pot as I made pot roast in it the day before. I suffered a burn to my thumb that didn't hurt for no more than 10 minutes.
The next day I went off and seasoned my other two pots with no issue at all.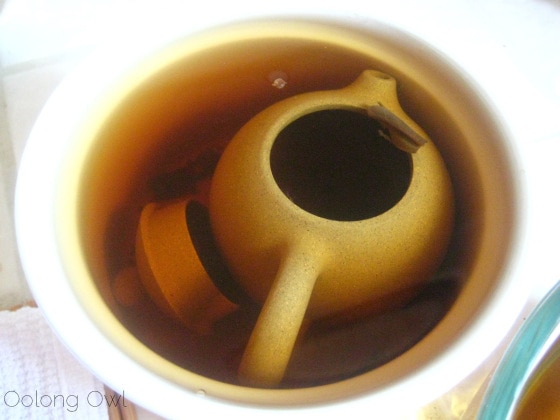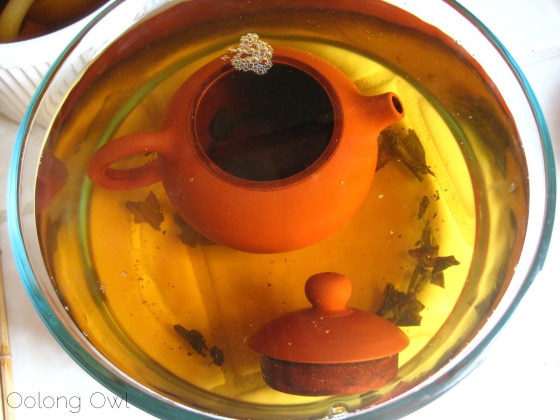 As much as I like my gaiwan and gravity steeper, I'm excited to own these yixing tea pots! Now I must use them lots so they can start giving back in flavor!