Today's tea review is the lovely Coconut Oolong from ZenTeaLife.com!
I got this tea as a free sample awhile back and drank it all! It was soooo good! When I was making a  ZenTeaLife.com order, Coconut Oolong was a no brainer addition to my shopping cart.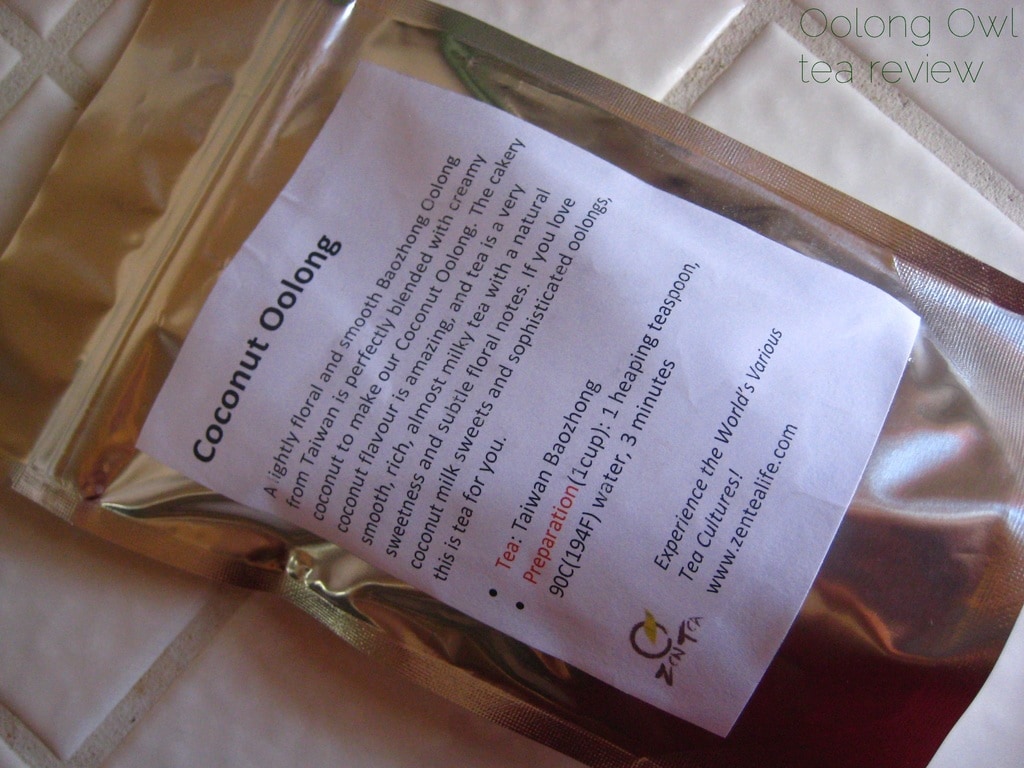 DRY LEAF: Very creamy coconut smell!
The leaves are quite large, and a wonderful rich green colour, oooh yum!

STEEPED: I did a 190F steep for 3 minutes. Lovely dark gold cup of tea here!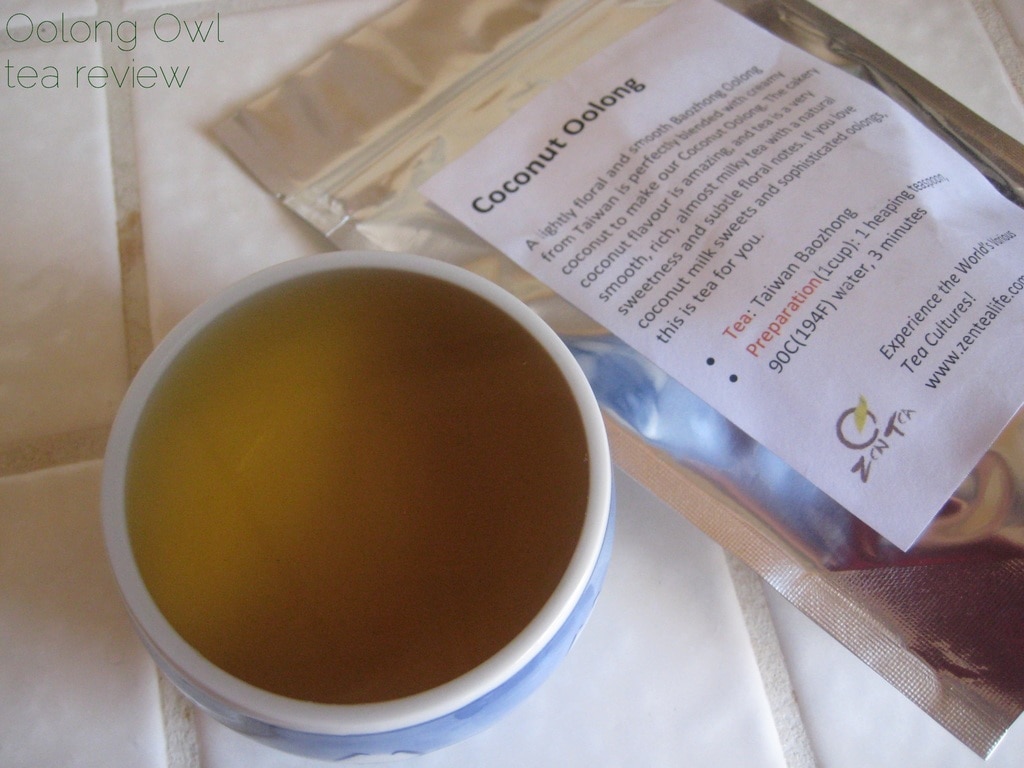 Uggg and I filled my cup too high! I was stuck sipping my tea cup off the kitchen counter until it was safe for me to be able to lift my cup without spilling hot tea everywhere!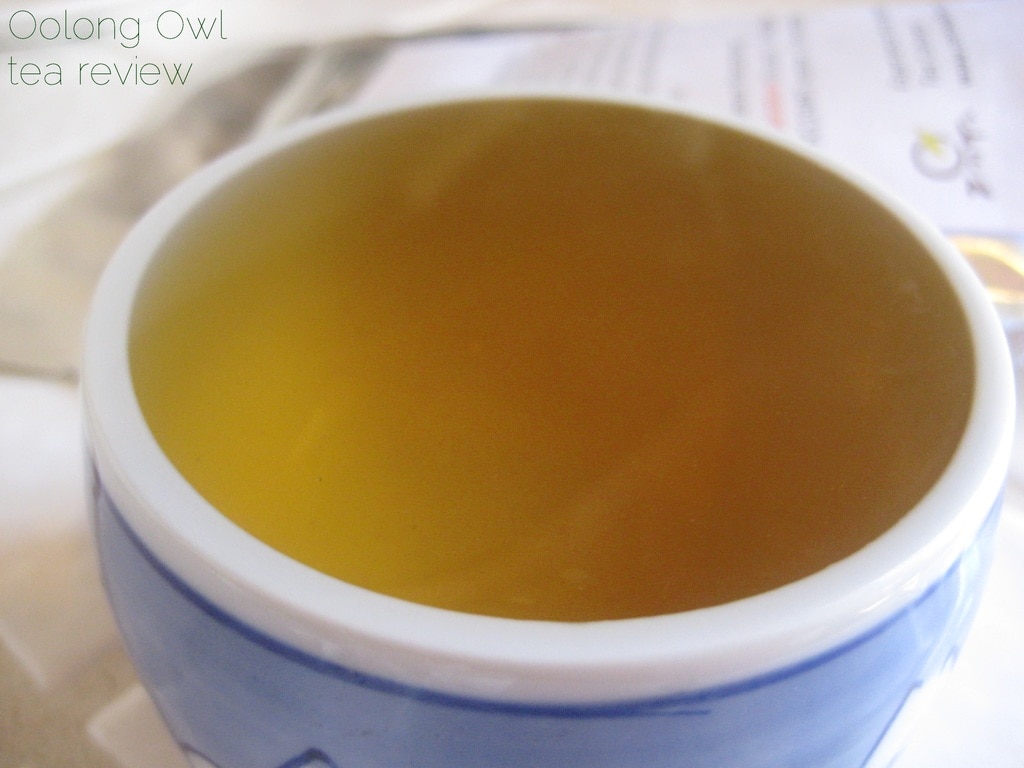 Coconut Oolong smells very creamy and coconutty!
TASTE: Lovely bao zhong oolong that is lightly floral and vegetal, with a creamy, silky sweet coconut flavor. The coconut is very natural tasting with the creamy texture making me sense the smooth young coconut flesh. YUM! The floral is around a 4/10 on the Floral-o-meter. No bitterness or astringency.
RESTEEP: Sadly, little coconut flavor remains, however the oolong is very delicious on its own. The bao zhong is light floral, sweet and bright. Still no bitterness or astringency.
COLD STEEPED: I cold steeped my Zen Tea Coconut Oolong for about 12 hours. The tea is much more sweeter and milky! The coconut and full flavored and sweet! The creamy coconut is still slightly silky, coating the tongue. The oolong is refreshing, crisp, slightly grassy with a hint of floral. The floral is moving just a tinge bitter, so I wouldn't steep this for more than 8 hours or so.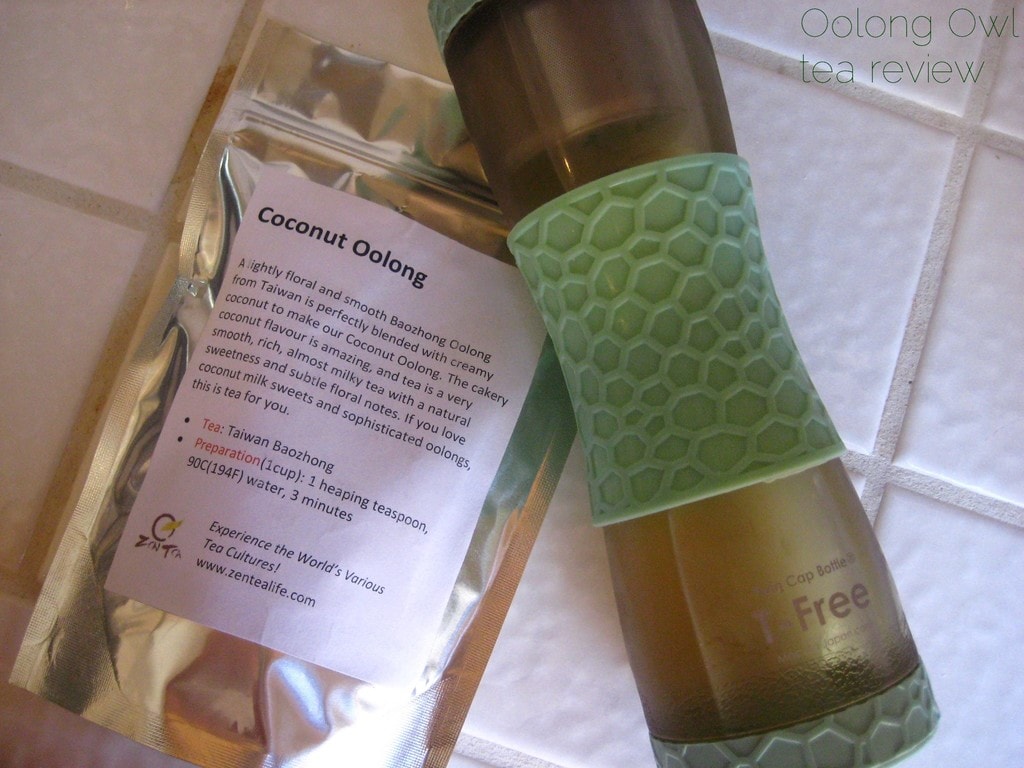 COMMENTS: There's a number of coconut oolong teas out there, but this one from Zen Tea is my favorite so far. I love the combination of the bao zhong and coconut as the combination of floral grassy oolong with coconut is simple, yet complex at the same time.
Zen Tea also has a Coconut Green, which was also pretty good – it's not floral, but more buttery (if I remember correctly). I prefer the Coconut Oolong for the wonderful floral. Mmm, very yummy! Check Coconut Oolong or Coconut Green if you are a coconut lover!