The Perfect Pear is a black tea and pear blend from Della Terra Teas.
Mmmm…. pear tea! I snagged this sample for free with my last Della Terra teas order. They have some really fantastic sales! 25 to 30% off, free shipping or free samples! Totally stalk their Facebook page to stay in the loop for their sales!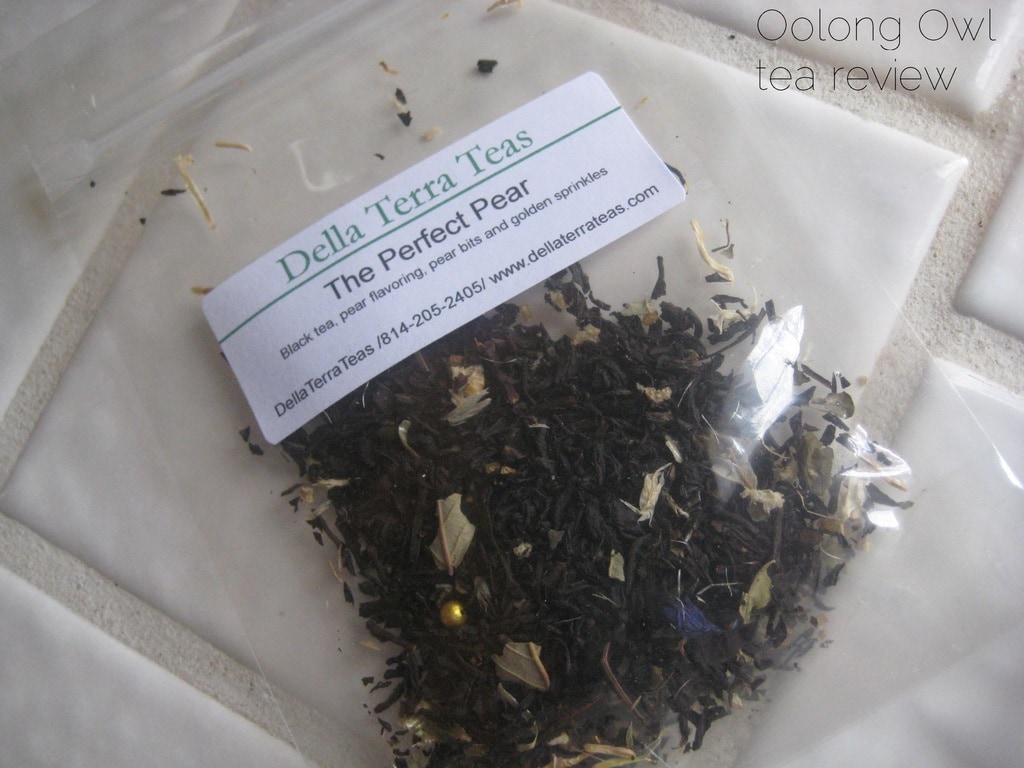 This the a sample size from Della Terra – so I can get a couple cups of tea out of it. All their other sizes have steeping instructions, so I checked the website and wrote them on the back of my package. Really handy for the next time I want to make this tea!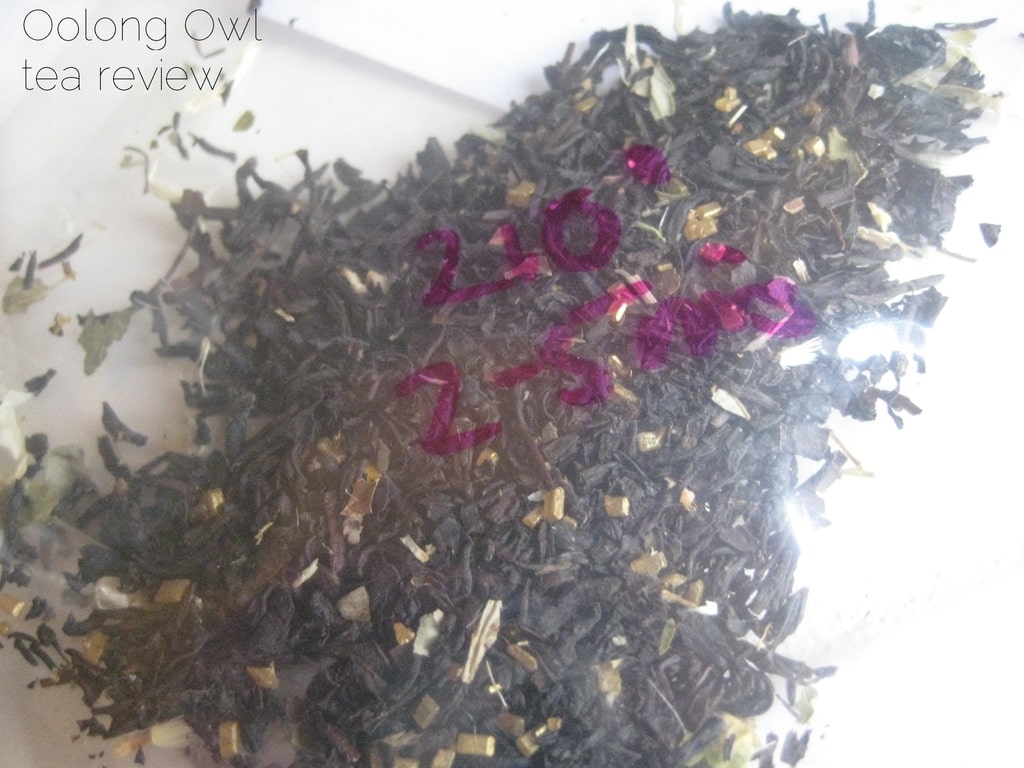 DRY LEAF: This tea smells like pear candies! Very sweet, but also a little floral, like there are flowers blooming on the pear tree too.
Fantastic appearance of The Perfect Pear too – black tea, metallic gold sugar balls and cubes of gold sugar, accented with white petals and such.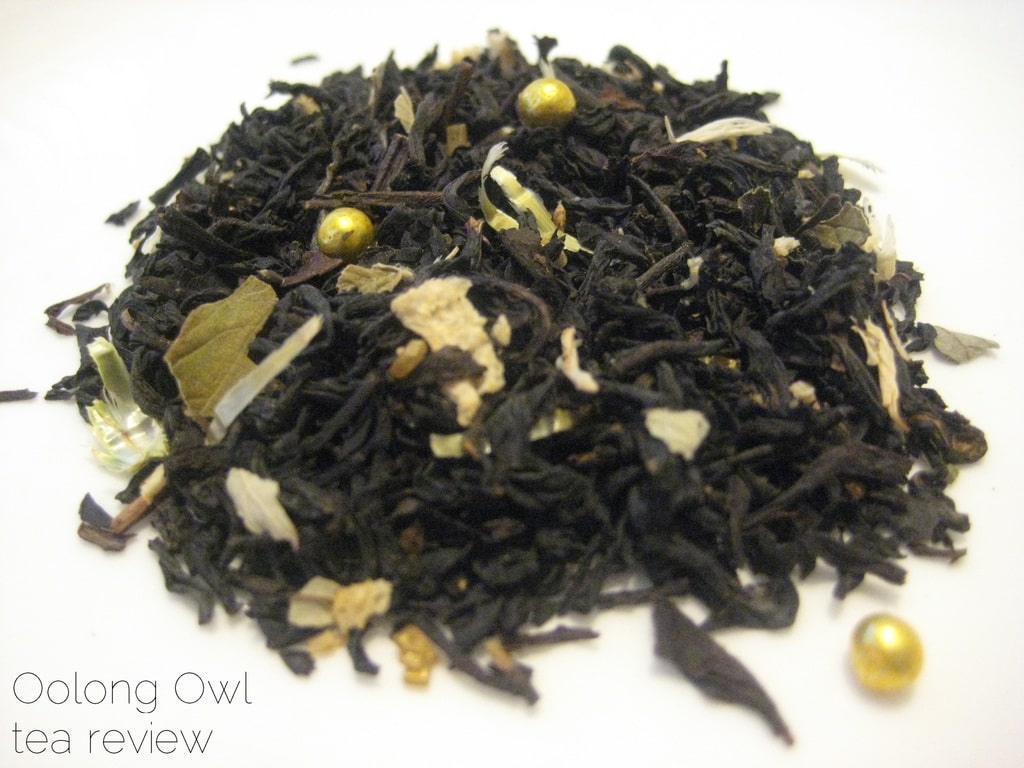 STEEPED: I'm still lacking a 2 cup tea pot, plus I've been too lazy to clean my gravity steeper in the mornings, so I did my awesome DT infuster + plate method. Yeahhh.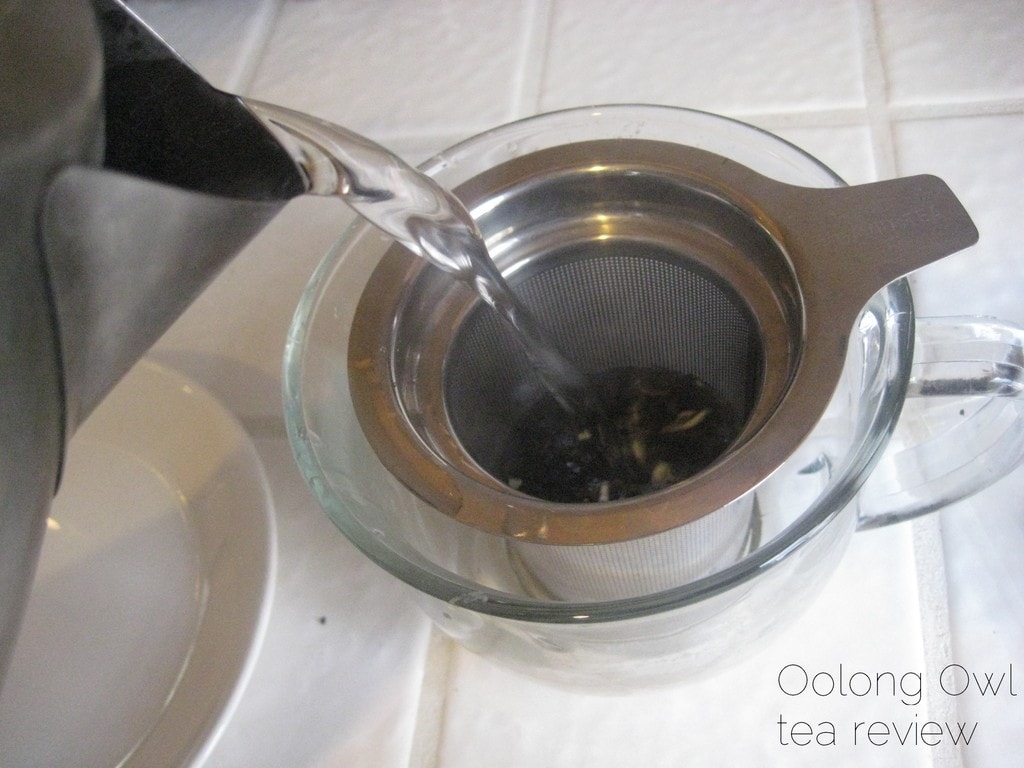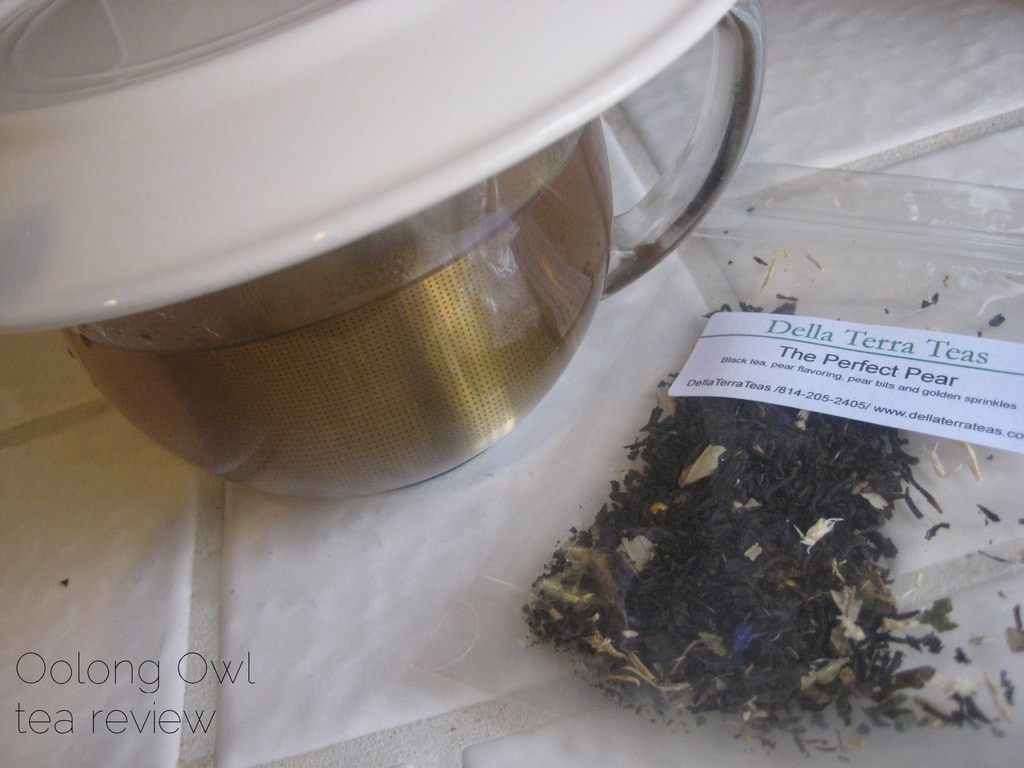 Smells like black tea with a little baked pear thrown in. The tea is a classic browny amber colour, but with a teeny bit of  cloudyness.
I did a 3 minute steep with boiling water, as per instructions on The Perfect Pear page.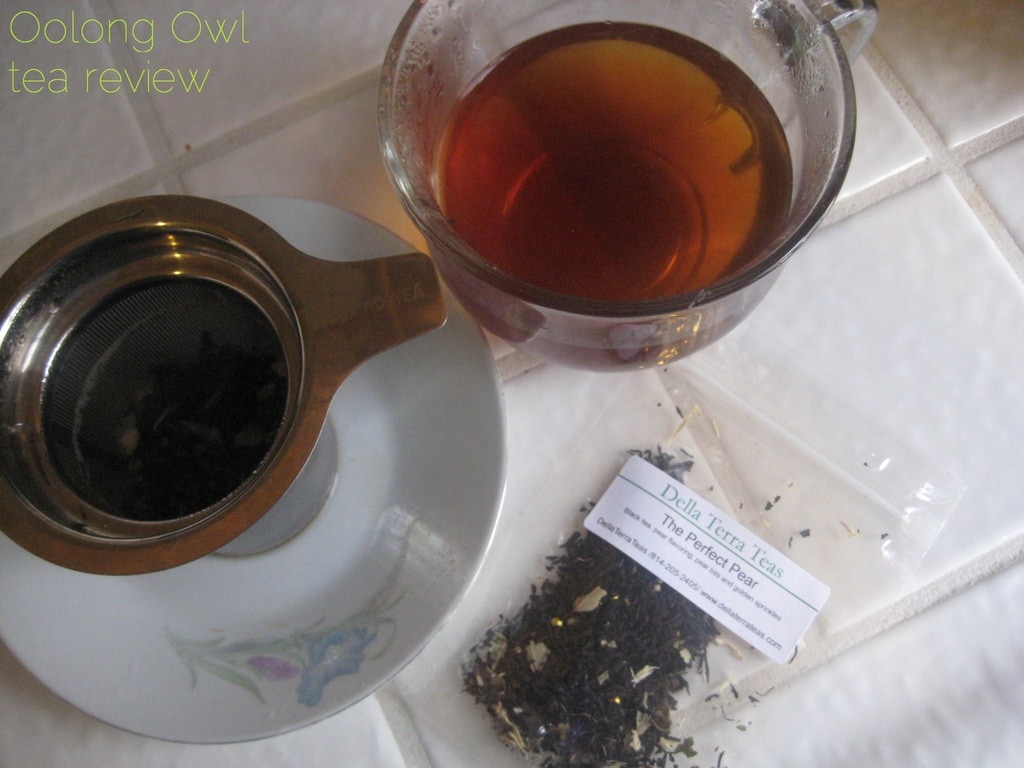 TASTE: Sweet pear flavor that is either a juicy, yet firm ripeness, or that baked or cooked pear taste that is sweating and juicy. The tea is slightly sweet with the golden sprinkles and such. The black tea base really works well with the pear flavoring, I think even making this taste more like pear. End of sip is very pear tasting with the pear flavor hanging out for the aftertaste.  There is no bitterness or dryness in this cup of tea.
I decided I would not add sugar as I think it would be overkill on sweetness.  I'd also not steep this much longer than 3 minutes if you would want to avoid astringency.
As the tea cools, I'm finding the black tea pops a bit more and the pear flavoring is more delicate. Actually, I'm a little apprehensive of trying this tea as a latte to not take away from the pear flavoring. Ditto for iced, as I think sweetening it would mess with the pear. This might be a good cold steeped tea, but I think I want to save the rest of my sample for another cup of hot tea.
RESTEEP: I did a 3 minute steep with boiling water. Very similar to the first steeping but the black and pear flavoring is lighter and a little watery. Not bad for a resteeping!
COMMENTS:  If you like a simple pear tea, The Perfect Pear is for you. This tea is lightly sweet, so you don't need to add sugar to it!
I find the pear flavor is much better and more natural than the last pear tea I tried, ESP Emporium's Mango Pear Deluxe. Sorry ESP!
For some reason, I was expecting something more wild, as per other Della Terra Teas I've had. You know, pop rocks or corn. However, The Perfect Pear is quite simple in flavor but comes clear as pear tea. Overall, very good – simple yet effective pear blend! I could see this tea being a great gift to a new tea drinker!