Champagne Rose is a black tea flavored with strawberries. This tea comes from Lupicia.
Happy Valentines Day!
Okay, I have to admit – I don't drink alcohol. I drink like maybe 2 or 3 times a year, and only if it's free at a party or something. I was/am a total nerd and during university, spending my time playing video games, knitting and drinking tea instead of doing the bar scene. When I'm having a nice dinner at home, my husband and I reach for the sparkling non-alcoholic apple cider. Well, mostly him. I would have a little bit then switch to tea to save calories and eat more dessert.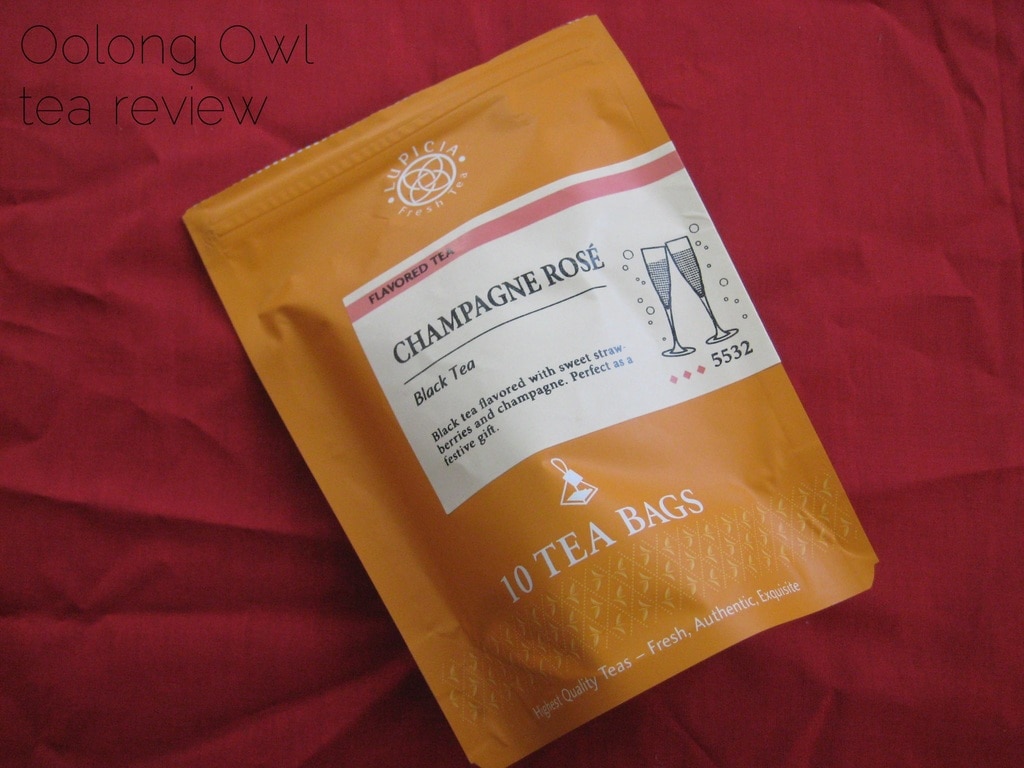 I got Champagne Rose as part of my 2012/2013 Happy Bag. There is something great about mystery grab bags that get you to try new things!
DRY LEAF: Smells like.. well.. strawberry bubble gum. Kind of scary.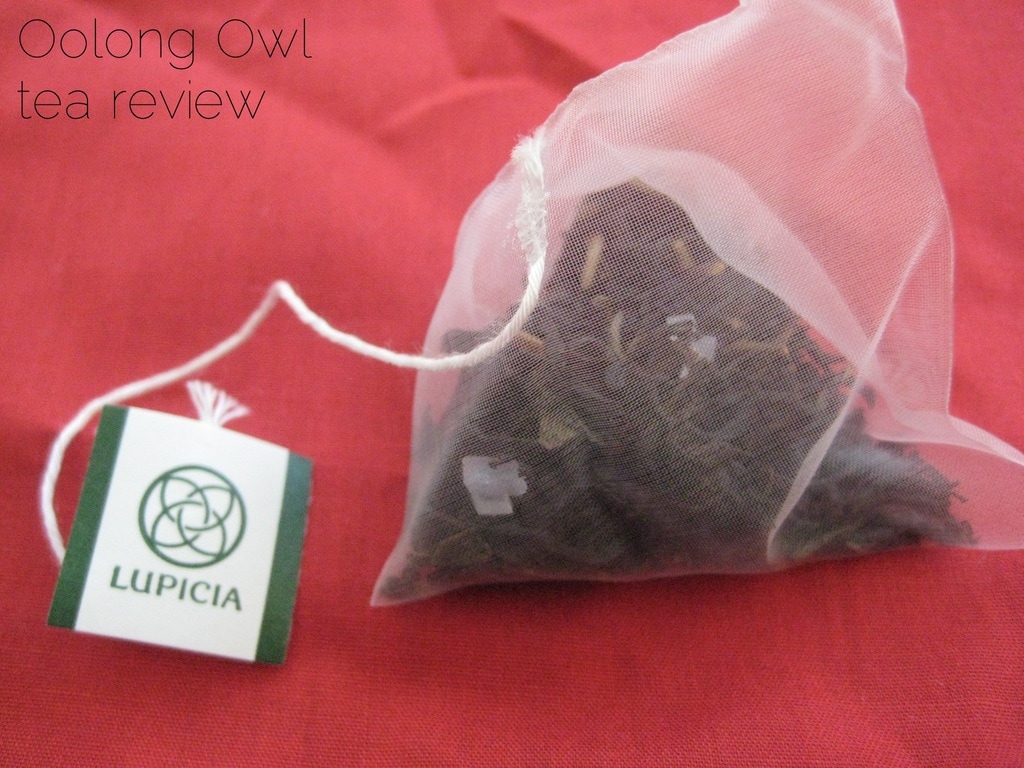 From what I can tell, there are little pieces of rock sugar in this tea. Apparently, the Japanese version of this tea has pink and silver argent in it.
STEEPED: Wow, Champagne Rose smells amazing! Very strong tangy strawberry and floral scent while this tea steeps – scenting the entire room! It really smells like Valentines day in here! I wish you tea peeps could smell this!
I steeped this tea for 2.5 minutes with boiling water, as per instructions on the package.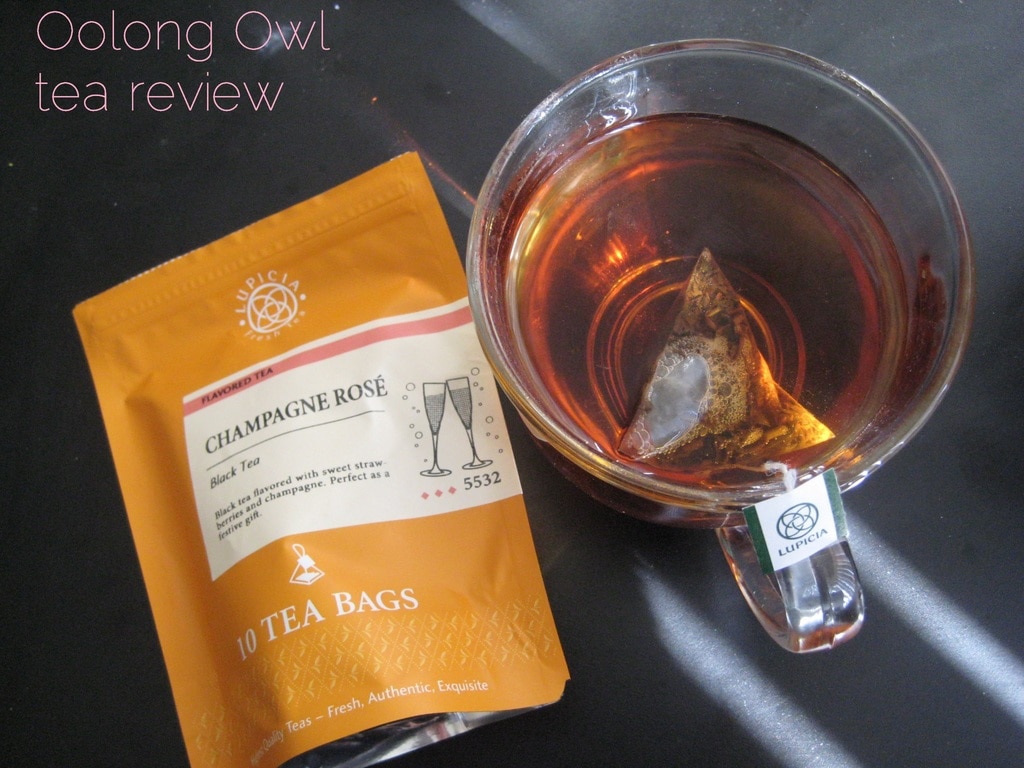 TASTE: Tart yet sweet ripe strawberry flavor. Very tangy tea! Kind of reminds me of really good berry fruit gem candy with a sugar coating. The black tea is pretty mellow adding background interest – no bitterness.  Slight floral here, but it's really mild – 2 /10 on the Floral-o-meter. The tart flavor comes from a bit of dryness, but it is pretty light and does a job creating interest in the tea – 1/10 on the Astringent-o-meter.
Sweetened with rock sugar, the tang goes down and not as interesting as a flavor – it's like I'm just drinking strawberry tea. The unsweetened Champagne Rose is much better in my opinion.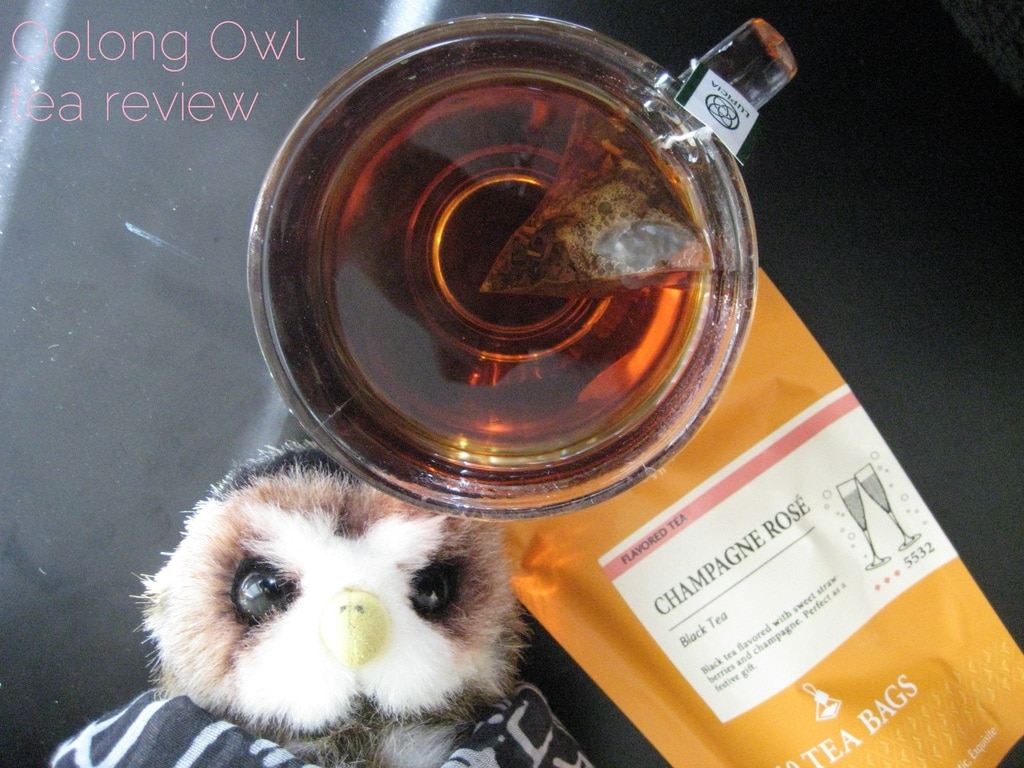 Owly photobomb!
COMMENTS: You know, I would of never purchased this tea for myself, this would of been a tea I would of got for my Mother-in-Law. I've gifted her a couple really cool wine inspired teas. I almost gave her this package, but I was curious to try this tea. I figured since I don't drink alcohol, I wouldn't fully enjoy this tea.
But wow, I really dig Champagne Rose for its strong fruity candy like taste. I'm probably going to buy this tea in loose leaf when I run out.  I can see others really liking this tea for a really good strawberry tea – though I think some will not be into the tangy candy like taste.
But hey, in the end – not a drinker? Still try wine or champagne teas for something new!