Gyokuro Standard is a 2012 Ichibancha first flush Gyokuro from Kurihara Tea, which I recieved from Yunomi.us.
Ahhh Gyokuro. I need more of this tea in my life. I want to experiment more with steeping times, but this tea is on the pricey side as well as having a short shelf life. I'm in conflict as they seem like a tea I should save for special occasions  but gyokuro feels so full of energy that I need to have them often!
Yunomi.us pointed out to me I need to try gyokuro at a lower temperature – which is what I'll be doing today with my sample!
Introducing: Barn Owl! Ugg, I'm bad at naming my crocheted owls. Barney?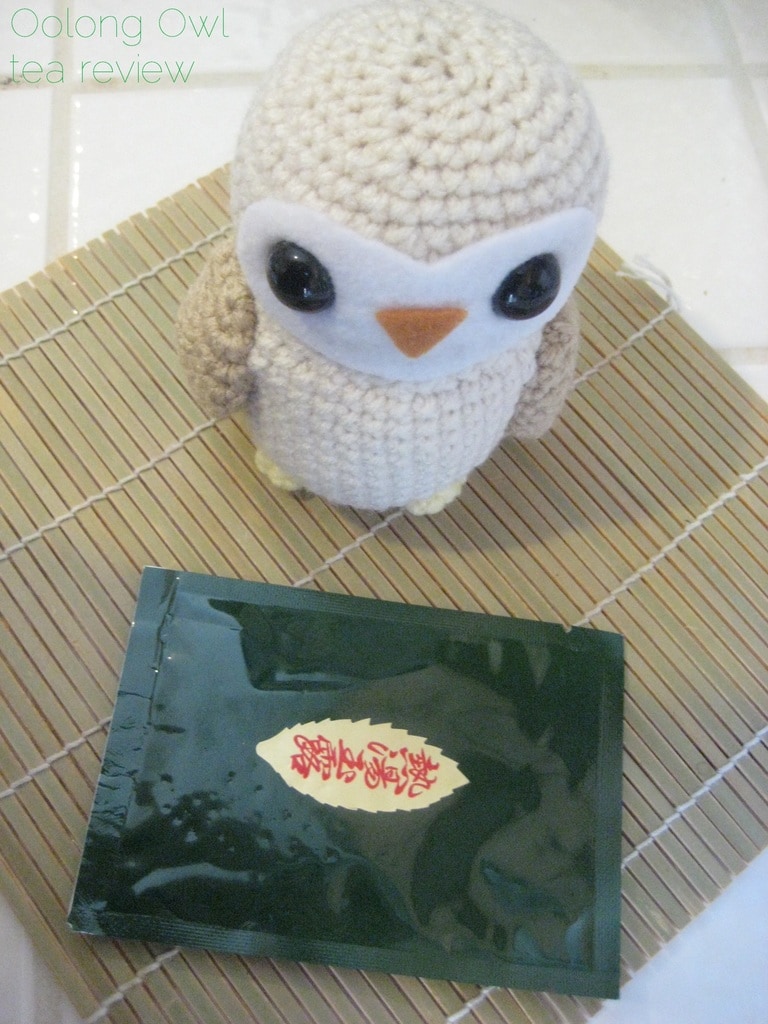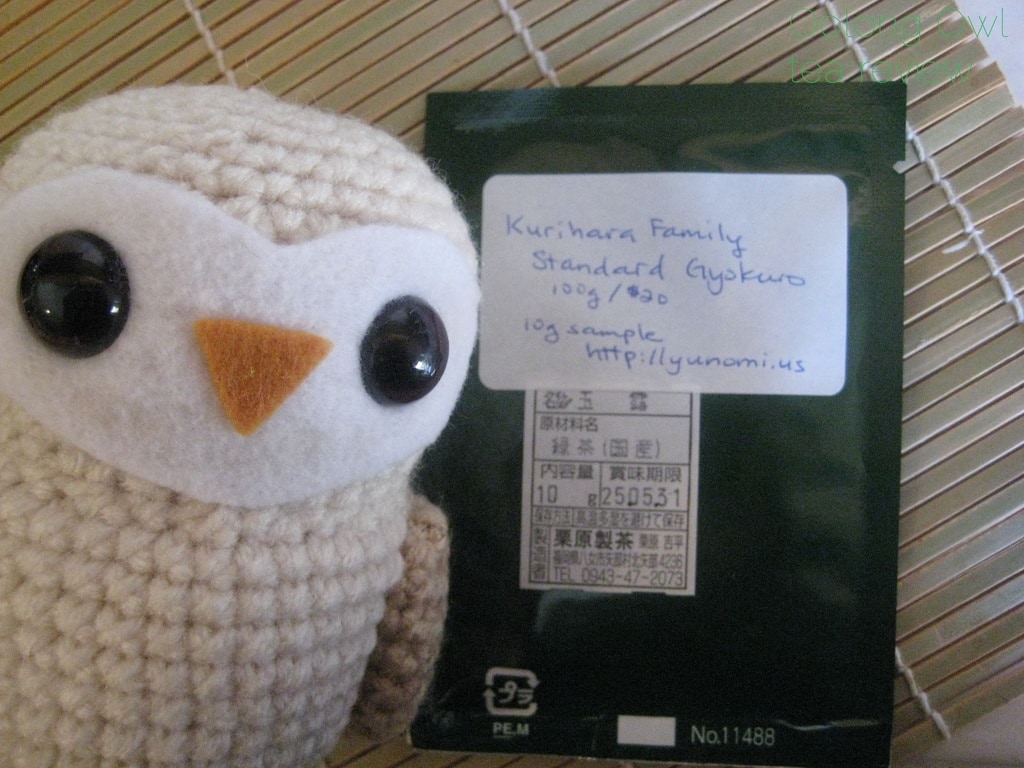 DRY LEAF: The gyokuro smells faintly sweet and vegetal. I'm trying to think of a similar smell. Maybe sweet cut grass? Nope, gyokuro is sweeter and doesn't trigger my allergies!
Look it all the green! It is so bright!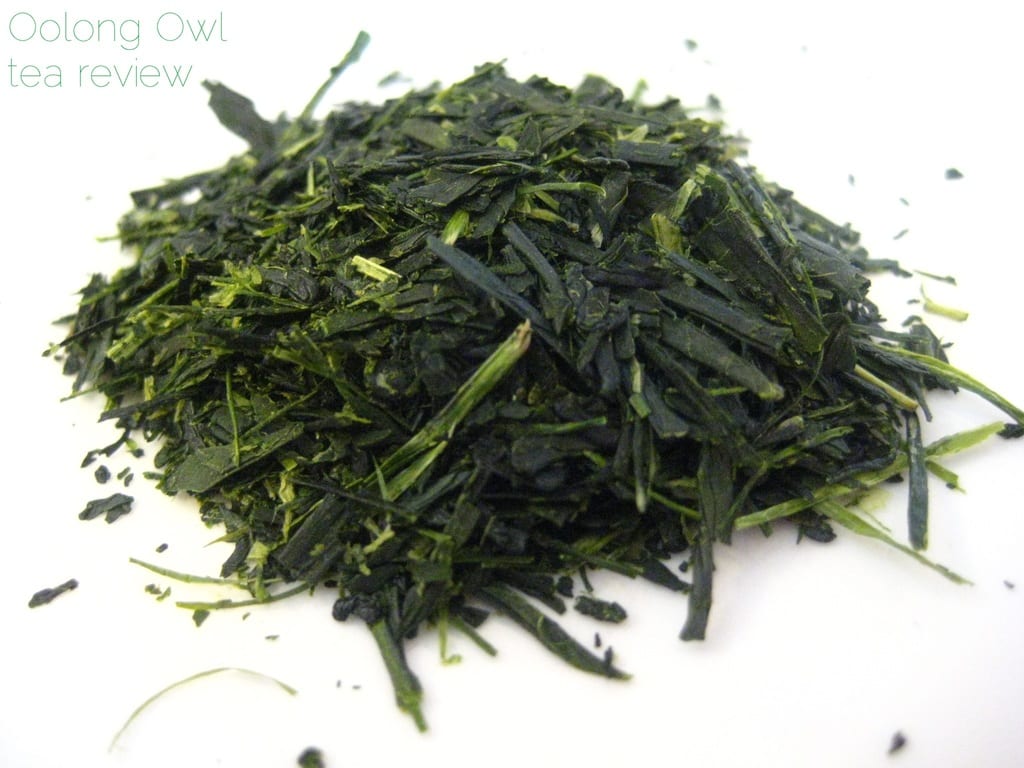 Barney is excited to try this tea out!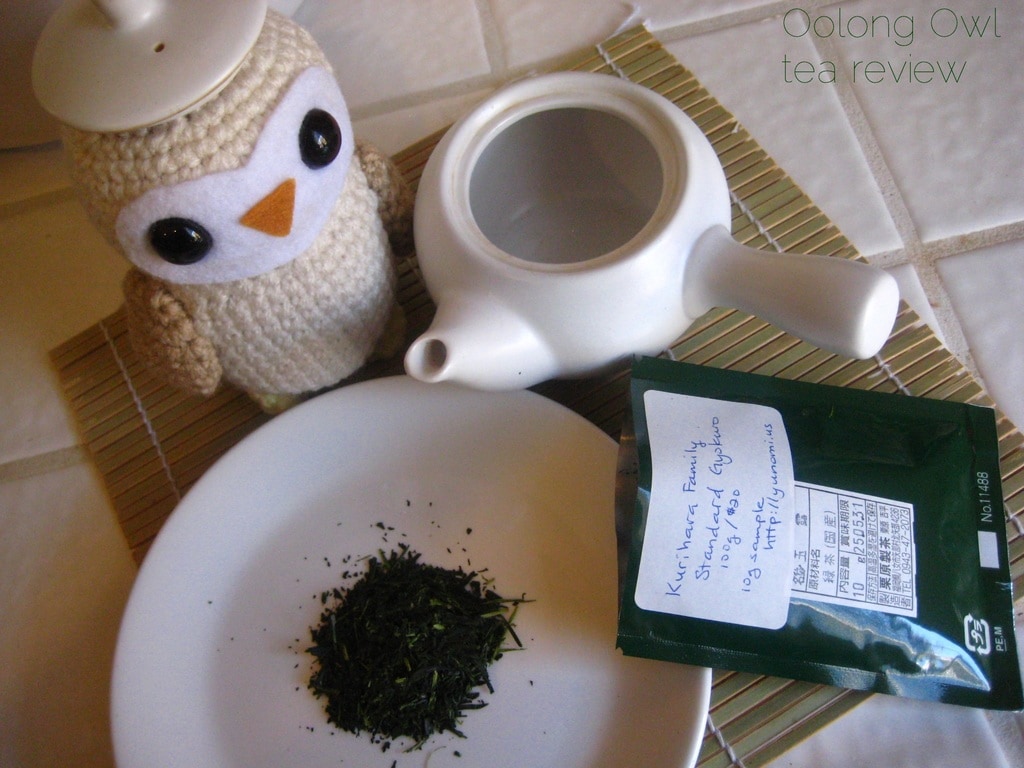 STEEPED:  I followed Yunomi.us Gyokuro Steeping Technique, which was 40-50C / 100-120F for 2 minutes. My kettle doesn't go that low, so I had to let the water sit until it cooled to that temperature.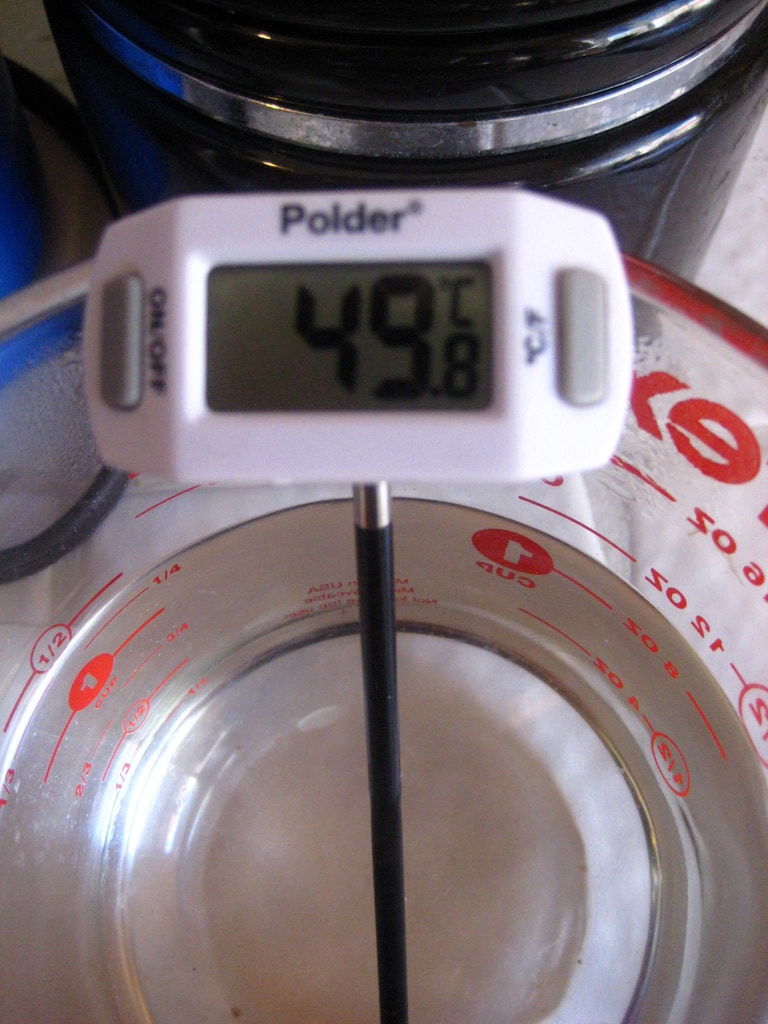 In the meantime, I heated up my teaware with hot water. Barney supervised.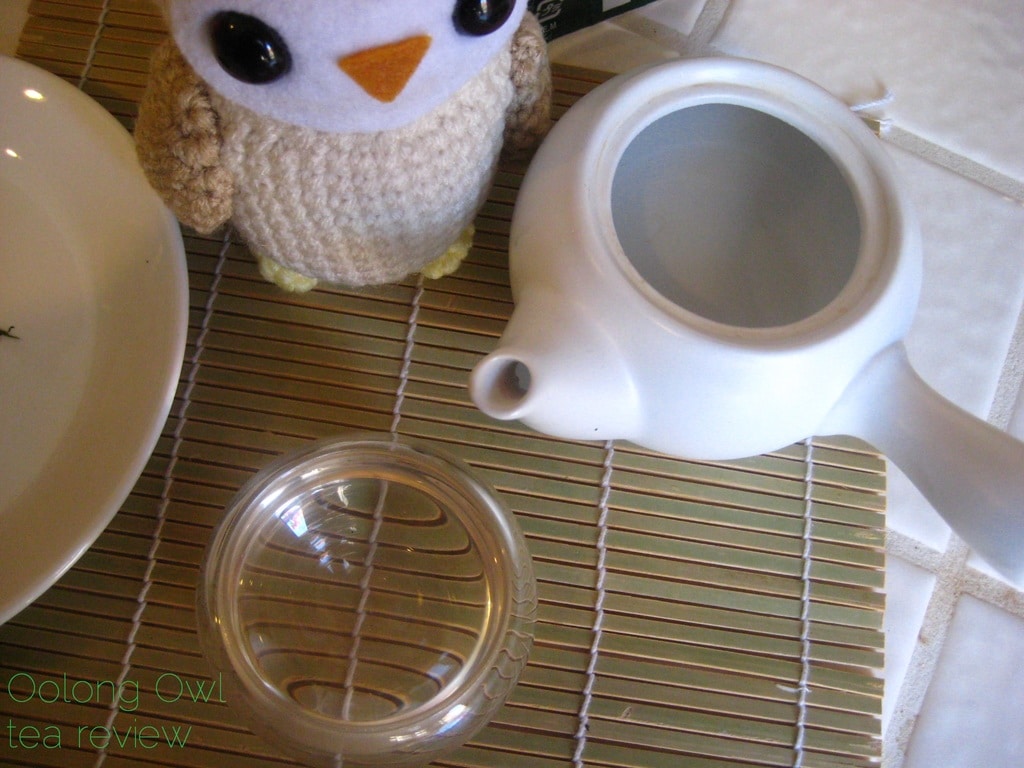 While I waited for my hot water to drop in temperature, I drank some oolong! Yeah. You know your love for tea is bad when you are drinking tea while making another tea.
Once steeped at a low temperature my gyokuro was a very gorgeous bright yellow green colour of tea! WOW! It looks like it is glowing! It has a melty buttery vegetal scent.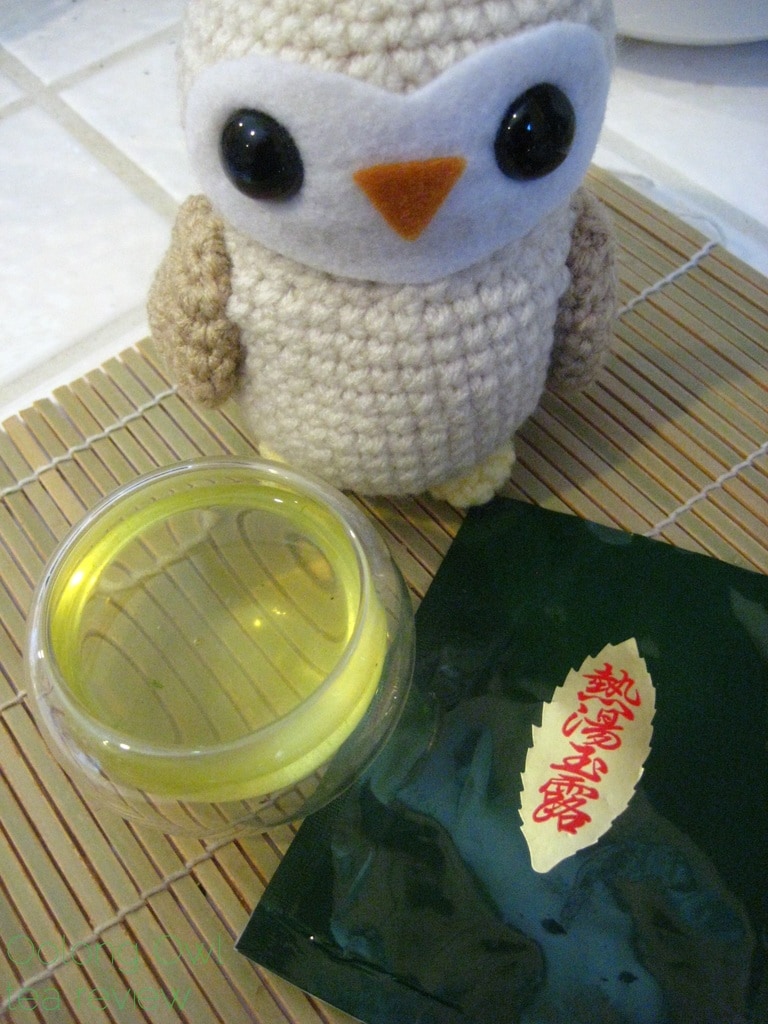 Zoomed in, one little leaf piece escaped into my cup!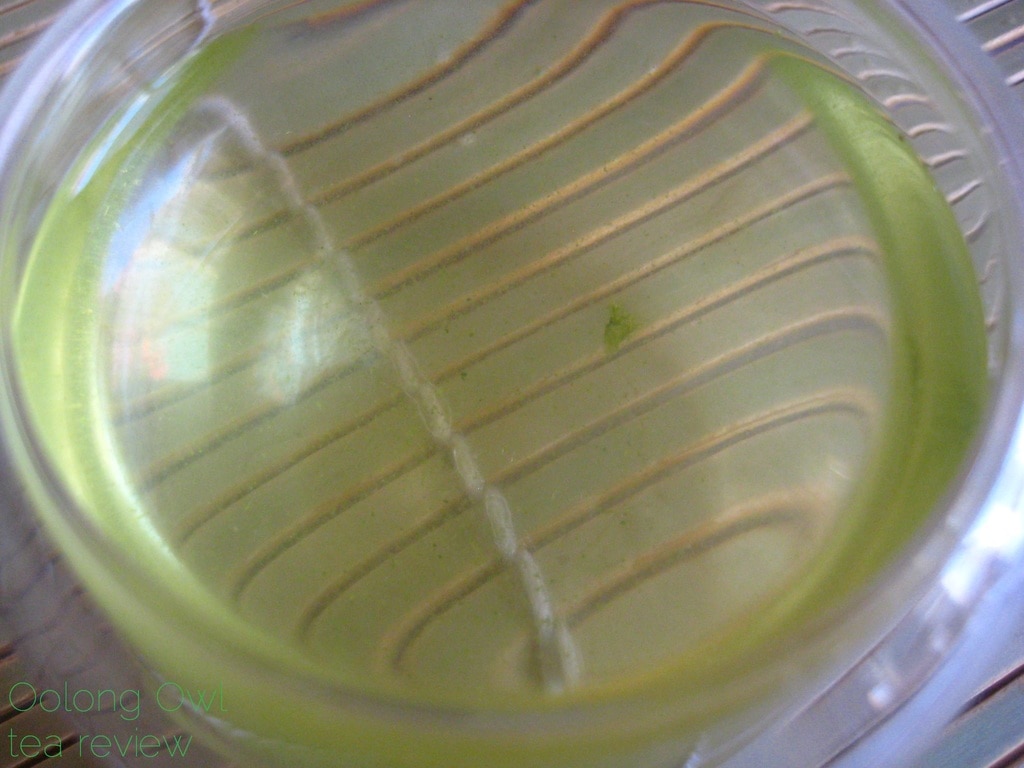 FIRST STEEP: Ohh! The gyokuro is like syrup – its got a sensation of thick texture from the water temperature. It's very buttery and kinda creamy with loads of spinachy fresh flavor. The savoryness is very delicious and comforting! Lovely vegetal sweetness too. End of sip the flavor goes into a high note of more veg taste with a slight echo of astringency. Like 1/10 on the astringency-o-meter – very lovely! Even with the tea being a lower temperature than what I usually drink at, the syrupyness had me sipping slowly to enjoy it! I feel very much like I'm floating on a cloud!
I love how this gyokuro came out with this lower temperature steeping method. I generally do not like astrigency, but this was actually enjoyable!
SECOND STEEP: Still following the Yunomi.us Gyokuro Steeping Technique I went with 80c/175F for 25 seconds. I was worried this was going to be ultra astringent – it wasn't! The butteryness went into overdrive in this tea round, with the vegetal flavor becoming a little sweeter. The astringency  or from what I'm reading on yunomi.us site, shibumi, is present! It peaks right at the end of sip – as if the sun was beaming right on me or a singer hitting a high note. No syrupy texture though.
THIRD STEEP: Again, one loose leaf made it into my cup!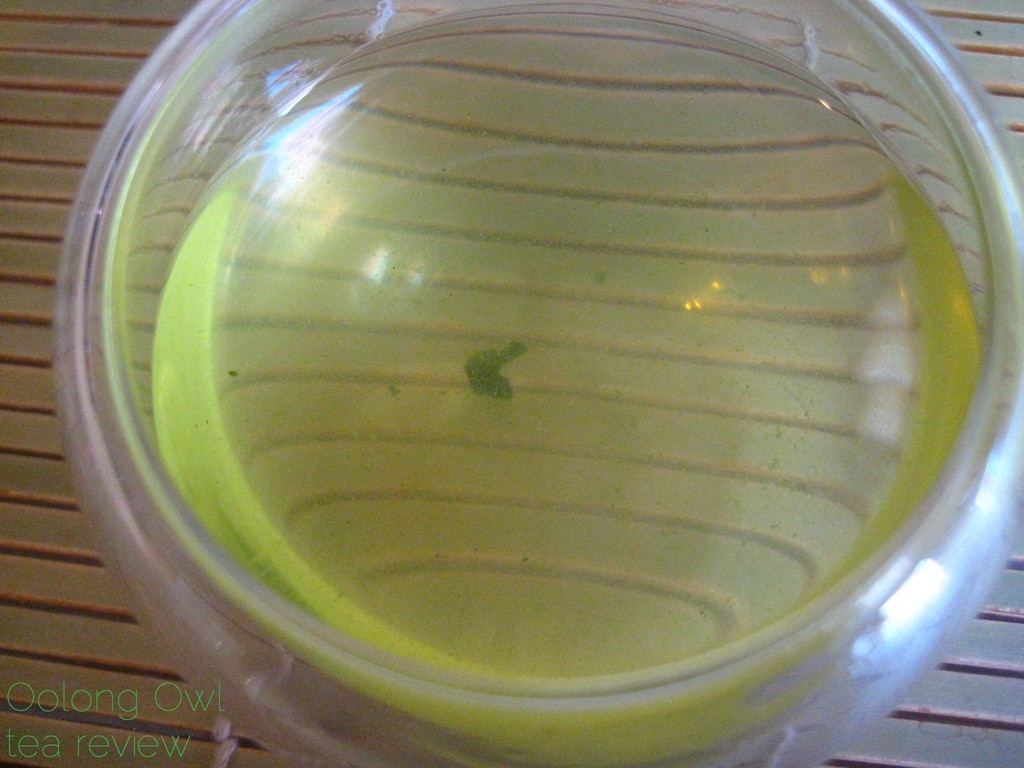 I went a little higher in temperature, 185F for 30 seconds. The gyokuro has gotten sweeter and the shibumi perked up more, say 4/10 on the shibumi meter. However, the astringency hits a little different – it leaves a sensation on the teeth – really reminds me of munching on steamed spinach. Oh man, is this cup of tea a serving of veggies? Heheh!
FOURTH STEEP: For this steeping I did 185F for 35 seconds. The shibumi has softened closely to the first steeping. The flavor has greatly reduced and is just lightly buttery and vegetal. I think this gyokuro is done.
TEA LEAF SALAD: Well, its says on Yunomi.us Gyokuro Steeping Technique I can eat the leaves after the 3rd or 4th steeping, why not? It's lunch time.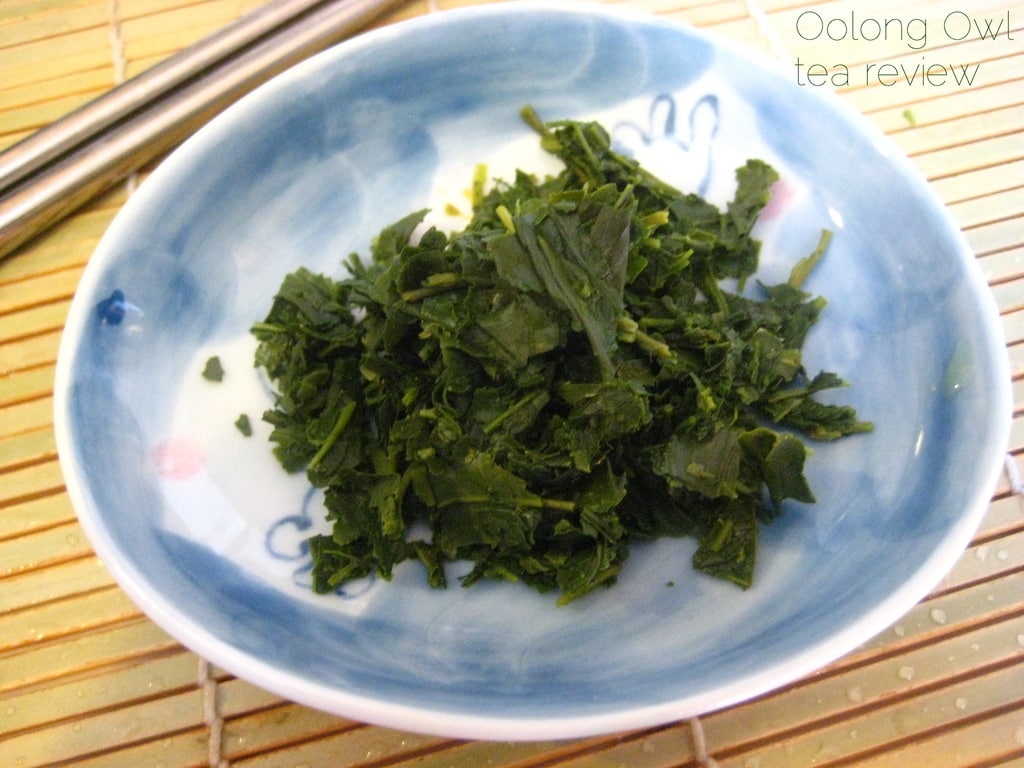 I sprinkled some low sodium soy sauce and sesame seeds.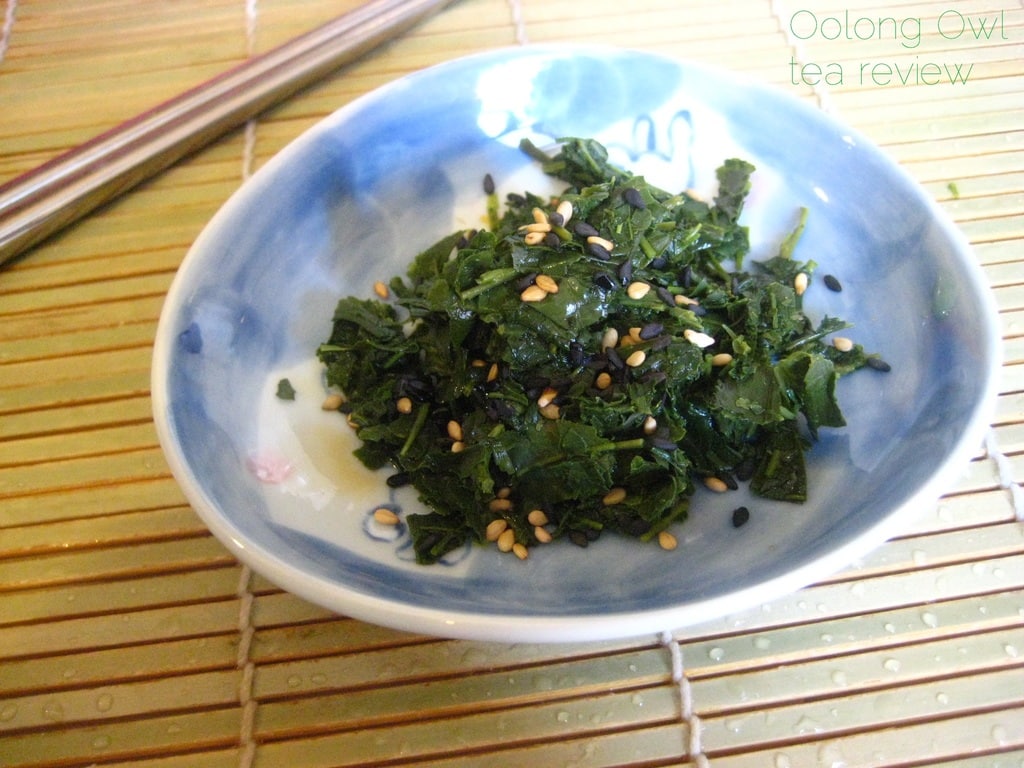 Mmm, pretty good! The leaves have a teeny bit of astringency, but still savory. The flavor light and is a cross between spinach and seaweed. The gyokuro leaves are quite firm, so more chewy than spinach, but not as chewy as seaweed.
I'm happy to of eaten the leaves – sorry compost pile, no fancy green tea for you!
COLD STEEPED: While I was making a huge mess with my hot gyokuro, I began cold steeping the remainder of my sample.
As I added the water to the tea leaves, the bright green gyokuro created a leaf storm of colour!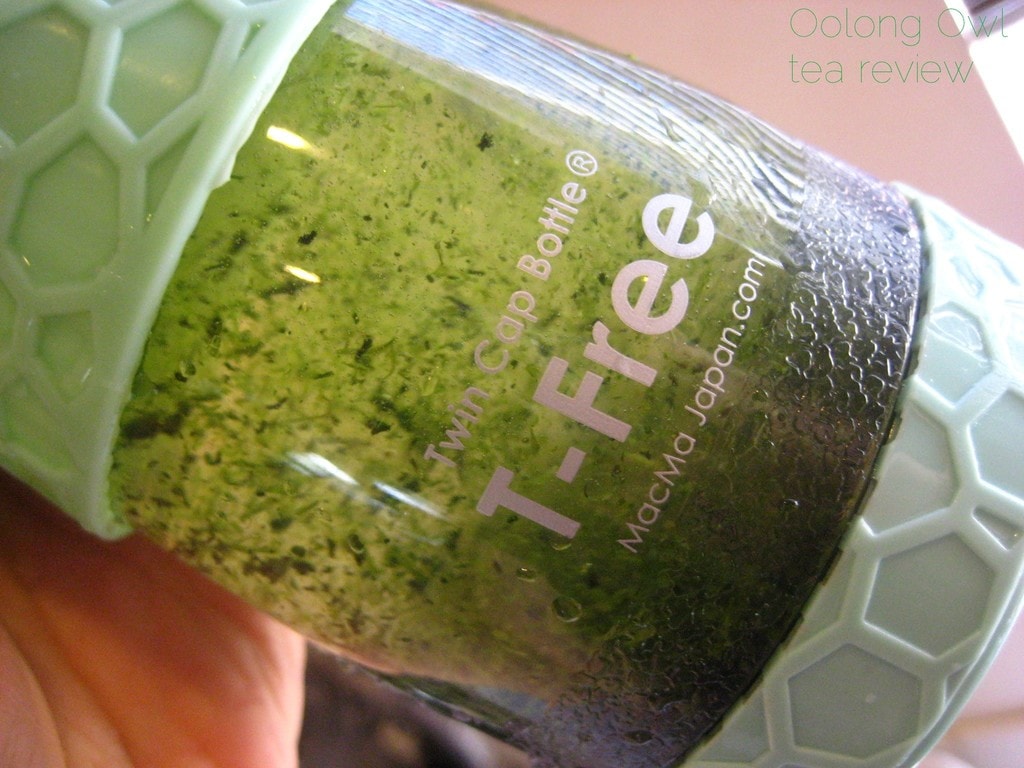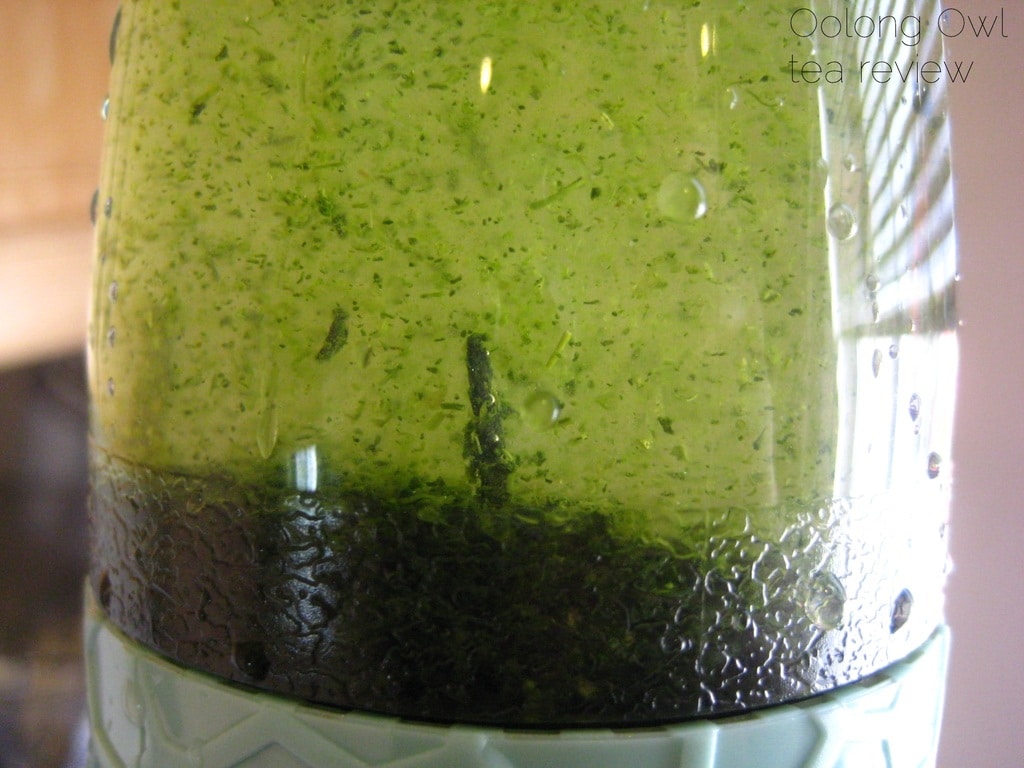 I let it steep in the fridge for a couple hours. As usual, Gyokuro is delicious cold steeped! This Gyokuro Standard – Kurihara Tea is quite buttery and creamy with a light sweet vegetal taste. End of sip is very refreshing, cutting through the creamy buttery flavor.
I love the gradient of green here – it's like a vibrant green forest in the morning fog!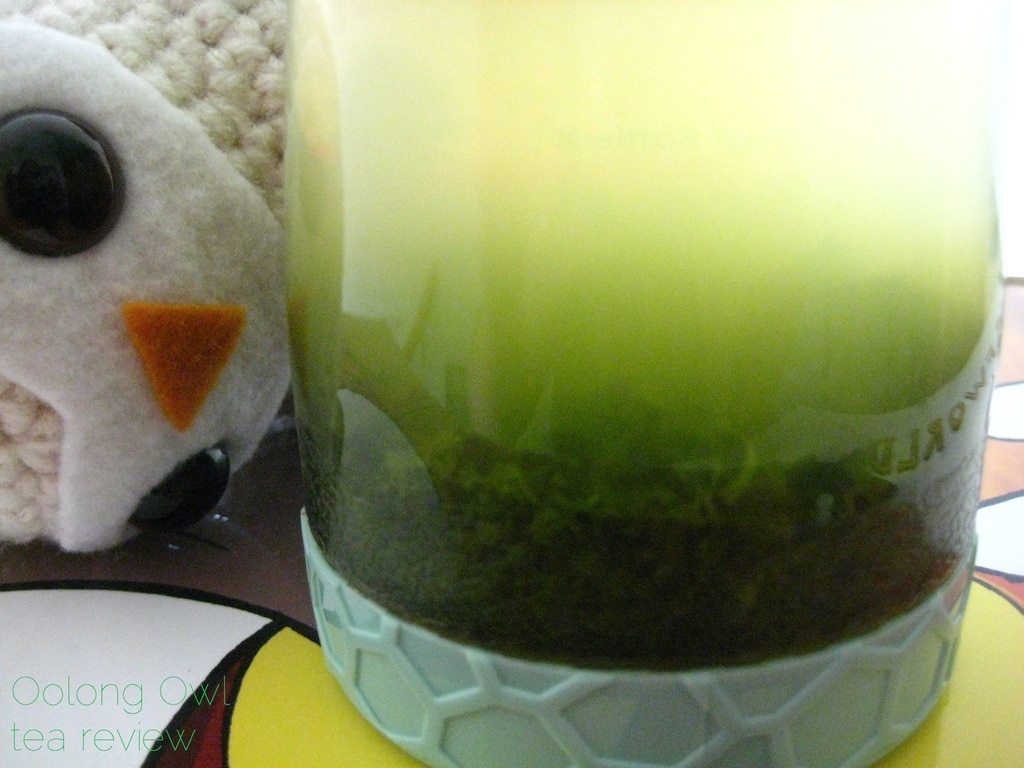 COMMENTS: The first Gyokuro I tried was Den's Tea Gyokuro Kin. I find this Gyokuro Standard – Kurihara Tea has a stronger buttery and balanced flavor, which appeals to me more. With 2013 teas coming out, I'm going to put some more of this Gyokuro on my wish list. Yunomi.us also has 3 other Gyokuros from Kurihara listed that sound amazing as well – I only sampled the cheapest one!
I gotta say the Yunomi.us Gyokuro Steeping Technique is really good. I recommend you tea peeps to try this method of steeping gyokuro! I felt I got a lot more out of my tea compared to what I did with my sample of Den's Tea Gyokuro Kin! I got more steepings and much less astringency, and what astringency I did get I actually enjoyed!
BONUS PICTURE: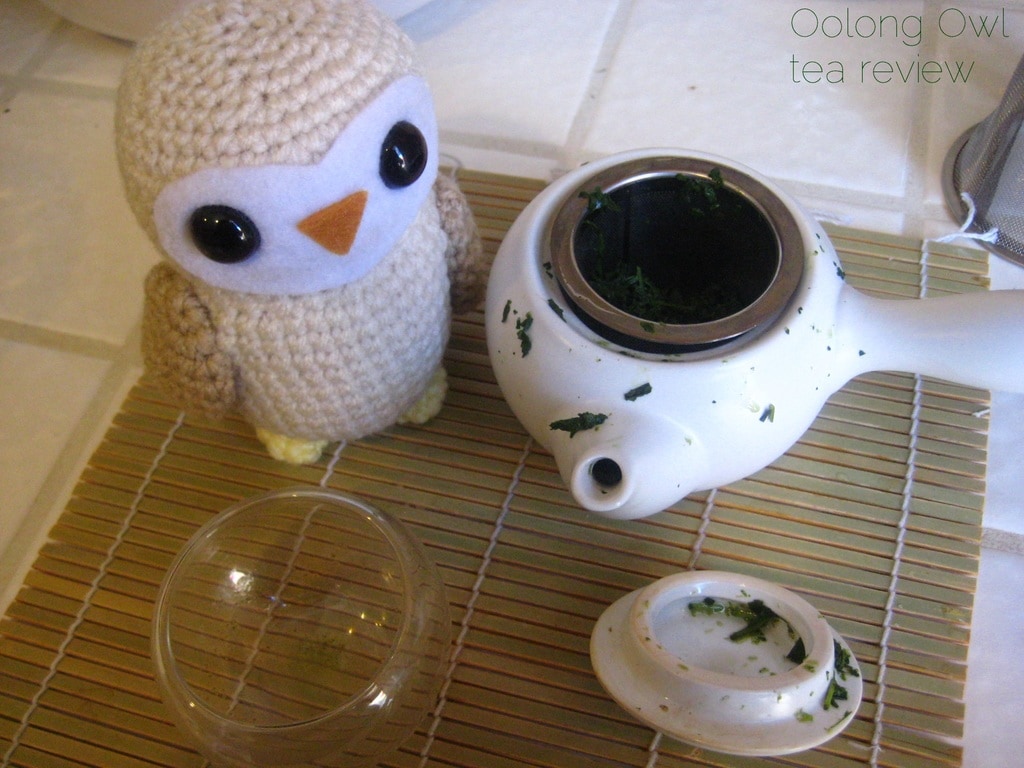 I am really messy with gyokuro! I'm also one of those artist types that manages to get paint all over myself, so me making a mess with tea is to be expected.