Pineapple Cilantro Cream is a Bai Mu Dan white tea blend. This unique tea is made by Butiki Teas, US online seller of loose leaf teas.
Hmm. I do like pineapple, but cilantro? I do buy cilantro often, but mostly as a vegetable offering for my bunny. Cilantro in tea? Odd, but Oolong Owl is always up for a tea adventure! Butiki Teas does really good blends – but also their Flowery Pineapple Oolong is exceptionally delicious. I figured Pineapple Cilantro Cream White tea should be good as well.
Mini Green Owl has joined us for this tea review. I really need to make a yellow Tea Owl.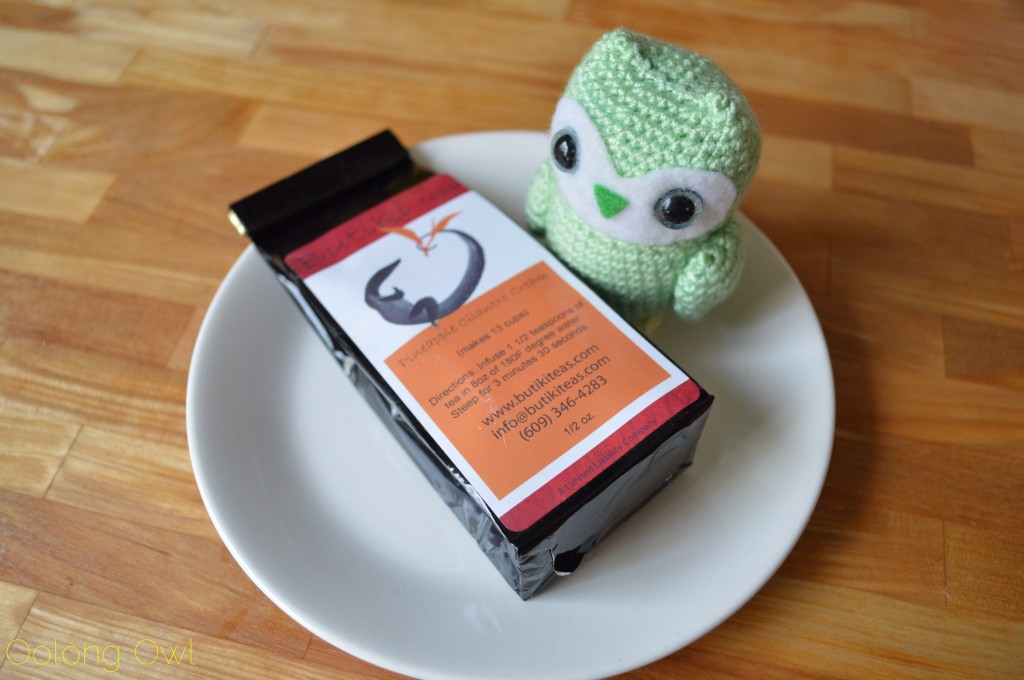 Dry Leaf
Gorgeous leaf! The Bai Mu Dan is fuzzy silver, mixed in with lots of rich green leaves. Butiki Teas was also generous with the pineapple!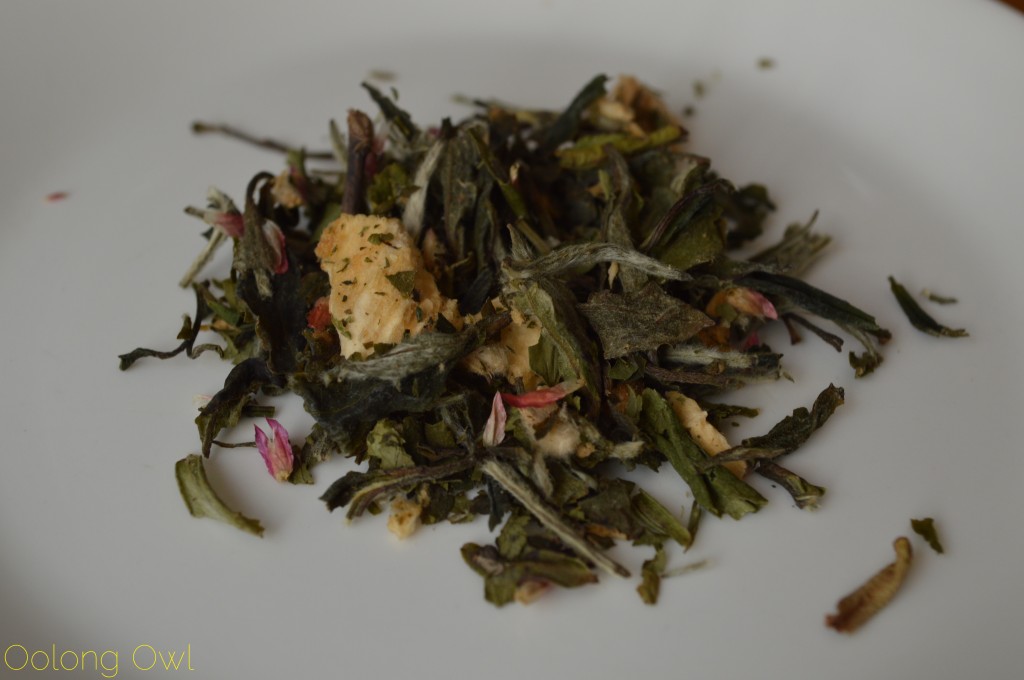 I also love the hint of pink petals in this tea, yay amaranth!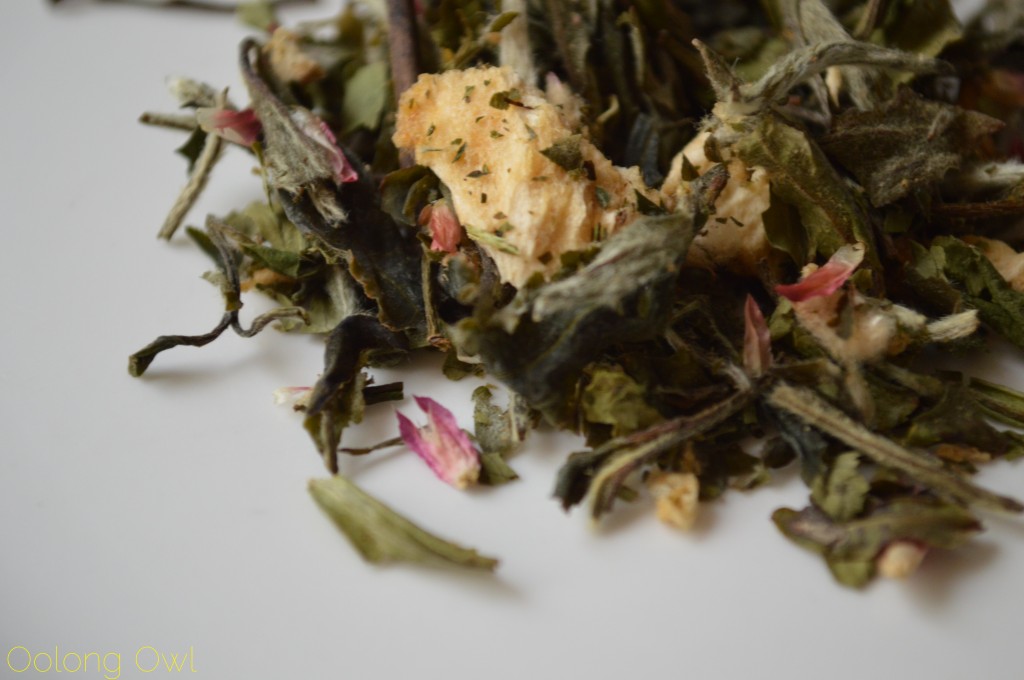 Steeping Instructions
The steeping instructions for Pineapple Cilantro Cream white tea is on the package: 1.5 teaspoons, steeped for 3.5 minutes in 8oz of 180F/82c water. I steeped my tea at 185F /85C due to kettle restrictions.
After 3.5 minutes of steeping I got a lightly gold tea that has a sweet fruity scent with a slight herb bite to it.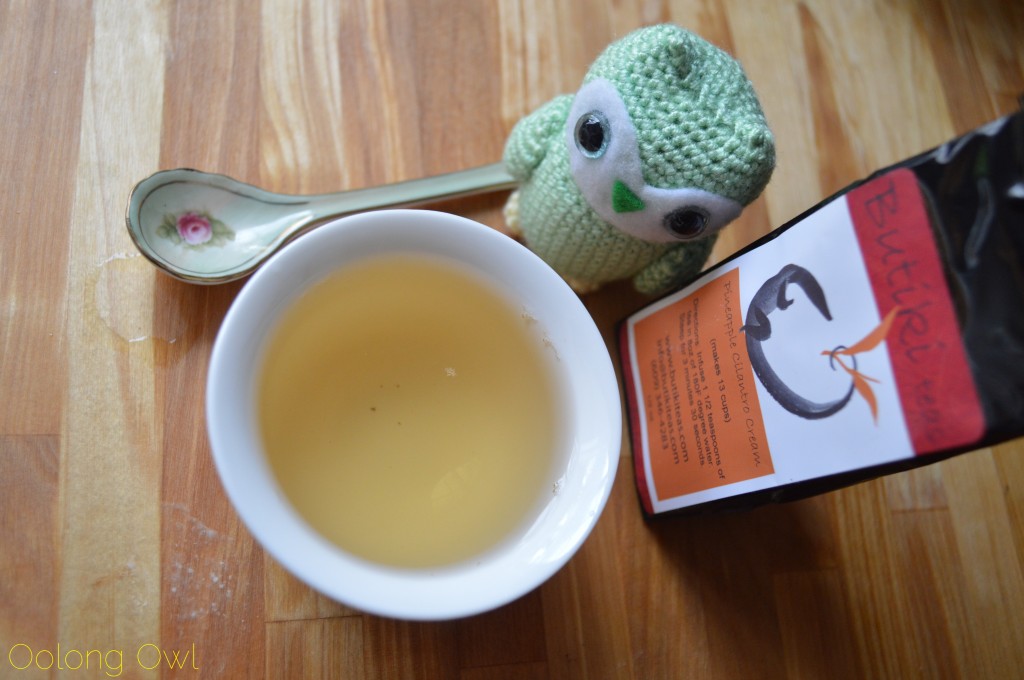 Tasting of Pineapple Cilantro Cream White Tea
Pineapple Cilantro Cream White tea sips in with a luscious Bai Mu Dan buttery base followed up with a creamy flavor. Mixed in with the cream is a fantastic natural and fresh pineapple flavor taste. The flavor here is like having whipped cream that has little cubes of fresh pineapple mixed in. End of sip there is a light green grassy herby quality that brings me from swimming in pools of pineapple custard to earth. The cilantro here is quite interesting – it's savory, so it does work with the buttery white tea base, but light enough to vibe with the pineapple. With that said, the cilantro works well in the blend.
Sweetened, the pineapple pops out heavily and moves from being fresh and natural of a fruit flavor to more candied, thus the tea concentrates more on the cream and pineapple rather than the buttery and herbal notes. I personally prefer this tea unsweetened so I can enjoy every flavor present.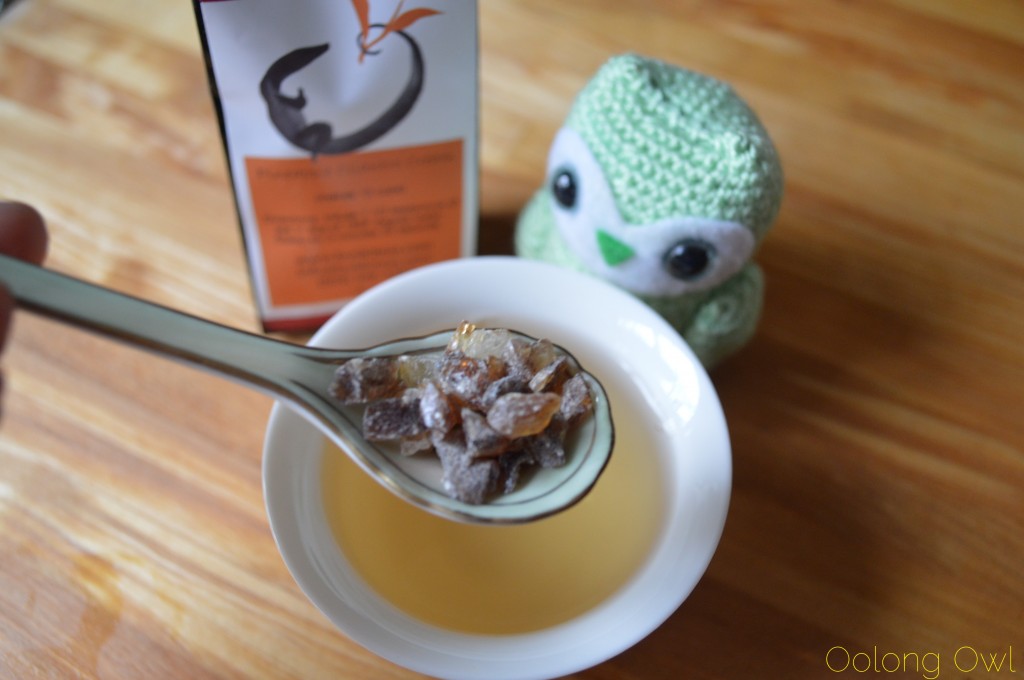 Comments
Pineapple Cilantro Cream White tea is loaded with flavor, yet delicate and unique. One could get focused on the cilantro as it an uncommon tea choice, but it adds a nice grassy dimension of flavor. The star of this tea blend is the pineapple – it is very natural and fresh tasting! Only at Butiki Teas I've had perfectly natural tasting pineapple tea blends. It's not over the top, tart or sugary unlike many other pineapple teas.
Fruity tea lovers – you'll need to check out Butiki Teas' Pineapple Cilantro Cream White tea! I would say this tea is a must try for pineapple lovers. I think I like Butiki Teas' Flowery Pineapple Oolong a little more, but only because I'm a floral oolong fan. However, both teas are great and different enough to own both.
/pineapple tea burp