I saw Prana Chai at the 2016 World Tea Expo and regret not getting some to take home. I visited Prana Chai at the 2017 World Tea Expo determined to bring it home for EVIL OWL experiments.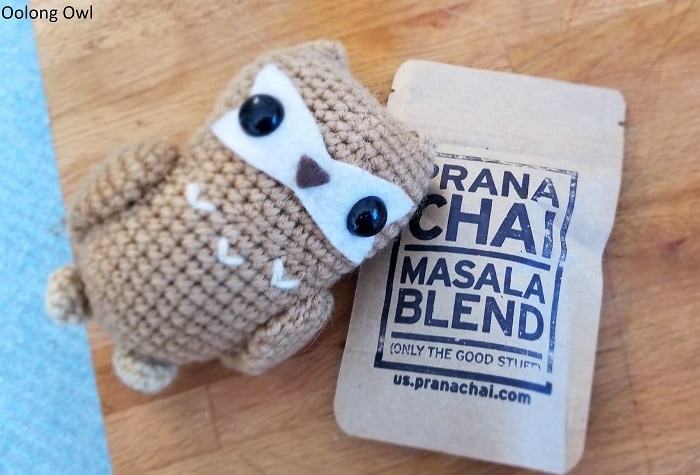 Prana Chai is a lot of fun. Look at this mound!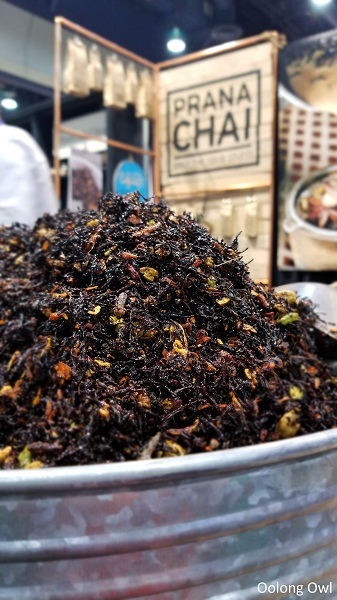 Prana Chai is made of black Ceylon tea, Australian Bushland Honey, cinnamon, cardamom, star anise, peppercorns, cloves, fresh ginger, salt. That sticky sheen is the honey, which acts as a natural preservative. Prana Chai has a shelf life of 1 year, even after it is opened.
Dry Leaf and Preparation
I can't say dry leaf here – this leaf isn't dry! It is sticky, leaving a residue on my fingers and anything else it touches. You can poke around and see the whole cardamom or chips of cinnamon bark.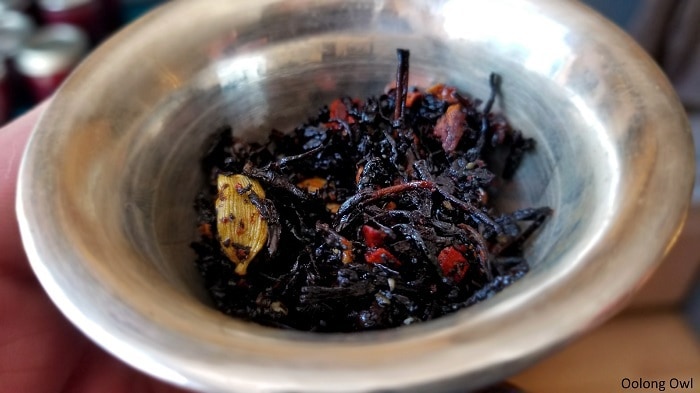 The instructions for Prana Chai are for making a latte. Annoyingly, the instructions are vague, but once you attempt making the chai, you'll learn you have quite a bit of wiggle room for adjustments. The instructions are to simply take a couple teaspoons of Prana Chai with some milk and then bring to a simmer on the stove.
I started with 8oz of vanilla soy milk (my usual milk drink of choice) plus 2 teaspoons of Prana Chai. I squished the leaf a bit and it worked out to 8 grams.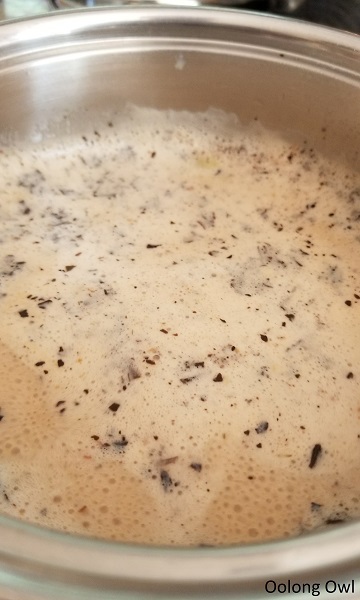 I got it up to a simmer and was not pleased with the potency. I felt the sample I had at WTE had more pow to it. That said, I added another teaspoon and let it simmer a few more minutes. I estimated I used 12 grams of tea.
I should premise that I like pretty spicy chai. Before I got hardcore into loose leaf, I was making napalm chais with Stash Double Spice Chai or Celestial Seasonings Bengal Spice double bagged. Likely part of the potency was to burn off my taste buds from the bad tea, but I do like a fiery food of death. The loose leaf chais I keep around are the high spiced ones, and I've been known to doctor it more. My dad, stomach ravaged by years of my mom's cooking, cannot take hot foods but always requests death chai while we play cribbage.
After simmering for a few minutes, I strained my Prana Chai into a mug.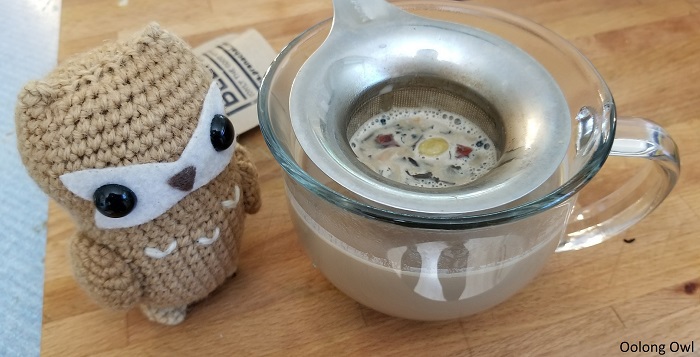 Leaf inspection. The leaf is chopped and on the green side.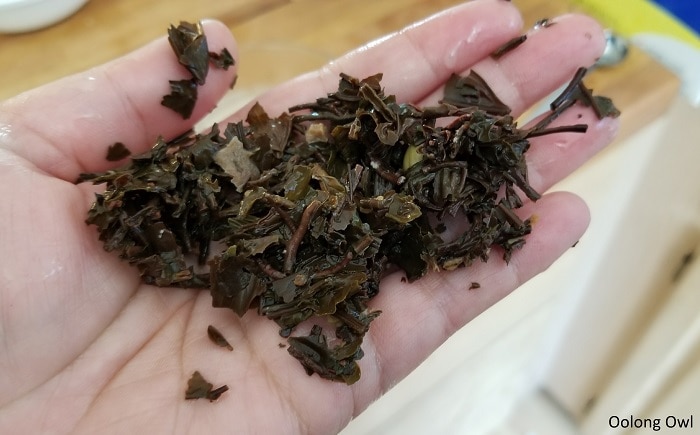 Tasting of Prana Chai
The flavor is interestingly nutty. I got it to the spice level I like, so I can clearly taste the cinnamon, cardamom, star anise, cloves and ginger, and also feel the burn of peppercorns and spice. It is not bitter or astringent at all. The sweetness level is light, though I could see others adding a bit more honey. I like how fresh and spicy tasting Prana Chai is.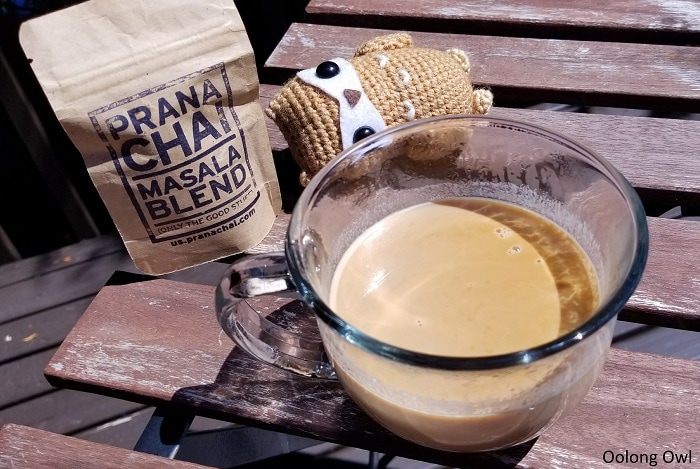 Comments
Overall, Prana Chai is pretty good and you'll love it if you love chai lattes. I think 8oz of milk to around 2.5 teaspoons/10 grams would be a good level of spice, but likely it would all depend if you rolled the dice and got an extra cardamom pod or pepper.  The flavor is excellent – much better than bagged chai, homemade chai concentrates and just as good as loose leaf chais but with the honey built in. Making Prana Chai was on the messy side due to sticky nature of having honey built in, but you also might not need to add additional sweeteners depending on your sweet tooth level.
My concerns are mostly to do with the honey. Prana Chai does have a shelf life of 1 year, as honey is a natural preservative. I lived in SoCal for 5 years and experienced the mess that is ants who love sugar and get into everything. If I were to keep a 250-gram bag of Prana Chai around, I'd have to airtight storage and be extra clean while using it. But the real question is whether a Prana Chai stash would last that long, as it is tasty stuff. I gifted the rest of my sample to friends who I know are huge chai drinkers and I've been debating to buy some for myself. Yes, I wanted to gongfu it, but gongfuing anything with sugar is now my limit as it makes a huge sticky mess.
The Prana Chai I reviewed is the original honey, but Prana Chai also has a vegan Agave version.
Prana Chai also sells kits on their website that includes a single serving stainless steel pot and strainer, which I can see being handy if you make chai often on the stove for one.
(tea provided for review | Amazon Affiliate links)