Raspberry Vanilla Mint Green Tea is a Young Hyson Chinese Green Tea blend with peppermint, raspberry and vanilla Flavor and raspberries. This tea is part of Simple Loose Leaf's huge line up for their tea subscription plan.
Tea Owls – Simple Loose Leaf! This place is brilliant! Admittedly, I was confused at first glance on how their tea subscription works, but it's because I was thinking of typical tea subscription methods that I'd get stuck with volume than variety.
Simple Loose Leaf tea subscriptions works by you pick out the tea and they'll send you tea every month. If you order 6 teas, you'll get 1 tea a month. With pricing, it works out to be a killer deal when you buy 3 teas (15% off) or 6 teas (25% off). They also have a pretty good volume discount if you want the 4oz bag of tea, though they have 1oz sizes available. Their shipping is quite fair and a pretty good deal especially since they are sending a couple shipments.
Thinking about how the tea subscription works, I can try a whole bunch of tea, at a good discount, sent to me in batches – this works awesome as you'd always have something new coming. Or, if you are like this Tea Owl, you have SO MUCH tea, having a new tea a month gives you time to drink your other teas.. hopefully.
Simple Loose Leaf also has $1.50 samples with free shipping in the US! Yeah!
Anyways, let's see how good Simple Loose Leaf tea is… let's sip some Raspberry Vanilla Mint Green Tea!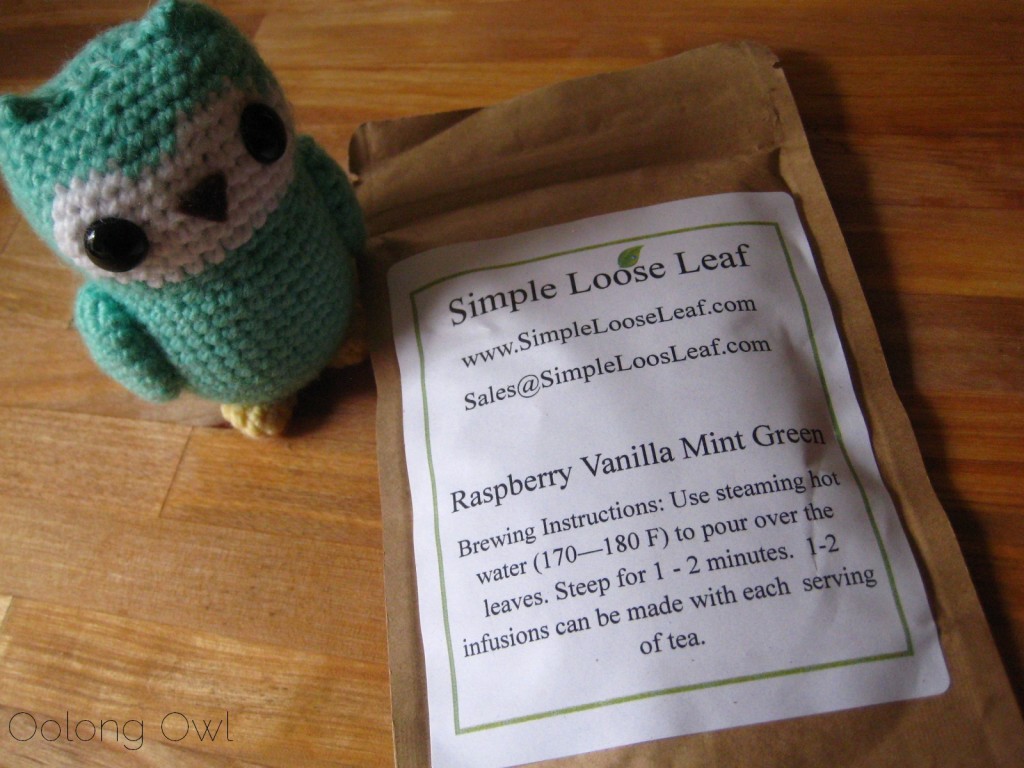 Dry Leaf
Raspberry Vanilla Mint Green Tea smells mostly of mint with a little sweetness.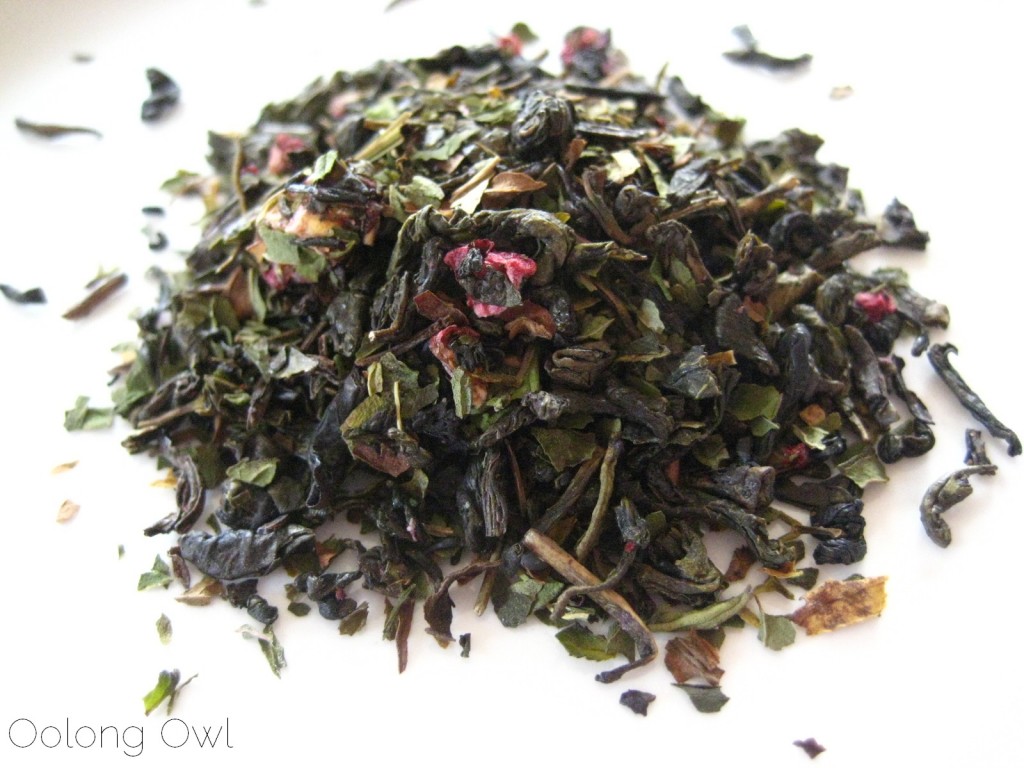 The appearance is a forest confetti of green mint, tight green tea rolls and raspberry bits.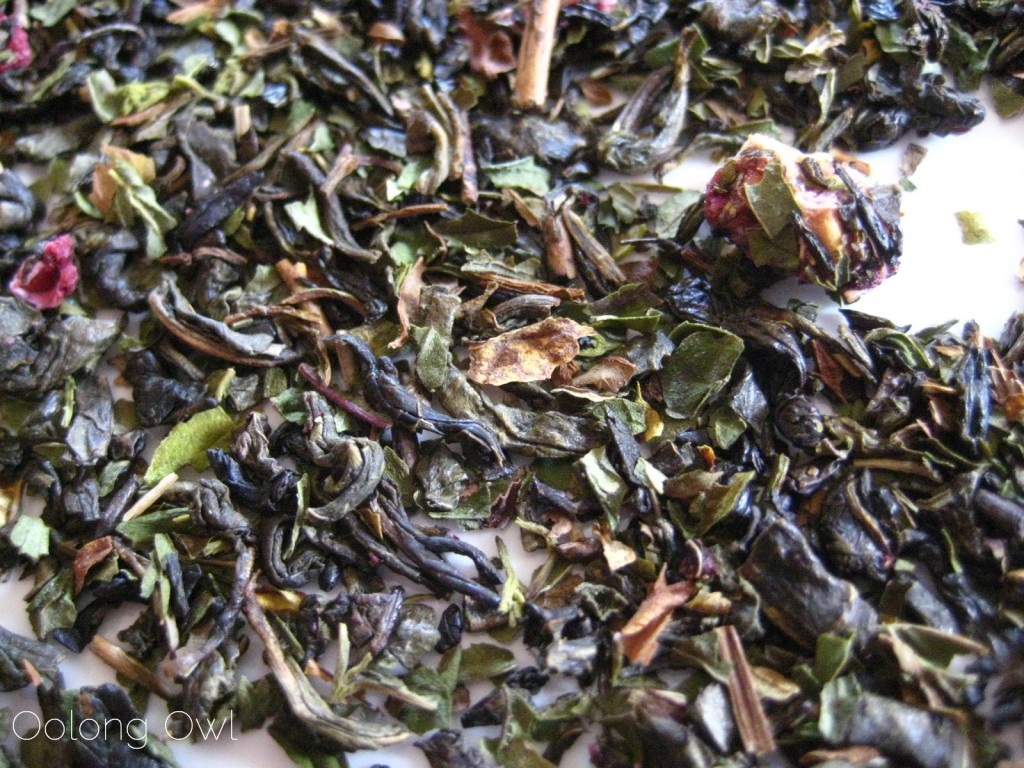 Steeping Instructions
The package of Raspberry Vanilla Mint Green Tea suggests 170f to 180f with a steep time of 1 to 2 minutes. I went with 175f, and found 2 minutes had the best flavor.
Raspberry Vanilla Mint Green Tea comes out with a creamy berry smell with a golden colour.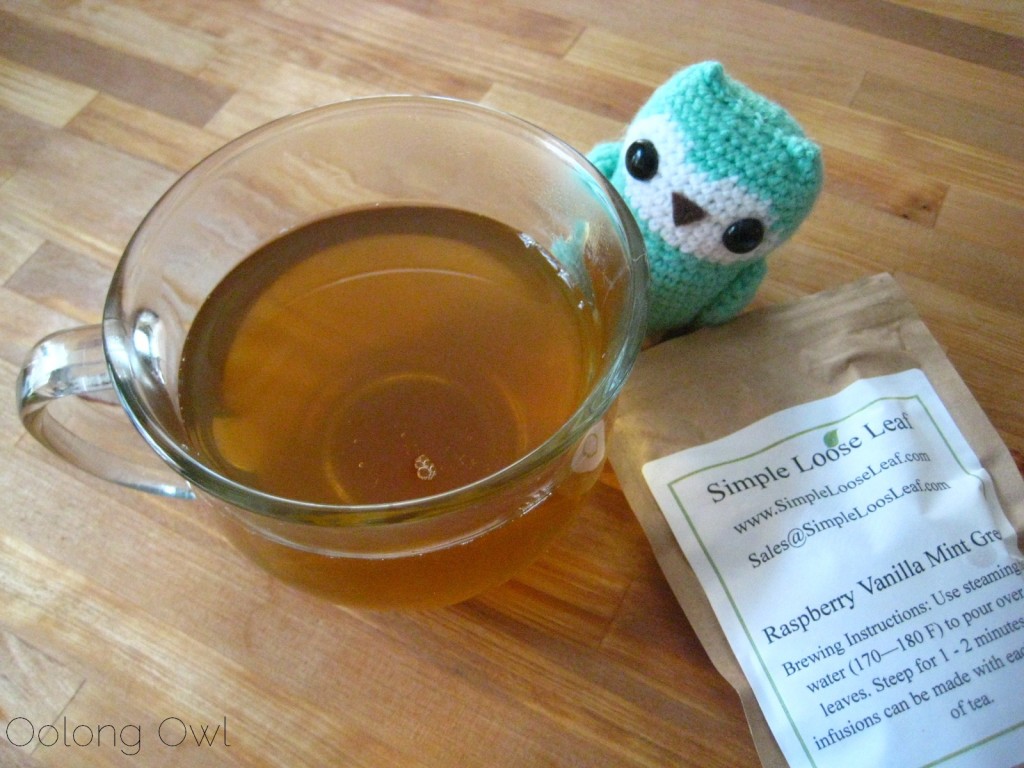 Taste of Raspberry Vanilla Mint Green Tea
Raspberry Vanilla Mint Green sips in with a light raspberry flavor that get taken over by a fluffy creamy texture, along with a savory, light vegetal green tea flavor. I find that creamy vanilla and savory green are an interesting combination here that remind me of marshmallow. The tea ends with a refreshing peppermint flavor. The aftertaste is more mint, but also a slight berry flavor. Hmm, I wonder if I could get more raspberry flavor?
Sweetened: German rock sugar time! Mmmmm, this came out good! Raspberry Vanilla Mint Green sweetened has that fluffy texture, but with much more berry flavor. It tastes more like "red berry" flavor to me this time. The pairing of the vanilla and berry reminds me of creamy berry yogurt or a mousse. End of sip, a fresh bite of mint, as if I accidentally ate the peppermint leaf garnish.
Comments
Simple Loose Leaf's Raspberry Vanilla Mint Green tea is a delicious and light green tea dessert tea blend. I'd love to have Raspberry Vanilla Mint Green along with some angel food cake, or even to replace dessert altogether. I highly suggest to add a little rock sugar to beef up the berry flavor!
Simple Loose Leaf  has a huge line up of tea, and I got like 6 months worth – so stay tuned for more of their teas!
(tea provided for review)