Welcome to the first Oolong Owl ReHoot. I've been interested in revisiting teas, particularly the puer I've been aging in my stash, on how it is doing or how my tastes have been changing.
Our first ReHoot is of Yunnan Sourcing's Qui Yun Wild Arbor of Yiwu Mountain. I reviewed this tea back in August 2013, so this tea barely had a year of age on it. Keep in mind, I had been blogging for 7 months and this was I think my 4th or 5 puer cake I purchased, so I was a complete noob.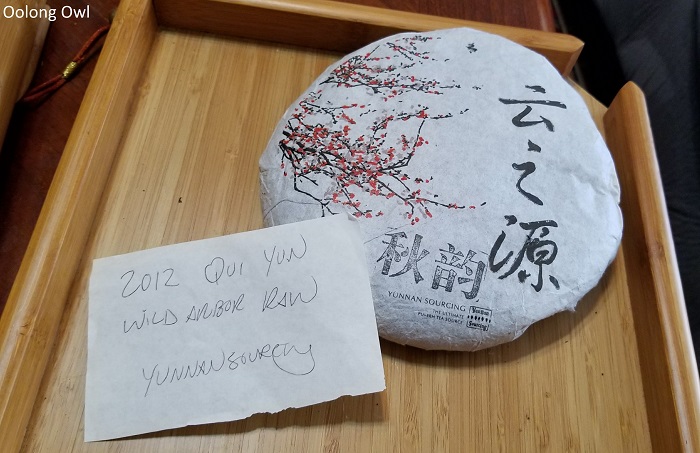 There is no product listing or link for this tea on Yunnan Sourcing anymore. All the information I could find was off Steepster, which likely is the copy and paste off Yunnan Sourcing's site.
Qiu Yun (秋韵) means "Song of Autumn"

Late autumn harvest tea from wild arbor tea trees (between 60 and 80 year old) growing in the area of Yi Bi village of Yi Wu county. Entirely no spray tea from one family's tea garden. Hand-processed from start to finish, but without any smokiness! Classic Yi Wu taste, thick and full in the mouth. Sweet after-taste with some grass and mushroom notes.
Dry Leaf and Steeping Method
My cake has had most of its storage life in Los Angeles which was in a dresser for awhile, then moved into a crock with tobacco buttons. Then it spent a year in my pumidor in Seattle. It certainly got pretty dry during Los Angeles during the summer, so this tea has had some crazy storage.
An interest observation I made was a contrast of puer breaking technique. I used to nibble away at the edges carefully as I saw it on some Verdant Tea video. Now I just gouge big pieces.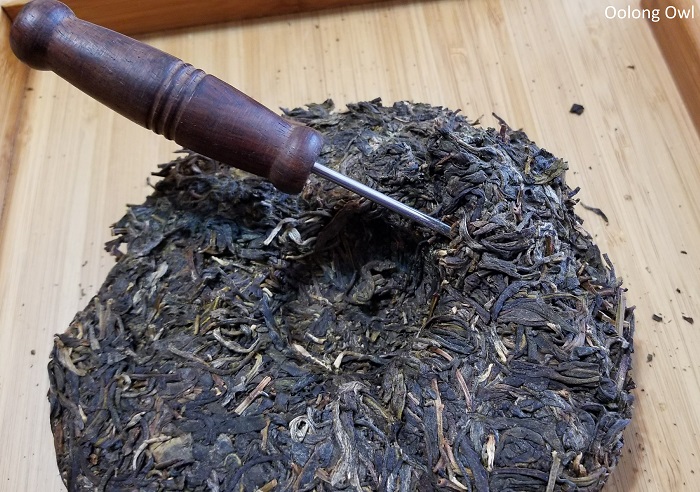 This also was back when I steeped young puer at 190F and my ratio was around 1gram to 20ml. I also steeped it longer at 30 seconds, whereas now I steep hotter, more leaf, and faster. That said, I have to refer back to my old notes with a grain of salt. For this session, I used boiling water and 1 gram of leaf to 15ml of vessel size.
Yunnan Sourcing's 2012 Qui Yun Wild Arbor Sheng Puer Rehoot Tasting
First, Second, Third, and Fourth Infusion: 2012 Qui Yun Wild Arbor tastes nicely of clover honey and button mushrooms. It has an interesting creamy and slick feeling. On steep 2-3 I begin to shake my fist at the storage on this sucker as it does kinda taste like Campbell's Mushroom Soup, complete with a bit of sour metallic tang at the end. At steep 4 the tart went away and was replaced with smooth honey mushroom drinking, also thick like cream of mushroom soup.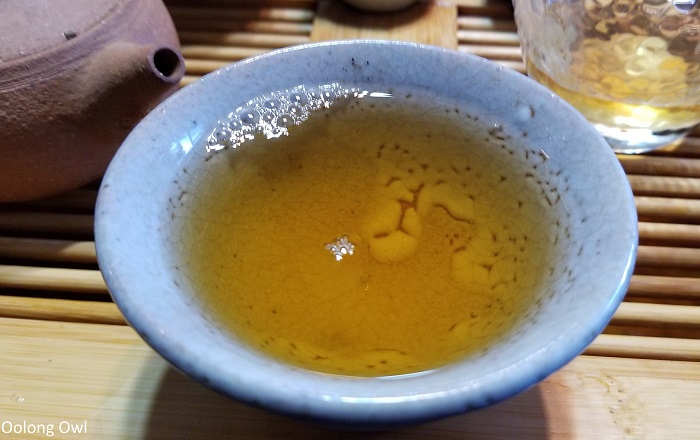 Fifth, Sixth, and Seventh Infusion: Qui Yun is smooth. Very interesting honey and mushroom flavor, but now I am getting some dryness and some floral aftertaste peaking out. There is no grass or green vegetal notes, unlike the ones I tasted back in 2013.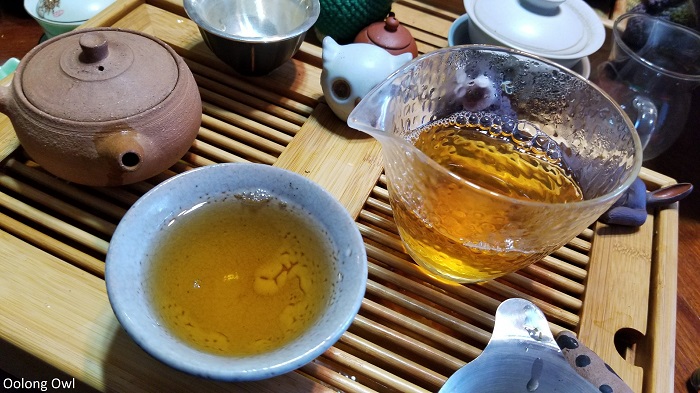 Eighth, Ninth, Tenth, and Eleventh Infusion: The mushroom note has gotten stronger, more like a portabello savoriness with a splash of honey on top. The dryness is setting in stronger and the floral aftertaste is building quite nicely. The tea is ultra creamy feeling in the mouth. I do like the mellow mushroom notes, floral and texture, however, there is not much else going on here.
With each infusion, the tea slowly faded, adding a bitterness and some cheeky dryness.
Comments
TLDR of my August 2013 review of Yunnan Sourcing's 2012 Qui Yun Wild Arbor was it tasted like a white and green tea with notes of rock sugar, corn, mushroom, green beans, and copper. I like that there was no smokey (as most young puer I was exposed to at that point was smokey).
My whacky storage did at least slowly age it to remove the greener notes. Thankfully the puer still has fragrance, I did have this tea before the Seattle move and it has gotten better with more aroma in my current storage.
2012 Qui Yun Wild Arbor was 250g for $15.  The price seemed on par what I was buying at the time, now I buy $79-$149 200g cakes! For $15, it is a decent daily drinker that is smooth with some aroma. Still glad I bought it, and I am thankful it isn't a flavorless pile of leaf compost.