Rosali Tea is a tea of the month club / subscription box. This tea club has a quiz model, so you fill out survey and they send you a tea box to match your tastes. However, I recently got an email from them talking about the next box having Yaupon and Kenya Purple tea being included in boxes so maybe they got themes too.
First off, awesome packaging! Wow, you get a box with a pull out drawer! I love this box, I will keep it and store things in it.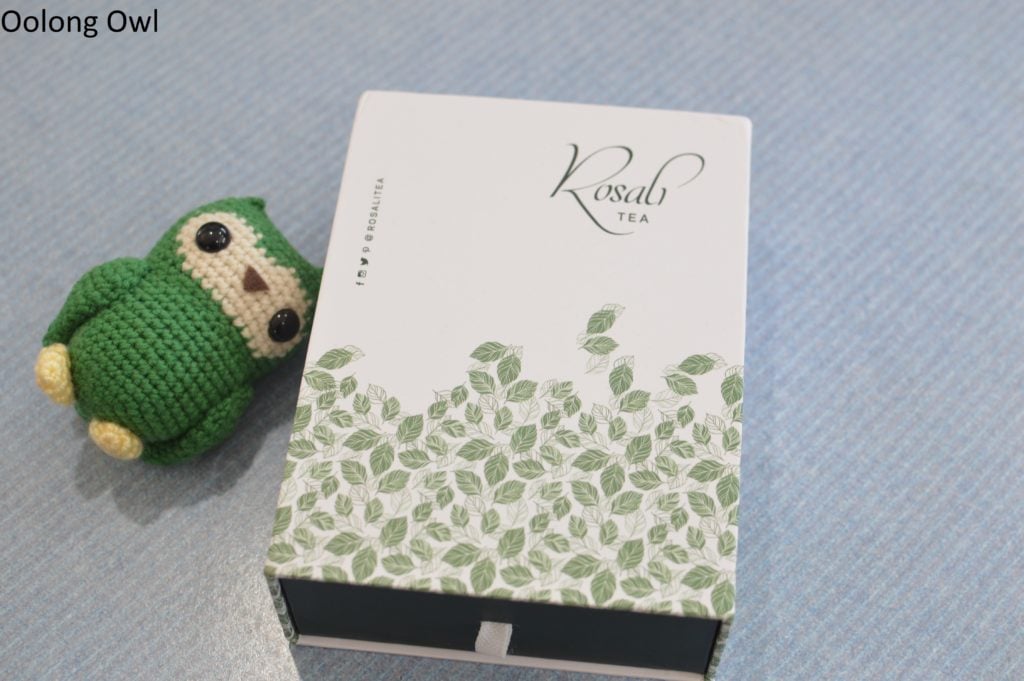 Inside is three teas, 1oz each. I got Milk oolong, Sticky Rice Puer, and Elderflower organic herbal. There is also a bit of literature about the teas. Each tea was labelled well with some information and steeping instructions.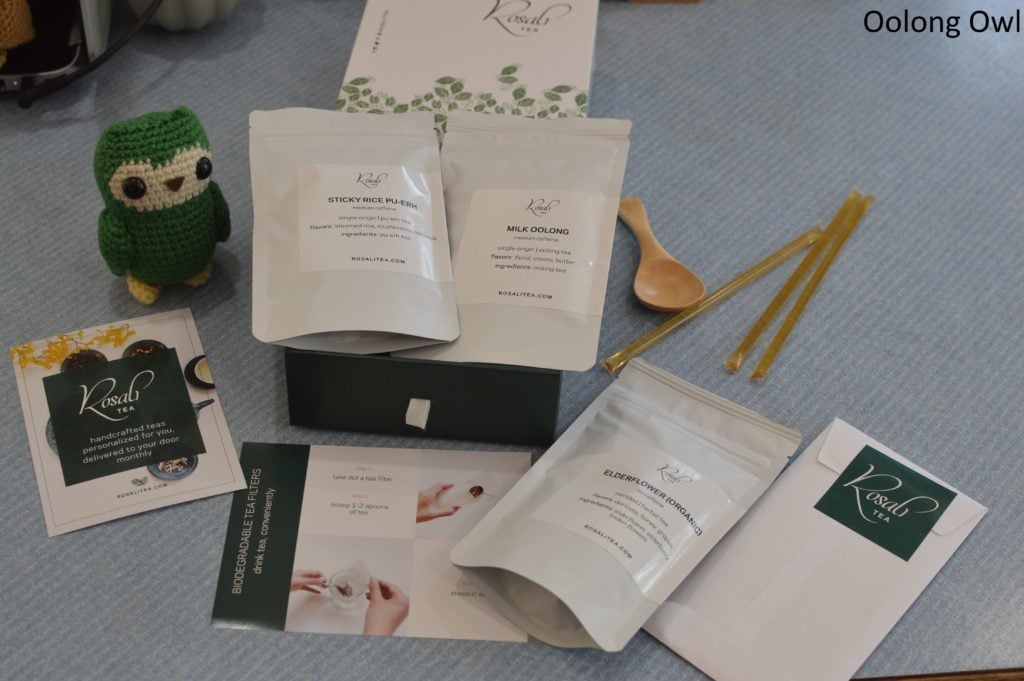 My subscription box also came with some paper tea filters, a spoon and some sweetener sticks. The Tea Owl has claimed the spoon, especially since during the move I lost my dedicated teaspoon.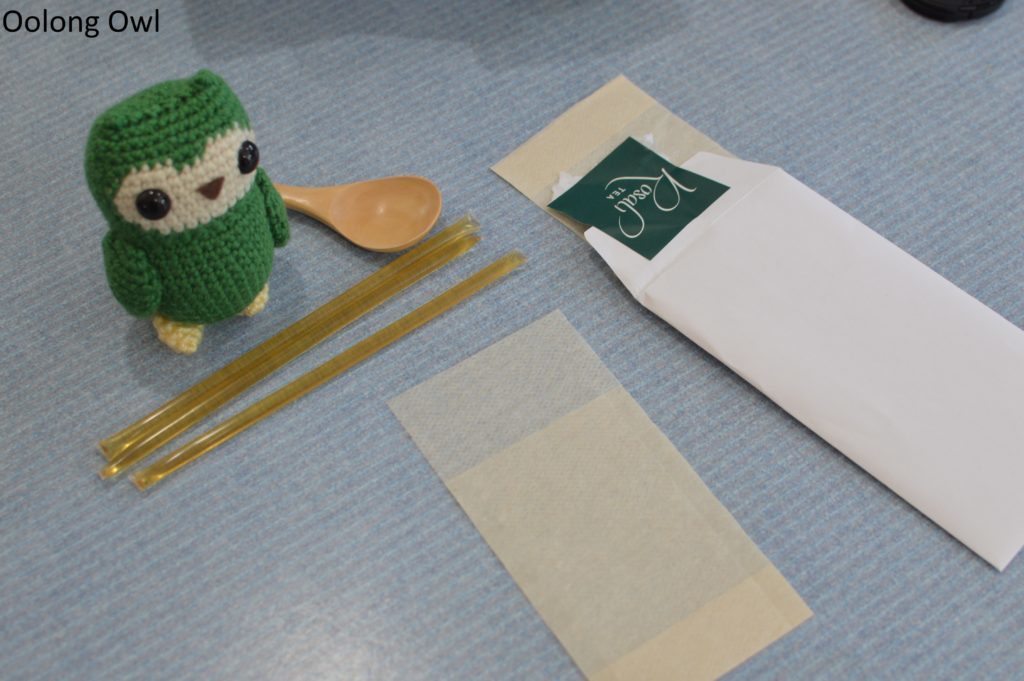 Tasting of Rosali Tea Subscription Box
Milk Oolong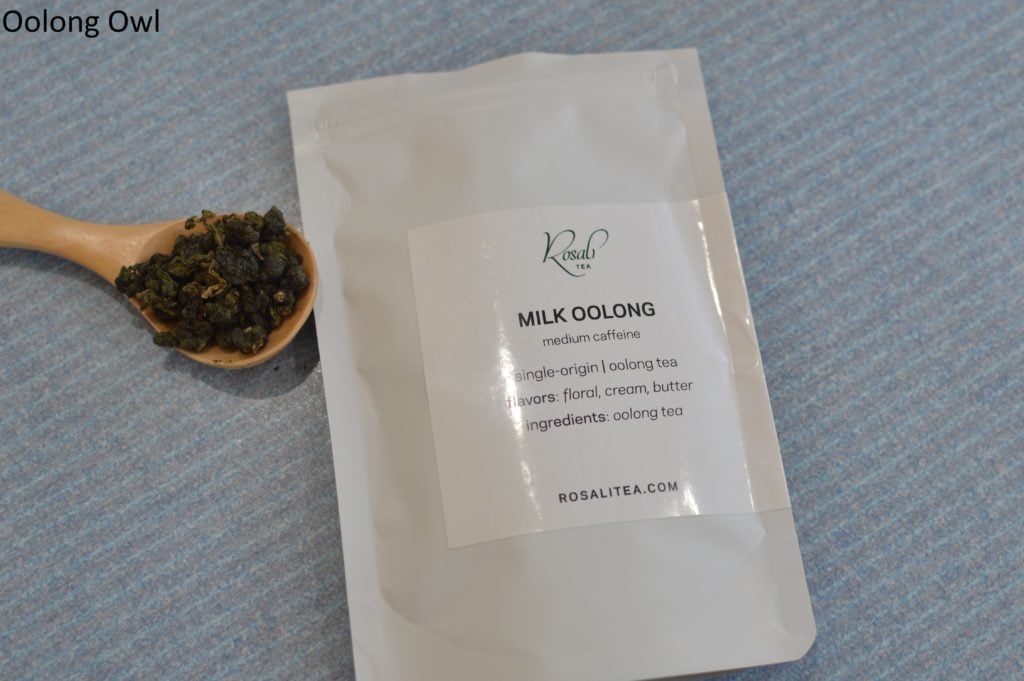 I don't drink milk oolong all that often so I had to ask Rosali Tea for more information. They reported back that their milk oolong is non-scented.  The smell of the dry leaf is of butter toffee. The steeping theme today is being lazy. That said, I steeped my milk oolong grandpa style, with boiling water. Boil all the oolongs!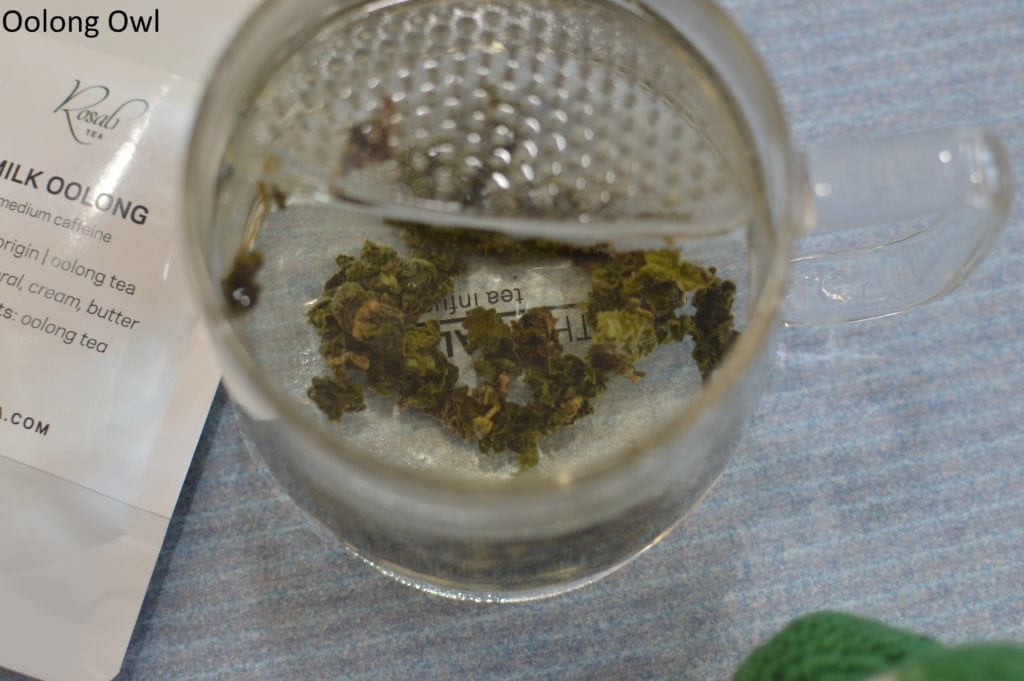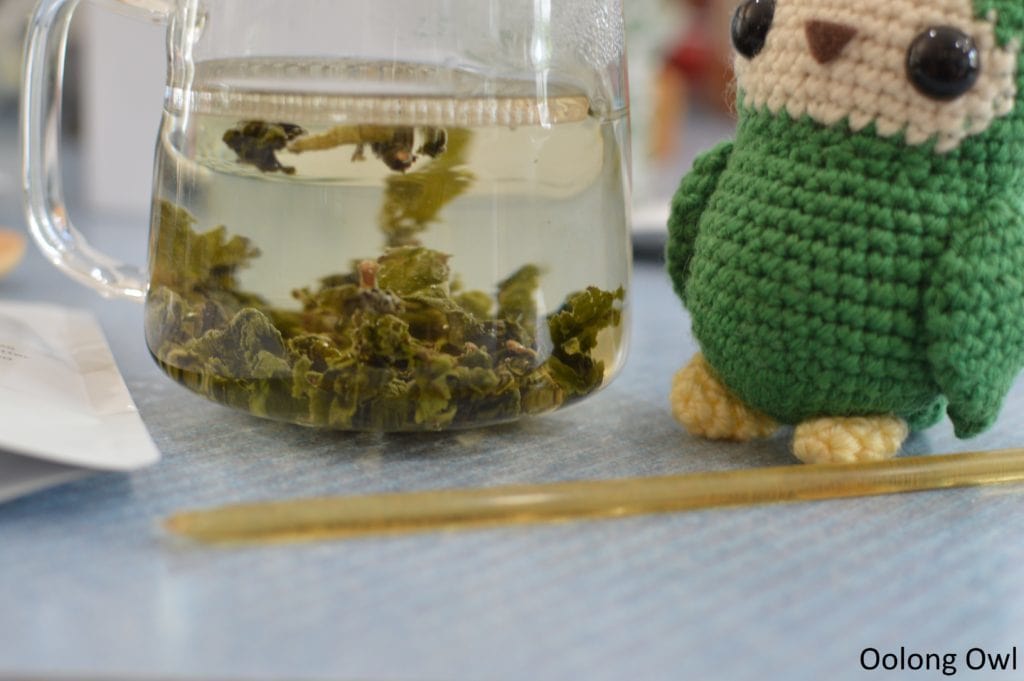 The flavor is sweet and like buttered toffee popcorn. As I sip the tea gets a bit grassy, fruit tangy, The body is thick and milky. After each sip I get a fragrance of floral and butter. When I went in for a refill, the leaves look big and nice! The oolong didn't get dry, but was weaker, more grassy, and less milky.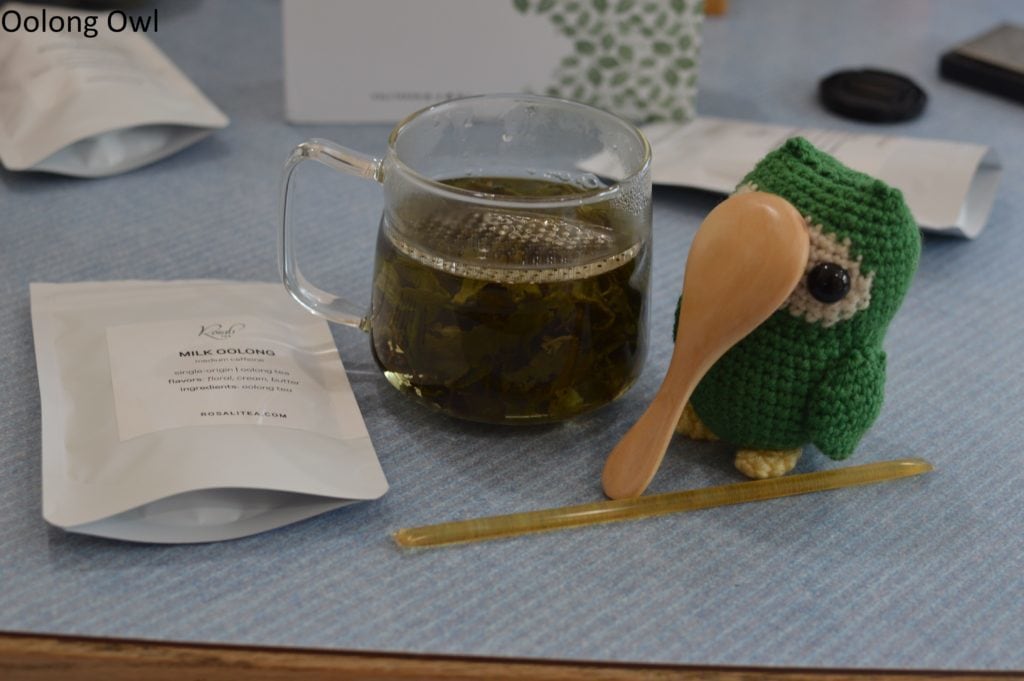 Overall, a very nice quality milk oolong with pretty leaf.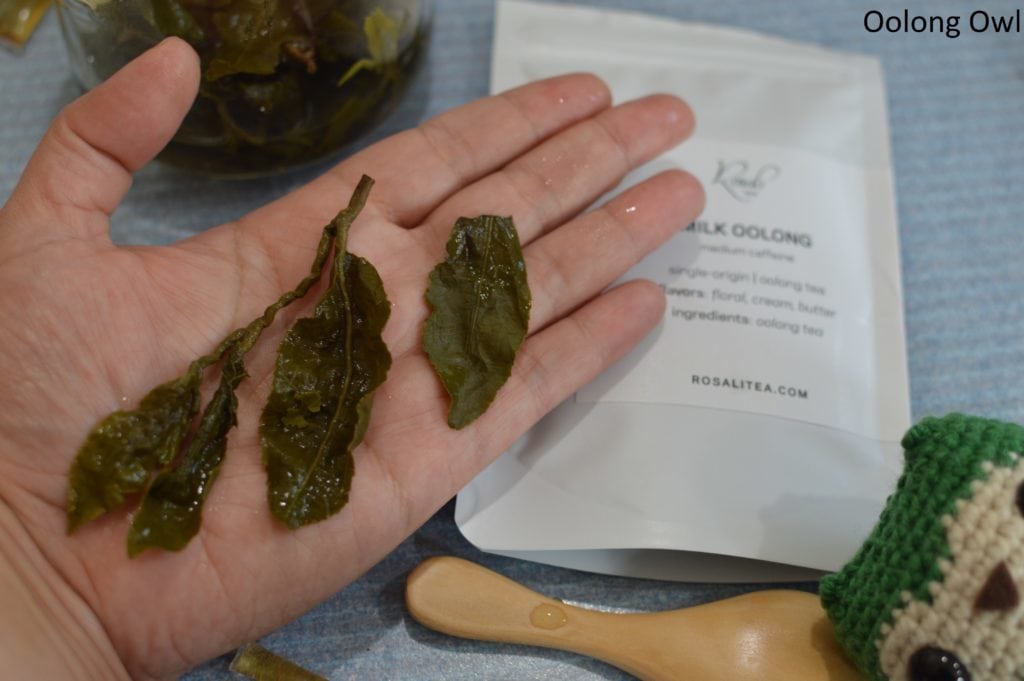 ---
Sticky Rice Puer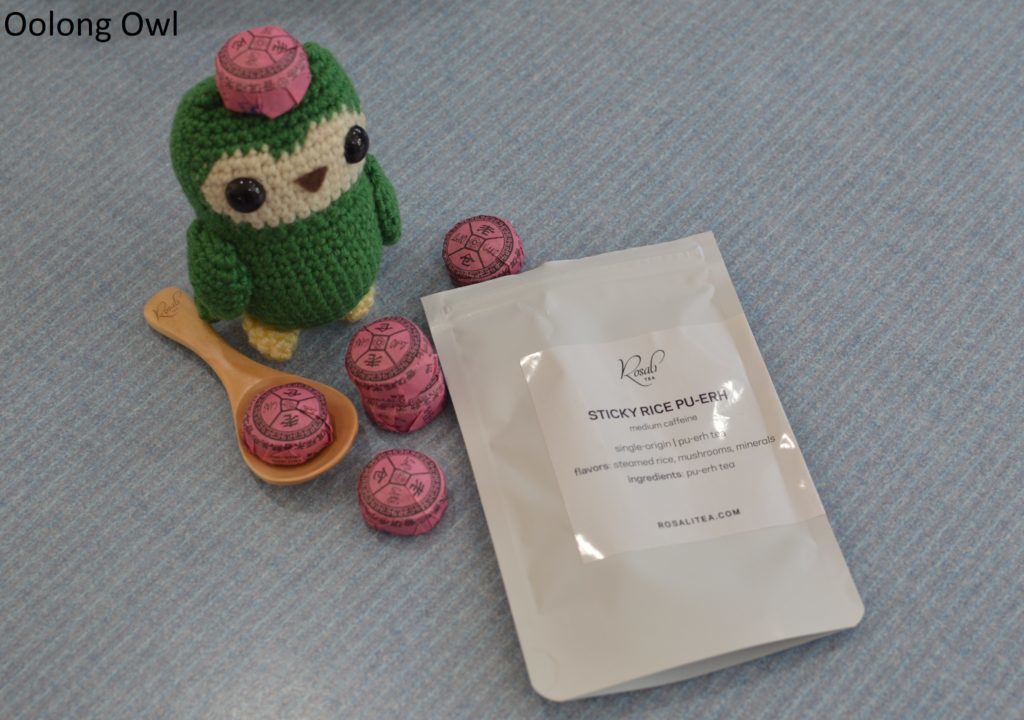 Being a puer drinker, this tea didn't have enough information for my liking. I had to read the whole information thing on the back of the package to learn it is a ripe puer, but still don't know the year. The scent is quite nice, one of the better rice scented pu smells.
Again, Owl is too lazy to steep with care, in goes the mini tuocha and boiling water. Look at this thing bloom!
Bam, dark!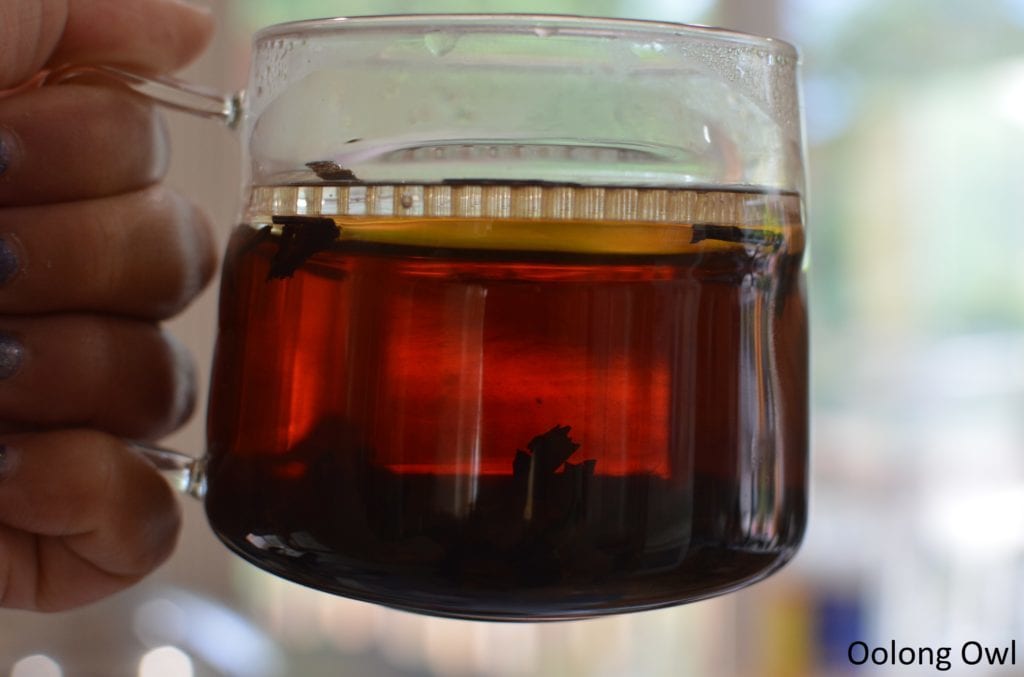 The quality is pretty good for a mini tuocha. It looked pretty clear at first, but likely that is my steeping method as I'm not moving the leaf. The Sticky Rice Puer sips in really smooth and clean with a creamy sticky rice flavor. Rosali Tea gave accurate tasting notes as to me the tea tastes like steamed sticky rice, button mushrooms, and a touch of earth. This puer is very easy to drink – not bitter, dry, fish, or stank mushroom.  My only complaint is the Sticky Rice Puer didn't have that great of a longevity, but it is a mini tuocha and generally those don't resteep well.
---
Elderflower
This one has delicious tasting notes promised on the packaging but when I smell the herbal it smells very stale medicinal and floral, enough for me to regret smelling it. This herbal contains elderflower, elderberry, and linden flowers.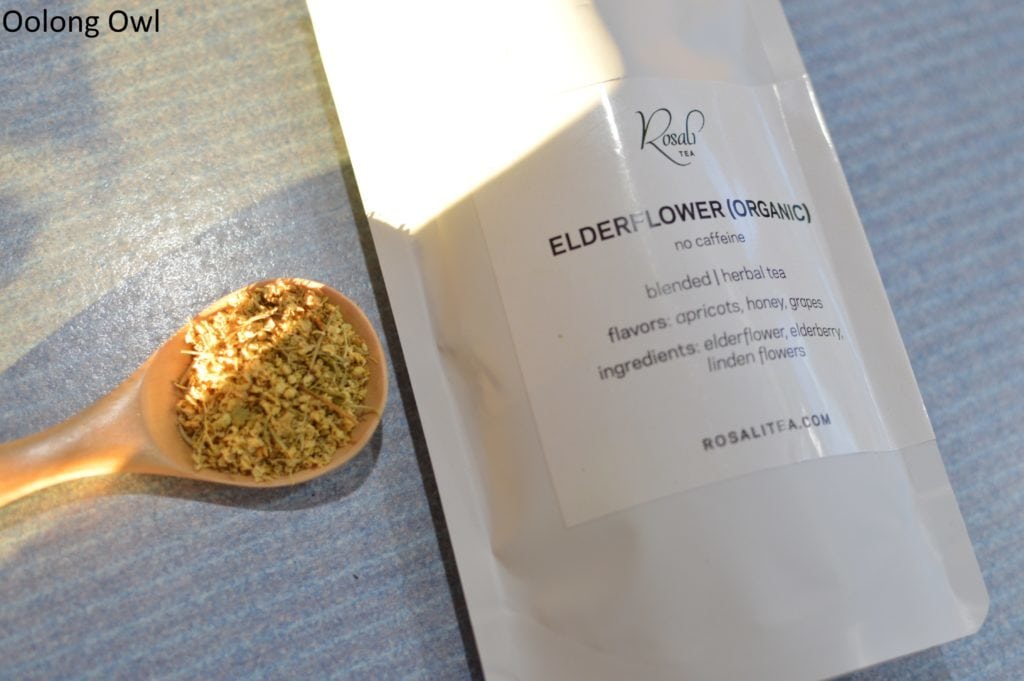 The herbal has a delicate tiny budding flower look.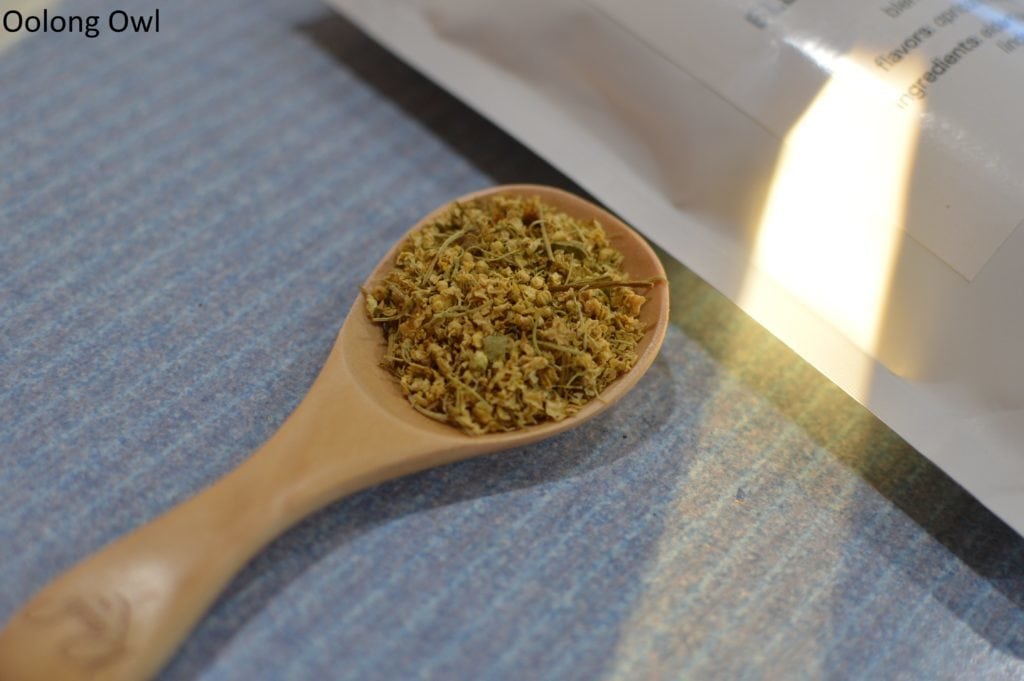 I tried steeping the Elderflower tea in my grandpa style mug but it turned out to be a spitting mess. I steeped Elderflower with a paper filter, continuing on the lazy steeping trend. I more or less followed the instructions, so boiling water, about 6 minute steep.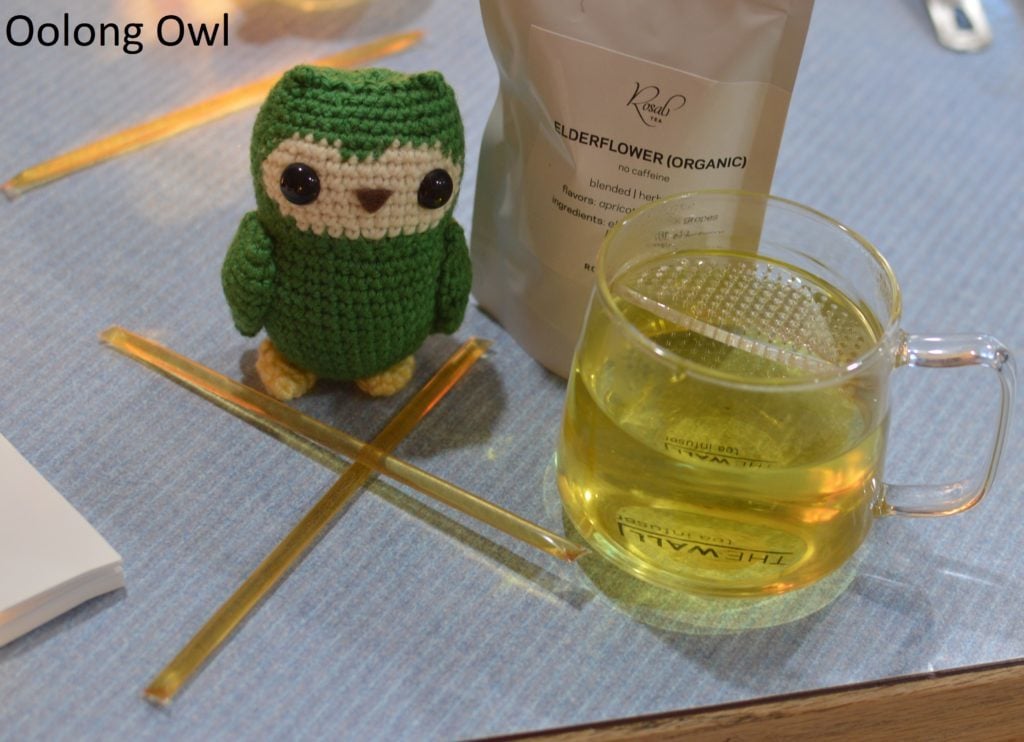 Elderflower sips in a little different than it smells. It has a floral slightly fruity taste of wild honey and green grapes, then the aftertaste is that weird medicinal floral scent. Overall not bad and not as funky flower as Chamomile. If you like chamomile tea and want something different, I think this Elderflower tea would be the most optimal choice.
Comments
There are lots of tea of the month / tea subscription clubs out there, so lots of competition. Rosali Tea stands out for having some good quality tea and excellent presentation. They also have a shop if you wanted to try their teas before committing to a club. They have an interesting mix of unflavored teas, unique finds, and herbal blends – very interesting as it seems almost all their camellia sinensis teas are unflavored, but all their herbals are blends.
First impression and comparing to all the other more general Tea of the Month clubs, Rosali Tea is a subscription club for someone who wants to start drinking tea with great quality teas. Using this subscription club as a starting point would give you a good base point. They carry some great teas and a few uncommon teas. If you are a well seasoned tea drinker like me, this club is mostly basic with only a couple surprises (Kenya Purple tea). Hopefully there is a way to never get herbals. As far as I know, this is the only tea club that has a quiz model.
At this time, Rosali Tea is priced $15-$30 a month (1oz to 3oz of tea each) and only ships to the US.
(tea provided for review)