SAKU Tea is a tea bar located in Bellingham, WA that I keep meaning to visit. Their tea bar has a large tea menu, as well as some unique tea lattes. They also host events and workshops. What the Tea Owls and I are tasting today is their Superfood Latte Blends line – Maca Cocoa Jade, Vanilla Maple Jade, Ruby Cocoa, Ruby Ginger, Golden Orange, and Golden Chai. These latte blend bases are made with either matcha, beet, or turmeric, and they are all organic.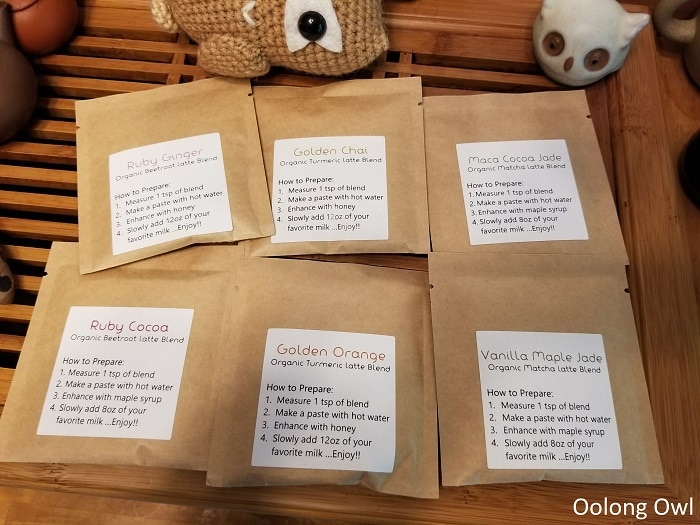 SAKU tea started a Kickstarter to ramp up production and volume of their Superfood latte teas. For the Kickstarter, you can purchases these latte mixes!
To make the SAKU tea Superfood Latte, measure 1 teaspoon (around 4 grams) of mix with a bit of hot water, making a paste. Then you add your milk and sweetener of choice. I found the SAKU tea Superfood Latte blends all mixed well and were easy to make. Best results were with using a hand held milk frother for a nice milk foam, but stirring with a spoon did the job fine. I got interesting swirls with my lattes, if you had skills you can easily do colourful latte art.
I went to my go to – Vanilla Soy and light Agave syrup – however I found only the "Golden" latte mixes needed sweetener, the rest did fine without. Your mileage may vary, since I'm generally a no-sugar tea drinker, and my milk is vanilla flavored, thus a little sweet already.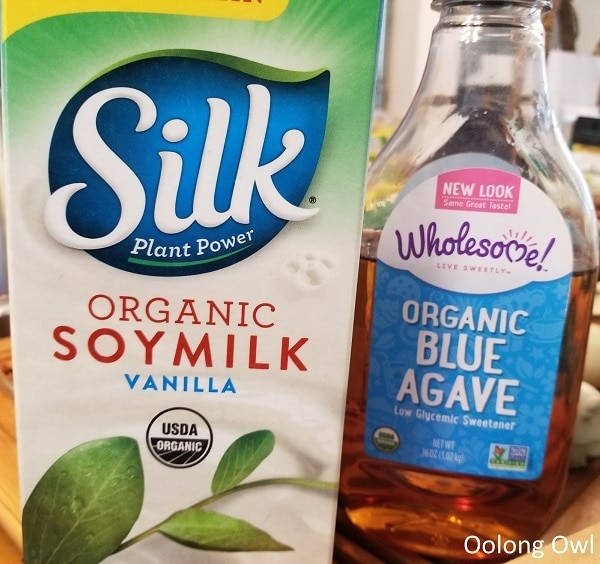 Tasting of SAKU Tea Superfood Latte Blends
Maca Cocoa Jade is made with organic matcha, maca, and cacao.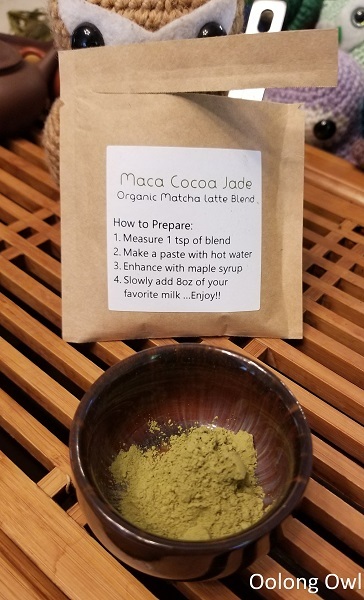 That colour… well, it is good to know they don't add colourings as that is natural as it can get.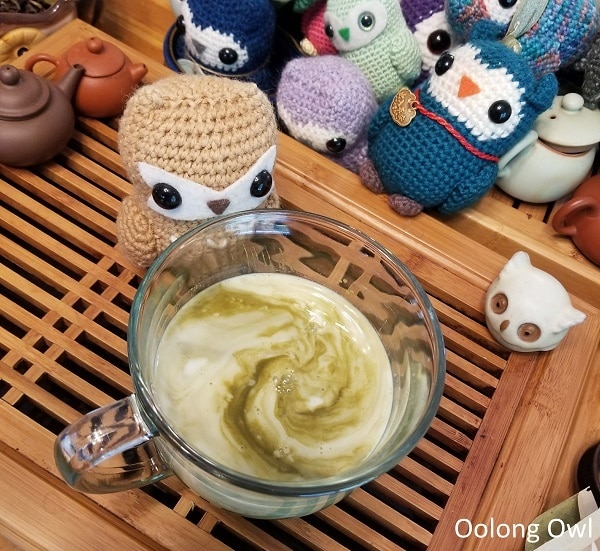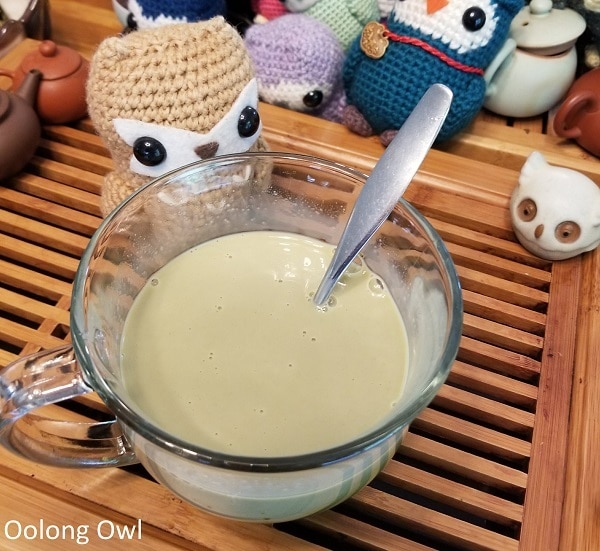 The flavor is quite good – it is refreshing grassy matcha, with a smooth taste of chocolate with a hint of caramel. Majority of the flavor here is the cocoa. No bitterness at all, I even didn't add the sweetener, though my milk tends to be on the sweet side. I read maca root has a bit of a caramel taste.
---
Vanilla Maple Jade has Organic maple syrup crystals, matcha, and vanilla.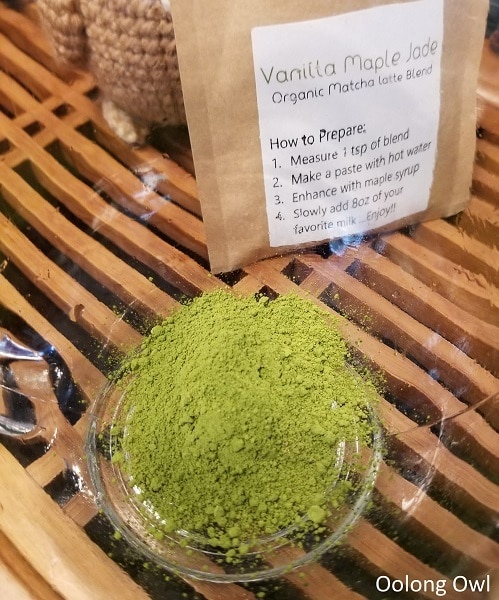 Wow, this one is pretty before I stirred it!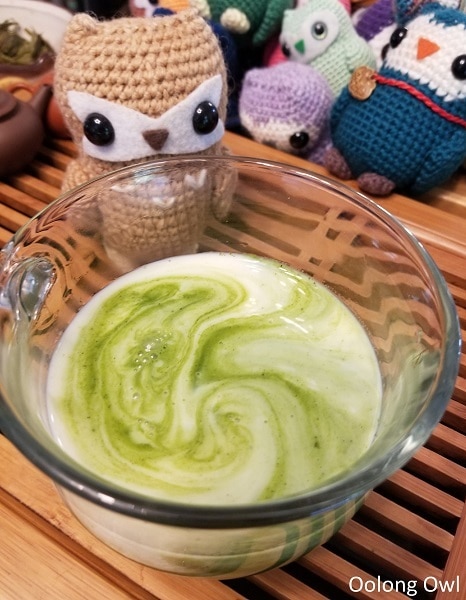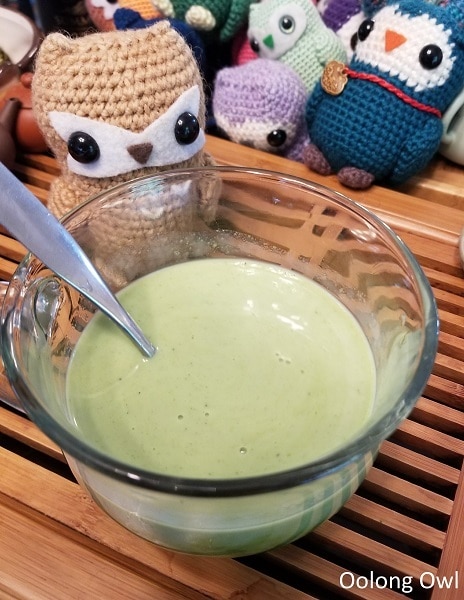 This one is more true to matcha in flavor. The matcha grassy, refreshing and the main flavor. There is a soft burnt caramel and maple flavor in the back, along with plenty of creamy flavor. I like this one, the sweetness and flavor is just right, and I can enjoy the matcha. I like how this matcha latte has great flavor and a different to what is out there from other sellers.
---
Ruby Cocoa has organic beetroot, cacao, dandelion root, cardamon, and cinnamon.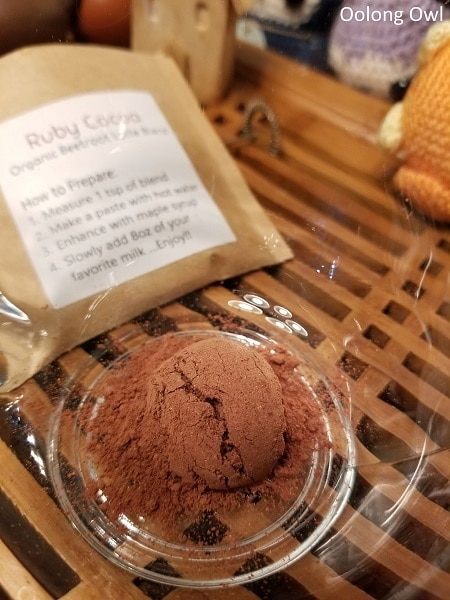 This one whisks up a cute dusty rose.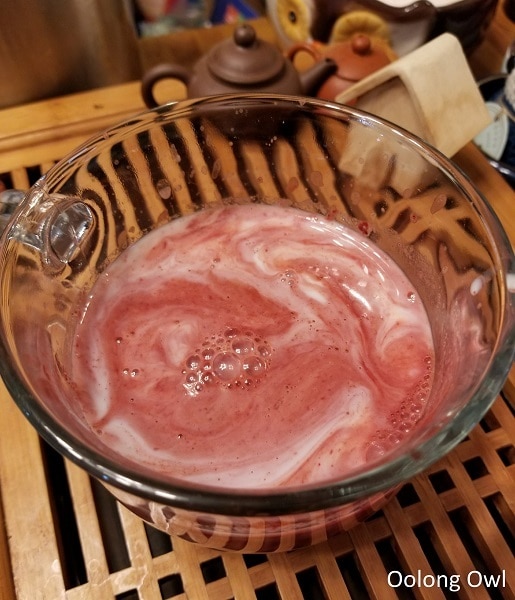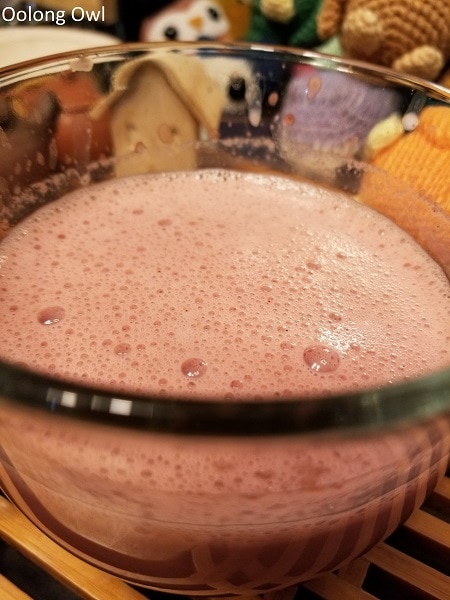 The flavor of Ruby Cocoa is chocolaty, but also with notes of beets. Beets add a slight vegetal flavor, but plenty of sweetness. There is a hint of spice at first, slightly peppery cinnamon, but not enough to be chai like. I did found the spices settled to the bottom, so it got more cinnamon and cardamon at the bottom of the cup. This lattle mix has a bit of texture to it, kind of gritty and squishy, adding a bit of thickness to the latte.
---
Ruby Ginger contains organic beetroot, coconut milk, cinnamon, ginger, and ashwagadha.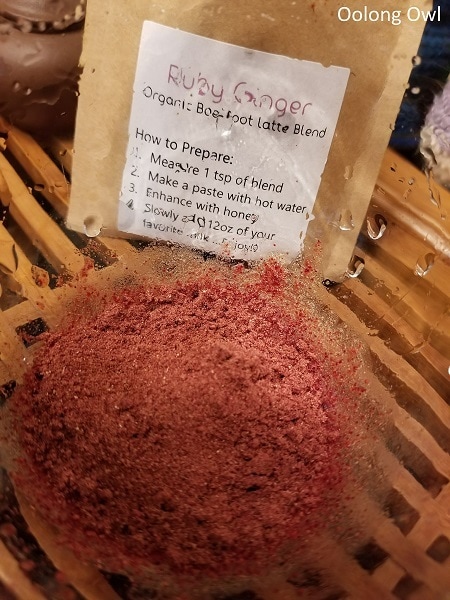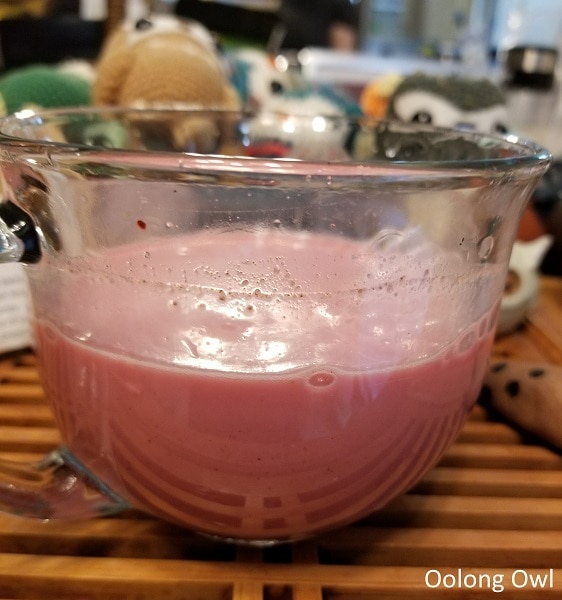 Ruby Ginger prepares up just like the Ruby Cocoa with a pink colour. I happen to be a fan of beets and ginger, it is a favorite flavor combo of mine for the times I've gone to juice bars. This one sips very strongly beet in flavor, with a nice sweet ginger burn as an aftertaste.
It seems both beet lattes have a texture to them, as Ruby Ginger has that smushy soft feel – likely particles of beet. I found if I ensured it was mixed very well and prepared very hot, the smushy texture goes away.
---
Golden Orange contains organic turmeric, orange peel/oil, cardamon, and black pepper.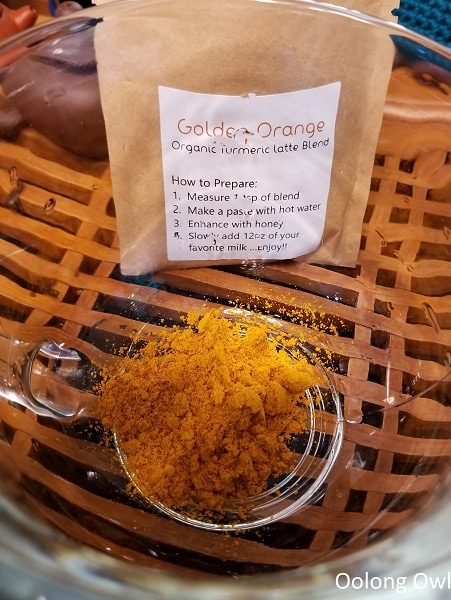 My first of the turmeric blends! Wow, that is yellow.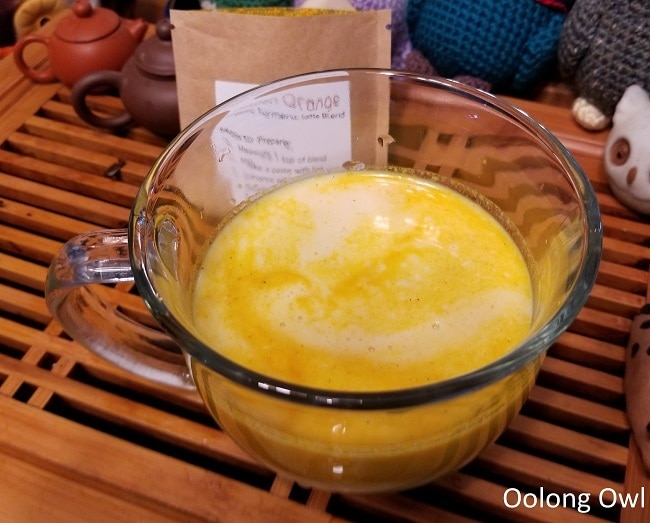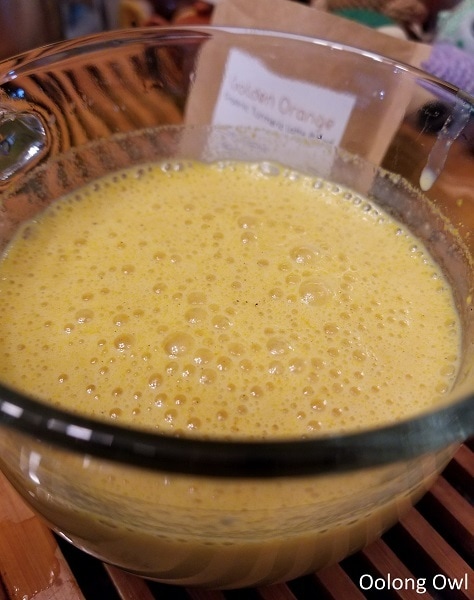 I opened and tried this before I looked at the ingredients and was surprised as I was expecting just an orange flavor. Golden Orange is actually orange spice with a bite to it. The orange is natural tasting, and I can taste a sharp jab of cardamon, with a spicy feel of pepper. As much as I like Orange spice flavored things, I do not like cardamon, so this was my least favorite of the batch, but I did enjoy the heat and uniqueness of the flavor. This is certainly a flavor combination I haven't had before.
---
Golden Chai is made with organic turmeric, cinnamon, ginger, cardamon, cloves, and black pepper.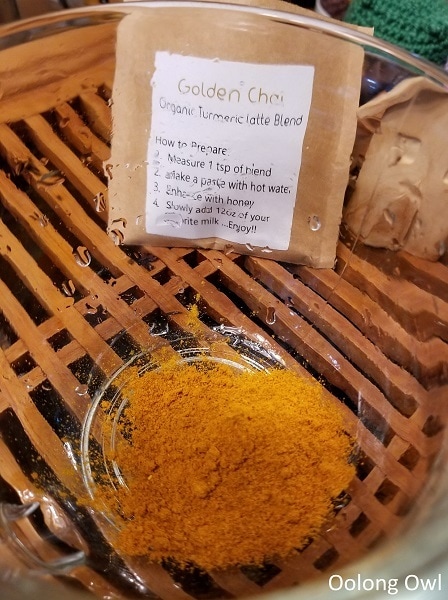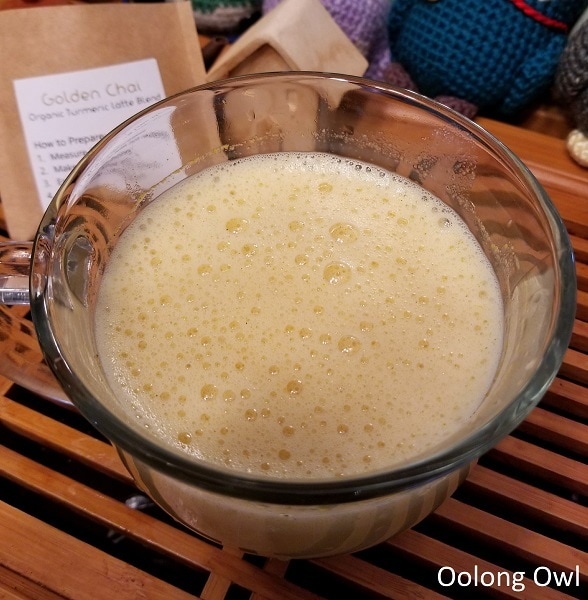 This is a pretty good chai. The spice level is a moderate-high level, though you can adjust milk and mix to increase or decrease the intensity. The spices are sharp and natural – I can clearly pick out the clove, cinnamon, ginger, cardamon, and black pepper. Without sweetener, Golden Chai is on a heavy savory spice kick, I feel like I should rub it on some meat or put it into cookies. With agave, it is very delicious, making for a yummy chai.
Comments
The Oolong Owl favorite picks is the Vanilla Maple Jade and Golden Chai. Both are very delicious – Vanilla Maple Jade has a great balance of sweet flavor and matcha, whereas the Golden Chai has a well done spice mix for a great kick. Maca Cocoa Jade is also tasty. If I wasn't personally buried in a giant amount of matcha already, I would go in on these.
Overall, all the SAKU tea blends are natural and fresh tasting – they have done a great job bringing something new to the tea world. I found all the SAKU Tea Superfood Latte Blends have the "kick" level of spice if made as directed, but you can adjust the level by playing with the ratios. The Ruby beet latte mixes were the weaker of the bunch due to the squishy thickness and gritty texture, especially made cold, but if you were to blend these with ice or ensure you mixed well with hot milk, you will not notice them.
If you love tea lattes and prefer organics, you will certainly enjoy these teas.
(tea mix provided for review)