Usually I'm pretty good about reviewing a tea early on, as in I'll drink it a few times before I review it. I got this Tropical Mango Green Tea Latte mix from Sencha Naturals back at the Los Angeles Tea Festival in August 2014. The sample I tried at the festival was really good so I purchased a bag. Since then, I've been drinking up my bag of Mango Green Tea latte mix and I need to review this sucker before I drink it all!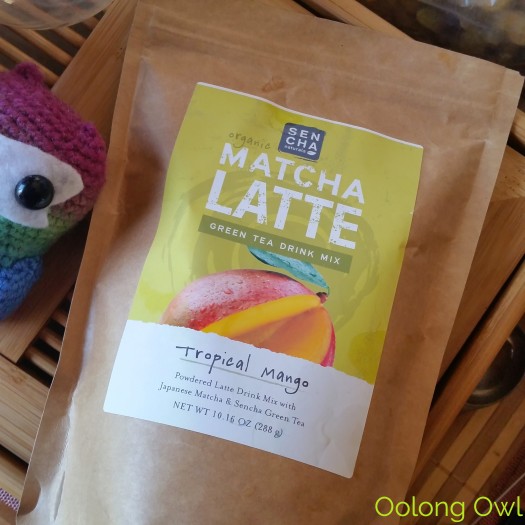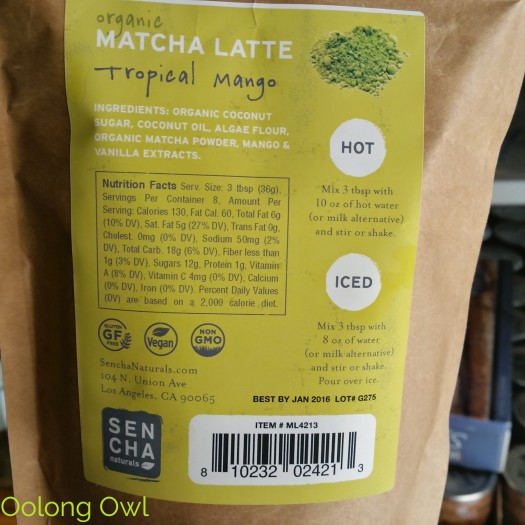 The ingredients on this green tea mix product is interesting – Organic Coconut Sugar, Organic Coconut Oil, Algae Flour, Organic Matcha Powder, Mango & Vanilla Extract. If you are the type that prefer organics and a natural sugar source this green tea mix would be of interest to you! Correct me if I'm wrong, but this product is also Paleo friendly for some. It is a little calorie dense at 130 calories (160 on the website) that'll make 10oz serving.
Dry Leaf
The color isn't a vibrant green that one usually sees in straight matcha. The mix is a pale pea color with a sprinkling of orange beads.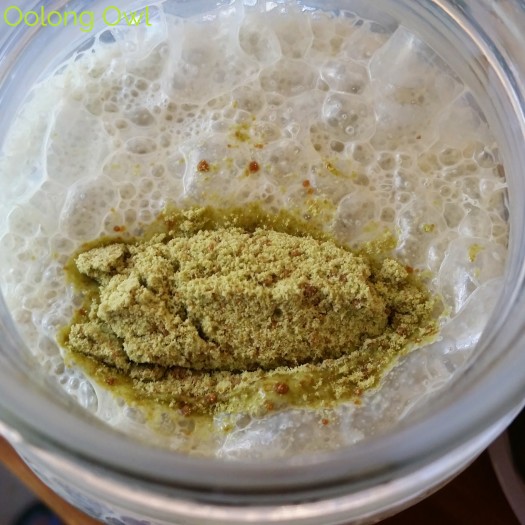 I prefer this product cold made with a milk, but you can make it with water. Sencha Naturals Tropical Mango Green Tea Latte mixes needs to be shaken well or used with a frother/blender as the orange bits will not combine and settle on the bottom.
Tasting of Sencha Naturals Tropical Mango Green Tea Latte Mix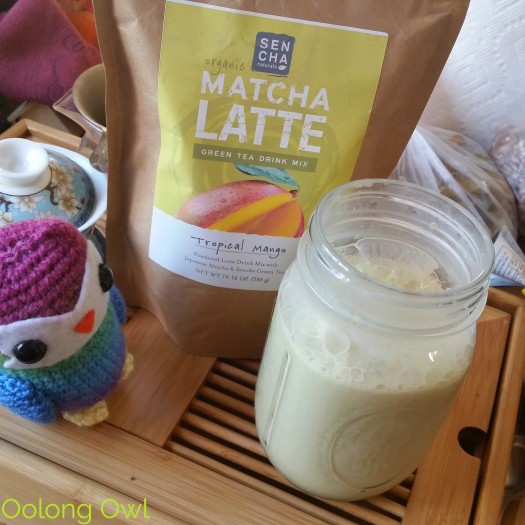 Sencha Naturals Tropical Mango Green Tea Latte Mix has a strong juicy mango flavor, with a backing of mega thick creamyness from the coconut base, with light fresh grassy matcha and green tea flavor. The mango is the main flavor and is sweetened. The mix has a thickness to it making for a great full experience latte. I find you do not need any further sweetening but maybe too sweet for some people.
Next day I made the Tropical Mango Green Tea Latte mix with just the mix and hot water (175f). I still prefer using a milk base, but with water the tea is surprisingly really thick and creamy mouth feel from the coconut oil. It is kind of watery, so not as strong in flavor as using a milk base, but not bad as the mango flavor is still strong with a great creamy backing. The green tea is drifting around in the background.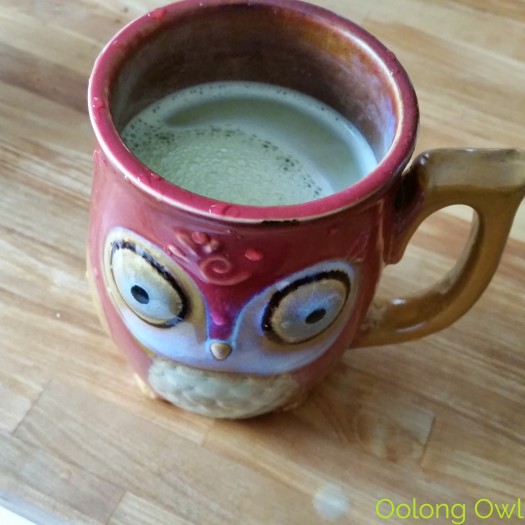 Comments
If you love mangos and sweet treat lattes, Sencha Naturals Tropical Mango Green Tea Latte Mix is amazing! If you love creamy sweets, this tea mix is the ticket! Sencha Naturals also has a chai flavor and unflavored mix versions at this time. I find the green tea taste is on the low side, so it is pretty friendly for people who don't like grassy strong tea flavor. My tea hating husband likes this tea mix made with both milk and water.
I find Sencha Naturals Tropical Mango Green Tea Latte Mix works especially well with protein powder. The flavoring is strongly mango and with the thick texture can hide the pasty protein powder.