Gosh, I am coming up on being with the White2Tea club for 2 years. Yup, keep taking my money! This month, and I am super excited, is 2016 Old Whitey and Hoplite oolong. Both teas will be sold at White2tea. As of this time, just the 2016 Old Whitey is listed, Hoplite is a preview.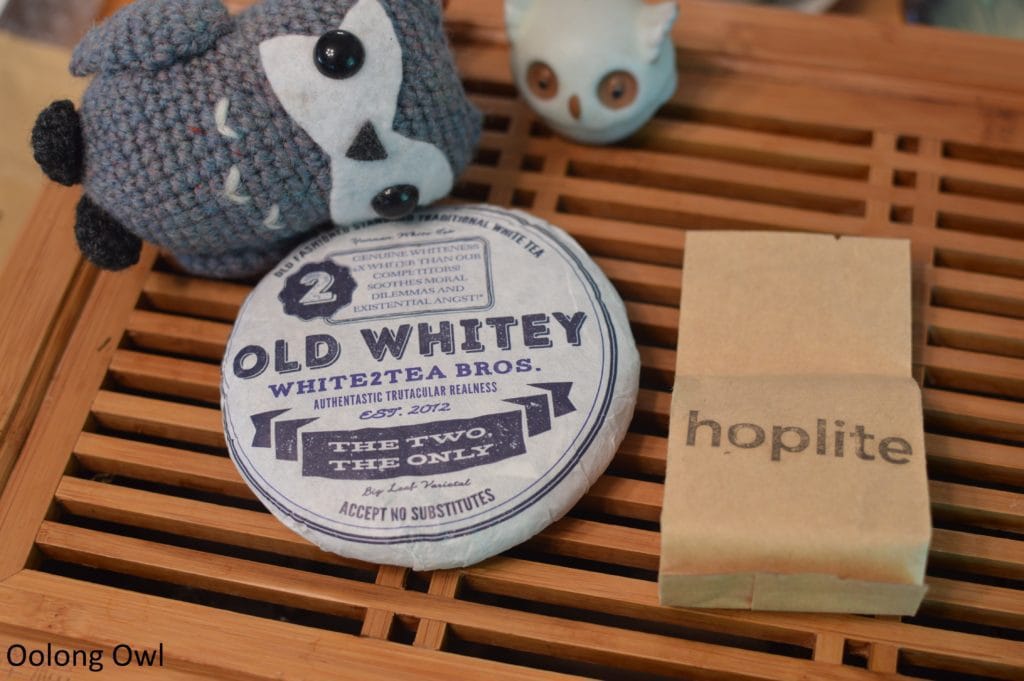 ---
White2Tea Club 2016 Old Whitey
2016 Old Whitey is a puer varietal material processed like a sun dried Fujian shoumei and pressed into 100 gram cakes. I have been digging white teas and aged whites, and it sounds like this white has been designed to hopefully age.
The wrapper is hilarious! I've shown this tea to non-tea drinkers and they love it. I think the funny part is apparently this white tea processing is pretty experimental.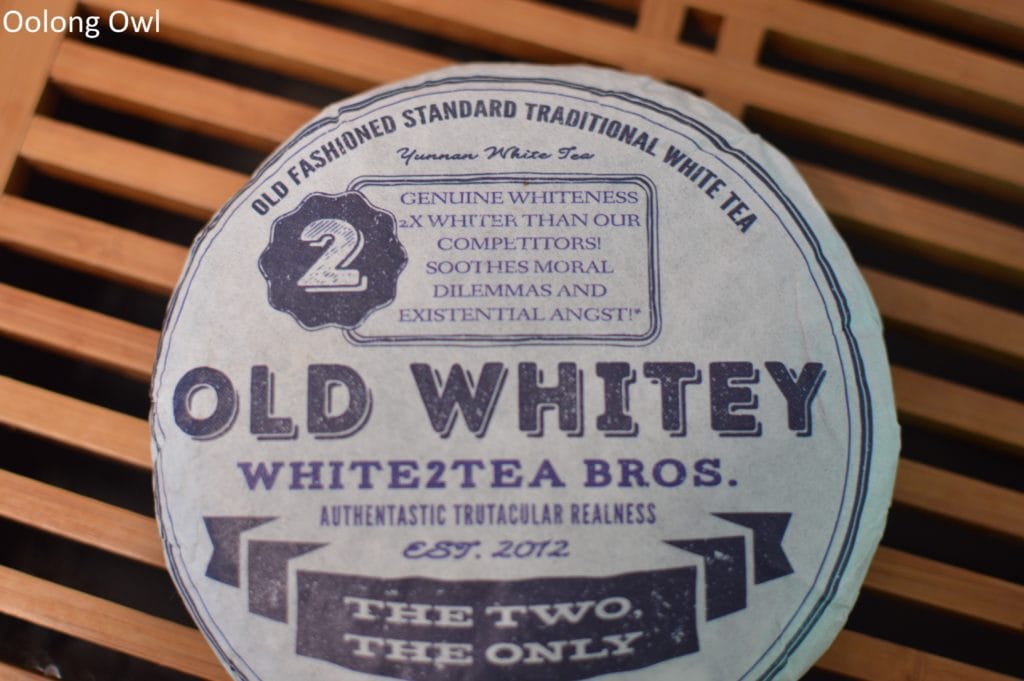 "Oolong Owl – Writing Owl Fluff since 2013".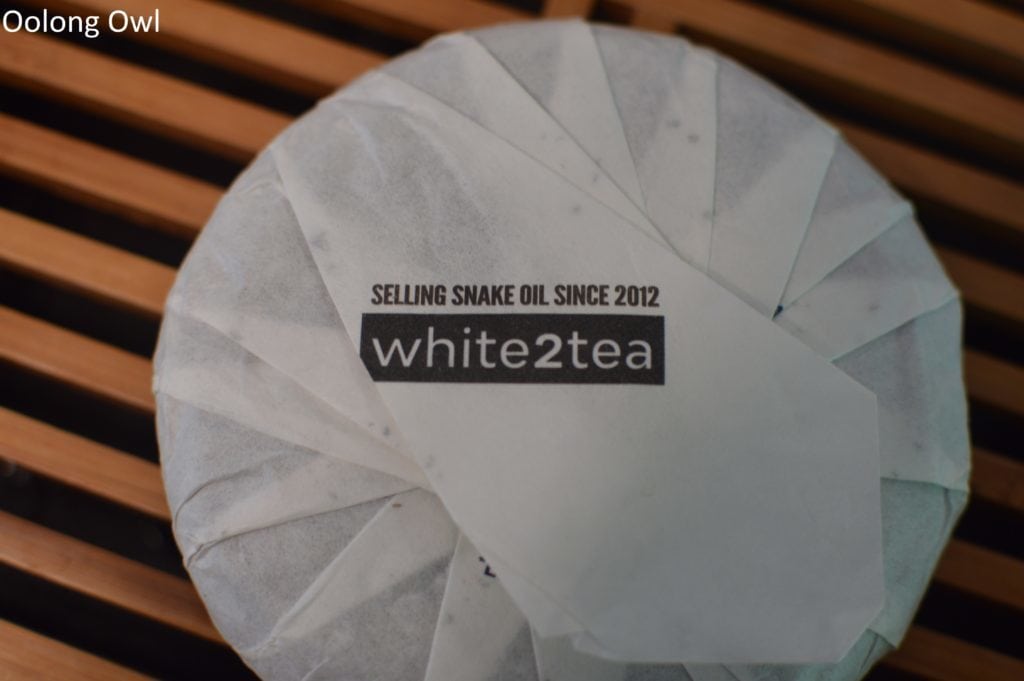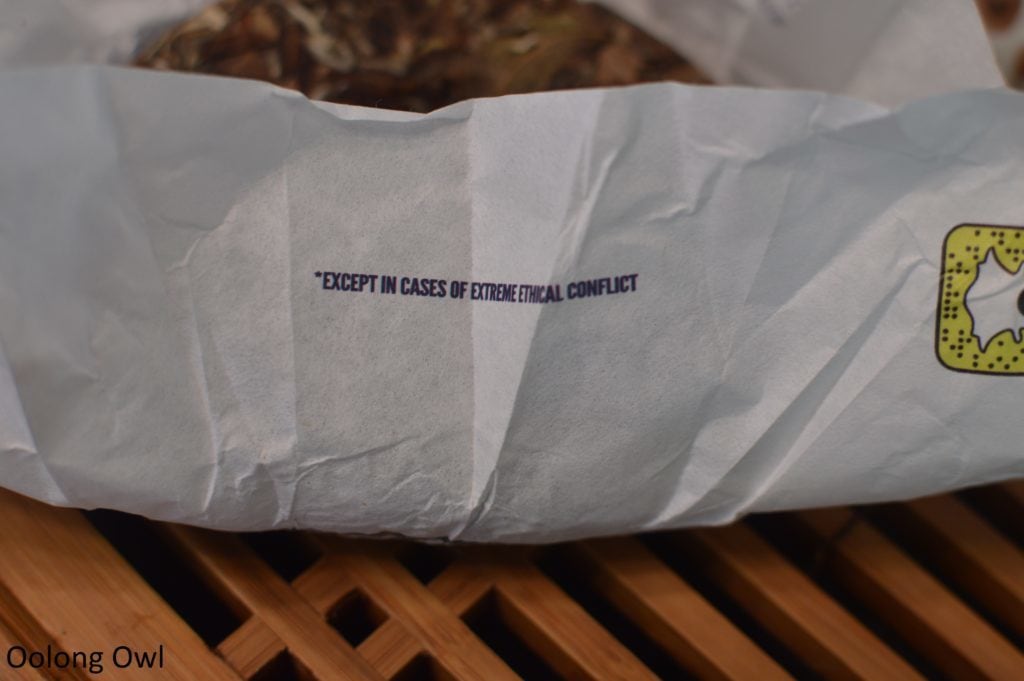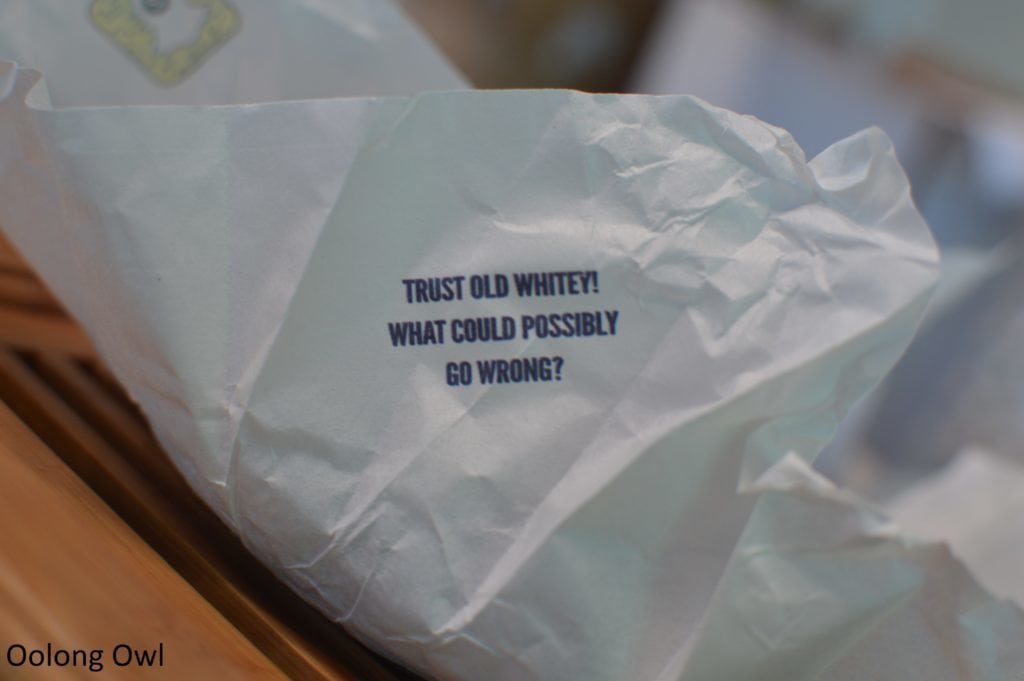 What could possibly go wrong? I guess my butt feathers could fall out. However most likely scenario is White2Tea taking all my money for snake oil cakes.
Dry Leaf and Steeping Method: The scent is pretty standard "white tea" scent of fruity but also a bit of an amber incense essence to it.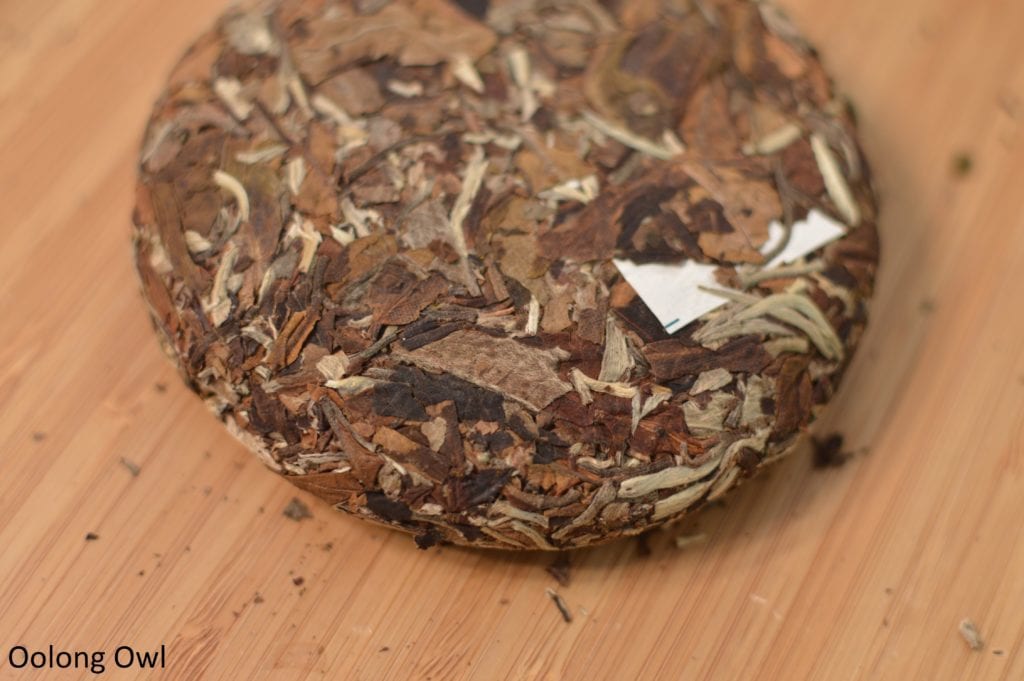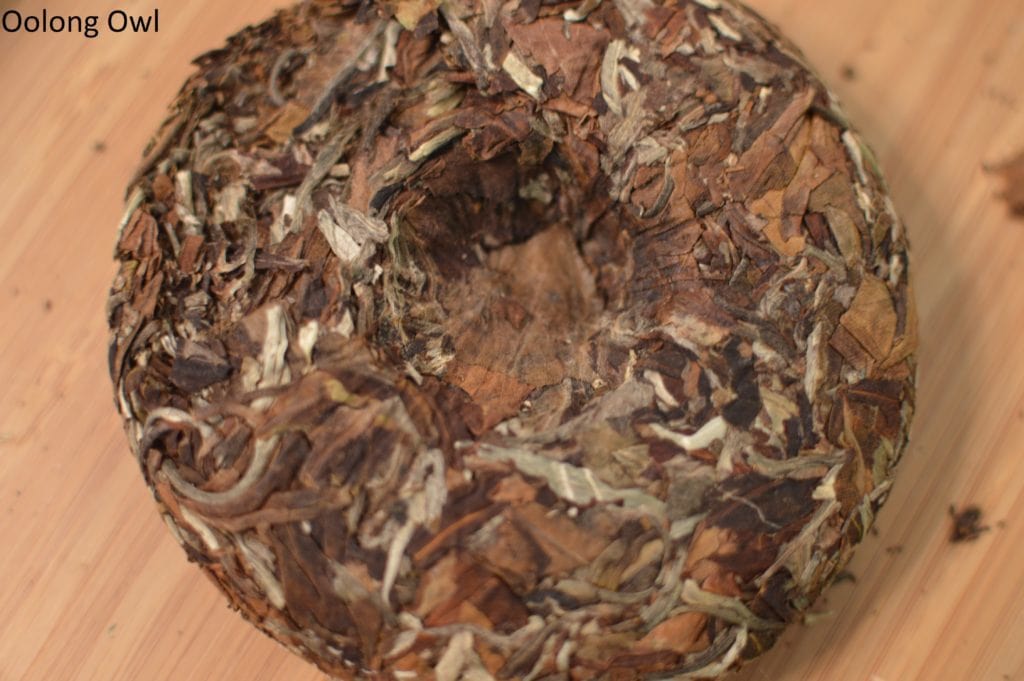 In a gaiwan it looks like I dumped a bunch of stomped fall leaves in my cup!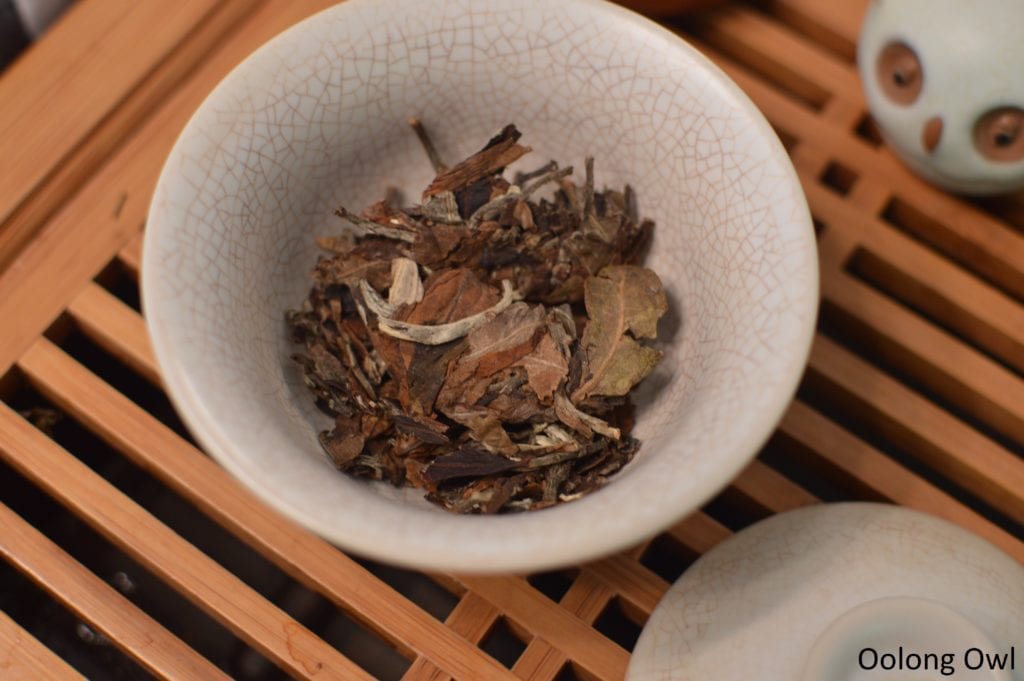 I went with 1 gram to 15ml, steeping with boiling water. I've been rolling with that for all my whites and it has been working. I want to leaf more, but leaf expansion gets really dicey.
First, Second, and Third Infusion: 2016 Old Whitey steeps up a creamy linen shade. Right after the rinse the leaf smelled a touch smokey, but was not present after the next infusion.
Old Whitey sips in clean and sweet. It is delicate of a sip, sips in creamy tasting but finished on a sweet note at the end. The sweet note has a slight date and mineral vibe to it. The body is thick like cream leaving an oily lip. The flavor lingers in the mouth for awhile, which is really nice.
Fourth, Fifth, and Sixth Infusion: I'm getting a bit of dryness,  likely due to me being crazy and boiling this. I think 200f would of been a good compromise on temperature. The colour is getting a darker gold. The flavor is amber, linen, mineral, sweet rock sugar aftertaste. It is super clean tasting and pretty sweet.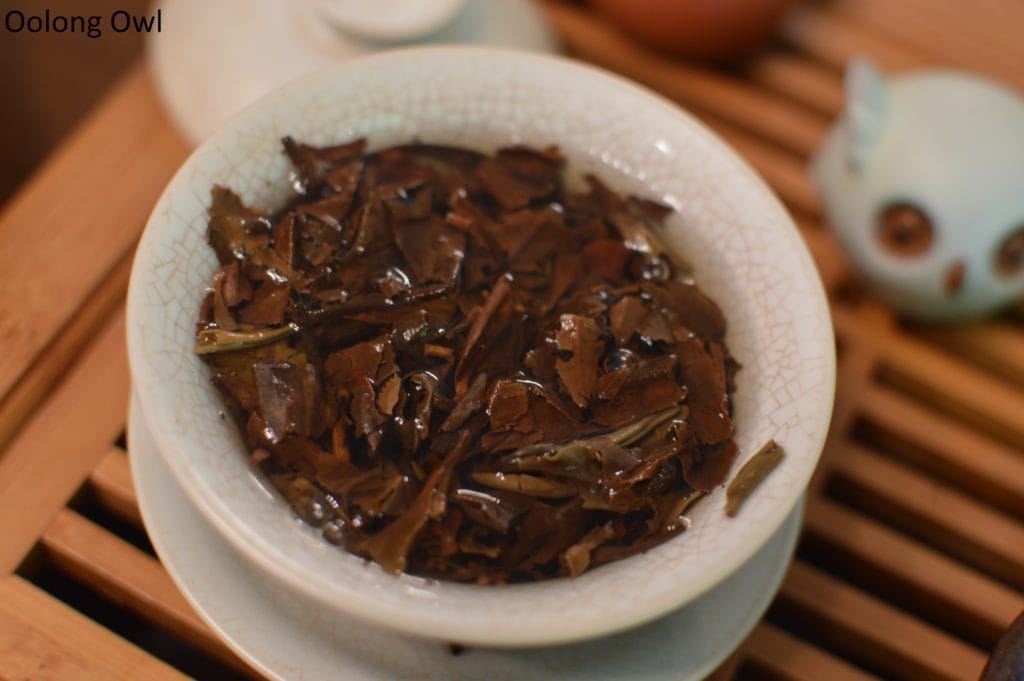 Eighth and Ninth Infusion: Old Whitey has a slight medicinal date taste, but also dry. The flavor is fading fast so I'm ramping up infusions. I am still getting a creamy lip feel which I am enjoying a lot. The colour has also gotten darker!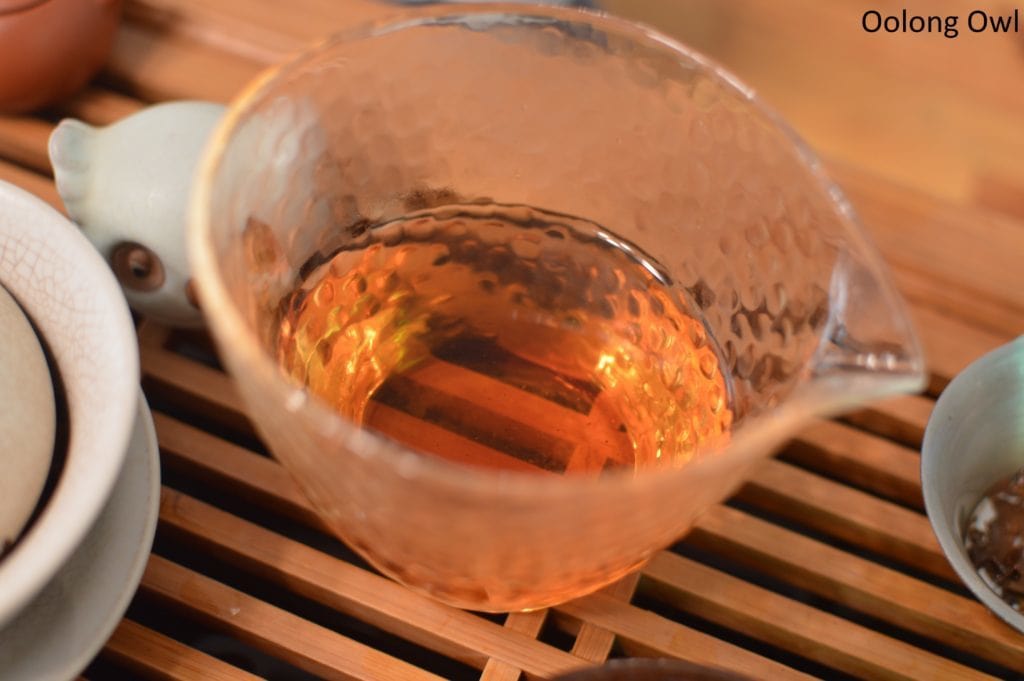 Tenth Infusion: I did a 15 minute steeping. The flavor is a little hard to describe. It's got pretty throat drying, and a slight medicinal taste to it. It lost some sweetness, but overall little flavor left.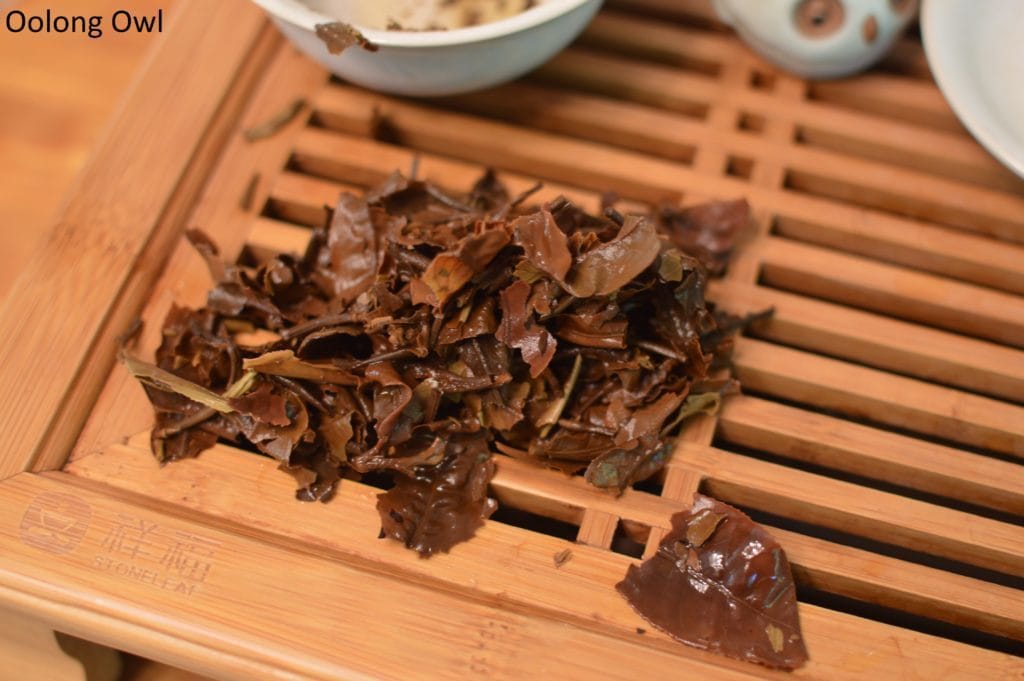 Actually pretty good longevity for a young white. I get killer long infusions with aged white, this one could be crazy in 5 years. 2016 Old Whitey already has that sweet date profile so there is lots of age potential. This could be a thick date bomb with time, fingers crossed. Personally I want to steep it some more and play with steepings, but I want to save it for aging. I want time to go ahead like 3, 5-8 years and try it… time go forward and I stay the same age (or get younger) of course. I bought a second cake of 2016 Old Whitey already to play with the aging process.
---
White2Tea Club Hoplite Oolong
Hoplite is one of the new White2Tea oolongs, a Wuyi Yancha. This one promises a light roast.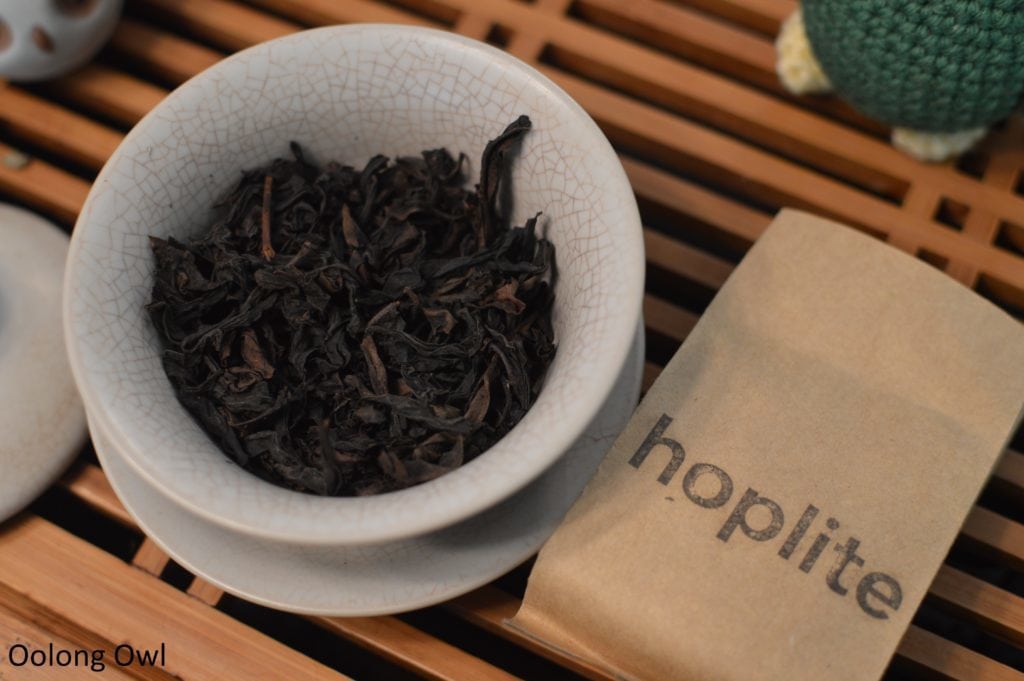 Dry Leaf and Steeping Method: The oolong has a woodsy, roasty and rich scent coming from long fat twists of leaf.
I went crazy and went with 8grams in a 90ml gaiwan, flash steeping with boiling water. It said in the handout I was supposed to get 8 grams, but I actually got 10 grams.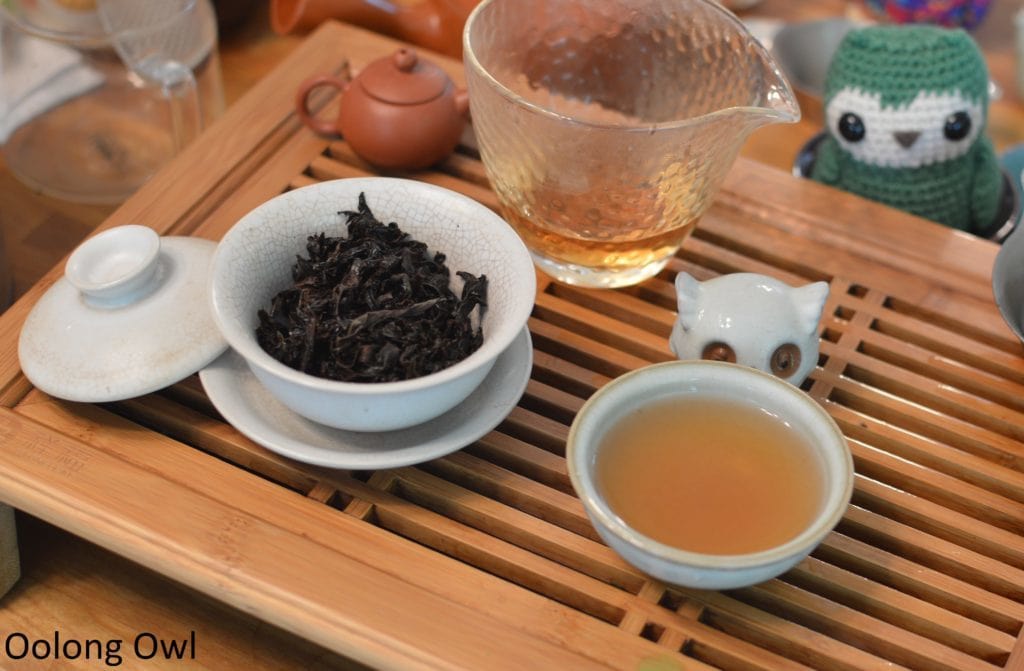 First, Second, Third, and Fourth Infusion: Hoplite tastes of bread, honey, with a light roasted flavor. The body is oily and reminds me of coconut. It reminds me of honey bread with a sharp baked brown top with coconut on top.  The aftertaste is light at this point with a sweet fruity roast fragrance. Each steep gets a thicker, brighter flavor, building a bit of dryness.
I needed to clean my pitcher so my camera didn't pick it up well, but Hoplite in person has a bright, glowing, and rich orange colour to it.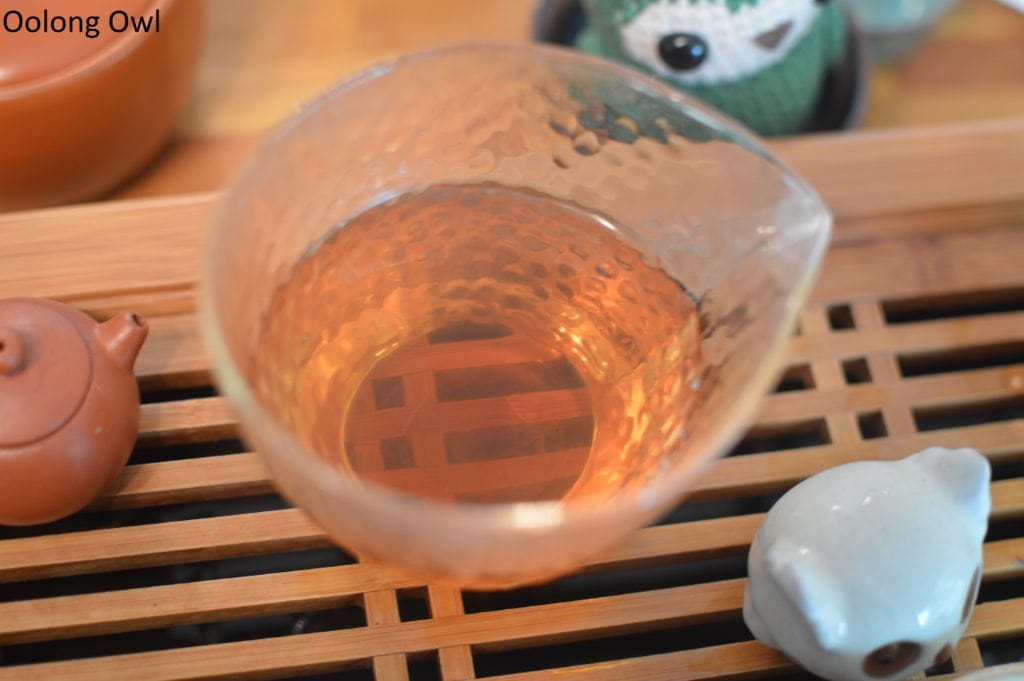 Fifth, Sixth, and Seventh Infusion: This is actually losing flavor fast despite the high leaf. I did about a 1 minute steep here. The flavor is coconut, fruity, honey with a touch of woodsy roast. The roast is pretty light adding depth. The texture is very oily, though the body is a little light. The aftertaste lingers with sweet bright honey fruit.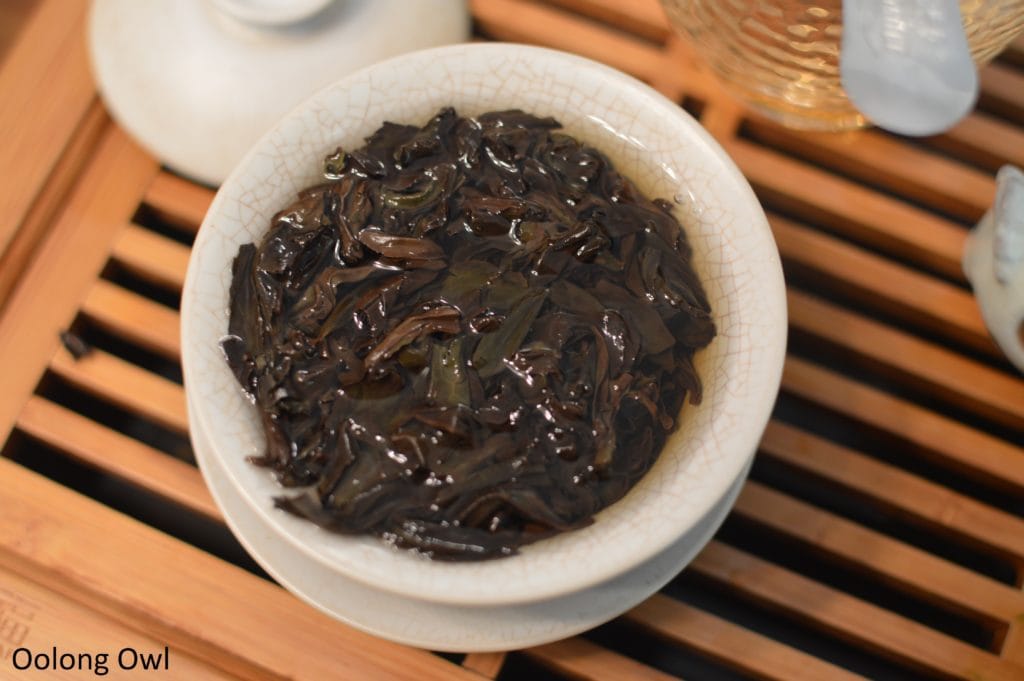 Eighth and Ninth Infusion: 10 and 15 minute steeps here. Hoplite has a sweet and mineral flavor, like drinking a strong flavored honey. I got a delayed reaction of peachy floral burps and I feel super awake and snuggly. My rabbit Benson did not appreciate my enthusiastic tea drunk bunny cuddle man handle time.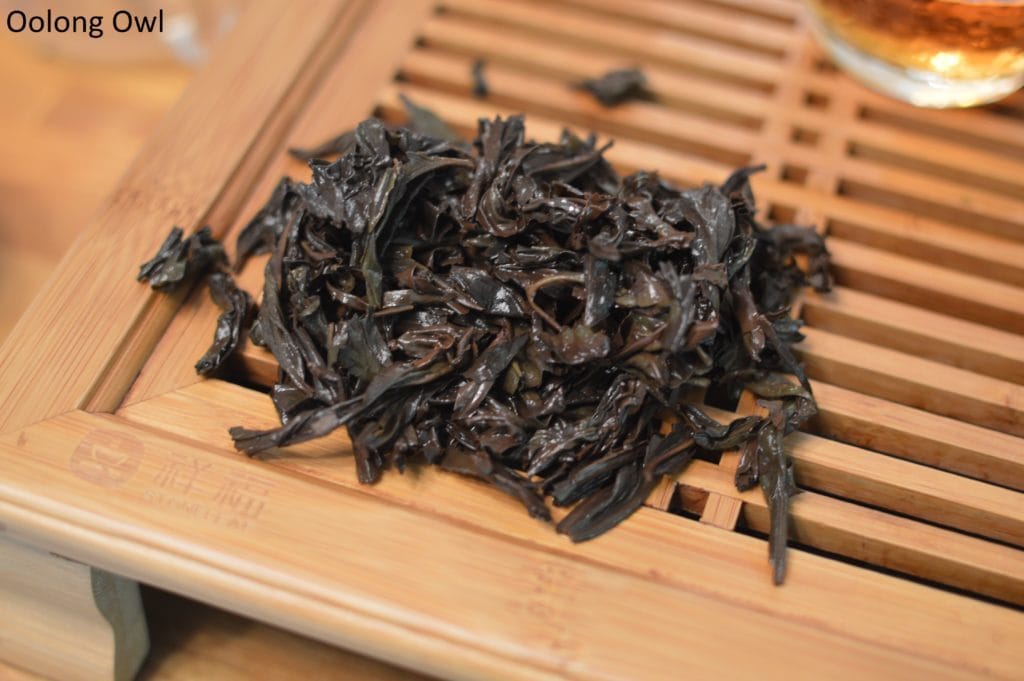 Hoplite is a low roast oolong, great for someone who likes that bready sweet honey flavor. I quite like the flavors but was hoping for more body… I should of used all 10 grams. Live fast, leaf hard! I am curious to see more of the new oolongs in the coming months. Overall, another great White2Tea club!