This summer, DAVIDsTea, has mostly fruity herbals in the exclusive summer collection. I did a DAVIDsTea order last week as part of the customary 3 free samples they send, 2 of my samples were from their new 2014 Summer tea line up! The Summer collection will be released tomorrow, May 7th! With that said, here is a quick review of Shooting Starfruit and Watermelon Mint. Since it is a sample size, I only get one shot at the teas. I decided to prepare them both iced, perfect for summer. Both teas I prepared as per the instructions on the package, but with a bit less water while I steeped, then poured over ice.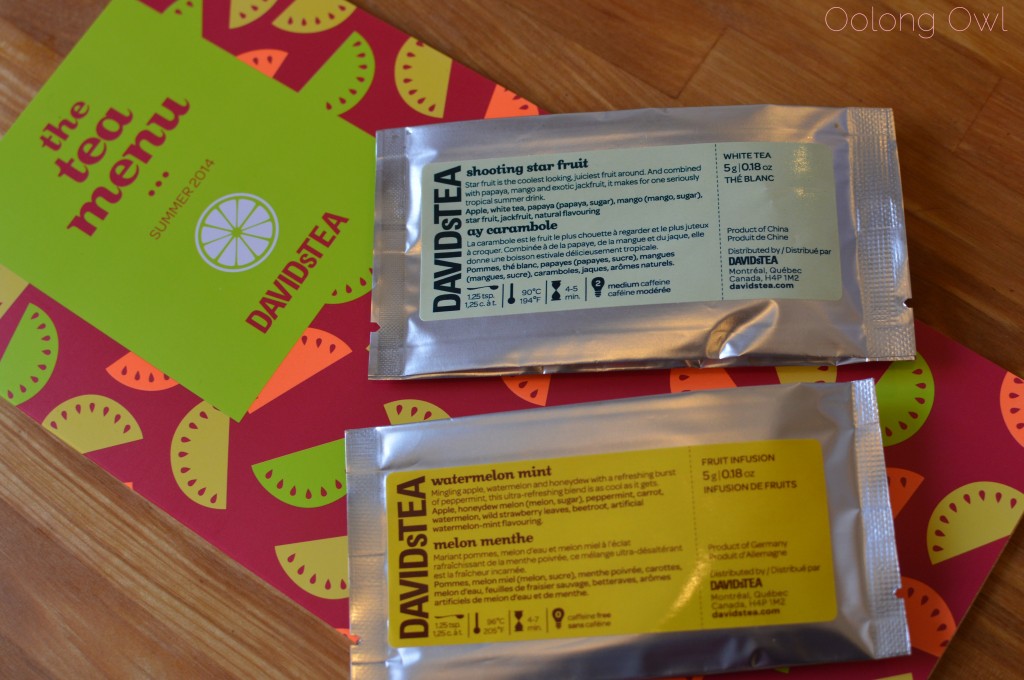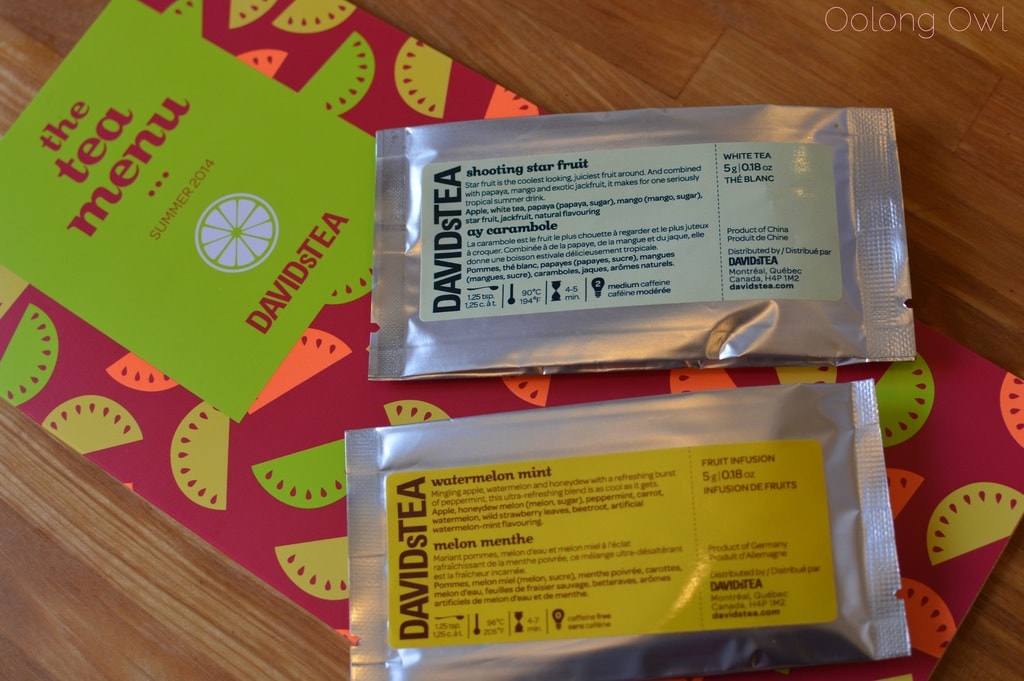 Shooting Starfruit
Dry Leaf: Shooting Starfruit is a white tea blend with papaya, mango, jackfruit, apple, and starfruit. The dry leaf is super strong scented! Over the top sweet and fruity scent, mostly smelling like papaya. The dry leaf is very chunky, with more chunks than white tea leaf.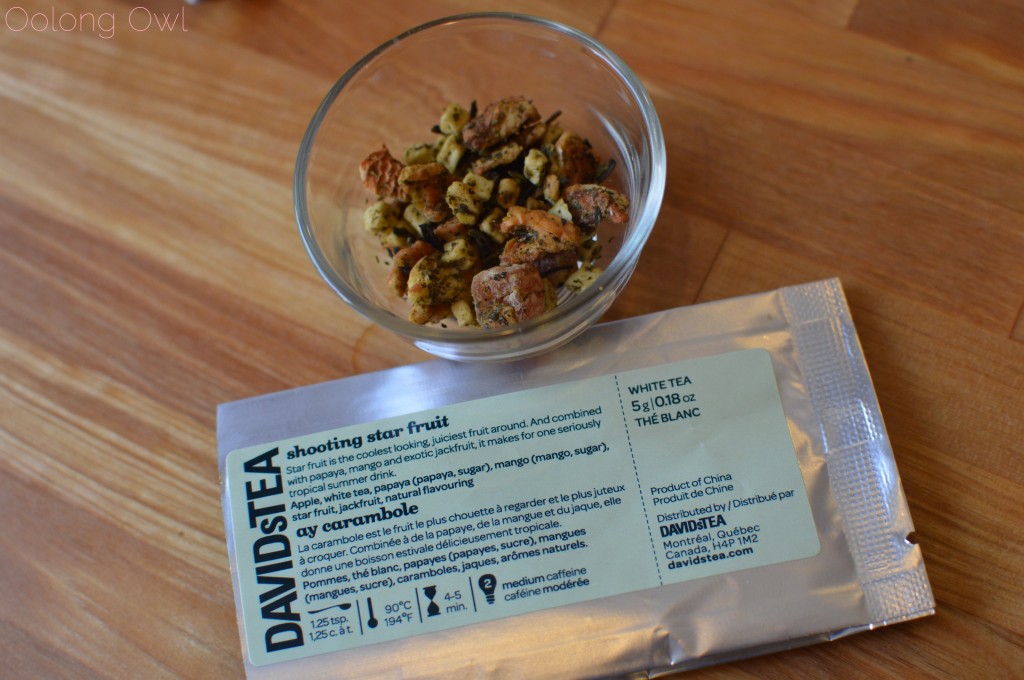 Shooting Starfruit came out a pale yellow brew. It sips in light white tea with a bit of floral. Mid sip, the tropical flavors take over – lots of papaya, bit of mango, and some jackfruit notes. I'm not sure if I taste the star fruit – star fruit is a light tasting fruit to begin with. With a bit of light agave to sweeten, the fruity flavor came out even more, still mostly papaya mango in flavor. Overall a very tropical iced tea – if you love papaya and other exotic fruit, you'll love this tea!
Also, the steeped fruits taste delicious!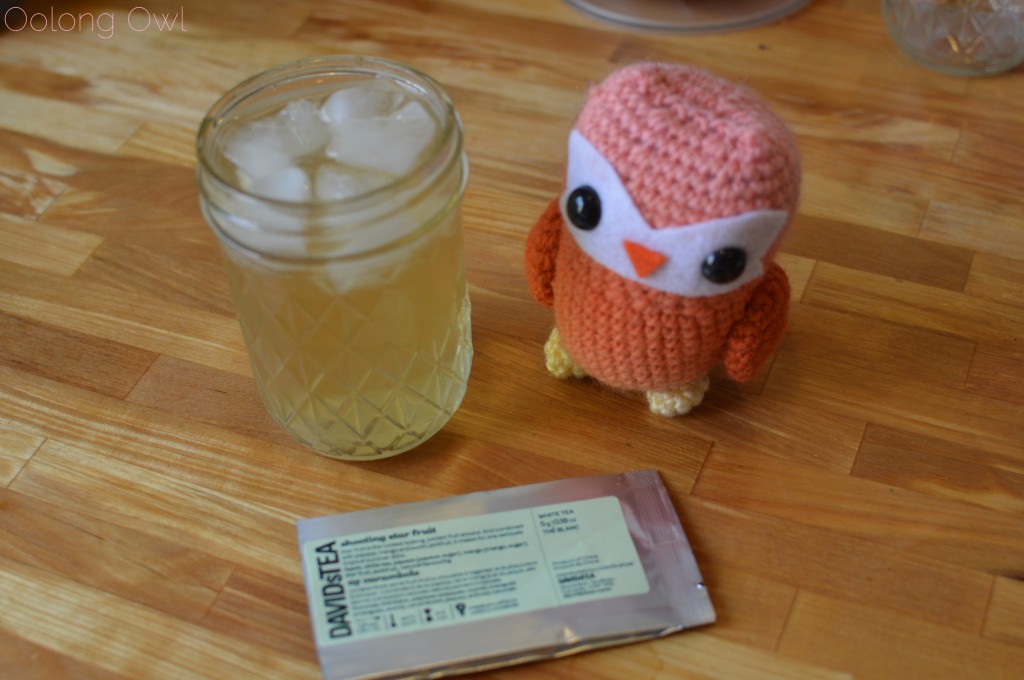 Watermelon Mint
Dry Leaf: Watermelon Mint is a herbal with apple, honeydew melon, peppermint, carrot, watermelon, wild strawberry leaf, and beetroot. The dry leaf smells very minty! Lots of zesty fresh peppermint with a hint of watermelon.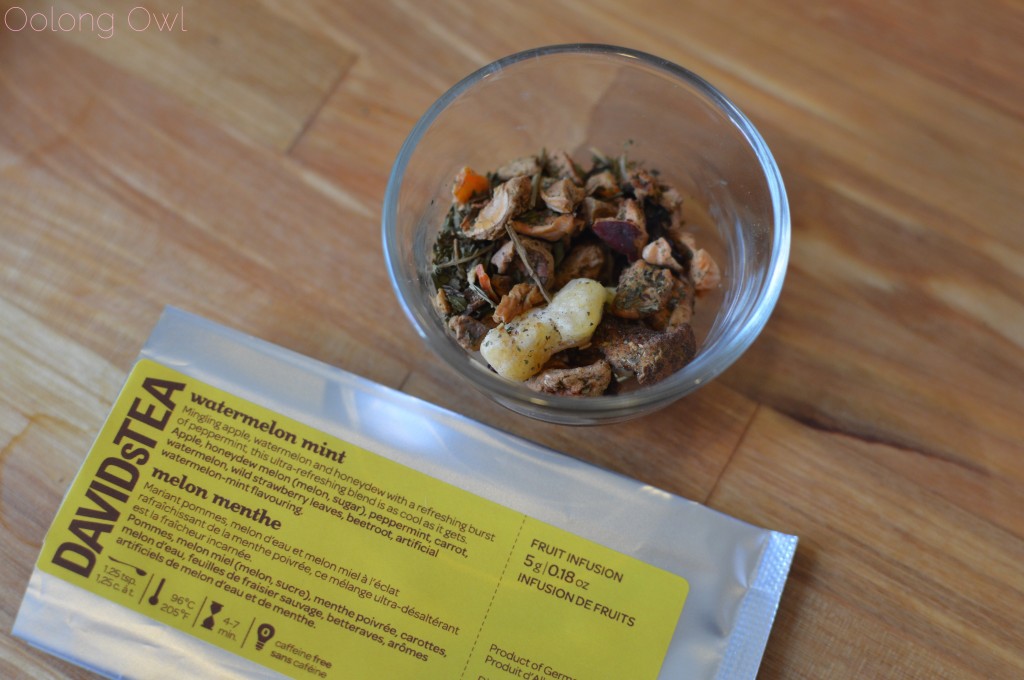 Steeped up, a gorgeous watermelon pink colour! Awesome!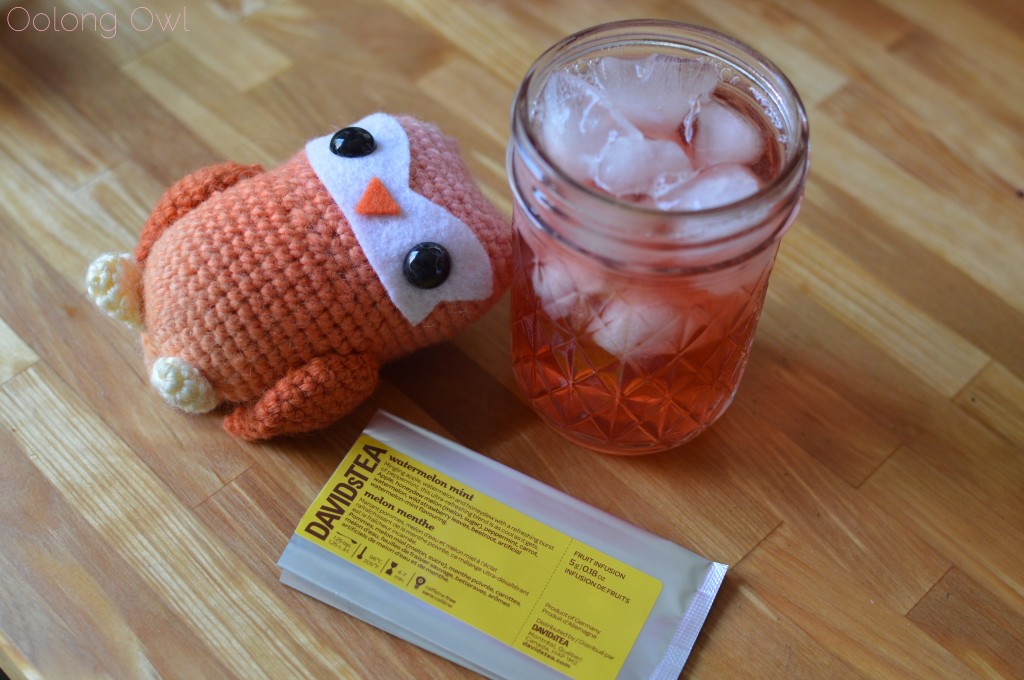 Taste? Without sweetener, this blend mostly tastes of peppermint. The peppermint is quite fresh. End of sip there is a watermelon and honeydew flavor with a sweetness level of an under ripe honeydew. In the end, the melon flavor is flat and the over peppermintyness doesn't work.
HOWEVER, the flavor changes significantly once I added sweetener. I added a little more than usual, light agave again, and the flavor was awesome! The sweetener adds OOMPH to Watermelon Mint pulling the melon flavors forward tasting like real watermelon with a bit of honeydew. The mint is quite nice, adding a refreshing coolness end of sip.
In the end – I highly recommend you add sweetener to Watermelon Mint – it's like night and day how different the tea tastes.
Comments
Both Shooting Starfruit and Watermelon Mint are amazing summery teas from DAVIDsTea! I enjoyed both of them – I like how unique and exotic Shooting Starfruit tastes, but not being too wild so that everyone will enjoy it. Watermelon Mint was really good once sweetened! If I had to choose one, it would be Watermelon Mint as I do love melon teas.
Also on the 2014 Summer collection  DAVIDsTea line up is Just Peachy, Mango Fruit Punch and Sangria.