Silver Tea pots have been all the rage recently and it is hard to ignore due to how pretty they are! Crimson Lotus Tea lent me one of their Silver Tea Pots to experiment with.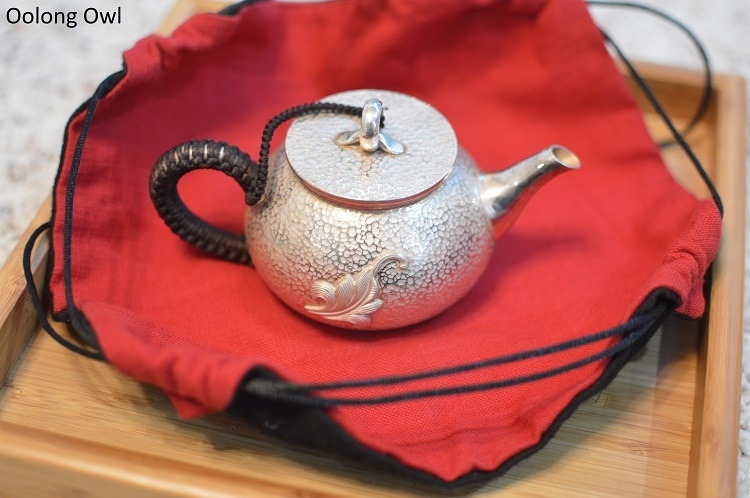 Prior to this, I've been lucky to drink out of silver tea pots a few times, with Crimson Lotus of course, but also I had a comparison tasting while at the Chinese Tea Shop in Vancouver, Canada. This time I've had my wings on this pot for weeks, using it on various teas and playing around.
The particular Silver Tea Pot from Crimson Lotus Tea I was quite impressed with. Crimson Lotus Tea sells Silver Tea pots on their site (when they aren't sold out, there are more coming though!), all 99.9% silver and handmade. Everyone I showed it to also commented with the sturdy, solid feeling construction. I am sure this tea pot could take a drop without any problems – with the hammered design hiding scuffs. The lid fit perfectly. Everyone was wowwed by how fast Crimson Lotus Tea's Silver tea pot poured. The tea pot pours smoothly without dripping. It is a really attractive, well made, perfectly designed tea pot!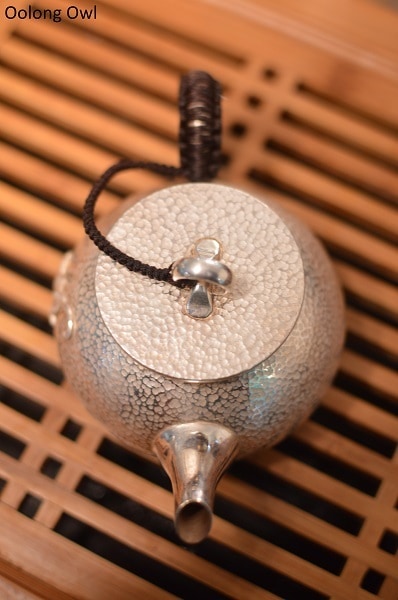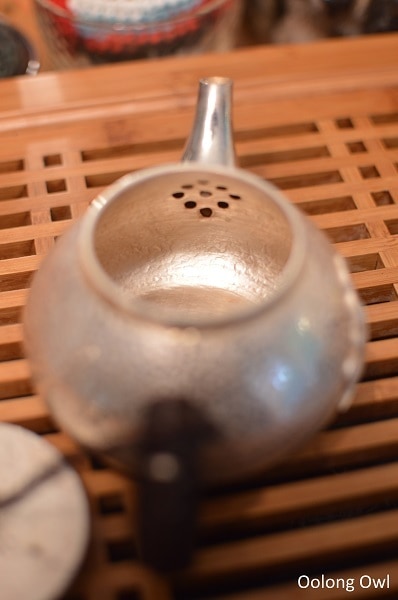 Comparison Testing of the Silver Tea Pot
I did one thorough side-by-side taste testing with the silver tea pot, plus a couple more casual sessions.
For the thorough taste testing, here were my tea pots:
Azure Ruyao Glazed Pancake pot from Teaware.House
Silver tea pot from Crimson Lotus Tea
Yixing Xi Shi, seasoned for a couple years with roasted oolongs.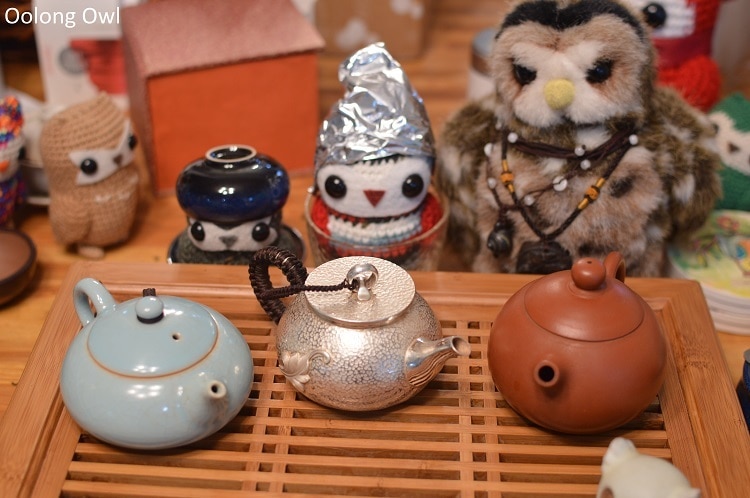 For tea, I went with Floating Leaves Tea's House Oolong. This oolong is roasted at their store. It is a tea I've had a number of times, so I know the flavor profile. FLT's House Oolong is also cheap, at $4.50 an ounce – I needed a lot of tea to test all these tea pots at once.
Method
I did 1 gram of leaf to 14ml volume, steeping in boiling water. Obviously there will be error as all these pots have different pour times, I did my best to match the timing. I'm not 100% happy with the Pancake pot for this tea as the steep time is too long in the early rounds, so I was pushing the House Oolong too much for my tastes. The pancake pot is the smallest as I didn't have enough tea to use a bigger pot (and I literally bought all of Floating Leaves Tea's House Oolong stock at the time, and couldn't wait for the next batch to be finished roasting).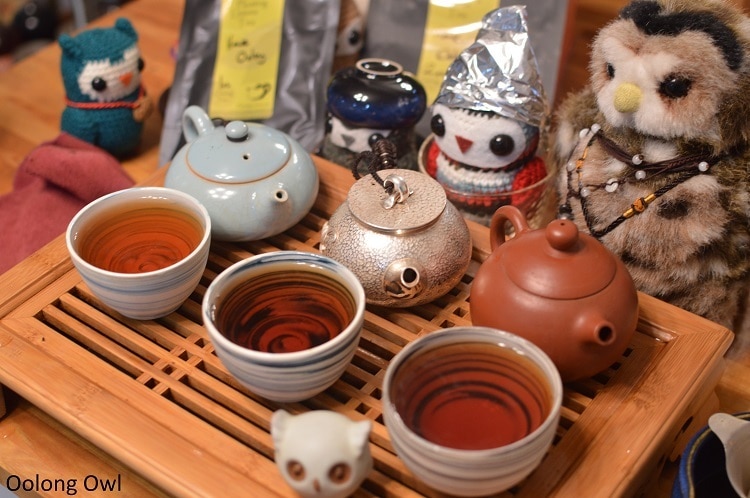 Results
Pancake Pot – House Roast is sharp, brisky and slightly bitter in roast. I get a good aftertaste of roast, chestnuts, and butter. The flavor seems less strong compared to the other tea pots. Out of the three, this was the most harshest in taste for bitterness, and strangely lighter in flavor.
Silver Tea Pot – The difference between this and Pancake was very strong. The House Roast is more smooth and blended in flavor of roast, chestnut and butter, with a brighter finish at the end of sip. Interestingly lacks all bitter roast notes and any indications of harshness of this tea… despite I'm brewing it too hard and aggressive for my liking.
Yixing – The difference is also very different compared to the Pancake, but not as much compared to Silver. The flavor is also more smooth and less bitter than Pancake. However the difference between the Yixing and Silver is the Yixing taste much more roasty. This tea has much more meat on it – it's richer and heavy roast flavor, yet no bitter sharpness that the Pancake tea has.
Temperature – I did a test after 20 minutes of steeping. After 20 minutes, Pancake was 133, Silver 141, Yixing 144. This was a little iffy since the Pancake pot is smaller by 50ml and different shape. Though the lightness of flavor of pancake pot could of been from the lower temperature. Poor Pancake pot.. it is a good tea pot, but $30 vs $300 vs $100+years is hard to run against.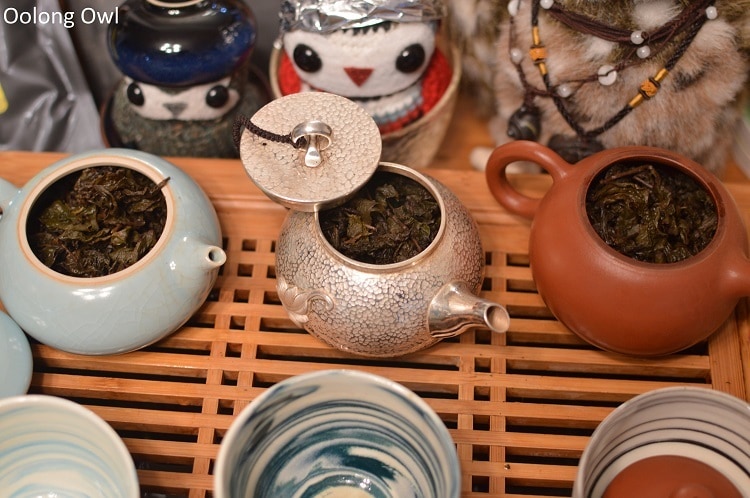 Bonus
I had my tea hating husband try the three tea pots, blind. If you are not familiar, my husband does not drink tea, thus he isn't experienced in tasting it. He right away picked out the Pancake pot tasted different than the Silver and Yixing – the other 2 being less bitter. He tasted some differences between the Silver and Yixing, but could not describe how they were different. In all, it all tasted bad and like tea to him, but he'd choose Pancake as it was lighter in flavor.
More Comparison Tastings!
I comparison tested the Silver Tea pot on a couple other occasions with Floating Leaves Tea's Aged Miao-Li and Yunnan Gold, plus a violent session with the bitterest tea of them all – Mandala Tea's 2015 Wild Monk sheng, swapping out the glazed pot for a gaiwan, all with similar results.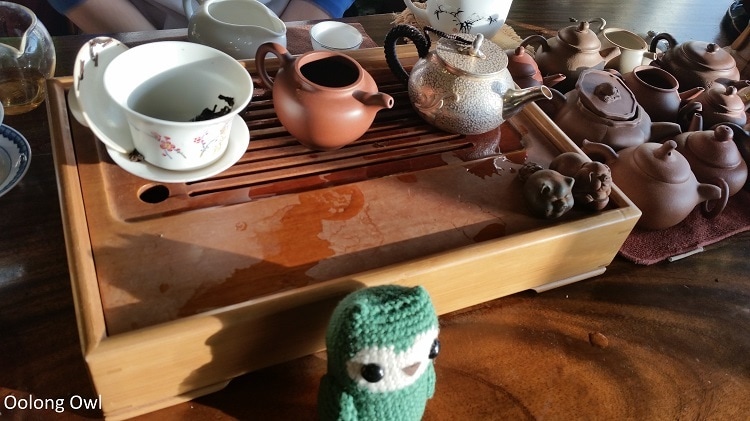 All three were similar in that the silver tea was brighter. There was noticeable difference in body, silver having a better thicker body. Oddly, the gaiwan's flavor faded sooner than yixing and silver, we consistently got at least 3 more infusions when paired together, and another steeping or two after with a yixing.
Silver had very noticeable results with bitter young sheng – it made it more drinkable for longer, taming bitterness well vs gaiwan which got bitter faster and had less body. The tastings with the seasoned yixing, yixing won. However, I did not test the super bitter sheng in a yixing due to lack of having, and likely never having, a sheng pot made to be violently bitter.
Overall Flavor Results of Using a Silver Tea Pot
Besides the comparison tastings I did, I tried all sorts of teas in the silver tea pot. Here are the flavor results.
Brighter Flavor – As seen in the comparison tasting, silver gives a brighter flavor and it is quite noticeable. Some might say a bit of metallic in taste. I found the flavor did different things to different teas, good and bad, likely all personal taste. Some teas did excellent as the brightness turned a poor tea into an awesome expensive tasting one. Other teas I found the metallic brightness numbed floral and delicate notes.
Bitter Tamer – I found overall black teas did very well as the brightness enhanced it and tamed bitterness. Cheap moderate roast oolongs did exceptionally well as the brightness fixed errors, bringing out the body.
Silver did do interesting things to greens. I tried a very marine unami green and a lighter Chinese green. Both came out nice, bright, and little bitterness on later infusions. Similarly, it tamed really bitter young sheng, keeping it tasting less bitter for longer vs gaiwan under same conditions.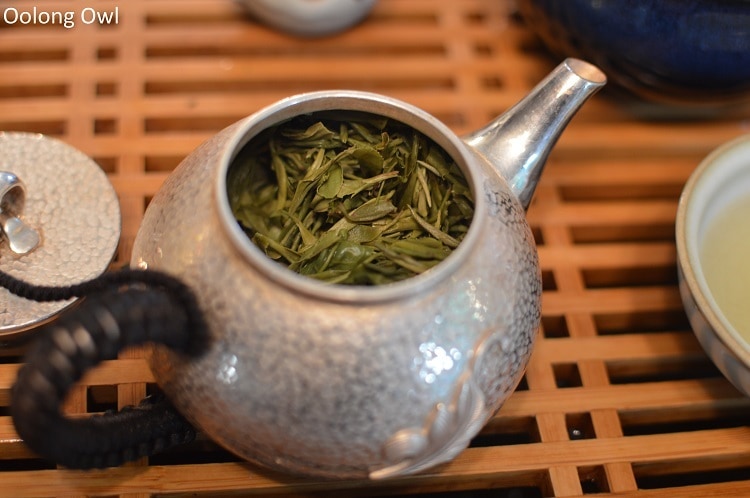 Floral Number – Delicate floral oolongs and young sweet and floral yiwu sheng didn't do that great – I had a pretty bad session with White2Tea's 2016 Teadontlie in particular as the floral was toned down too much. However, toning down floral might be of interest to some.
Bad with Citrus – Do not use with citrus teas, including puer oranges. The orange clashed with the silver violently, making more metallic funky notes.
Using the Silver Tea Pot
Flexible Steeping – I tested this a bit too aggressively, but got great results. I found the silver tea pot had more wiggle room for steeping, especially for greens and sheng. Since silver tames bitterness, I overbrewed my green to push the limits. The overbrewed green tea came out pretty decent and toned down the bitterness very well. So if you are the type who keeps over steeping teas, silver might be a game changer.
No Seasoning Required –  Unlike yixing, you can steep any tea you want in a silver tea pot. Silver tea pots are not cheap, but consider price of one silver tea pot = 3-4 $100 clay pots. If you are short on space or don't want the effort and years of seasoning clay – silver lets you use one pot and gives you a flavor enhance over a gaiwan or glazed pot.
Heat Control – This was mixed. Silver pots heat FAST. I had ripping cups of tea in early sessions, I felt pre-heating wasn't even necessary as it was up to temperature without effort. The fast pour was certainly needed in order to not overcook your tea. I got stronger flavor and longer sessions compared to a gaiwan. Maintaining heat in the silver pot was easy
Ripping Hot to Handle – I said in the previous point on heat retention, silver pots heat fast. That said, silver tea pots are violently hot to handle. I can feel the heat through the cord handle, and I've burnt my fingers on the lid many times. If I were to buy a silver tea pot for myself, I would probably go with the style of a different material handle and lid, like this one from Crimson Lotus Tea was selling once: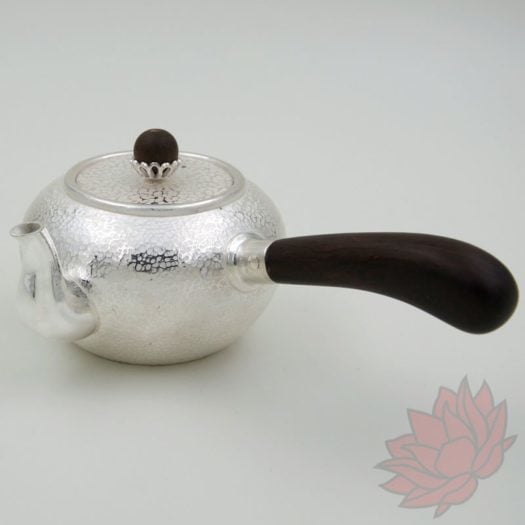 A silver tea pot needs either wrapping or other materials for the handle. Seriously, this tea pot is scorching hot and will burn.
Durable – Silver tea pots, at least this one, feels darn solid and sturdy. All the times I broke a yixing and cups, this silver tea pot would of survived with maybe a scuff or dent. At worst, you dent it but it can be hammered back. I feel if you wanted a heirloom piece, a silver tea pot will stand the test of time.

Comments
Using Silver teaware has some really great perks – a big strength is tea pot durability and flexibility. It will make good bright, better bodied teas with less bitterness. I found it mostly strong with blacks and teas that tend to be bitter. All my bitter, not ready yet shengs got revisited thanks to the Silver tea pot.
Same time, this tea has a huge price of admission. You might not like the metallic, extra bright flavor, or what it does to oolongs. It might not be the right tea pot for you if you drink mostly delicate floral teas. You easily could disagree with what I say about florals as it is personal taste. I strongly recommend that you TRY A SILVER POT before buying if you can. I have heard people getting results with just using silver tea cups – which are much cheaper to buy.
There is also the running trend I noticed in the comparison tasting that the silver tea pot generally does not best a well season clay tea pot. However, you need to get a clay tea pot to that level, get the right tea paired, and dedicated, whereas silver will get you results without effort and more bling.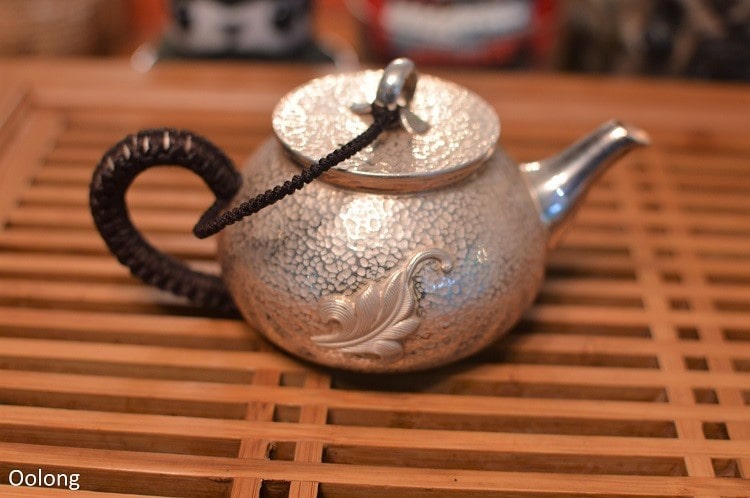 In regards to this tea pot, Crimson Lotus Tea's Silver pot handles exceptionally. I was amazing at how well it poured, how sturdy it felt, and overall amazing craftsmanship. No leaky pours and it has a great fast pour. With the quick heating of the silver pot, having a fast pour is very important here. Once the Tea Owls and I save enough, I'd be likely to purchase a silver tea pot from Crimson Lotus Tea because of how well done the tea pot preformed, if I can get a smaller size. My only beef with the silver pot was it was too big for my solo drinking status – if I want to shell out this much cash, it has to be good and suited to my needs.