TEA INFUSED CHOCOLATE! Yes! As a tea lover I am down with the tea + chocolate idea. Spicely, a California based company, has a big line up of spices, herbs, extracts, teas and now chocolates! Many of their products are at stores like Whole Foods, but they also have their own Boutique in San Francisco. You may also order their products online.
I got a bunch of samples from Spicely at the World Tea Expo – tea and chocolates! I guess I wouldn't of mind some spices too. My spice collection is also out of control (like my tea, yarn and nail polish collections).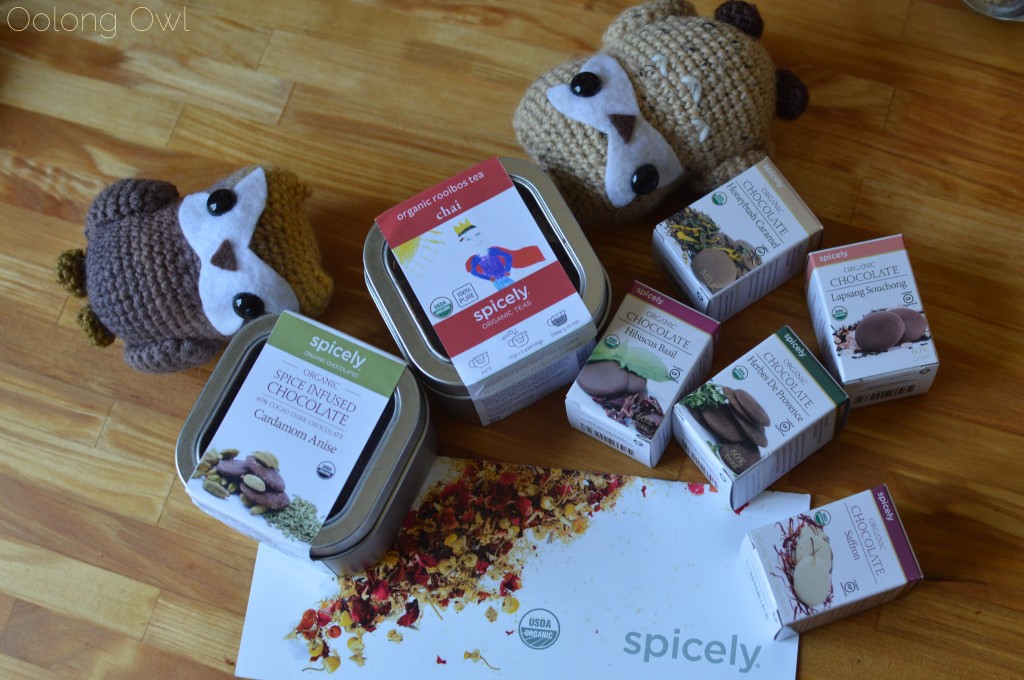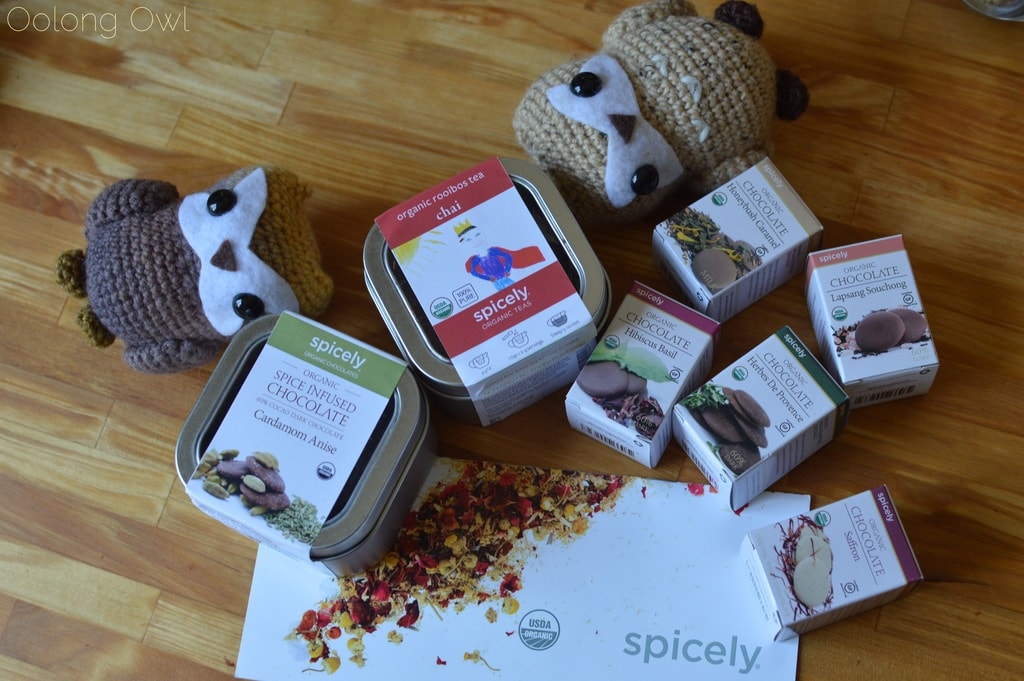 Spicely Tea Infused & Spice Infused Chocolates
Spicely has 33 different tea or spice infused chocolates!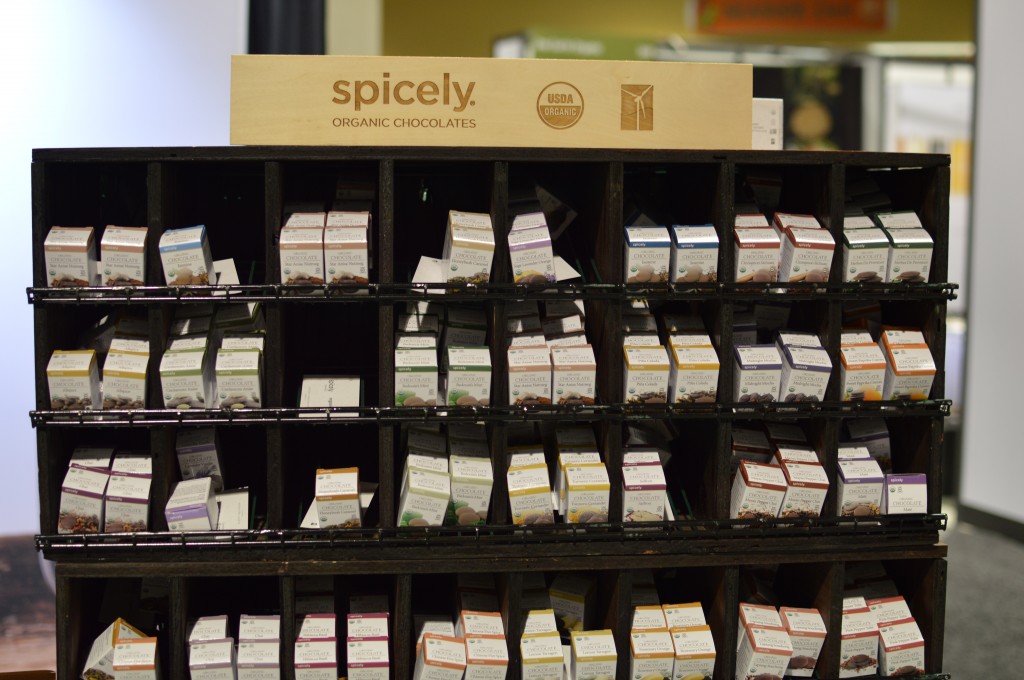 Many of them are dark chocolate, but they have a few milk chocolates and 1 white chocolate. Here's a list of a few interesting ones from their lineup: Jasmine, Pina Colada, Mayan Pepper Chai, Lavender Vanilla and Green Earl Grey.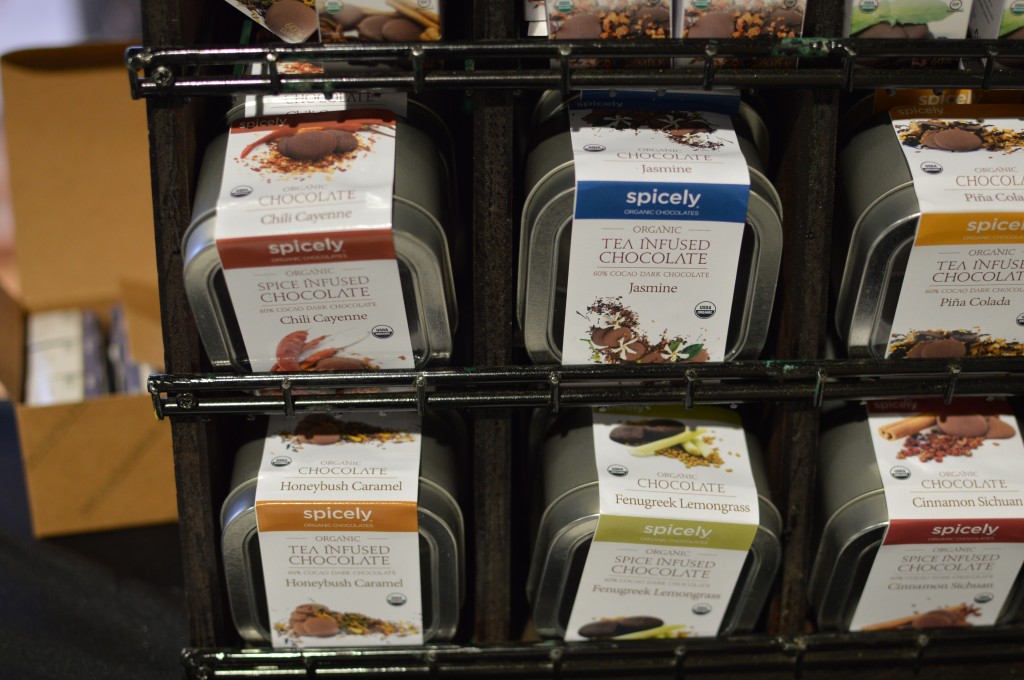 All certified organic. I can't check them all, but most of the chocolates I have are Non-GMO, Gluten Free, Fair Trade and Soy free.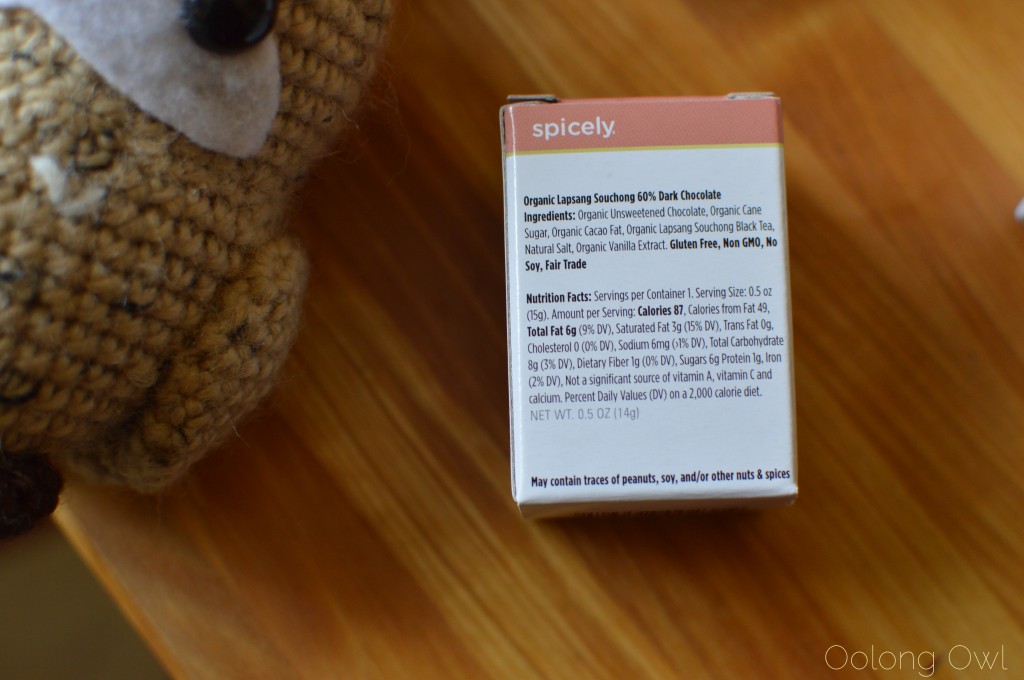 Let's taste all the chocolates.. err.. well I get to taste them all for you!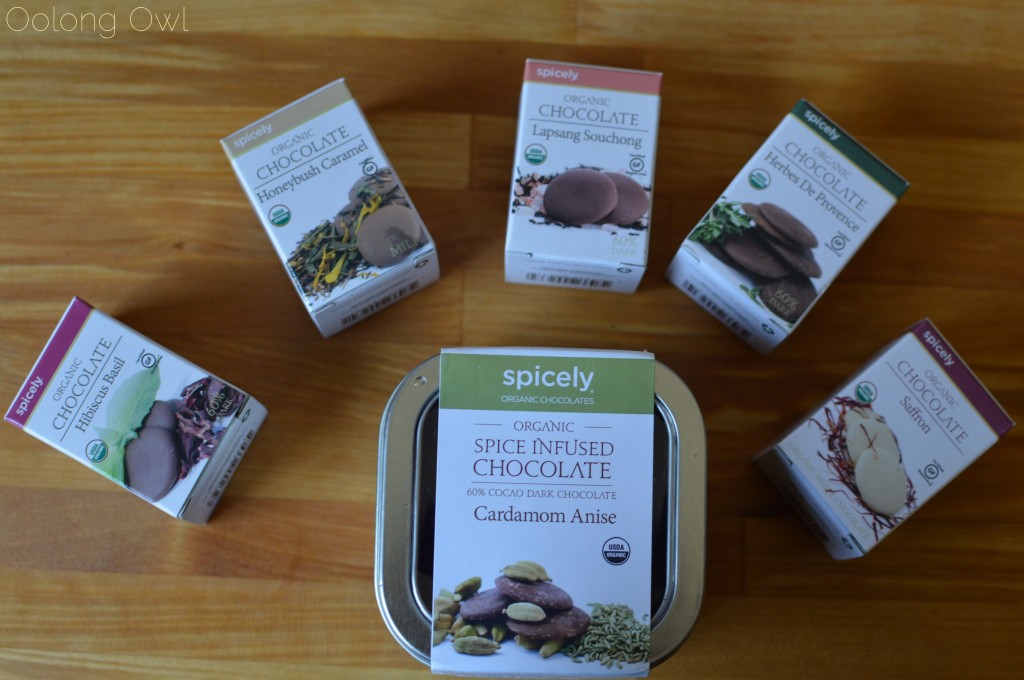 Lapsang Souchong -60% Dark Chocolate. This chocolate has that great smoked pine needle taste that pairs really well with the chocolate! Also, there are a few sea salt grains in here – sea salt and chocolate is total yum, but also the salt moves this chocolate to savory territory on some bites. A lovely chocolate if you are a fan of the salt + chocolate pairing.
Honeybush Caramel – Milk Chocolate. This one is my favorite one – the caramel flavor is really nice with a bit extra sweet earth from the honeybush. The milk chocolate is really smooth and the caramel is super yum!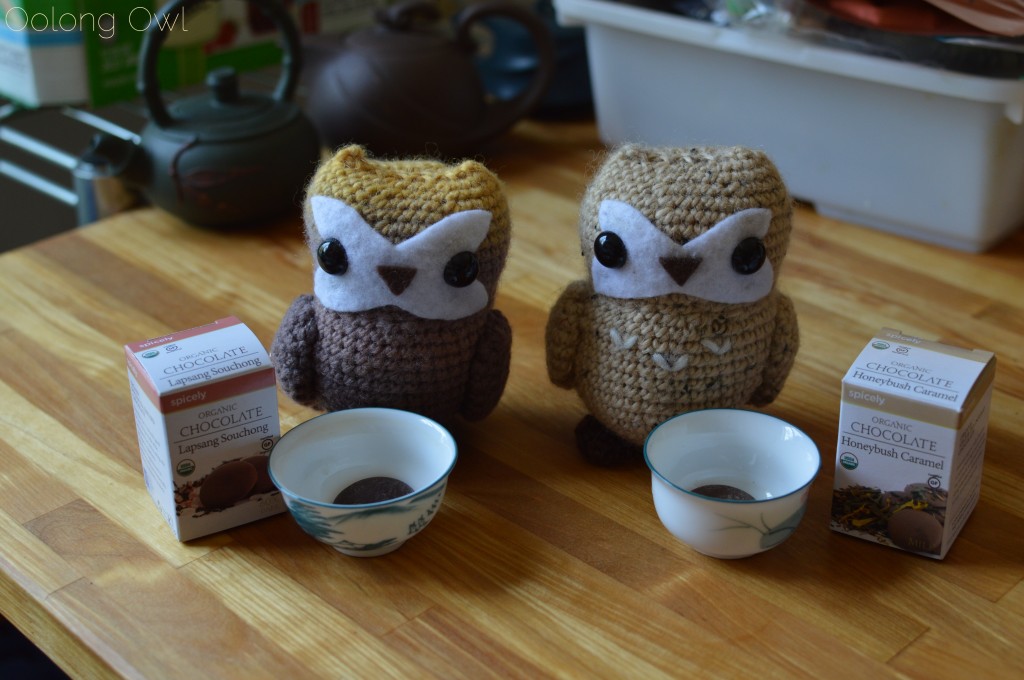 Hibiscus Basil – 60% Dark Chocolate. There is a fun basil herb bite to this one, followed by a sweet hibiscus floral tart. Very unique!
Herbs De Provence – 60% Dark Chocolate. A chocolate for someone who wants a challenge! The flavor kinda tastes like a herby turkey dinner, but in chocolate form. This one was my least favorite chocolate out of the bunch.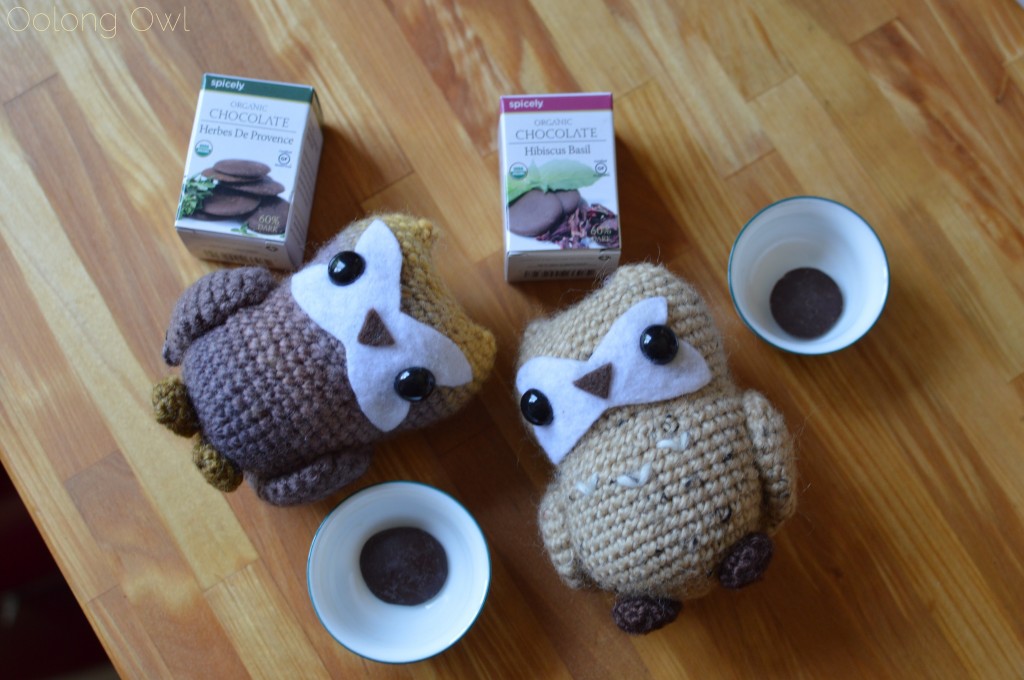 Cardamon Anise – 60% Dark Chocolate. Oh my. I don't like cardamon nor licorice, so I was worried I wouldn't like this one, but I did. The chocolate is good with a bit of cardamon, evened out by the chocolate sweetness and anise flavor. (this one is the only chocolate out of the ones I have that has soy in it). For this chocolate I have the full tin of so I played with the chocolates. More on this later in this blog post.
Saffron – White Chocolate. I haven't had much saffron as I don't cook with it as the price of it always scared me. The white chocolate is very good quality – I personally cannot eat cheap white chocolate as it makes my throat feel like crap afterward. There is a saffron taste… as it tastes like paella rice, LOL! I tried Tea Peeps. I might have to bite the bullet and buy some saffron and cook with it.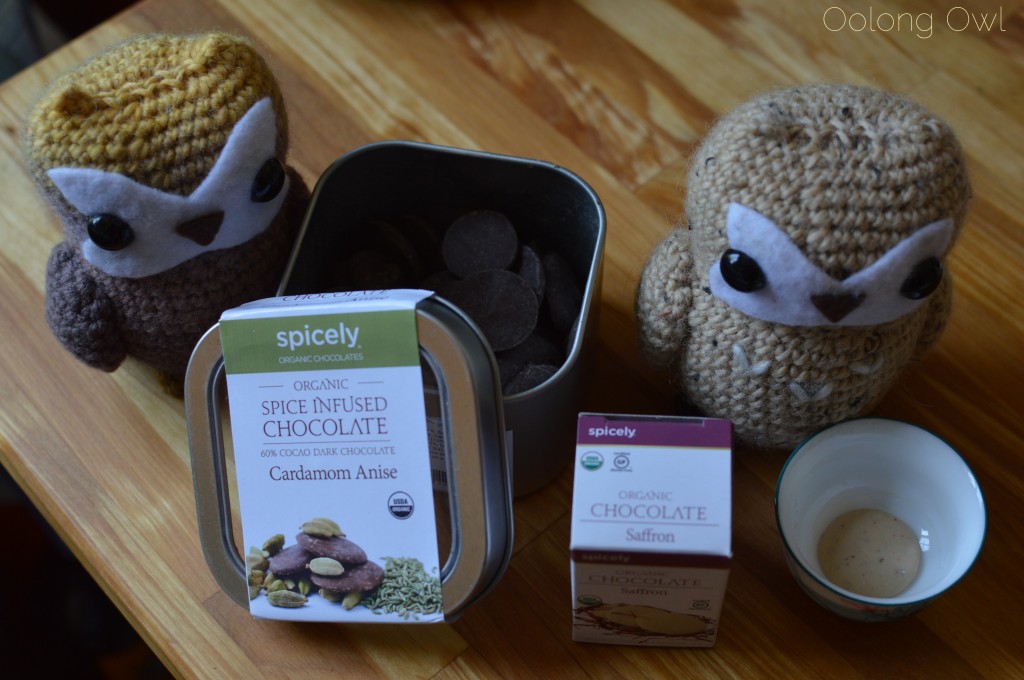 Yum! These tea infused chocolates are delicious to nibble on! They would make a great gift for a tea lover! I might have to order these for stocking stuffers for Christmas in a few months.
Spicely's Loose Leaf Organic Tea
Spicely also has a big loose leaf tea line up of over 120 teas! I have Spicely's Rooibos Chai – which is an all organic red rooibos with cardamon, cinnamon sticks, and vanilla nibs.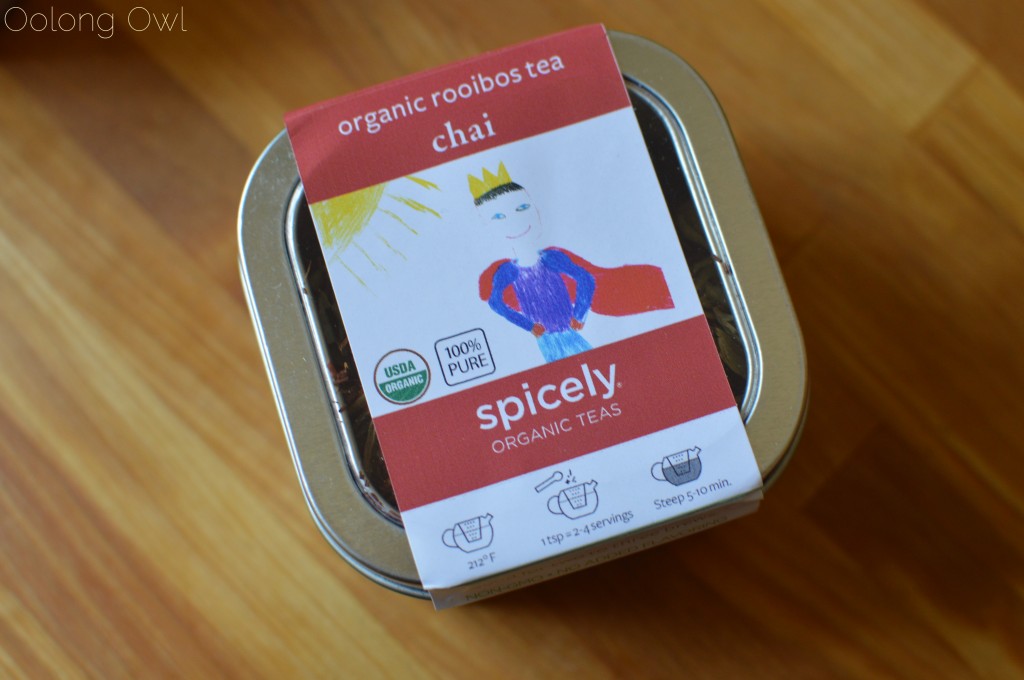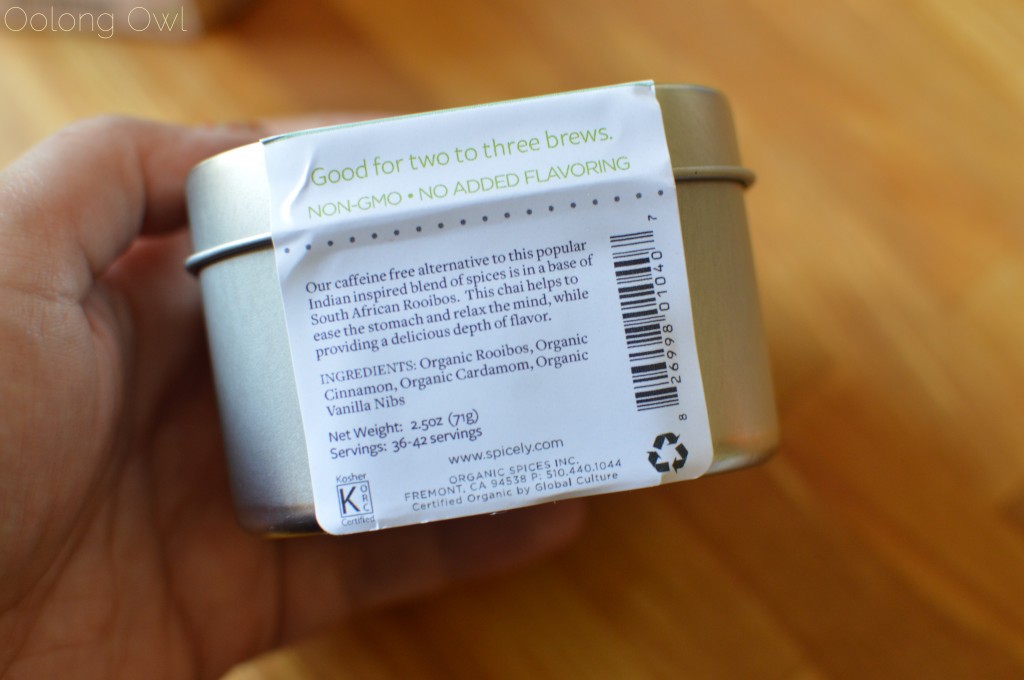 They weren't kidding around with the spices. So many big chunks of spices!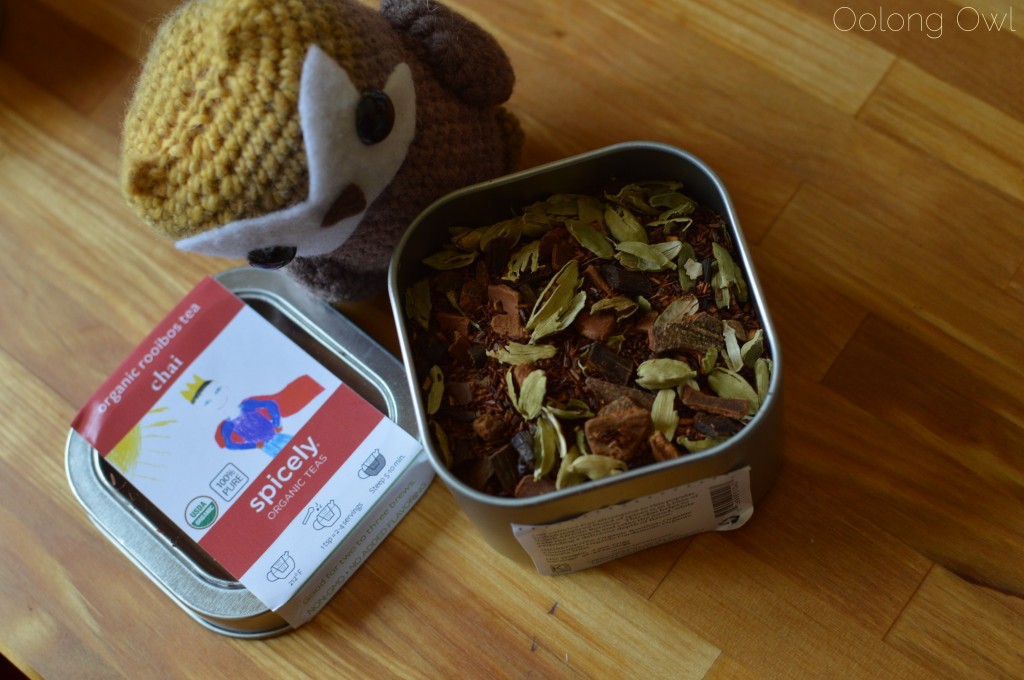 …and real chunks of vanilla bean, nice!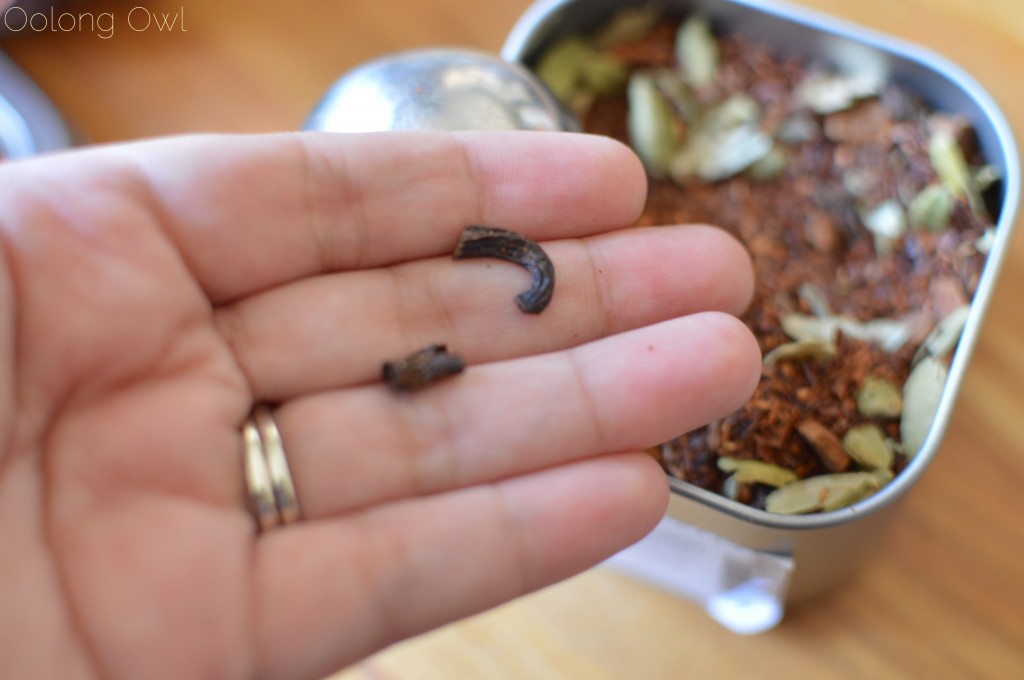 I found Spicely's Rooibos Chai gets more spice flavor the longer you steep. The shorter of a steep gives you a more red rooibos flavor. I personally preferred the long steep as I don't like red rooibos.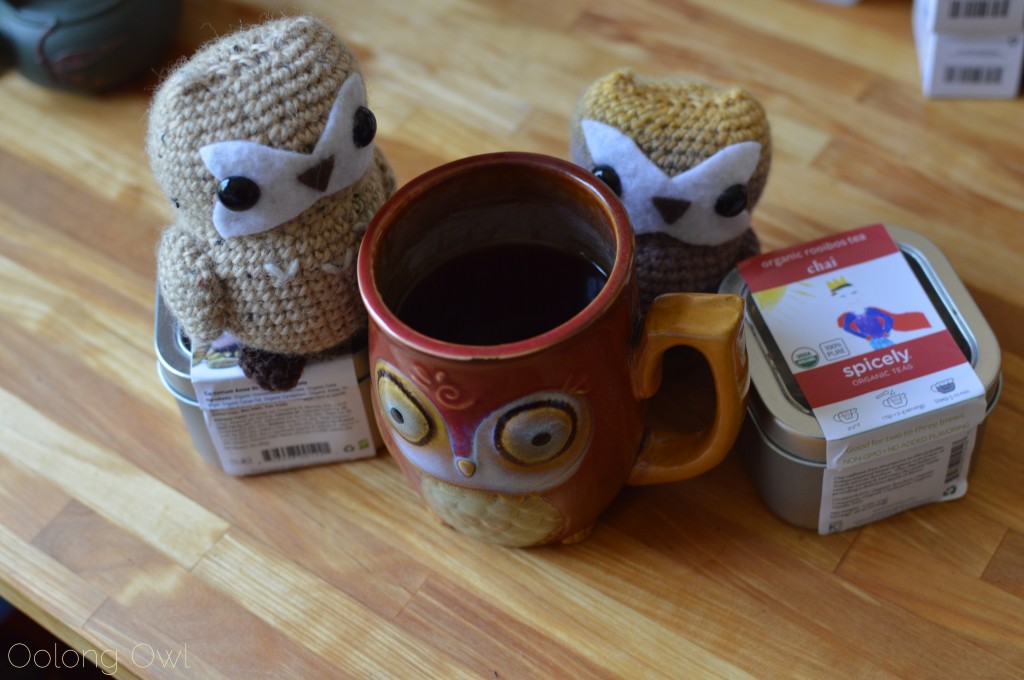 Lots of spice flavor – I'd give it a 5/10 on the Spice-o-meter – I can clearly taste the sweet cinnamon and cardamon, but this chai also isn't hot spicey as it doesn't have stuff like peppercorns and ginger. The vanilla is AMAZING here – this tea is very creamy and vanilla flavored. I think the vanilla wins this tea over for me. The red rooibos is in the background with that red wood chip taste with a bit of wateryness. However, this tea isn't as watery as other rooibos teas I've had due to all the spice and really vanilla chunks.
Tea Chocolates + Tea!
I found that adding Spicely's Cardamom Anise Chocolate to teas like Chais and blacks adds more flavor! It is best to break apart the chocolate and add it to the tea while steeping. I added Spicely's Cardamom Anise Chocolate to a mug of Spicely's Rooibos Chai and WHOA, very tasty!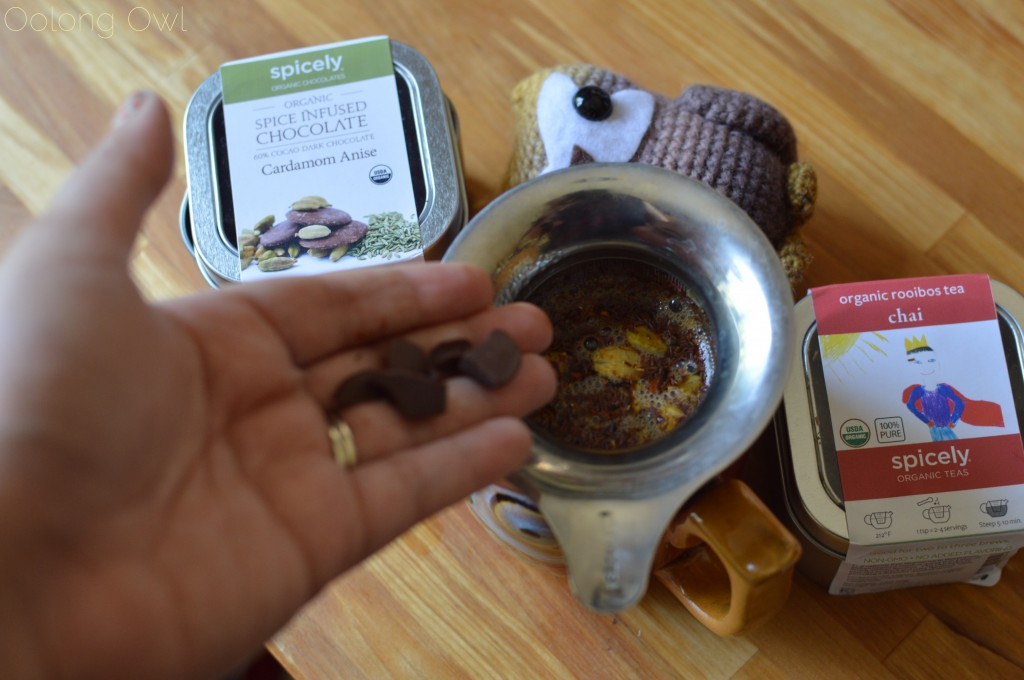 With the spice chocolate, the tea now has chocolate flavor upfront, with a bigger spice punch and I can also taste the anise adding an extra depth of spice. The cardamom is stronger, but still pretty good. I mentioned in my post about Adding More Flavor to your Tea to add spices, but these Spicely Tea & Spice Infused Chocolates are awesome in tea too!
(tea and chocolates provided for review)